Winter greens get their name from the fact that they can withstand the frost and can be picked very late in the season. Winter greens include vegetables like kale, cabbage, brussels sprouts, collard greens and Swiss chard.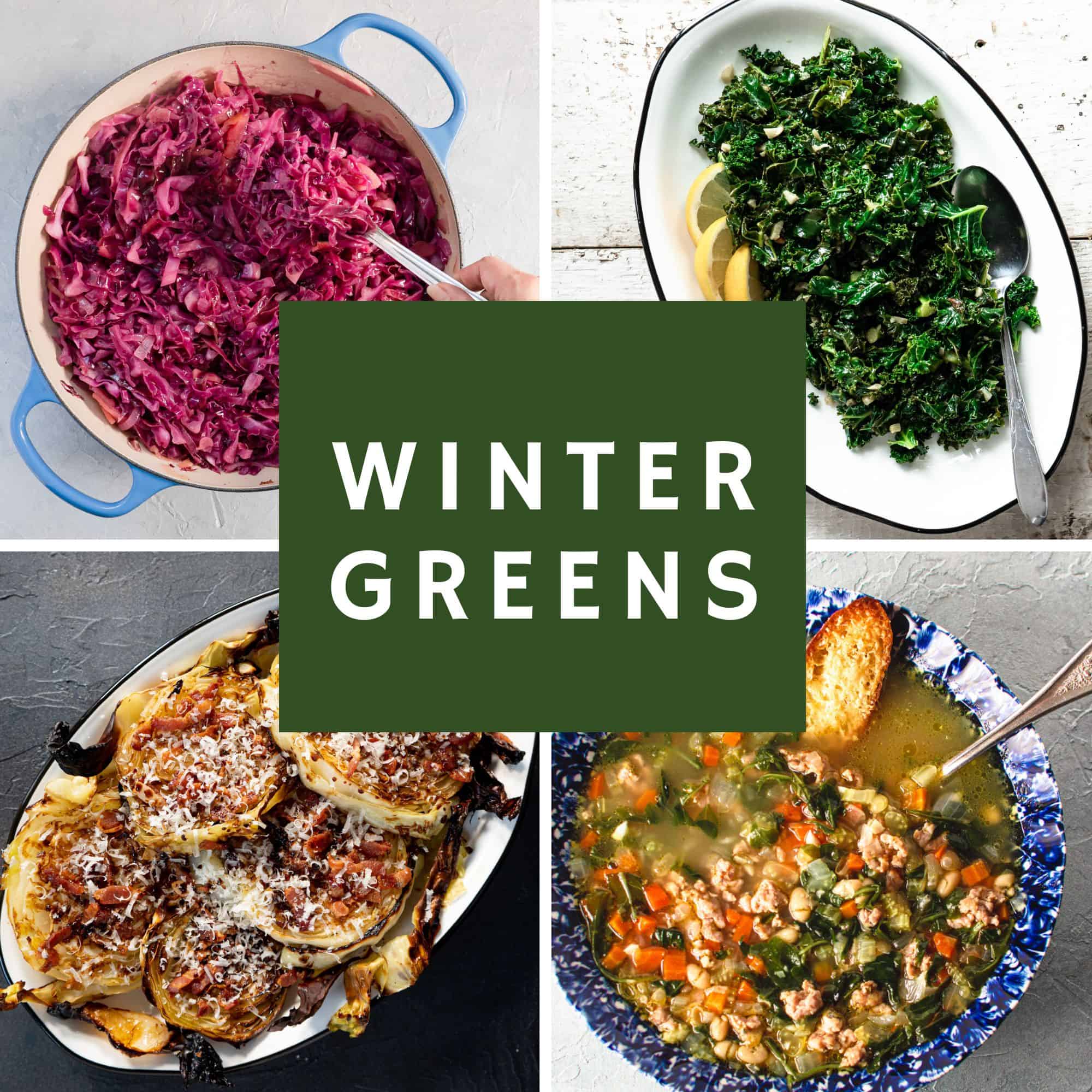 Jump to:
Health Benefits of Winter Greens
Although they all have their individual, unique qualities they are all powerhouses of nutrition. They are high in fiber, multiple vitamins and minerals, as well as antioxidants. They are low in calories, are good for gut-health, and have anti-inflammatory properties. If you'd like to read more about the health benefits of winter greens continue reading this article by Healthline about winter vegetables.
How to store winter greens
One of the other benefits of winter greens are their lasting power. If stored properly winter greens will keep for several days and even weeks!
How to store kale, collard greens, and Swiss chard
Wash and dry the leaves. Remove the tough stems from kale and collard greens. (stems of Swiss chard only need to be trimmed). Store the leaves in the crisper drawer in the fridge wrapped in paper towel and inside a plastic bag. Or store the leaves in a large airtight container lined with paper towel. They can last one week and sometimes longer.
How to freeze, wash, dry and prepare leaves and freeze in resealable bags for up to 6 months.
How to store cabbage and Brussels sprouts
Cabbage and Brussels sprouts are best stored whole. You can wash, dry and trim the ends of Brussels sprouts before storing either in a plastic bag or airtight container. I always toss in a piece of paper towel to absorb any moisture.
Cabbage doesn't need washing. Just peel off the outer layer of leaves and store in a plastic bag in the fridge. If you use only part of the cabbage wrap the cut piece tightly in plastic wrap and store in the fridge. Cabbage can last up to one month and Brussels sprouts for one week.
How to freeze - Cabbage can be frozen without blanching but will last much longer in the freezer after blanching. Cut cabbage into wedges and blanch in a large pot of boiling water for 4 minutes. Drain well and let cool and dry before freezing in resealable bags.
Brussels sprouts can be blanched and frozen whole. Blanch large ones for 5 minutes, 4 minutes for medium-size, and 3 minutes for small. Drain well and let dry before freezing in resealable bags. Freeze laying flat in one layer so you can easily pull out the amount that you want when ready to use.
Winter Greens Recipes You Will Love
Tried this recipe? I would love it if you could leave a star rating ⭐️⭐️⭐️⭐️⭐️ and/or a comment below. You can also follow me on social media here on Facebook, Instagram, and Pinterest!