This White Bean Sausage and Arugula Soup is a one pot wonder and super easy to put together. Make it any night of the week and put some in the freezer for a rainy...or snowy...or any day!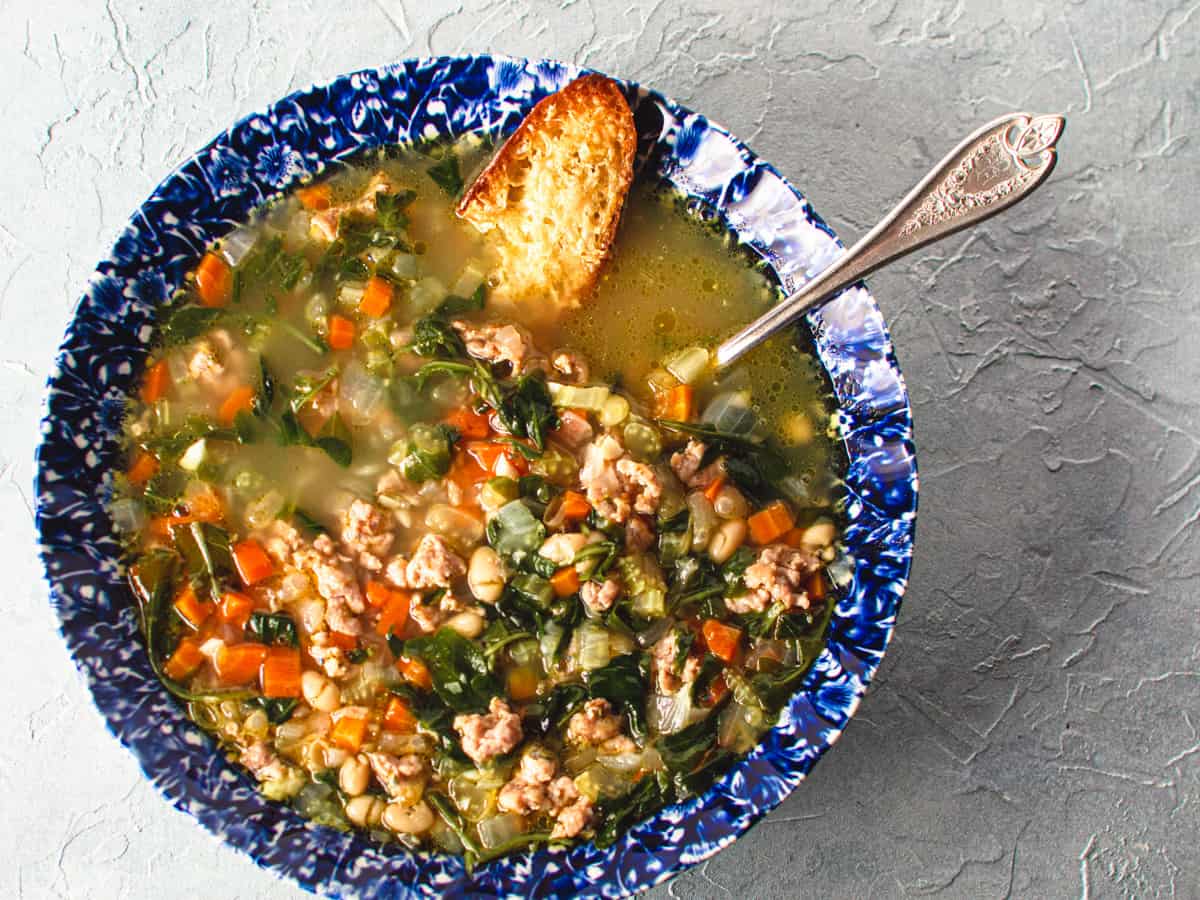 White bean, sausage, and arugula soup is a classic recipe. Many cultures have their own version but this recipe leans towards Italian flavours with lots of fresh basil and garlic, Parmesan cheese, and Italian sausage.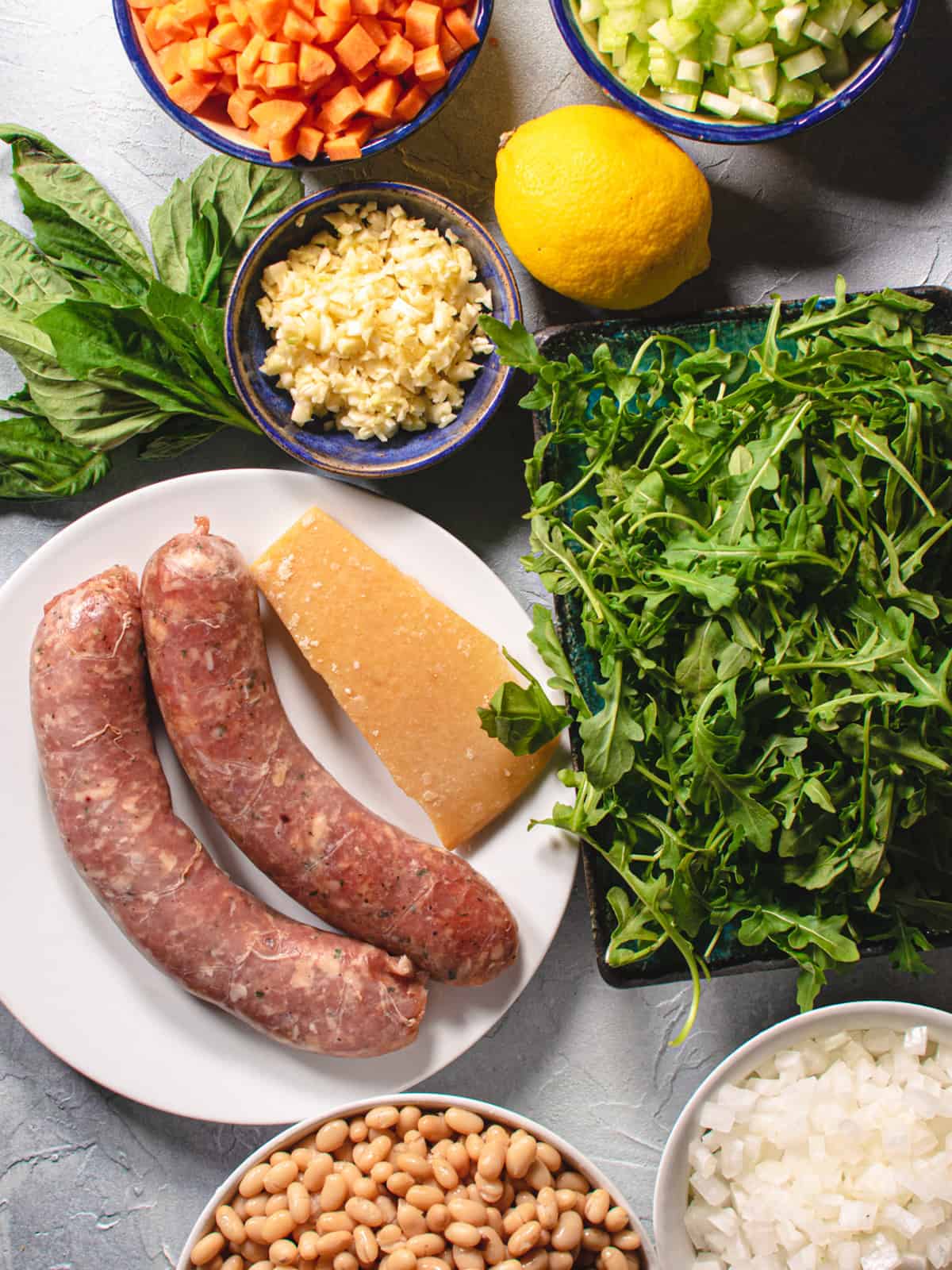 Do you throw out the rind from your Parmesan cheese? If you do...stop! You can use them in soups, stews, and sauces to boost up the flavour. It is a wonderful addition to soups like this and equally great in many pasta sauces. You can store them in the freezer so they are there when you need them. If you don't have any Parmesan rind on hand you can garnish each serving with freshly grated Parmesan cheese instead.
What type of sausages should I use?
I use Italian chicken sausages for this recipe but you can use any sausages you like. Hot or mild. Pork, chicken or turkey. Remove the casings when using sausage in a soup, sauce or stew. The longer cooking time turns the casings into rubber and we don't want that! To remove them just make a slice down the length of the sausage and scrape the meat into a bowl or cut a small piece from one end and squeeze out the meat. Whichever you find easiest.
Can I make this vegan?
Absolutely! Omit the sausage and replace it with any vegetable you like (mushrooms always come to my mind when omitting meat) or don't replace it with anything! You can also add a tablespoon of white miso paste if you have it. It adds wonderful umami.
how to peel and dice an onion
Peeling and chopping onions is one of the most important things to learn when you like to cook. And learning the easiest way is even better! Onions are used in so many things so it's a skill you want to hone. This series of photos shows how to do it step by step.
Leaving the root end intact keeps the onion from falling apart as you chop. Just trim the roots a bit as they often contain dirt that you don't want messing up your cutting board. Next, cut it in half from top to bottom. Then cut the top end off and peel the skin.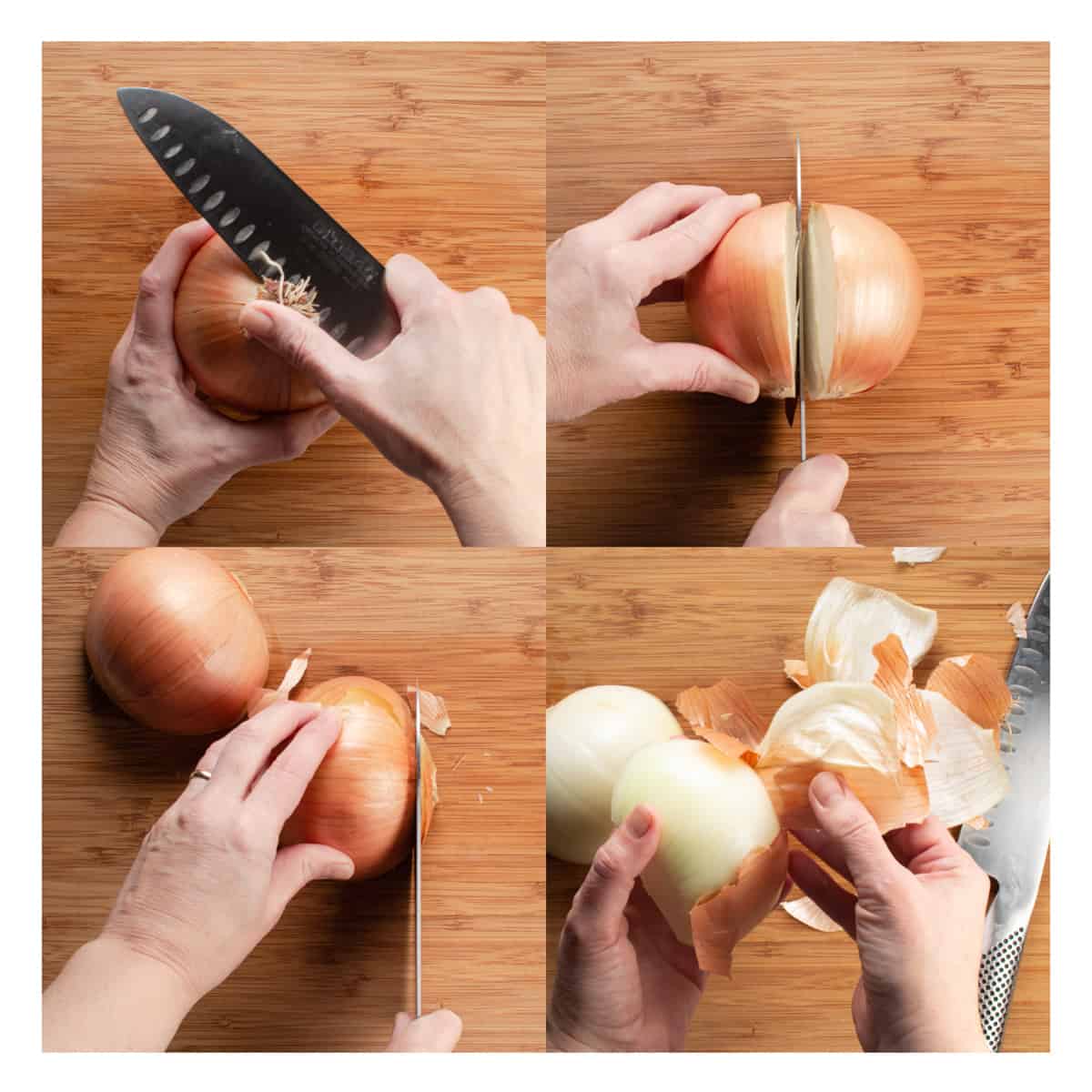 Make verticle slices from top to bottom. Start at the bottom, closest to the board, and at a bit of an angle towards the center of the onion. Don't cut through the root end. It holds the onion together as you chop. Continue slicing all the way around, keeping the angle to the center. Turn the onion half and slice across into a dice. The thickness of the slices, in both directions, determines the size of the dice. For a finer mince continue chopping after the whole onion has been diced.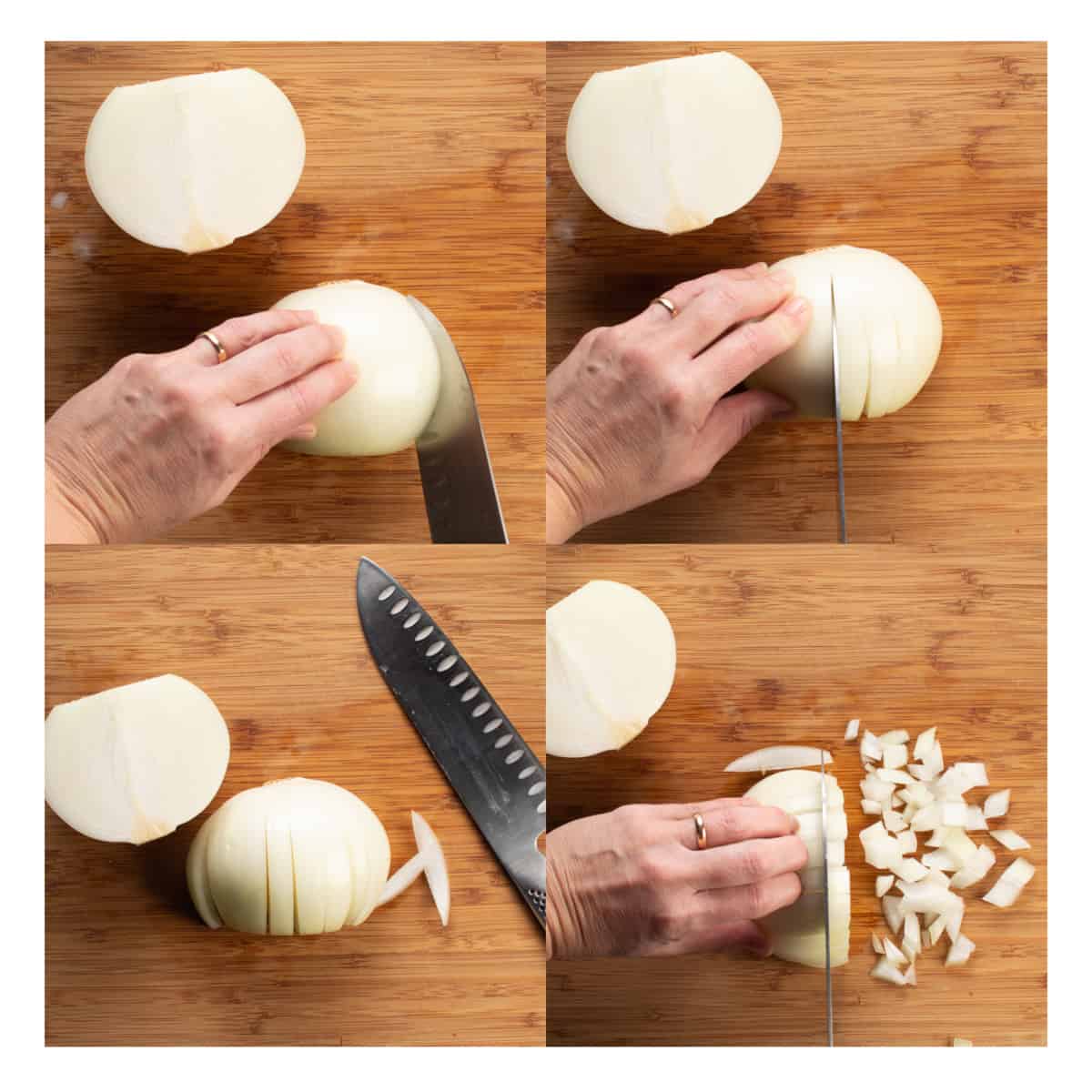 which white beans should I use?
Honestly, any kind. I used Navy beans which are smaller in size and have a firmer texture than Kidney or Cannellini. So it depends on the texture you prefer. My preference for beans is more firm but if you like a creamier bean then go for the white kidney beans instead. You absolutely can soak and cook dry beans for this recipe. Check out my recipe for cooking dried beans here. I just like the convenience of the canned for a quick and easy soup.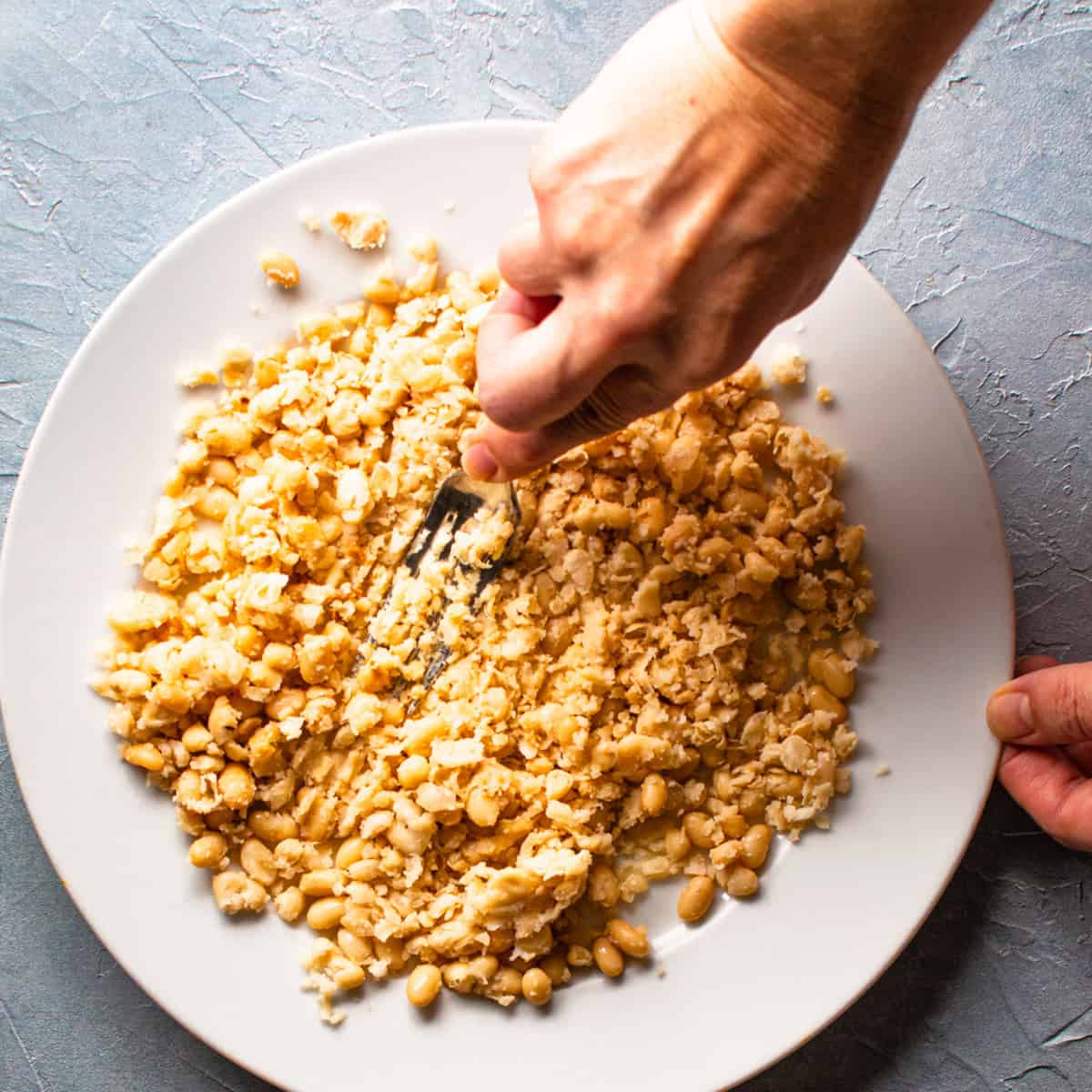 Mashing a portion of the beans gives the soup body and creaminess without adding any dairy. This can be done in a food processor but I like the ease of cleaning up with just a plate and fork.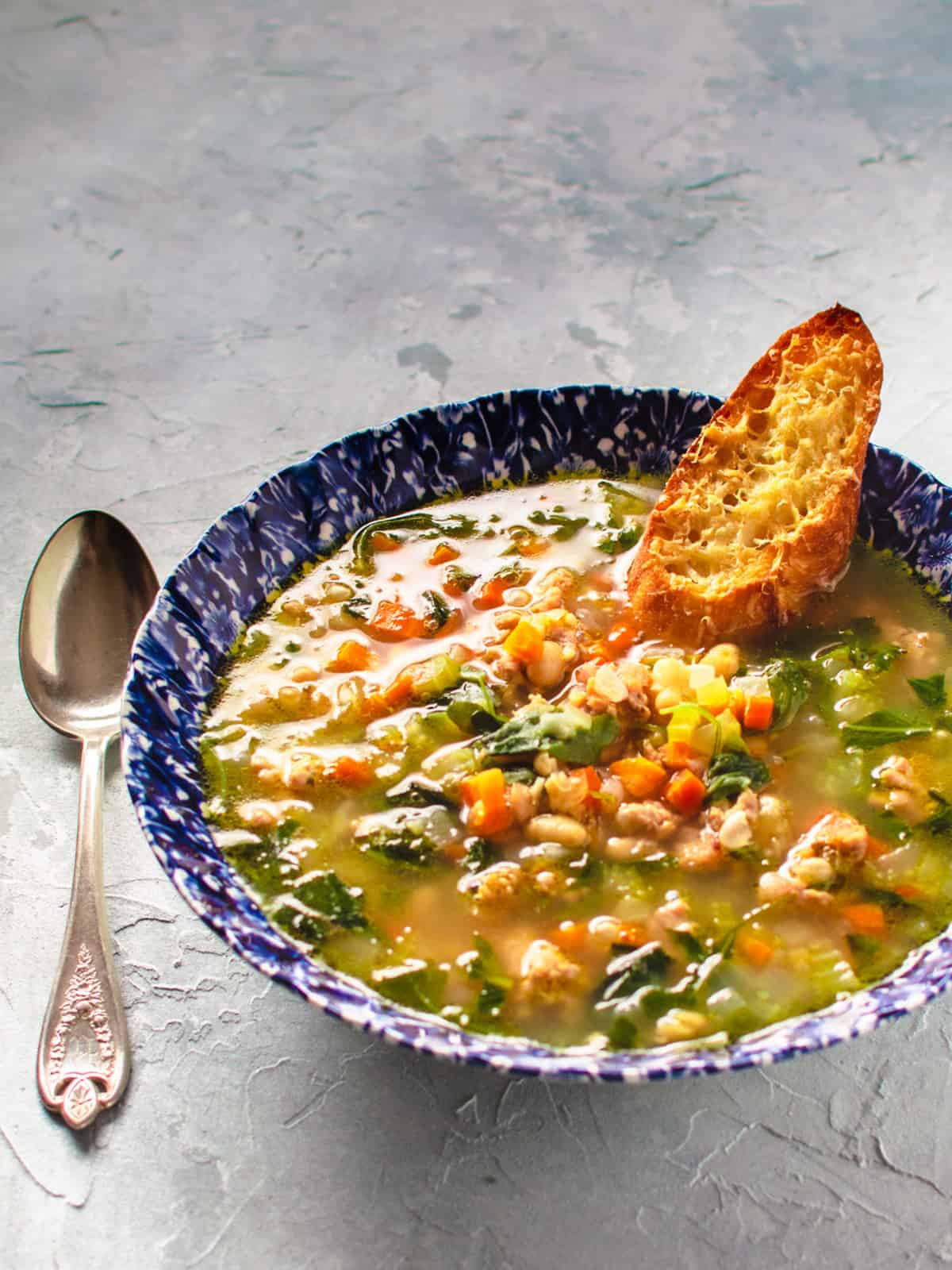 Can I substitute arugula for something else?
You can use any type of greens you like. Swiss chard, kale, collard greens, spinach or even just a big handful of parsley! I love the pepperiness of arugula plus no chopping involved! I buy the pre-washed containers of baby arugula because I'm all about avoiding washing and chopping leafy greens!
This recipe makes about 12 cups of soup depending on how much stock you use. Plenty to freeze some...if it doesn't get gobbled up right away! Leftovers are heavenly and will last in the fridge for 4-5 days.
pro tips for best results
Use your favourite type of sausage, hot or sweet.
Save Parmesan rinds to use to flavour soups, stews and sauces
Any type of white beans work for this recipe. Kidney and Canellini are a bit creamier.
Use canned beans for speed and convenience.
When buying store bought chicken broth, look for tetra packs in the organic section. It has the best quality ingredients and less (or no) salt. It's better to salt to your own taste.
Substitute arugula for any greens of your choice or a large handful of chopped parsley.
Don't be shy with the fresh basil. It adds a beautiful brightness and aroma to the soup.
Let me know, in the comment section, what you think about this recipe and how you make out!
Other recipes you may like
white bean salad with roasted peppers and arugula
📖 Recipe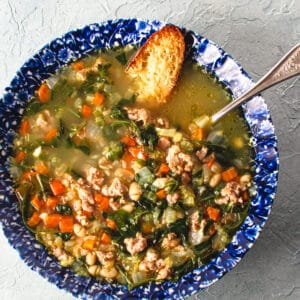 White bean, sausage and arugula soup
White Bean Sausage and Arugula Soup is an easy and fast one pot meal that is sure to please the whole family!
Print
Pin
Rate
Ingredients
1

lg

white or Spanish onion, diced, about 2 cups

2

lg

celery stalks, diced, about 1 cup

2-3

med

carrots, peeled and diced, about 1 cup

8

cloves

garlic, peeled and minced

1

kg or 2 lbs

Italian sausage, or your favorite kind

6-8

cups

chicken stock, homemade or store bought

Parmesan rind, optional, and/or freshly grated Parmesan cheese

2

540 ml or 18 fl oz cans

white beans, navy, canellini, or kidney

2

cups

arugula, packed. Add more to taste

½

cup

chopped fresh basil

1-2

tablespoon

lemon juice

1-2

teaspoon

salt

fresh ground black pepper to taste
Instructions
Peel and dice onions, celery, carrots and garlic.

Heat large soup pot or Dutch oven over medium heat. Add 2 tablespoon olive oil. Add onions, celery, carrots and 1 teaspoon salt. Cook, stirring occasionally, for 8-10 minutes or until onions are soft and translucent.

Meanwhile, remove casings from sausages. When vegetables are soft add sausage and garlic. Using a wooden spoon, break up the sausage into small pieces and cook for 8-10 minutes or until sausage is cooked and starting to brown.

Add chicken stock and Parmesan rind if using. Increase heat and bring to a boil. Reduce heat and simmer gently for 15 minutes.

Meanwhile, rinse and drain beans. Place ⅓ to ½ of the beans on a plate or cutting board and mash with a fork. After soup has simmered for 15 minutes add the whole and mashed beans and continue simmering for another 15 minutes.

Add arugula and chopped basil. Simmer 5 more minutes. Add more stock if you want to thin it out more. Remove from heat and add fresh lemon juice. Taste and adjust seasonings, adding more salt and/or pepper as needed.

Garnish each serving with some freshly grated Parmesan cheese.
Notes
Store in the refrigerator for 4 days and in the freezer for 6 months. 
Use any of your favourite sausages. 
Serve topped with grated Parmesan cheese.
To make this soup vegan, omit the Parmesan cheese and sausage and add an extra can of beans. Replace chicken stock with vegetable stock. 
Nutrition Facts are based on 1 of 10 servings and are an estimate only using an online calculator. 
Nutrition
Serving:
1
serving
|
Calories:
293
kcal
|
Carbohydrates:
54
g
|
Protein:
35
g
|
Fat:
5
g
|
Saturated Fat:
1
g
|
Polyunsaturated Fat:
2
g
|
Monounsaturated Fat:
2
g
|
Cholesterol:
36
mg
|
Sodium:
1047
mg
|
Potassium:
1987
mg
|
Fiber:
13
g
|
Sugar:
4
g