Grilled Shrimp with Coconut Creamed Corn is so quick and easy you can make it any night of the week! Mexican flavours kick everything up a notch and the creamed corn is to die for. Add some of your favourite grilled veggies and you will be a rock star!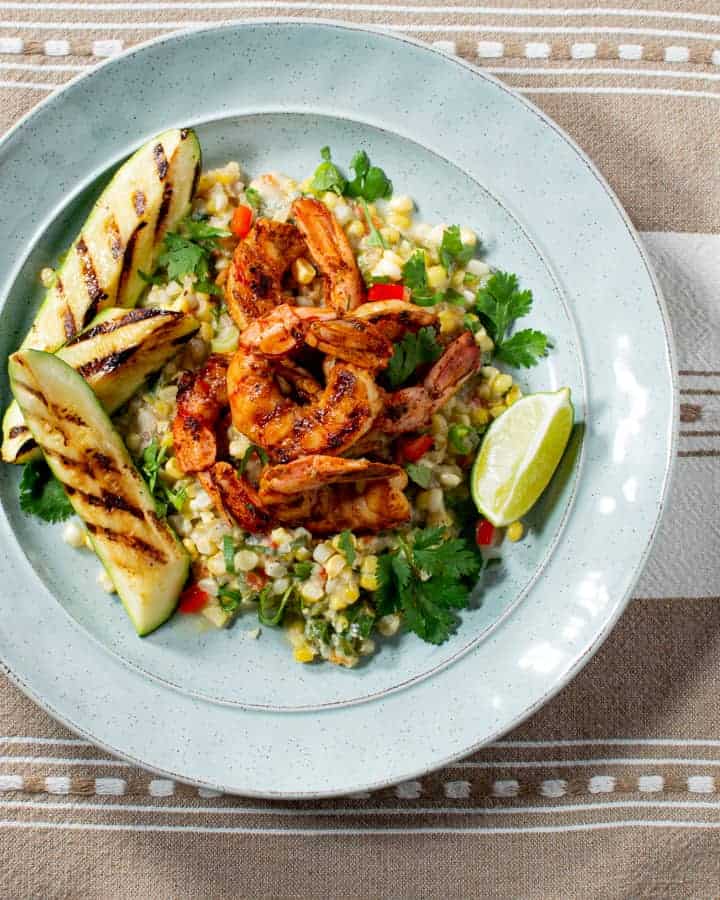 Grilled shrimp is a no-brainer but did you ever think to pair it with creamed corn? How about coconut creamed corn? I bet not. Until now. This dish was inspired by recent dinner out with my in-laws. My father in law ordered a fish dish that was served on top of a sort of creamed corn. It was Italian so the ingredients were all different but I knew I needed to come up with my own version.
The Shrimp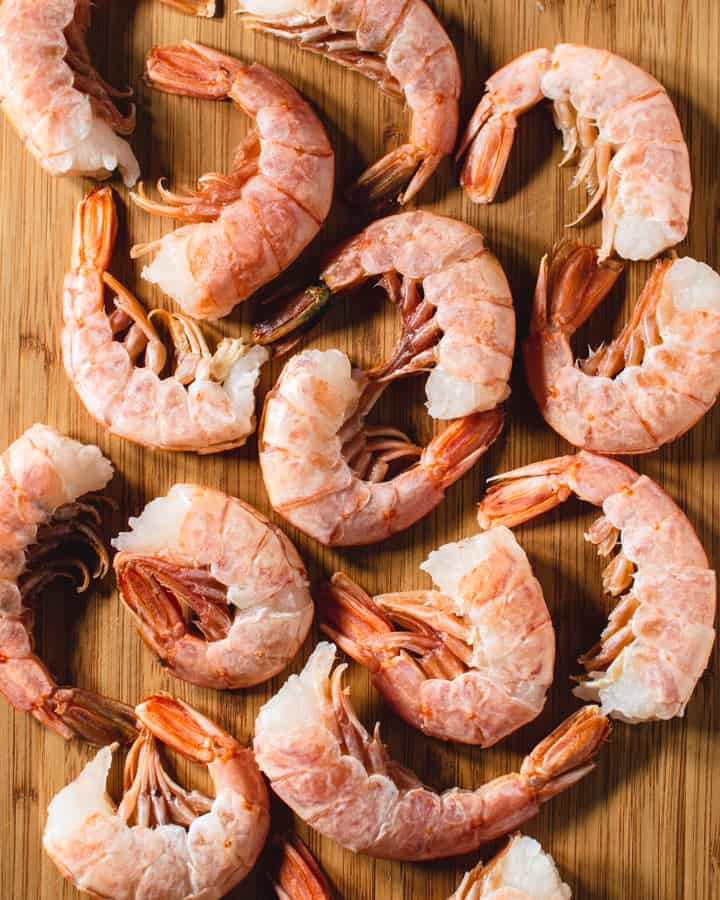 These are red Argentine shrimp. I discovered them not that long ago in my local Italian supermarket. I thought they were cooked already because they are pink...when they're raw! The photo above is of the raw shrimp, believe it or not. You don't have to use this type of shrimp though. Use any kind you like but if you can find these they are delicious.
If your shrimp are frozen, defrost and peel them. I always keep the shells in a bag in the freezer for a future fish stalk but that's up to you. Put them in a bowl with some chili powder, cayenne. Toss with some oil and let them stand while you work on the corn.
The creamed corn
This creamed corn is a great side for many meals. I'm thinking Thanksgiving dinner...You can switch up, or omit, other ingredients to match what you are serving it with. Cream can also be used instead of coconut milk. This recipe doesn't use any starch to thicken it, which is the traditional Southern way. Instead I puree some of the kernels which thickens when cooked. The amount of corn you puree is a personal preference. I did about ⅓ so mine still had quite a bit of texture. If I was making it as a side to something heartier I might puree half or more.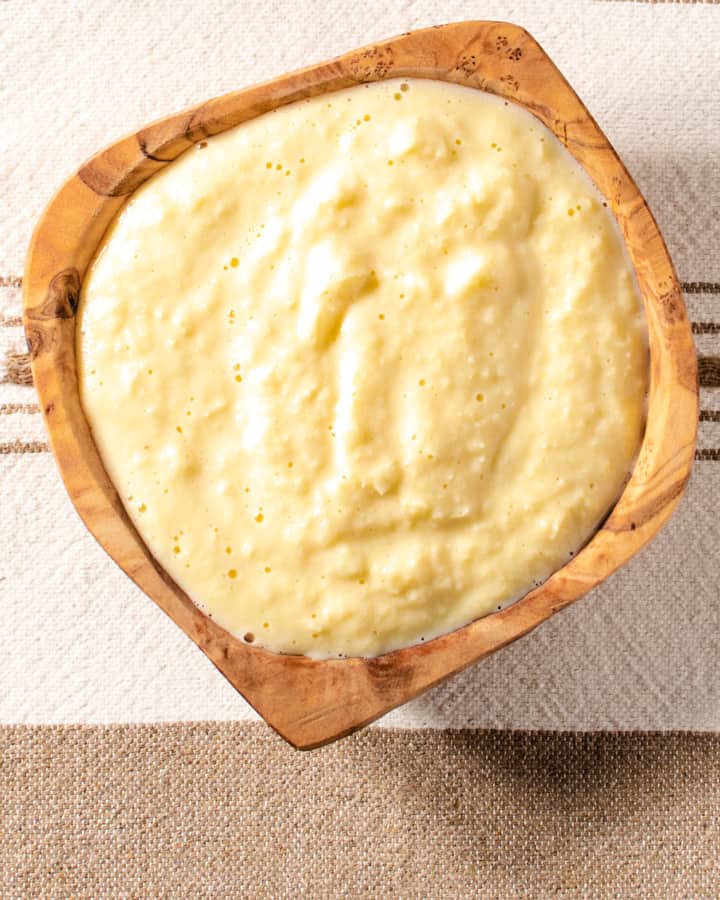 If you are using fresh corn refer to my recipe for Creamy Corn Salad for instructions on how to remove the kernels from the cob.
Jalapeño Peppers
Jalapeño peppers come in varying degrees of heat. Unfortunately you can't tell how hot they are by looking at them. I always buy at least one more than I think I need just in case they are really mild. That was the case for these I bought for testing so I used two. Adjust the amount to your liking. Taste a little piece and decide. Remove the pith and seeds by cutting them in half and then into quarters lengthwise. Then just run a paring knife under to remove. Cut long strips and cut those into a small dice.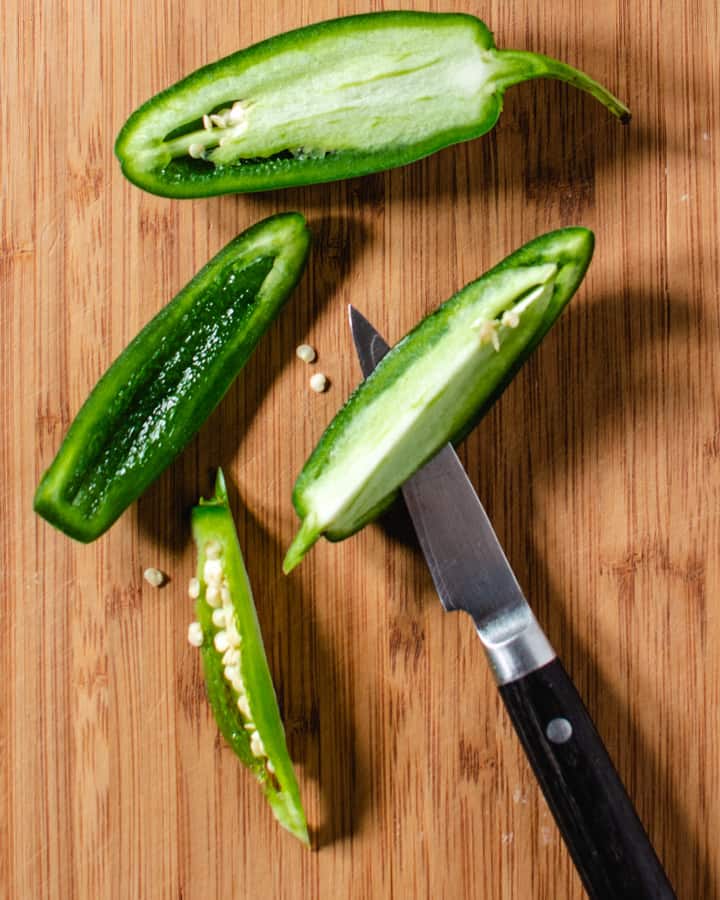 Prep the rest of your vegetables and saute them a little, then add the rest of the ingredients and cook for a few more minutes. Remove from the heat and squeeze over some fresh lime juice to balance the flavours and add some freshness. That's it! The corn can be kept warm while you make the shrimp or it can keep in the fridge for 3 days.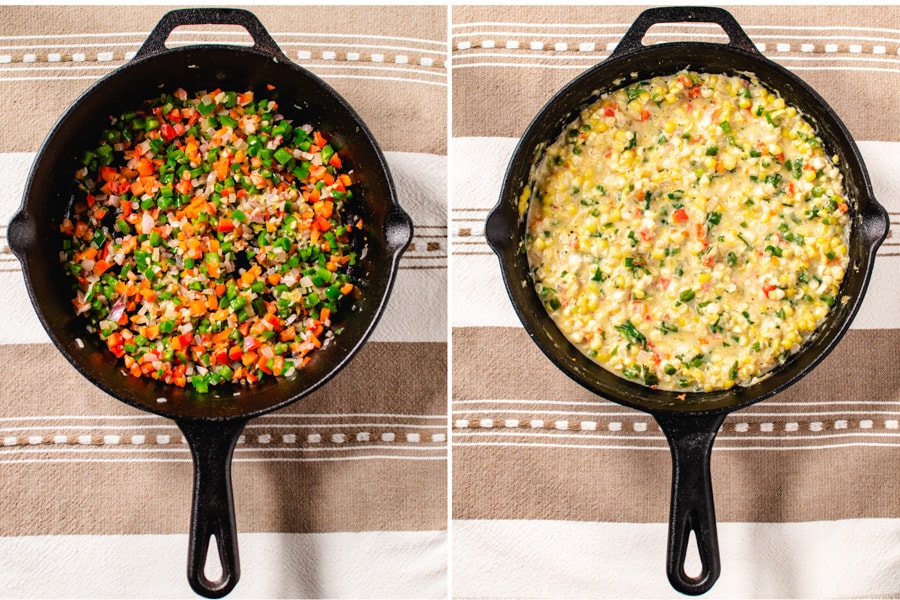 Cooking the shrimp
Get your grill nice and hot. If you don't want to use a BBQ you can easily cook them in a grill pan or simply saute in a frying pan. Grill pans are great when you want some nice charred marks and don't want to cook with too much oil. This is the one I have and I love it! Pre-Seasoned Square Grill Pan . Place the shrimp on the hot grill or pan and cook for 4-6 minutes depending on the size of shrimp you are using. If you are unsure cut one open lengthwise to check.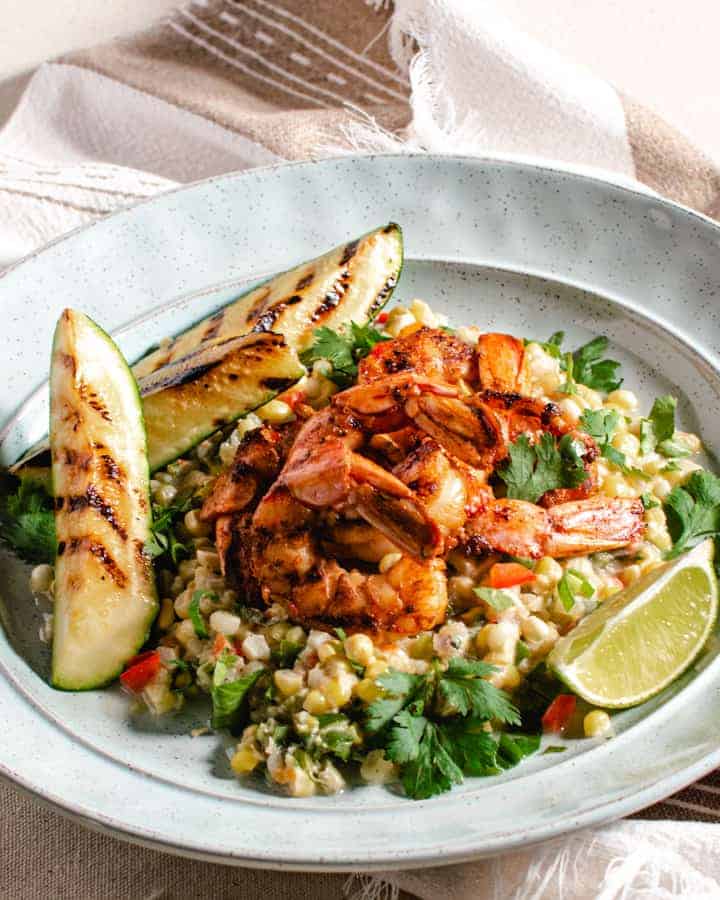 Garnish with some extra cilantro and fresh lime wedges and serve with some grilled zucchini if desired. That's it! Now you're ready to eat!
These grilled shrimp would also be delicious along side Corn Salad with Creamy Dill Dressing or Shaved Asparagus Salad
📖 Recipe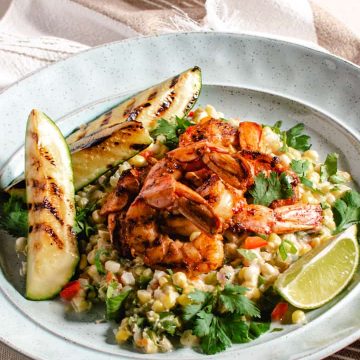 Grilled Shrimp with Coconut Creamed Corn
Grilled Shrimp with Coconut Creamed Corn is so quick and easy you can make it any night of the week! Mexican flavours kick everything up a notch and the creamed corn is to die for.
Print
Pin
Rate
Ingredients
The creamed corn
4

cups

corn, fresh or frozen

1

tablespoon

olive or vegetable oil

1

large

shallot, peeled and finely diced

2

jalapeño peppers, seeded and finely diced

½

red pepper, finely diced

1

large clove

garlic, minced

¼

cup

cilantro, chopped

½ - 1

cup

coconut milk or cream

1 ½

teaspoon

sugar

2

teaspoon

salt

½

teaspoon

black pepper, freshly ground

1

lime
The shrimp
20

large

shrimp, defrosted if frozen, and peeled

1 ½

teaspoon

chili powder

¼

teaspoon

cayenne

1

tablespoon

olive or vegetable oil
Instructions
Prepare the shrimp
Place shrimp in a bowl and toss with chili powder, cayenne, salt and oil. Cover and refrigerate while you make the corn or up to one hour.
for the corn
If using fresh corn, remove the kernels from the cobs and place in bowl. Measure out frozen corn and let thaw.

Place about ⅓ of the corn into a blender and puree until smooth. Set aside.

Heat the oil in a saute pan to medium-high. Add the finely diced shallot and saute until it starts to soften. Add the garlic, finely diced jalapeño pepper, red pepper and corn kernels. Continue to saute and stir for 1-2 minutes.

Add the pureed corn, coconut milk, sugar, salt and pepper. Continue stirring for about 3 minutes or until thickened and creamy. If it starts to dry out add more coconut milk.

Remove from heat and stir in lime juice and chopped cilantro, reserve some cilantro for garnish if desired. Taste and adjust salt and pepper as needed. Set aside, covered, while you make the shrimp.
Grill the shrimp
Heat your grill to high. Place shrimp on grill and cook for 4-5 minutes, turning half way through, until cooked.

Warm creamed corn, if necessary, and serve with shrimp and your favourite grilled vegetables, if desired.
Notes
Shrimp can be cooked in a grill pan or frying pan. Oil the pan with 2 teaspoon oil before frying. 
Creamed corn can be made up to 3 days in advance and reheated.
Extra coconut milk can be frozen for later use. 
Nutrition Facts are an estimate only using an online calculator and have not been approved by a Registered Dietitian. 
Nutrition
Serving:
1
serving
|
Calories:
491
kcal
|
Carbohydrates:
65
g
|
Protein:
9
g
|
Fat:
17
g
|
Saturated Fat:
6
g
|
Polyunsaturated Fat:
1
g
|
Monounsaturated Fat:
5
g
|
Cholesterol:
50
mg
|
Sodium:
1943
mg
|
Potassium:
251
mg
|
Fiber:
9
g
|
Sugar:
11
g