Eggs make a quick and easy weeknight meal. Add a few simple ingredients and whip up this easy, comforting Roasted Cauliflower and Leek Frittata. Smoked cheddar brings this vegetarian comfort meal to whole other level!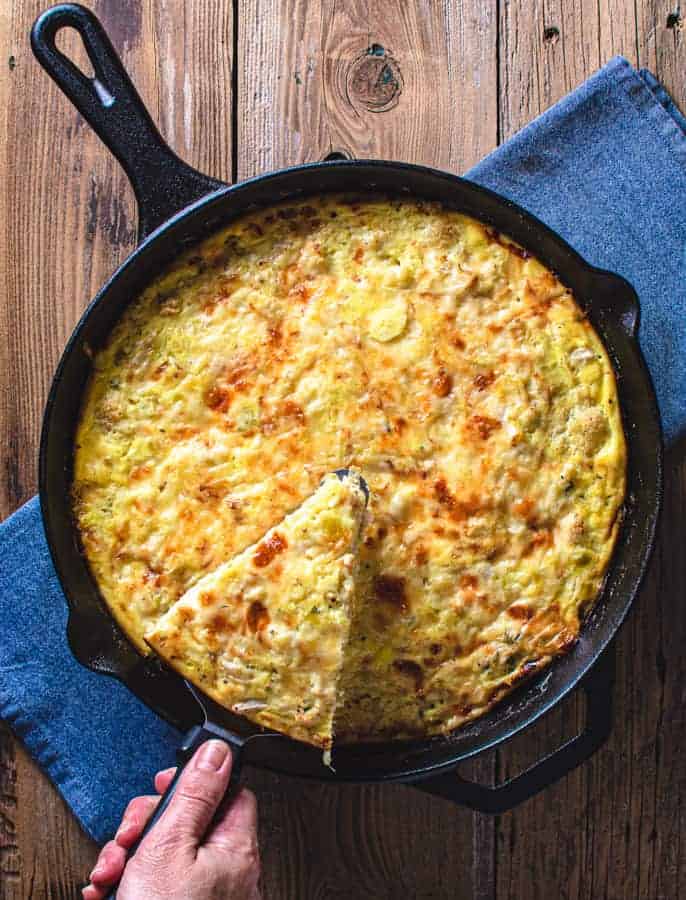 The extra step of roasting the cauliflower is key to not only bringing out the flavour but also drying out the cauliflower. That way you aren't adding in extra moisture as you would if using boiled or steamed. However, if you prefer to steam or boil the cauliflower that works too! Just make sure to dry it well before adding it to the egg mixture.
Ingredients & Substitutions
For a full list of ingredients see the recipe card below.
Cauliflower - Feel free to substitute with broccoli or any other leftover cooked vegetables you want to use up. You will need approximately 4 cups of chopped veggies.
Leeks - Leeks add a subtle, sweet onion flavour but you can also substitute with sliced or diced white or sweet onion. Use one medium sized onion.
Eggs
Full fat yogurt - Low or no-fat yogurt will produce a watery texture. You can also substitute with sour cream or heavy cream.
Smoked Cheddar - The smokiness adds extra depth of flavour to this frittata but feel free to use any type of cheddar or Monterey Jack cheese.
Mozzarella - I used 2 types of cheese here to add more interest to the frittata. The cheddar adds flavour and the mozzarella provides gooiness. If you prefer to use only one type of cheese I would omit the mozzarella and use all cheddar. Or if you want to use all Mozzarella and have some parmesan cheese on hand, ¼ cup grated parm will add extra sharpness.
Fresh thyme - If you don't have fresh thyme, omit the sprigs during the roasting process and use ½ teaspoon dried in the egg mixture. You can also omit the thyme altogether or add other fresh herbs to the eggs such as parsley.
For the cauliflower
Breaking down a head of cauliflower can be a bit messy. But it's really quite simple. Give yourself lots of space and get to it! Cut it in half lengthwise and then into quarters. Starting from the top of each quarter, cut the core away from the florets. Pull apart the florets and cut into smaller pieces.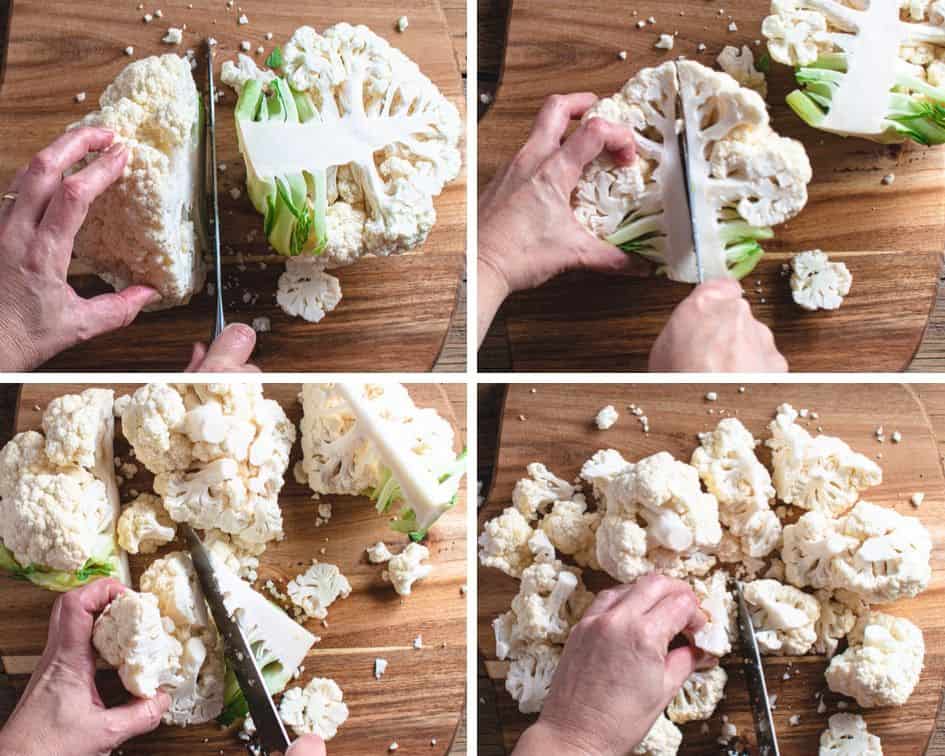 Place the florets on a baking tray. You can use an ungreased tray or line it with parchment for easier clean up. Drizzle cauliflower with olive oil and sprinkle with salt and pepper. Toss to coat. Remove enough leaves from the thyme sprigs to produce about 1 teaspoon of chopped thyme that will be added in later. Lay the remaining thyme sprigs on top. This will infuse flavour into the cauliflower as it roasts.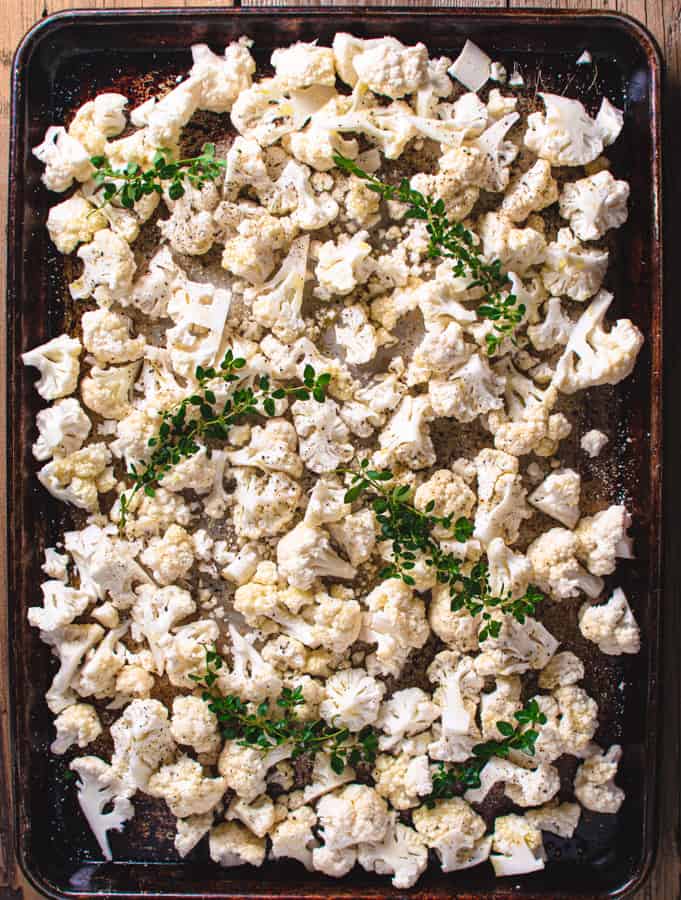 For the leeks
While the cauliflower is roasting you can start working on the other ingredients. Leeks are a lovely, mild, sweet onion. They become very buttery when cooked. You can, of course, substitute a diced white or vidalia onion and cook a little longer, until they are nice and soft. The dark green parts of the leeks are tough so they are cut off and discarded. This can seem like a waste but if you like to make your own stocks, you can keep them in the freezer until ready to use.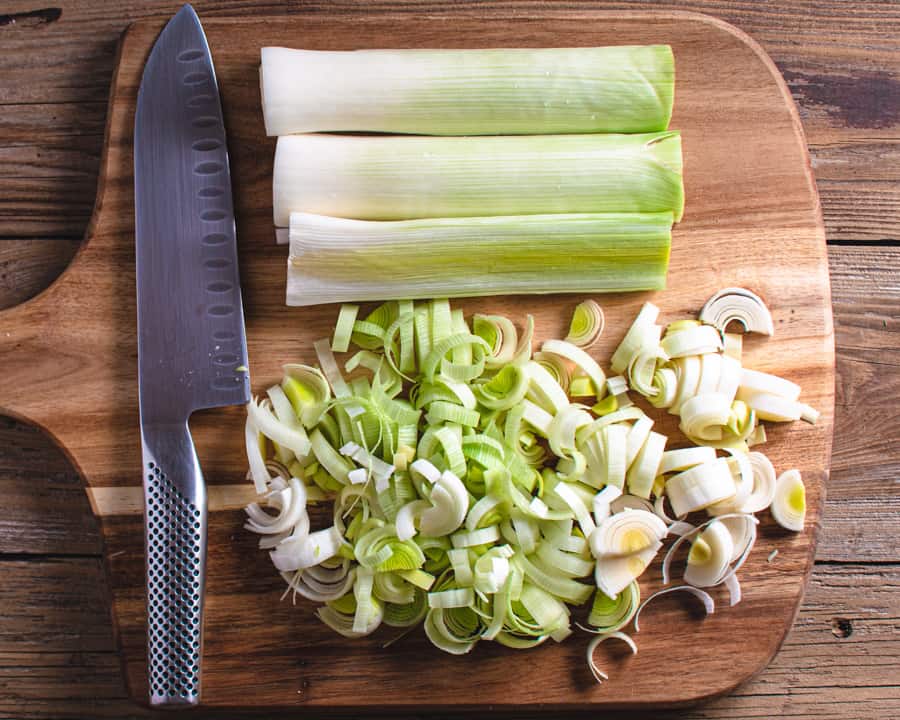 Leeks can be very sandy and sometimes hard to rinse clean. For a really good wash place the sliced leeks in a bowl and cover them with a generous amount of cold water. Then slosh around with your hand and leave to sit for one to two minutes. This allows the dirt, which is heavier, settle to the bottom while the leeks float to the top. Scoop them out with your hand or a slotted spoon and into a colander to drain. I use this same washing method with sandy lettuces too. Works like a charm!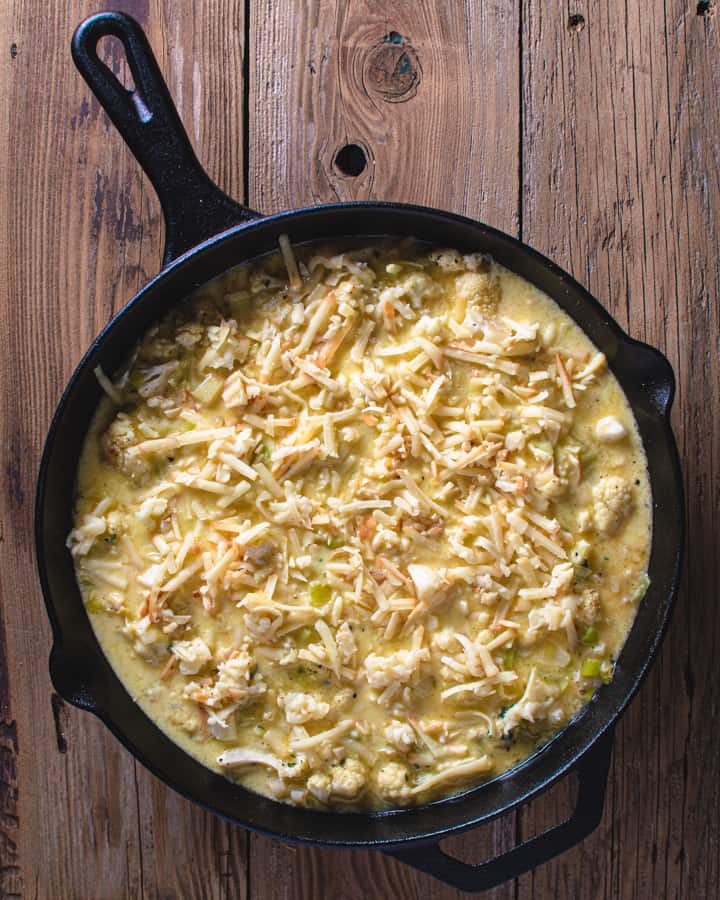 If you don't have a cast iron skillet don't sweat it. Use a large non-stick skillet that is 12 inches in diameter. My pan is 2 ½ inches deep but, as you can see in the photo above, there is still room so you could go with 1 ½ inches deep.
The cheese
This recipe uses a combination of smoked cheddar and regular mozzarella. The smokiness of the cheddar is a perfect compliment to the nutty cauliflower and sweet leeks. If you can't find smoked cheddar you can substitute with a a combination of old cheddar and smoked mozzarella and change the amounts to equal parts. You can play around with the cheese as much as you like in this recipe and substitute with just about any kind. I particularly like the smoky flavour with the cauliflower and leeks and the mozzarella adds gooeyness - which we all need more of in our lives right?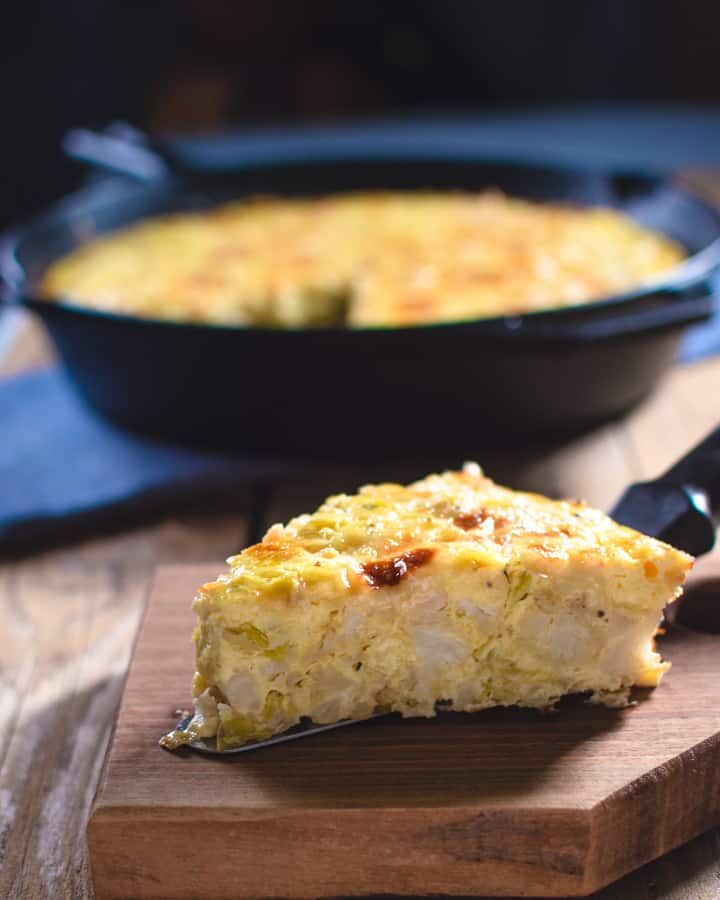 If the frittata looks a bit pale after baking you can put it under the broiler for a couple of minutes to brown. Serve it warm or at room temperature. Add a salad and you have an easy and delicious meatless meal! It's also fantastic as leftovers for lunch or dinner.
Other recipes you might like
Black Rice Salad With roasted vegetables
📖 Recipe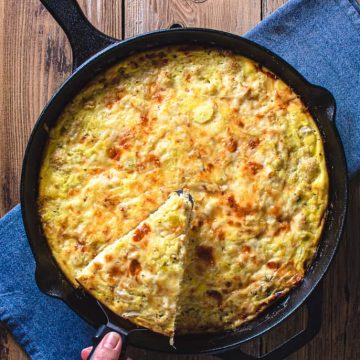 Roasted Cauliflower and Leek Frittata
Make this easy and delicious fritatta any day of the week. Loaded with vegetables and smoked cheddar cheese, it's meatless comfort food at it's finest!
Print
Pin
Rate
Ingredients
1

medium head

cauliflower

1

teaspoon

salt

freshly ground black pepper to taste

2

tablespoon

olive oil

4-6

sprigs

fresh thyme

1

tablespoon

olive oil

3

leeks

12

large

eggs

1

cup

full fat yogurt, or sour cream

1 ½

cups

grated smoked cheddar (150 g/5 oz)

½

cup

grated mozzarella (50 g/2 oz)

1

teaspoon

salt

freshly ground black pepper to taste

1

teaspoon

chopped fresh thyme
Instructions
Cut cauliflower into quarters, lengthwise, and remove core. Cut into small pieces and place on baking tray.

Drizzle with 2 tablespoon of olive oil, sprinkle with salt and pepper. Toss to mix.

Remove enough thyme leaves from stems to produce about 1 teaspoon of chopped thyme, set aside. Place remaining sprigs over cauliflower.

Roast for 15 minutes, stirring half way through. Remove from oven and discard thyme sprigs. Reduce oven temperature to 350°F.

While cauliflower is roasting prepare the leeks.

Remove the dark green ends of leeks, keeping only the white and light green parts. Cut off the root end. Slice in half lengthwise then slice across into approximately ½ cm (¼") slices.

Place in large bowl and fill with cold water. Agitate leeks with your hand to release any dirt. Let stand in water for 1-2 minutes. Lift leeks from bowl and into a colander to drain.

Heat 1 tablespoon olive oil in large cast iron skillet over medium heat. Saute leeks for approximately 5 minutes or until soft. Leave in pan but remove from heat and set aside while preparing the other ingredients.

Grate both cheeses and mix together in a bowl.

In a large bowl whisk together eggs, yogurt, salt and pepper. Add approximately ¾ of the cheese mixture and stir

When cauliflower is done, add to skillet with leeks. Mix in chopped thyme. Pour over the egg mixture and stir gently to combine. Sprinkle with remaining cheese and bake for 30 minutes or until set in the center. If desired, broil for 2-3 minutes to brown the top. Serve warm or at room temperature.
Notes
STORAGE - Fritatta will keep in the refrigerator for 4-5 days. TO FREEZE - Cut into pieces and wrap individually. Let thaw in the fridge overnight and reheat in the microwave, a 350 F oven, or in a skillet on top of the stove over medium-low heat, until warmed through. NUTRITION FACTS - are based on one serving. Please note, these calculations are an estimate only and have not been approved by a registered dietitian. I use an online nutritional calculator from My Fitness Pal to calculate these numbers.
Nutrition
Serving:
1
serving
|
Calories:
283
kcal
|
Carbohydrates:
7
g
|
Protein:
18
g
|
Fat:
21
g
|
Saturated Fat:
8
g
|
Polyunsaturated Fat:
2
g
|
Monounsaturated Fat:
8
g
|
Cholesterol:
272
mg
|
Sodium:
873
mg
|
Potassium:
325
mg
|
Fiber:
2
g
|
Sugar:
3
g