These Quinoa Stuffed Peppers are my take on a Greek Salad in a pepper. A perfect vegetarian meal for a hot summer day. Quinoa Stuffed Peppers are so easy, delicious and satisfying you won't even notice they are meatless. Omit the cheese and turn this into an impressive vegan meal.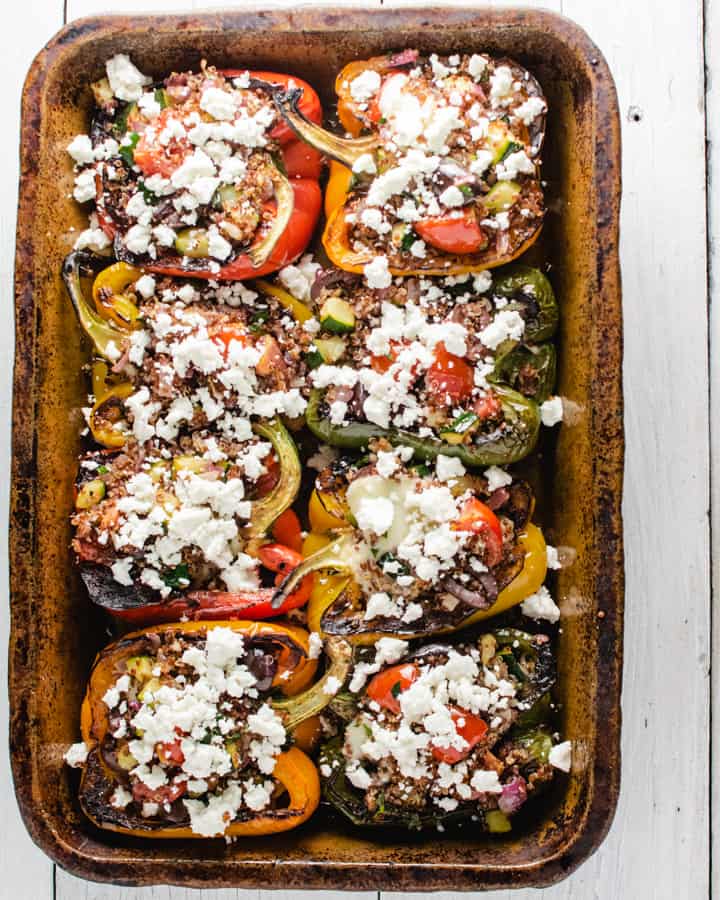 I am not vegetarian but I really do enjoy vegetarian meals every so often and especially in the hot summer months. These Quinoa Stuffed Peppers check all the boxes for an easy, colourful, healthy meal that will even satisfy the die hard meat eaters in your life. They may insist on having it with a side of steak...that's okay. They're perfect as a side dish too! That way you can satisfy your meat eating and vegetarian guests with one dish. Boom!
let's talk quinoa...
For this recipe I used red quinoa. Only because it's what I already had. You can use any type you like. I also think the red looks pretty when mixed with the rest of the ingredients.
Want to know the secret to getting perfectly cooked quinoa that isn't mushy or clumpy? Cook it like pasta. I honestly have no idea why all the instructions I read about how to cook quinoa call for it to be cooked with the water absorption method, like rice. No. Just no.
I had my first glimpse of quinoa back in the early 2000's while working as a Pastry Chef at an Inn & Spa in Picton Ont.. The Chef had a quinoa salad on the menu. We were so hip and cool back then. Anyway, as the Pastry Chef, I had to do most of the prep work for the tiny restaurant. This is the way the Chef taught me and I've never looked back. I've tried the absorption method several times, playing with the amounts of water and cooking times thinking "this must be the best way since it's what everyone is telling me". Well it isn't. At least in my opinion.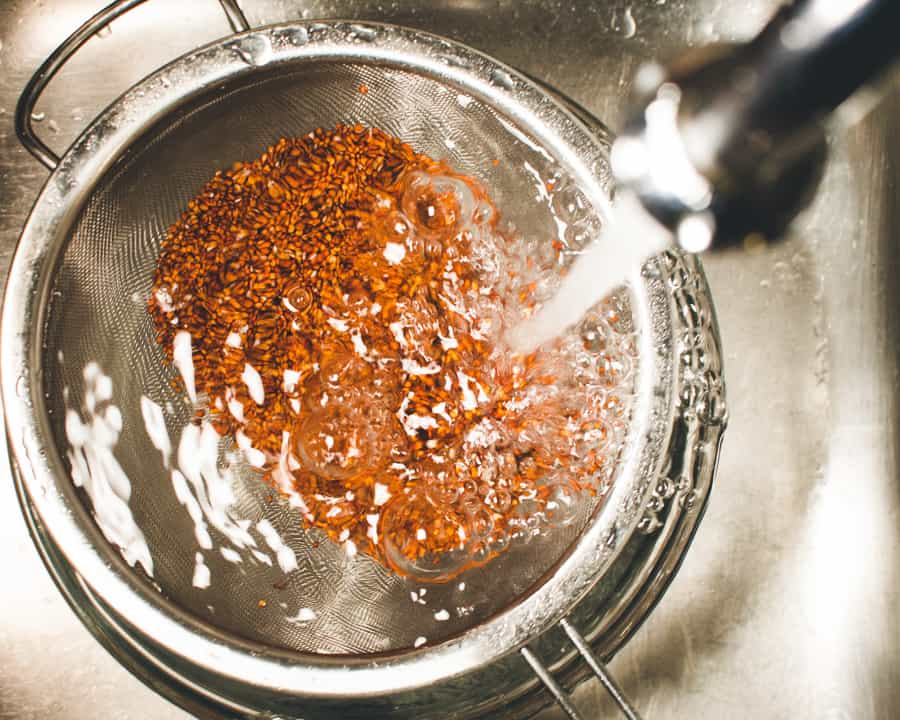 First you MUST rinse the quinoa VERY well. The grains have a natural coating called Saponin that when left on can produce a bitter, soapy taste. Put the quinoa into a fine sieve over a larger bowl. Let cold water run over it for at least 2 minutes, agitating with your hand every so often. Then cook it in boiling water for 12-15 minutes depending on your preferred amount of crunch. I cook mine for 12. Once done, drain and rinse under cold water. For this recipe we are heating up the grains again later but if you are serving it warm as a side then no need for rinsing.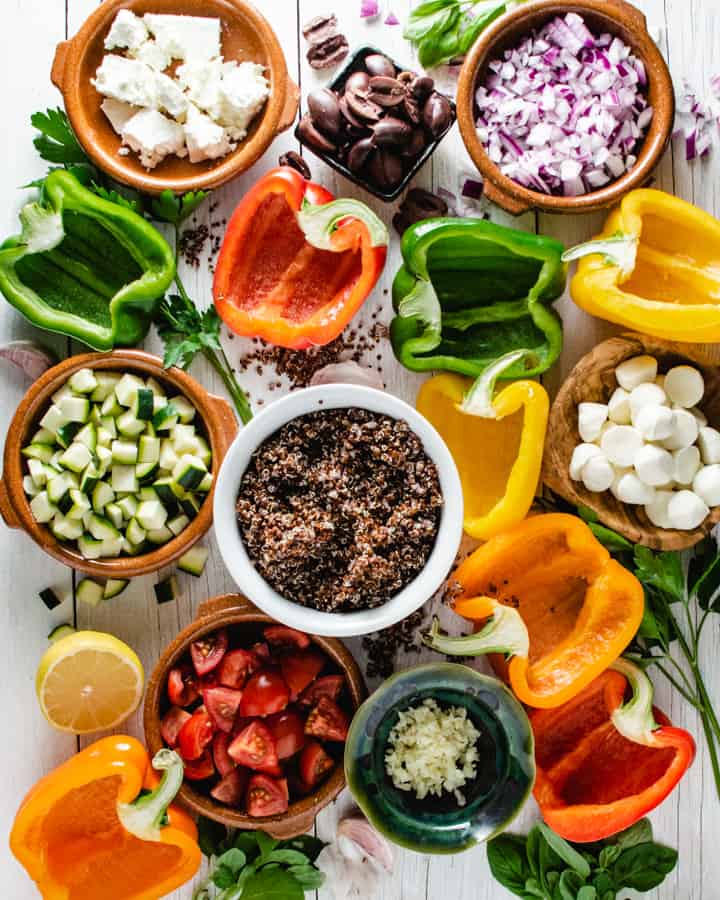 Now you can prep all the other ingredients. I leave the tops on the peppers to better hold in the filling. You can pack more in that way. Plus they look pretty don't they?
Next is to cook the peppers part way. They are baked after stuffing but we want to give them a head start so the end result is a perfectly cooked pepper. I do this on the BBQ after tossing them with oil, salt and pepper, but you can also do it in a 450°F oven cut side down.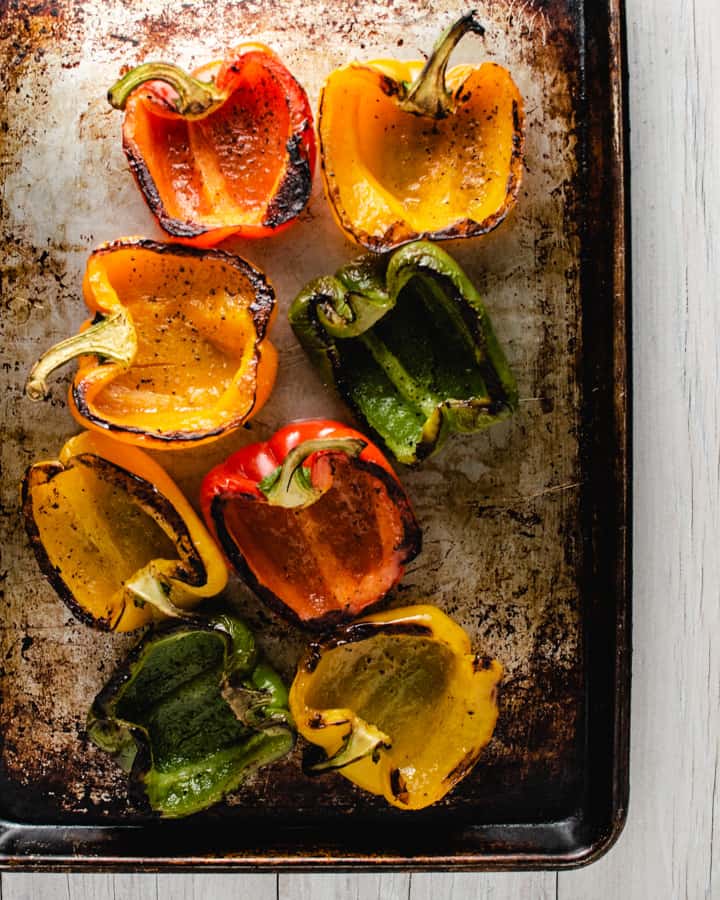 make the filling
Once all of your ingredients are prepped you can make the filling. It's a cinch. Saute the onions, garlic and zucchini. Then mix with the rest of the ingredients except some lemon juice and feta cheese which gets added after baking. I'm not a fan of how feta cheese dries out when baked so I leave it until the end.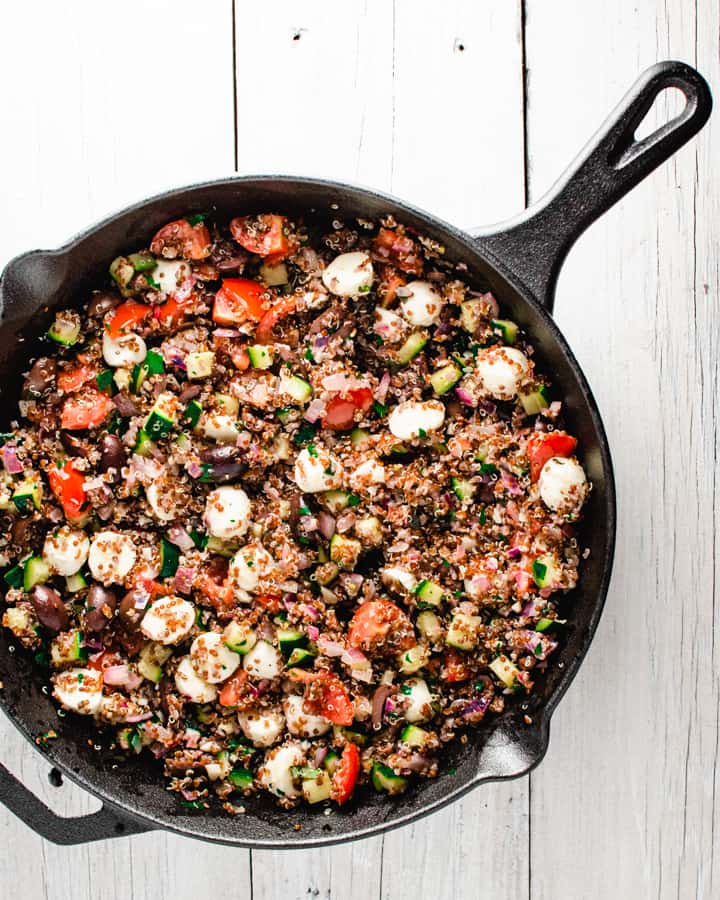 Now you are ready to stuff the peppers. Fill them with as much filling as you can fit. Take note that each pepper is getting it's fair share of bocconcini cheese! Now they go hang out in a 350°F oven for 10-15 minutes. After baking they get a hit of fresh lemon juice and a good dose of feta cheese.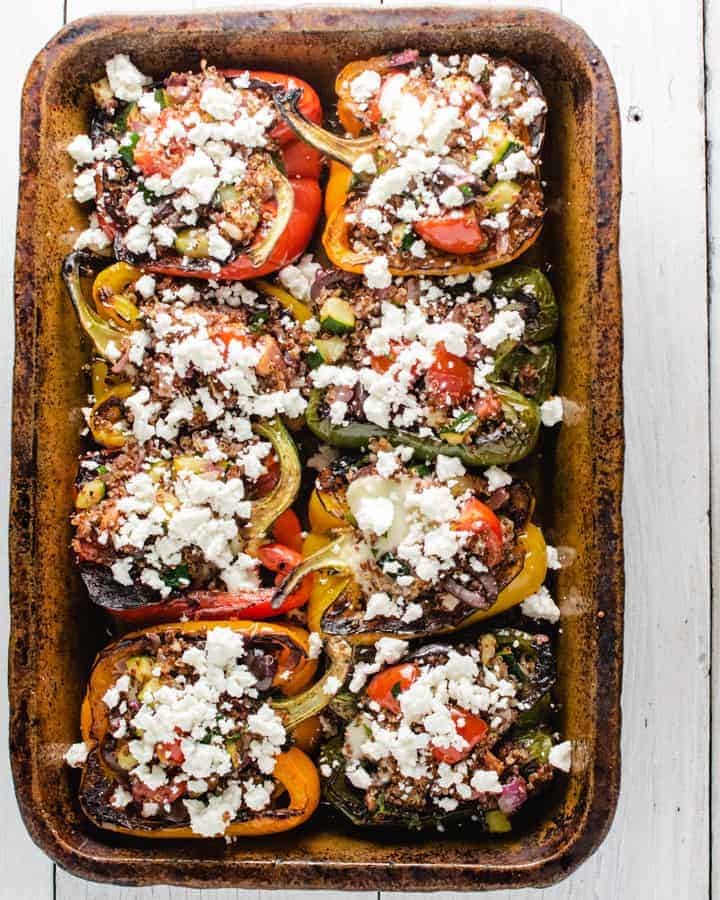 Serve these with an easy tzatziki sauce. Make extra. It's great with everything, is super easy and keeps for a week in the fridge. Recipe included below.
Can I make this vegan?
Yes! Omit the cheese or replace it with a vegan alternative. The tzatziki sauce can be made with dairy free yogurt or cashew cream.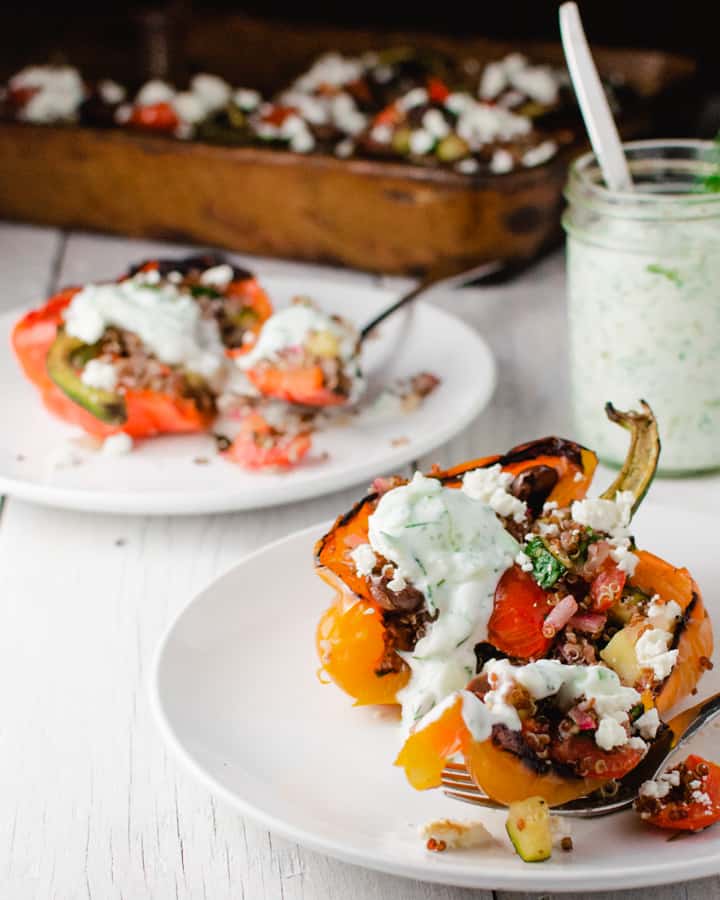 Bet you're excited to try these now! If you do please leave a comment below. I love to hear from you!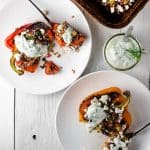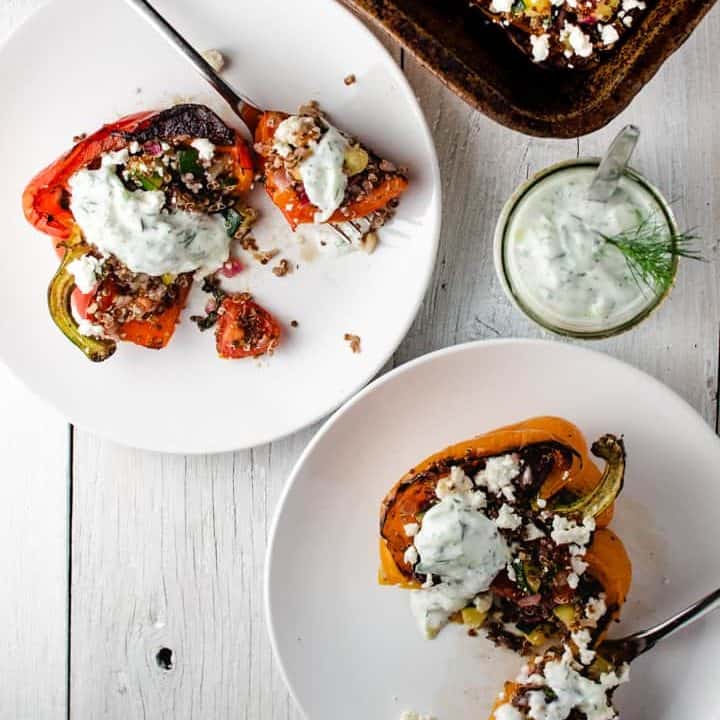 Print Recipe
Quinoa Stuffed Peppers
These Quinoa Stuffed Peppers are my take on a Greek Salad in a pepper. A perfect vegetarian meal for a hot summer day. Quinoa Stuffed Peppers are so easy, delicious and satisfying you won't even notice they are meatless. Omit the cheese and turn this into an impressive vegan meal.
Ingredients
stuffed Peppers
½

cup

quinoa, uncooked

olive oil for coating peppers and frying vegetables

4

large

bell peppers, any colours

1

cup

chopped red onion

2

large cloves

garlic,

minced

1

medium

zucchini,

cut into small cubes

1

cup

chopped tomato

½

cup

Kalamata olives, pitted and chopped

¼

cup

each fresh basil and parsley, chopped

10

balls

mini bocconcini cheese,

cut in half

salt and pepper to taste

100

g

feta cheese

½

lemon
Simple Tzatziki Sauce
1

3" piece

cucumber

1

cup

plain Greek yogurt

1

tablespoon

chopped. fresh dill

¼

lemon, juiced

1

sm. clove

garlic, minced

salt and pepper to taste
Instructions
stuffed peppers
Rinse quinoa in a sieve under cold water for at least 2 minutes. Bring a pot of water to a boil. Add salt and cook quinoa for 12-15 minutes. Strain and rinse under cold water. Leave it in the strainer and set aside.

Turn BBQ on to high heat. Or if using the oven, preheat to 450 degrees F.

Cut peppers in half lengthwise and remove the seeds and core. Leave the tops on. In a large bowl toss with olive oil, salt and pepper.

Place peppers on the grill cut side down. Cook for 8-10 minutes on that side or until the edges are charred. Turn and cook for an additional 4-5 minutes. They are done when just starting to soften, but not limp. Cooking time will vary depending on your BBQ. Remove from grill to a tray and let cool. Alternatively roast, cut side down, on a lined baking tray, in a preheated oven for 8-10 minutes or until just beginning to soften.

In a large saute pan, heat 1 tablespoon olive oil over medium-high heat. Add red onion and cook for 2-3 minutes. Add garlic and zucchini. Cook, stirring for 2-3 minutes more. Remove from heat and add cooked quinoa, tomatoes, olives, fresh herbs, and bocconcini cheese. Mix together. Season with salt and pepper to taste.

Preheat or reduce oven to 350°F.

In an oiled baking dish, place the peppers together snugly but with enough room to add filling. Fill each pepper generously. At this point peppers can be covered and refrigerated overnight if making ahead.

In preheated oven bake for 15 minutes or until filling is warmed through. Remove from oven, squeeze with lemon juice and sprinkle with crumbled feta cheese. These can be served warm or at room temperature.
simple tzatziki sauce
Grate the cucumber and place in a sieve over a bowl. Sprinkle with salt. Let stand for a minimum of 15 minutes and up to an hour. Squeeze out any excess water.

In a medium bowl combine the drained cucumber with yogurt, dill, garlic, lemon juice, salt and pepper to taste. Stir together. This sauce keeps in the fridge for one week.
Notes
STORAGE: Filling can be made ahead and stored, covered, in the fridge for up to 24 hours. Peppers can be made in advance. After you finish stuffing, cover, and refrigerate for up to 24 hours. Proceed to baking instructions. Finished peppers will keep in the fridge, covered, for 5 days. Tzatziki sauce keeps for one week in the fridge. FOLLOWING THE LIVY METHOD? HAVE IT FOR DINNER: These peppers make a great side dish to your favourite protein. Don't forget the leafy greens! ADD LEAFY GREENS: Serve these peppers on a bed of greens or with a side salad.