Grilled Chicken Thighs with BBQ sauce are a summertime essential in our house. They are easy, economical, and perfect for a quick weeknight meal or a weekend get together. Make your own quick and easy BBQ sauce and impress your friends and family!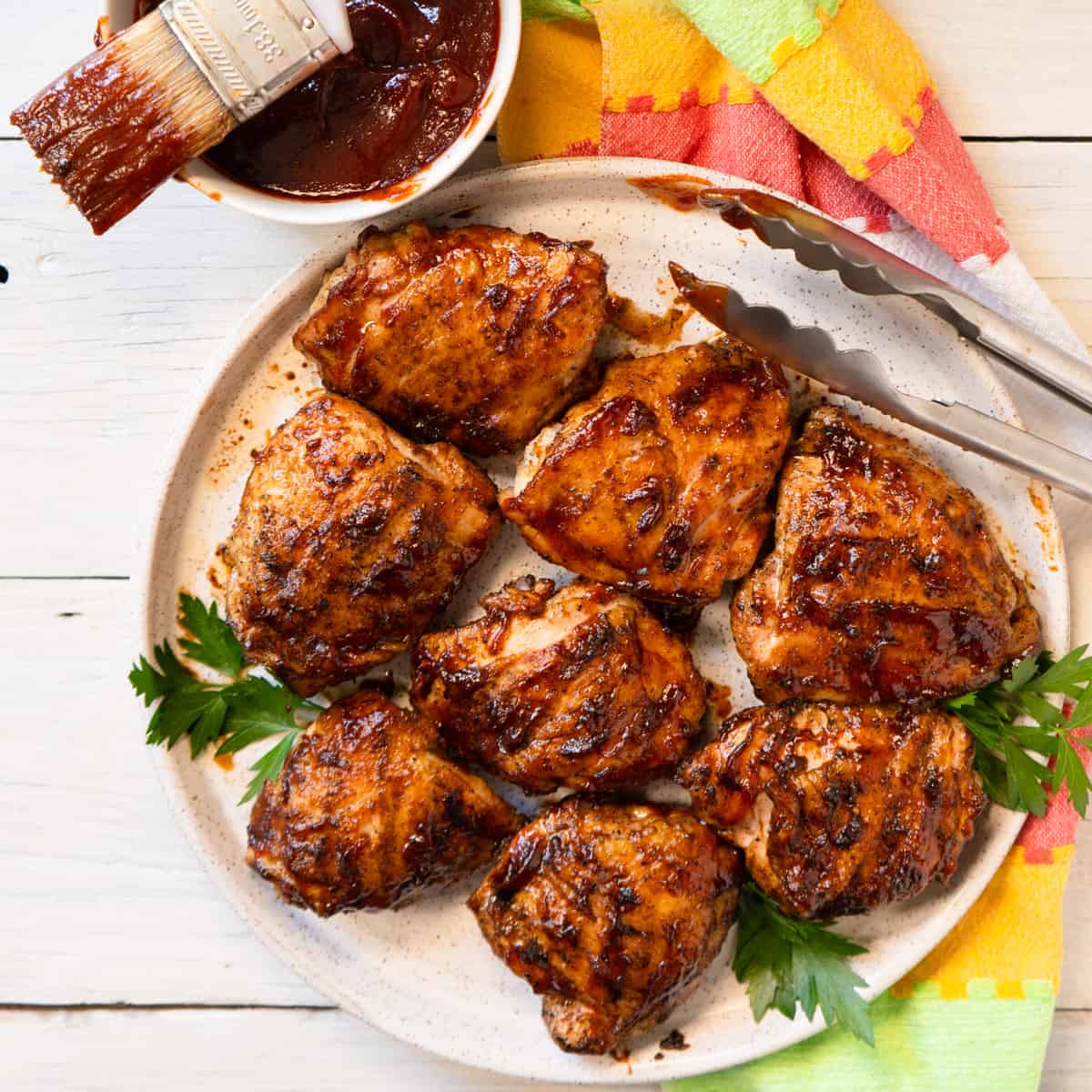 We are big fans of chicken around here and you may have noticed from my Tex-Mex Chicken Bake, Sheet Pan Curried Chicken, and One-Pan Chicken and Artichoke Bake that I love chicken thighs. It seemed only natural that I create the best Grilled Chicken Thigh recipe! Let's also not forget about the BBQ sauce. Listen, you don't have to make your own sauce for this recipe but I highly recommend you do. If you are feeling even a little more adventurous try the Bacon BBQ Sauce included with my BBQ Grilled Pork Chops recipe.
Jump to:
What You Need To Make Grilled Chicken Thighs
Here's what you will need to make this recipe. For quantities see the recipe card below.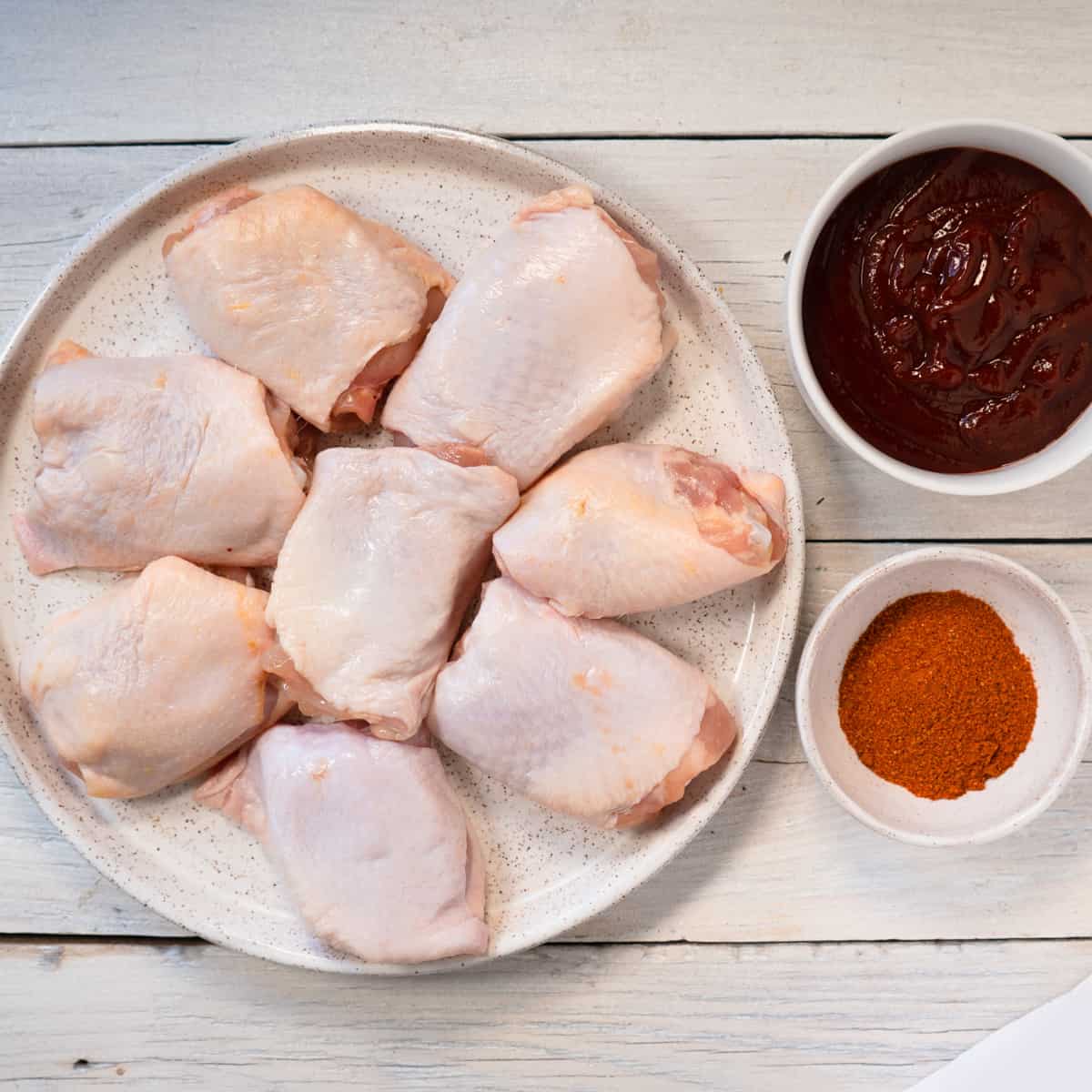 bone in, skin on chicken thighs
cider vinegar
ketchup
brown sugar
Worcestershire sauce
soy sauce
salt
yellow mustard
cayenne pepper
freshly ground black pepper
How to Make the BBQ Sauce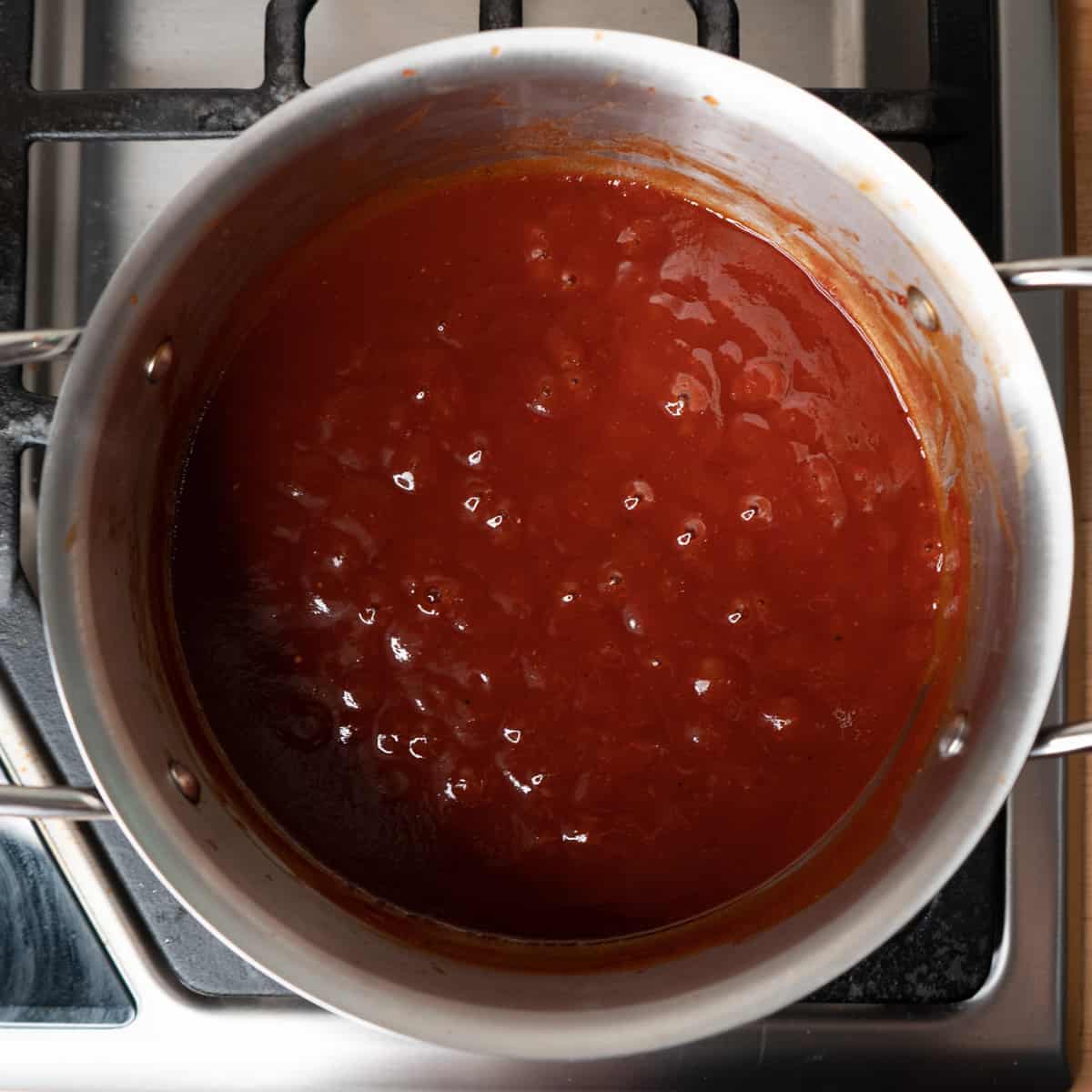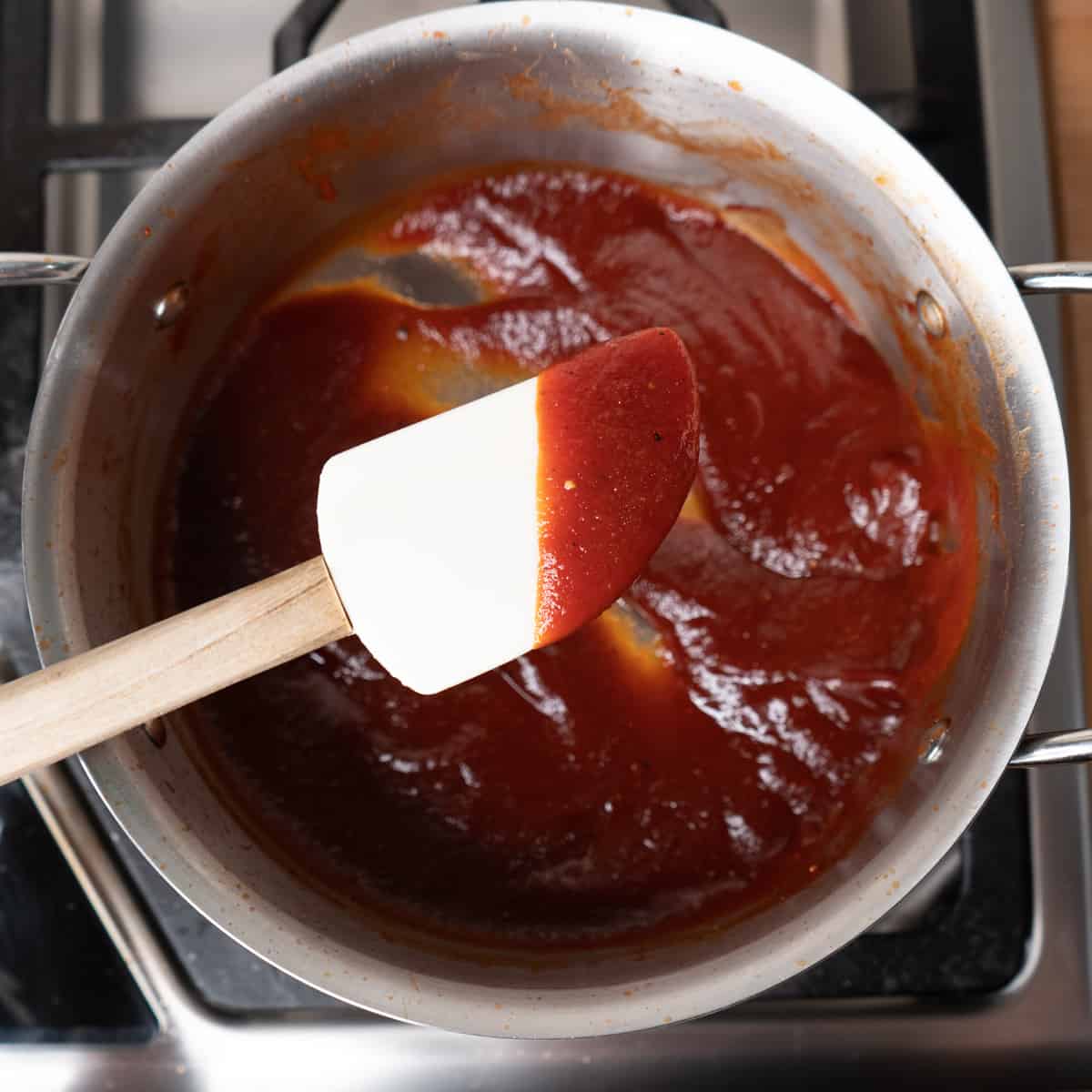 In a saucepan, stir or whisk together all the BBQ sauce ingredients and bring to a gentle simmer.
Continue simmering for about 10 minutes or until thickened. Set aside.
How to Grill Bone-In Chicken Thighs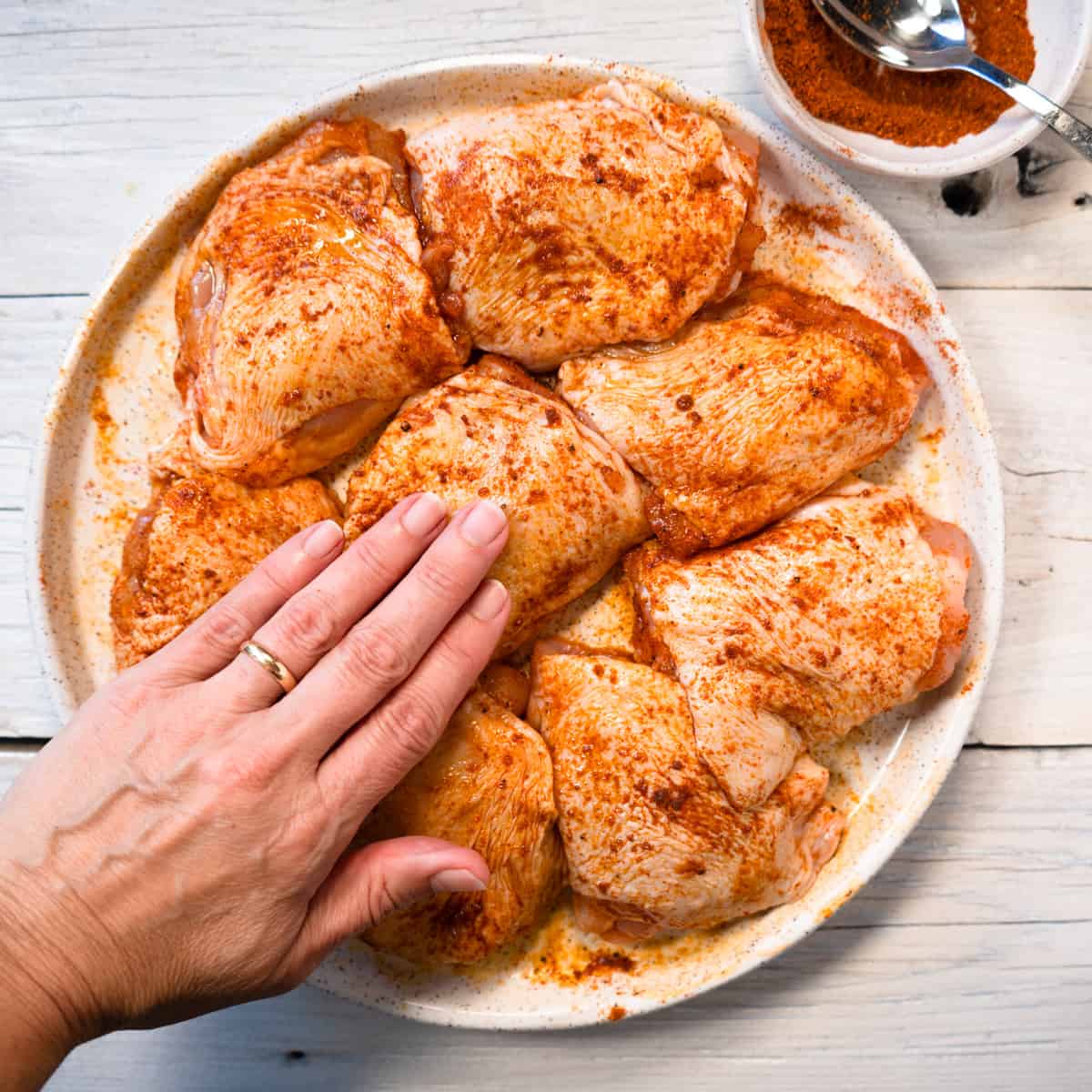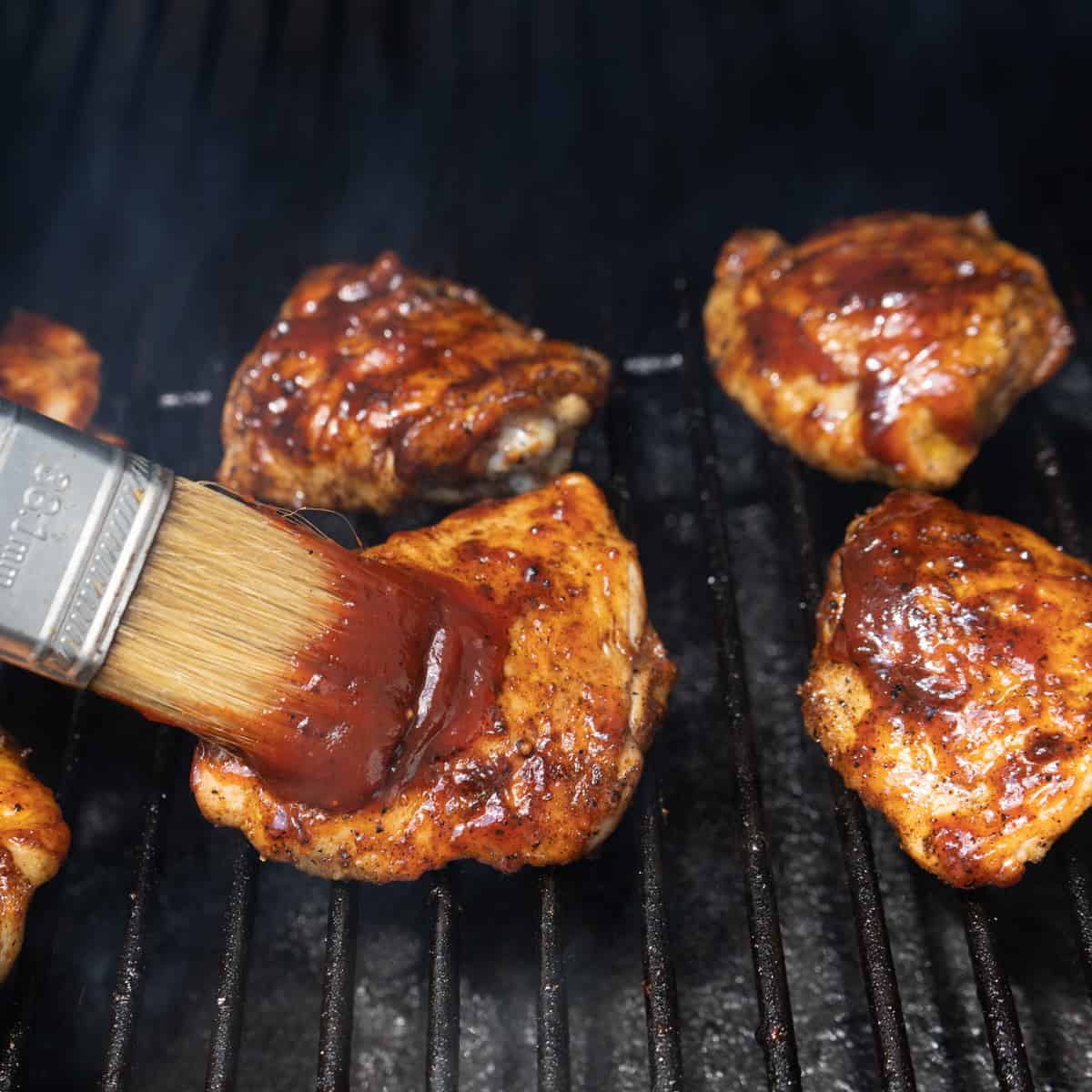 Rub the chicken thighs on both sides with olive oil and BBQ spice rub. You can leave them covered in the refrigerator for a few hours or cook them right away. The longer they sit with the rub the more flavourful they will become.
Preheat the grill to 400°F (205°C) and oil with an oil soaked, folded up, paper towel.
Place chicken thighs skin side down, close the lid, and cook for 10 minutes checking half way through and lowering the heat if they are getting dark too quickly.
Flip and brush the skin side with barbecue sauce. Cook for another 10-15 minutes or until the internal temperature reaches 175 - 185°F (80 - 85°C). You can add more barbecue sauce and grill for another minute or two or serve extra sauce on the side. Remove thighs from grill and let rest for 5-10 minutes.
Substitutions
Bone in, skin on chicken thighs - feel free to use boneless chicken thighs or chicken breasts for this recipe. Keep in mind cooking times may vary. Use a thermometer to ensure proper doneness. Boneless chicken breasts and thighs should be cooked to 165°F.
Homemade BBQ sauce - you can use any barbecue sauce you like! You may also want to try this Bacon BBQ Sauce.
BBQ spice rub - use any store bought or homemade spice rub or simply use the quick spice rub included in the recipe below.
How to Store Leftovers
Keep in the refrigerator, wrapped tightly or in an airtight container, for up to 4 days. BBQ sauce will keep in a sealed container, in the fridge for 2 weeks. You may want to make a double batch!
Equipment
I've said it before and I'll say it again...a quality Quick Read Thermometer is an important tool for cooking meat and fish.
My favourite brand is Thermoworks. They are known for quality thermometers with accurate temperature readings in one second!
The best is the Thermapen ONE but if you are looking for something more budget friendly the ThermoPop is the pocket version.
Pro-Tips
Don't walk away from the grill when barbecuing chicken with the skin on. Grill temperatures vary greatly so my times and temperature may not be perfect for your grill. Grilling is about getting to know your own grill, how hot it gets, and where the hot spots are. Sometimes you have to move things around to ensure even cooking and no burning. You also may need to adjust the temperature up or down.
Adding the barbecue sauce towards the end of cooking prevents it from burning. If you like lots of sauce you can slather it on each side one more time before removing from the grill. Or serve extra on the side.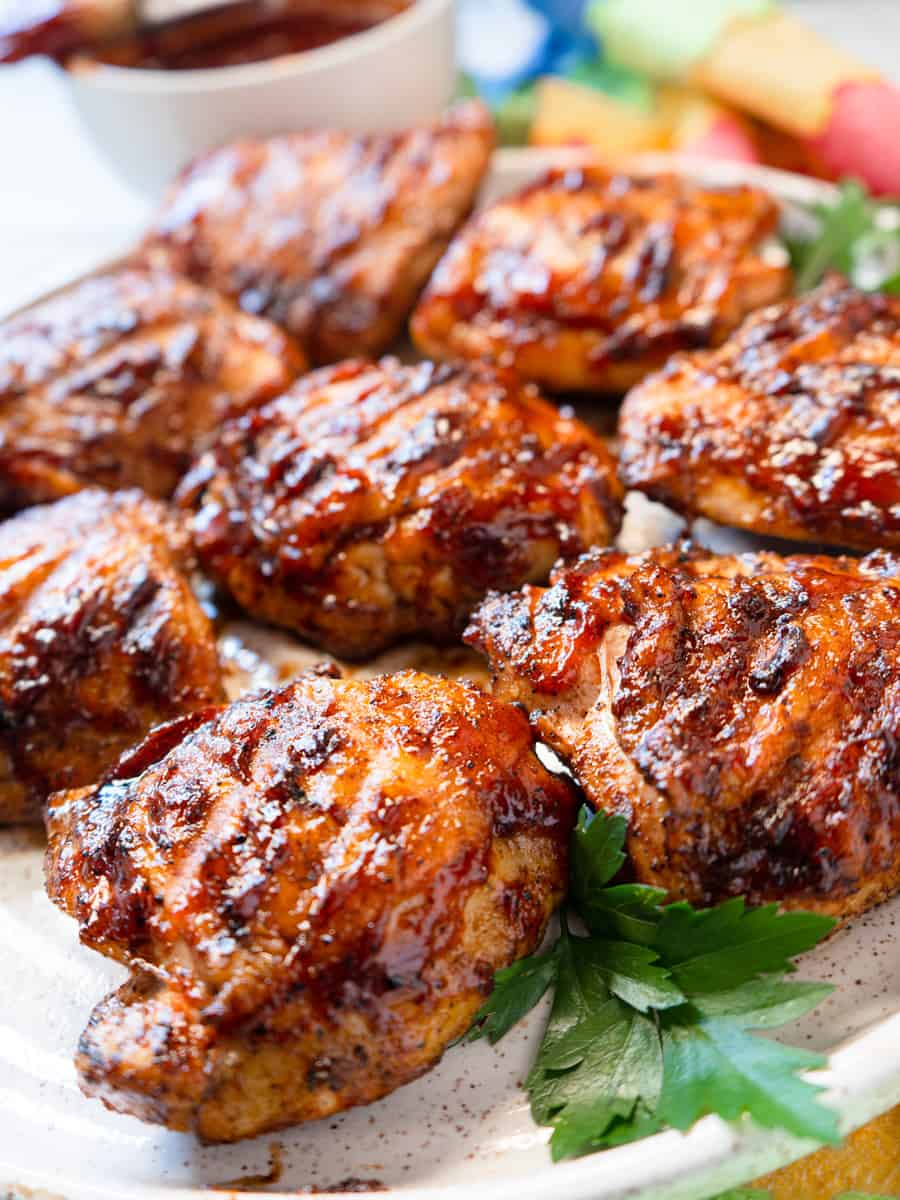 Can I Oven Bake These Chicken Thighs?
Yes absolutely! Preheat your oven to 400°F (205°C). Place thighs on a parchment lined baking tray. Rub with olive oil and spice rub. Divide the sauce in half and reserve half to serve on the side. Brush both sides of the thighs with BBQ sauce, finishing with skin side up. Bake for 20 minutes. Remove tray from oven and brush again on both sides with sauce. Bake for another 10 to 15 minutes or until internal temperature reaches 175 - 185°F (80 - 85°C). Serve with extra sauce.
Frequently Asked Questions
How long does it take to grill bone-in chicken thighs?
Times will vary based on the size of the thighs and the temperature of your grill but generally they will take 20 to 25 minutes.
What temperature should bone-in chicken thighs be when done.
Chicken is safe to eat when it reaches 165° F (74°C). However, bone in thighs can be cooked up to 180°F (83°C) and will come off the bone more easily when cooked to a higher temperature.
How do I prevent BBQ sauce from burning when grilling?
Always wait until towards the end of cooking to add the BBQ sauce to prevent burning. Keep an eye on it and adjust the temperature if necessary.
🖊Sign Up!
Subscribe to my newsletter to receive every new recipe, plus more, right in your inbox! Just click HERE to subscribe.
What to Serve With Grilled Chicken Thighs
Below are my top suggestions but you can find many other delicious sides to go with this recipe over in my Salad Recipes and Sides categories.
Tried this recipe? I would love it if you could leave a star rating ⭐️⭐️⭐️⭐️⭐️ and/or a comment below. You can also follow me on social media here on Facebook, Instagram, and Pinterest!
📖 Recipe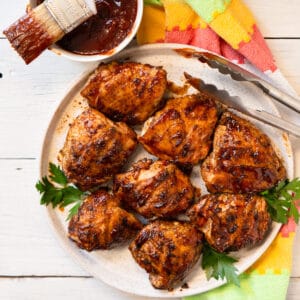 Ingredients
Quick BBQ Sauce (makes 1 cup)
½

cup

cider vinegar

1

cup

ketchup

3

tablespoons

brown sugar

1

teaspoon

Worcestershire sauce

1

teaspoon

soy sauce

1

teaspoon

salt

1

teaspoon

yellow mustard

½

teaspoon

cayenne pepper

or less if you want less spicy

¼

teaspoon

freshly ground black pepper
Instructions
Rub the chicken thighs with olive oil and 1-2 teaspoons on both sides of spice rub on both sides to coat evenly. Cover and refrigerate until you are ready to grill or up to overnight.
To make the BBQ sauce
In a medium saucepan, bring all sauce ingredients to a boil, stirring or whisking until smooth. Reduce heat to low and simmer for 10 minutes, or until slightly reduced and thickened. Stir often to prevent sticking and burning. Set aside. Makes 1 cup.

Preheat barbecue to 400° F (205°C). Oil grill and place chicken skin side down. Close the lid and cook for 10 minutes, checking halfway through to make sure it isn't getting too dark. If it is, turn the heat down.

Flip the thighs and brush the tops with BBQ sauce. Cook another 10 minutes, checking after 5 minutes. Adjust heat as necessary. Flip and brush skin side with BBQ sauce. Cook for another 5 minutes or until internal temperature reaches a minimum of 170° F (77° C) and up to 180° F (82°C). If you like them extra saucy, brush more on and cook for 1 more minute on each side.

Remove from grill and let rest for 5 minutes before serving with extra BBQ sauce on the side.
Notes
STORAGE - Keep in the refrigerator, wrapped tightly or in an airtight container, for up to 4 days. BBQ sauce will keep in a sealed container, in the fridge for 2 weeks.
QUICK SPICE RUB - If you don't have time to make this BBQ Spice Rub use this quick rub instead:
¼ teaspoon black pepper
½ teaspoon salt
½ teaspoon sugar
1 teaspoon onion powder
1 teaspoon garlic powder
1 teaspoon chili powder
Nutrition
Serving:
1
thigh
|
Calories:
205
kcal
|
Carbohydrates:
7
g
|
Protein:
24
g
|
Fat:
8
g
|
Cholesterol:
135
mg
|
Sodium:
413
mg
|
Potassium:
342
mg
|
Sugar:
6
g