When strawberries are in season these Strawberry Shortcake Biscuits are the best! Creamy, buttery biscuits are the foundation for freshly whipped cream and balsamic glazed strawberries. Best part is they can be made ahead and frozen so you can pop them in the oven whenever you want.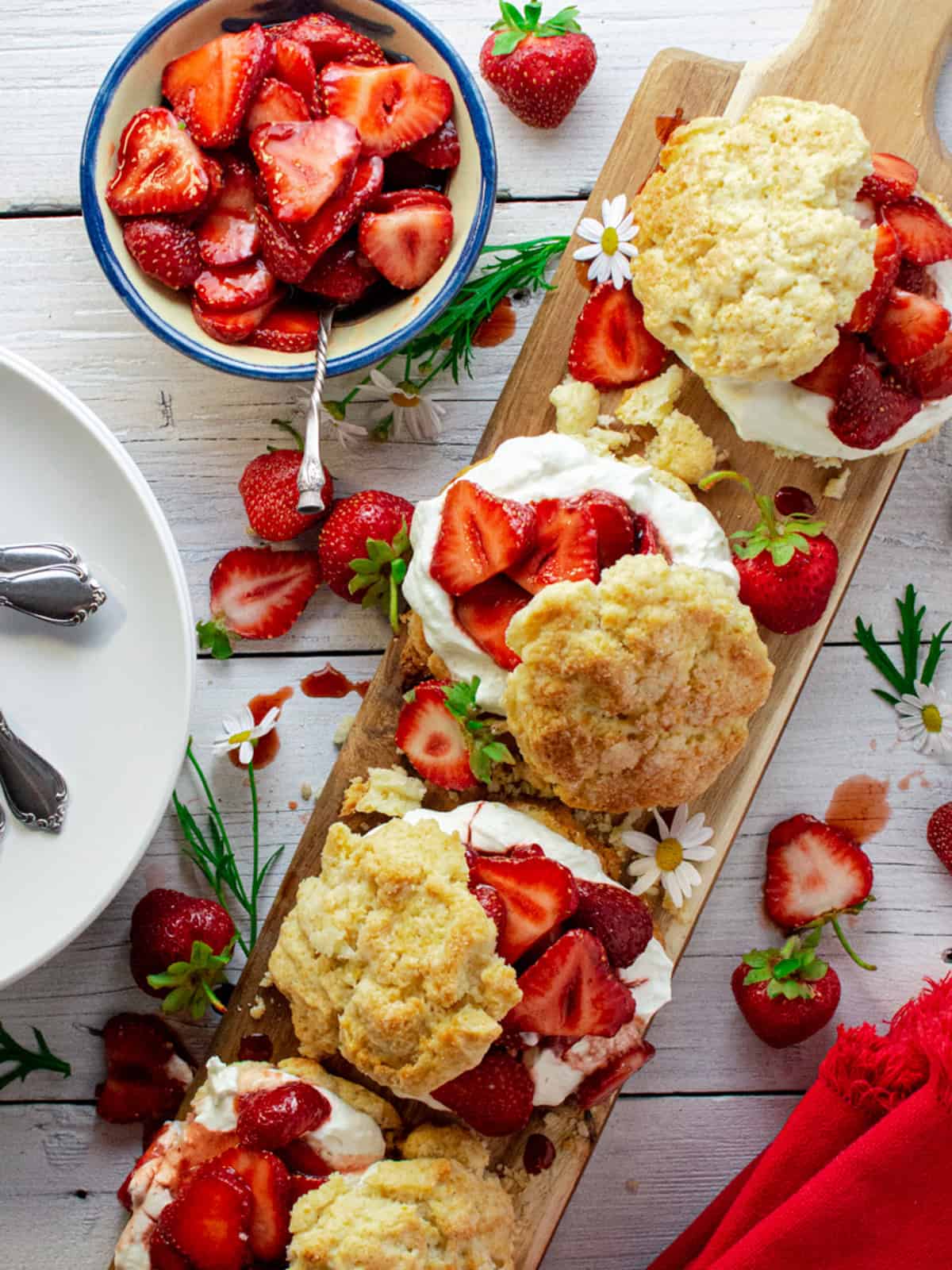 Planning a summer barbeque party? Or maybe you are invited to an outdoor potluck. Perfect pairings for Strawberry Shortcake Biscuits are these Best BBQ Chicken Thighs, this Zucchini Omelette, or these Grilled Bone-In Pork Chops .
Jump to:
Why You Will Love Strawberry Shortcake Biscuits
Simple and Easy - This Strawberry Shortcake Biscuit recipe is relatively simple and doesn't require advanced culinary skills. You don't need any fancy equipment and the biscuits can be made ahead.
Versitile - While the classic strawberry shortcake features strawberries, and whipped cream, there is room to get creative or use whatever fruits are in season. You can spruce it up with chocolate sauce or use a scoop of ice cream instead of whipped cream. The possibilities are endless!
Best Biscuit Recipe - This cream and butter biscuit/scone recipe is so delicious that it can be enjoyed on its own, making it an excellent item to keep in your freezer. Bake some off for breakfast and serve with your favourite jam. Or serve them along side Easy Egg Bites or this Spring Baked Frittata recipe for a delicious brunch!
Ingredients and Substitutes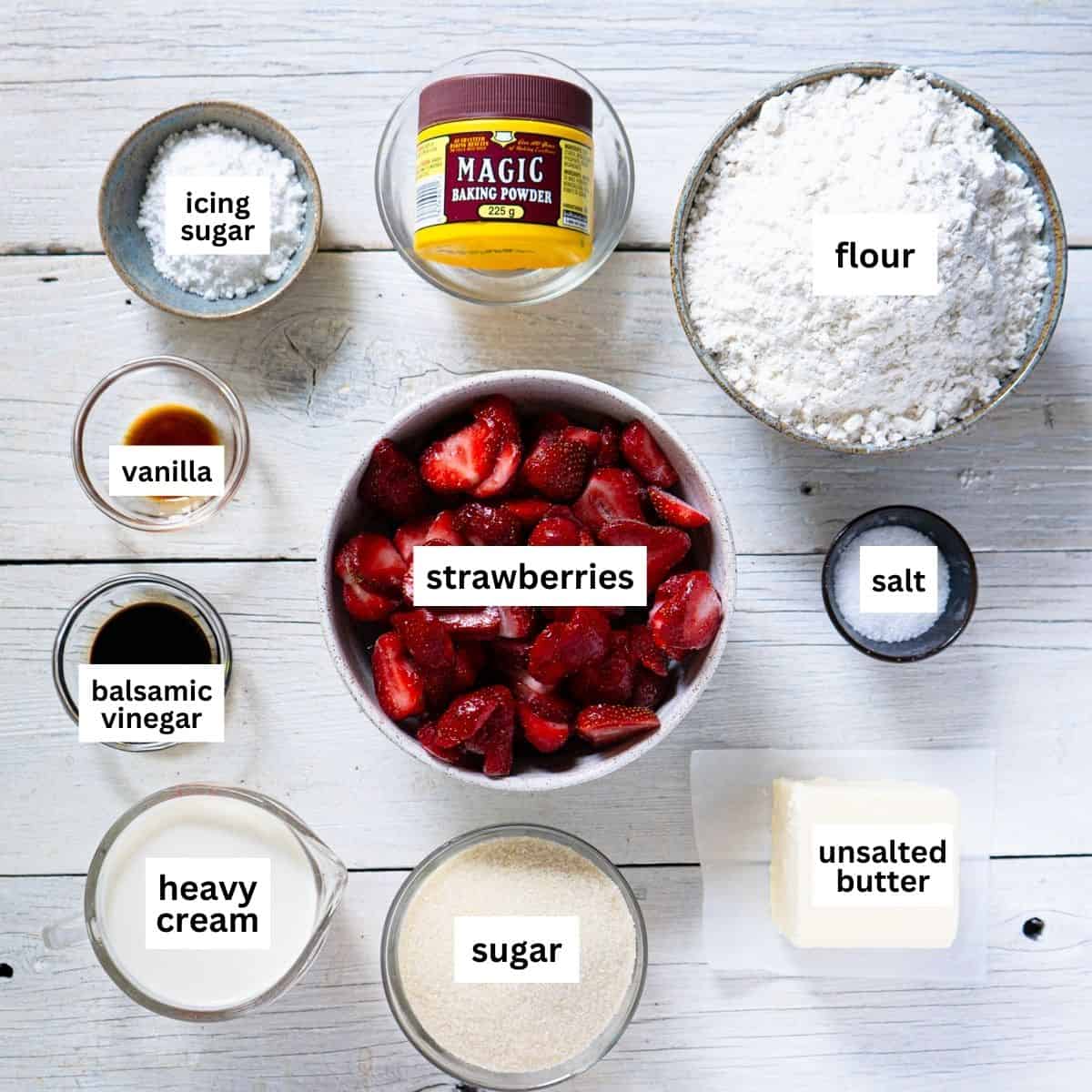 Unsalted butter - It's important to use unsalted butter for this recipe as it has a lower water content than salted butter which can affect the finished dough. However if you decide to use salted butter, omit the salt in the recipe or reduce to ¼ teaspoon.
Balsamic vinegar - A touch of balsamic balances out the sweet strawberries with a hint of acidity. Splurge on a good-quality balsamic from Modena Italy. You won't regret it!
Sugar - If you are looking to reduce sugar intake you can reduce or omit the sugar for sprinkling on top, in the strawberry mixture and/or the whipped cream.
Strawberries - Substitute with any fresh berries or stone fruits.
See recipe card for full information on ingredients and quantities.
How To Make Strawberry Shortcake Biscuits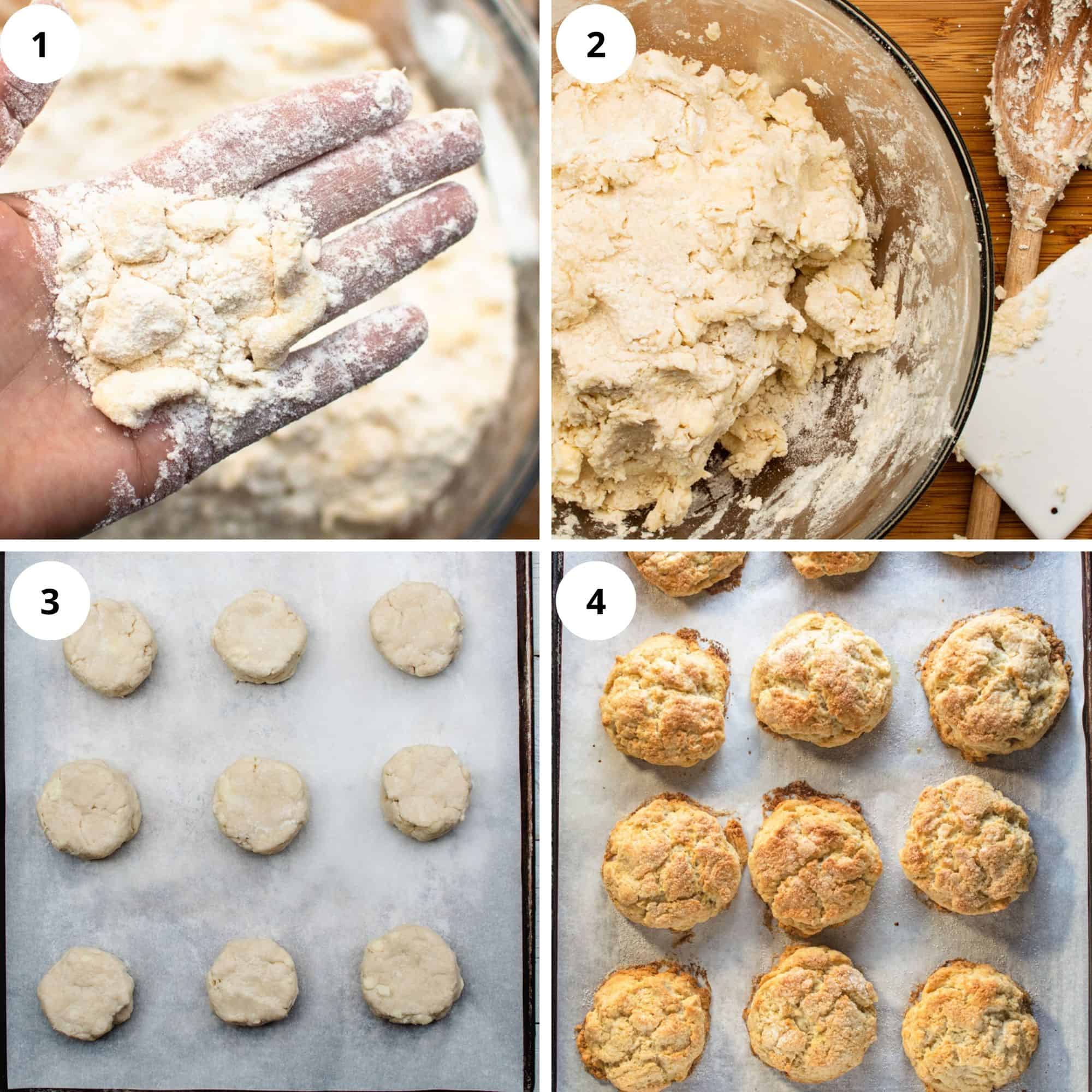 Step 1 - Mix together the dry ingredients well. Add cold, cubed butter and using your fingers, break the butter into green pea to chickpea sized pieces.
Step 2 - Pour in cold cream and mix with a wooden spoon. When too stiff to stir further, use your hands to bring it together into a ragged dough.
Step 3 - Using your hands form dough into 12 equal portions about the size of a tennis ball. Flatten tops and bottoms to resemble a tall hockey puck shape. Brush lightly with milk and sprinkle with sugar.
Step 4 - Bake the biscuits for 30 to 40 minutes or until golden brown and firm to the touch.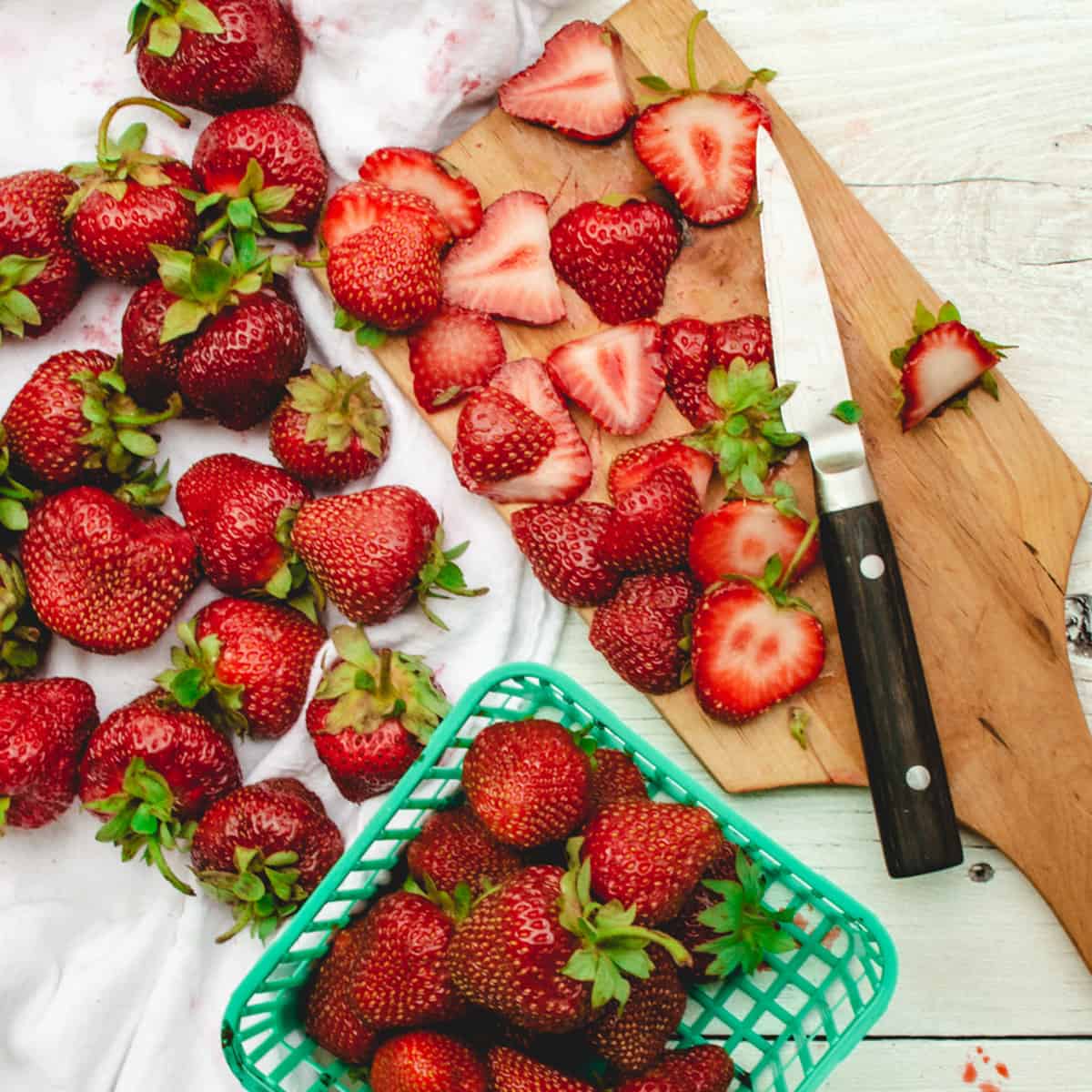 Slice the strawberries and mix with sugar and balsamic. This can be done while the biscuits are in the oven. Let sit for at least 15 minutes at room temperature or in the fridge for up to one hour.
Whip the cream with the sugar and vanilla. This can be done up to 3 days in advance and kept in an airtight container in the fridge.
To assemble, cut the biscuits in half using a serrated knife. Place a spoonful of strawberry mixture on the bottom of each half, top with cream, and then a few more strawberries. Top with the strawberries and cream with the remaining half of the biscuit and serve.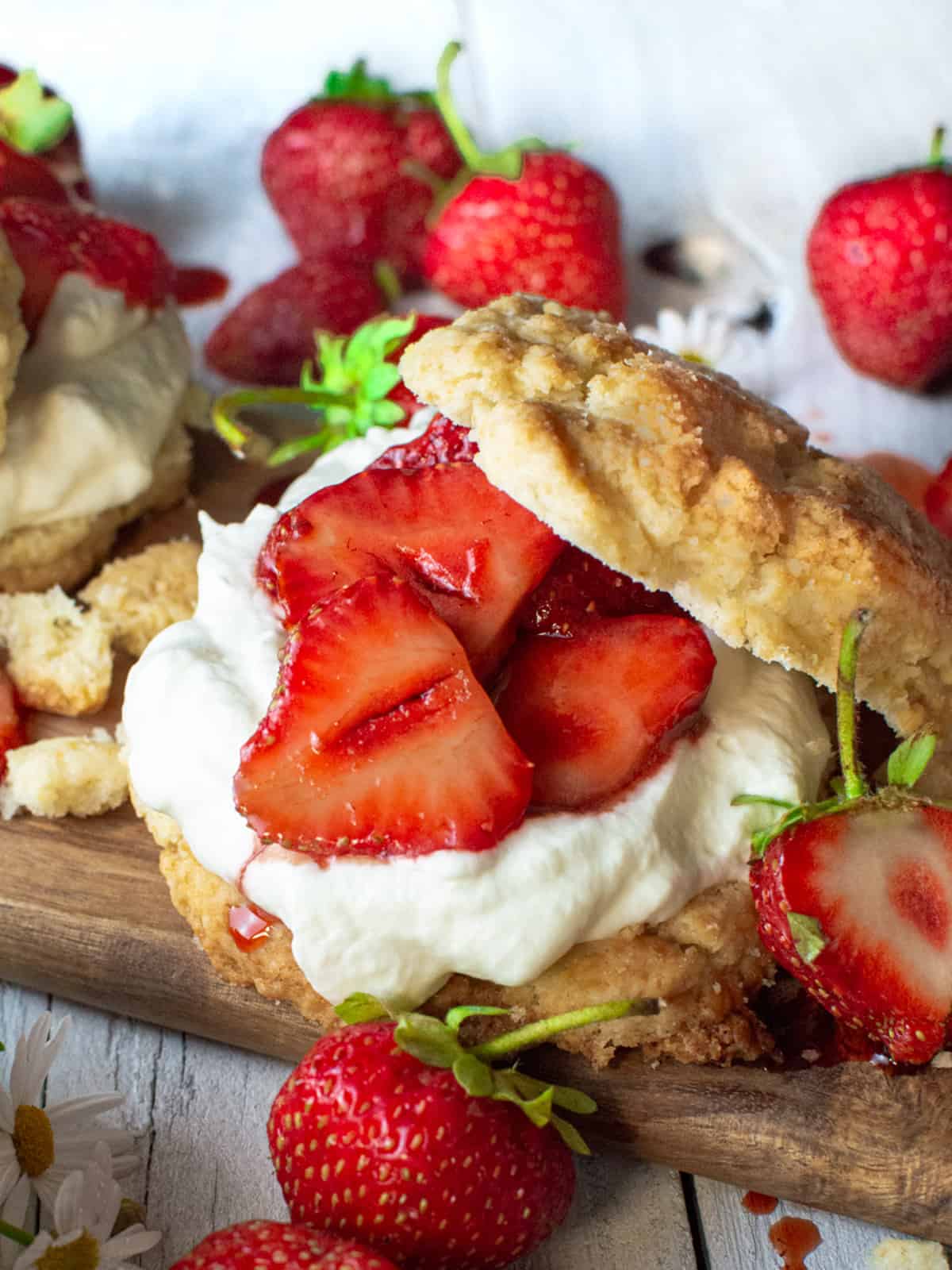 These Strawberry Shortcake Biscuits are the perfect ending to meals like Fajita Casserole with Chicken, Pan Fried Lamb Chops, or this Stuffed Spaghetti Squash Recipe.
Expert Tips
Use Cold Ingredients: Ensure that your butter and cream are cold. Cold ingredients help create flaky and tender biscuits by creating air pockets where the pieces of butter melt when baked.
Don't Overmix the Dough: When adding the cream, mix until just combined. Overmixing can develop gluten and lead to tough biscuits. It's okay if the dough appears slightly shaggy or uneven; it will come together during the baking process.
Macerate the Strawberries: Allowing the sliced strawberries to sit in the sugar and balsamic vinegar enhances the flavour and juiciness of the strawberries. Ideally don't let them sit for more than one hour for best results.
Whipped Cream Tips: Use chilled heavy or whipping cream and beat it just until soft peaks form. Be careful not to overbeat, as it can turn into butter. Adding sugar and vanilla are optional but recommended.
Remember, practice makes perfect, so don't be discouraged if your first attempt isn't flawless. Enjoy the process and take pride in the outcome of your homemade strawberry shortcake biscuits! If you want to try your hand at more flaky doughs try this All Butter Pie Dough.
Recipe FAQs
What's the difference between biscuits and shortcake?
Biscuits are flaky, tender, and sometimes served as a savory side dish. They have a crisp exterior and a soft, buttery interior. Shortcakes have a crumbly, cake-like texture and are softer and sweeter.
Can I use frozen strawberries for strawberry shortcake?
Yes, you can use frozen strawberries for strawberry shortcake. Thaw the frozen strawberries and drain the excess liquid. Keep in mind that frozen strawberries may have a softer texture compared to fresh ones, but they will still work in a pinch.
Can I substitute whipped cream with another topping for strawberry shortcake?
Yes, if you prefer not to use whipped cream, there are alternative toppings you can use. Some options include vanilla ice cream, Greek yogurt, mascarpone cheese, or a drizzle of sweetened condensed milk.
Can I use store-bought biscuits or pound cake for strawberry shortcake?
Yes, if you don't have the time or desire to make homemade biscuits, you can use store-bought biscuits or even pound cake as a substitute. Look for plain, slightly sweetened biscuits or pound cake that will pair well with the strawberries and cream.
Can I use a different type of fruit instead of strawberries?
Absolutely! You can experiment with various fruits to create unique flavors. Some popular alternatives include raspberries, blueberries, peaches, or a combination of mixed berries. Choose fruits that are ripe and flavorful.
This Strawberry Shortcake Biscuit recipe makes 12 servings. Click on the serving size within the recipe and choose your desired amount. You may want to make all the scones and freeze what you don't use and only adjust the strawberries and cream.
Tried this recipe? I would love it if you could leave a star rating ⭐️⭐️⭐️⭐️⭐️ and/or a comment below. You can also follow me on social media here on Facebook, Instagram, and Pinterest!
More Dessert Recipes
📖 Recipe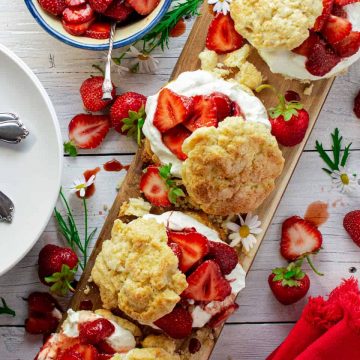 Strawberry Shortcakes
These strawberry shortcakes turn a seasonal favourite into a delicious and easy dessert. This recipe uses cream scones and balsamic glazed strawberries.
Print
Pin
Rate
Ingredients
Cream and Vanilla Scones
4

cups

all purpose flour

½

cup

granulated sugar, plus extra for sprinkling

2

tablespoon

baking powder

1

teaspoon

salt

1

cup

unsalted butter, cut into small pieces

2

cups

heavy or whipping cream

¼

cup

milk or extra cream for brushing tops
Balsamic Strawberries
2

pints

fresh strawberries, rinsed and dried

2

tablespoon

granulated sugar

4

teaspoon

balsamic vinegar, or to taste
Chantilly Cream
2

cups

heavy or whipping cream

4

tablespoon

icing sugar

2

teaspoon

pure vanilla extract
Instructions
Cream scones
Measure all the dry ingredients into a large bowl. Add the cut butter to the dry ingredients and break it up using your fingers or a pastry cutter until the pieces are the size of chickpeas and green peas.

Pour in the cream and mix with a wooden spoon. When the mixture becomes too stiff to stir, use your hands to bring the dough together into a ragged ball.

If baking immediately, preheat the oven to 350°F.

Shape the dough into 12 equal-sized balls, approximately 2 ½" in diameter (about the size of a tennis ball), using your hands. Place them on a parchment-lined baking tray. Flatten the tops and bottoms to form tall hockey puck shapes.

Optional: The scones can be wrapped and frozen at this point. If continuing, lightly brush them with milk and sprinkle with sugar.

Bake on the center rack of the preheated oven for 30-40 minutes, or until golden brown and firm to the touch. Allow them to cool completely. You can also freeze the scones at this stage.
Balsamic strawberries
Remove any stems and leaves from the washed and dried strawberries. Slice them ¼" thick or to your desired thickness.

Place the sliced strawberries in a bowl and sprinkle them with sugar and balsamic vinegar. Stir to combine, then let them stand covered at room temperature for 15 minutes or refrigerate for up to one hour.
Chantilly Cream
In a stand mixer with whisk attachment, with a hand held mixer or a whisk, whip the cream with the sugar and the vanilla until medium stiff peaks form. Cover and keep in the fridge until ready to use. This keeps for 2-3 days.
Assembly
Cut the scones in half. On bottom half place spoonful of strawberries with their juices. Place the top half on top. Optionally add a small dollop of cream and dust with icing sugar. Serve immediately.
Notes
Assembled Shortcakes should be served immediately. Store any leftover biscuits in a sealed container for 3 days. Reheat in oven if desired. 
Scones can be frozen before or after baking. If unbaked, freeze on tray and then pack into resealable bags or airtight container.
Marinated strawberries are best used within one hour of mixing but will keep for 2 days, covered in the refrigerator.
Whipped cream will last for up to 3 days in a sealed container in the fridge. 
Nutrition Facts are an estimate only using an online calculator and have not been approved by a Registered Dietitian. 
Nutrition
Serving:
1
serving
|
Calories:
530
kcal
|
Carbohydrates:
57
g
|
Protein:
6
g
|
Fat:
43
g
|
Saturated Fat:
26
g
|
Trans Fat:
1
g
|
Cholesterol:
151
mg
|
Sodium:
467
mg
|
Potassium:
126
mg
|
Fiber:
2
g
|
Sugar:
17
g