When the local strawberries are in season I want to eat as many as I can get my hands on. These strawberry shortcakes turn a fleeting seasonal favourite into a delicious and easy dessert. This recipe uses cream scones and balsamic glazed strawberries. Make the scones ahead and store them in the freezer so you can have strawberry shortcakes whenever the mood strikes!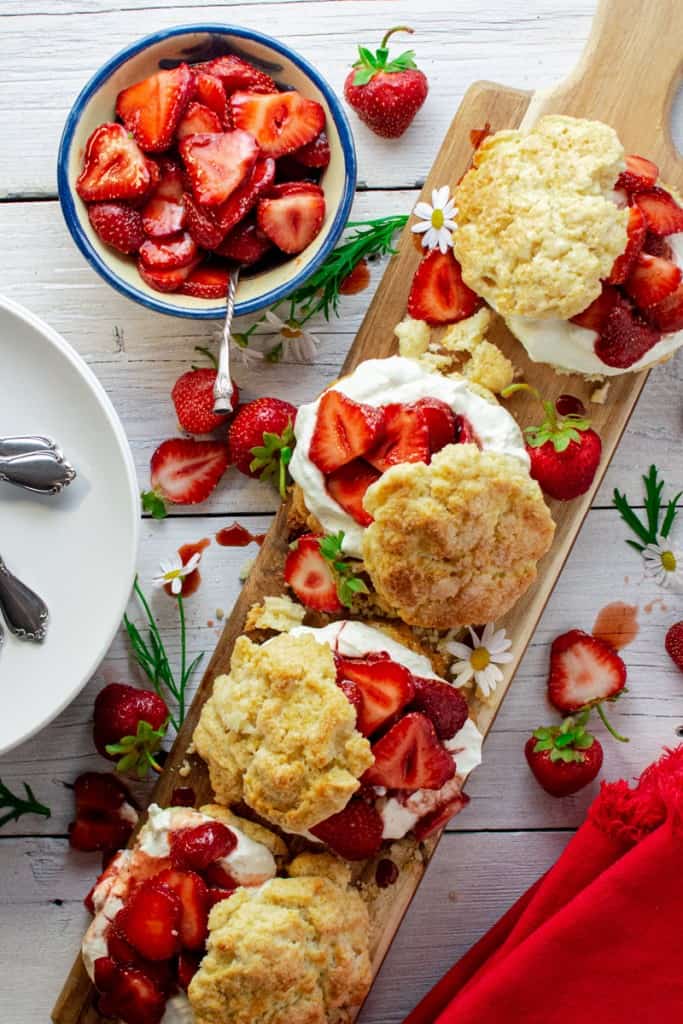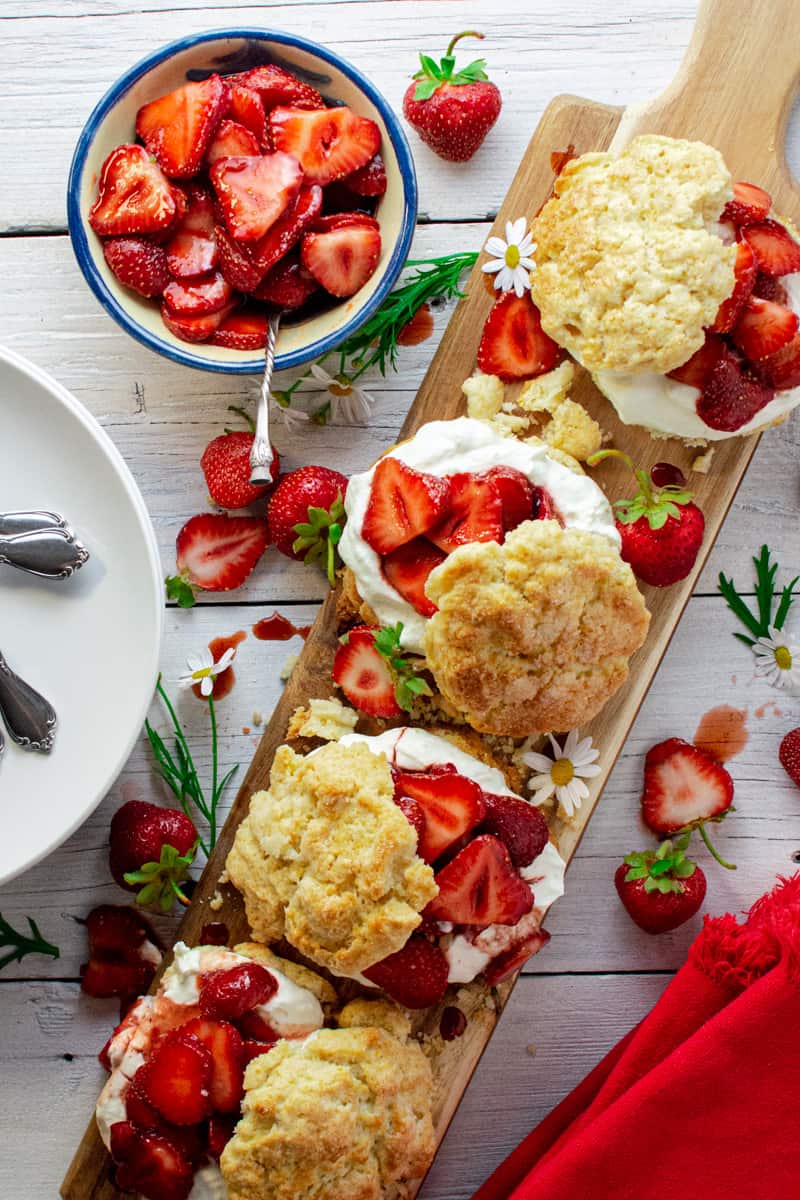 Here in Ontario strawberry season is usually short lived. I should add that the life span of these little delicacies is also pretty short! When the strawberries come in it's time to start eating. Now, a simple bowl of sliced strawberries with a light sprinkling of sugar can suit me fine any day but if I'm looking to indulge a little further I always go for Strawberry Shortcakes. My preferred "cake" for these isn't a cake at all. Instead I use a simple cream and vanilla scone recipe. These can be made in advance and stored, baked or unbaked, in the freezer until you need them. Best part is, these scones are also delicious with just butter and jam. Did someone say "strawberry jam"?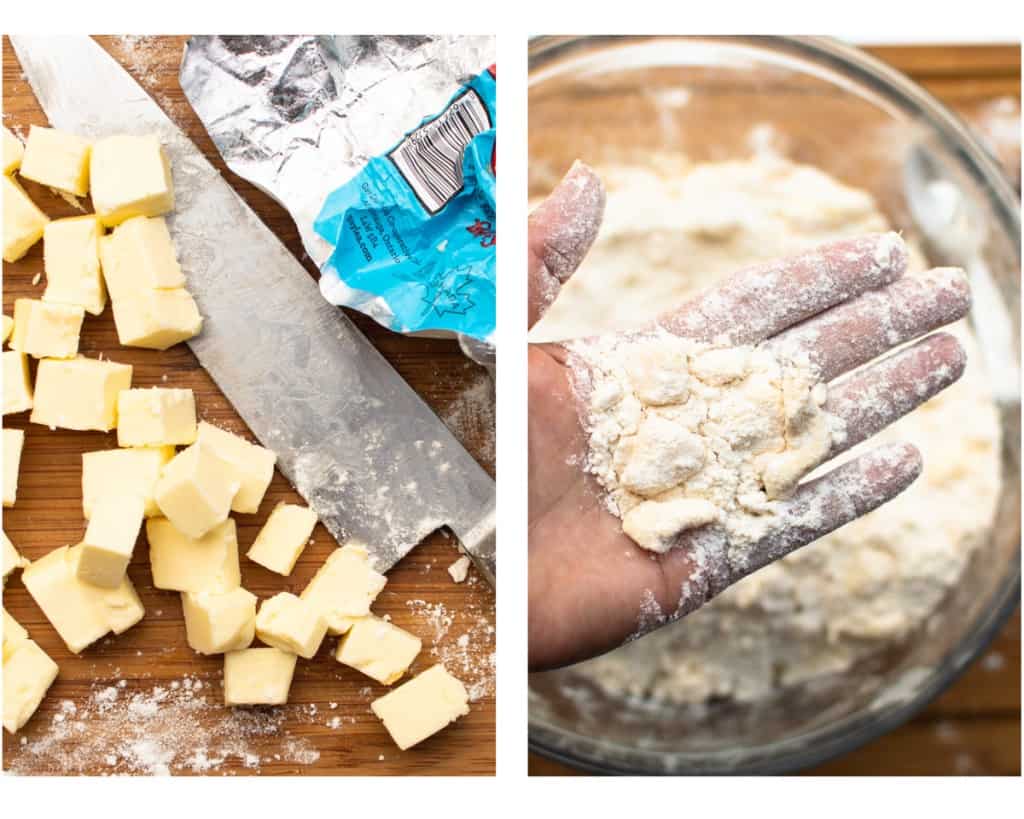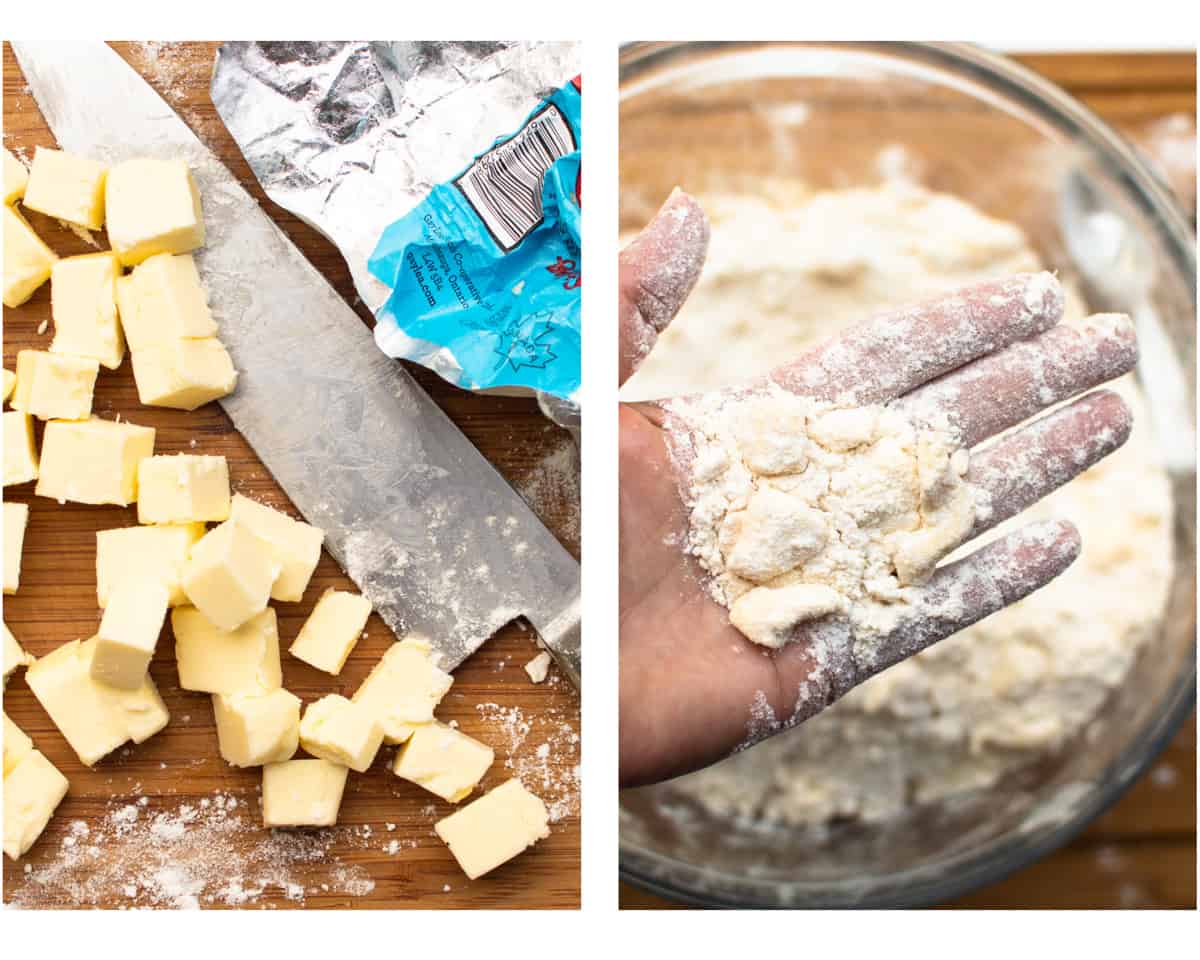 A mixer isn't required for these scones. Simply chop up very cold butter into small cubes and add it to all the dry ingredients. Break up the butter pieces with your fingers until they are a mixture of smaller sizes. I achieve this by rubbing the butter between my thumbs and forefingers but you can use a pastry cutter if you prefer. I just like to get my hands in the flour whenever possible.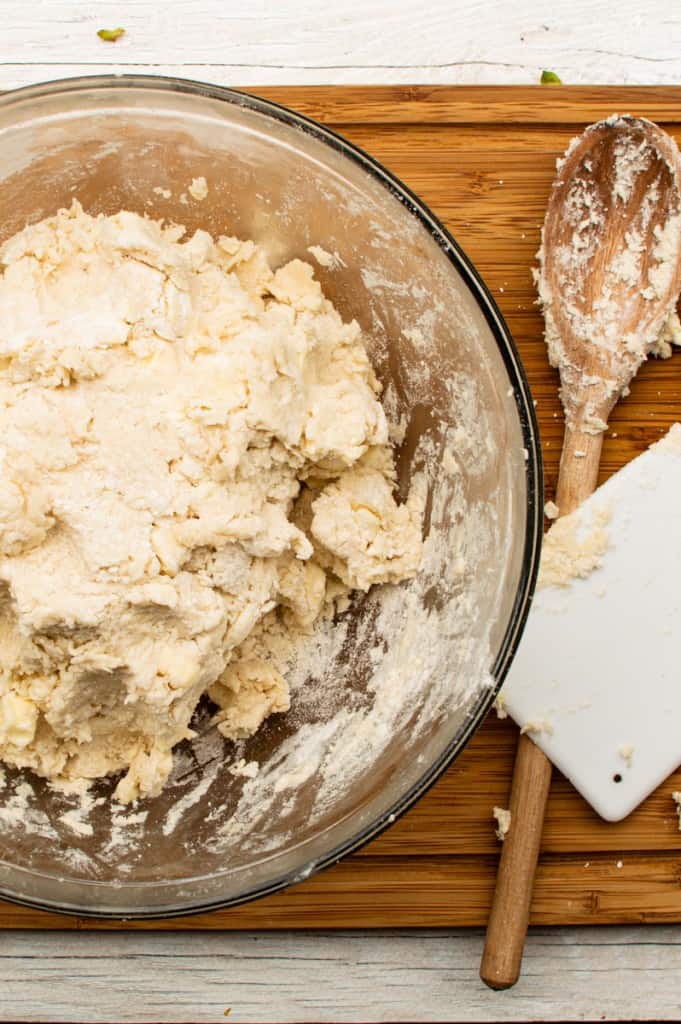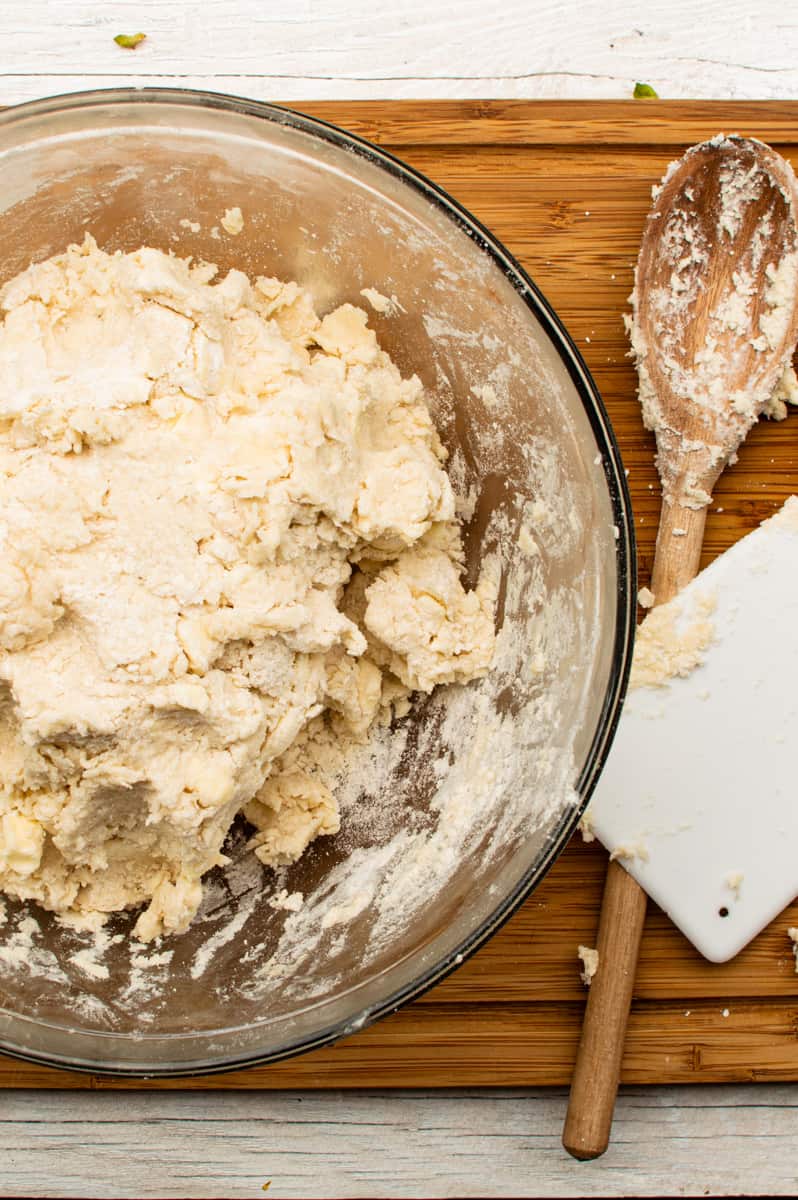 Next pour in the cold cream and vanilla. Stir it together with a wooden spoon until it's too stiff to continue. Then, using your hands, bring it together into one ragged ball. Be gentle with it here. You don't want to over work it which can result in a less tender scone. If you are working on a hot day without air conditioning, cover and chill your dough in the fridge for 30 minutes before continuing.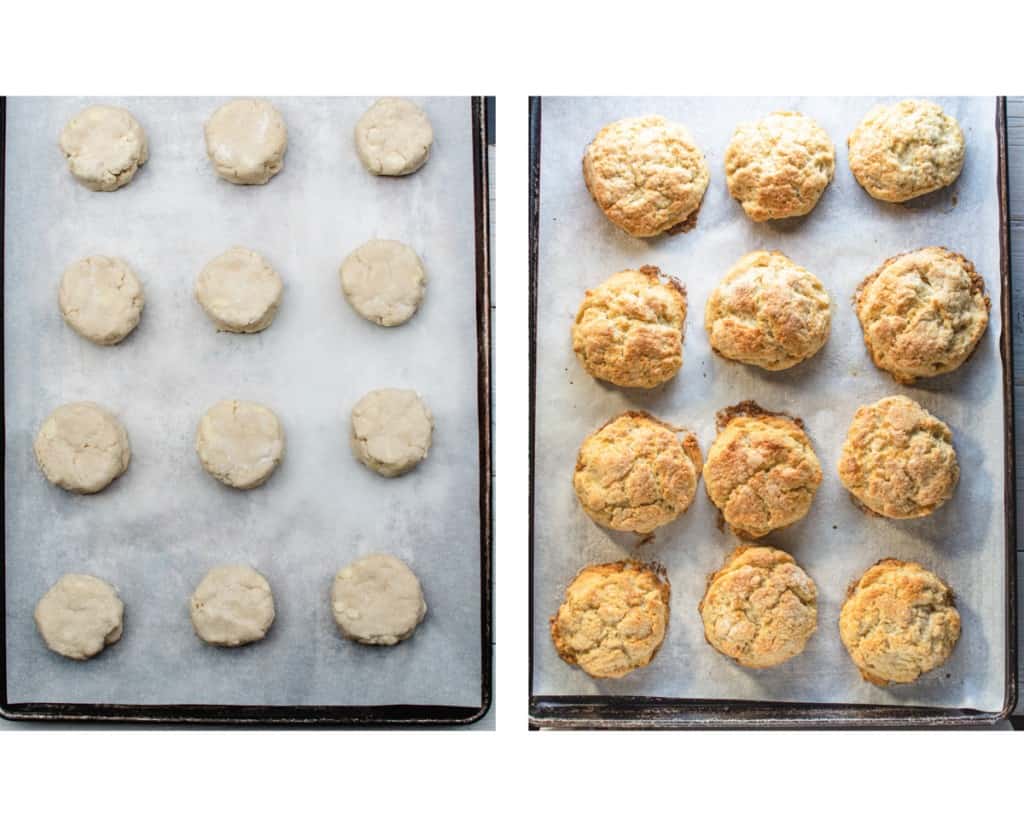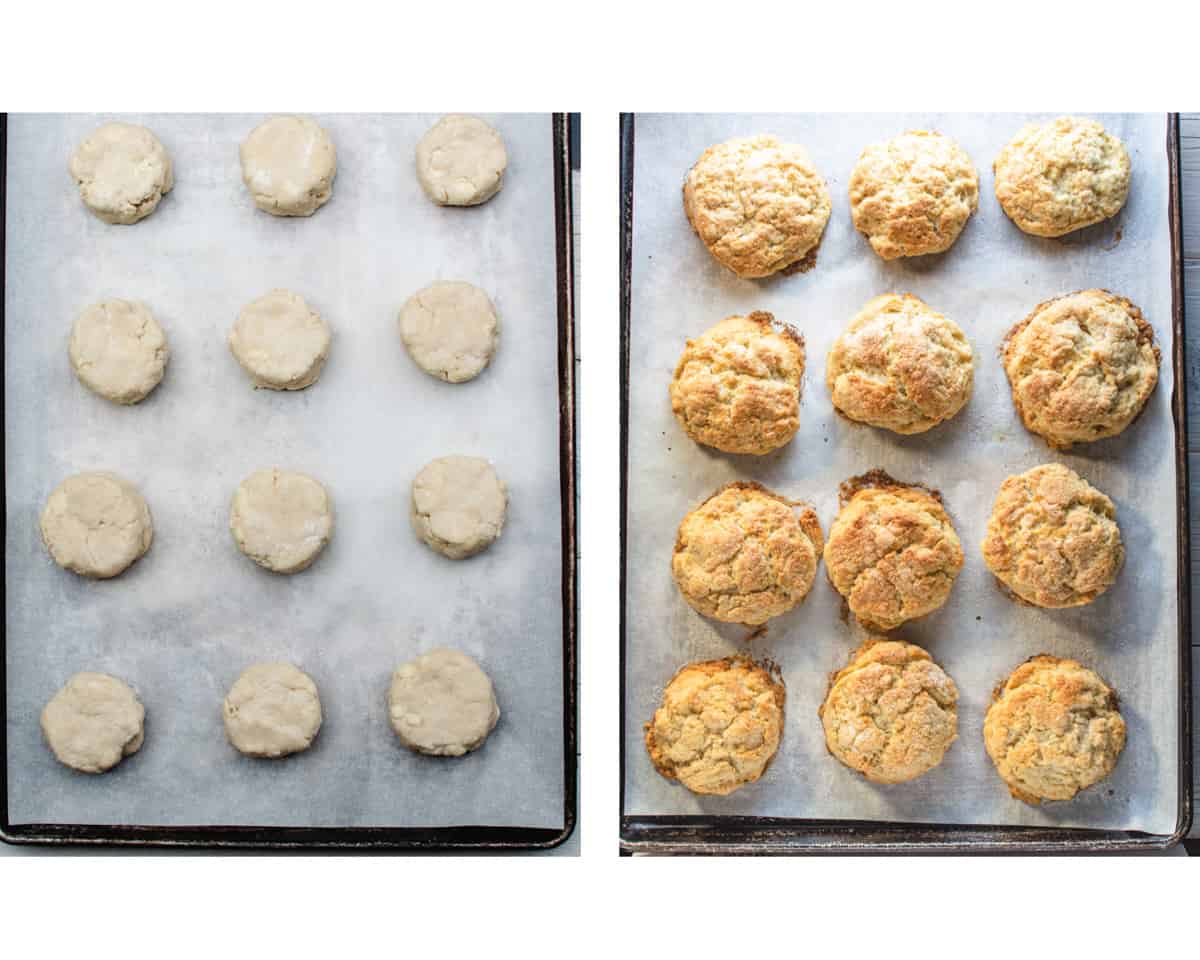 Using your hands, shape the dough into 12 balls about the size of a tennis ball or 2.5 inches. Then flatten the tops and bottoms to form into a tall hockey puck shape. I like to make my round scones this way to avoid any waste. If you prefer a less "rustic" look you can roll the dough out to 1-1 ½" thickness and cut with a round cutter. Or if you want a different shape without waste cut the dough into wedges or squares using a knife. The number of portions may vary.
At this point the scones can be frozen and stored in a plastic bag or air tight container and stored for up to 3 months. But honestly, can you imagine keeping these in your freezer for 3 months?! Bake from frozen, adding approximately 5 minutes to the baking time.
While your oven is preheating, brush the tops of the scones with a small amount of milk and sprinkle with granulated or raw sugar. Bake until golden brown. The scones can also be frozen at this time also. Take them out of the freezer and defrost at room temperature. Can reheat in 350°F oven.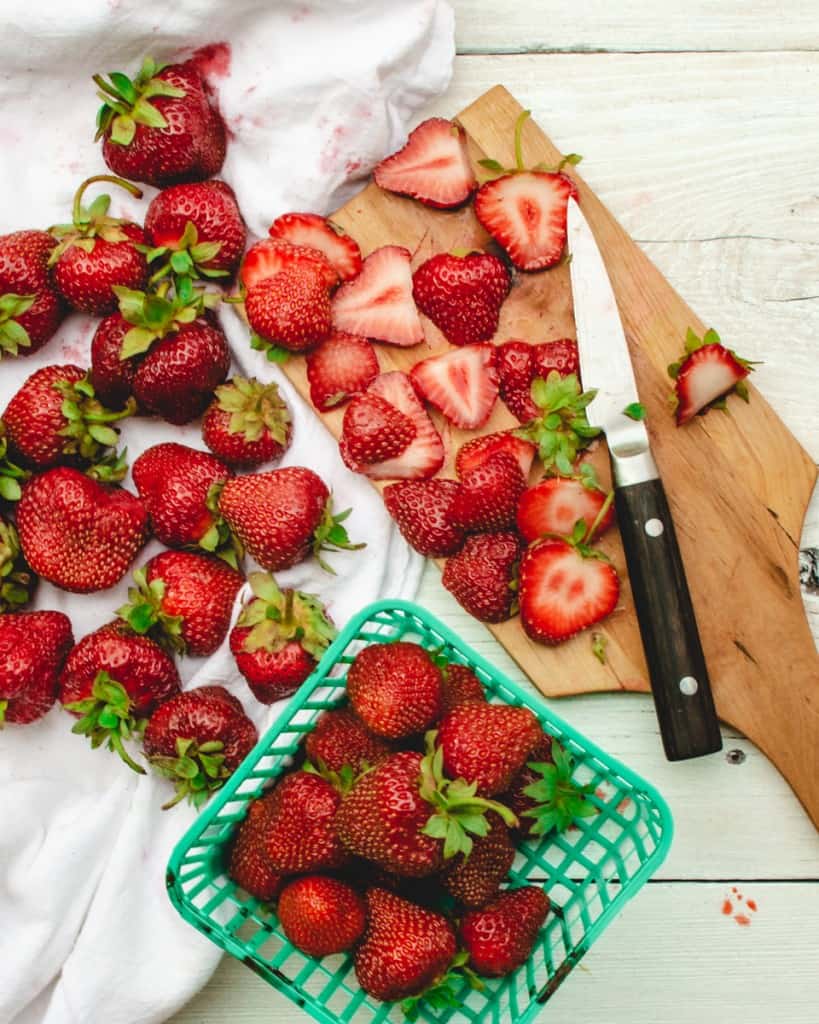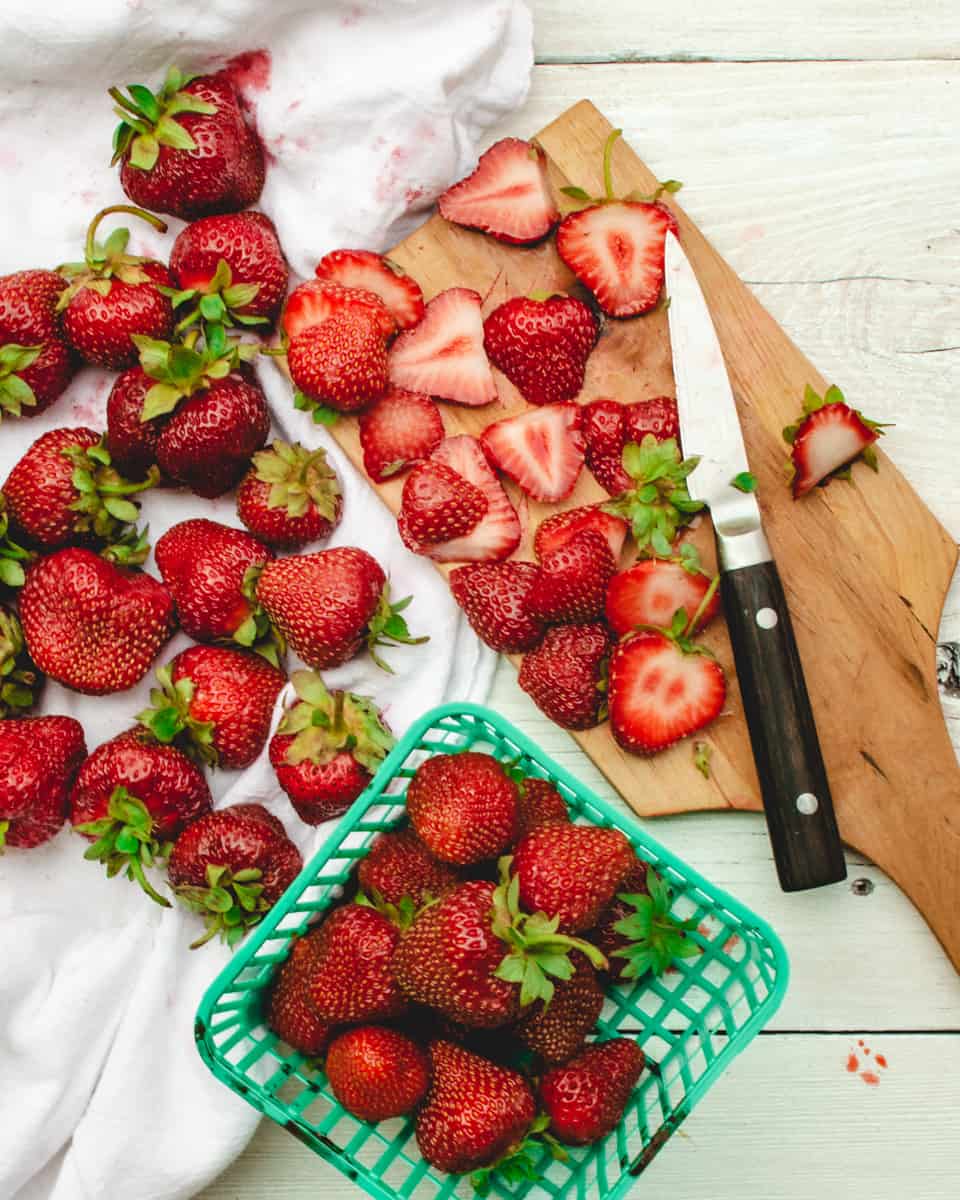 While the scones are baking prepare the strawberries. Do this at least 15 minutes before serving to allow the sugar and vinegar to draw the juices out creating a "sauce". Don't let them sit for more than one hour as the strawberries will start to break down. That's fine for leftovers, when you are in your pj's on the couch watching Netflix. But if you want to serve them at their best do so sooner rather than later. The balsamic vinegar adds a sweet acidity to the strawberries that compliments and balances out the flavours perfectly. Splurge on a good quality one imported from Italy. The flavour is more mild and much less acidic. A generic balsamic will leave your strawberries tasting like vinegar. Feel free to omit the vinegar all together but trust me, you will be missing out.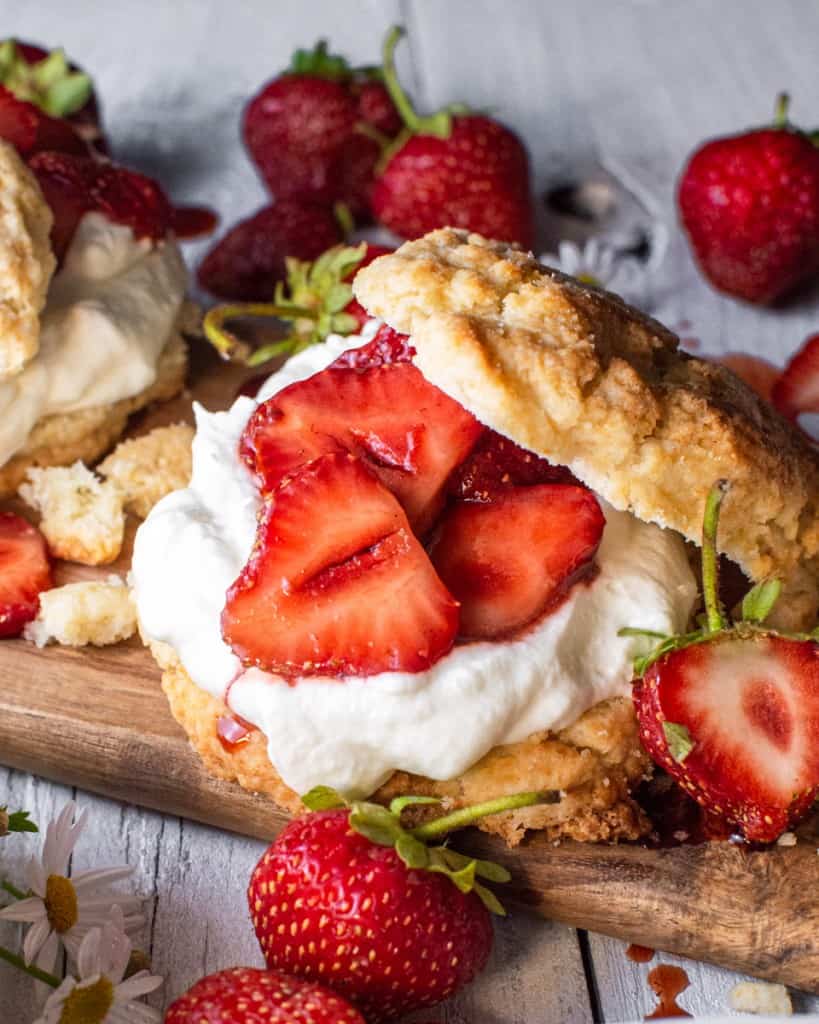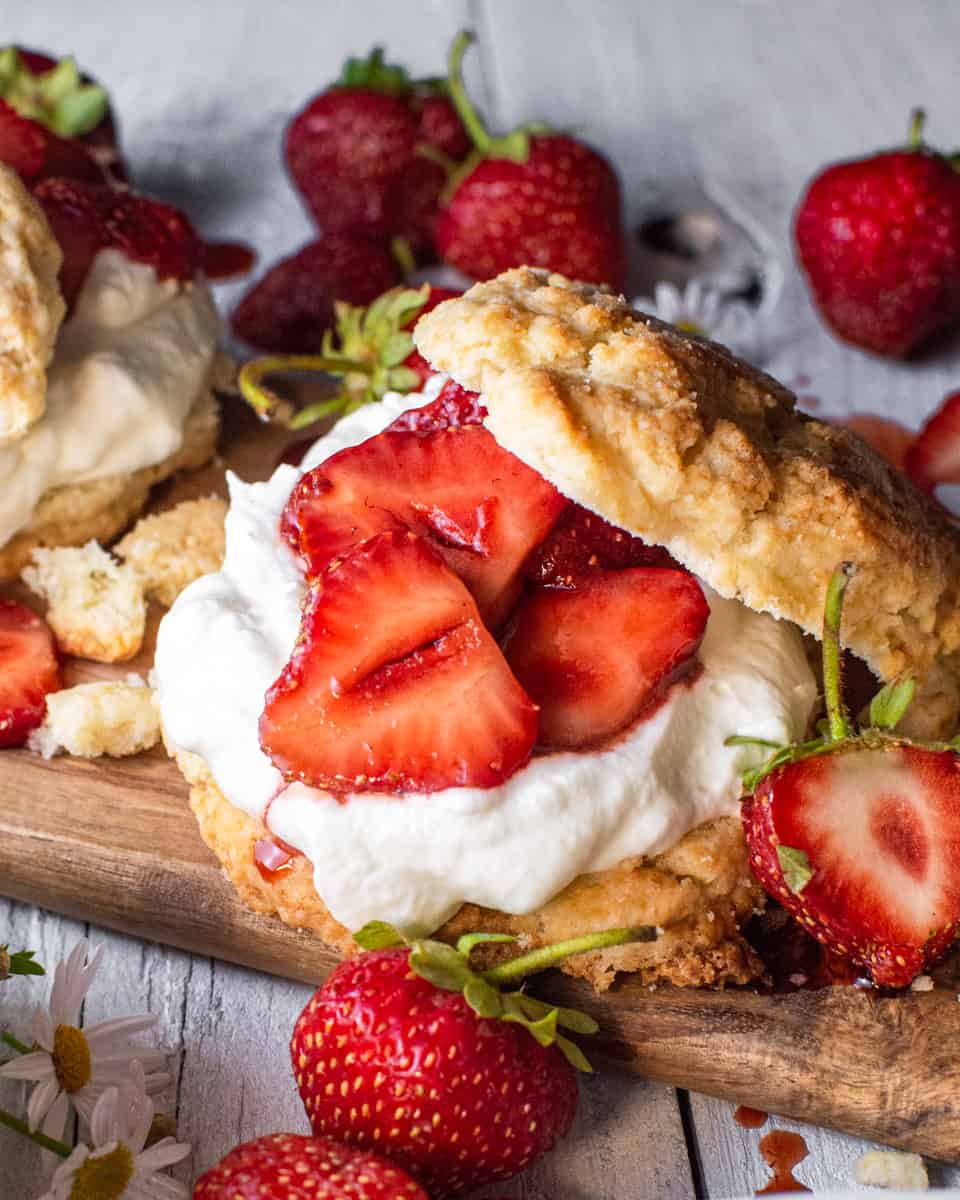 Whip up some 35% cream with a touch of sugar and vanilla. Once the scones have cooled, cut in half, add cream and strawberries and top with the other half of the scone. Dust with icing sugar or top with more cream if you like. Once assembled these should be eaten right away. Who could wait anyway!
PRO TIPS FOR BEST RESULTS
Use very cold unsalted butter and cream
Don't over work the dough or the scones will be less tender
Shape by hand to have no waste or roll dough out and cut into desired shapes and sizes.
Freeze unbaked scones on a tray first. Then transfer to bags or containers. Bake from frozen. Brush with milk and sprinkle with sugar just before baking.
Use a good quality balsamic vinegar for the strawberries
Strawberries should be used within one hour of mixing with sugar and vinegar.
Serve shortcakes immediately after assembling.
The recipe makes 12 scones and servings. Click on the serving size within the recipe and choose your desired amount. You may want to make all the scones and freeze what you don't use and only adjust the strawberries and cream.
📖 Recipe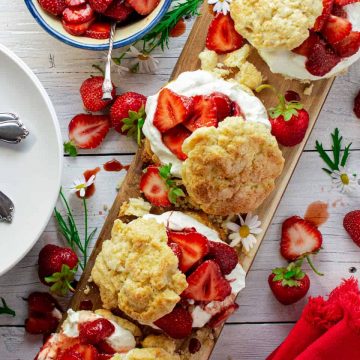 Strawberry Shortcakes
These strawberry shortcakes turn a seasonal favourite into a delicious and easy dessert. This recipe uses cream scones and balsamic glazed strawberries.
Print
Pin
Rate
Ingredients
Cream and Vanilla Scones
4

cups

all purpose flour

½

cup

granulated sugar, plus extra for sprinkling

2

tablespoon

baking powder

1

teaspoon

salt

1

cup

unsalted butter, cut into small pieces

500

mls

35% cream

milk or extra cream for brushing tops
Balsamic Strawberries
2

pints

fresh, local, strawberries, rinsed and dried

2

tablespoon

granulated sugar

4-5

teaspoon

balsamic vinegar, to taste
Chantilly Cream
500

mls

35% cream

4

tablespoon

icing sugar

2

teaspoon

pure vanilla extract
Instructions
Cream scones
Measure all dry ingredients into a large bowl. Add cut butter to dry ingredients. Break up the butter with your fingers or a pastry cutter until the pieces are about the size of chickpeas and green peas. Pour in the cream and mix with a wooden spoon. When too stiff to continue stirring use your hands to bring the dough together into a ragged ball.

Preheat oven to 350°F, if baking right away.

Using your hands, form dough into 12 equal sized balls about 2 ½" in diameter or the size of a tennis ball. Place on parchment lined baking tray. Flatten the tops and bottoms to make a tall hockey puck shape. Scones can be wrapped and frozen at this point. If continuing, brush lightly with milk and sprinkle with sugar.

Bake on center rack, in preheated oven for 30-40 minutes or until golden brown and firm to the touch. Let cool completely. Scones can be wrapped and frozen at this point.
Balsamic strawberries
Remove any stems and leaves from the washed and dried strawberries. Slice ¼" thick or as desired. Place in bowl and sprinkle over sugar and balsamic vinegar. Stir and let stand, covered, at room temperature for 15 minutes or in the fridge for up to one hour.
Chantilly Cream
In a stand mixer with whisk attachment, with a hand held mixer or a whisk, whip the cream with the sugar and the vanilla until medium stiff peaks form. Cover and keep in the fridge until ready to use. This keeps for 2-3 days.
Assembly
Cut the scones in half. On bottom half place a generous dollop of cream and a generous scoop of strawberries with juices. Place the top half on top. Add a small dollop of cream and dust with icing sugar if desired or just leave naked!
Notes
Assembled Shortcakes should be served immediately.
Scones can be frozen before or after baking. If unbaked, freeze on tray and then pack into resealable bags or airtight container.
Marinated strawberries are best used within one hour of mixing but will keep for 2 days, covered in the refrigerator.