This is a classic Flaky Pie Crust that can be used for all your pastry needs big and small. This recipe uses all butter and makes enough for one double crust pie. It's flaky, crispy and delicious so keep reading to find out just how easy it is to make!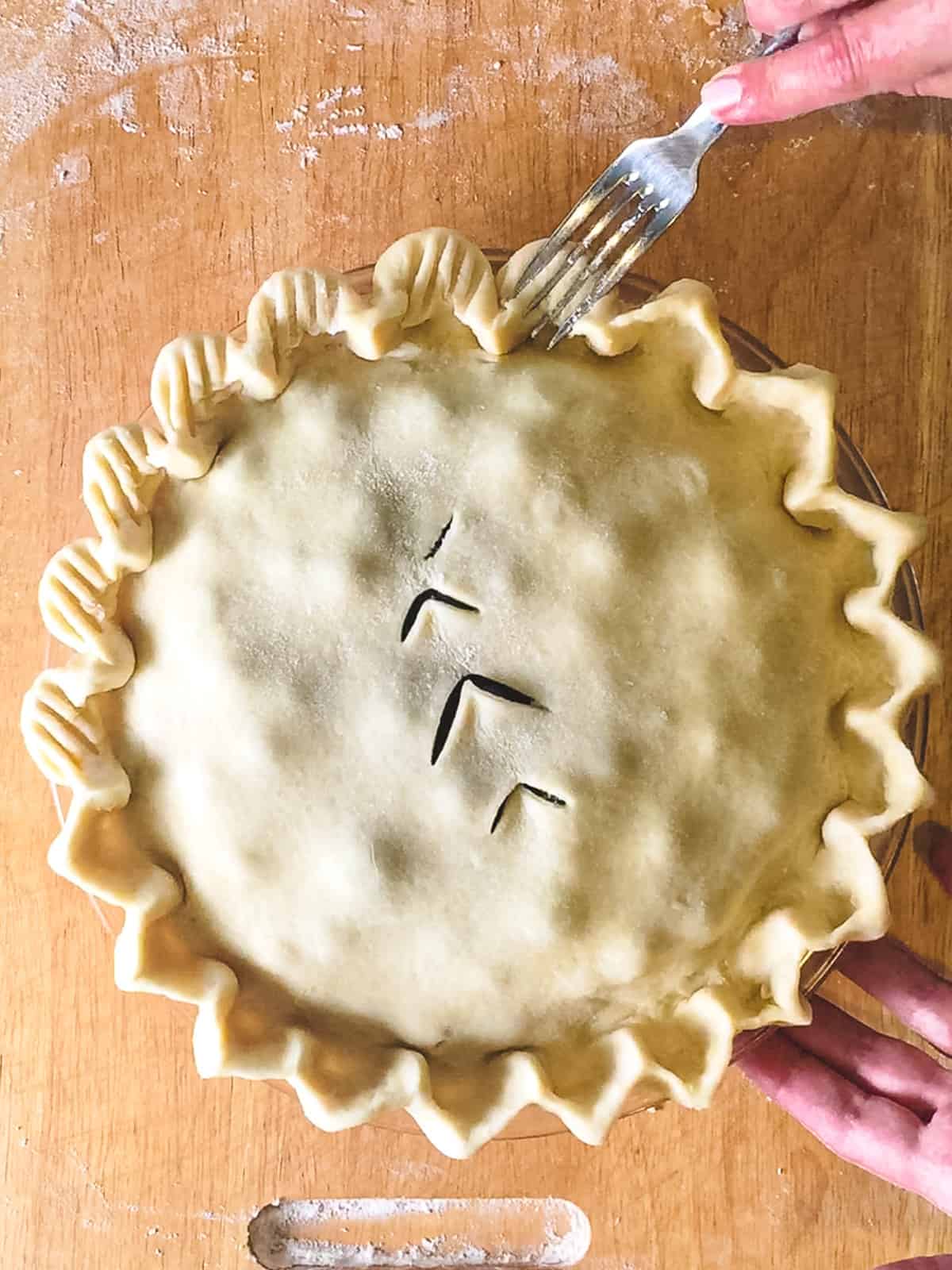 Jump to:
Why you will love this recipe
✅Simple: This recipe uses just a few basic ingredients: flour, butter, salt, and water. This makes it approachable for both experienced bakers and beginners.
✅Flavorful: Butter has a rich and delicious flavor which imparts a wonderful buttery taste to the crust.
✅Golden and Crispy: This pastry has a beautifully golden and crisp finish, which makes it visually appealing.
✅Versatile: An all butter pie dough works with all types of pie fillings, from sweet to savory.
Ingredients
Unsalted butter - I prefer to use unsalted butter because of it's lower water content. If you decide to use salted butter be sure to omit the salt or reduce to ½ a teaspoon. The amount of salt is a personal preference to adjust to your own taste.
All purpose flour - Bleached or unbleached flour work equally well for this recipe. You can also use half whole wheat flour. Make it gluten free by replacing the flour with the same amount of a gluten free all purpose flour.
Sugar & Salt - Both are added for flavour.
Water & Vinegar - A small amount of white vinegar is added to help reduce gluten formation which can result in a tougher dough. Water binds everything together.
How to make a Flaky Pie Crust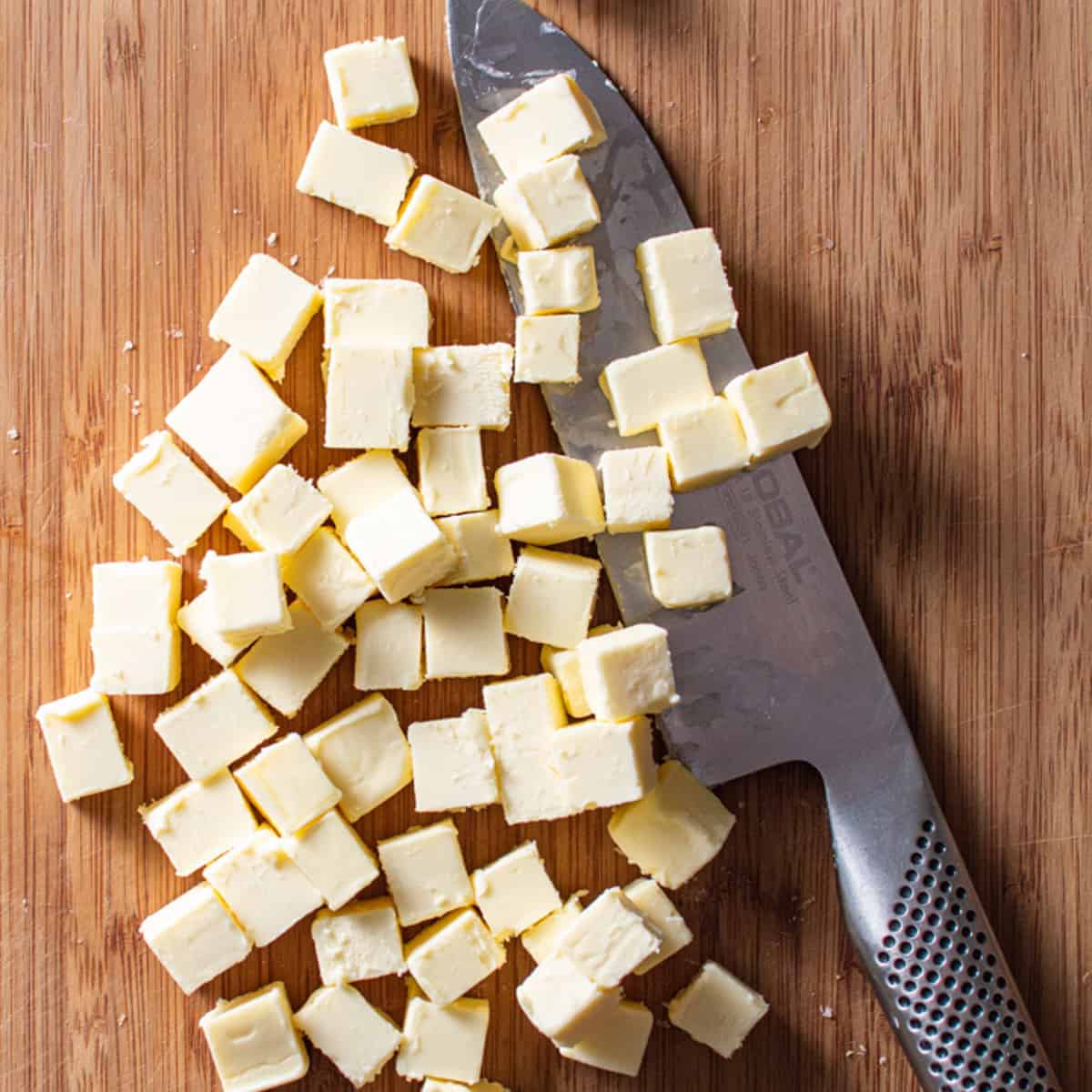 Step 1 - Cut cold butter into approximately ½ and inch cubes.
Step 2 - Add flour, sugar and salt to the bowl of a food processor (if you don't have a food processor see below for instructions.) Pulse 2 or 3 times to mix dry ingredients together. Add cold butter cubes.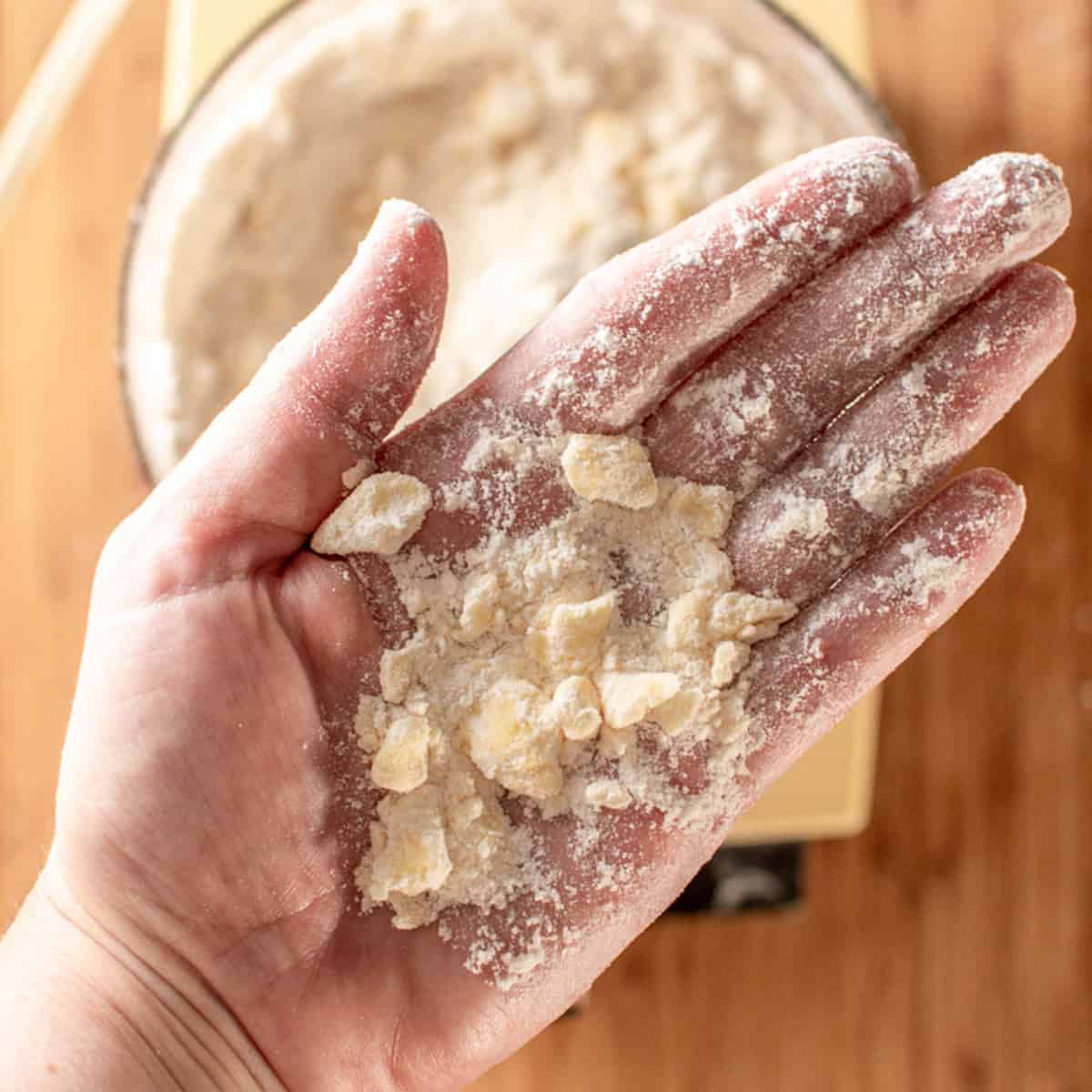 Step 3 - Continue pulsing until the butter is broken down into small pieces similar to green or chickpeas.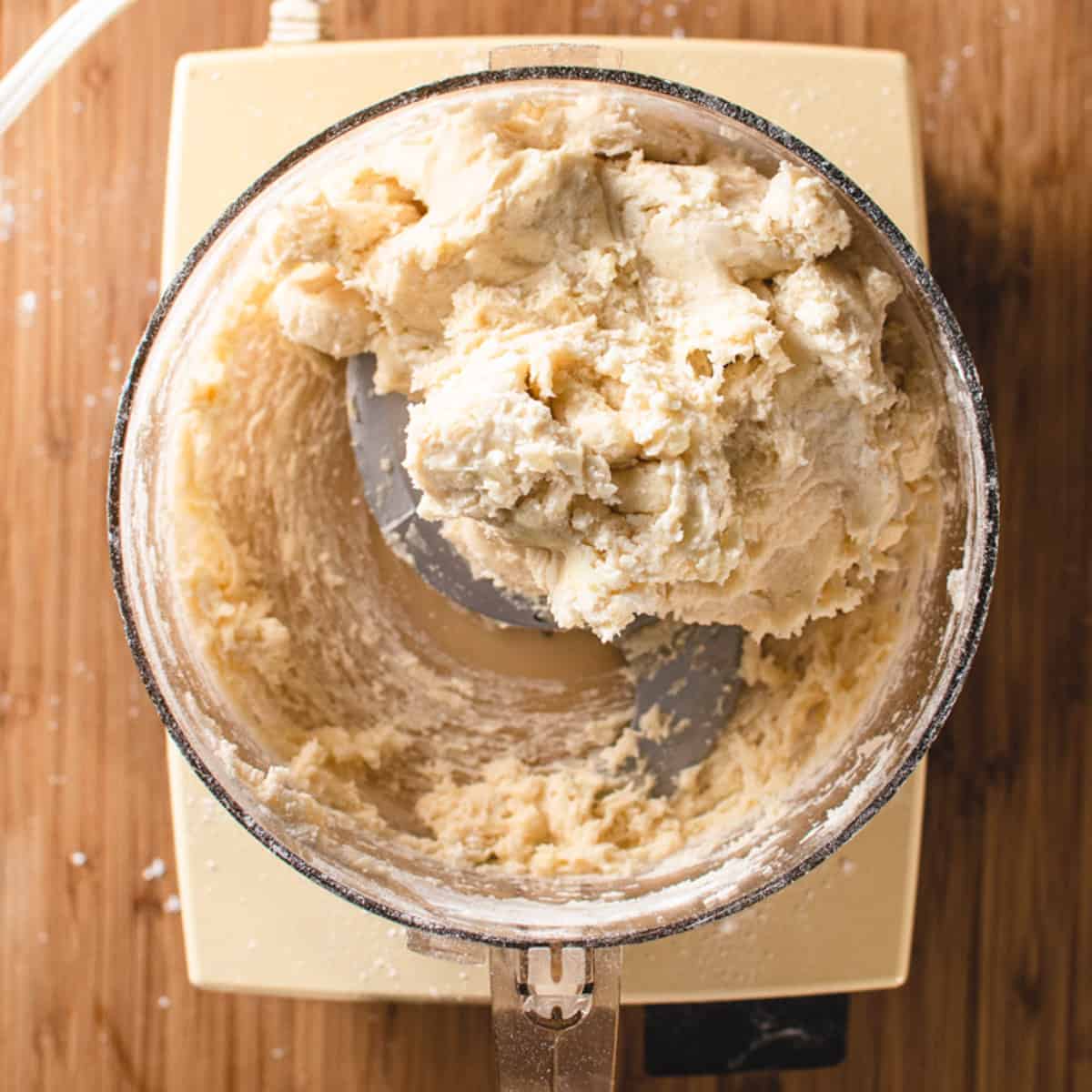 Step 4 - With the machine off, add the cold water and vinegar mixture. Pulse until the dough just comes together.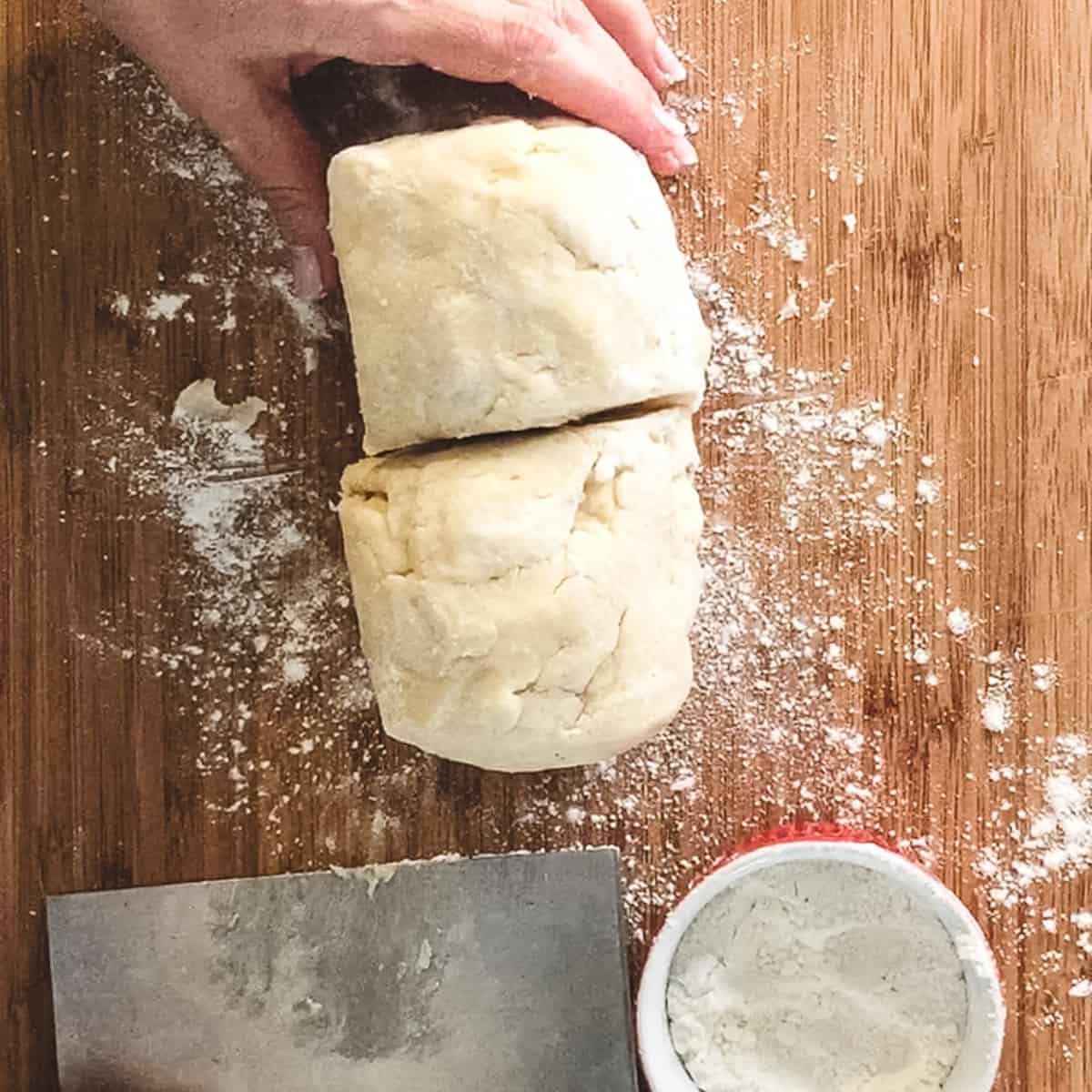 Step 5 - Turn the dough out onto a lightly floured surface and shape into a short log. Cut in half.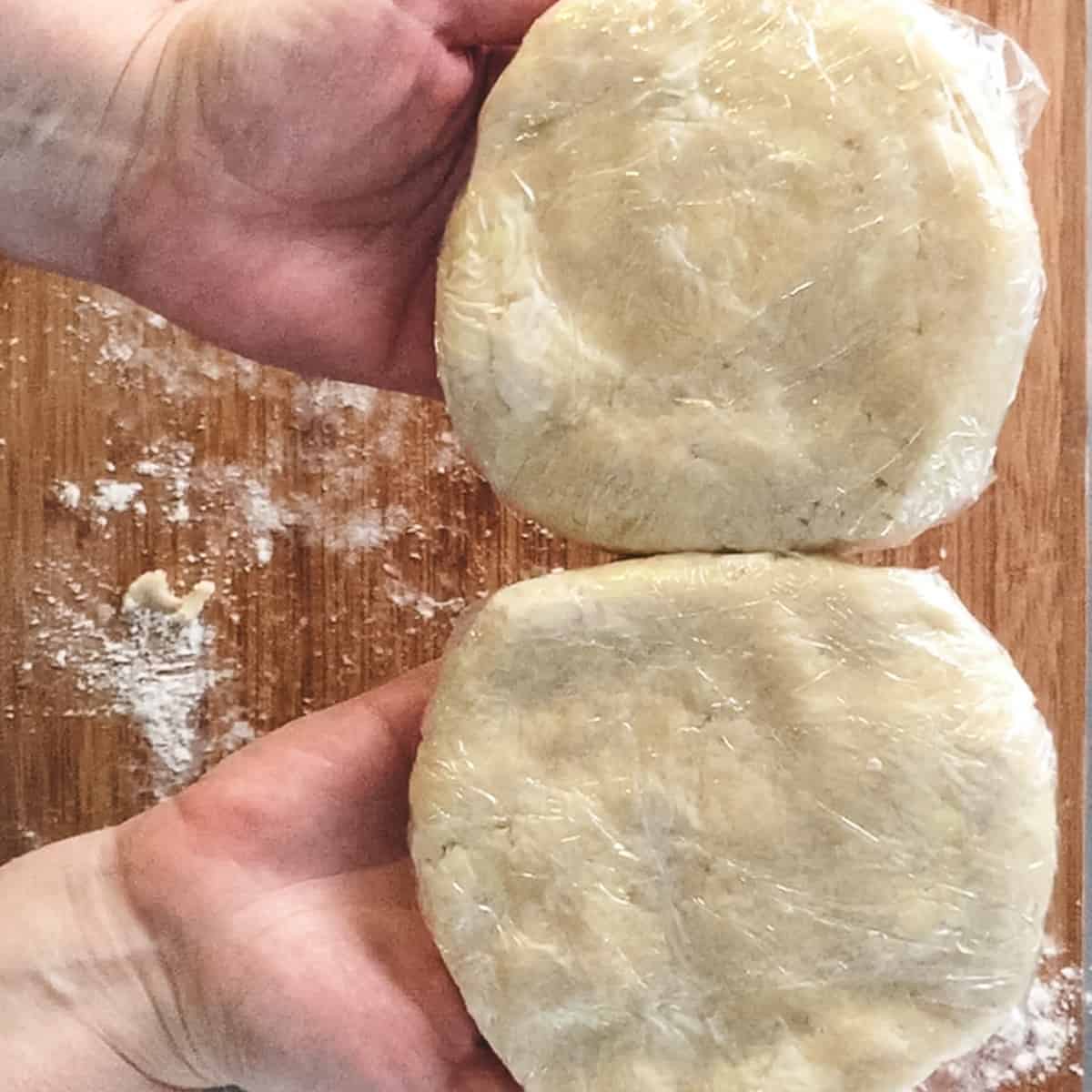 Step 6 - Flatten each half into a round disk. This helps later to get the rolling process started. Wrap with plastic wrap and refrigerate for a minimum of 30 minutes and up to 3 days. Remove dough from fridge 30 minutes before rolling. You can also freeze it for a later date. Let frozen dough defrost in the fridge overnight.
Want to know what to do with your pastry next? Check out my step-by-step recipe for Homemade Blueberry Pie.
Expert Tips
Use cold unsalted butter for best results. Unsalted butter has a lower water content than salted butter. Cold butter prevents it from melting while you are making the dough.
Using a food processor allows for minimal handling of the dough. The warmth of your hands can soften or melt the butter, especially on a warm day. It also helps everything come together quickly and easily.
Visible butter pieces are what creates the flakes in your flaky pie crust. During baking the butter melts and creates steam, forming little air pockets. So if you mix the butter in too much you won't have any flakes. This is one of the most common mistakes made when making pastry. The pieces of butter will be all different sizes but as long as you can see some pieces the size of chickpeas or green peas you are on the right track.
Chill the dough before rolling. This is very important to make sure the gluten has time to relax and the butter stays cold.
Make a double batch so you have pastry in the freezer for the next time you want to make a pie.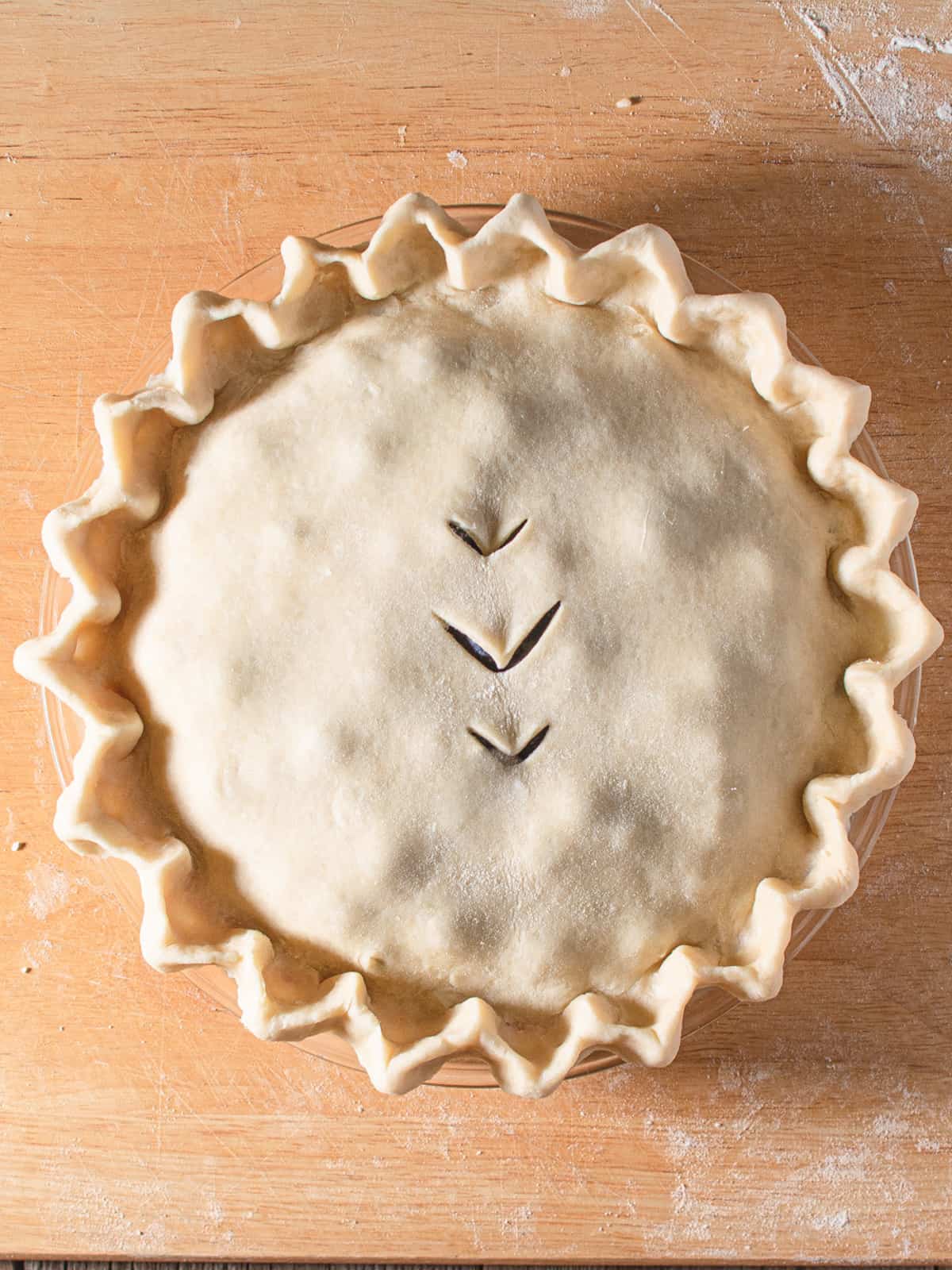 Recipe FAQs
How do I make pie dough without a food processor?
Mix together the flour, salt, and sugar in a large bowl. Add the cold, cubed butter to the flour mixture. Use your fingers to break the butter into smaller pieces by rubbing them between your thumbs and forefingers or use a pastry cutter. Add the liquid and stir with a wooden spoon. When it is too hard to continue stirring turn it out onto a lightly floured surface and gently bring it together with your hands.
What is the secret to making flaky pie crusts?
The secret to making flaky pie crusts is to keep all your ingredients cold so that the butter stays in visible small pieces. As the pie bakes, these butter pockets will melt, forming tiny air pockets that are responsible for the desired flakiness.
How do you make the bottom of a pie crust flaky?
For a flaky and crispy pie bottom preheat a baking stone or tray in the oven before baking the pie. That way the bottom of the pie will heat and start baking quickly.
Why does vinegar make pie crust flaky?
The acid in vinegar helps inhibit the formation of excessive gluten strands, leading to a more tender and flaky crust.
More Dessert Recipes
📖 Recipe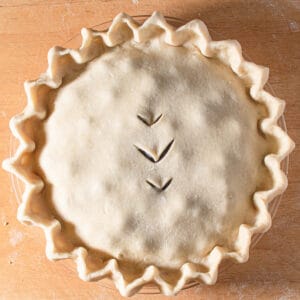 Flaky Pie Crust
Follow this step-by-step recipe for beautiful flaky pie crust every time!
Print
Pin
Rate
Servings:
1
Double Crust Pie
Ingredients
227

g / 8 oz

unsalted butter, cold

2

cups

all purpose flour

2

tablespoon

white sugar

2

teaspoon

salt, Kosher

100

mls/3 oz

ice cold water

1

teaspoon

white vinegar
Instructions
Place the flour, sugar and salt in the bowl of a food processor. Pulse 3-4 times just to combine.

2 cups all purpose flour,

2 tablespoon white sugar,

2 teaspoon salt, Kosher

Take the butter out of the fridge and cut into small cubes. Add to the flour mixture. Pulse until the butter is broken down into green pea - chickpea size pieces.

227 g / 8 oz unsalted butter, cold

Remove the lid and pour in the ice cold water and vinegar. Pulse until the dough comes together.

100 mls/3 oz ice cold water,

1 teaspoon white vinegar

Turn out onto lightly floured board or counter top. Shape into a short log and divide equally in half. Press each piece into a flat disk and wrap with plastic wrap. Let chill in fridge for at least 30 mins and up to 3 days.
Notes
Dough can be frozen for 3 months. Let thaw in fridge overnight.
If you don't have a food processor you can follow the steps using your hands to break the butter into small pieces. Use a wooden spoon to stir in the water and vinegar and when it becomes too hard to stir turn the dough out onto the counter and gently bring together with your hands.  
NUTRITION FACTS are an estimate only and are based on ⅛ of a double crust pie. 
Nutrition
Serving:
1
of 8
|
Calories:
326
kcal
|
Carbohydrates:
27
g
|
Protein:
3
g
|
Fat:
22
g
|
Saturated Fat:
14
g
|
Cholesterol:
60
mg
|
Sodium:
582
mg
|
Potassium:
34
mg
|
Fiber:
1
g
|
Sugar:
3
g