This is a classic Flaky Pie Crust that can be used for all your pastry needs big and small. This recipe makes enough for a double crust 9" pie but if you only need a single crust just freeze the rest and then it's already done for your next pie. The use of a food processor brings it together lickety-split! Everyone needs a perfect flaky pie crust recipe in their back pocket so better bookmark this one!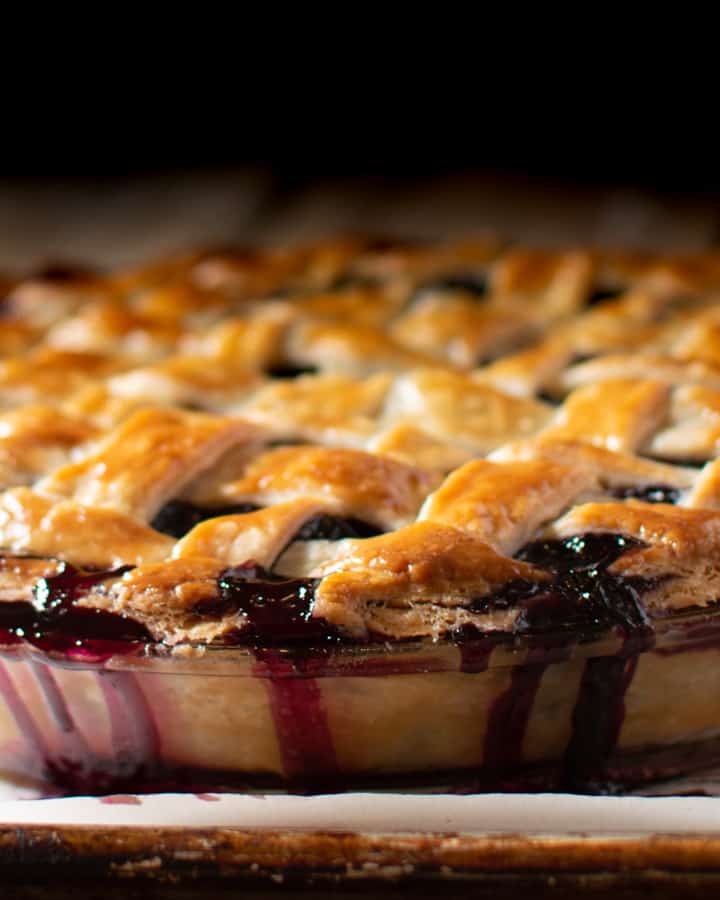 Pie crust, or pastry in general, is the thing I get asked about the most. So many people tell me they just can't make pastry. I'm hoping that my recipe and method will change those minds and take the intimidation out of pastry making. It is one of my most favourite things to make and once you get the hang of it you'll be makin' it in your sleep!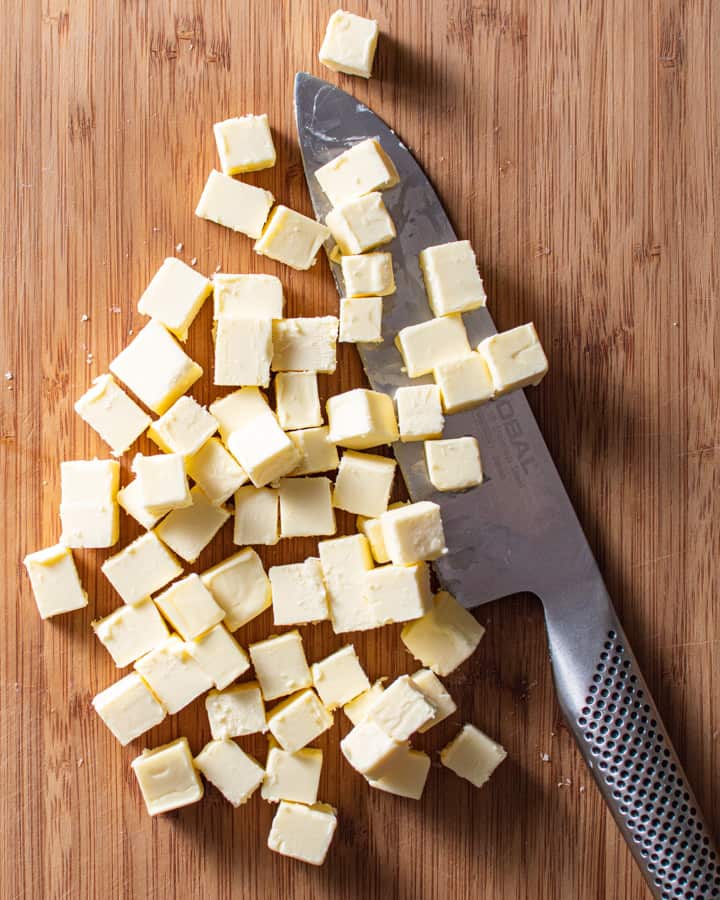 The cold butter gets cut up into small pieces before adding it to the dry ingredients in the bowl of the food processor.
The beauty of the food processor for this process is that the butter is broken down without getting warmth from your fingers. Pulse a few times and remove the lid to check the butter. You are going for pieces that are between the sizes of green peas and chickpeas.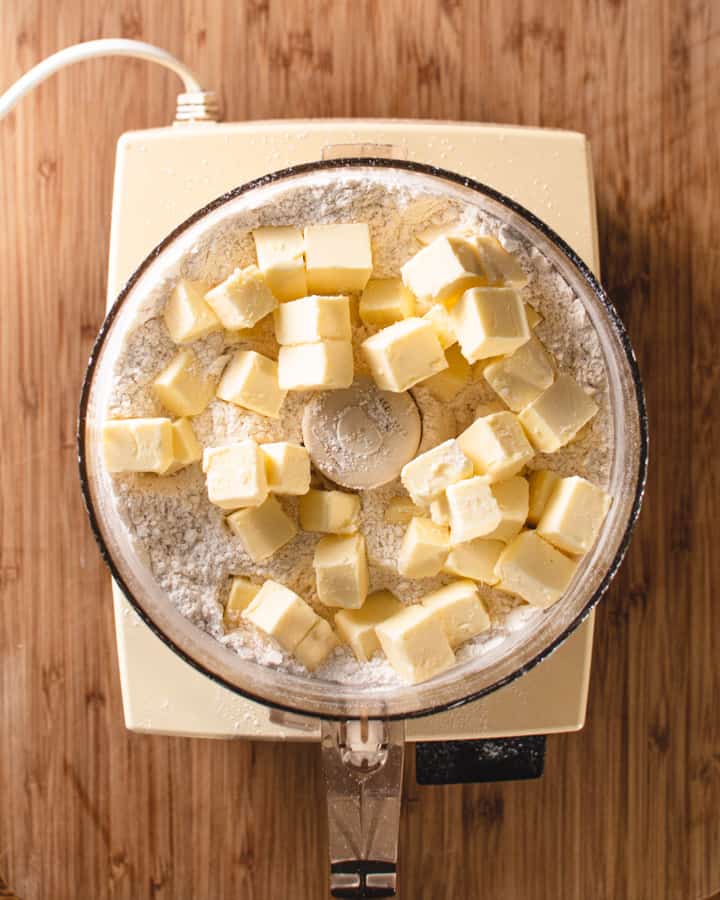 The visible butter pieces are what creates the flakes in your flaky pie crust. During baking the butter melts and creates steam forming little air pockets. So if you mix the butter in too much you won't have any flakes...and this is sad 🙁 It's also one of the most common mistakes made. They should look something like this: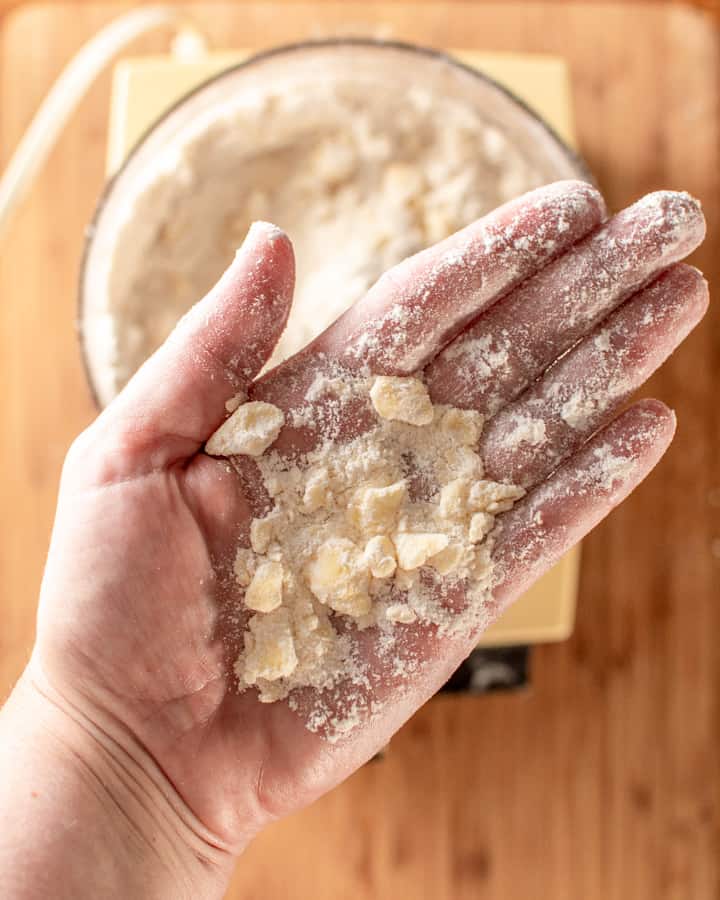 Once your butter pieces are the right size remove the lid and add the cold water and vinegar. Continue pulsing until the dough comes together. This takes longer than you think but don't worry about over-mixing. As soon as it comes together into one piece it is done!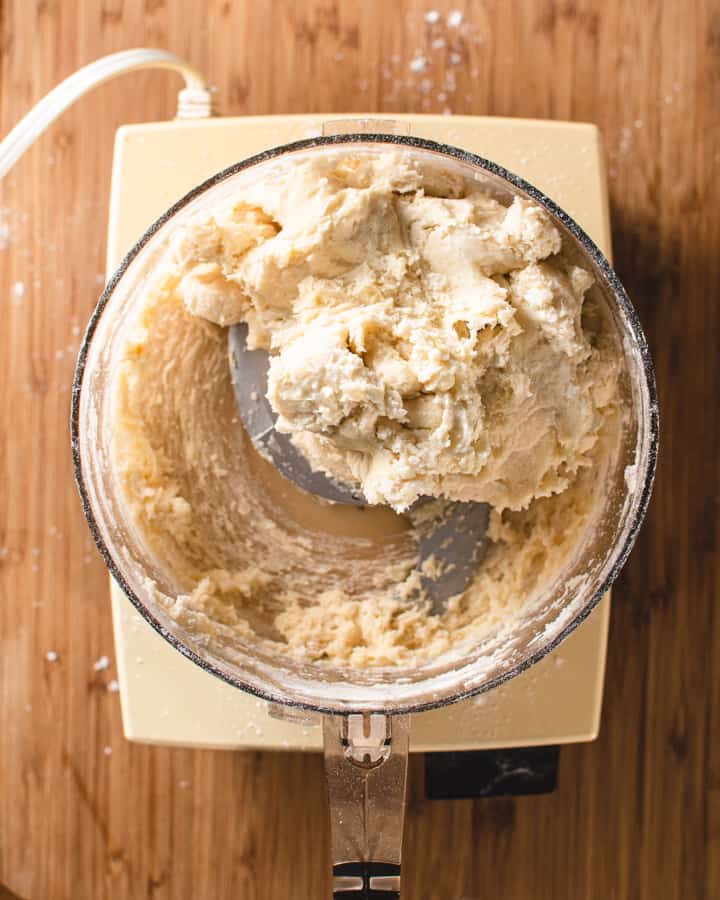 If you are thinking my food processor looks pretty old that's because it is. It was a house warming gift from my mom when I moved into my first apartment and was starting culinary school. It's an original model from Cuisinart. I've had it since 1989 and it has never broken down. Not once. The only thing I have done is have the blade sharpened. I'm sure they don't make them like they used to but if you're thinking of buying one I'd go for this Cuisinart 14-Cup Food Processor. It has a larger capacity than mine but there is a smaller one here Cuisinart 8-Cup Food Processor that is still one cup larger than the one I have. Clearly it's done the trick for me but if I had the choice I'd go bigger.
I was not paid by Cuisinart for this post but I have included some affiliate links which, if a purchase is made, I make a small commission at no cost to you.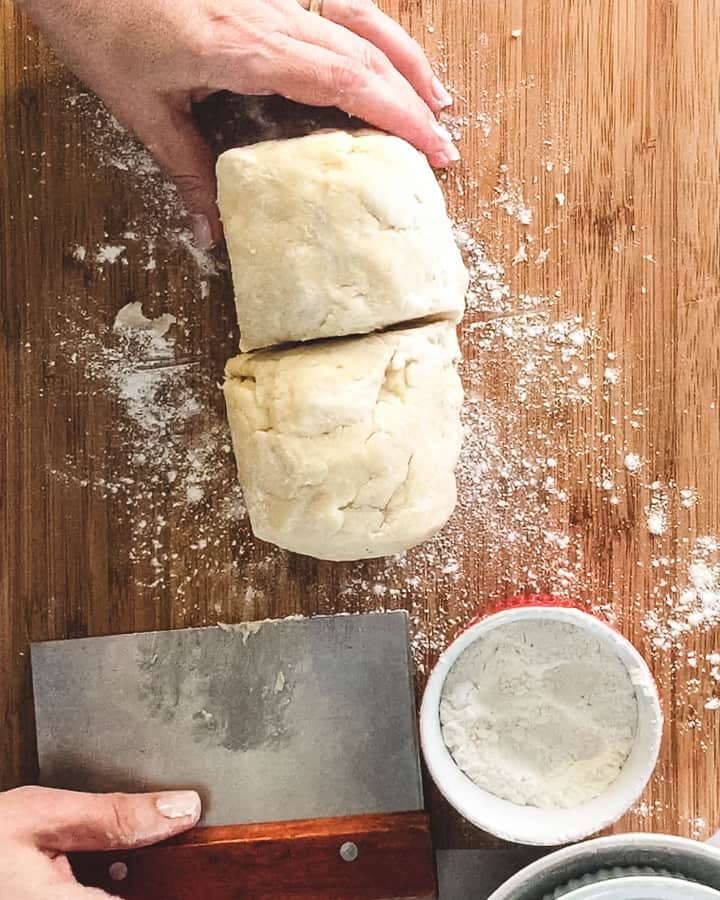 Back to the pie dough: Now turn it out onto a lightly floured surface and shape it into a short log. Cut the log into 2 equal pieces. Flatten these pieces into disks about ½" thick, wrap in plastic wrap and pop them in the fridge to chill out. The pie dough must rest before you can start rolling it. Resting allows the gluten to relax and the butter to get cold again. The dough can stay like this in the fridge for 3-4 days. You can also freeze it for a later use.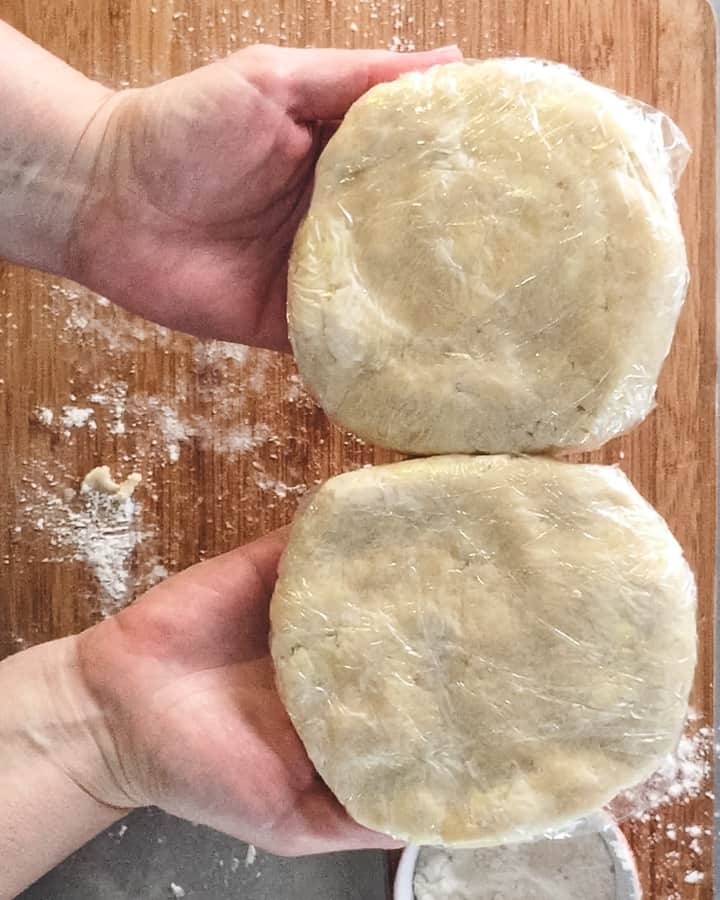 If you don't have a food processor and don't want to buy one don't worry you can make this by hand. Use your fingers to break the butter into smaller pieces by rubbing them between your thumbs and forefingers or use a pastry cutter such as this Dough Blender. Then add the liquid and stir with a wooden spoon. When it is too hard to continue stirring turn it out onto a lightly floured surface and gently bring it together with your hands.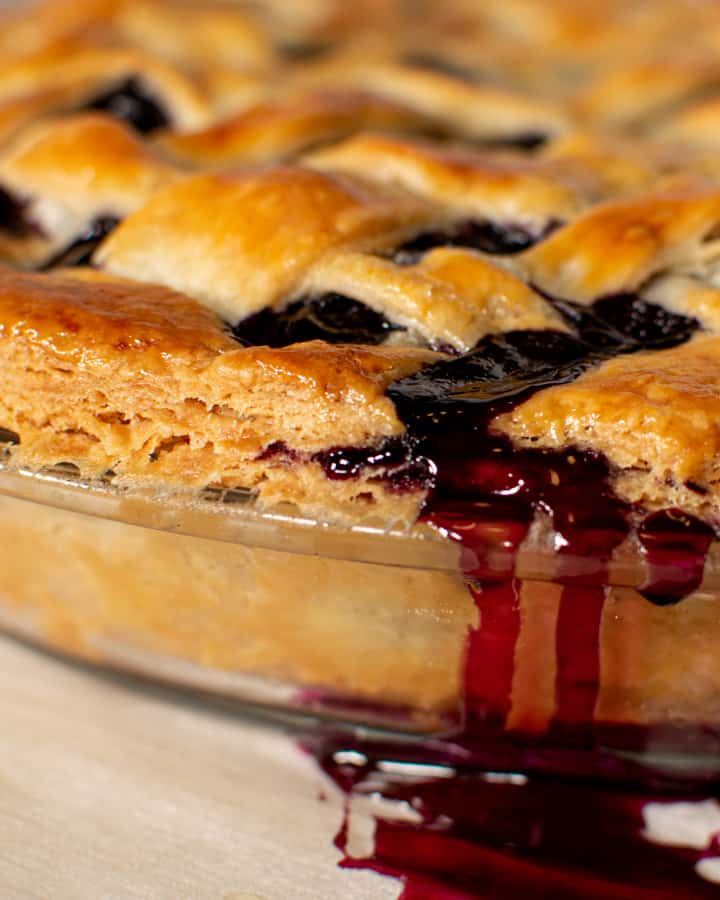 Follow my easy steps and you will be a flaky pie crust making genius in no time!
pro tips for best results
Use cold, unsalted butter
Pulse until the butter is in green pea - chickpea sized pieces.
Add all the liquid at once and pulse until it comes together.
Shape finished dough into 2 equal sized, flat disks that are round. This makes it easier to roll out into a circle later because you have given it a head start.
Chill the dough in the fridge for at least 30 mins and up to 3 days. Or freeze for a later use. Let frozen dough defrost in the fridge overnight.
This post contains affiliate links. As an Amazon Associate I earn a small commission from qualifying purchases.
📖 Recipe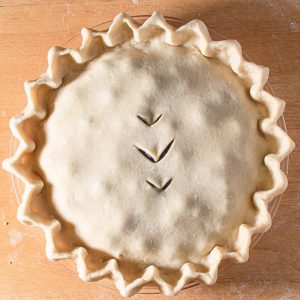 Flaky Pie Crust
Follow this step-by-step recipe for beautiful flaky pie crust every time!
Print
Pin
Rate
Servings:
1
Double Crust Pie
Ingredients
1

cup

unsalted butter, cold

2

cups

all purpose flour

2

tablespoon

white sugar

2

teaspoon

salt, Kosher

100

mls

ice cold water

1

teaspoon

white vinegar
Instructions
Place the flour, sugar and salt in the bowl of a food processor. Pulse 3-4 times just to combine.

Take the butter out of the fridge and cut into small cubes. Add to the flour mixture. Pulse until the butter is broken down into green pea - chickpea size pieces.

Remove the lid and pour in the ice cold water and vinegar. Pulse until the dough comes together.

Turn out onto lightly floured board or counter top. Shape into a short log and divide equally in half. Press each piece into a flat disk and wrap with plastic wrap. Let chill in fridge for at least 30 mins and up to 3 days.
Notes
Dough can be frozen for 3 months. Let thaw in fridge overnight.
If you don't have a food processor you can follow the steps using your hands to break the butter into small pieces. Use a wooden spoon to stir in the water and vinegar and when it becomes too hard to stir turn the dough out onto the counter and gently bring together with your hands.