These Chewy Cocoa Brownies are an all-time classic and family favourite. Crispy around the edges and chewy in the center they are sure to check all the boxes for not only the most delicious brownies but also the easiest.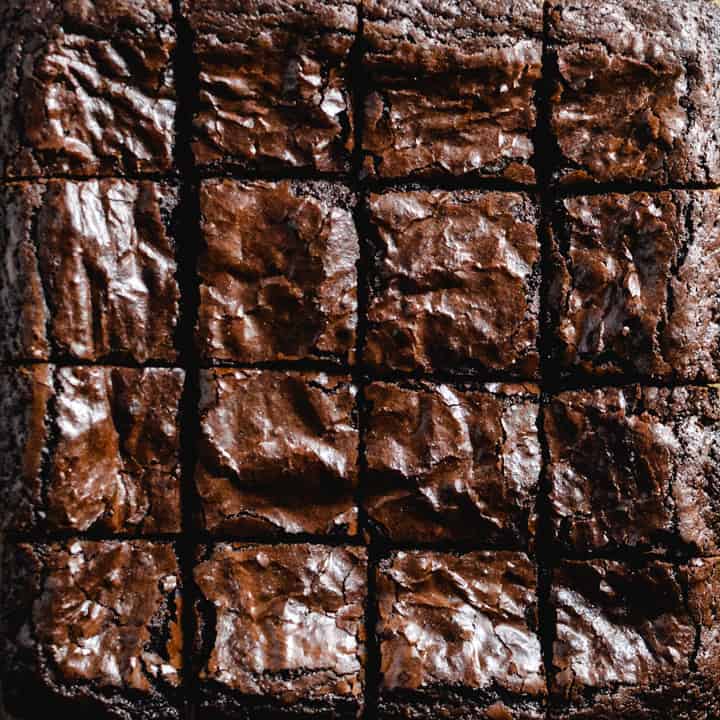 The ingredients required to make these brownies are things you most likely already have on hand so they can be made in a pinch! Have a late night craving? These will be ready to eat in less than an hour!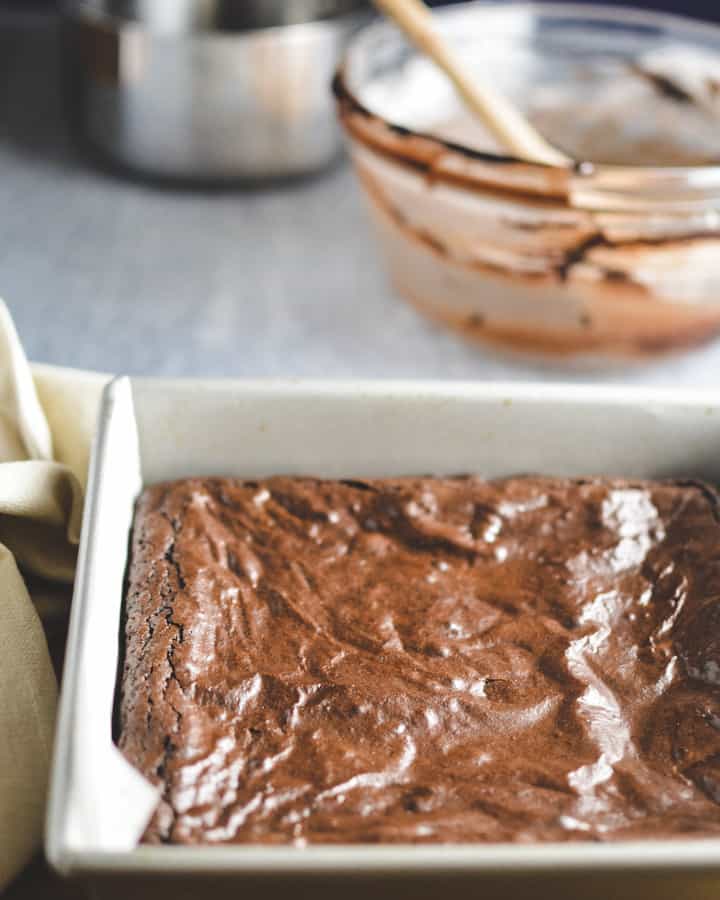 Brownies are one of those things that can be made a hundred different ways. If you search "brownies" on the web there are countless options to choose from. Even though this recipe is going back to basics, I mean the most basic you can get, they are still the favourite around here. Over the years I've tried so many brownie recipes, made hundreds of adjustments and still keep coming back to this one. Adding chocolate must make them better right? Nope. Seriously no.
What's the secret to that shiny crust on top? Lots of whisking. You want the eggs at room temperature and whisked up before adding to the chocolate mixture. Then you vigorously whisk them into the batter. This creates a "souffle" effect. Because the air you incorporate into the eggs makes them puff up during baking and then settle back down to form the crusty layer on top. A key element to a perfect brownie if you ask me.
First the butter, sugars and cocoa powder are melted in a double boiler. Don't know what a double boiler is? You place a bowl over top of a pot with about an inch or two of simmering water. This creates a gentle heat so you don't burn anything. Make sure the bowl isn't touching the water and if it's boiling too much be sure to turn it down. Once everything is melted you are going to think you did something wrong because it'll look something like this....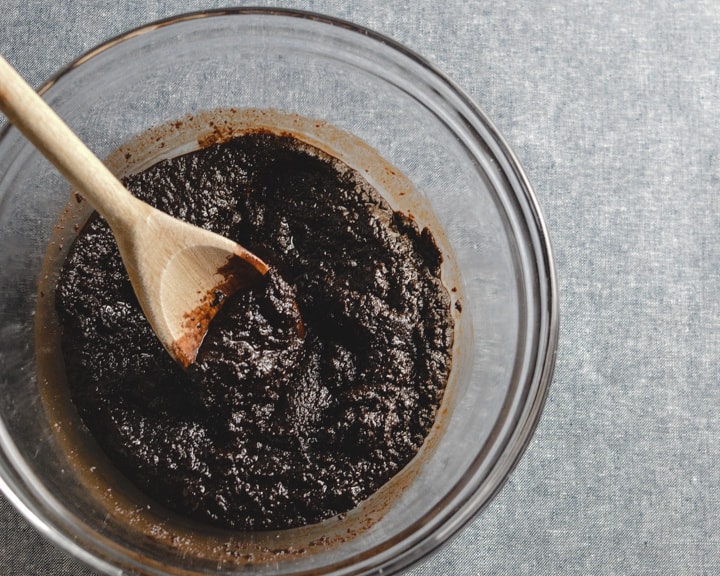 Don't panic, this is how it's supposed to look. You also want to make sure it is very warm to the touch. Take it off the heat while you whisk up the eggs. Once you have added your eggs and dry ingredients that's when the magic happens. You end up with this luscious goodness...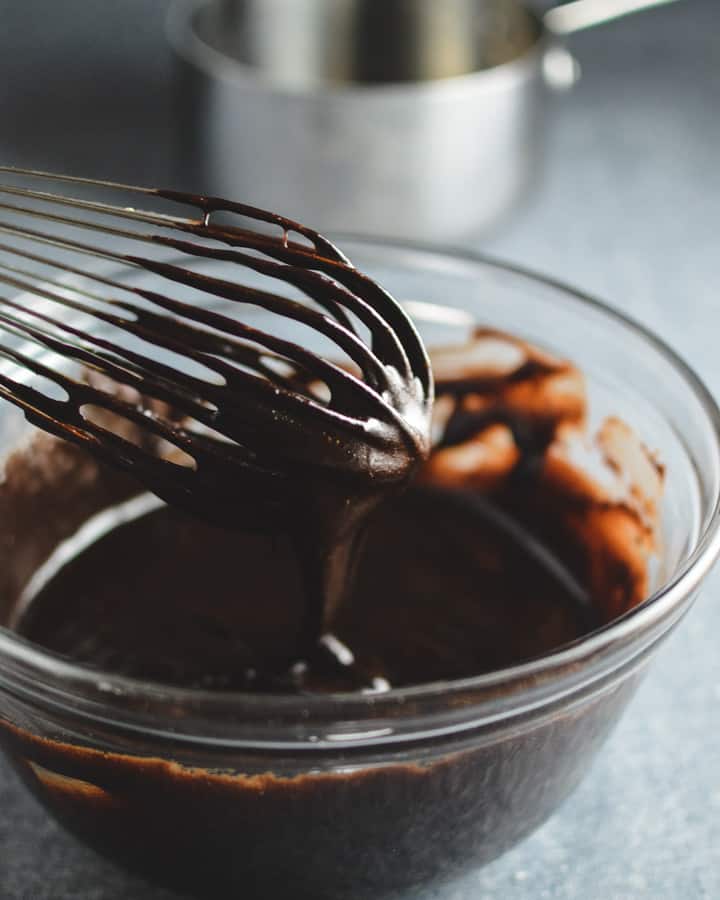 Make sure your chocolate mixture is still warm when you add the eggs and flour mixture to have the best results. If you have all your ingredients ready before hand it will make this easier to achieve.
Now you're ready to bake and fill your home with the intoxicating aroma of cocoa brownies! The one little "beyond basic" ingredient I add is instant espresso powder. Just a touch. You don't taste coffee in the brownies but it adds just a little depth of flavour. If you don't have it and don't want to buy some you can leave it out. But...what I can tell you is that instant espresso powder is a staple in my baking cupboard. It is the easiest way to add a coffee hit to many baked goods. It also makes a decent cup of coffee if you've run out of your favourite brew or are feeling too lazy to make a pot...usually the case for me.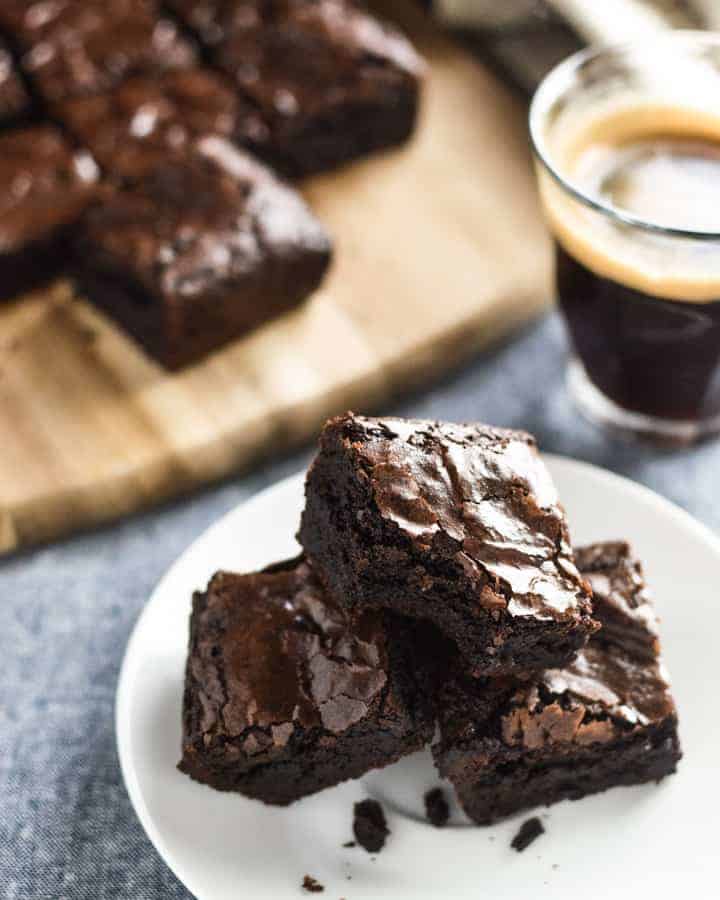 Let's do a recap of the essential steps to making these Classic Chewy Cocoa Brownies.
Pro tips for best results
Have all your ingredients ready before starting
Have your eggs at room temperature. To speed up this process place the eggs in a bowl of hot tap water and leave them there for 5 minutes or so.
Make sure your butter/sugar/cocoa mixture is still warm but not hot when adding the eggs and flour mix. You should be able to hold your finger in for 5 seconds. You don't want to cook the eggs.
Mix in the flour in 2 batches to avoid lumps
Spray your pan with non-stick spray and line the bottom with parchment paper
Bake for recommended time but look for the rise and fall of the crusty layer.
📖 Recipe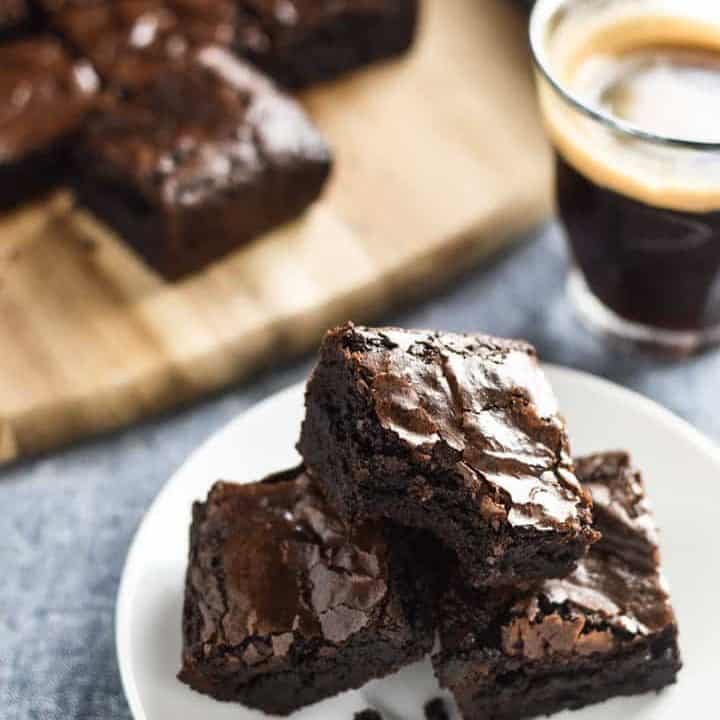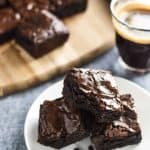 Print Recipe
Classic Chewy Cocoa Brownies
These brownies are an all-time classic and family favourite. Crispy around the edges and chewy in the centre they are sure to check all the boxes for not only the most delicious brownies but also the easiest.
Servings:
16
small squares
Ingredients
¾

cup

unsalted butter

¾

cup

granulated sugar

¾

cup

dark brown sugar

½

cup + 1 tbsp

cocoa powder

2

lg

eggs

room temperature, see note above

1

teaspoon

vanilla extract

¾

cup

all purpose flour

1

teaspoon

baking powder

1

teaspoon

salt

1

teaspoon

instant espresso powder
Instructions
1. Preheat oven to 350 degrees F.

2. Spray an 8"x 8" pan by with non-stick cooking spray and line the bottom with parchment paper.

3. Bring an inch or 2 of water to a boil and turn down to simmer for your double boiler. Meanwhile, measure out your butter, both sugars and cocoa powder into a bowl that fits over your pot without touching the water.

4. Place bowl over simmering water. Stir periodically until butter is melted.

5. Meanwhile crack eggs into separate bowl large enough to whisk eggs vigorously.

6. In another bowl measure out flour, baking powder, salt and espresso powder, Whisk to combine.

7. When butter is melted remove bowl from pot and set aside to cool slightly.

8. Meanwhile whisk eggs for approximately 1 minute until light in colour.

9. When chocolate mixture has cooled enough that you can hold your finger in the mix for 3-5 seconds, whisk in the eggs and continue whisking for another minute.

10. Sprinkle half the flour mixture over batter. Stir until combined. Sprinkle in remaining flour and continue to stir until flour is no longer visible. Pour into prepared pan

11. Bake in preheated oven for 25-30 minutes or until top has puffed up and then settled back down. Over baking will create a less chewy texture.
Nutrition