Apple Caramel Pudding Cake is a quick and easy self-saucing dessert. It is the ultimate sweet comfort food for this time of year. Take advantage of apple season and try it with different varieties until you find your favourite.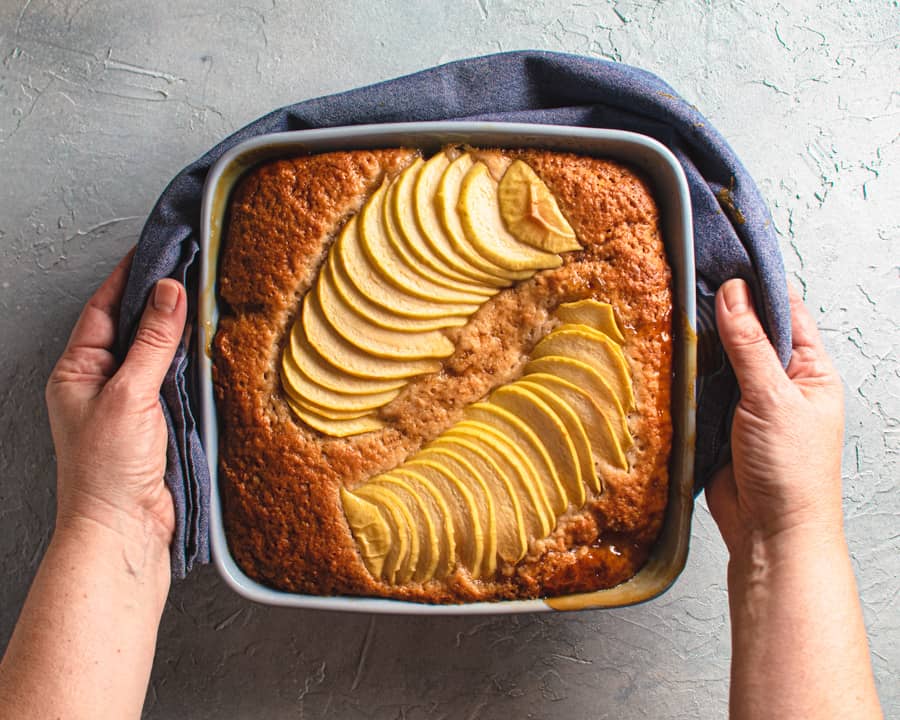 The first time I came across a pudding cake recipe I thought "this doesn't make sense" I'm to pour boiling water over top of cake batter? Weird. But what happens is pure magic. The watery mixture sinks to the bottom and creates a lovely sauce, in this case a caramel. And let's face it, caramel, apples and cake...what could be better?
how to core an apple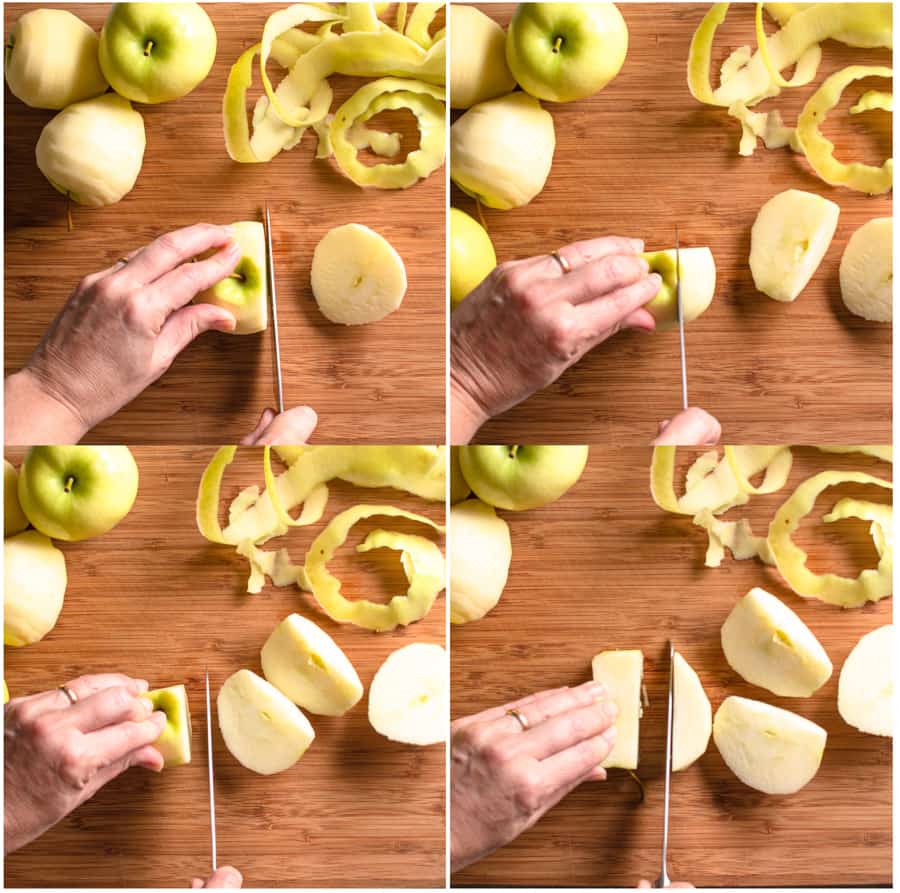 This is my quick and easy way to core an apple. I admit there is a little more waste with this method but I'm willing to sacrifice a little apple for what I gain on speed. Stand the apple upright and cut off one side. Rotate and cut off all sides keeping as close to the core as possible. If you have larger pieces of core left on your apple chunks, cut them out with a paring knife. If they are small just leave them in. The apples bake long enough to soften those small pieces of core so you won't even notice them. Simply slice the apple chunks into ¼" slices and place in a prepared baking dish.
What type of apples should I use?
I used Ginger Gold, which are my favourite at the moment. You can use any type of apples you like but just avoid Red Delicious. They have a mealy texture when cooked. Other apples that are great for baking include Golden Delicious, Honeycrisp, Empire, Cortland, Royal Gala, Fuji, Northern Spy....to name a few. Granny Smith are also good for baking but I find them on the tart and firm side. I like to use them in a mix of apples when making apple pie for example. If you are at the market and you are unsure of some of the varieties just ask the farmer/vendor. They are always happy to help!
The cake
This is the simplest cake imaginable. No heavy mixing or machines necessary. Just a bowl and a spoon and something to melt the butter and milk in. Use a pot on the stove top or a microwave. Whatever does the trick! All the dry ingredients are mixed together in one bowl. The melted butter and milk is mixed into the dry and that's it!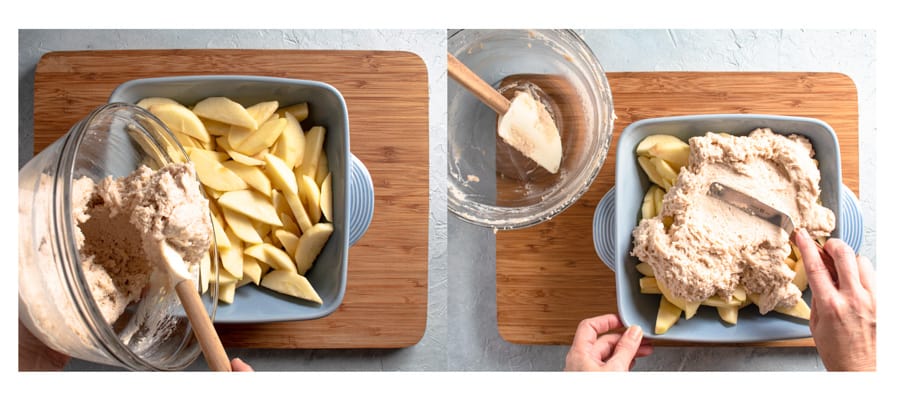 Spread the batter over the apples. It is a bit stiff so using an offset metal spatula is the perfect tool for this job. If you don't own one of these I highly recommend picking one up. It is one of my favourite kitchen tools. I own a few. A Natural Wood Small Spatula would make a great stocking stuffer don't you think?
The caramel sauce
Here's where the magic happens. A few simple ingredients, mostly boiling water, are mixed together and poured over the cake. Dark brown sugar is preferred but if you only have light on hand that works too. A little flour to thicken, and some salt to balance everything out. The liquid sinks to the bottom and creates a beautiful caramel sauce with the apples. Heaven.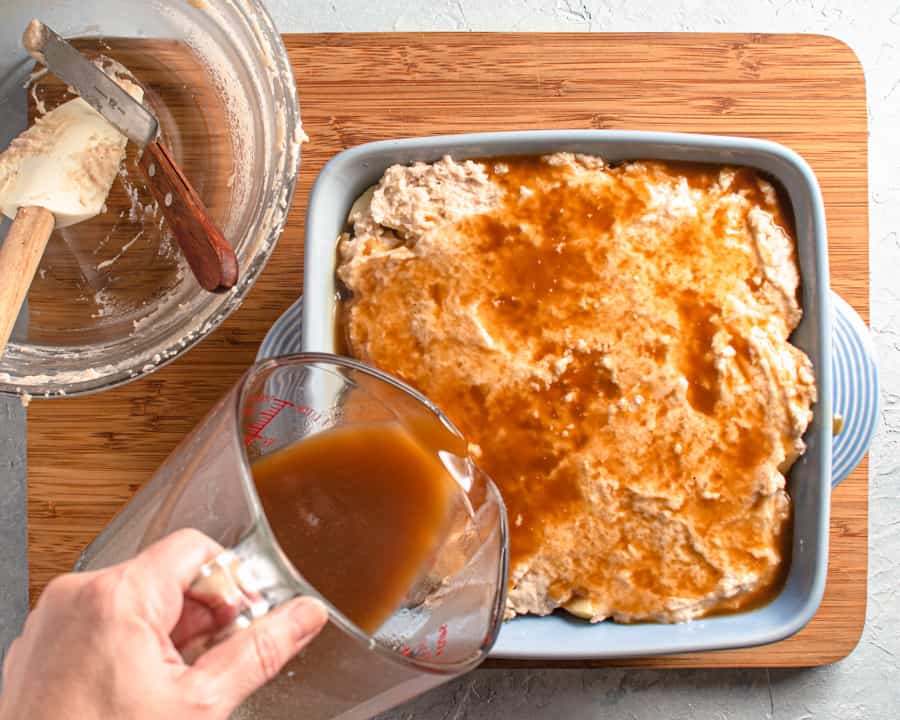 If you want to add something extra special you can top it with fanned out, thinly sliced apples but this is optional. I like to leave the peel on to add extra colour and texture to the top. To achieve the fanned slices, cut the apple in half and scoop out the core with a melon baller or a paring knife. With cut side down, thinly slice keeping all the pieces together. Flatten the sliced half so they fan out. Arrange on top of cake after pouring over the sauce. Bake for 45-50 minutes or until a cake tester comes out clean.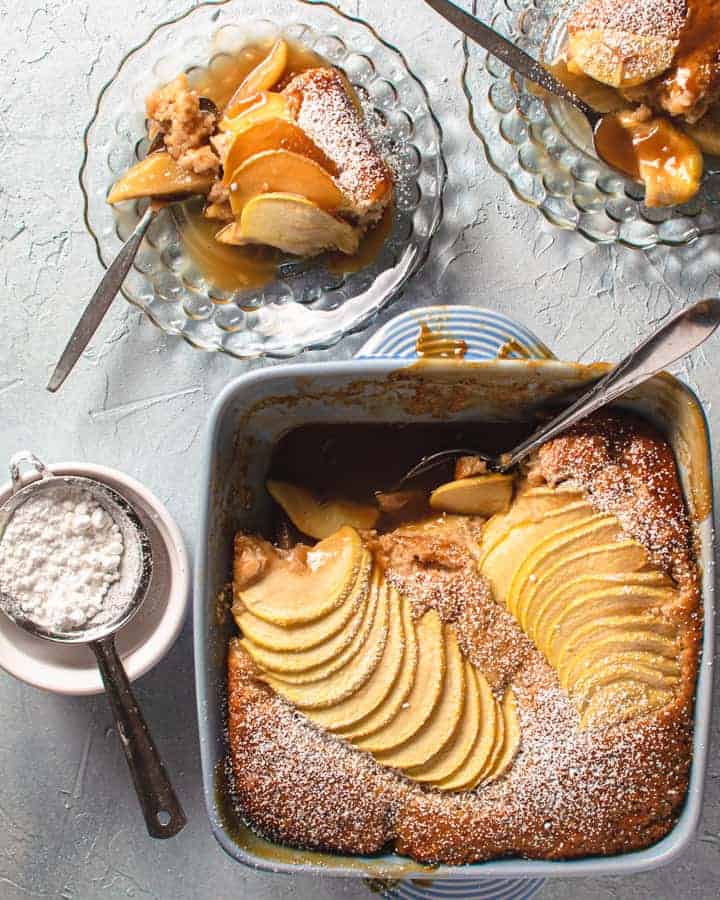 This cake is best served warm. Let it rest for at least 15-20 minutes to allow the caramel to cool and everything to settle. Dust with some icing sugar for some extra pizzazz. This cake keeps, at room temperature, for 3 or 4 days and in the fridge for a week. Just reheat in the microwave. Add a scoop of vanilla ice cream and it's practically a meal!
Don't forget to ask your questions and post your comments in the comment section below. I love hearing from you!
More Dessert Recipes
📖 Recipe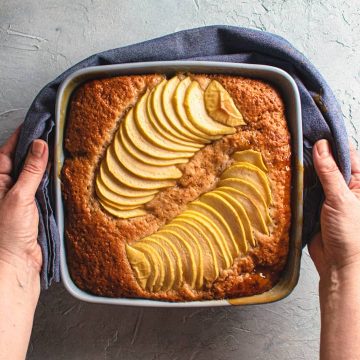 Apple Caramel Pudding Cake
Apple Caramel Pudding Cake is a self saucing fast and easy dessert. It's so simple you won't believe how delicious it is!
Print
Pin
Rate
Ingredients
4

cups

peeled and sliced apples, about 4 medium

1

apple, unpeeled for garnish, optional

¼

cup

butter, unsalted

¾

cup

milk, 2% or whole

1 ½

cups

flour, all purpose

½

cup

sugar, granulated

2 ½

teaspoon

baking powder

½

teaspoon

cinnamon, ground

¼

teaspoon

nutmeg, ground

½

teaspoon

salt, kosher
Sauce
¾

cup

brown sugar, dark

2

tablespoon

flour, all purpose

¼

teaspoon

salt, kosher

1

cup

boiling water

icing sugar for dusting, optional
Instructions
for the apples
Peel 4 of the apples, core and slice. You should have approximately 4 cups. Leave one apple reserved for garnish if desired.

Place in the bottom of a lightly buttered or sprayed 8" square baking dish.
for the cake
Melt the butter and milk. Set aside.

In a large bowl whisk together flour, sugar, baking powder, cinnamon, nutmeg and salt.

Pour melted butter and milk into dry ingredients. Using a rubber spatula or wooden spoon, stir until just combined.

Spread cake batter over top of apples.
For the sauce
In a medium bowl mix together brown sugar, flour and salt. Pour boiling water over and stir to combine.

While still hot, pour mixture over cake before baking.

If garnishing with sliced apple, core and thinly slice apple and arrange on top after pouring in the sauce. (see instructions and photos above in post)

Bake for 45-50 minutes or until a cake tester comes out clean.

This cake is best served warm. Let it rest for at least 15-20 minutes to allow the caramel to cool and everything to settle. Dust with icing sugar (optional).
Notes
If using regular table salt reduce amount slightly. 
This dessert is best served warm.
Cake will keep at room temperature for 3 days and in the fridge for one week. 
Any type of apple except Red Delicious work for this recipe.
Nutrition
Serving:
1
serving
|
Calories:
400
kcal
|
Carbohydrates:
79
g
|
Protein:
4
g
|
Fat:
9
g
|
Saturated Fat:
5
g
|
Monounsaturated Fat:
2
g
|
Cholesterol:
23
mg
|
Sodium:
1060
mg
|
Potassium:
383
mg
|
Fiber:
4
g
|
Sugar:
57
g