This recipe uses a quick brine and a Homemade Bacon BBQ Sauce to create the most flavorful, juicy pork chops you could imagine! Thick cuts are a key to success in making the Best BBQ Grilled Pork Chops and the brine ensures they retain moisture so you will no longer suffer from dried-out pork.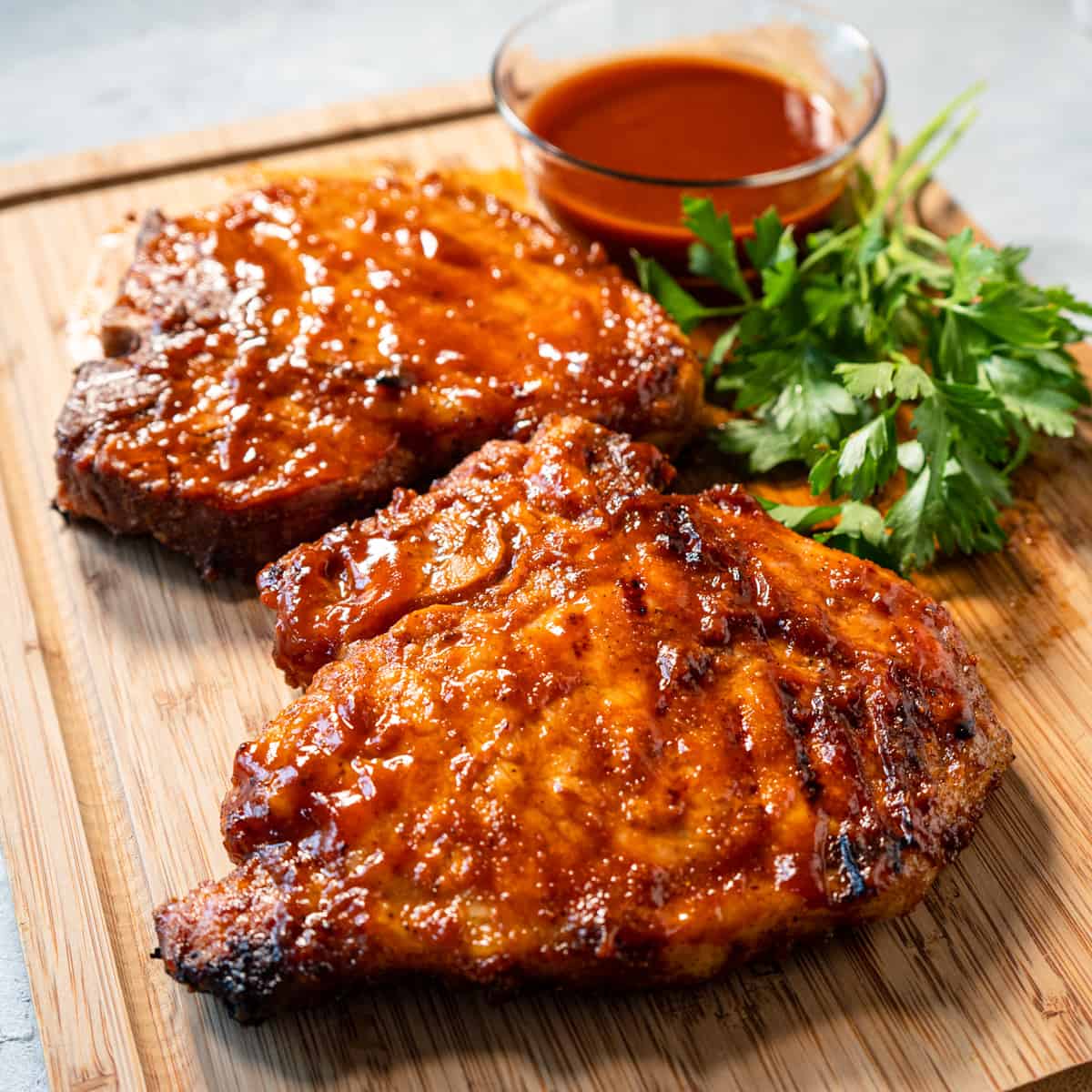 Jump to:
Why You Will Love This Recipe
Quick and Easy - This recipe comes together quickly and it's so easy you will wonder why you haven't been making grilled pork chops more often!
The Best and Easiest BBQ Sauce! - All the ingredients to make this bbq sauce you probably already have on hand and it all comes together in less than 20 minutes! You can also slather it on any of your favorite grilled meats. You will find another easy BBQ sauce recipe included with my Grilled Chicken Thighs.
Economical - Pork chops are very inexpensive compared to other red meats and making your own BBQ sauce will save you money too!
Tender and Juicy - Taking the extra step to brine your pork chops will turn you into a pro at grilling tender and juicy chops every-single-time!
What You Need to Make Grilled Pork Chops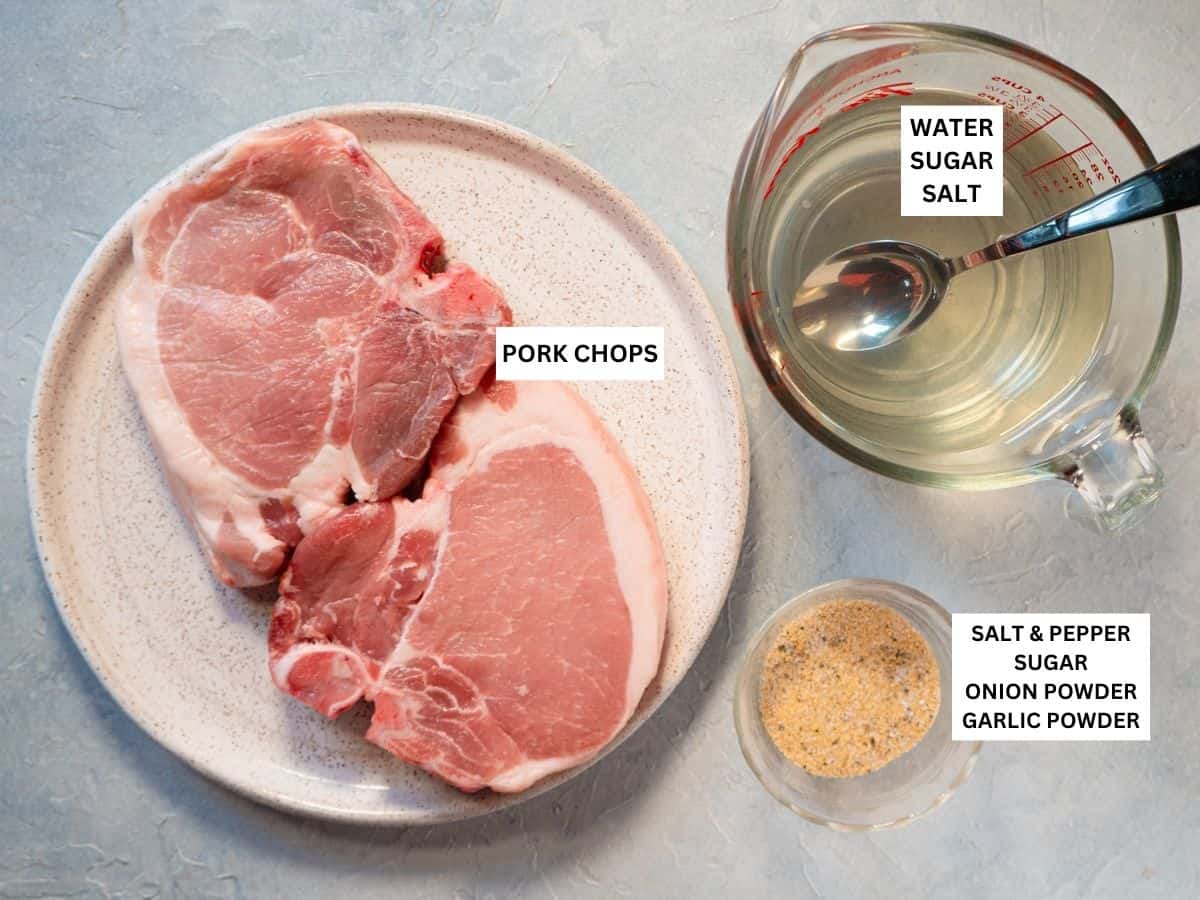 Pork chops - I prefer bone-in center cut or rib chops for grilling. Look for a minimum 1-inch thickness. Any cut of pork chop will work with this recipe but cooking times may vary. Boneless cuts take less time so be sure to check the temperature with a meat thermometer.
Dry spice rub - This is a basic dry rub just to add an extra punch of flavour. If you have your own favourite dry rub feel free to use that.
Wet brine - A simple brining liquid will help keep your pork chops tender and juicy. Brining also works for preventing chicken breasts from drying out when grilling.
Although this BBQ sauce can be prepared without bacon, I highly recommend including it. Many store-bought sauces are high in sugar, salt, and low-quality oils. Creating your own sauce gives you better control over these ingredients, as well as the ability to adjust the spiciness and other flavors according to your preferences. Making it yourself also saves you money!
I also enjoy making homemade salad dressings for the same reasons. Take a look at my Spicy Ranch Dressing and Dip, along with the popular Cumin and Lime Vinaigrette recipe.
For a complete list of ingredients see the recipe card below.
How to Make This Recipe
Step 1 - Brine: In a dish or resealable bag large enough to submerge the pork chops in liquid, mix together the brine ingredients and add the pork chops. Refrigerate for 30 to 60 minutes while you make the BBQ sauce.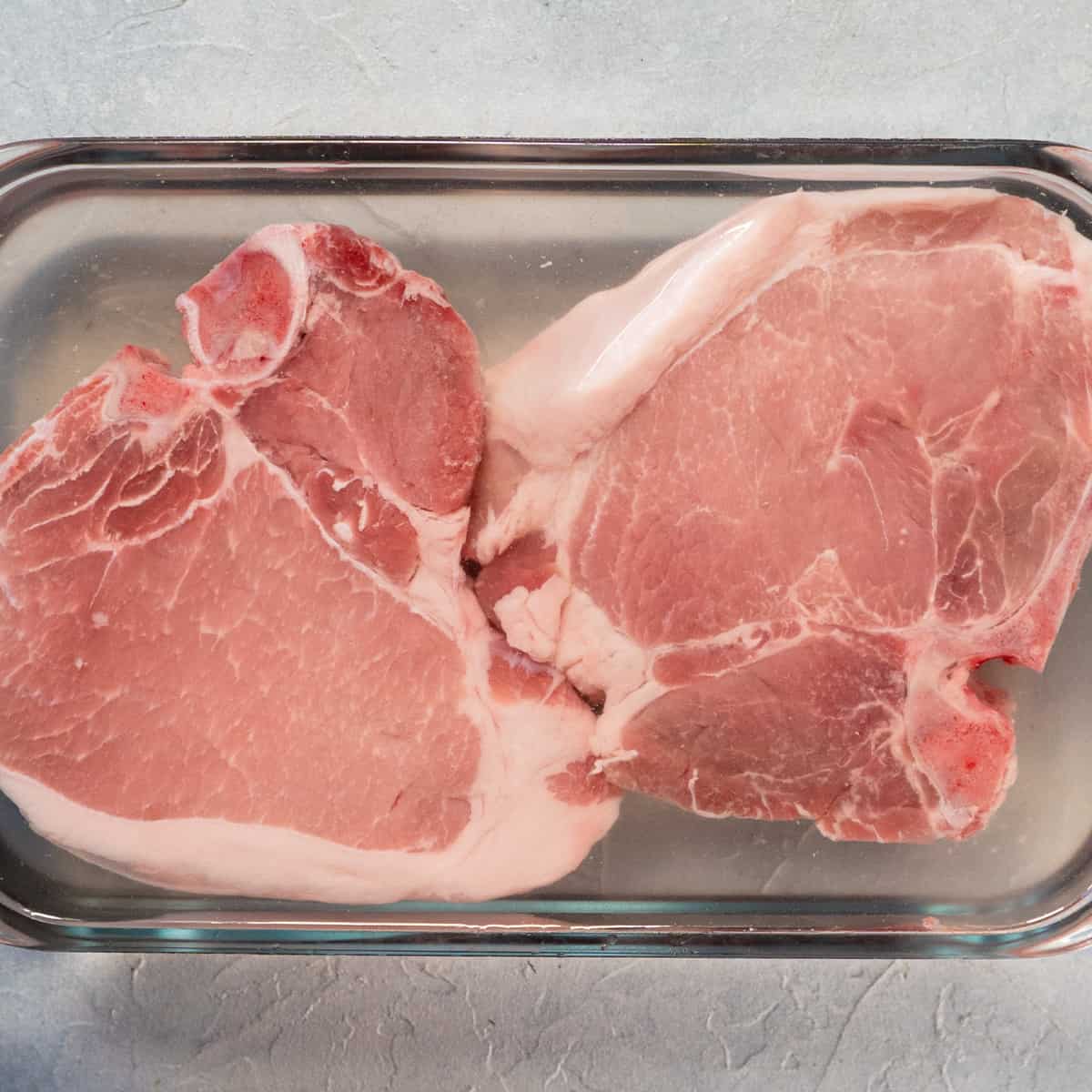 Step 2 - Cook the bacon: In a medium saucepan, that will fit the rest of the ingredients, cook bacon over medium heat until browned.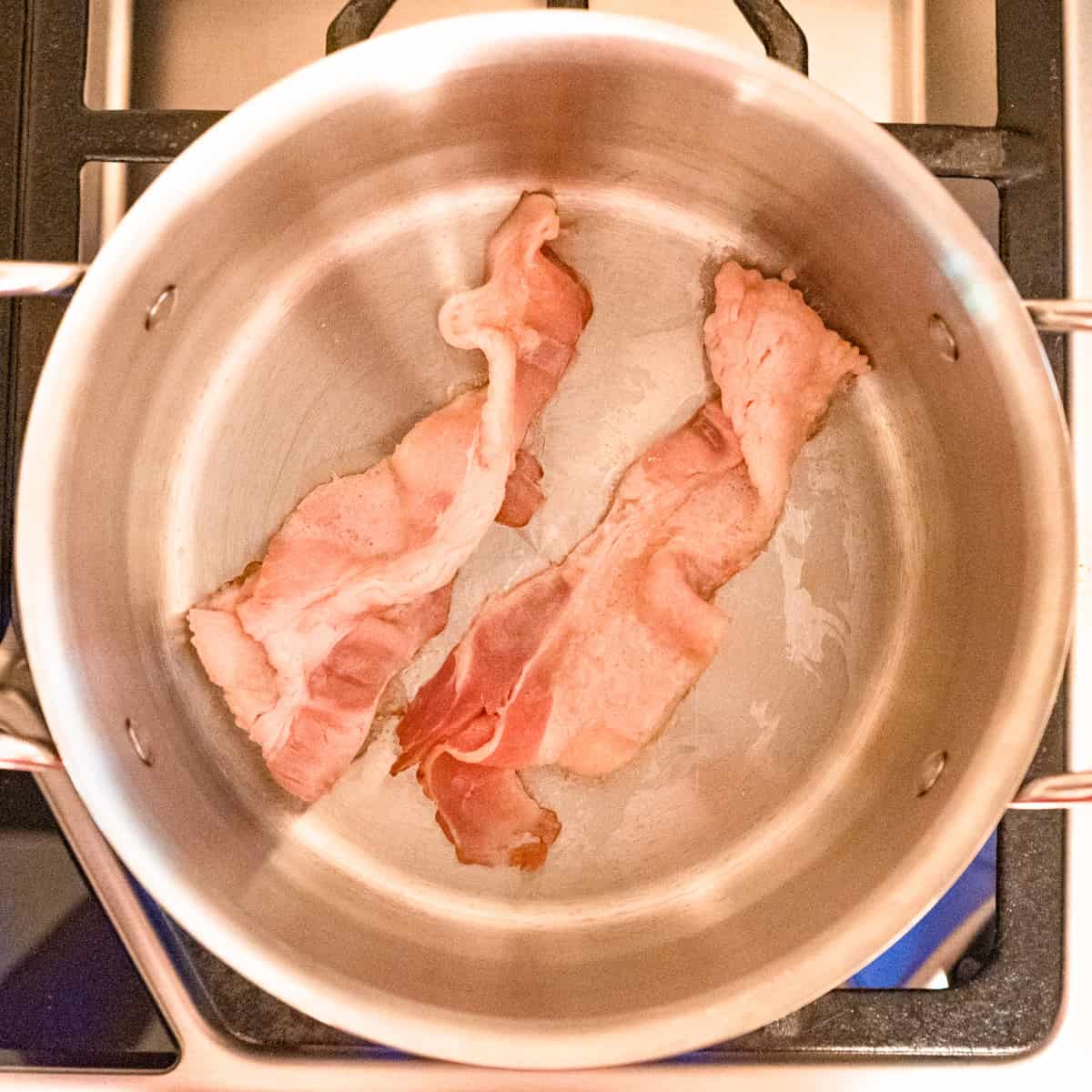 Step 3 - Add the rest of the ingredients to the pot. Bring to a simmer and cook until thickened, about 10 minutes.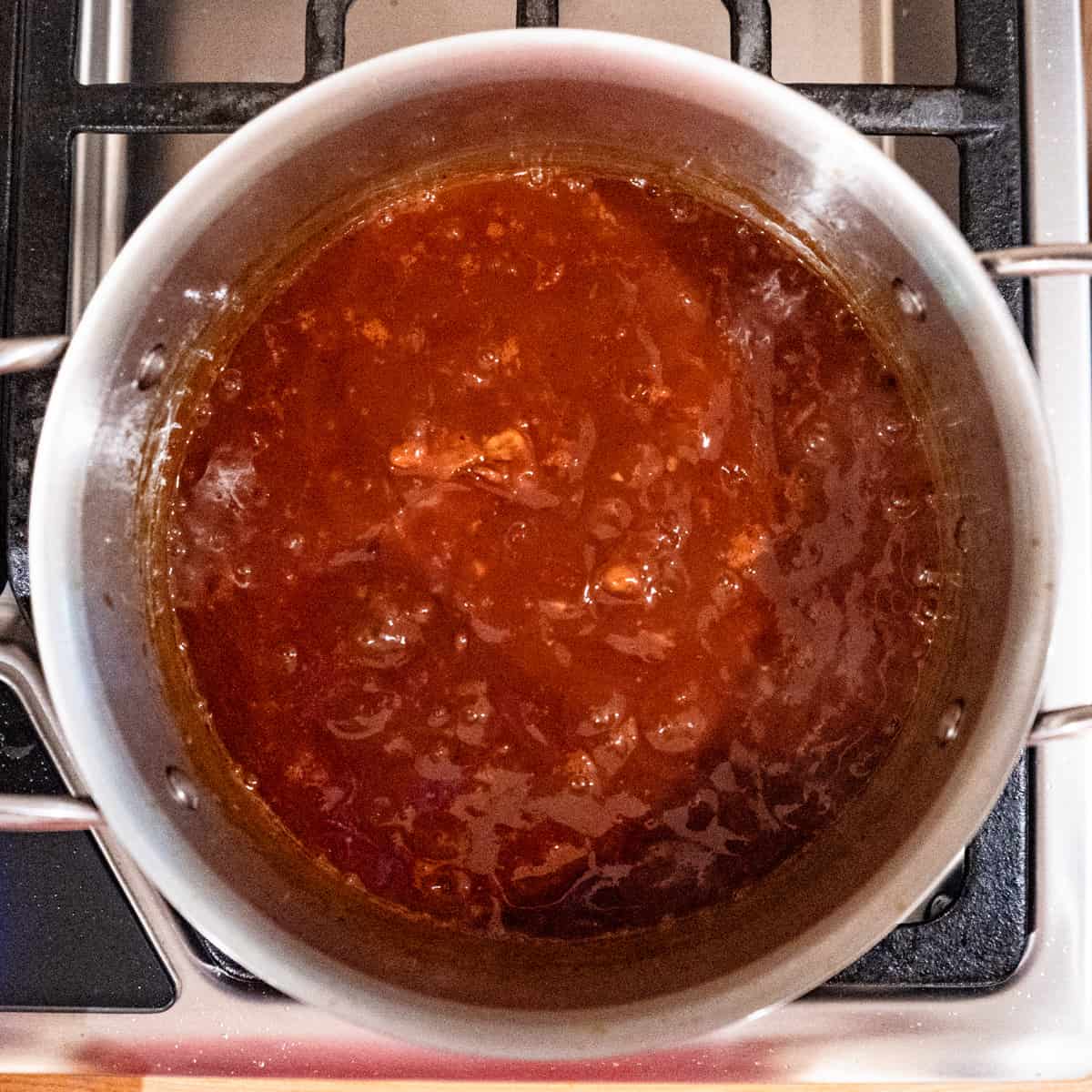 Step 4 - Strain through a fine-mesh strainer and discard what's in the strainer to create a smooth sauce for your pork chops.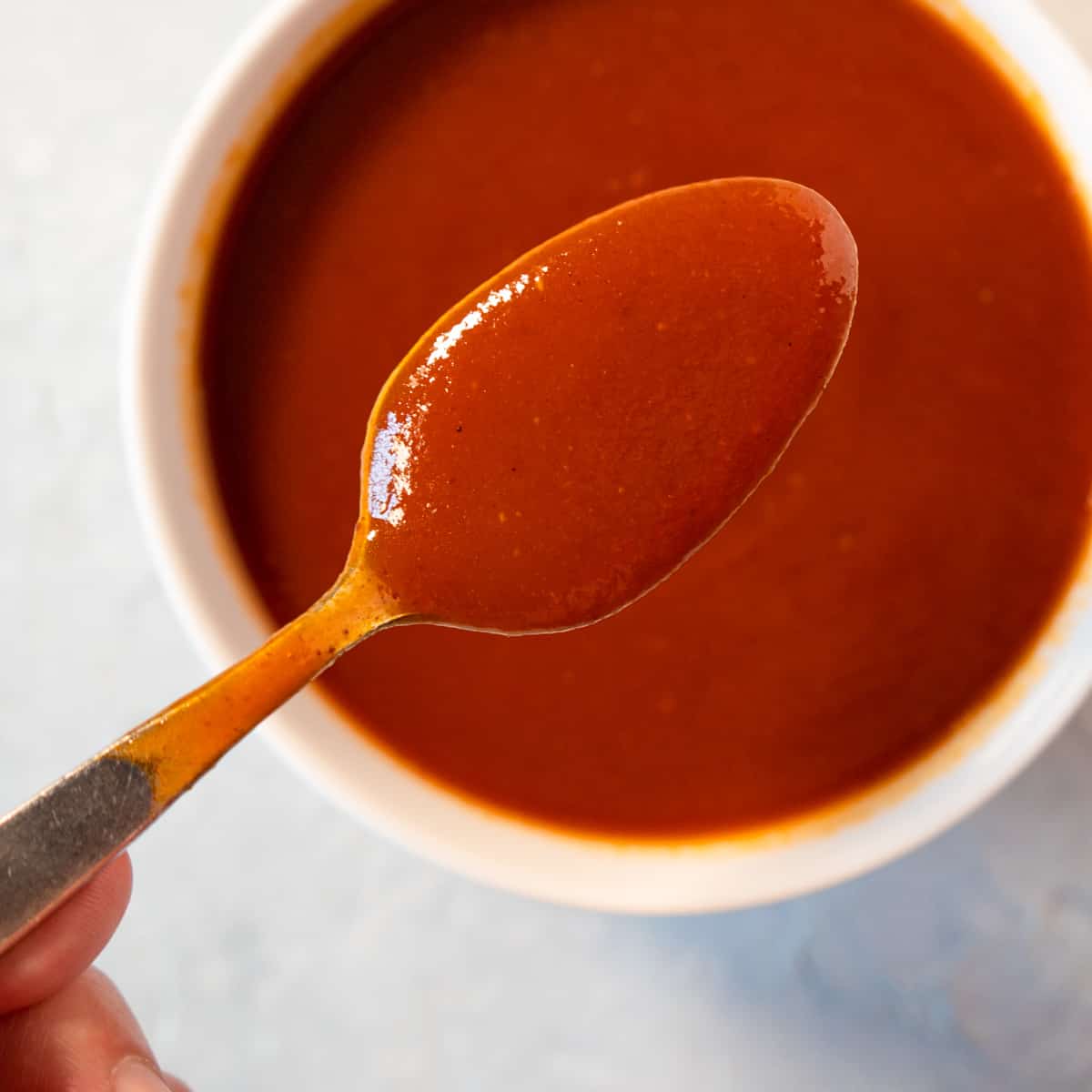 Step 5 - Grill the pork chops - Grill on medium-high heat for 3 to 4 minutes on the first side. Flip and brush with bbq sauce. Grill for another 3 to 4 minutes then flip and brush with sauce again. Continue cooking for another 2 to 3 minutes per side, or until internal temperature reaches 145 degrees F. Brush with more sauce as needed. Transfer to a platter and cover loosely with foil for 5 minutes before serving. Serve with extra BBQ sauce on the side.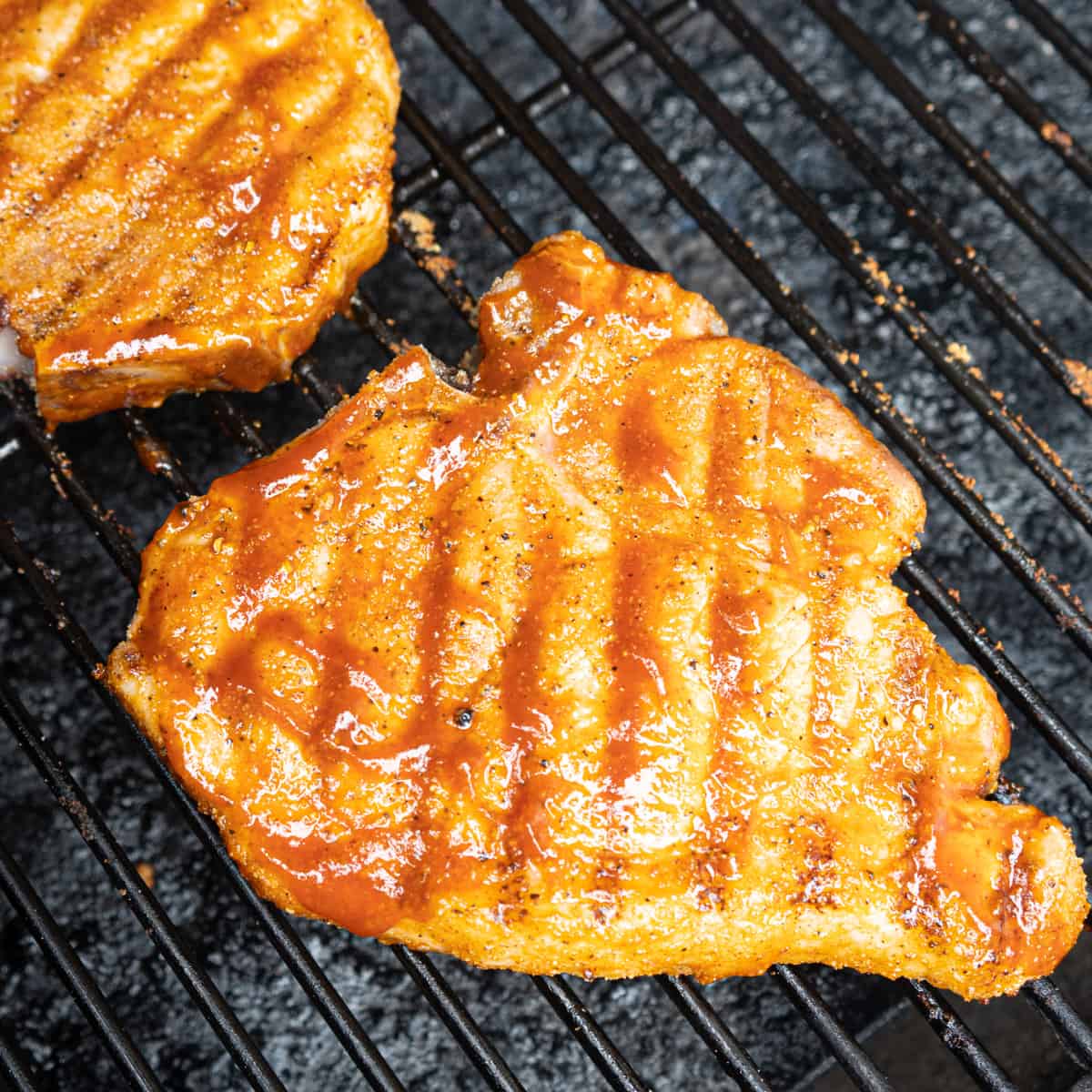 How to cook pork chops in the oven
Don't have a grill or it's not grilling weather? Not to worry. I have you covered with a pan-roasted method.
Follow the recipe up to Cooking The Chops.
Preheat oven to 400 degrees F.
Heat an oven-proof frying pan or cast iron grill pan over medium-high heat.
Add a teaspoon of avocado or other high-heat oil to the pan and sear the first side for 2 minutes. Flip and add BBQ sauce to the top side. Sear the second side for 2 minutes, flip, and brush top and sides with BBQ sauce.
Transfer to the oven and bake for 8 to 12 minutes for bone-in, 1 inch thick, chops or until internal temperature is 145 degrees F
You can add more BBQ sauce halfway through baking if desired.
For an extra special dessert why not try my recipe for The Best Strawberry Shortcake Biscuits?
Pro-Tips For Grilling Pork Chops
Make extra BBQ sauce - This sauce is delicious on any of your favourite grilled meats such as chicken or beef.
Make sure the grill is preheated. Lower the heat if the BBQ sauce starts getting too dark. Starting with a hot grill helps achieve a nice char but with BBQ sauce you have to be careful not to burn it.
Use thick-cut pork - Although you can grill thinner chops they will be much juicier when they are a minimum of one inch thick.
Use a thermometer - For best results use a quick-read thermometer like this Thermapen by Thermoworks. It's the most accurate and fastest on the market!
Recipe FAQs
What is Chili Verde made of?
Traditional Chili Verde is a Mexican dish made with chunks of pork or other meats simmered in a green chili sauce, typically containing ingredients like roasted green chiles, tomatillos, onions, garlic, and various seasonings. It's known for its tangy and slightly spicy flavor profile.
Is salsa verde spicier than regular salsa?
Salsa Verde can vary in spiciness, but it's often considered milder than regular red salsa. However, the heat level can vary depending on the specific ingredients, so it's always a good idea to taste it or check the label for spiciness indicators if you're sensitive to heat.
If I'm using chicken breasts how long should I cook them?
Boneless, skinless chicken breasts will take approximately 20 minutes to cook. Test for doneness by using a meat thermometer and cooking to an internal temperature of 165°F (74°C). Or remove a breast and cut it in half to check if it's still pink inside.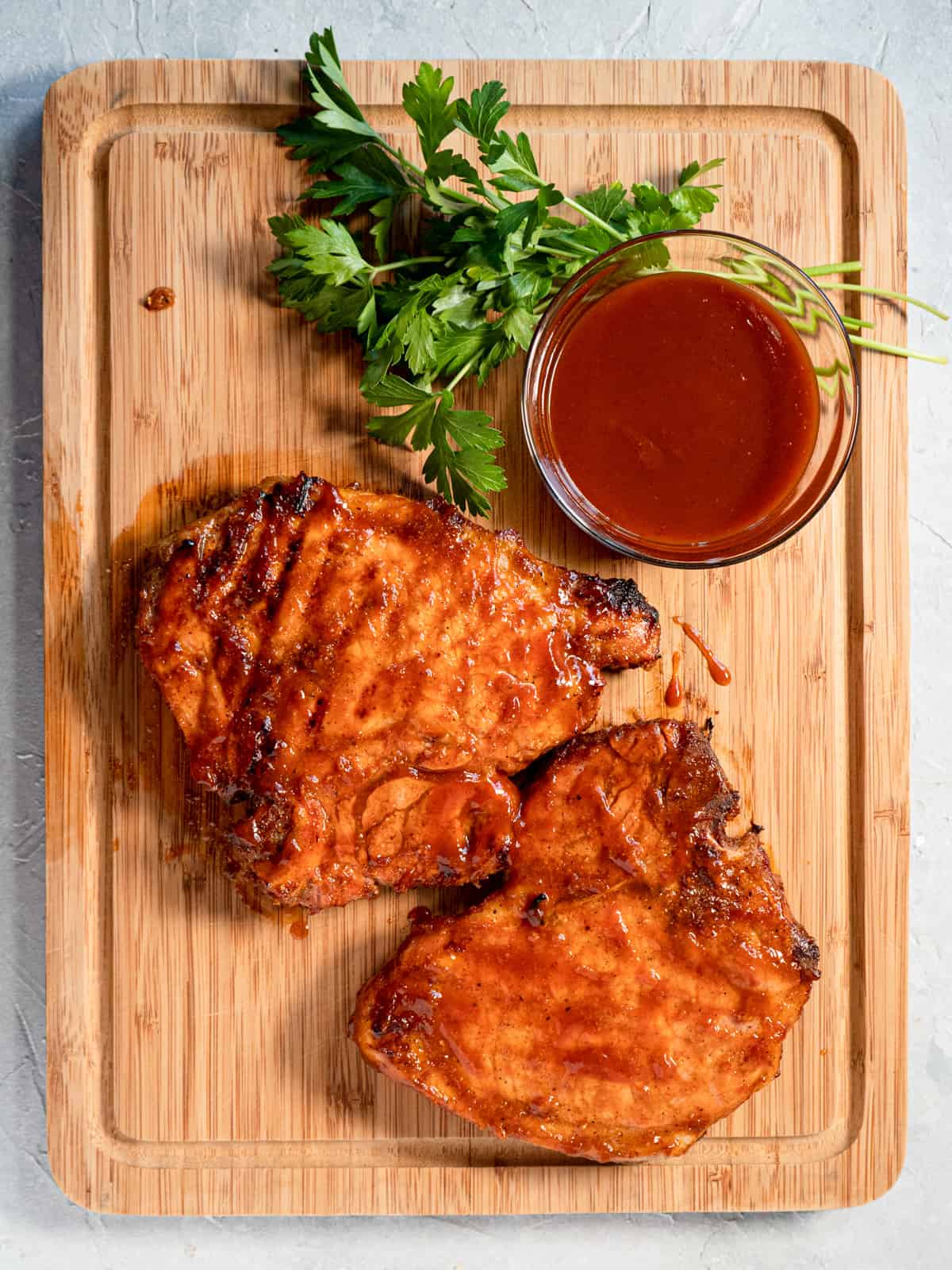 More Grilling Recipes
Tried this recipe? I would love it if you could leave a star rating ⭐️⭐️⭐️⭐️⭐️ and/or a comment below. You can also follow me on social media here on Facebook, Instagram, and Pinterest!
📖 Recipe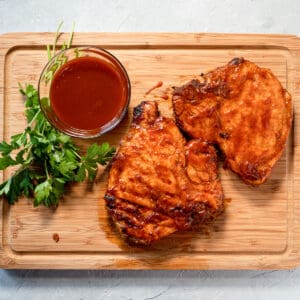 Best BBQ Grilled Pork Chops
Create the Best BBQ Grilled Pork Chops every time with this quick and easy recipe!
Print
Pin
Rate
Ingredients
1 ½

tablespoons

salt

(not coarse)

1 ½

tablespoons

sugar

3

cups

cool water

2

bone-in center cut or rib chops, 1 inch thick (225g/8oz each)
Spice Rub
¼

teaspoon

black pepper

½

teaspoons

salt

½

teaspoon

sugar

1

teaspoon

onion powder

1

teaspoon

garlic powder
Bacon Barbecue Sauce
2

slices

bacon

¼

white onion,

grated or minced

1

clove

garlic,

minced

1

teaspoon

chili powder

1

teaspoon

sugar

½

cup

cider vinegar

1

cup

ketchup

1

tablespoon

hot sauce

2

tablespoons

Worchestershire sauce
Instructions
For the pork
Dissolve the salt and sugar in cool water in a large container or resealable bag. Submerge the chops in the brine, cover and refrigerate for one hour.

1 ½ tablespoons sugar,

3 cups cool water,

1 ½ tablespoons salt

Combine the dry rub ingredients in a bowl and set aside.

¼ teaspoon black pepper,

½ teaspoons salt,

½ teaspoon sugar,

1 teaspoon onion powder,

1 teaspoon garlic powder
For the barbeque sauce
Meanwhile, cook the bacon in a medium saucepan over medium heat until the fat begins to render and bacon is browning. Add grated onion, garlic, chili powder, vinegar, ketchup, hot sauce, and Worchestershire. Bring to a simmer and cook, stirring occasionally, until thickened, about 10 minutes. Strain through a mesh strainer, pressing all the sauce through so you don't miss a drop! You should have about one cup of sauce. Season with salt and pepper to taste.

2 slices bacon,

¼ white onion,,

1 clove garlic,,

1 teaspoon chili powder,

½ cup cider vinegar,

1 cup ketchup,

1 tablespoon hot sauce,

2 tablespoons Worchestershire sauce,

1 teaspoon sugar
Cooking the chops
Preheat your outdoor grill, or grill pan for cooking indoors, to medium-high heat. Use a paper towel to oil grates or grill pan.

Remove chops from brine and pat dry with paper towel. Sprinkle dry rub all over both sides.

Place chops on the grill and cook for 4 minutes on the first side. Flip and add barbecue sauce to the top and sides. Cook on the second side for another 4 minutes. Flip again and brush the top with sauce. Cook for another 2 to 3 minutes per side, depending on the thickness of your chops, or until internal temperature reaches 145 degrees F.

Transfer pork chops to a plate or platter. Loosely cover and rest for 5 minutes. Serve with extra BBQ sauce on the side.
Notes
Storage - Store leftover grilled pork chops covered in the refrigerator for up to 4 days. The BBQ sauce will keep in the fridge, in an air-tight container, for 2 weeks. Let cool completely before refrigerating.  Make extra BBQ sauce - This sauce is delicious on any of your favourite grilled meats like chicken breasts, wings, or ribs!  Please Note: Nutrition facts are an estimation only. 
Nutrition
Serving:
1
chop
|
Calories:
337
kcal
|
Fat:
21
g
|
Saturated Fat:
4
g
|
Cholesterol:
123
mg
|
Sodium:
626
mg
|
Potassium:
1142
mg
|
Sugar:
5
g