Grilled pork tenderloin with a mustard and herb marinade is a staple around our house. This mustard and herb marinade is a slight variation of a recipe that was given to me years ago by my mother-in-law. It's super easy and very delicious.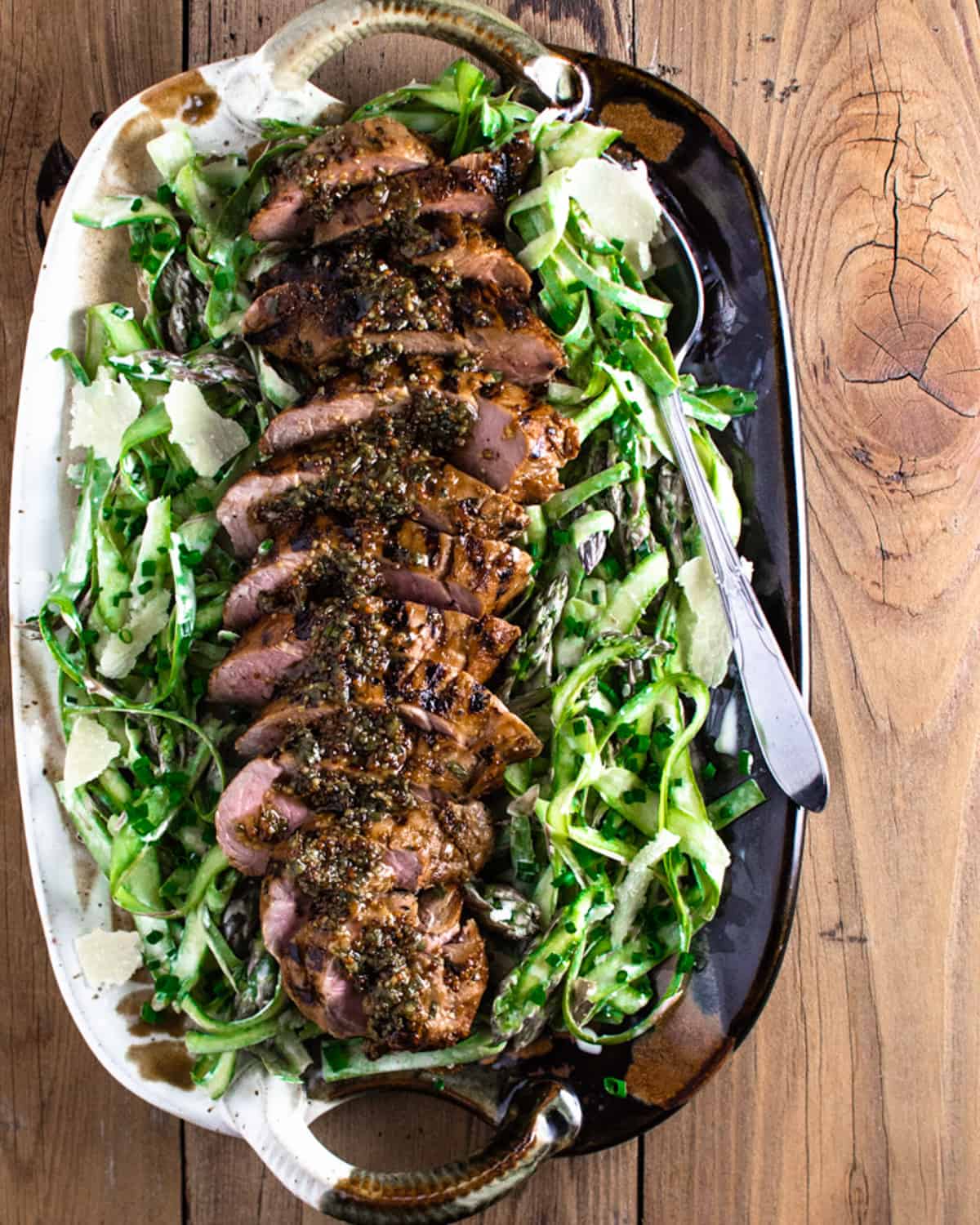 The ingredients for the mustard and herb marinade you will probably have on hand except, maybe, the fresh herbs and sherry. I mix the herbs up in this recipe depending on what I have. In the summer my garden is full of fresh herbs so I have unlimited choices. In the winter I usually have some rosemary and thyme in my freezer so I will use that. I've also made it without any herbs at all and it still tastes amazing! As for the sherry, you can pick up an inexpensive bottle of dry sherry and it will always be there when you need it for this recipe. We don't drink much sherry but I always have a bottle in my fridge to use for different sauces and marinades.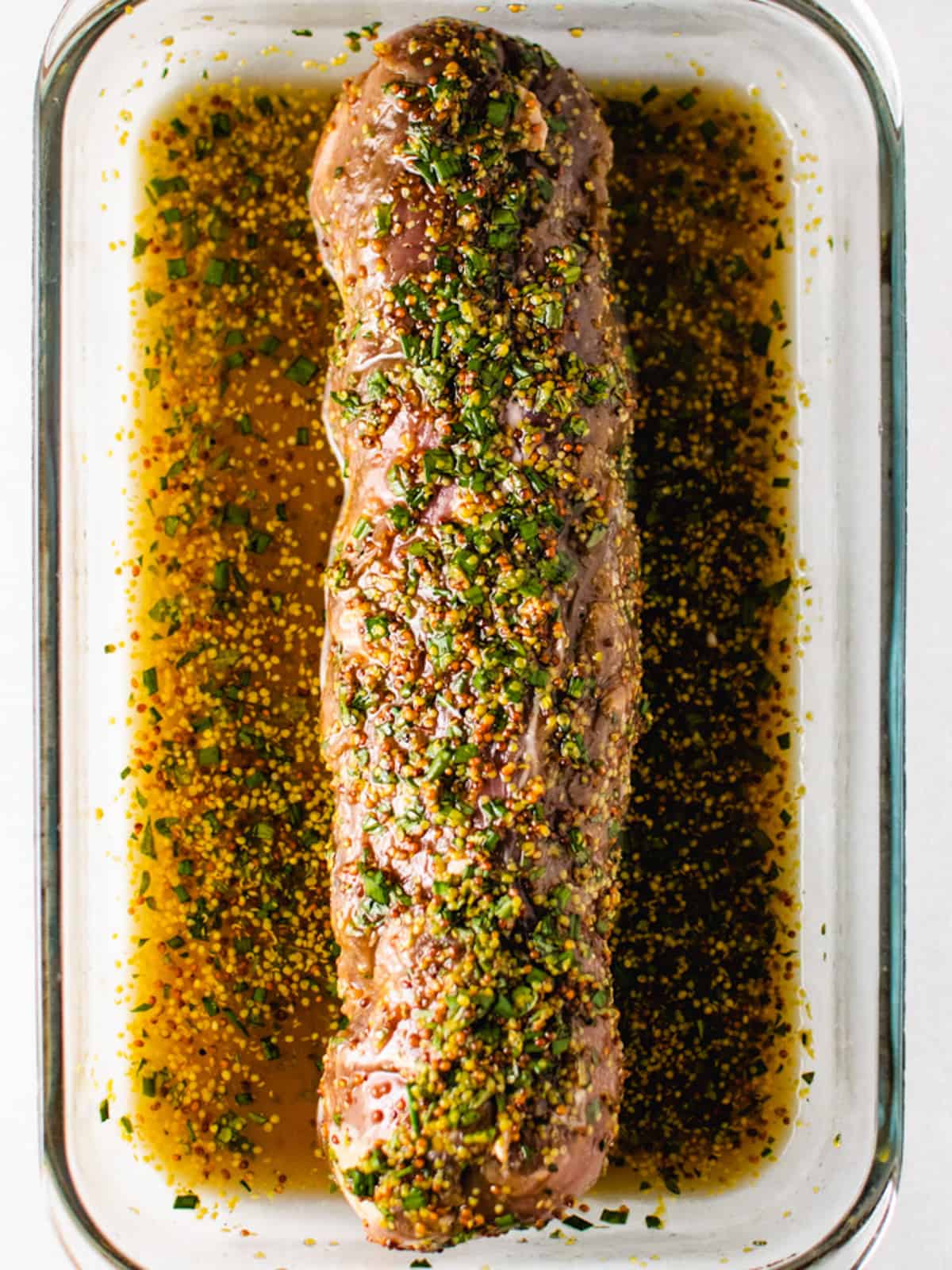 Removing the silver skin
Before marinating your tenderloin you are going to want to remove the silver skin. What is silver skin you ask? It is a piece of connective tissue that runs about half the length of the tenderloin on one side. It is silver-ish in colour. Once cooked it becomes very tough and chewy so unless you want to give your jaw a good work out I suggest getting rid of it. You do this by slipping a boning knife or paring knife just underneath the skin enough so you can grab onto a piece with your fingers. While holding the skin in one hand slice away from you with the blade angled slightly upward slicing just underneath the skin until it is all removed.
How to make this recipe
Combine all the marinade ingredients in a dish large enough to hold the tenderloin.
Remove silver skin from the pork and place in the marinade. Turn to coat.
Cover and refrigerate for 30 minutes or up to 24 hours turning occasionally.
Oil the grill and preheat to medium-high.
Place tenderloin on hot grill and cook for 15-25 minutes, until internal temperature reaches 135 degrees F.
If you would like to use marinade as a sauce, reserve.
Remove to a plate and tent with foil. Let rest for 10 minutes.
If making a sauce with the marinade, place in a small saucepan and bring to a boil. Pour over the sliced tenderloin.
If you don't have a meat thermometer I highly recommend getting one. It takes all the guess work out of cooking meat properly. This one is my fave quick read thermometer by ThermoWorks. It's brilliant and I use it all the time!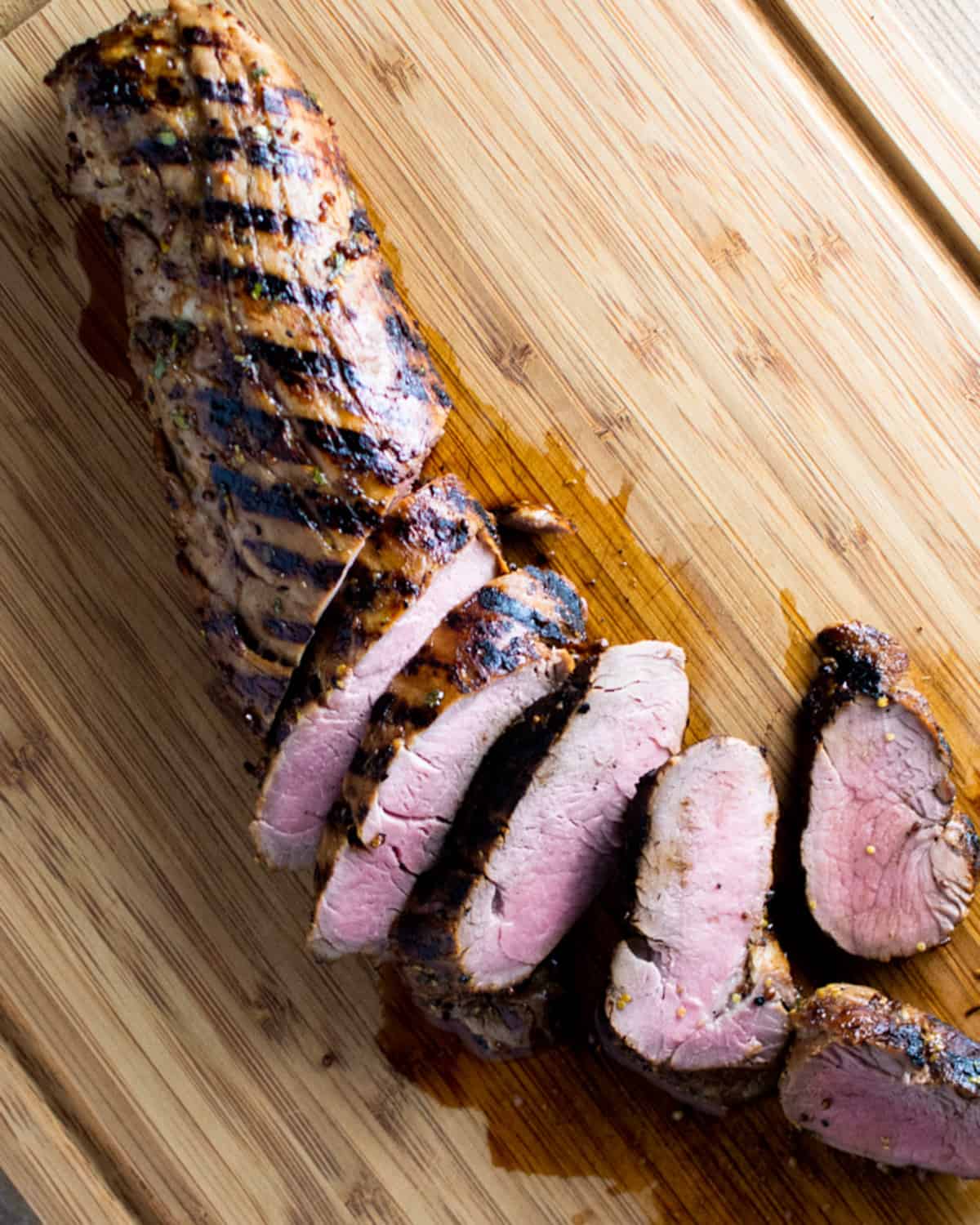 Let the pork rest, tented with foil, for 10 minutes before slicing. This helps retain the juiciness. Try this Shaved Asparagus Salad with Creamy Parmesan Dressing
PRO TIPS FOR BEST RESULTS
Keep a bottle of inexpensive dry sherry in your fridge for use in sauces and marinades.
If you don't have sherry substitute with white wine, vermouth or 1 tbsp. white wine or rice vinegar.
Switch up the herbs to suit your taste and what's available.
Remove the silver skin from the tenderloin before marinating.
Grease the grill with an oiled paper towel.
Cook until a thermometer reads 140°F.
Let rest, tented with foil for 10 mins. This should bring the internal temperature up to 145°F and help to retain juiciness.
Simmer the extra marinade for a lovely finishing sauce.
Side dish ideas
📖 Recipe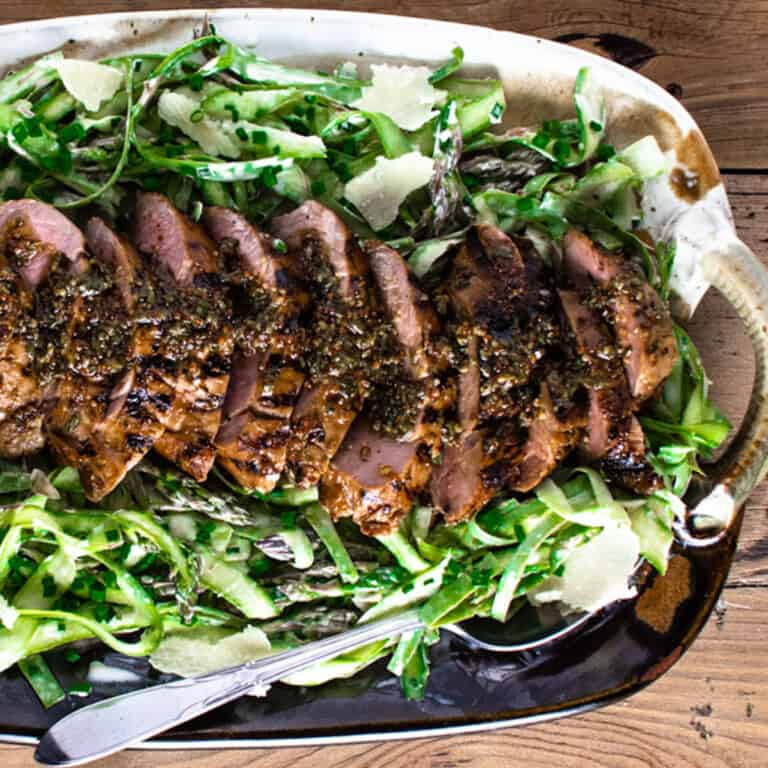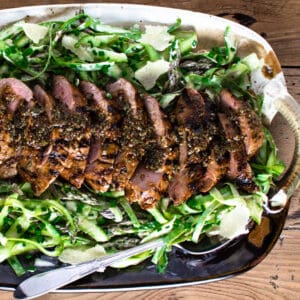 Mustard and Herb Grilled Pork Tenderloin
This mustard and herb grilled pork tenderloin recipe is moist, juicy and delicious. Perfect for a summer BBQ!
Print
Pin
Rate
Save
Saved!
Ingredients
1

pork tenderloin

3

tablespoon

brown sugar

2

tablespoon

whole grain mustard,

can substitute regular Dijon mustard

1

tsp each of

chopped fresh rosemary, thyme and chives,

or any other combination of herbs you like

2

tablespoon

dry sherry

1

teaspoon

salt t

or to taste
Instructions
1. In a dish large enough to fit the pork, combine all the marinade ingredients.

2. Prepare the tenderloin by removing the silver skin (detailed instructions in above post). Place in the dish with the marinade turning to coat. Spoon some of the marinade over top of the pork. Cover and refrigerate for at least 30 minutes and up to overnight.

3. Pre-heat your grill and lightly oil. Remove the pork from the marinade and place on the hot grill. Reserve the marinade in a small sauce pan if using as a sauce later. Cook the pork for 7-10 minutes per side or until internal temperature reaches 135°F.

4. Remove from grill and tent with foil for 10 minutes.

5. Prepare the sauce by bringing the marinade to a boil. Let simmer for 2-3 minutes until slightly thickened.

6. Slice pork into 1-2 cm thick slices and serve.
Notes
Pan Roasting:
Preheat oven to 400 degrees F.
In a large oven proof skillet, heat 2 tablespoon olive oil over medium high heat.
Add tenderloin and cook until browned on the bottom, about 5 mins
Flip and transfer to the oven. 
Roast for 15 - 20 mins. or until a thermometer, inserted in the thickest part, reaches 135 degrees F. 
Transfer to a plate, cover loosely with foil, and let rest for 10 minutes.
Slice and serve. 
Nutrition
Serving:
1
serving
|
Calories:
193
kcal
|
Carbohydrates:
14
g
|
Protein:
24
g
|
Fat:
4
g
|
Saturated Fat:
1
g
|
Polyunsaturated Fat:
43
g
|
Monounsaturated Fat:
2
g
|
Cholesterol:
60
mg
|
Sodium:
483
mg
|
Potassium:
43
mg
|
Sugar:
12
g