Summer Succotash is a quick and easy side dish perfect for a BBQ. There are many different versions, some including bacon or salt pork, potatoes, okra and sometimes heavy cream. I've created a lighter, vegetarian version that's perfect for summer but of course, can be enjoyed any time of year.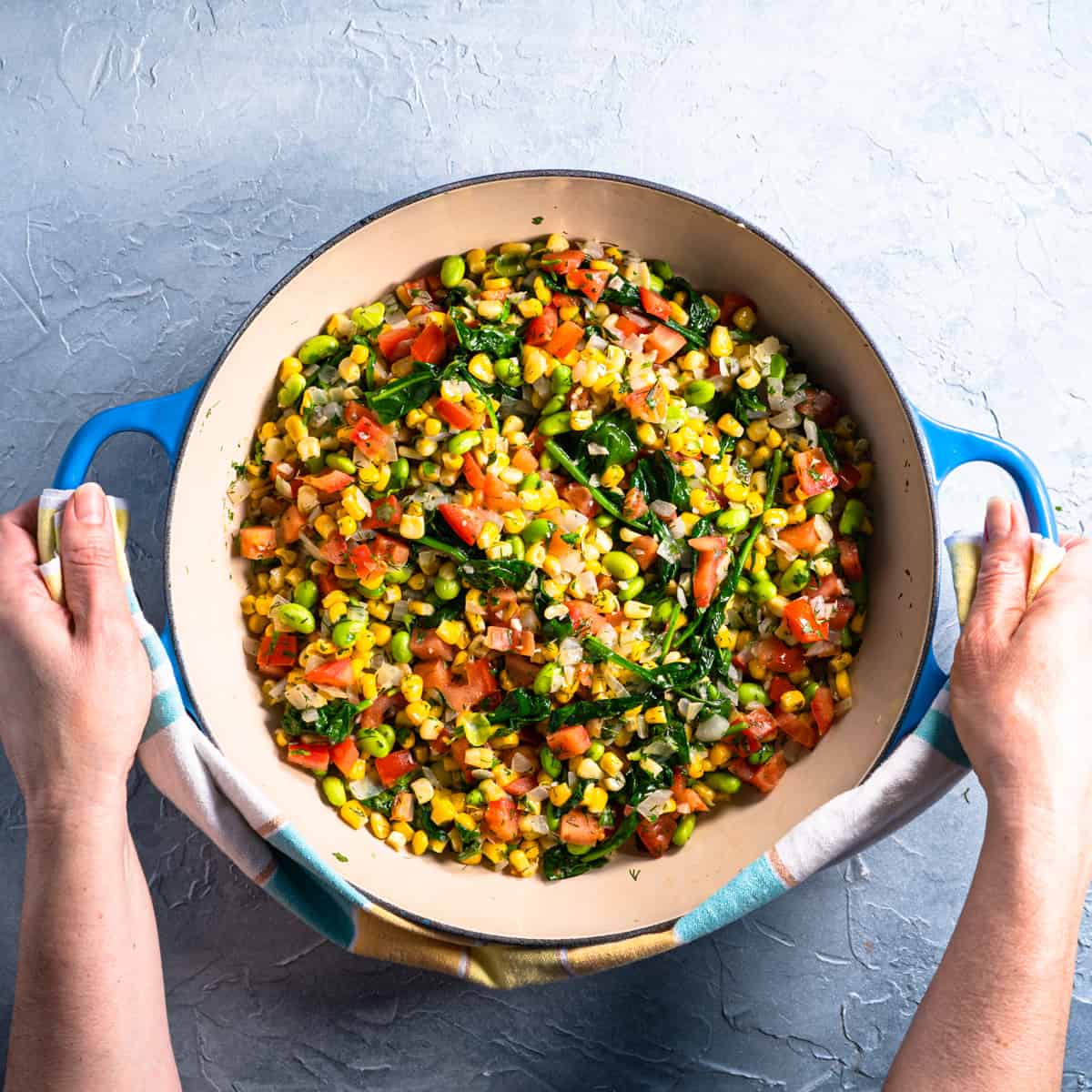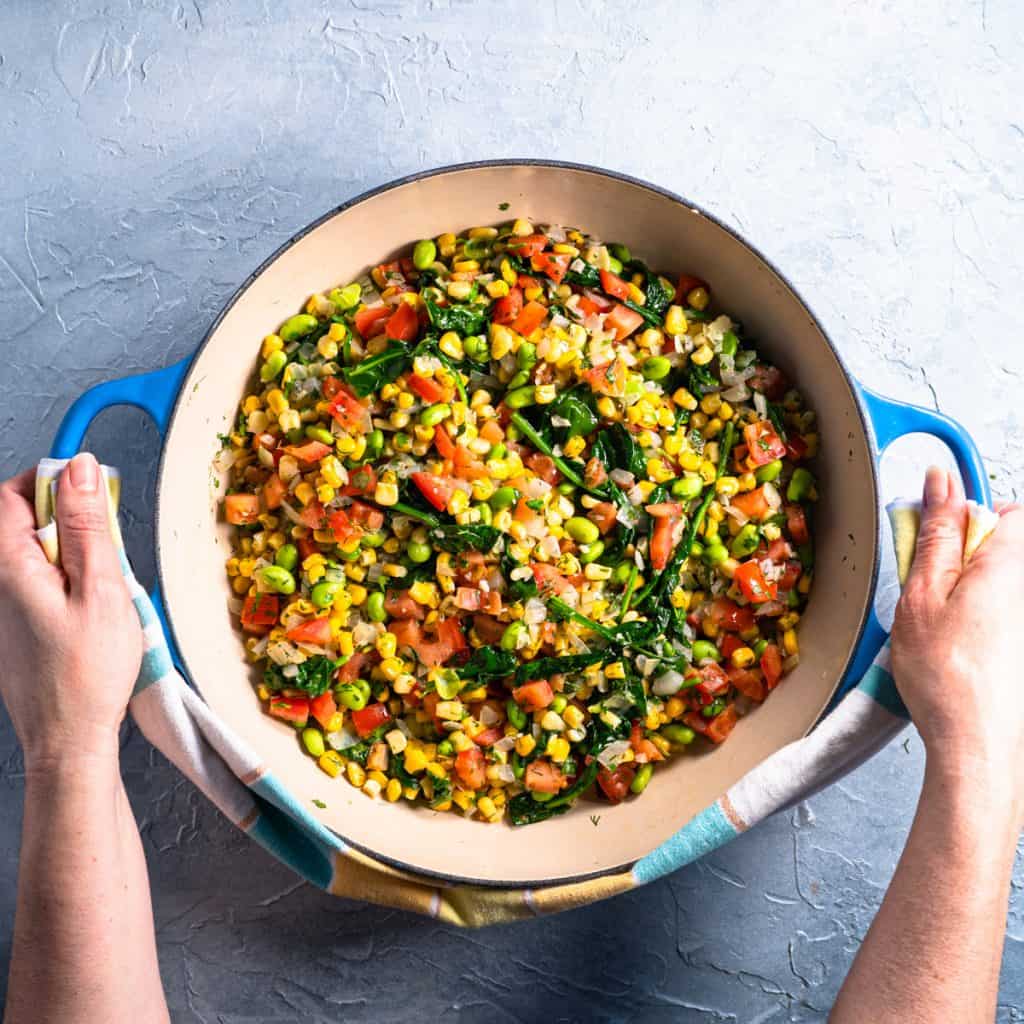 What is Succotash?
If the classic Sylvester The Cat phrase "Sufferin' Succotash!" comes to mind you are not alone (and at least as old as I am). You may know the phrase but do you know what Succotash is? It's a dish that has a great history in the US. In fact it is said to have been served at the first Thanksgiving in 1621 and was a staple dish during the Great Depression.
The name originates from the word "sohquttahhash" from the Indigenous American language Narragansett. It roughly translates to "broken corn kernels." It's packed with nutrients (the corn and bean combo makes it a complete protein) and has easily accessible ingredients, which made it a good choice for the indigenous people as well as the settlers who adopted it. Today it is very popular in New England, Pennsylvania, and the Southern United States and found on many Thanksgiving tables.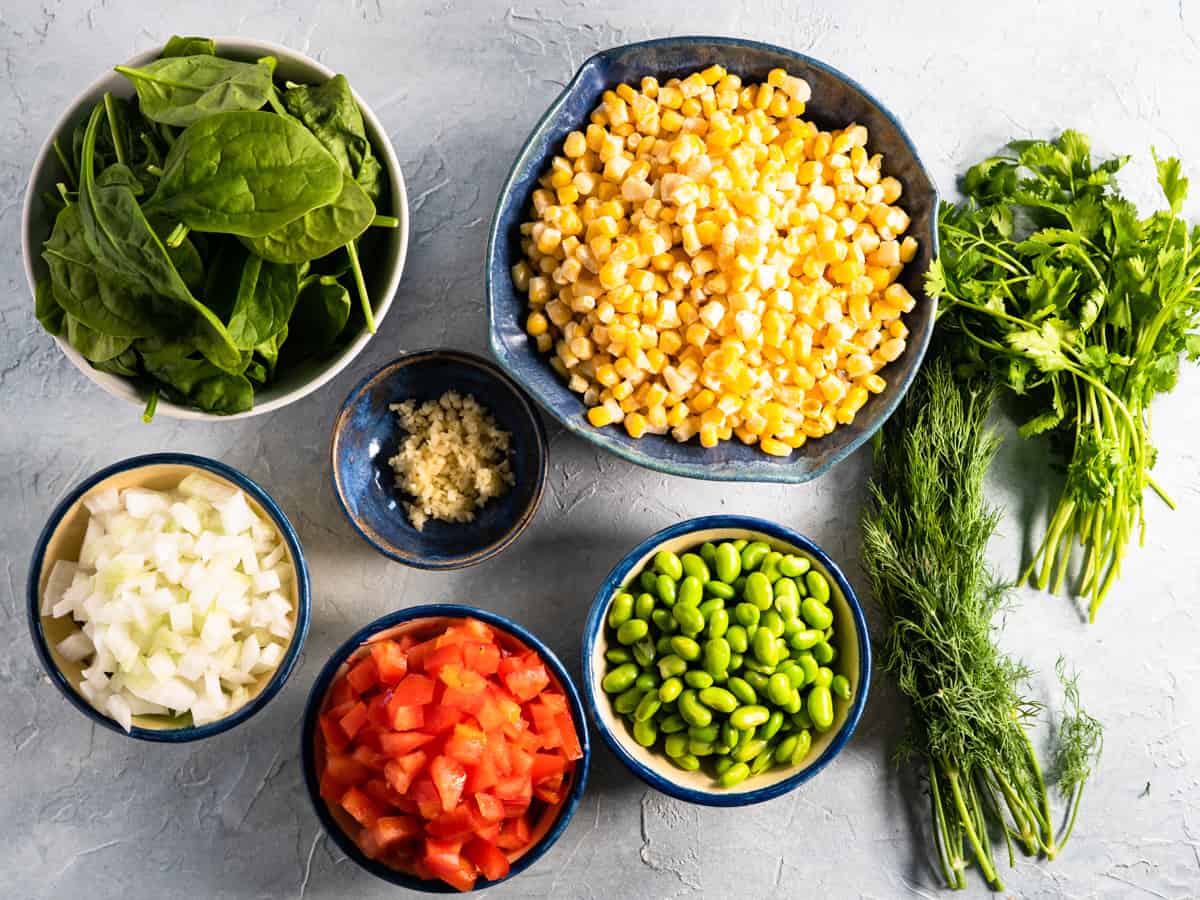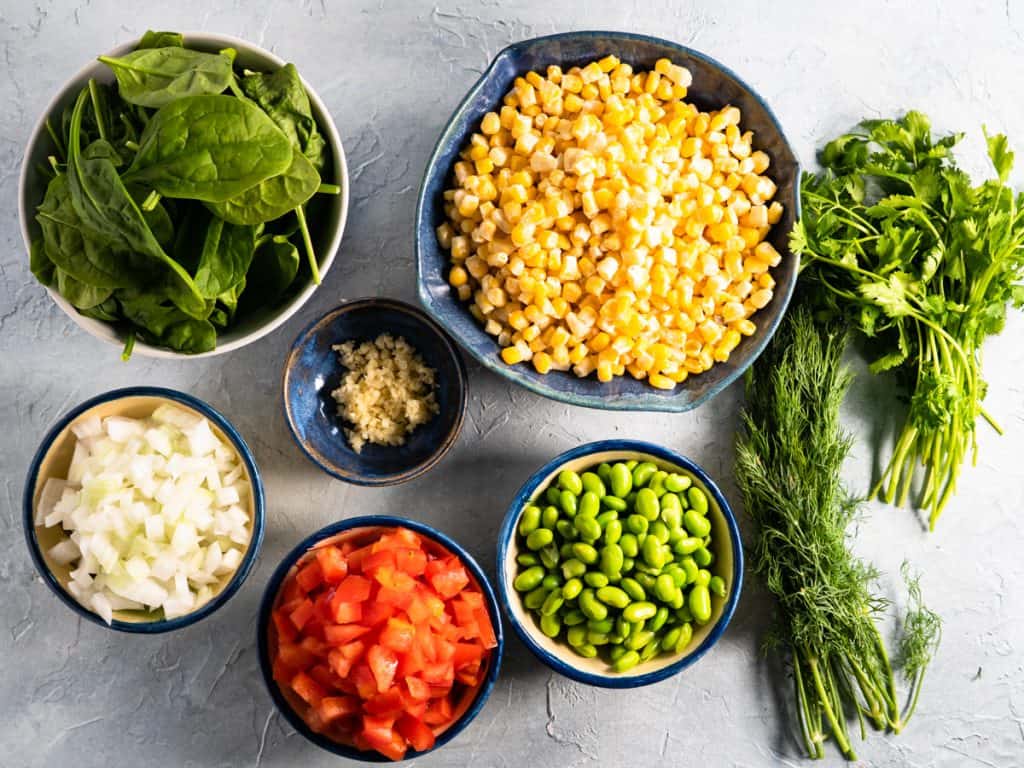 Ingredients
The ingredients can vary widely but always has corn and shelled beans. Feel free to play around with different vegetables and herbs. Have fun with it!
Olive oil
White onion
Garlic
Edamame beans, fresh or frozen, shelled and steamed
Corn
Baby spinach
Grape tomatoes
Fresh parsley and dill
Butter
Salt and pepper
How to make Succotash
Steam or blanch edamame beans for about 5 minutes or until they are as tender or crisp as you like them. Drain and set aside while you prepare the other ingredients.
Chop the onion, garlic, tomatoes and herbs.
Heat the oil in a large skillet over medium heat. Add the onions and garlic and saute until soft.
Add edamame, corn and spinach. Cook and stir until the spinach is wilted and the corn is warmed through.
Add tomato, herbs and butter. Stir for another 2 minutes or until heated and butter is melted.
Add salt and pepper to taste.
If you are interested in the casserole dish I used you can purchase one here: Le Creuset Braiser
. It was a gift from my husband and is my most favorite casserole...maybe my favorite cooking vessel period!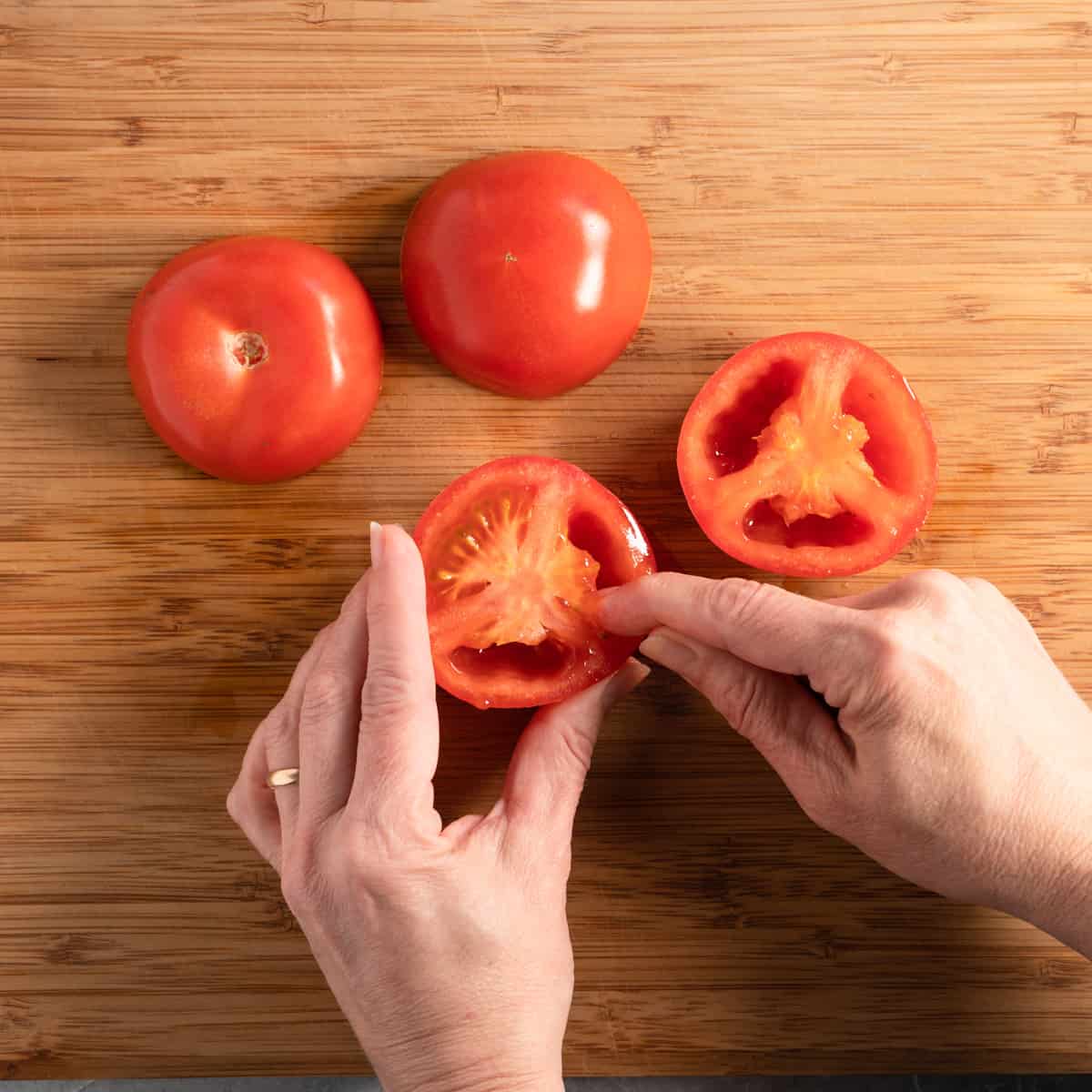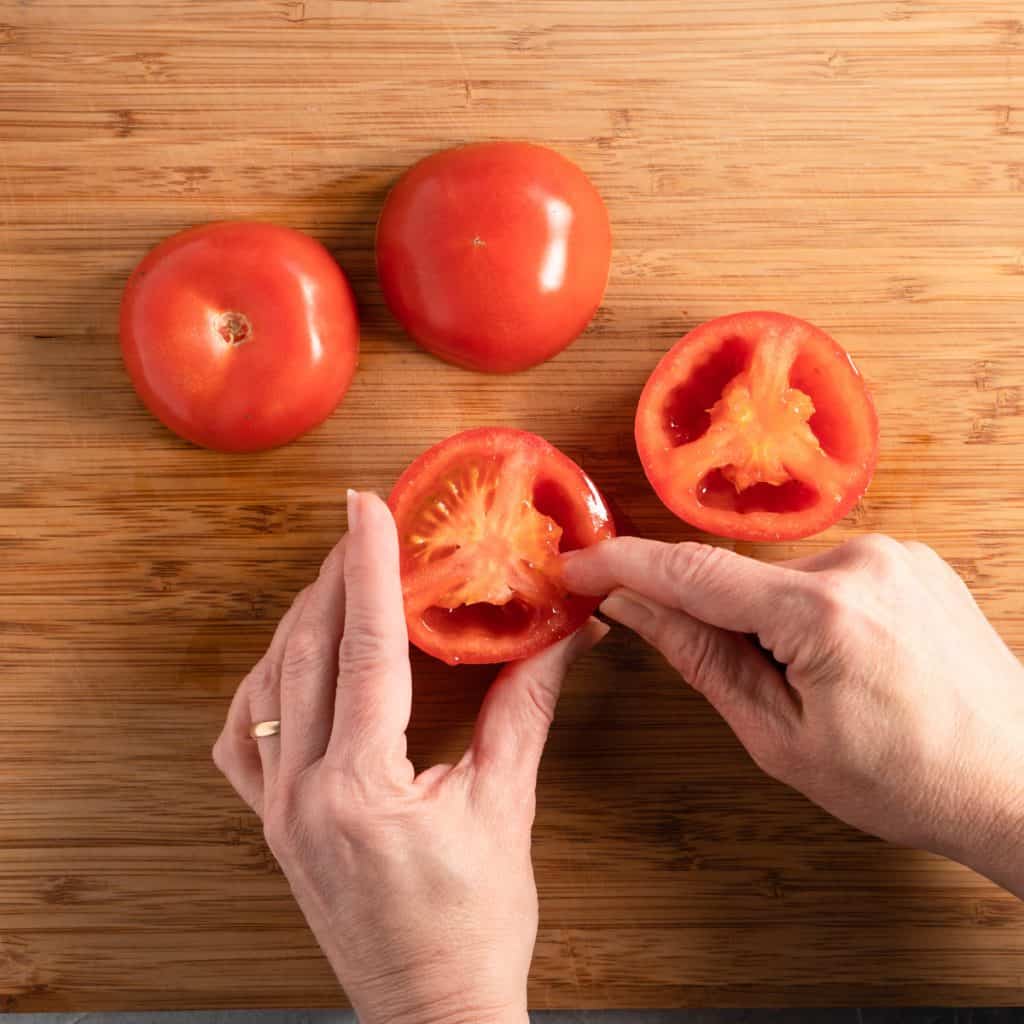 Variations
Add meat such as bacon, salt pork, pancetta or corned beef
Corn, beans and tomatoes are the 3 essential ingredients but you can add in or replace other vegetables with things like potatoes, celery, leeks, okra, zucchini etc.
Lima beans are more traditional so why not try those instead of Edamame?
Use any type of green instead of the spinach or leave it out all together.
Use other fresh herbs such as basil, tarragon or cilantro.
Add heavy cream at the end to create a heartier version. Let is simmer for a few minutes to thicken.
Is this dish Vegan?
Omit the butter and drizzle the finished dish with olive oil and BOOM! It's vegan!
What should I serve it with?
Summer Succotash is the perfect side dish to any grilled or roasted meat, poultry, fish or seafood. Or how about some marinated grilled tofu? It could also be a meal on it's own. The combination of corn and edamame makes a complete protein so with all the other vegetables and spinach you have a well balanced vegetarian/vegan meal!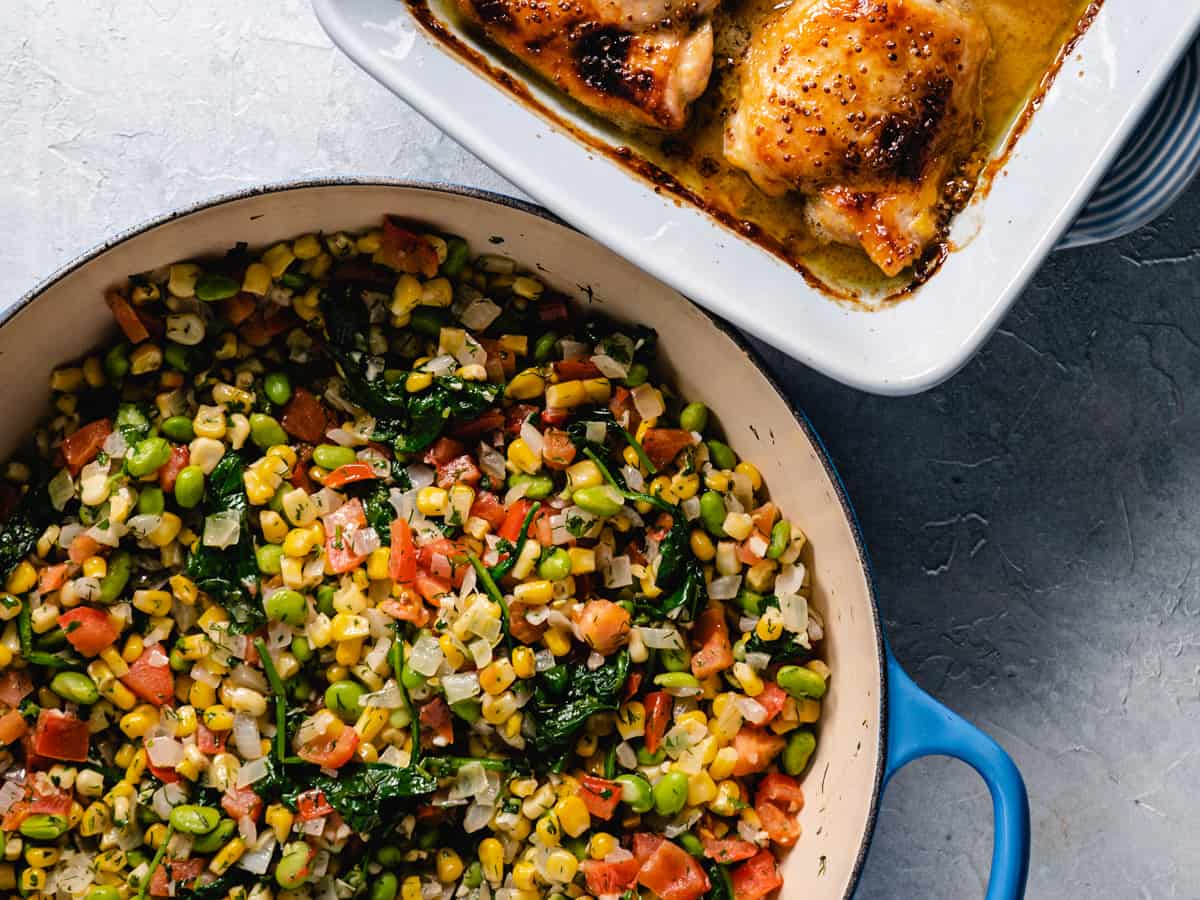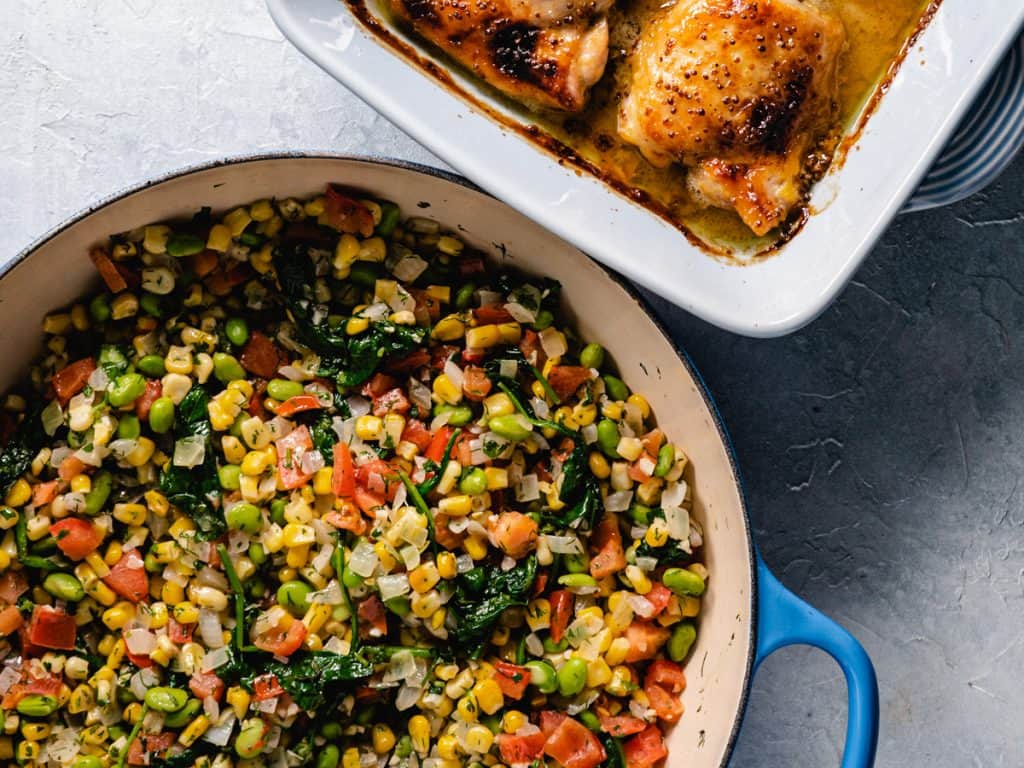 This post contains an affiliate link. If a purchase is made I receive a small commission which helps support my web site. Thank you for your continued support.
More recipes you might like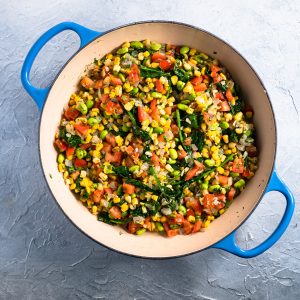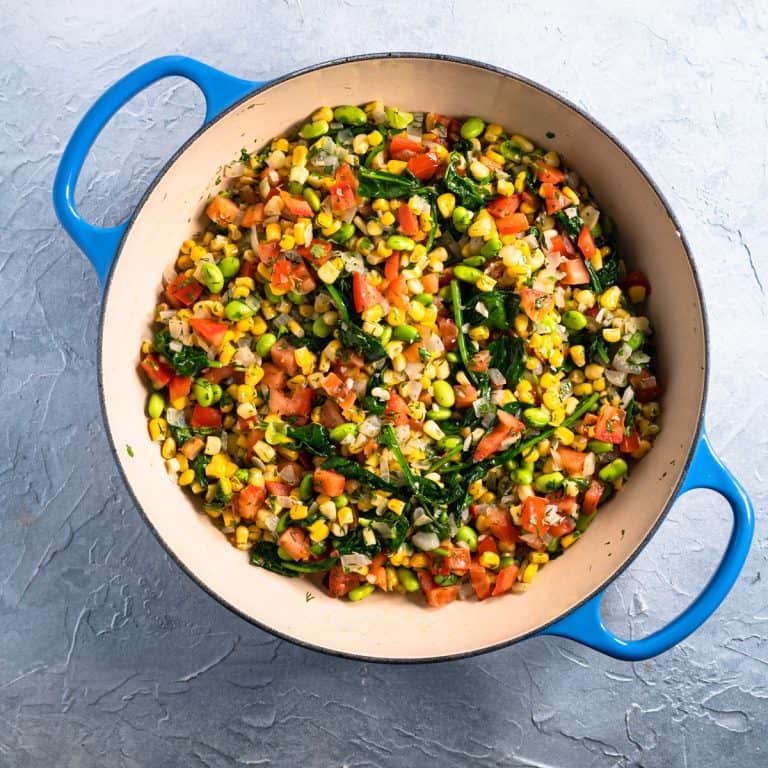 Print Recipe
Summer Succotash
Summer Succotash is an easy and delicious side dish perfect for a summer BBQ.
Ingredients
2

tbsp

olive oil

1

cup

white onion, diced

2

cloves

garlic, minced

1

cup

edamame beans, blanched or steamed

3

cups

corn, fresh or frozen

2-4

cups

baby spinach

1

cup

tomatoes, chopped

1

cup

fresh parsley, chopped

1/2

cup

fresh dill, chopped

2

tbsp

butter

salt and pepper to taste
Instructions
Blanch or steam edamame beans until tender. About 5 minutes or until desired tenderness is reached. Set aside until ready to use.

Dice tomatoes. If using large sized, remove the seeds first.

Chop onion, garlic and fresh herbs.

In a large saute pan heat the olive oil over medium heat.

Add onion and garlic and cook, stirring, until onion is soft (6-8 minutes). Reduce heat if starting to brown.

Add edamame, corn, and spinach. Stir to combine. Continue cooking and stirring until spinach is wilted and corn is warmed through. About 2-3 minutes.

Add tomato and herbs. Cook for another 1-2 minutes until well mixed and warmed through.

Add 2 tbsp butter and stir until melted.

Succotash will keep, covered, in the fridge for 3-4 days.