Meatballs don't have to be smothered in tomato sauce and served on top of spaghetti (although that's delicious too!). Rich and flavourful red curry, coconut, and peanut sauce takes these Thai Meatballs to the next level. Bonus is they are super fast and easy to put together!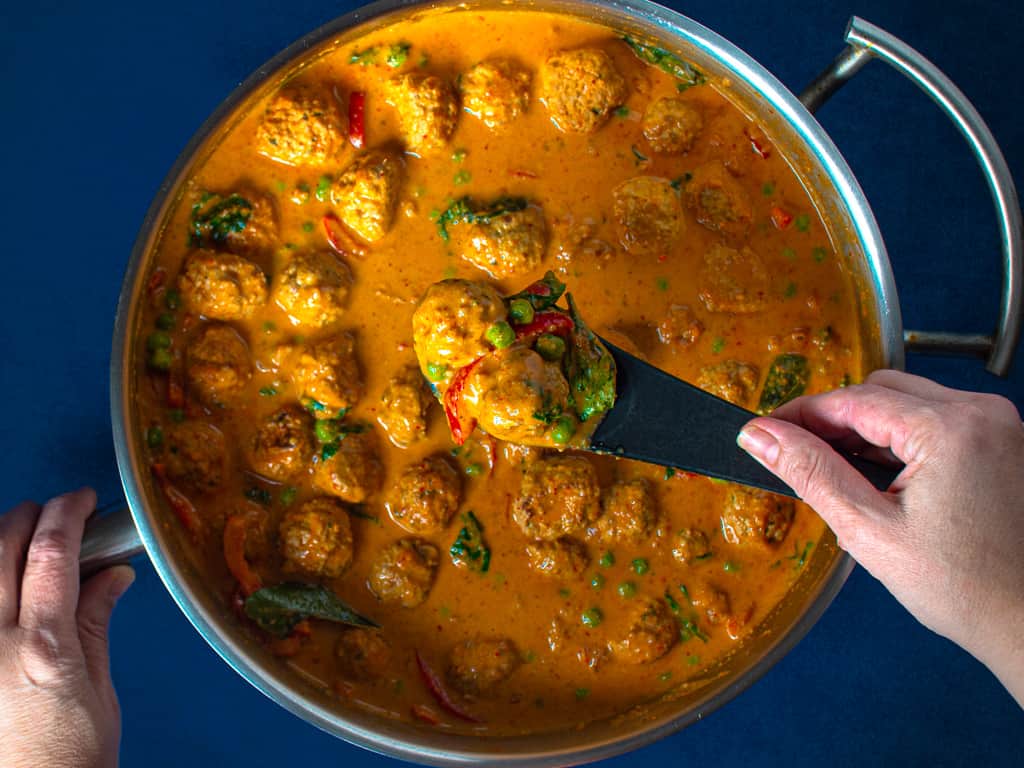 Ingredients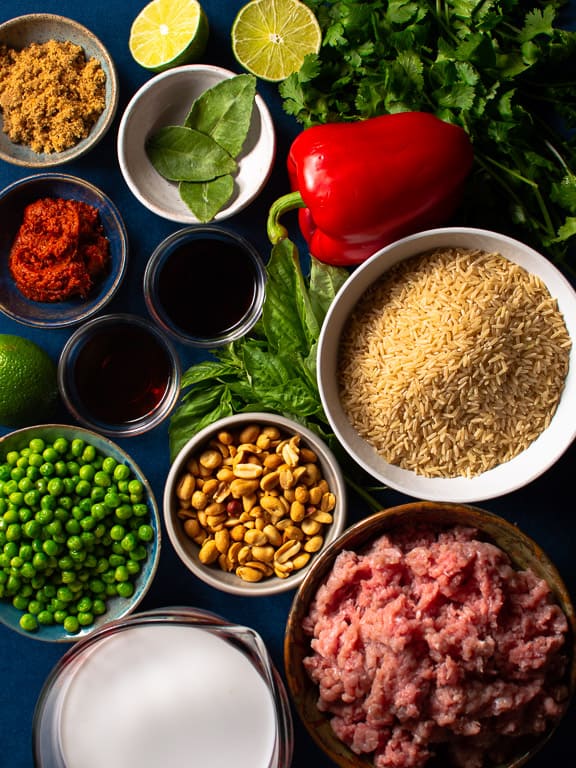 What kind of meat can I use for Thai Meatballs?
In this recipe, I use ground pork but you can easily substitute ground chicken or turkey, or beef. Or any combination.
Thai red curry paste
Thai red curry paste has become widely available. The level of heat varies between brands. The one I use is Maesri. You can find it for much less in Asian specialty stores, or if your supermarket has a specialty aisle, but is not often found in regular grocery stores, at least not where I live. Any red curry paste can be used for this recipe so don't worry if you don't have access to a specialty store.
kaffir lime leaves
Kaffir limes are native to Southeast Asia and are used extensively in that part of the world, especially Thailand. They have a very distinct flavour unlike any other citrus fruit. It is what makes many Thai dishes so uniquely flavoured. If you don't have access to an Asian supermarket or specialty store you can order Dried Kaffir Lime Leaves. You can also substitute the lime leaves with grated, regular lime, zest. The flavour won't be the same but the dish will still be delicious! I do recommend picking up some of the leaves if you like cooking Thai food. They are a game-changer!
Peanuts
Roasted and unsalted peanuts are best for this recipe. If you use salted the dish will be very salty. Use a food processor or blender to get them broken down to a fine crumb. Another handy tool for this is a Magic Bullet. I bought one for my husband to make smoothies and now I find myself using it for lots of things like salad dressings, mayonnaise, pestos, you name it. Sometimes I don't want to pull out a full-sized blender or food processor for just a small amount.
Coconut Milk
I always use full-fat coconut milk because it has the richest and creamiest texture. Also coconut fat is a healthy fat that our bodies can't get enough of! You can use a lower fat coconut milk keeping in mind the sauce won't be as thick. Read the labels for fat content. They are all different.
Making the meatballs
Simply mix together all of the meatball ingredients in a bowl. Your hands make the best tool for this job but if you are not into that just use a spoon or spatula. Everything mixes together quicker with your hands which helps avoid over mixing. This can cause the meatballs to be tough.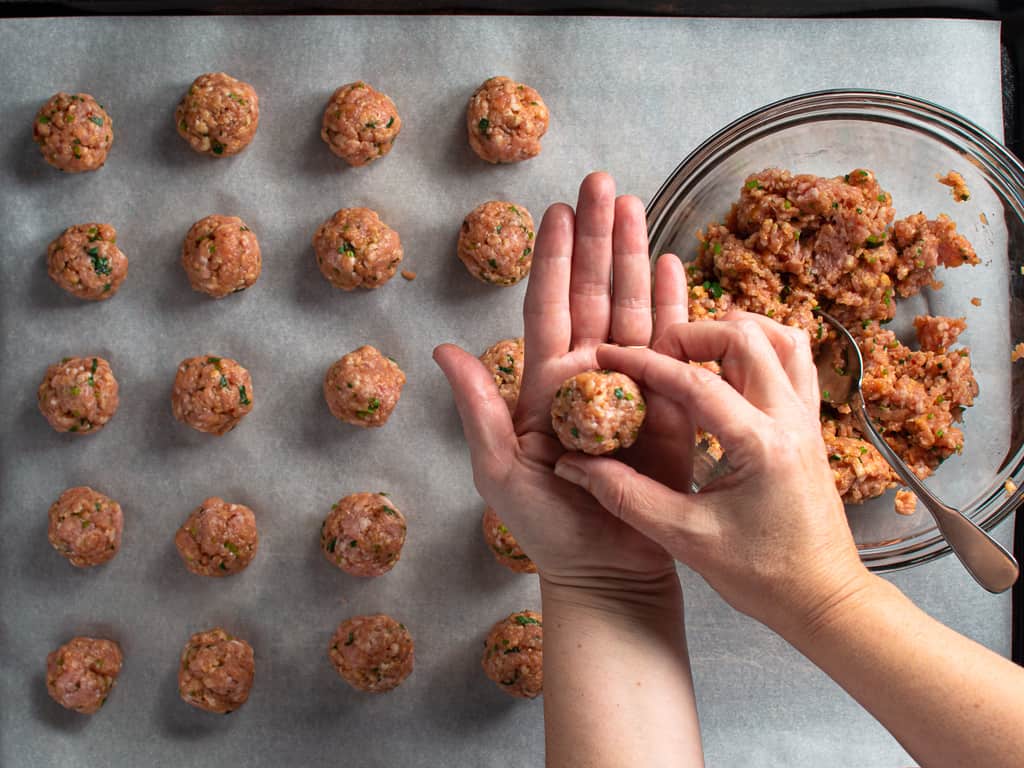 Shape into balls about 1 ½" to 2" in diameter. Place them on a parchment-lined baking sheet. There are 2 options for cooking. They can be baked in a hot oven or fried in batches on the stovetop. Frying produces more browning, which adds flavour but baking allows you to cook them all at once so it saves time. That's the option I chose. Also, the meatballs are only being partially cooked at this stage and will be finished off in the curry sauce.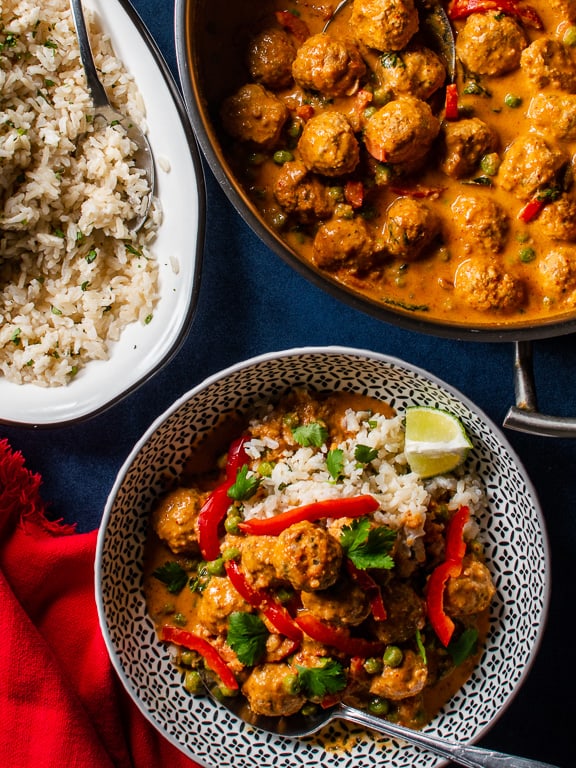 making the sauce
This sauce is very simple and easy. The curry paste is fried a little first to release all the wonderful spices, then add the coconut milk along with the partially cooked meatballs, ground-up peanuts and lime leaves, if using, or some grated lime zest. Everything simmers for 5 minutes before adding all the other ingredients except the fresh basil and cilantro. We save those for the very end.
rice or noodles?
Either option is delicious! Just depends on what you have on hand or what you're in the mood for. Any type of noodle works for this but I would probably choose Soba or fresh Chinese egg noodles. As for rice, well I used brown Jasmine rice because I really wanted to try it. Guess what? I may never use white Jasmine rice again! I sprinkled the rice with some extra chopped basil and cilantro and garnished each dish with a wedge of lime. Perfection!
What to serve with Thai meatballs
The classic option is jasmine rice and here are some other options:
any type of rice
rice or egg noodles
zucchini noodles
cauliflower rice
cooked shredded cabbage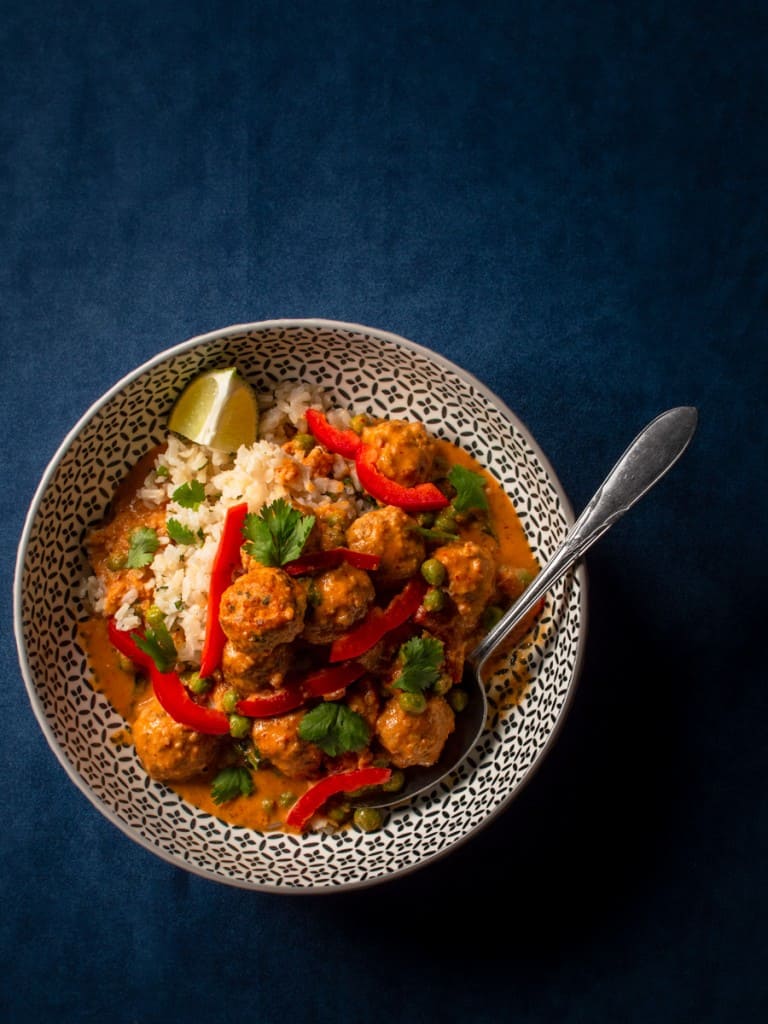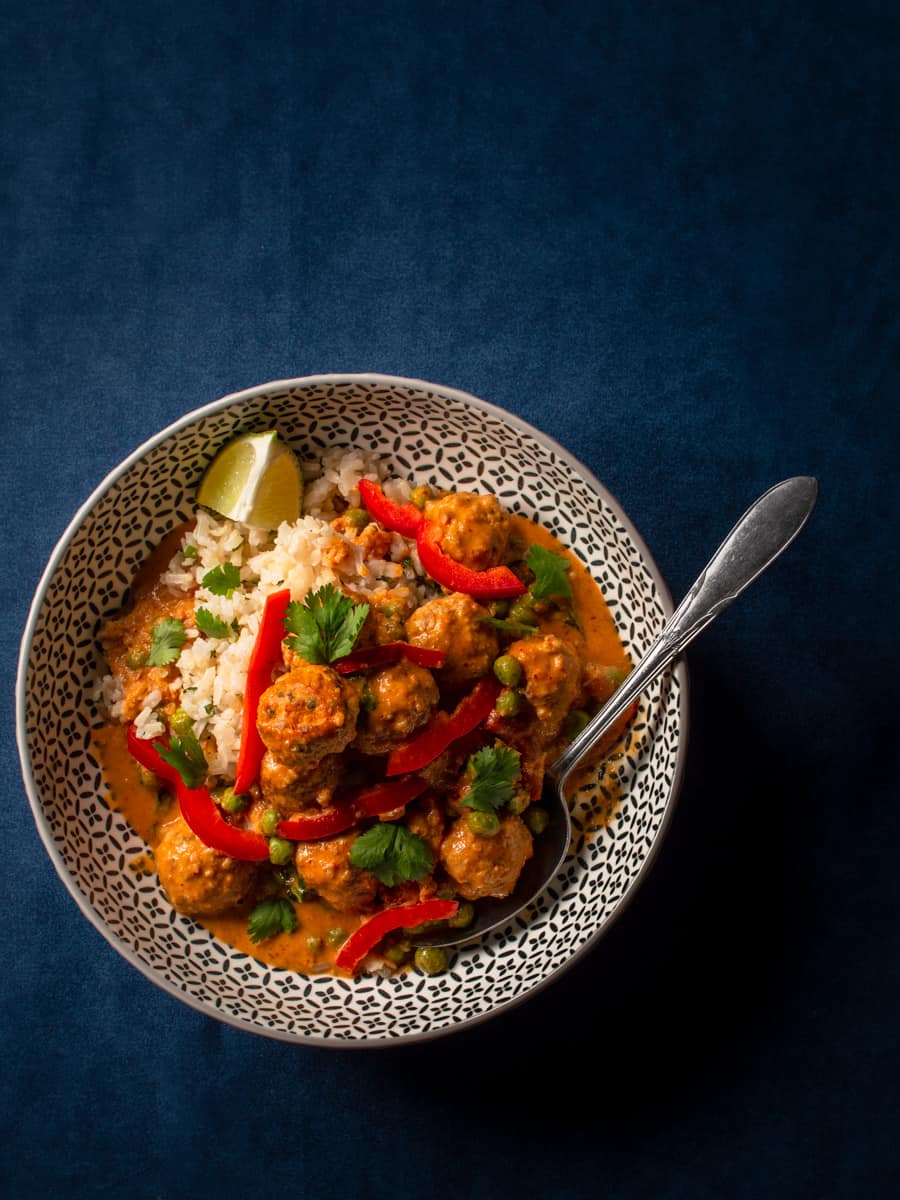 Other recipes you might enjoy
📖 Recipe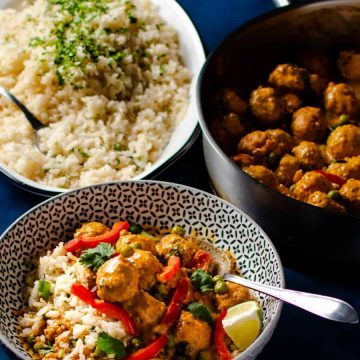 Thai Meatballs In Red Curry Peanut Sauce
Smothered in a rich and flavourful red curry, coconut, peanut sauce these fast and easy Thai Meatballs will leave you feeling warm and cozy.
Print
Pin
Rate
Servings:
6
servings, 35 meatballs
Ingredients
Meatballs
900g/2lbs

ground pork, turkey, chicken or a combination

½

cup

fresh basil, finely chopped, reserve ¼ cup for sauce

2

tablespoon

cilantro, finely chopped, plus ½ cup whole leaves for sauce

1

tablespoon

Thai red curry paste, plus more for sauce

1

tablespoon

fresh lime juice, plus more for sauce

2

teaspoon

fish sauce, plus more for sauce

1

tablespoon

soy sauce, plus more for sauce
Red Curry Peanut Sauce
¼

cup

Thai red curry paste

2

cans

coconut milk (400 ml/14 oz cans)

¾

cup

roasted, unsalted, peanuts ground or finely chopped

2

lime leaves (optional) or grated zest of one lime

½

cup

chicken or vegetable stock

¼

cup

brown sugar

¼

cup

fish sauce

2

tablespoon

soy sauce

3

tablespoon

lime juice, plus lime wedges for garnish

1

red pepper, sliced

1

cup

frozen green peas

½

cup

cilantro leaves

¼

cup

fresh basil, chopped
Instructions
Prepare the meatballs
Preheat the oven to 450°F

In a large bowl, mix together all the ingredients for the meatballs and mix gently with your hands or a spoon.

Shape into approximately 1 tablespoon sized balls and arrange on a parchment lined tray.

Bake in oven for 10 minutes or fry in batches in a skillet until browned. If oven baked they won't brown as much but you can cook them all at once to save time.
Red Curry Peanut Sauce
While the meatballs are baking or frying start the sauce by adding the red curry paste to a large saucepan or saute pan heated over medium-high heat. Stir and fry for one minute.

Add both cans of coconut milk, peanuts, baked or fried meat balls, and lime leaves, if using, or grated lime zest. Bring to a boil then turn down the heat and simmer for 5 minutes or until the sauce is thickened slightly.

Add the stock, brown sugar, fish sauce, soy sauce, lime juice, peas and red pepper slices. Let simmer 5 more minutes.

Remove from heat and add reserved basil and cilantro leaves. Serve with Jasmine rice or noodles of your choice and fresh lime wedges.
Notes
Meatballs in their sauce can be refrigerated for 3 days and frozen for up to 3 months. You can also freeze it along with the rice for a complete meal ready to be defrosted and reheated.
You can use ground chicken or turkey instead of the pork or a combination of pork with chicken or turkey. 
Nutrition Facts are an estimate only using an online calculator and have not been approved by a Registered Dietitian. 
Nutrition
Serving:
1
serving
|
Calories:
341
kcal
|
Carbohydrates:
21
g
|
Protein:
12
g
|
Fat:
23
g
|
Saturated Fat:
13
g
|
Cholesterol:
29
mg
|
Sodium:
1463
mg
|
Potassium:
205
mg
|
Fiber:
2
g
|
Sugar:
14
g