Vietnamese Chicken Wings have become a favourite in our house recently. They pack a big punch of flavour that will keep you going back for more. Fish sauce and tamarind "caramel" gives this sauce a perfect balance of salty, sweet, sour and spicy. This Vietnamese Chicken Wings recipe is quick, easy and highly addictive!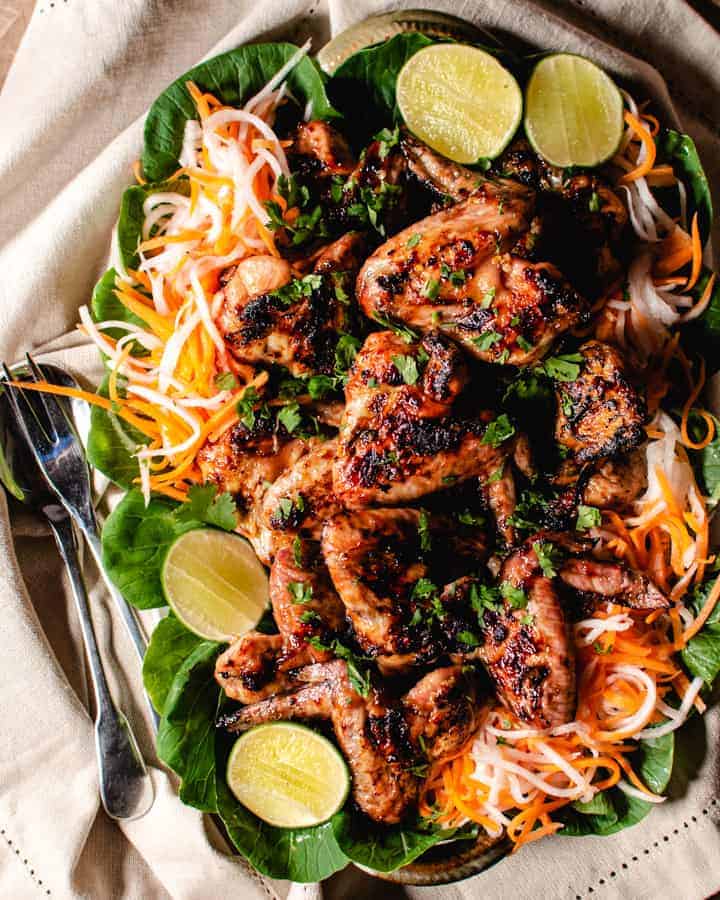 Fish sauce
Fish sauce is a commonly used ingredient in Southeast Asian cooking that has become easier to find in local grocery stores. There are many brands that have varying degrees of quality. The two most commonly found in grocery stores, here in Canada, are Squid and Cock brands. Either of these are perfect for "every day" use. If you are a die-hard fish sauce fan you might want to check out Red Boat Fish Sauce. It is a premium brand that stands way above the rest. It's expensive but you have to think of it like a premium olive oil. You get what you pay for and use it sparingly. Fish sauce usually comes in one liter bottles but don't worry it lasts, literally, forever. Smaller bottles are available in some stores.
what is it?
Fish sauce is made from fermented anchovies. I'm not going to lie, it stinks! Whatever you do don't spill any in your car. If you have never smelled it before you may wonder how on earth it could taste good. Trust me when I say that it doesn't taste the way it smells. It is an ingredient that makes or breaks many dishes. It is the salt of Southeast Asia. When buying fish sauce make sure to read the ingredient list. It shouldn't contain any additives or preservatives. Just anchovy extract, salt and sometimes a bit of sugar.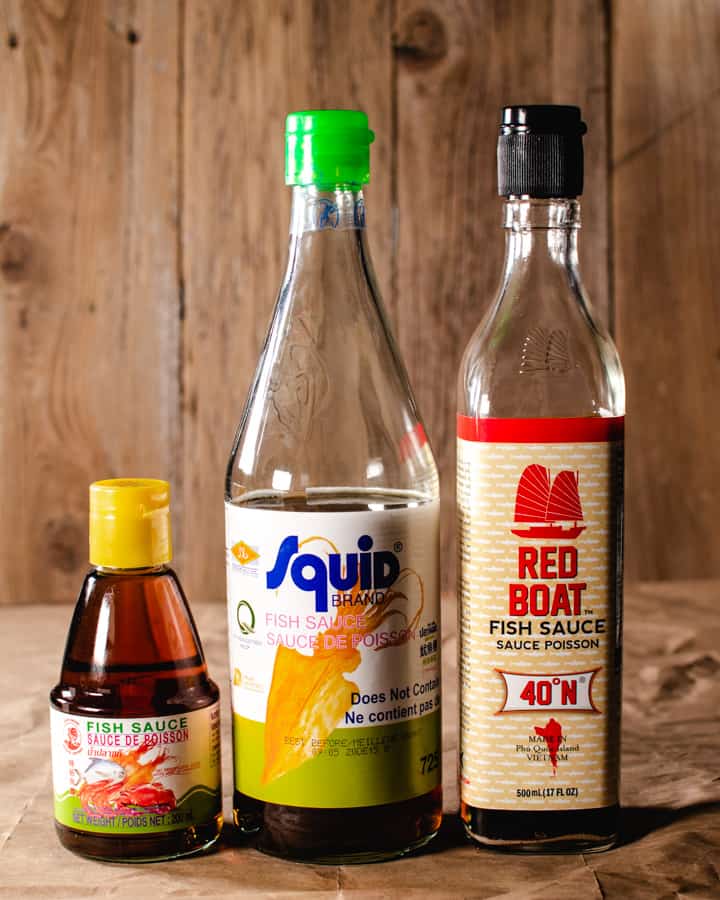 The bonus of this Vietnamese chicken wings recipe is that it doesn't require marinating and the caramel sauce is quick to put together. When grilling wings I like to buy them whole. This way you have larger pieces to grab onto for turning. You can always cut them apart before serving if you prefer. Depending on where you live, tamarind might be the one thing you have difficulty finding. Look for it in the Indian or Southeast Asian aisles and shops. It comes in different forms and I've shown two below.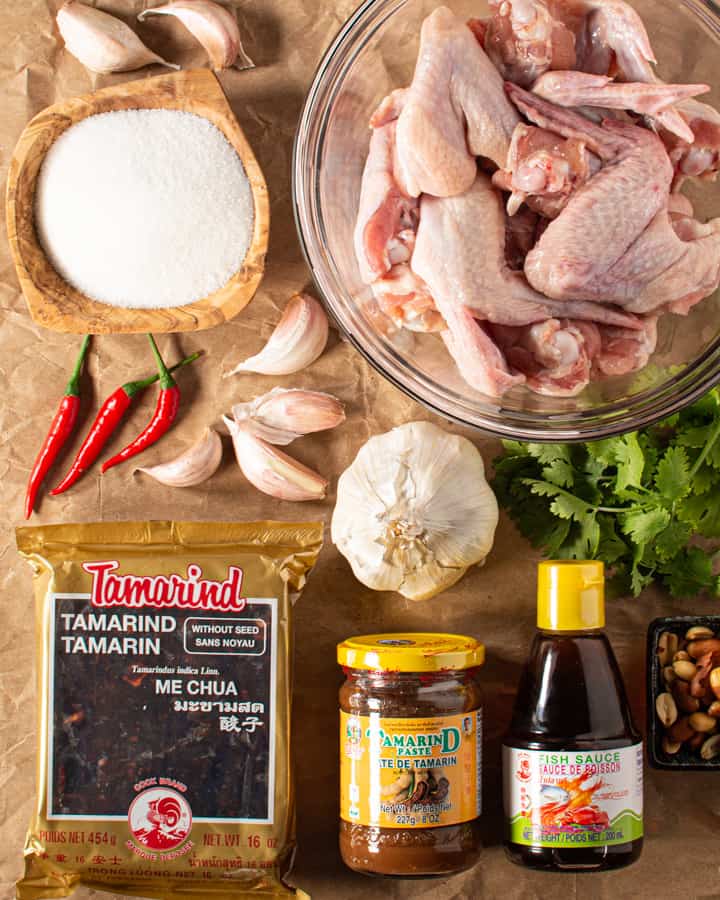 What the heck is Tamarind?
It's a tropical fruit that grows in bean-like pods. The fruit is thick and fibrous and contains seeds. It tastes both sweet and sour and adds a wonderful flavour to both sweet and savoury dishes. It is a common ingredient in Indian, Southeast Asian , and Middle Eastern cuisine but is used throughout the world. It's even in Worchestershire and HP sauce.
how to use it
Tamarind comes in a concentrate or compressed pulp. I like to use the compressed pulp and then making my own paste. Check out this post on how to make your own Tamarind Paste . If you can't find tamarind anywhere you can substitute, in this recipe, with fresh lime juice. Add the fresh juice after the sauce is done cooking and removed from heat. Or you can order it here Tamarind Paste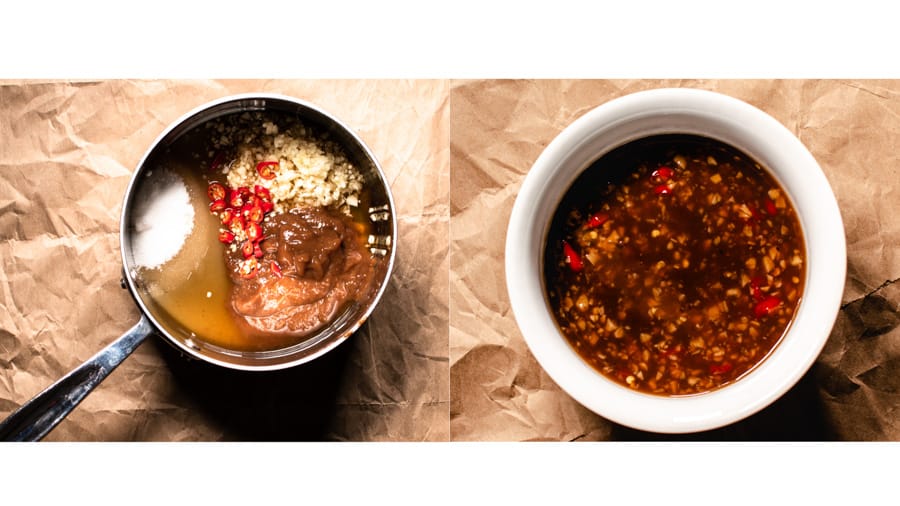 the sauce
Add all the ingredients to a saucepan, excluding lime juice if you are substituting. Bring to a boil, reduce heat to medium and simmer, stirring occasionally, for for a few minutes until it becomes syrupy, like a caramel sauce.
grilling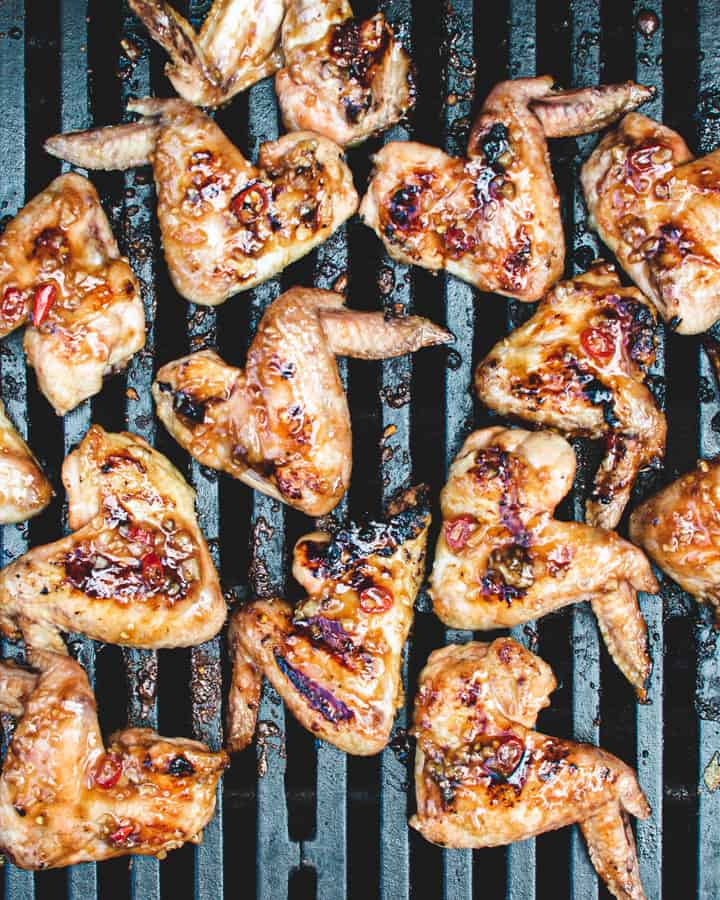 Heat your grill to high and let it get hot. Place the wings, skin side down, on the hot grill and turn down the heat to medium-low to medium. Cook at this temperature, without the sauce, for approximately 15 minutes flipping them half way through. Turn the grill up to medium-high to high (temperatures will vary on different grills). Start adding the sauce as you flip the wings. Cook for another 15 minutes, turning often and eventually adding all the sauce. Depending on the heat of your grill you may need to adjust the temperature and time.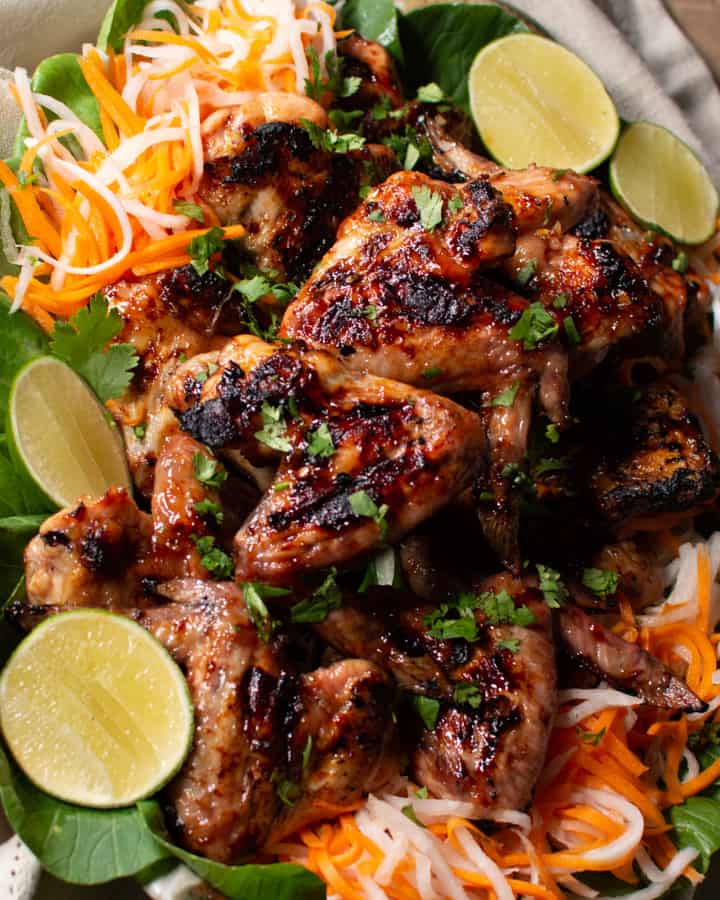 baking
Alternatively you can bake these in the oven. They turn out equally as good! Preheat oven to 375°F and line a baking sheet with parchment paper. Place wings on the tray and bake for 15 minutes, turning half way through. In a large bowl toss the partially baked wings with the sauce until thoroughly coated. Place the wings back on the tray and brush with any remaining sauce. Bake for another 15 minutes, turning half way through.
Garnish the wings with chopped coriander, fresh lime and chopped peanuts (optional). Serve with this Pickled Carrot Daikon Radish and Jasmine or Sticky rice if you want to serve it as a main course.
More Recipes
This post contains affiliate links. As an Amazon Associate I earn a small commission from qualifying purchases.
📖 Recipe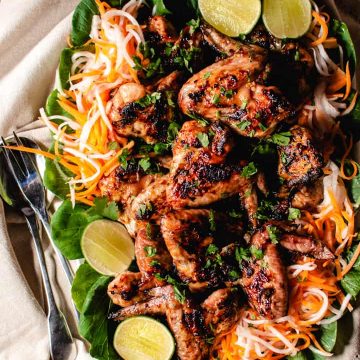 Vietnamese Chicken Wings
These Vietnamese Chicken Wings check all the right boxes for me when it comes to the right balance of flavours. Use the sauce on any cut of chicken.
Print
Pin
Rate
Ingredients
1-11/2

kg

chicken wings, whole

4

cloves

garlic

2

Thai red chili peppers

½

cup

sugar, white

½

cup

tamarind paste

¼

cup

fish sauce

¼

cup

coriander leaves, chopped

¼

cup

peanuts, unsalted and chopped, optional
Instructions
Rinse the chicken wings and dry very well with paper towel

Peel and mince the garlic.

Thinly slice or chop the chili peppers

In a medium saucepan put the minced garlic, sliced chili pepper, sugar, tamarind and fish sauce. Bring to a boil then reduce heat to medium. Continue boiling, stirring occasionally, for about 3 minutes, until it becomes syrupy. Remove from heat and set aside.

Preheat the grill on high heat. Place the wings, skin side down. Turn the heat down to medium. Continue cooking for 15 minutes, turning half way through.

Turn up the heat to medium-high to high. Brush wings with sauce and flip. Brush the other side. Continue cooking and brushing with sauce for another 15 minutes, flipping and brushing a few times to achieve a deep caramel colour. Adjust the heat on the grill if the wings are getting too dark before they are finished cooking.

Transfer cooked wings to a platter, garnish with chopped coriander, chopped unsalted peanuts (if using) and fresh lime.