Pickled carrot and daikon radish is a wonderful accompaniment to many dishes. It's fast, easy and keeps in the fridge for a very long time. Ever had a Bahn Mi sandwich? Pickled carrot and daikon radish might be most known as a filling to these delicious Vietnamese sandwiches but is served as a side dish or crunchy topping to many Asian dishes.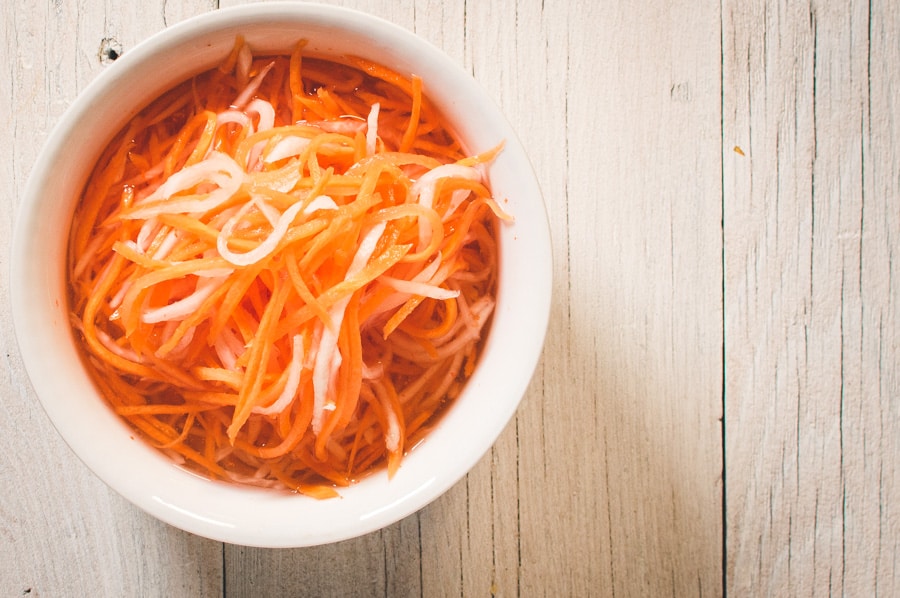 This is a recipe that I'm kicking myself for not having tried out a long time ago. I've been missing out on all those years of having a jar of this deliciousness in my fridge to throw on or toss into so many things. Our family's most recent discovery is that it is perfect on hot dogs. Yes, hot dogs. Amazing! I love to mix it into any salad and it's a welcome addition to almost any type of sandwich. Or use it as a side to a punchy meat dish like these Vietnamese Chicken Wings.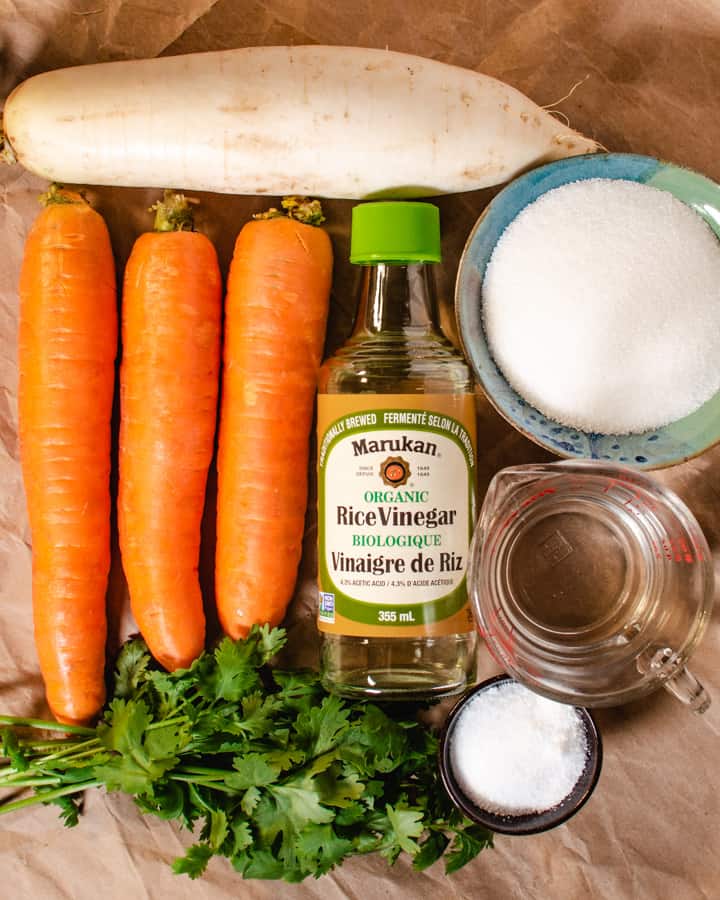 the pickle
This is a "quick pickle". Meaning you don't need to sterilize the jars and for this recipe you don't even have to boil the pickling liquid. Make this first so that the sugar has time to dissolve while you prepare the vegetables.
daikon radish
Daikon radish, also known as Chinese White Radish or Japanese Radish, is a large, white, mild flavoured radish and is commonly used throughout Asia. It's most often made into a pickled salad but can also be baked, boiled or steamed just like any other root vegetable. Add some to your favourite coleslaw or to your next batch of roasted root veggies to level it up! The possibilities are endless.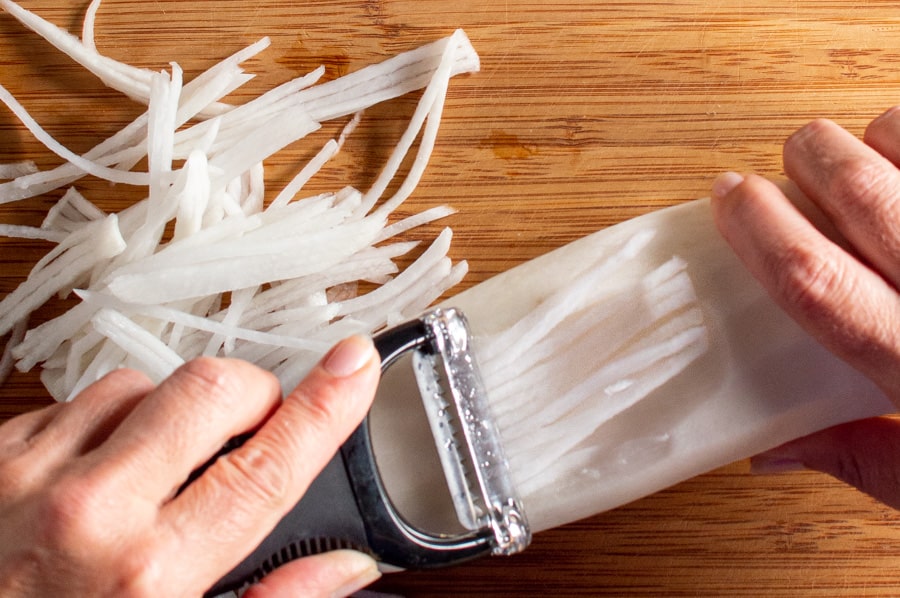 There are two tools that I recommend for shredding. You can use either of them for both the carrot and radish. You can also cut them by hand into thin slices or matchsticks. They will be a little thicker but that's perfectly fine. If you like tools that make the job easier the most economical option is a Julienne Peeler. This is the one I have and it works very well for the price.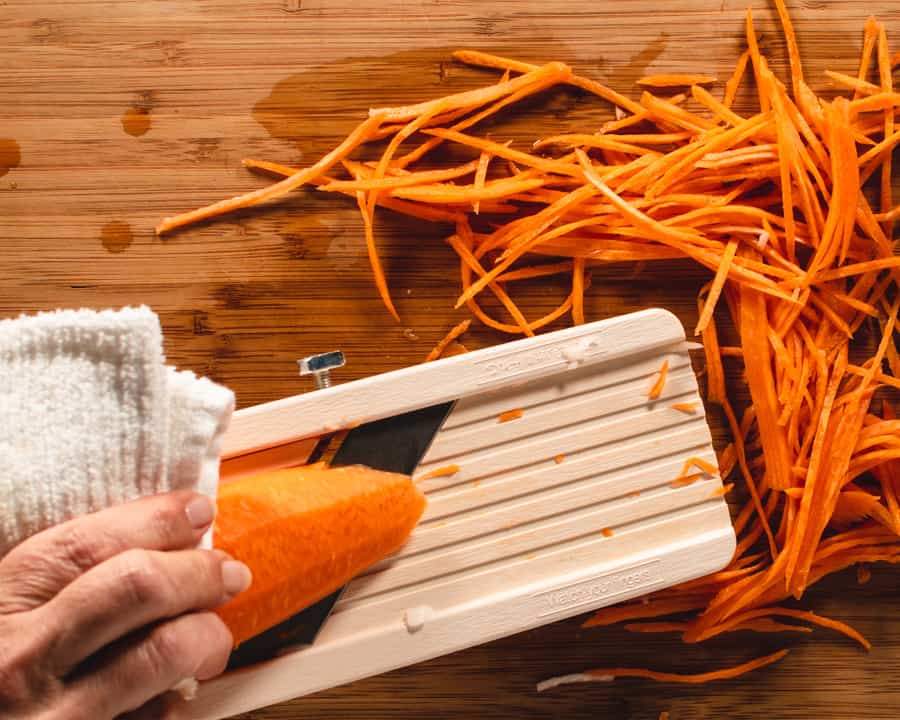 If you are into cooking, or getting into cooking and want to add a really useful tool to your collection I highly recommend a mandolin. It's more versatile than a julienne peeler because there are 4 blade options including a straight slicing blade. The one I have and recommend is this Japanese Mandolin. They are very sharp so be careful! They come with a guard but it is awkward to use for some vegetables so I sometimes wrap a towel around whatever I'm slicing for protection from the blade and also to get a better grip.
Once your carrots and radish are prepared and mixed together pack them into jars or whatever vessel you wish to use to store them. Pour in the pickling liquid to submerge the vegetables. Cover and let rest in the fridge for at least one hour. They will keep in the refrigerator for 4-6 weeks.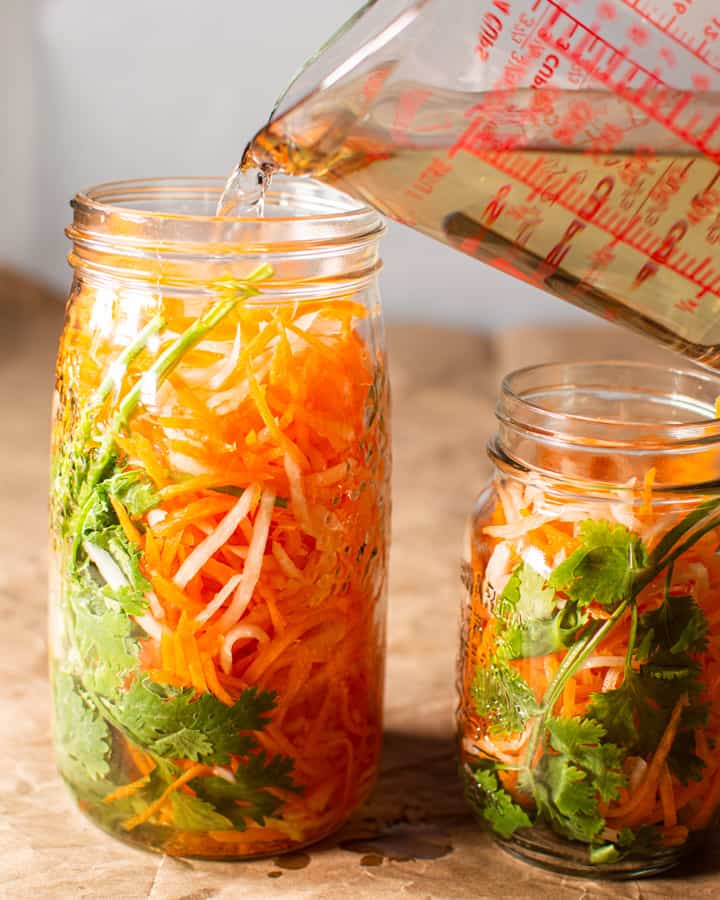 This post contains affiliate links. As an Amazon Associate I earn a small commission from qualifying purchases.
📖 Recipe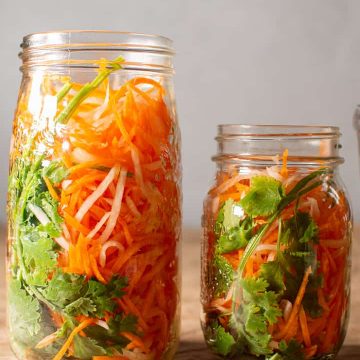 Pickled Carrot and daikon radish
A sweet and sour pickle that is a wonderful accompaniment to many dishes.
Print
Pin
Rate
Ingredients
450

g

daikon radish

450

g

carrots

¾

cup

sugar, white

¾

cup

white vinegar

¾

cup

rice wine vinegar

1 ½

cups

water, room temperature

3

sprigs

fresh coriander, optional
Instructions
Mix together the sugar, both vinegars, and water. Set aside, stirring occasionally to dissolve the sugar, while you prepare the vegetables.

Peel and shred the carrots and radish. Mix together in a large bowl.

If using mason jars and coriander, place the sprigs in the jars and then add the carrot and daikon mixture. Pour the pickling liquid over top until the vegetables are submerged. Cover and rest in the fridge for at least one hour. The pickle will last in the fridge for 4-6 weeks.
Notes
SUBSTITUTES - If you can't find Daikon radish, white turnip, jicama, or parsnips will work in its place. Alternatively, you can omit it altogether and just make pickled carrots.