Grilled Flank Steak with Salsa Verde is an easy weeknight meal and also perfect for entertaining! Packed with punchy flavours this Salsa Verde also works well with fish, chicken or vegetables. I even had some on my eggs this morning and it was delicious! Try it. You're gonna love it.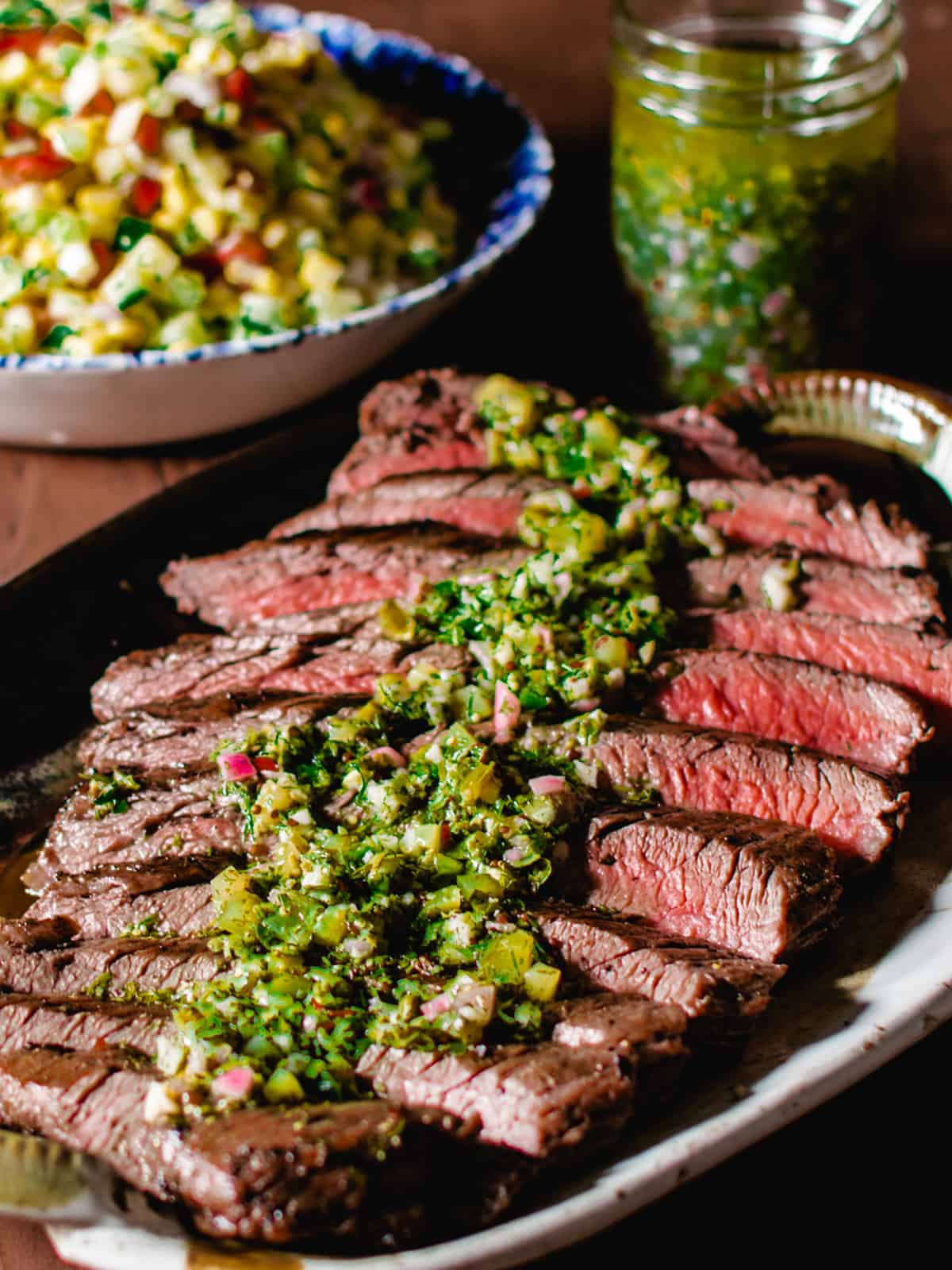 I couldn't decide between an Italian style salsa verde and Chimichurri so I did some research. What the heck is the difference anyway? There are some similar ingredients in both such as olive oil, garlic, vinegar or lemon juice and some mixture of fresh herbs. Chimichurri usually has oregano and some kind of chili pepper. Salsa Verde typically has anchovy, capers, mustard and sometimes pickles. There is a mind boggling number of variations. I liked the idea of combining some elements of both. I called it a Salsa Verde because I think it leans more towards that side. Regardless of what you want to call it, it's delicious!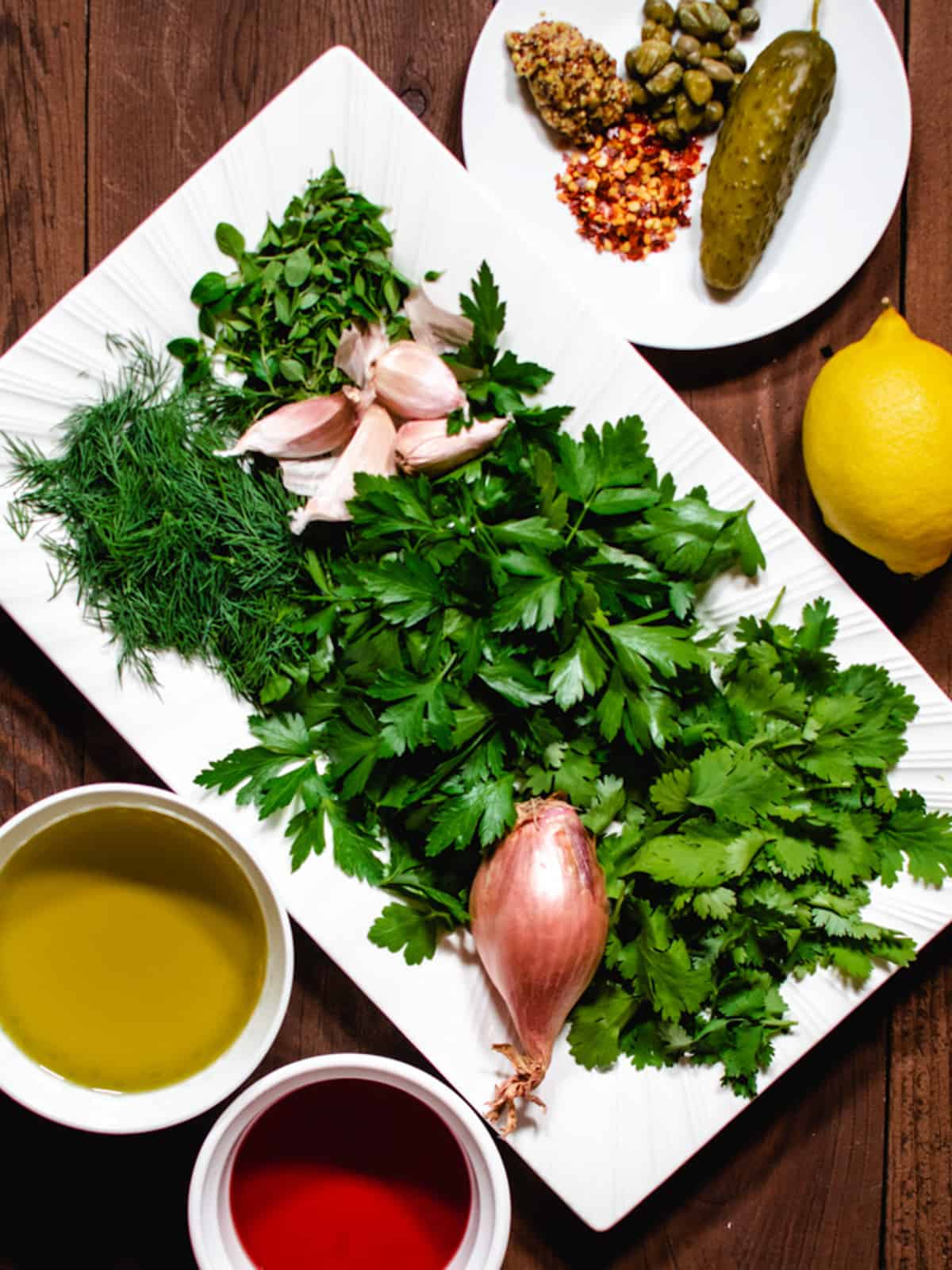 This sauce is used as both a marinade and a finishing flavour punch. I leave out the pickles and capers, use half the salsa verde to marinate the flank steak and then add the pickles and capers to the remaining sauce. You can make this sauce in a food processor or with a hand blender but I don't recommend it. When you chop everything by hand the salsa verde has such a nice look and texture.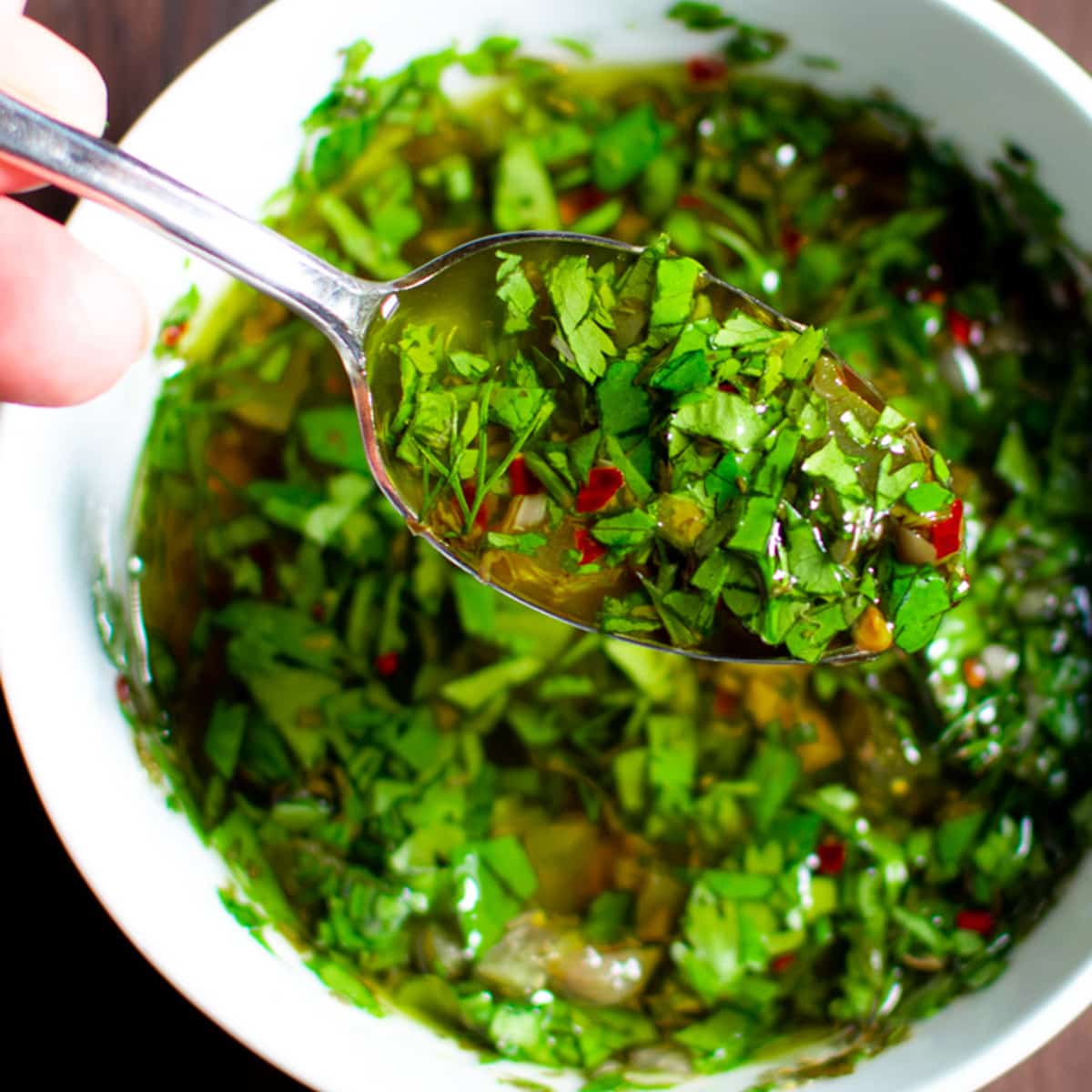 What is flank steak?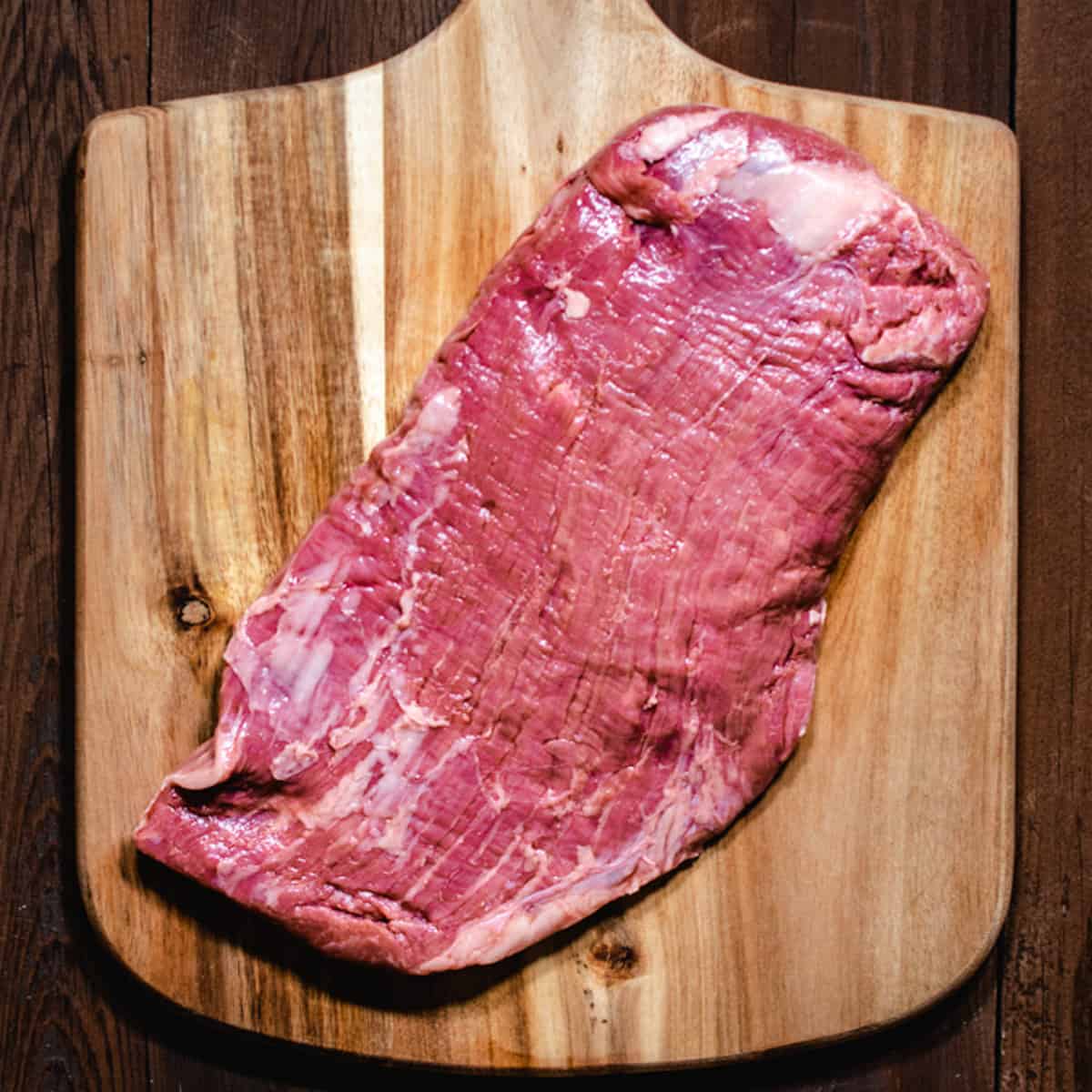 Flank steak is a very flavourful, lean and inexpensive cut of beef. It comes from the lower abdominal area of the cow. Because it is so lean it is best marinated and cooked over high heat for a short period of time. It's one of my favourite cuts of beef because it's so flavourful but it can be tough if not treated right. Marinating, cooking high and fast, and slicing it thinly across the grain are all very important steps to creating a delicious grilled flank steak.
Don't be overwhelmed by the long list of ingredients. You can mix things up as much as you like. Omit some of the herbs or replace them with ones you like better, leave out anything you don't have or like. As long as you have the base of olive oil, vinegar, garlic and fresh herbs it will be delicious! Have fun and play around with it. The longer you can marinate the steak the better so you can start it the day before. Or if you don't have enough time a minimum of 3 hours works too.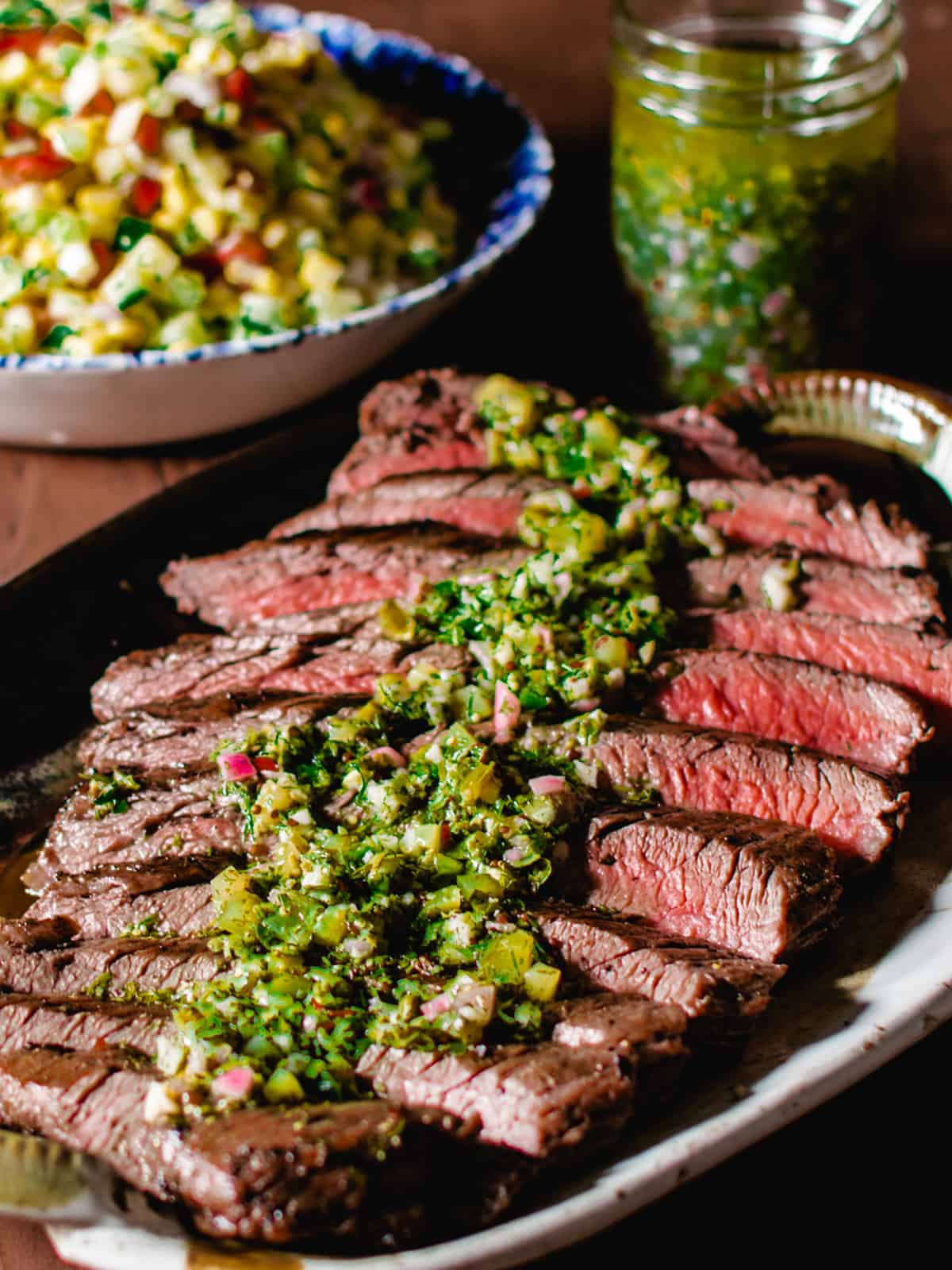 Season the flank steak generously with salt and pepper on both sides and cook on a hot grill for approximately 10 minutes, flipping half way through. You don't want to over cook this cut. Medium rare is ideal with an internal temperature of 130°F. If you don't have a meat thermometer I highly recommend investing in one like this Thermoworks Thermapen.
When the flank steak is done remove it from the grill and cover loosely with foil. Let it sit for 10 minutes before slicing. This allows the juices to be reabsorbed by the steak instead of seeping out when you slice it.
Pro tips for best results
Grill the steak on high heat.
Check the temperature with a meat thermometer for accurate doneness.
Let the steak rest after cooking.
Slice thinly across the grain.
Play around with the ingredients in the Salsa Verde to customize it to your liking.
Use the Salsa Verde to accompany grilled fish, chicken, and veggies. It's also delicious on eggs!
Serve it with this Corn Salad with Creamy Dill Dressing, The Best Grilled Vegetable Salad, or Shaved Asparagus Salad With Creamy Parmesan Dressing, and invite your friends!
This post contains affiliate links. As an Amazon Associate, I earn a small commission from qualifying purchases.
📖 Recipe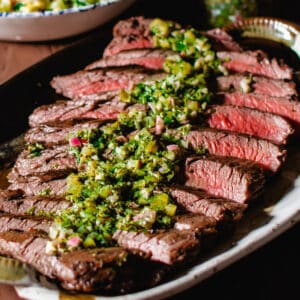 Grilled Flank Steak With Salsa Verde
Grilled Flank Steak with Salsa Verde is an easy weeknight meal and great for entertaining. Salsa Verde is also delicious on fish, chicken, eggs and veggies!
Print
Pin
Rate
Ingredients
¼

cup

red wine vinegar

¼

cup

lemon juice,

about 1 ½ lemons

4

cloves

garlic, minced

1

shallot, minced

1

tablespoon

Dijon mustard,

grainy or regular

1

teaspoon

chili flakes

2

teaspoon

kosher salt

1

teaspoon

black pepper, freshly ground

¾

cup

olive oil, extra virgin

½

cup

each, fresh parsley, cilantro, dill, chopped fine

2

tablespoon

fresh thyme, chopped

1

tablespoon

capers, chopped

1

med.

dill pickle, chopped

1

flank steak, approximately 2 lbs or 900 g

salt and pepper for seasoning steak
Instructions
In a medium bowl mix together the vinegar, lemon juice, garlic, shallot, mustard, chili flakes, salt and pepper. Whisk in the olive oil. Add the parsley, cilantro, dill and thyme. Stir. Divide marinade in half and add the capers and pickle to one half. Set that one aside.

Place the flank steak in a dish large enough to hold it and the marinade or put in a large resealable plastic bag. Pour half of the marinade over the steak and flip it around so all sides are covered. Or pour into the bag, seal and swish it around. Cover and refrigerate for at least 3 hours or overnight.

Heat your grill to high. Remove the steak from the marinade and pat dry. Generously salt both sides with Kosher salt and freshly ground black pepper.

Place on the hot grill and cook for approximately 5-6 minutes per side or until a thermometer reaches 130-135°F for medium rare or 120-125­°F for rare. Remove from grill, loosely cover with foil and let rest for 10 minutes.

Thinly slice across the grain of the meat. Pour the salsa verde on top or serve on the side.
Notes
Substitute any of the fresh herbs for whatever you like.
This salsa and marinade are great for fish, chicken, or grilled veggies.
Storage - Keep any leftover steak in a sealed container in the fridge for 3 days. Salsa Verde will keep in a sealed container in the fridge for 5 days. Bring to room temperature and stir before using.  
Pan Sear - Pan sear in a very hot skillet for 2 to 3 minutes per side or until a meat thermometer registers 125 degrees F for rare, and 130 degrees F for medium rare. Flank steak should not be cooked over medium rare or it will become tough. Transfer to a cutting board, tent with foil, and let rest for 10 minutes before slicing. 
Nutrition
Serving:
1
serving
|
Calories:
409
kcal
|
Carbohydrates:
8
g
|
Protein:
35
g
|
Fat:
26
g
|
Saturated Fat:
7
g
|
Polyunsaturated Fat:
1
g
|
Monounsaturated Fat:
10
g
|
Cholesterol:
100
mg
|
Sodium:
861
mg
|
Potassium:
45
mg
|
Sugar:
3
g