Black Rice, is a recent discovery for me. I had no idea what I was missing! This Black Rice Salad with Roasted Vegetables is packed full of nutrients. It's easy, delicious, travels well and can be served warm or cold as a main dish or a beautiful side. What more could you ask for? It's topped with a delicious Tahini and Honey Dressing. I'm sure it will be making a regular appearance on your table, or in your lunch box, once you give it a try.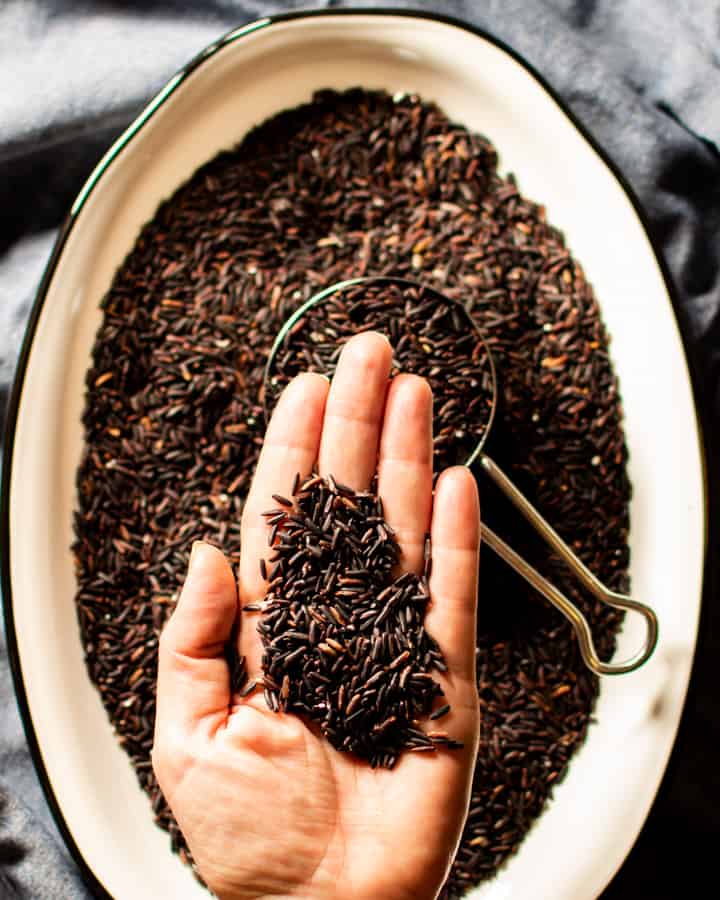 Jump to:
What is black rice?
Black rice, also known as forbidden or "emperor's" rice is at the top of it's game when it comes to nutritional value. It's packed full of antioxidants, protein and iron. Hard to believe it's so delicious! Forbidden rice was once reserved only for the Emperor of China to maintain his health and longevity. Therefore it was forbidden to anyone else. Now it's gaining popularity and has become more widely available. It is nutty and chewy and easy to prepare. It turns a deep purple colour when cooked.
Where can I buy black rice?
You can find black rice in many grocery stores, health food, stores or bulk stores. Or you can fine Elan Organic Black Rice here or on my shop page.
Ingredients and Substitutions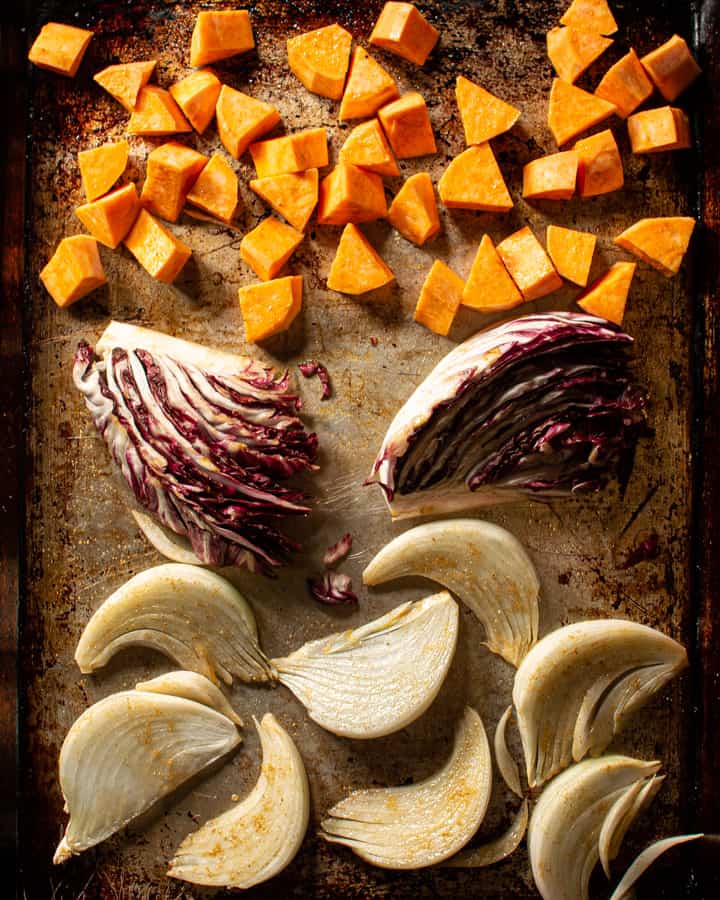 White onion - Red, sweet, or Spanish onions also work in this recipe. Shallots that are peeled and cut in half lengthwise or whole, peeled pearl onions would also be nice.
Sweet potato - I like the punch of sweetness sweet potato adds to this earthy dish. Butternut or acorn squash would be great alternatives.
Radicchio - This "green" is on the bitter side. If that's not appealing to you you can add a handful or two of baby spinach or arugula to add some greens. You can also serve the salad on a bed of your favorite leafy greens for a beautiful presentation.
Black rice - Wild rice or other whole grains such as farro, freekeh, bulgur wheat, quinoa etc. are all great alternatives. Cook grains according to package directions. See below for my method for cooking black rice.
Walnuts - Use any of your favorite type of nuts or toasted pumpkin, sunflower, or sesame seeds.
Lemon juice - 2 teaspoon vinegar can be used instead. Such as apple cider, rice, white or red wine vinegar.
Parsley - Fresh parsley can be omitted if necessary.
Salt, pepper, cumin
Tahini dressing (recipe included) - Tahini dressing compliments this salad well but a simple vinaigrette would also be delicious.
How to make black rice salad
This recipe is made simple by roasting everything together on one tray. I like to roast on an unlined tray for more caramelization but you can line the tray with parchment for easy clean up. The veggies are tossed with olive oil, salt, and cumin and roasted in the oven. After 15 minutes the radicchio is removed and the rest continues to bake for another 10 minutes.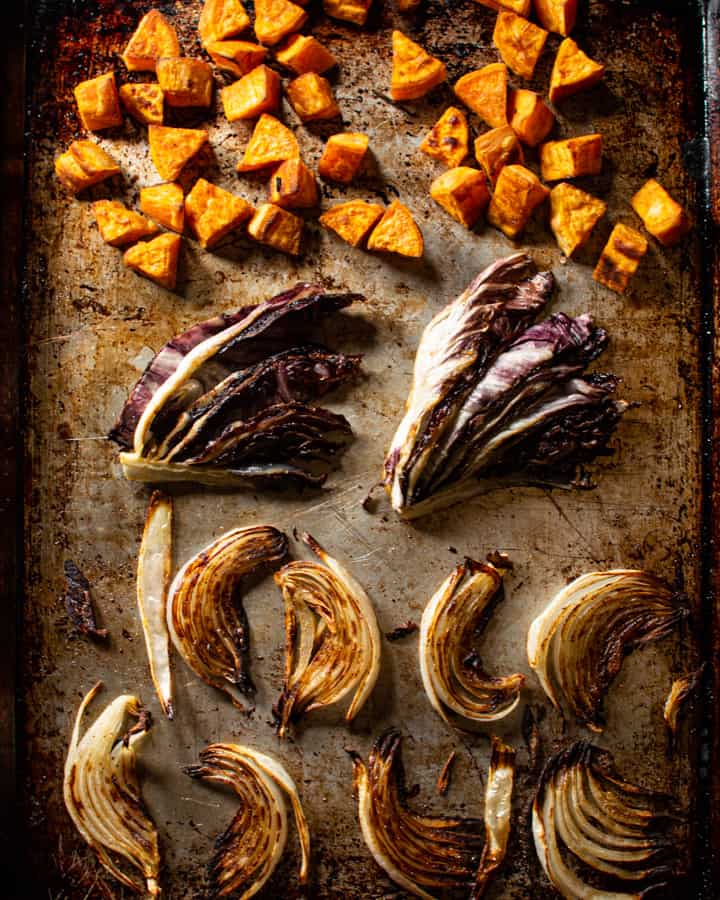 Once the vegetables are done turn the oven down so you can roast some walnuts. The nuts add a beautiful crunch to the salad but could be substituted with almonds, pistachios or pecans. Remove the root and core from onions and radicchio, chop walnuts and parsley and set aside in a bowl until your rice is ready.
How to cook black rice.
Many websites and also package directions will instruct you to use the "absorption" method to cook black rice. Although this is fine for certain dishes I prefer to boil it when using it in a recipe such as this.
Boiling it like pasta keeps the grains separate instead of sticky. Plus less measuring is always a good thing. There is also no need to soak the rice.
Simply give it a good rinse, bring some water to a boil, add the rice and simmer for 20 minutes. Drain and place in a large bowl. Squeeze juice of half a lemon, drizzle 1-2 tablespoons of olive oil and season with salt and pepper. Let sit while you finish the vegetables.
Tahini and honey dressing
The flavor combination of tahini, honey and lemon can't be beat for this warm and hearty salad. It brings everything together and gives you a big hug.
Tahini is a paste made from ground sesame seeds. It is a very common Middle Eastern ingredient and is most known for it's roll in making hummus delicious! It can be found in most grocery stores and health food stores.
You can even make your own by toasting some sesame seeds and grinding them in a blender or food processor with some oil.
There's really nothing to this dressing recipe. Simply stir everything together, except the water. Then stir in the water until it reaches a pourable consistency. This dressing keeps, covered, in the fridge for one month.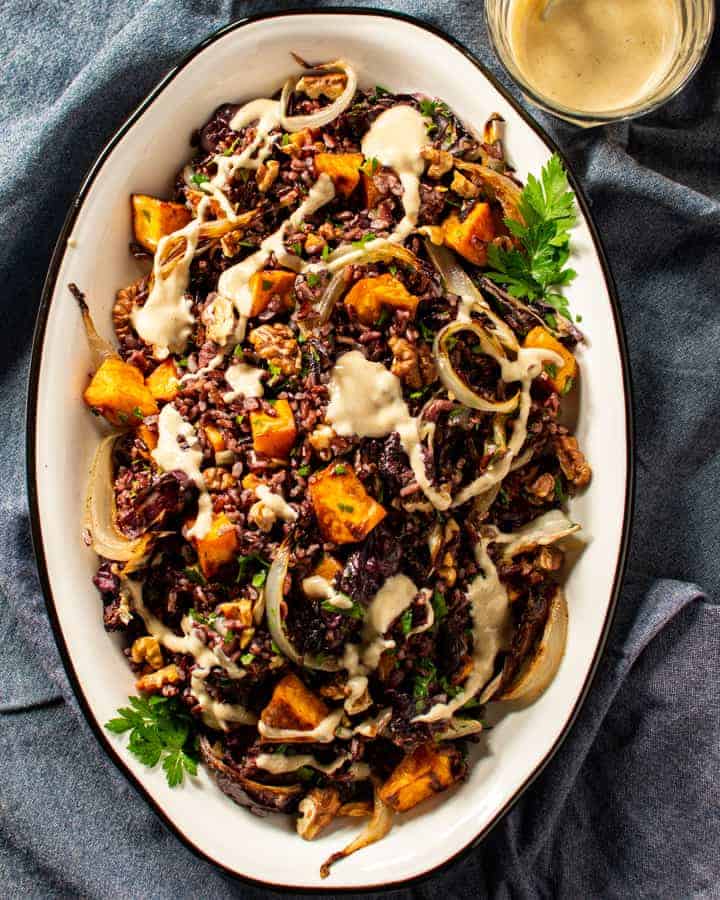 This salad can be served warm or at room temperature. It would make a lovely side dish for a holiday meal especially if you have any vegetarian guests at the table. It will last in the fridge, covered, for one week. Keep the dressing separate to avoid soggy rice. It's warm and comforting and full of flavour and nutrients. Try it as a side to this Mustard And Herb Grilled Pork Tenderloin, Roasted Turkey Breast, or Honey Mustard Chicken Thighs. I'm sure it will soon become a family favourite!
Other vegetables you could use
The sky's the limit when it comes to alternative vegetables for this salad. Here are a few ideas to get you started:
Mushrooms
Cauliflower
Bell peppers
Carrots
Zucchini
Radishes
Brussels sprouts
Different vegetables have different cooking times so check them periodically and remove them when they are done to your liking.
Tried this recipe? I would love it if you could leave a star rating ⭐️⭐️⭐️⭐️⭐️ and/or a comment below. You can also follow me on social media here on Facebook, Instagram, and Pinterest!
Other recipes you might like
📖 Recipe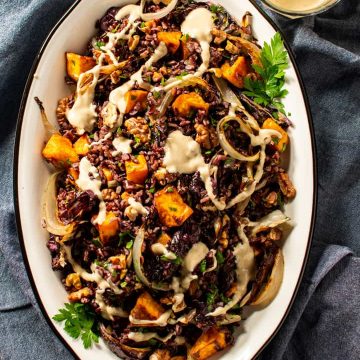 Black Rice salad with roasted vegetables and tahini honey dressing
This salad or side dish is perfect for Fall. It can be eaten warm or at room temperature, makes a healthy and satisfying packed lunch, and could also be a perfect side on the Thanksgiving table.
Print
Pin
Rate
Ingredients
the salad
½

white onion

1

medium

sweet potato

¼

head

radicchio

3

tablespoon

olive oil, plus more for rice and dressing

1

teaspoon

ground cumin

1

teaspoon

Kosher salt

¾

cup

black rice, rinsed

2

tablespoon

olive oil

1

tablespoon

fresh lemon juice

½

teaspoon

Kosher salt

⅓

cup

walnuts

½

cup

parsley leaves, chopped
the dressing
¼

cup

tahini

1

lemon

juiced

½

teaspoon

Kosher salt

½

teaspoon

ground cumin

2

tsp

honey

1

tablespoon

olive oil

2

tablespoon

ice water, or more, to reach pourable consistency
Instructions
For the vegetables
Preheat oven to 450°F. Keeping the root end intact, peel the onion. Set one half aside. Cut in half again lengthwise and then cut each into quarters so you have 8 thin wedges. Place on a tray. Line the tray with parchment if desired.

Peel sweet potato and cut into ½ inch chunks. Place on tray.

Cut radicchio into quarters keeping core intact. Set 3 quarters aside. Cut one quarter in half and place on tray.

Mix together 3 tbsp. of olive oil, 1 teaspoon ground cumin and 1 tsp. of salt. Drizzle over vegetables. Turn them to coat both sides.

Bake in preheated oven for 15 minutes. Remove radicchio from tray and set aside. Flip the onions and sweet potatoes and continue roasting for another 8-10 minutes or until sweet potatoes are tender. Remove from oven and let cool slightly. Reduce oven to 350°F.

Remove core from radicchio and onions and set aside with the sweet potatoes.

Place walnuts on same tray and roast for 5-6 minutes. Chop and add to vegetable mixture. Chop parsley and add to vegetables.
For the rice
Bring approximately 4 cups of water to a boil. Rinse rice and add to boiling water. Turn heat down and simmer for 20 minutes or until tender but still toothsome.

Drain and place in large bowl. While still warm, stir in 2 tbsp. olive oil, 2 tbsp. lemon juice (or half a lemon) and ½ tsp. salt.
Tahini honey dressing
Stir together tahini, ice water, lemon juice, olive oil, honey, salt and cumin. It will appear to seize but continue mixing and it will become smooth and creamy. Adjust water amount as necessary to the consistency where it will barely drip off of a spoon.
Assembly
Toss together the rice with the vegetables, nuts and parsley. Taste and adjust seasoning. Drizzle with dressing just before serving and serve extra on the side.
Notes
Make ahead - Reserve toasted nuts, parsley and dressing. Serve warm or at room temperature. Warm, covered with foil, in a 350 F oven for 15-20 mins or in the microwave. Garnish with nuts, parsley and dressing just before serving. 
Storage - This salad can be kept, covered in the fridge, without the dressing, for one week.
Dressing can be kept, covered in the fridge for one month.
Nutritional facts are based on one serving of salad and are an estimate only. 
Nutrition
Serving:
1
serving
|
Calories:
238
kcal
|
Carbohydrates:
14
g
|
Protein:
3
g
|
Fat:
20
g
|
Saturated Fat:
3
g
|
Polyunsaturated Fat:
5
g
|
Monounsaturated Fat:
11
g
|
Cholesterol:
1
mg
|
Sodium:
841
mg
|
Potassium:
379
mg
|
Fiber:
3
g