This recipe makes a large batch for you to enjoy for a few days. Mix and match the components by serving the vegetables as a side with dinner, tossing chickpeas on any dish where you want to bump up the protein, and using the dressing as a dip or drizzled on nearly anything!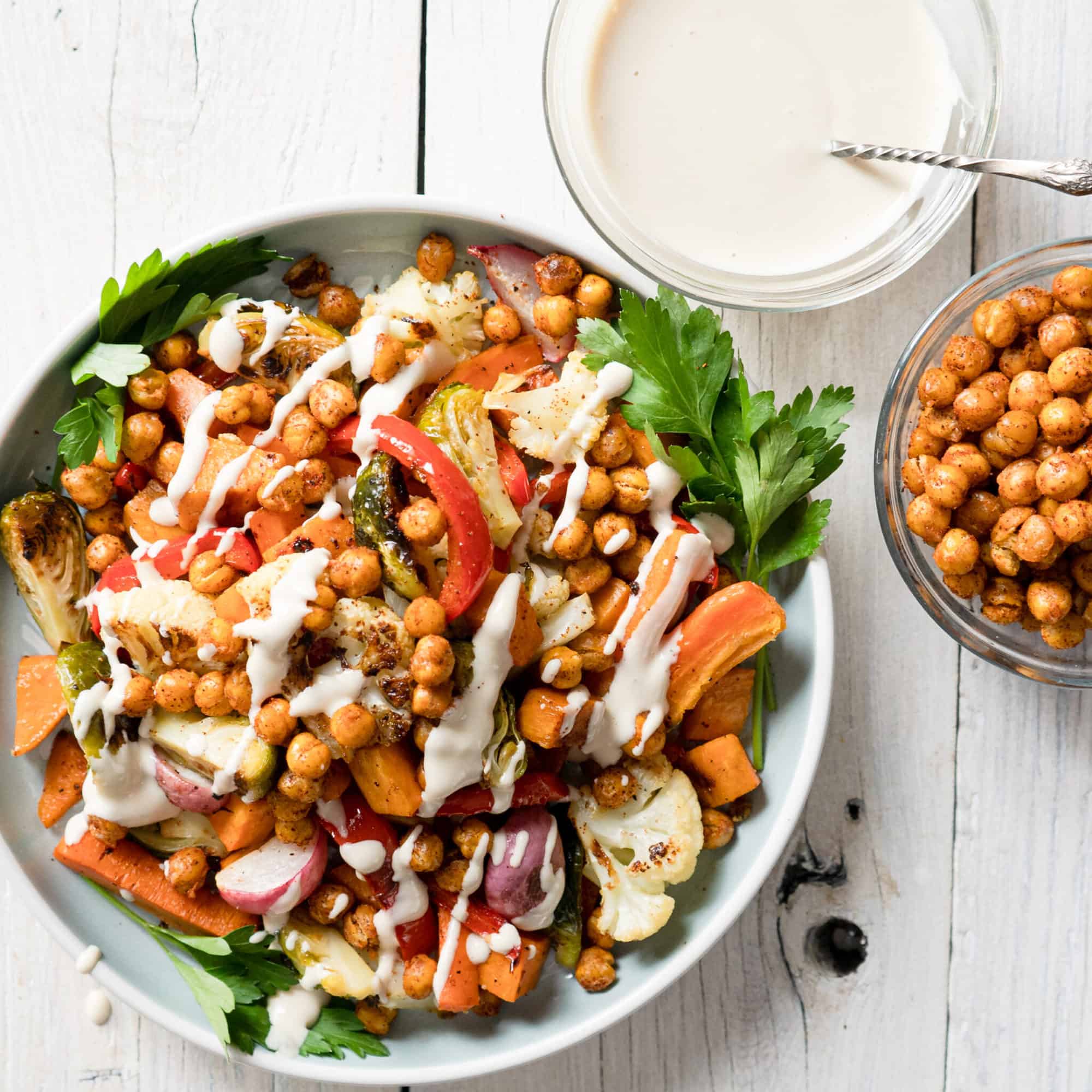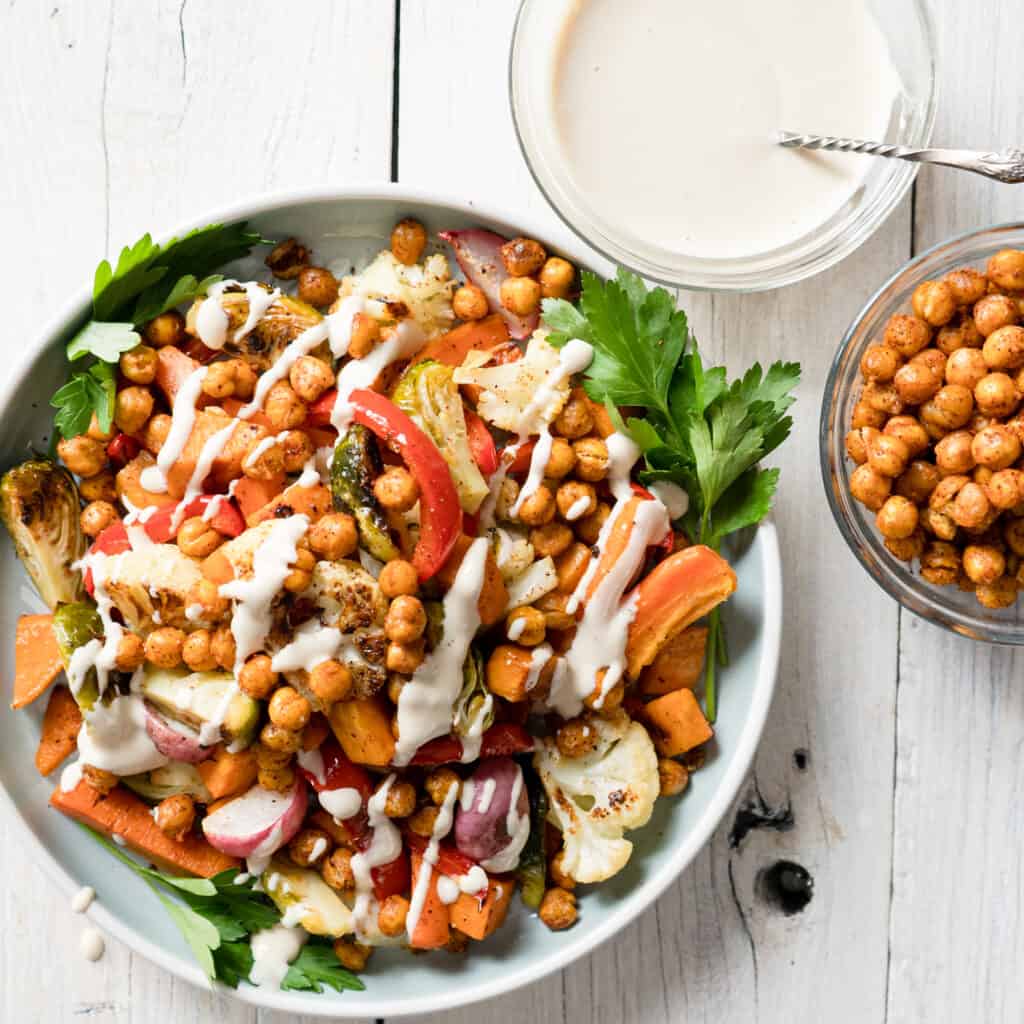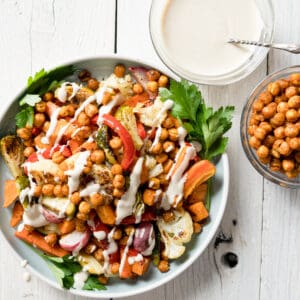 Print Recipe
Roasted Vegetable and Spiced Chickpea Salad with Tahini Dressing
Mix and match your veggies to be any combo you enjoy. Top with spiced chickpeas and tahini dressing for a delicious meal or side dish!
Ingredients
VEGETABLES
2

medium carrots,

peeled and cut into 2" sticks, 2 cups

1

medium sweet potato,

peeled and diced, 2 cups

1

red bell pepper,

cored and sliced ½ inch thick, 1 cup

1

small head cauliflower,

cut into small florets, 3 cups

10

radishes,

rinsed and cut in half or quarters depending on size, 1 cup

8

Brussels sprouts,

halved or quartered depending on size, 2 cups

4

tbsp

olive oil

1

tsp

salt

freshly ground black pepper to taste
SPICED CHICKPEAS
2

cans

(425g/15oz) chickpeas, drained, rinsed, and dried well, 4 cups

2

tbsp

olive oil

½

tsp

salt

1

tsp

ground cumin

2

tsp

chili powder

¼

tsp

cayenne pepper
LEMON TAHINI DRESSING
½

cup

tahini paste

Juice of one lemon,

2-3 tbsp.

½

tsp

salt,

plus more to taste

¼

cup

ice water
Instructions
SPICED CHICKPEAS
Preheat the oven to 400 degrees F. Line a baking tray with parchment paper.

Carefully dry the chickpeas, removing any loose skins. I do this by laying them on a dish towel lined tray with another towel on top and rub to dry. Place in a medium bowl and toss with olive oil and salt.

In a small bowl mix cumin, chili powder, and cayenne. Set aside.

Spread chickpeas onto a lined baking tray and roast in the oven for 15 minutes. Turn the tray and shake the chickpeas around for even cooking. Continue roasting for another 15 minutes, or until desired crispiness is reached. Meanwhile prepare the vegetables and tahini dressing.

Remove from the oven and toss immediately with the spices. Stir to coat and place back on the baking tray to cool. They will continue to crisp as they cool.
ROASTED VEGETABLES
Preheat the oven to 400 degrees F. Line 2 baking sheets with parchment paper.

Place all prepared vegetables into a large bowl and toss with 4 tbsp. of olive oil. Divide in half onto each tray. Don't overcrowd the vegetables or they will steam instead of roast. Sprinkle each tray with ½ tsp salt and freshly ground pepper to taste. Place in the oven and roast for 30 minutes, stirring and rotating pans halfway through cooking.
LEMON TAHINI DRESSING
Stir the tahini to mix in any separated oil. This will take a couple of minutes. In a medium bowl, whisk together tahini paste, lemon juice, salt, and ice water. It will appear to seize at first but as you continue whisking it will smooth out and become light in colour. If it doesn't, it needs more water. Add a teaspoon at a time until it reaches the right consistency which should barely drip from your whisk. Taste and add more salt if necessary.
ASSEMBLY
This salad can be served warm or cold. Top vegetables with spiced chickpeas and drizzled with tahini dressing. Add approximately ¼ cup of chickpeas and 2 tbsp of dressing to every 2 cups of vegetables for a balanced lunch.
Notes
STORAGE - Store roasted vegetables in an airtight container in the refrigerator for up to 5 days. Roasted chickpeas are best stored loosely covered at room temperature to retain their crispiness. They will lose their crispness but will last for 4-5 days at room temperature. Store tahini dressing in a jar or sealed container for 2 weeks. Loosen with a bit of water, if necessary, before serving.
SUBSTITUTIONS – Use any combination of vegetables you like. Some other great additions are broccoli, mushrooms, zucchini, red onion, etc. FOLLOWING THE LIVY METHOD?
HAVE IT FOR DINNER: Serve this salad as a side dish to your favourite protein for dinner. Or increase the amount of chickpeas and add things like cheese, hemp heart, nuts and/or seeds.
ADD LEAFY GREENS: There are Brussels sprouts in the mix which work as both a veg and leafy green but if you are looking to bump up your leafy greens, serve on a bed of your favourite leaves or toss them up with the vegetables before serving.