Cold winter days are made for warm and hearty salads. This Warm Lentil Salad with Roasted Vegetables and Bacon covers all the bases. It's a complete meal in one dish! Garnished with feta cheese, tossed with some arugula and a Maple Dijon Vinaigrette you will be putting this on heavy rotation!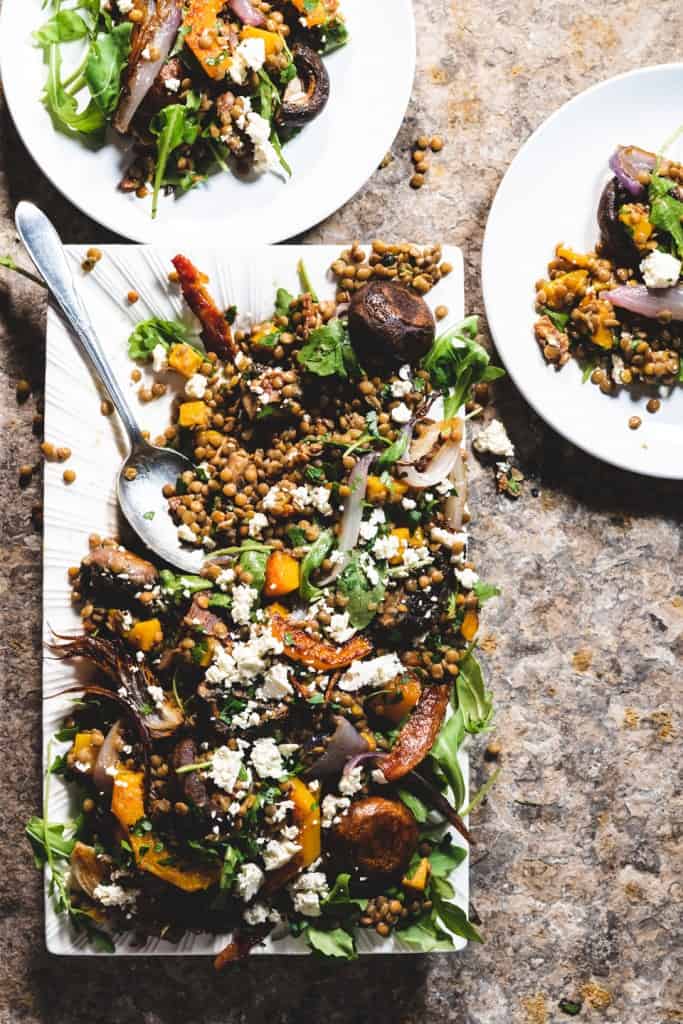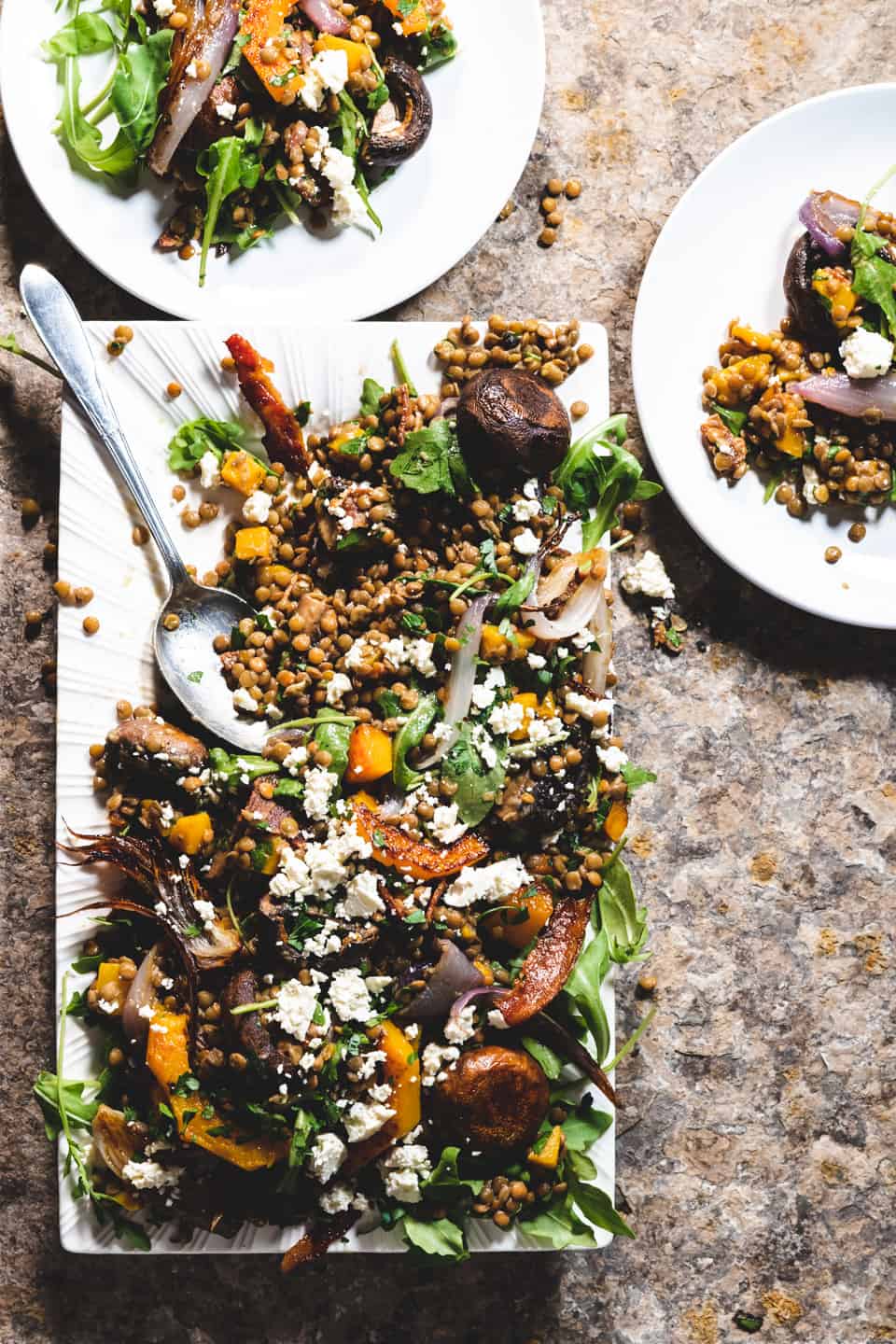 The ingredients are basic and possibly things you already have on hand or can easily find at the grocery store. Omit the bacon and use vegetables stock or water for a vegetarian version and also remove the feta cheese to make it vegan.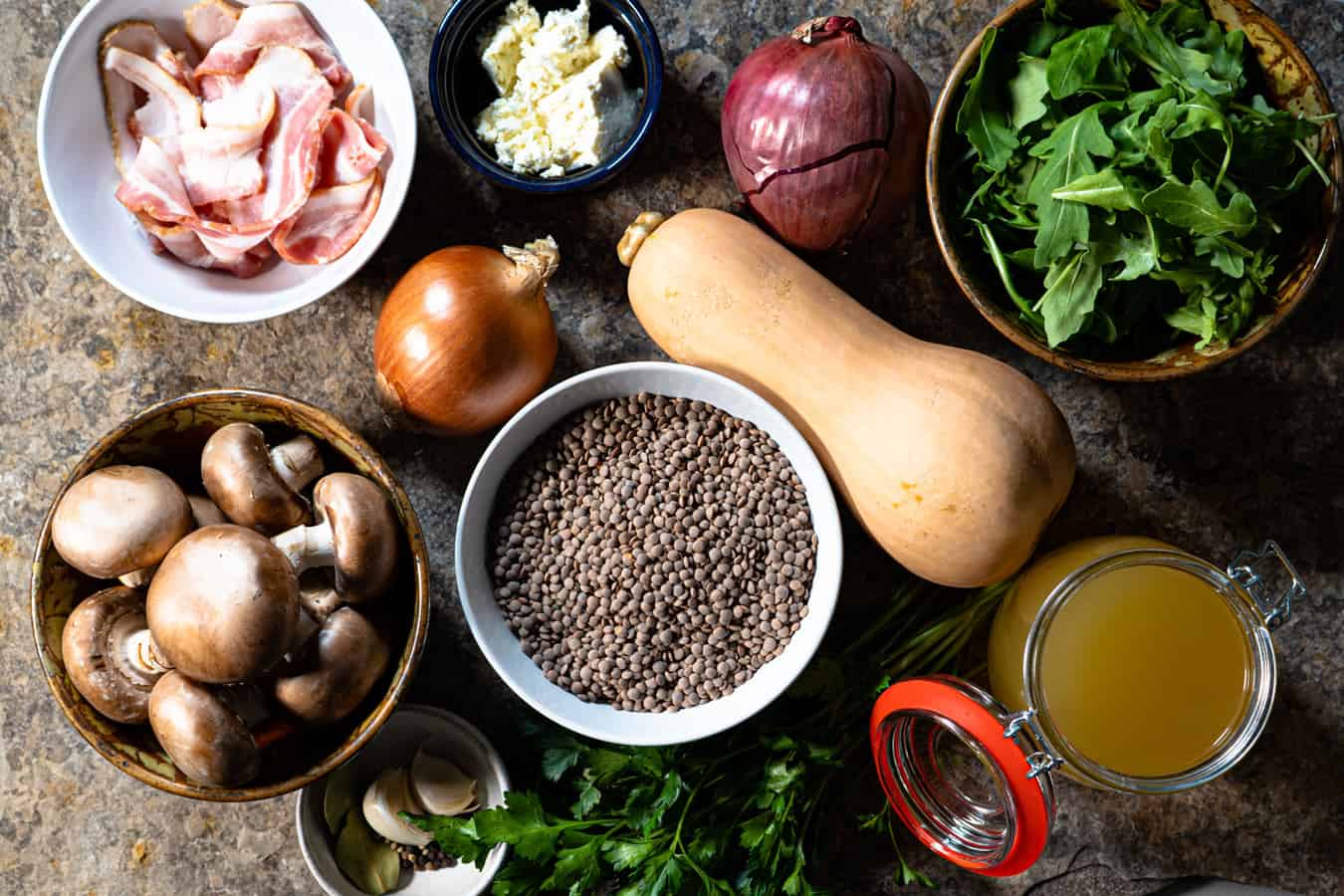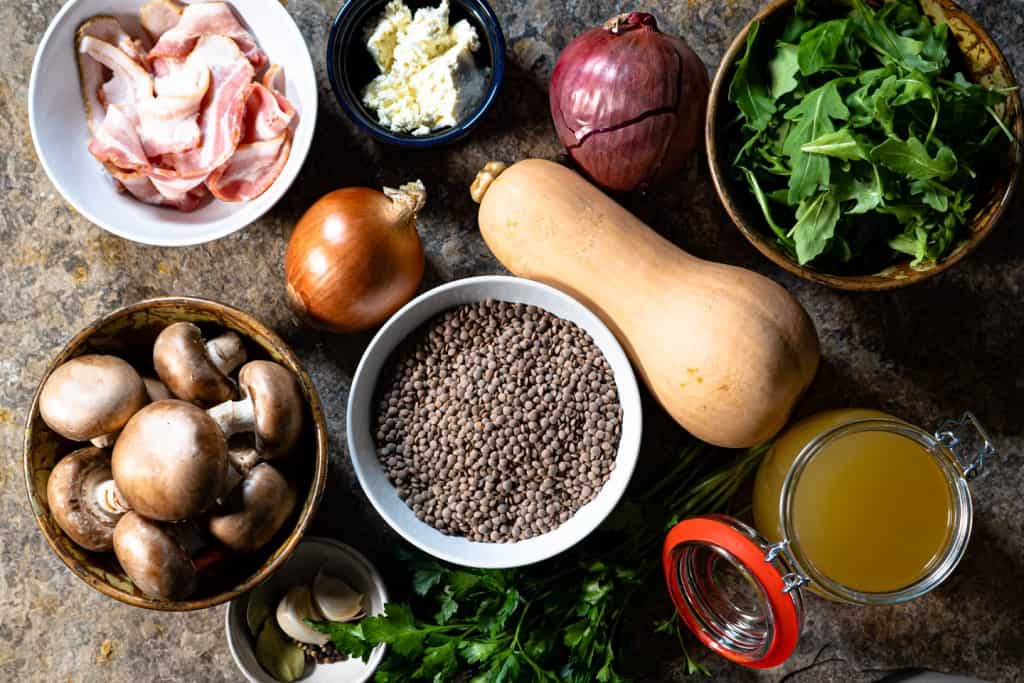 How to make Warm Lentil Salad with Roasted Vegetables and Bacon?
This salad comes together in a snap by roasting all the vegetables at once with the bacon. Meanwhile, cook the lentils and make the vinaigrette. I like to keep the veggies chunky but feel free to cut them up anyway you like. Keep in mind if you go smaller the baking time may be a bit less. I cut the squash into ¾ inch - 1 inch cubes and the onion into wedges leaving the root end in tact so they don't fall apart. If you'd like to see how to peel and cut a squash, check out the step-by-step instructions in this post.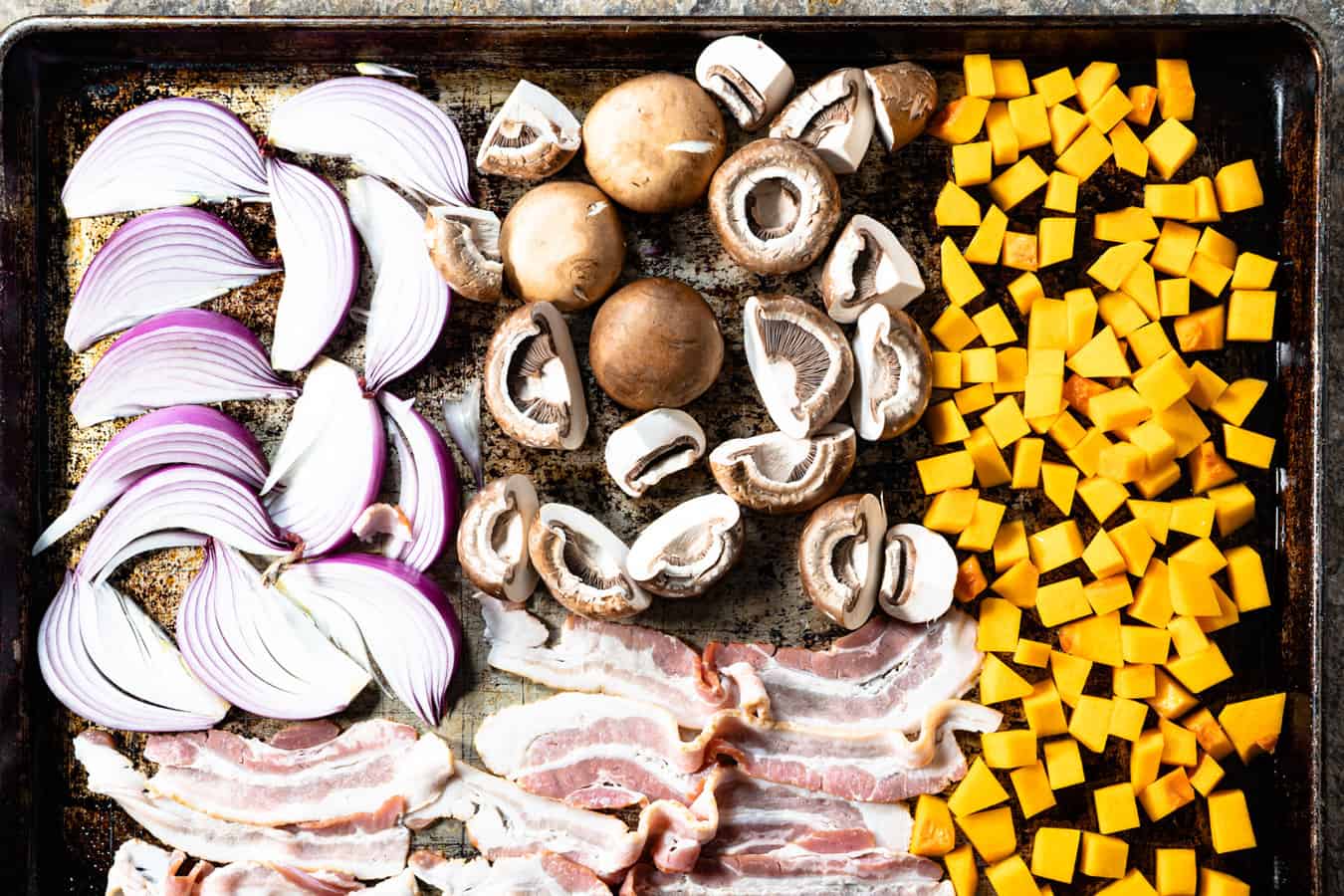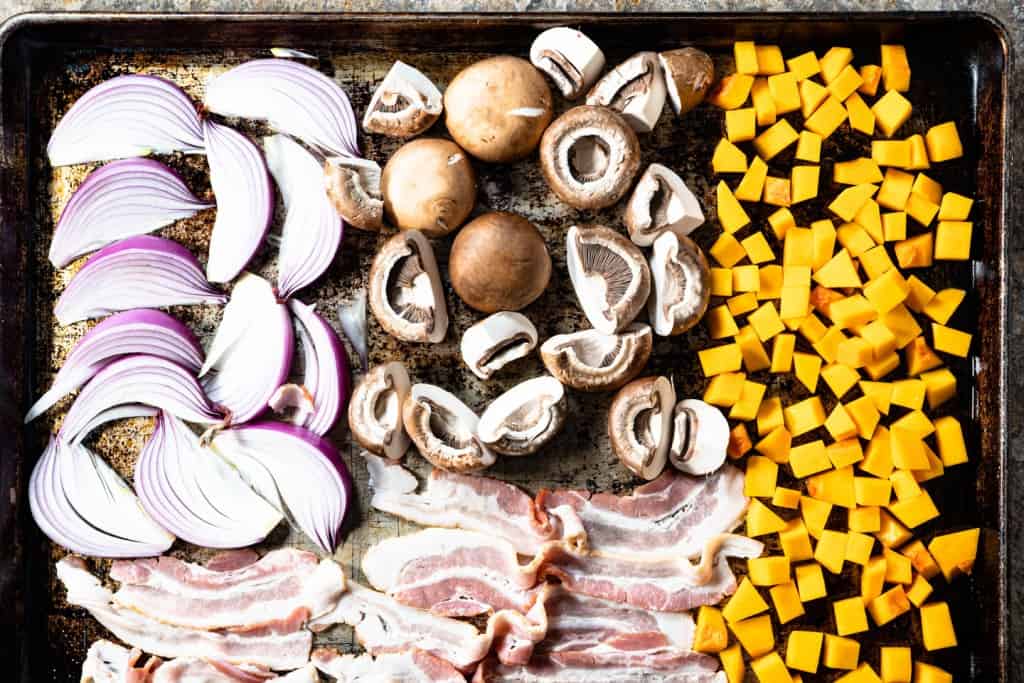 Drizzle the vegetables with a little olive oil and sprinkle with salt. Roast at 400 ℉ for 20-30 mins, turning half way through, or until bacon and vegetables are cooked.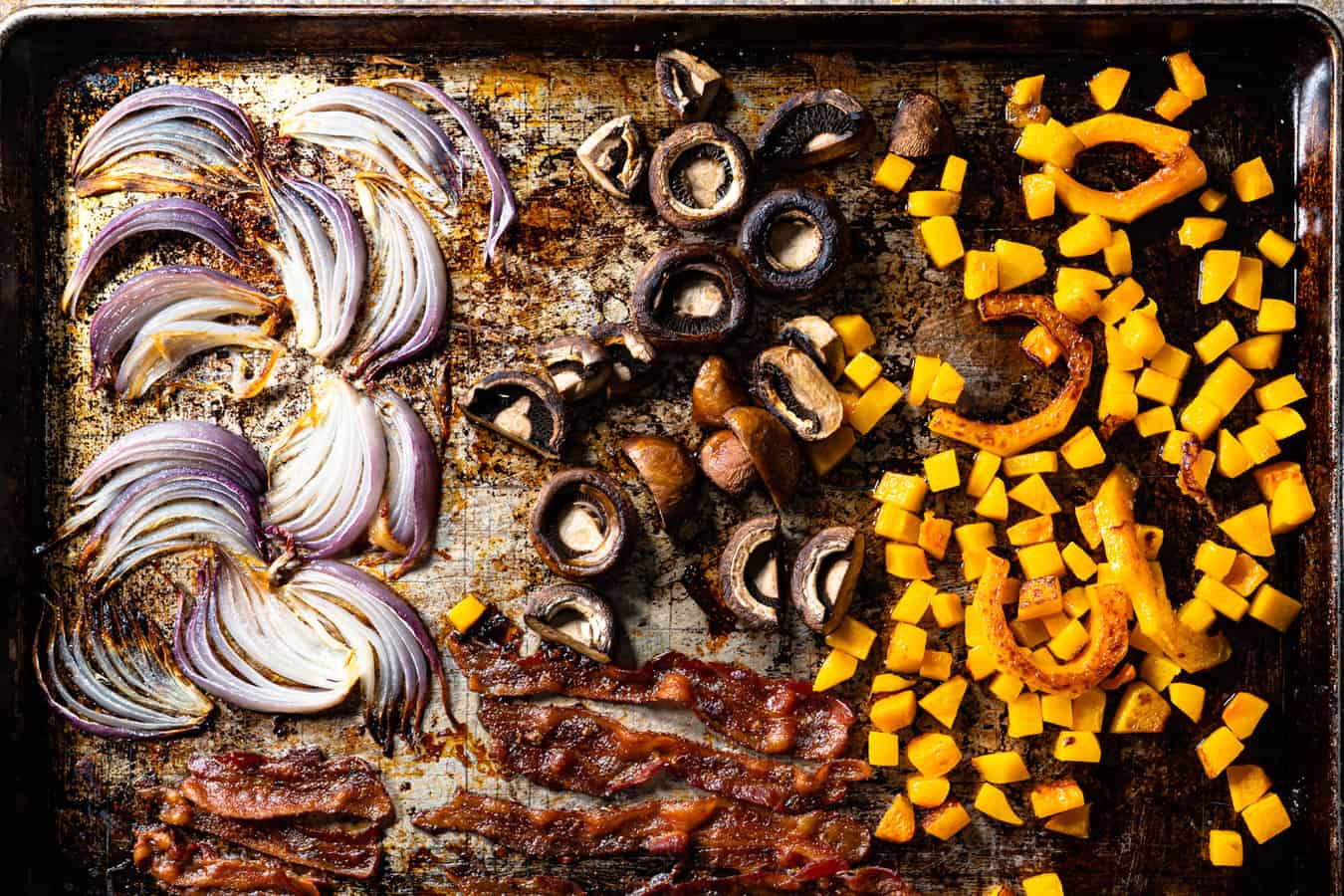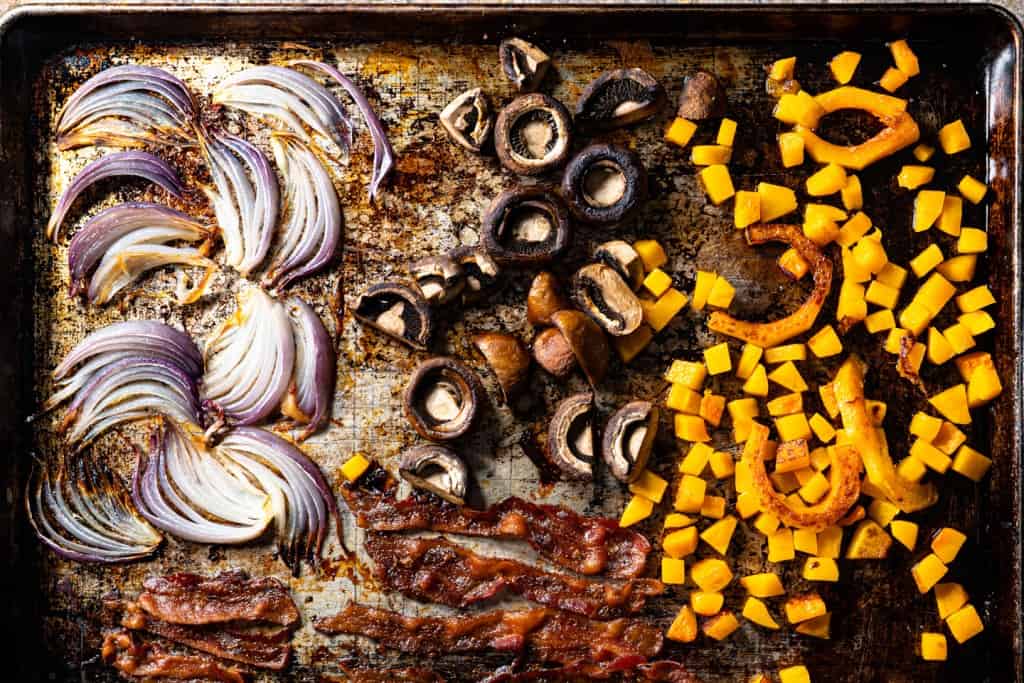 Meanwhile, cook the lentils...
Which type of lentils should I use?
For this recipe I'm using brown lentils. They are the most versatile of all the lentils therefore I always have some in my cupboard. All lentils are high in protein, fiber, and many other vitamins and minerals but different varieties are better for certain dishes. Red and yellow, for example, will break down during cooking so are preferred for things like soups and curries where they also act as a thickening agent. Whereas brown, green and black hold their shape after cooking so are best in a salad or as a warm side dish. Lentils should be rinsed but don't need to be soaked which makes them quick and easy to prepare.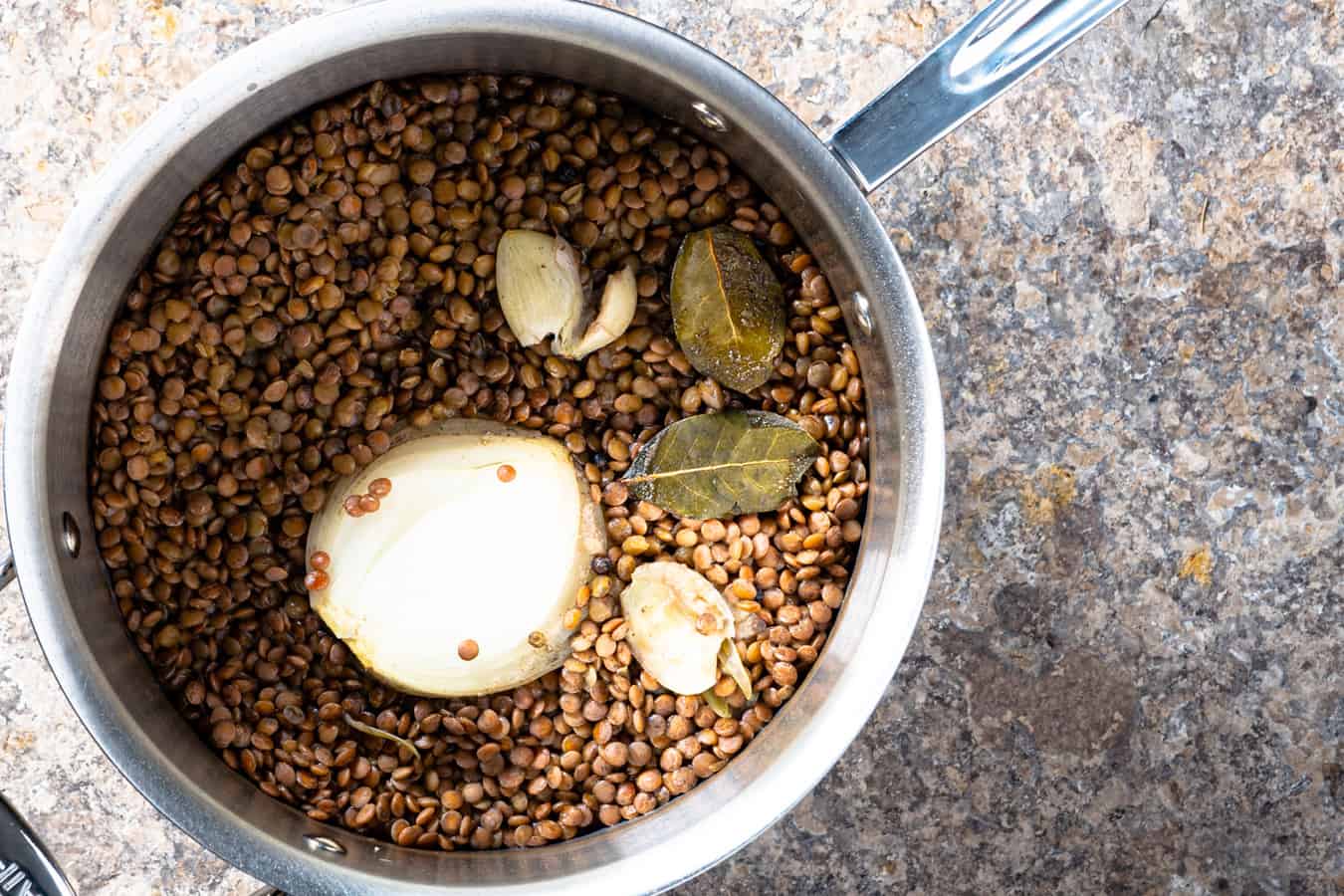 How do I cook brown lentils?
To add even more flavour to this delicious salad I add some aromatics to the lentils while cooking. You can cook them in straight up water if you like but with the extra ingredients you flavour the lentils themselves while they cook. Half an onion (any type), some garlic, bay leaves and peppercorn will suffice. Then I go the extra mile and cook them in chicken stock instead of water because I always have some on hand. If you'd like to make your own here's my recipe. You can also use vegetable stock or just plain water. Place everything in a pot, bring to a boil, then turn heat down to a gentle simmer. Let simmer for 15-20 mins or until al dente.
Maple Dijon Vinaigrette
While your vegetables and lentils are cooking away make the vinaigrette.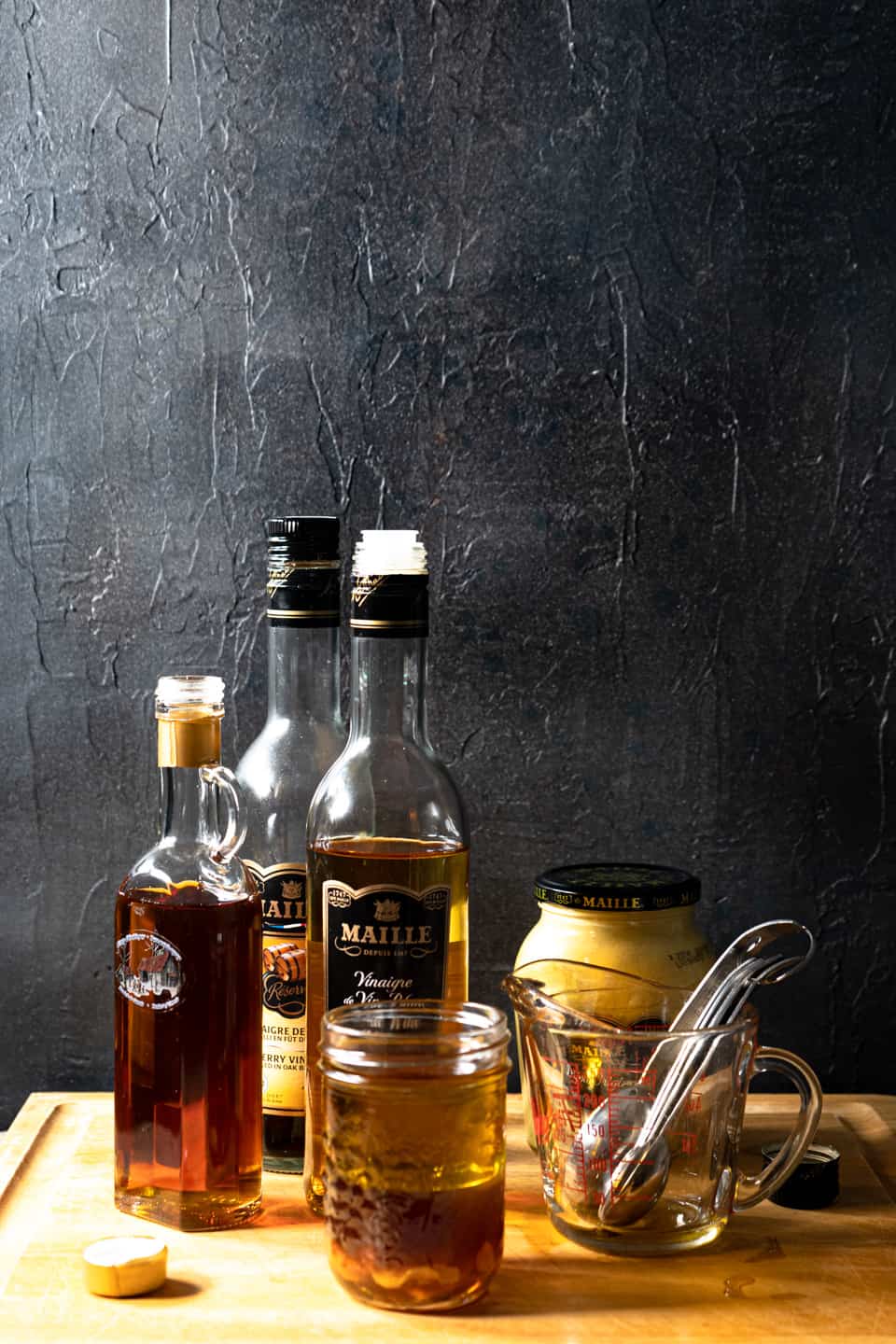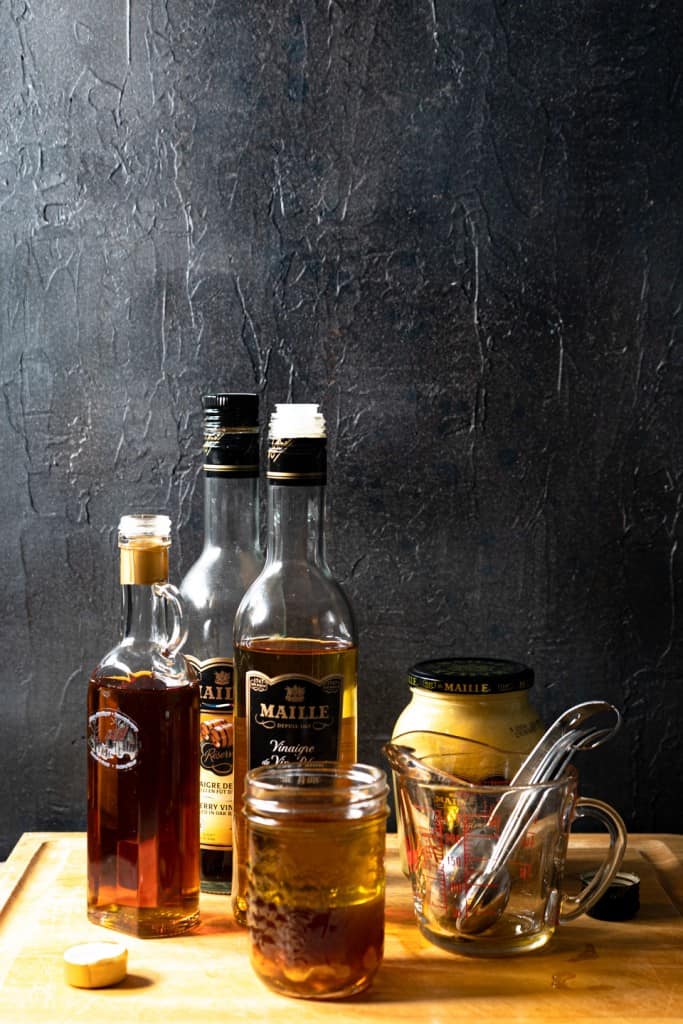 This recipe comes together easily by using a mason jar. It's my favourite vessel to make any salad dressing. Just put everything in and give it a shake! This vinaigrette contains white wine and sherry vinegar, maple syrup, Dijon mustard, extra virgin olive oil and salt and pepper. Don't have sherry vinegar? No problem, just use all white wine vinegar. This recipe makes enough for the salad with no leftovers. You can always double up so you have some left to put on any of your favourite salads. It's delish!
How to put everything together
When the lentils are done, drain and discard the aromatics. Put lentils back in the pot and toss with about ⅔ of the vinaigrette while they are till warm. Keep warm by covering with a lid. Once the veggies and bacon are done, remove from oven and place vegetables in a large bowl. Rip or cut bacon into chunks and add to vegetables. Add 3-4 large handfuls of arugula. Drizzle remaining vinaigrette over and mix. Add warm lentils and parsley. Gently mix to combine.
Arrange on a serving platter, sprinkle generously with feta cheese and serve immediately or at room temperature.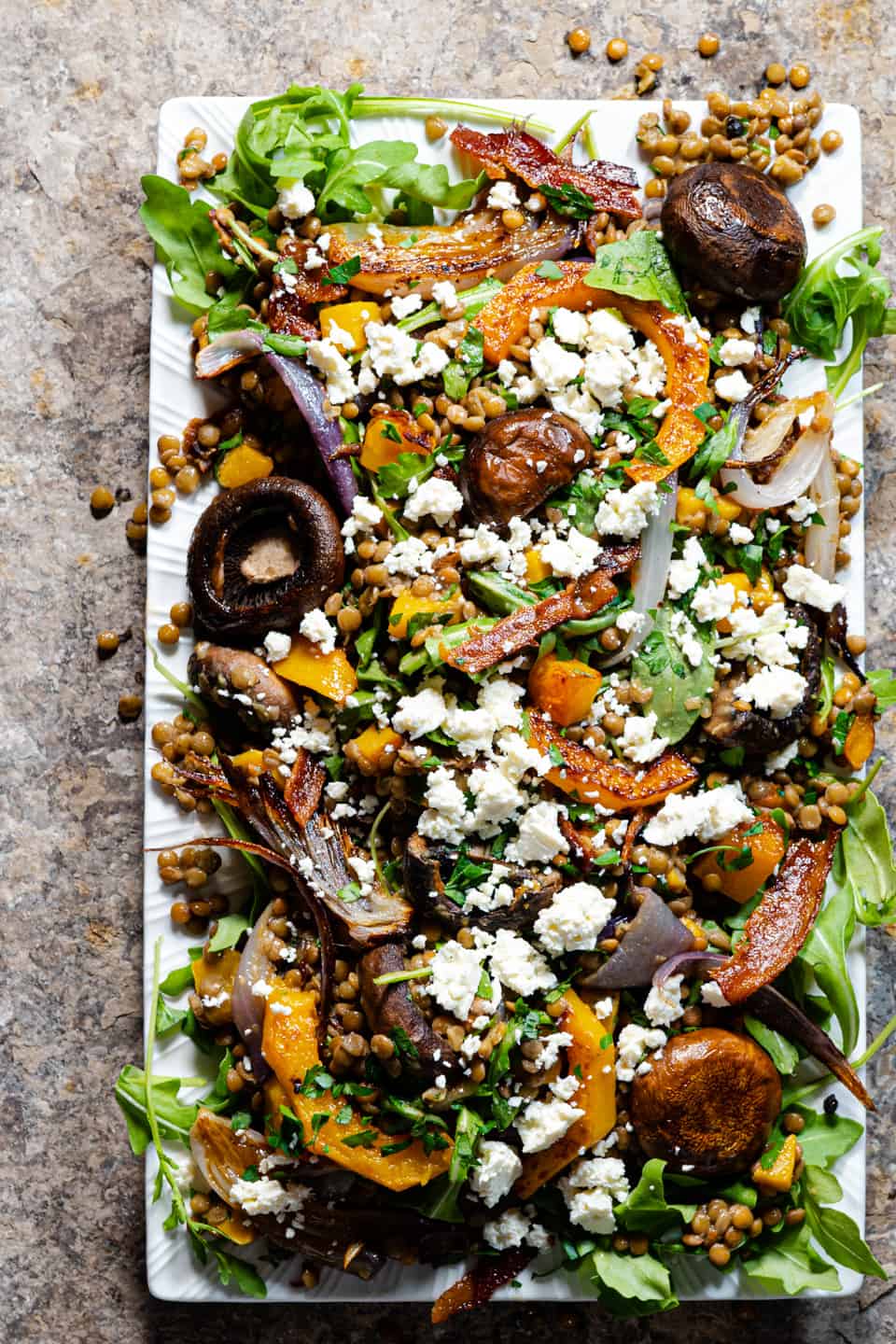 Can I prepare this salad in advance?
Yes you can! The cooked lentils can be stored in the fridge for 5 days and the roasted vegetables for 3 days. The bacon will lose it's crispness so I would cook that the same day as you plan to serve. The vinaigrette can be made up to a week in advance or longer if you keep it in the fridge (one month). You can reheat everything in the microwave or in a covered dish in a 350 ℉ oven for approximately 20 mins. The entire assembled salad will last for 3-5 days in the fridge.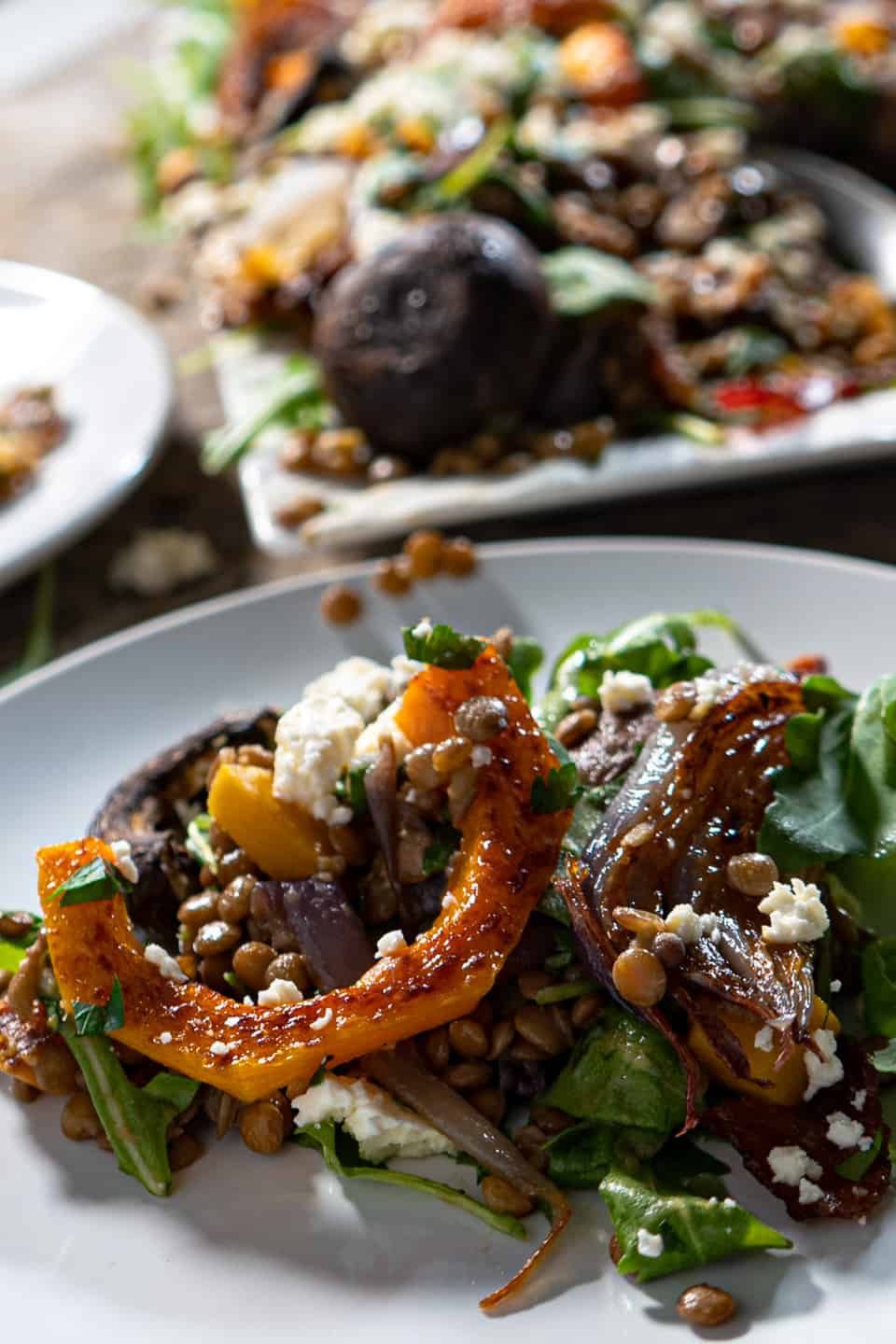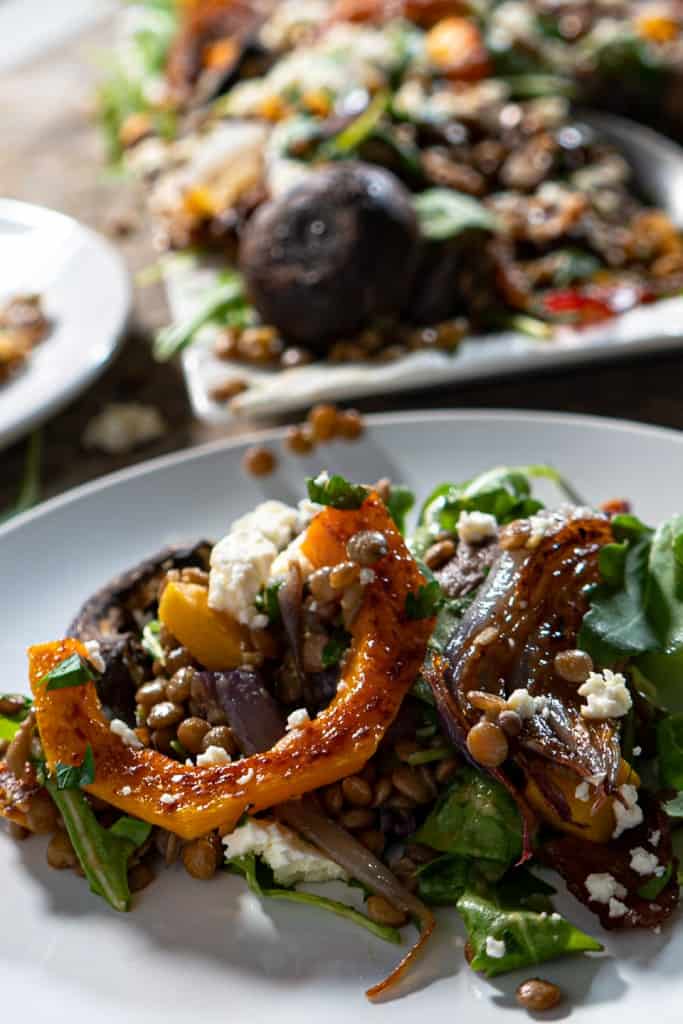 Other recipes you might enjoy
As always, leave your questions and comments in the comment section under the recipe. I love hearing from you!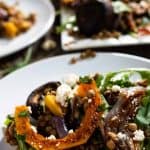 Print Recipe
Warm Lentil Salad with Roasted Vegetables, Bacon and Maple Mustard Vinaigrette
This main course salad will keep you warm on those cold winter days. It also happens to be packed with nutrients. Omit the bacon to make it vegetarian and also the feta cheese to make it Vegan.
Servings:
6
people, as a main course
Ingredients
Maple Mustard Vinaigrette
3

tablespoon

white wine vinegar

2

tablespoon

sherry vinegar

1

teaspoon

Dijon mustard

1

tablespoon

maple syrup, pure

salt and pepper to taste

½

cup

extra virgin olive oil
Roasted Vegetables and Bacon
1

small

butternut squash (about 3 cups diced) peeled and diced

10

medium to large

white or brown mushrooms, cut in half or quarters

1

medium

red onion, peeled and cut into 6-8 wedges

6

slices

bacon

2

tablespoon

olive oil
Lentils
2

cups

brown lentils

½

medium to large onion, peeled

2

cloves

garlic, peeled and crushed

2

bay leaves

1

teaspoon

peppercorns

4

cups

chicken or vegetable stock or water
Assembly Ingredients
4

cups

packed baby arugula leaves

½

cup

parsley, chopped

½

cup

Feta cheese
Instructions
Maple Dijon Vinaigrette
Mix all ingredients together in a jar or other container with a sealed lid. Put the lid on and shake vigorously. Set aside
Roasting the Vegetables and Bacon
Place each ingredient on a baking tray, or divided over two, and drizzle vegetables with olive oil.

Bake for 20-30 mins, rotating half way through, or until bacon is cooked and vegetables are soft.
Cooking the Lentils
Rinse lentils under cold water.

Place in a pot with the onion, garlic, bay leaves, peppercorns and stock or water

Bring to a boil and reduce heat to a gentle simmer. Cook for 15-20 mins or until lentils are soft but not falling apart.

Drain and discard onion, garlic, bay leaves and peppercorns.

Place back in pot and pour in ⅔ of the vinaigrette while lentils are still hot. Stir and let stand, covered, to keep warm while the vegetables finish roasting.
Assembly
Place the warm vegetables in a large bowl and drizzle with remaining vinaigrette. Chop or rip up the bacon and put in bowl with veggies. Add the arugula and parsley and stir. Add the warm lentils and stir gently until combined. Serve immediately.
Notes
For best timing when serving the salad right away, prep the vegetables and have the lentils with aromatics and stock or water ready to go so both things can cook at the same time. Prepare the vinaigrette first or while everything else is cooking. 
Salad can be reheated in a microwave or in a covered dish in the oven at 350 for 20-30 mins. 
Keeps in the refrigerator for 5 days.
Omit the bacon for a vegetarian version and both the bacon and cheese for vegan. 
Vinaigrette, if you make extra, can be stored in the fridge for one month or at room temperature for 2 weeks.