Everyone needs a good butternut squash soup recipe. This Roasted Butternut Squash and Fennel Soup is easy to prepare and packs a ton of flavour! It will warm your soul on those cooler days. Store some in the freezer to have it on hand for a quick meal any day of the week!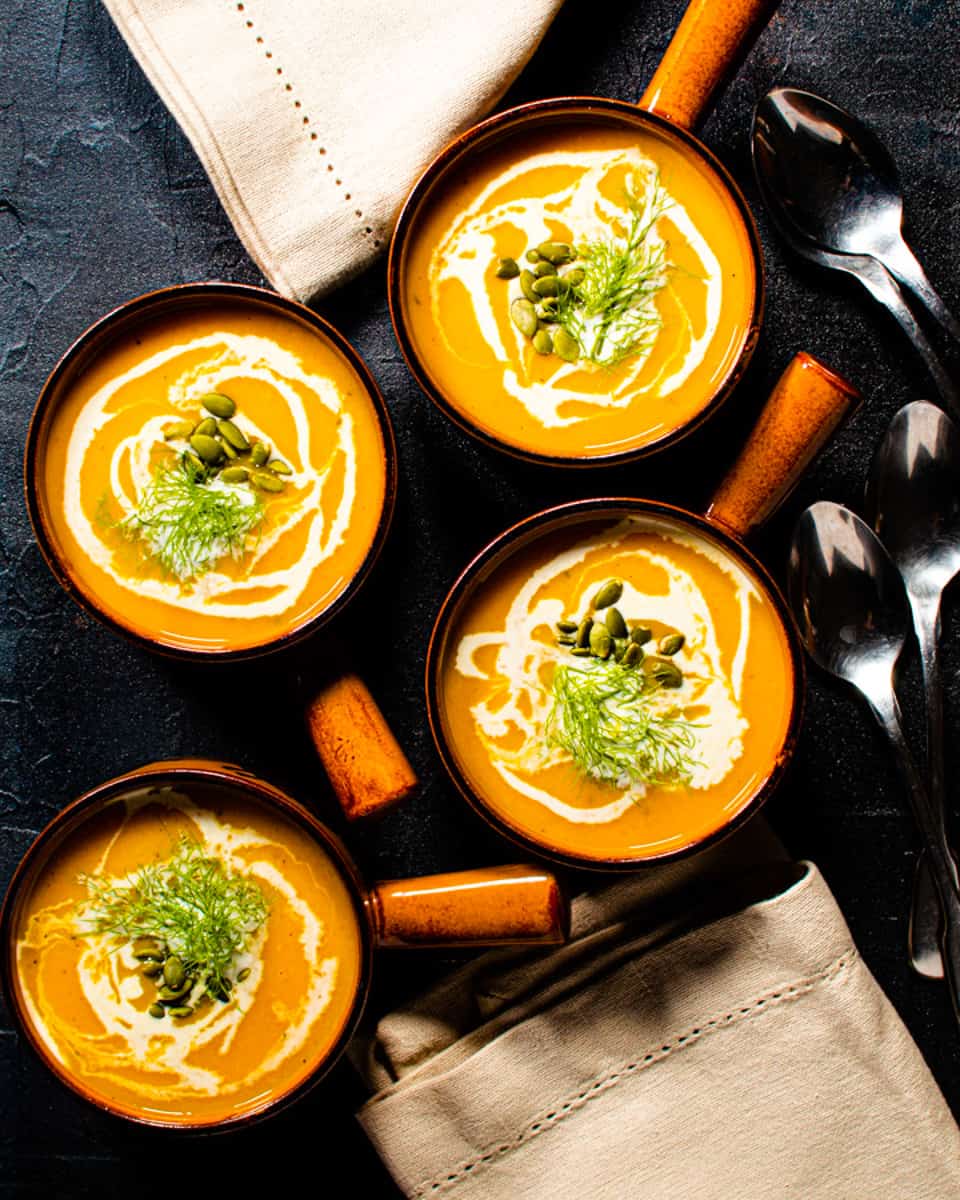 The addition of fennel and apple really kicks this soup up a notch. I've also added in fresh sage, ground nutmeg, and a pinch of cayenne pepper to round out the flavours. It's a perfect combination to get you feeling all the Fall vibes. If you don't have, or don't like any of those you can switch things up. A touch of cinnamon and chopped parsley, some curry powder and cilantro...ground cumin...etc. For a different spin on a squash soup, take a look at this recipe for Thai Curry Squash and Lentil Soup.
Jump to:
Ingredients needed for this soup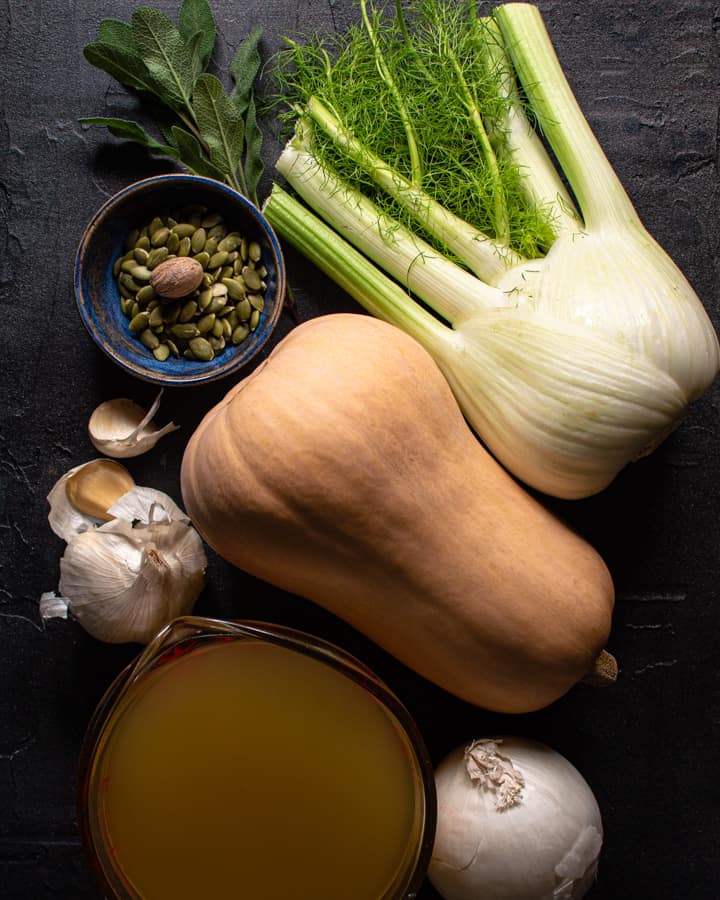 butternut squash
fresh fennel bulb (anise)
garlic
white onion
apples
fresh sage
nutmeg
vegetable or chicken stock
toasted pumpkin seeds
heavy cream (optional)
cayenne pepper (optional)
salt and pepper
olive oil
You can use homemade or store-bought vegetable or chicken stock for this recipe. I usually have homemade vegetable or chicken stock in my freezer but I always keep some store-bought on hand in case I run out. There are many good quality brands on the market that are very reasonably priced. Look for minimal ingredients, no additives, and low sodium. When organic brands are on sale I stock up (no pun intended).
Substitutions
Butternut squash - any winter squash will work such as acorn, buttercup, Hubbard...etc.
Fennel - I highly recommend the fennel in this soup but if you can't find it or just don't like it, you can substitute with about 1-2 cups of chopped celery.
Apples - can be substituted with 2 cups of diced carrots.
White onion - Spanish, yellow or leeks are all great substitutes.
Fresh sage - use 1 teaspoon of dried instead of fresh.
Heavy cream - this is an optional addition but you could also add some Greek yogurt or sour cream. If you want to keep it lighter you can add milk but keep in mind not to bring the soup to a boil with the milk or it may separate. Coconut milk is a great dairy free option.
How to peel a butternut squash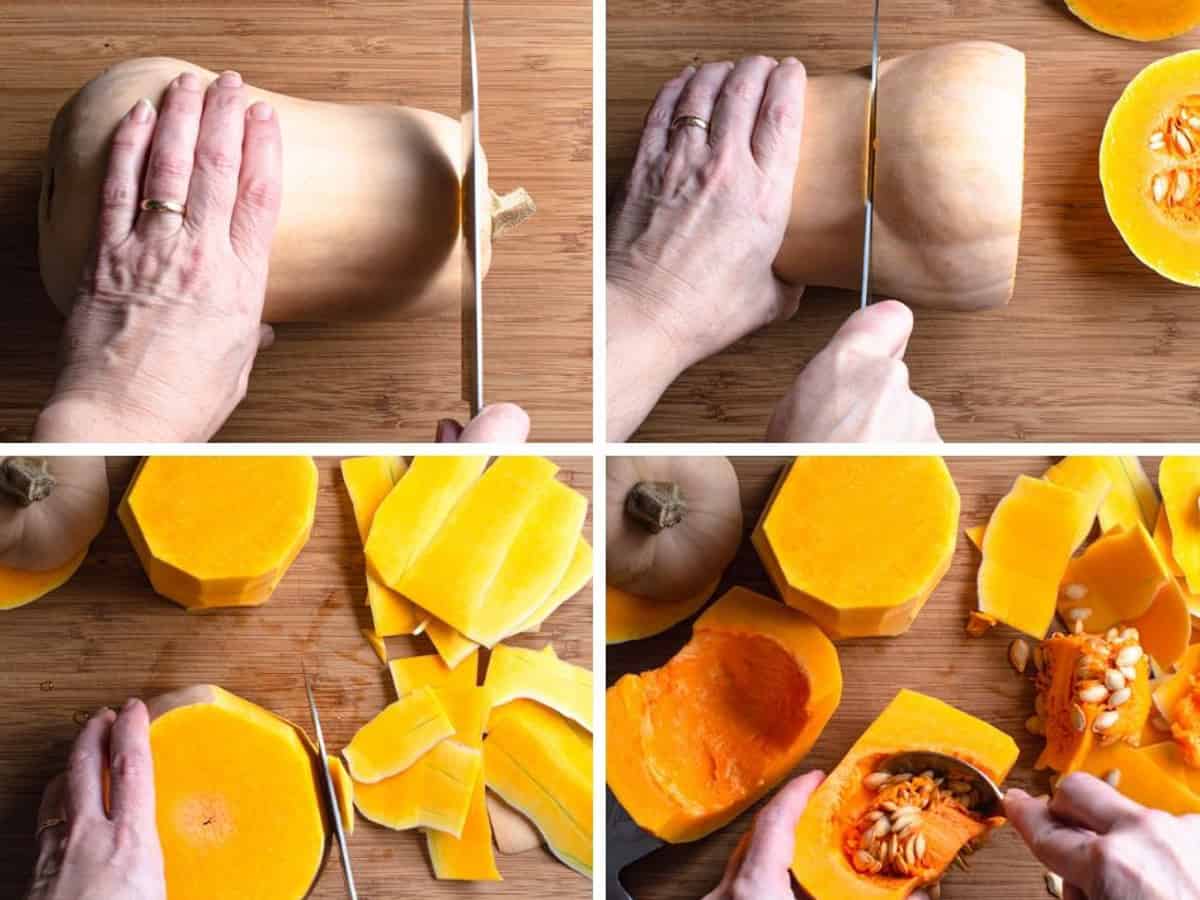 Over the years I have tried every which way to peel a squash. This is the method I landed on some time ago and the way I find easiest. The skin is very thick so using a vegetable peeler doesn't quite do the trick. A sharp knife ensures you get all the peel without having to go back and peel it a second time. It's quick and easy with little mess.
First cut the top and bottom off the squash. Then cut it in half, width-wise, right above the rounded bottom section. Stand each half on it's end. Using a sharp knife remove the skin from top to bottom, working your way around the sides. With the rounded bottom half you will probably need to go around it with a paring knife to remove a bit from the bottom edge that the knife will miss.
How to cut a butternut squash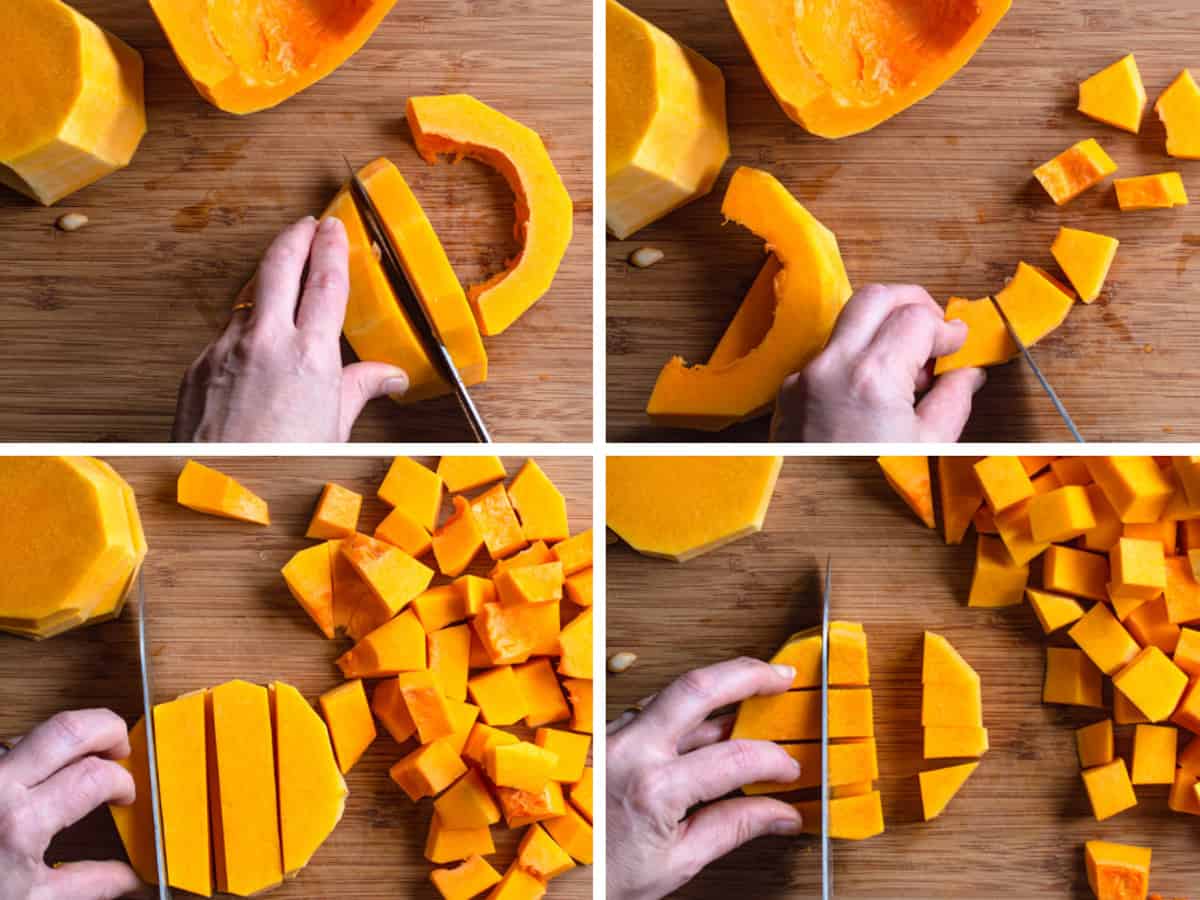 Slice each half into approximately ¾ inch slices. Stack 2 or 3 at a time and slice into sticks the same thickness. Then cut the sticks into cubes. Toss them into a large bowl.
How to cut a fennel bulb?
If you've never tried fresh fennel now's the time! It is such a lovely vegetable raw or cooked. It actually isn't a vegetable. Technically it's an herb but we use it as a vegetable. It has a texture similar to celery, but less stringy, and a very mild licorice flavour. You can save the fronds to use as a garnish for the soup. It's also delicious tossed into salads.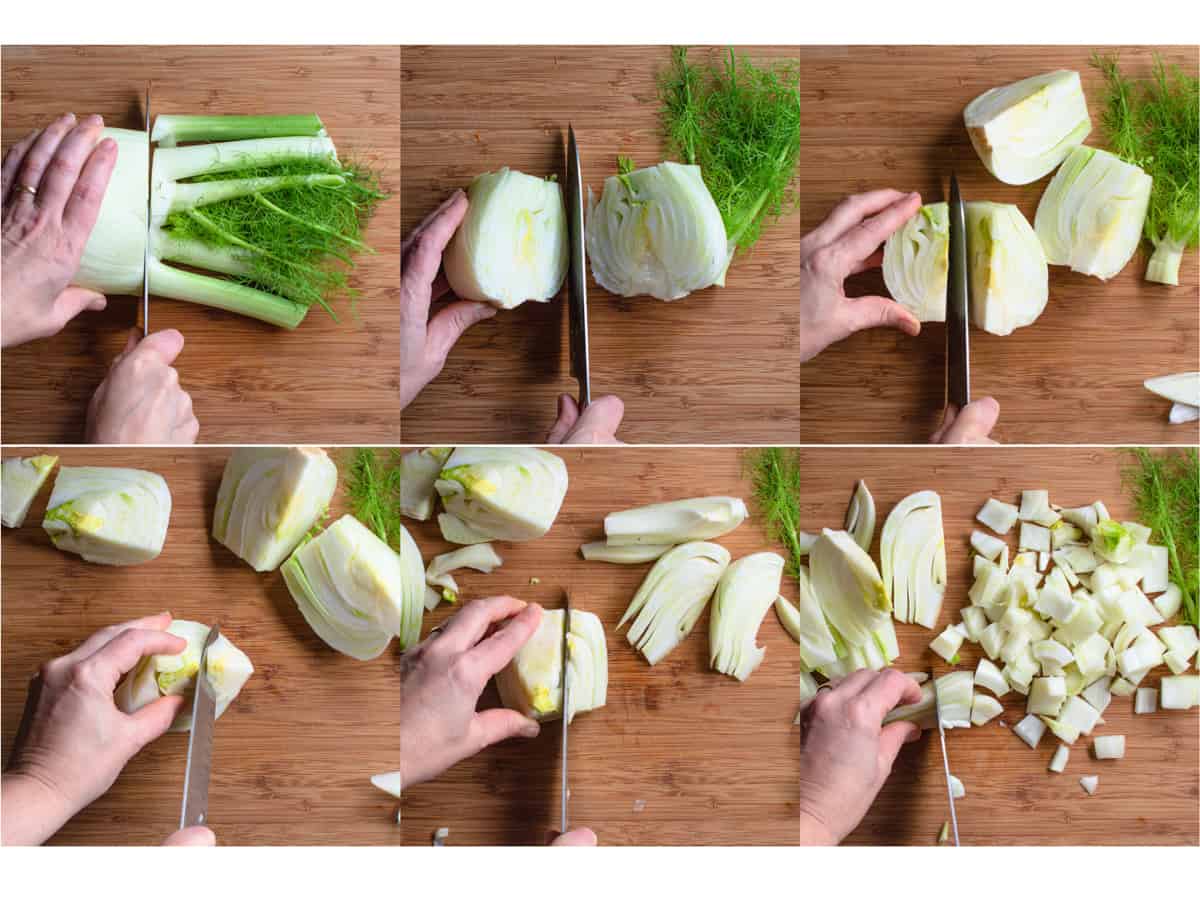 Cut the stems off and discard them. If you notice damaged or bruised outer leaves you can remove them or peel off the brown parts with a vegetable peeler. I always look for beautiful fresh bulbs to avoid having to peel off any layers. Cut into quarters lengthwise. Remove the core from each piece. Cut into slices and then into cubes. Toss into the bowl with the squash. Toss with some olive oil, salt, and cayenne pepper (optional), top with some halved garlic cloves, and roast in the oven for about 30 minutes.
How to make this recipe
Step 1 - While the vegetables are roasting, dice up a large onion and two apples. In a pot large enough to hold all the vegetable and stock, sauté the onion until it's very soft. I always do this at medium to low heat so the onions don't brown. Add the apples, chopped sage, nutmeg, and 1-2 teaspoon salt. Stir and set aside if the squash and fennel are still roasting.
Step 2 - Add the roasted vegetables to the soup pot when they are done and return to the heat. Add four cups of stock and bring to a boil. Whenever I make soup I start with only part of the amount of stock. Each pot of soup comes out a different thickness so I like to adjust that after pureeing. How thick or thin is a matter of personal preference so add as much or as little extra as you like. Once boiling turn the heat down to a simmer and cook for another 15-20 minutes. Remove from the heat and puree.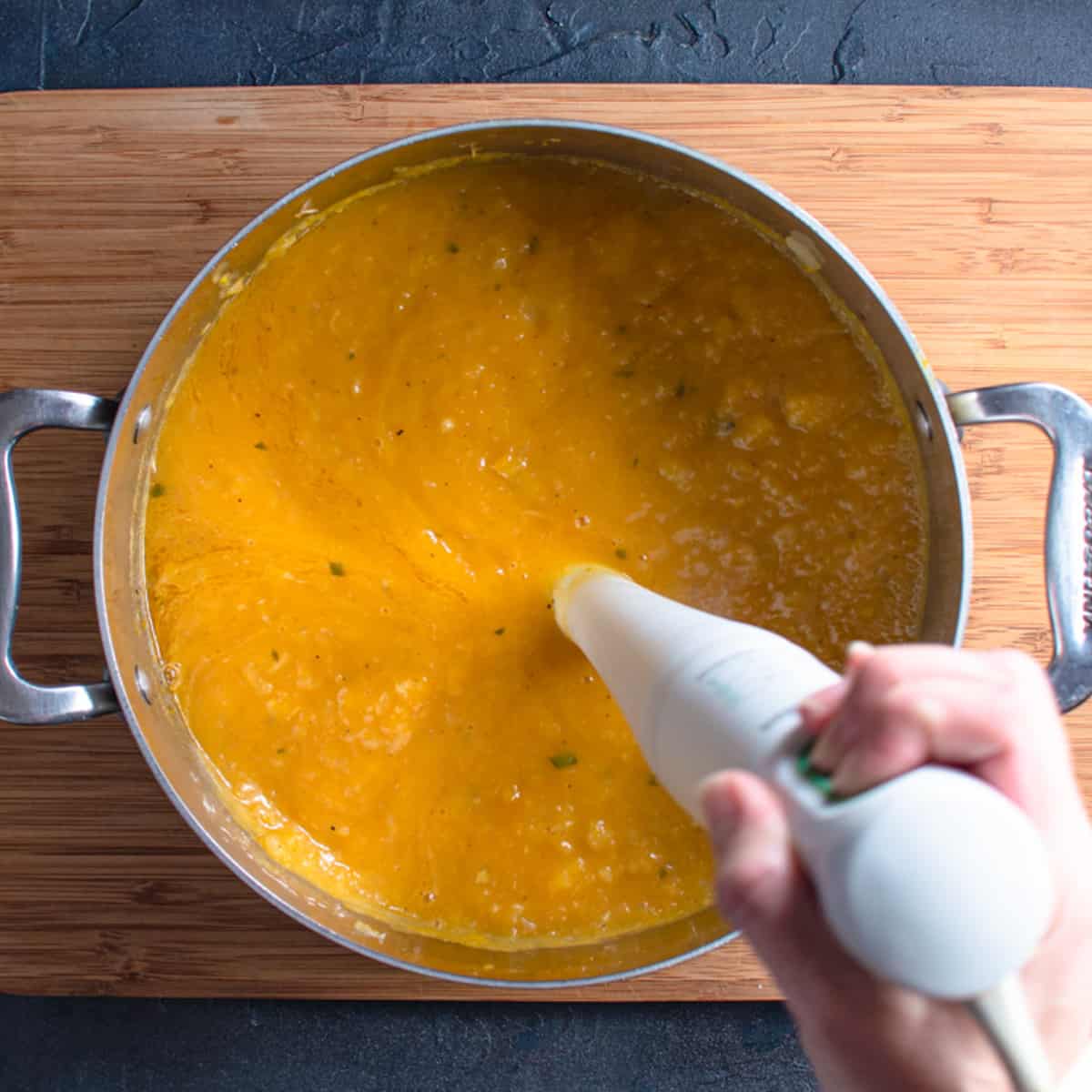 Best way to puree soup
The preferred way is dependent on how smooth you want your soup and what equipment you have. If you like a super silky texture then use a traditional blender. If you like a bit more texture, but still smooth, use a hand blender. One of the reasons I love a hand blender so much is you can just do it right in the pot with only a small piece to clean. I'm all about doing the fewest amount of dishes possible! I have a very old hand blender but this is the one I've had my eye on for the day mine bites the dust! CUISINART Hand Blender with Chopper Attachment. (affiliate link)
This is where I decide how much more stock to add. I added 2 extra cups for a total of 6 cups of stock.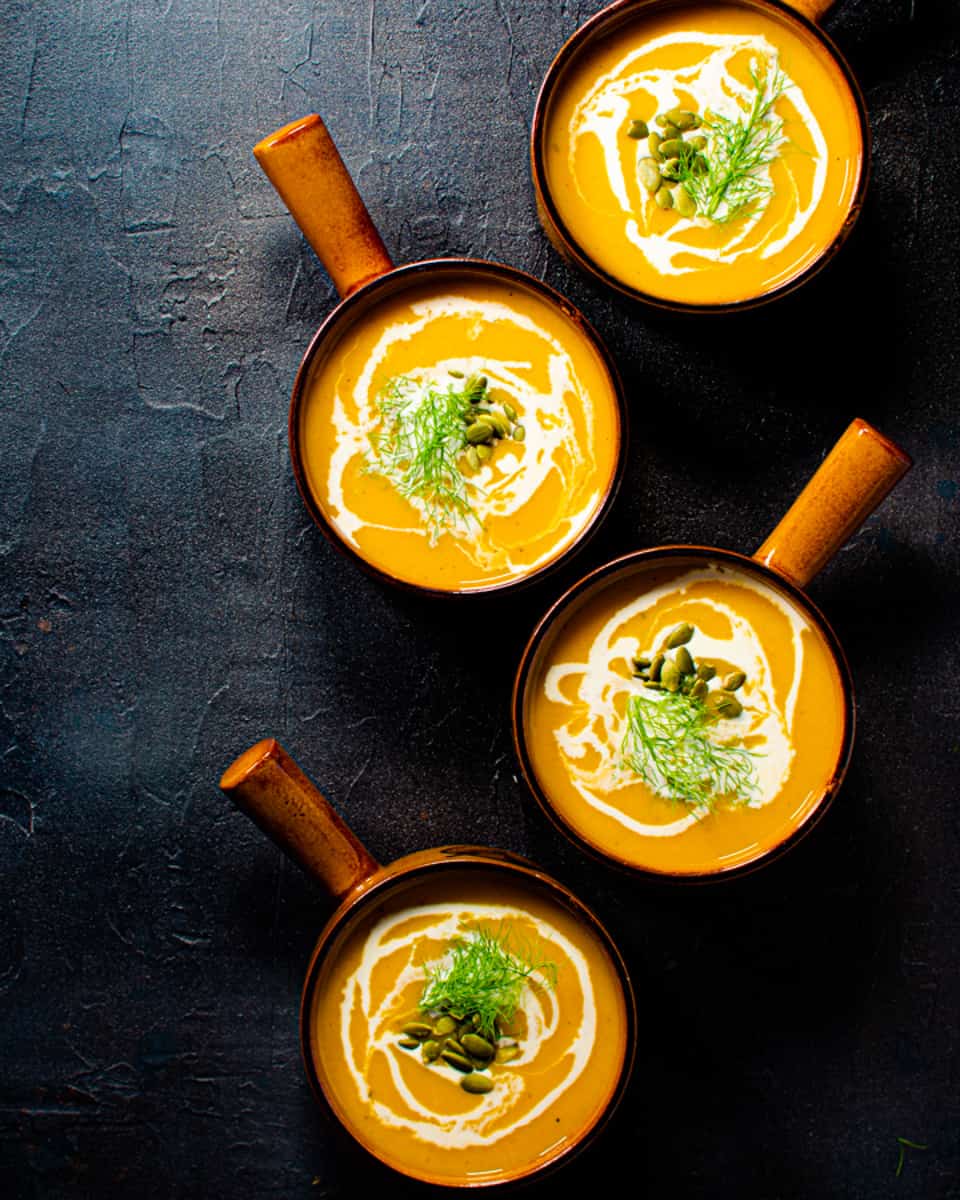 If you are using cream add it all to the soup pot. Or add a little to each bowl as you serve it. Top with some toasted pumpkin seeds and fennel fronds and you are ready for your Instagram shots!
Tried this recipe? I would love it if you could leave a star rating ⭐️⭐️⭐️⭐️⭐️ and/or a comment below. You can also follow me on social media here on Facebook, Instagram, and Pinterest!
Other recipes you might like
📖 Recipe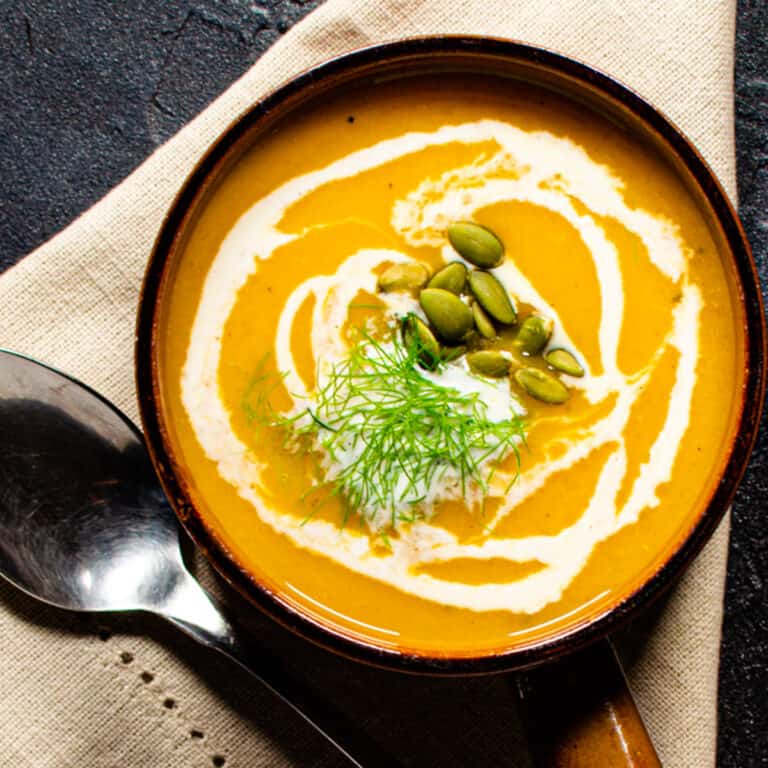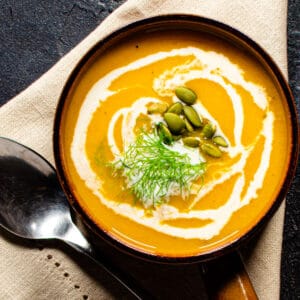 Roasted butternut squash, fennel and apple soup
Butternut squash soup is an essential recipe to have in your repertoire. Especially if you live in a place where cooler climates take on half of the year. Quick, easy and packed with flavour this recipe is a keeper!
Print
Pin
Rate
Save
Saved!
Ingredients
1

medium

butternut squash, peeled and cubed, 6-8 cups

1

medium

fennel bulb, cored and cubed

3

cloves

garlic, peeled and cut in half lengthwise

1+2

teaspoon

salt

½

teaspoon

cayenne pepper, optional

3+1

tablespoon

olive oil

1

large

onion, white or Spanish, peeled and diced

2

small

apples, peeled and cubed, about 1 ½ cups

2

teaspoon

sage leaves, chopped. 8-10 small leaves

½

teaspoon

nutmeg, ground

4-6

cups

vegetable or chicken stock

1

cup

35% cream, optional

½

cup

pumpkin seeds, toasted

fennel fronds for garnish, optional
Instructions
Peel and cube the squash. Cut off the stems of the fennel bulb saving some of the fronds for garnish if desired. Dice.

Place squash and fennel in a large bowl add halved garlic cloves. Pour over 3 tablespoon olive oil, 1 teaspoon of salt and cayenne pepper if using. Toss to coat. Pour mixture onto a baking tray and roast in preheated oven for 20-30 minutes or until nice and soft. Stir half way through roasting.

While vegetables are roasting dice onion and apples. Add 1 tablespoon olive oil to to a large pot. Over medium heat saute onions until they are very soft, 6-8 minutes. Add apples, sage, nutmeg and 2 teaspoon of salt. Stir. If vegetables haven't finished roasting, remove onions from heat and set aside.

Add the roasted vegetables to the pot with onions and apples. Return to medium-high heat.

Add 4 cups of stock and reserve the extra 2 cups. Bring everything to a boil, reduce heat and simmer for 15-20 minutes.

Remove from heat and blend with a hand or regular blender. Adding more stock to achieve desired thickness. Taste and adjust seasoning.

If using cream, add it to the soup and stir, or pour a small amount into each serving. Garnish with pumpkin seeds and fennel fronds if desired.
Notes
Soup will keep in the refrigerator for one week. 
Freeze for up to 6 months.
Nutrition
Serving:
1
serving
|
Calories:
302
kcal
|
Carbohydrates:
30
g
|
Protein:
3
g
|
Fat:
23
g
|
Saturated Fat:
9
g
|
Polyunsaturated Fat:
1
g
|
Monounsaturated Fat:
7
g
|
Cholesterol:
26
mg
|
Sodium:
828
mg
|
Potassium:
756
mg
|
Fiber:
3
g
|
Sugar:
17
g