Learn how to make easy homemade vegetable stock and you will never reach for store bought again! It's so easy and flavourful and you can store it in the freezer to have on hand whenever you need it.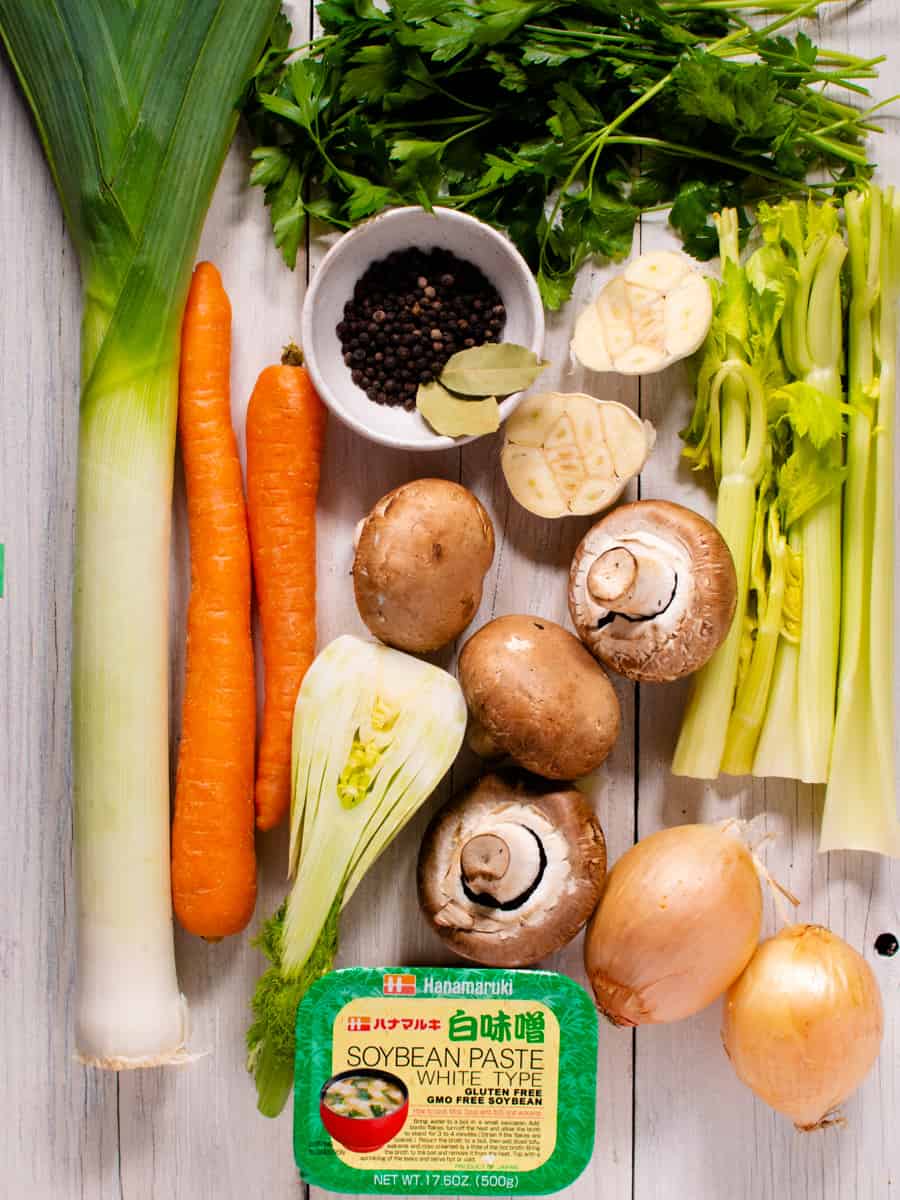 There are many vegetables you can use to make delicious stock. Here I've selected my favourite combination which create a flavourful, rich, umami broth. Store bought vegetable stocks tend to be so bland that you might as well just use water.
Making vegetable stock without a recipe
Although I have included a recipe here you can use it as a guideline and tweak it to make it your own. Always start with the basic combo of onions, carrots and celery and build on that. I keep a large freezer bag in my freezer for vegetable odds and ends such as mushroom stems, green parts of leeks and green onions, vegetable peels and trimmings, veggies that have started wilting but haven't gone bad etc. You can make your stock from that once your bag is full. Add enough cold water to cover and simmer away.
Other things you can add:
fresh thyme
tomatoes (if you want a tomato based broth)
parsnips
corn stalks
parmesan rinds (adds great umami)
green beans
winter squash (keep the peels in that freezer bag!)
onion and garlic skins
What veggies to avoid using:
potatoes of any kind
beets
turnips or rutabagas
cabbage, Brussels sprouts, broccoli, cauliflower
and bitter vegetables and greens such as dandelion greens and arugula
artichokes
What's the difference between stock and broth?
Broth is seasoned at the end with salt and pepper and stock is not. I prefer stock so I can adjust the seasoning in the final recipe where the stock is being used.
What is umami and why it is important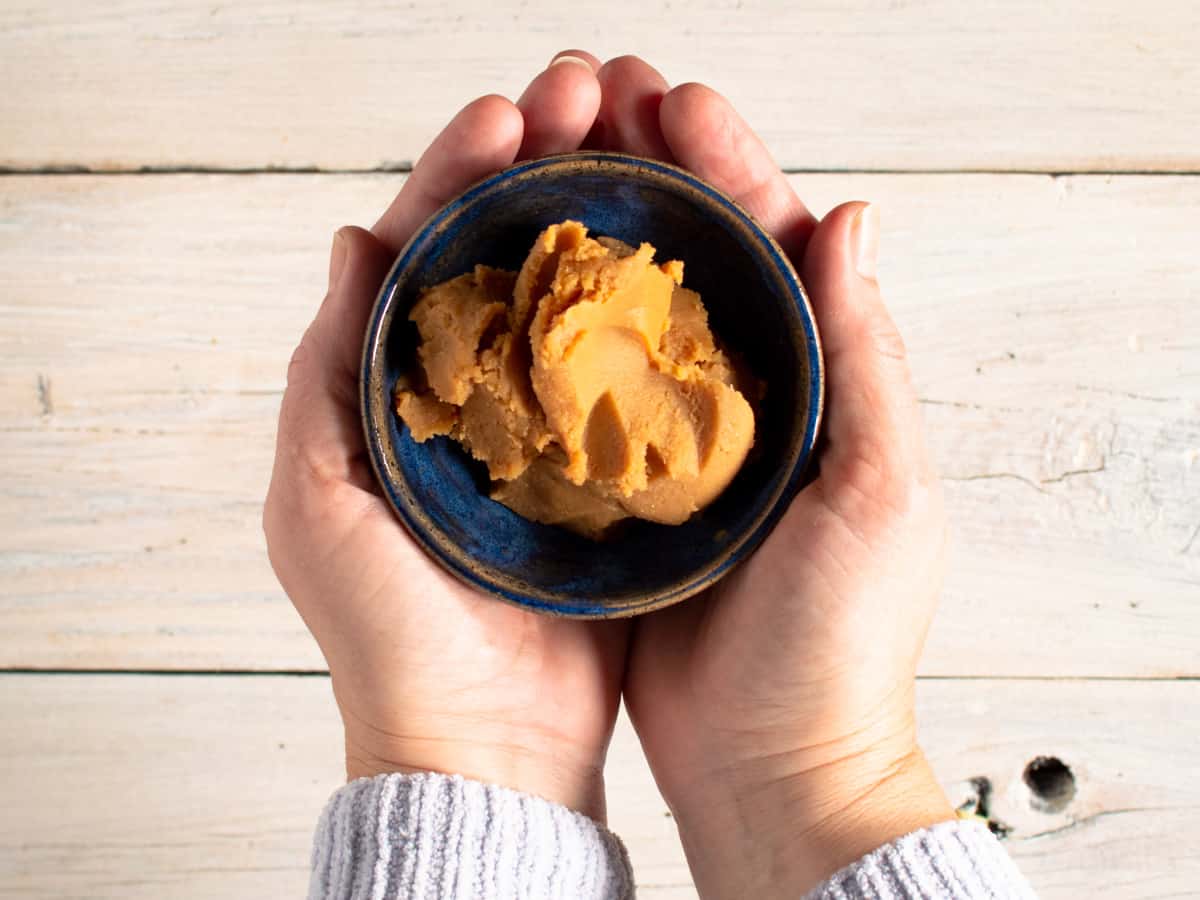 Umami is one of the 5 basic tastes along with sour, sweet, bitter and salty. It is sometimes described as the savoury flavour and is characteristic of cooked meats and meat broths. Umami flavour is also found in fermented foods, such as Miso paste, soy sauce, and also cheeses, mushrooms, yeast extracts etc. It's important to add umami to a vegetable stock as it won't come from vegetables alone, unless you are using mushrooms. Miso imparts a wonderful depth of flavour and richness like no other and is what makes a great vegetable stock. Adding mushrooms, parmesan rind, soy sauce, or nutritional yeast will also give great umami flavour.
How to make vegetable stock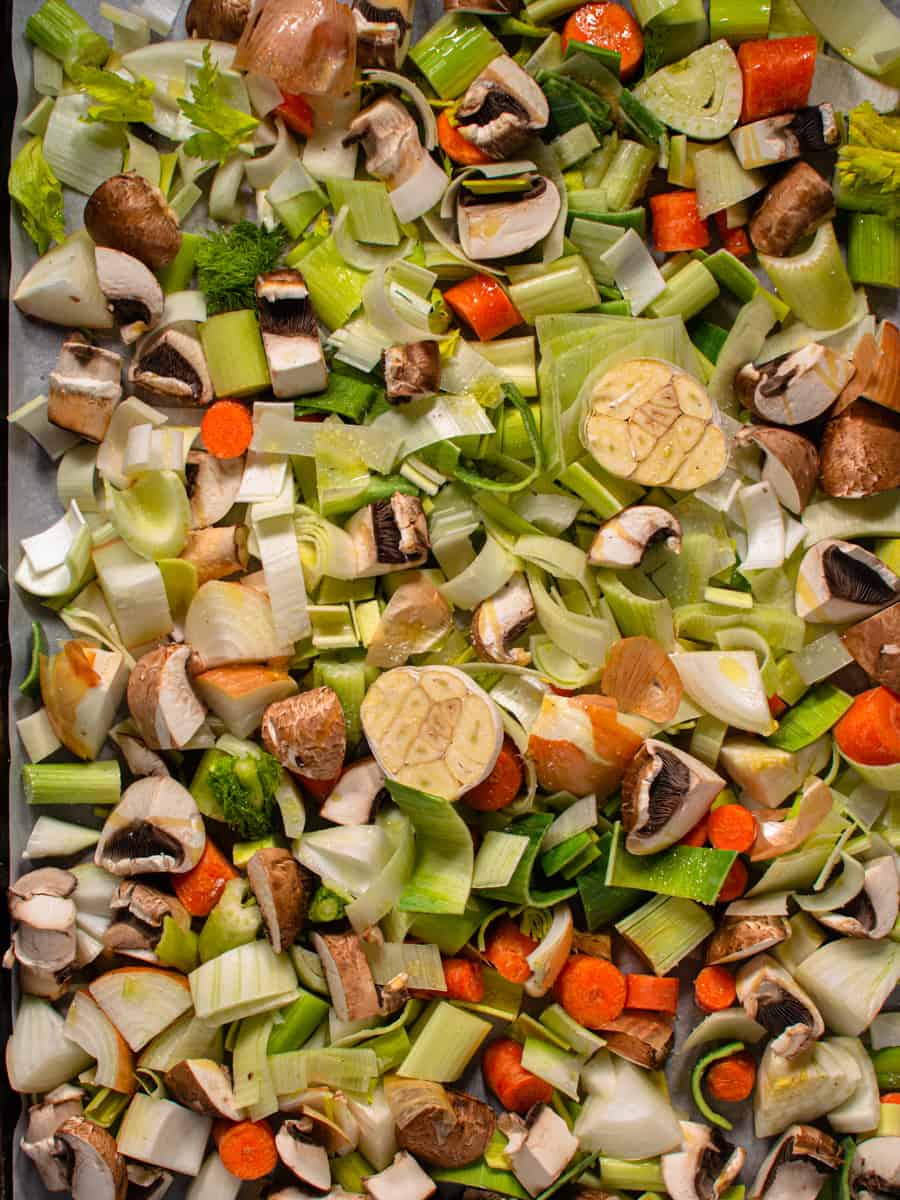 I like roasting the vegetables first but feel free to skip this step if you want to spend less time. Chop all the vegetables into 1-2 inch chunks and the garlic head in half. Place on a lined tray and drizzle with olive oil. Roast for 40 mins., turning half way through.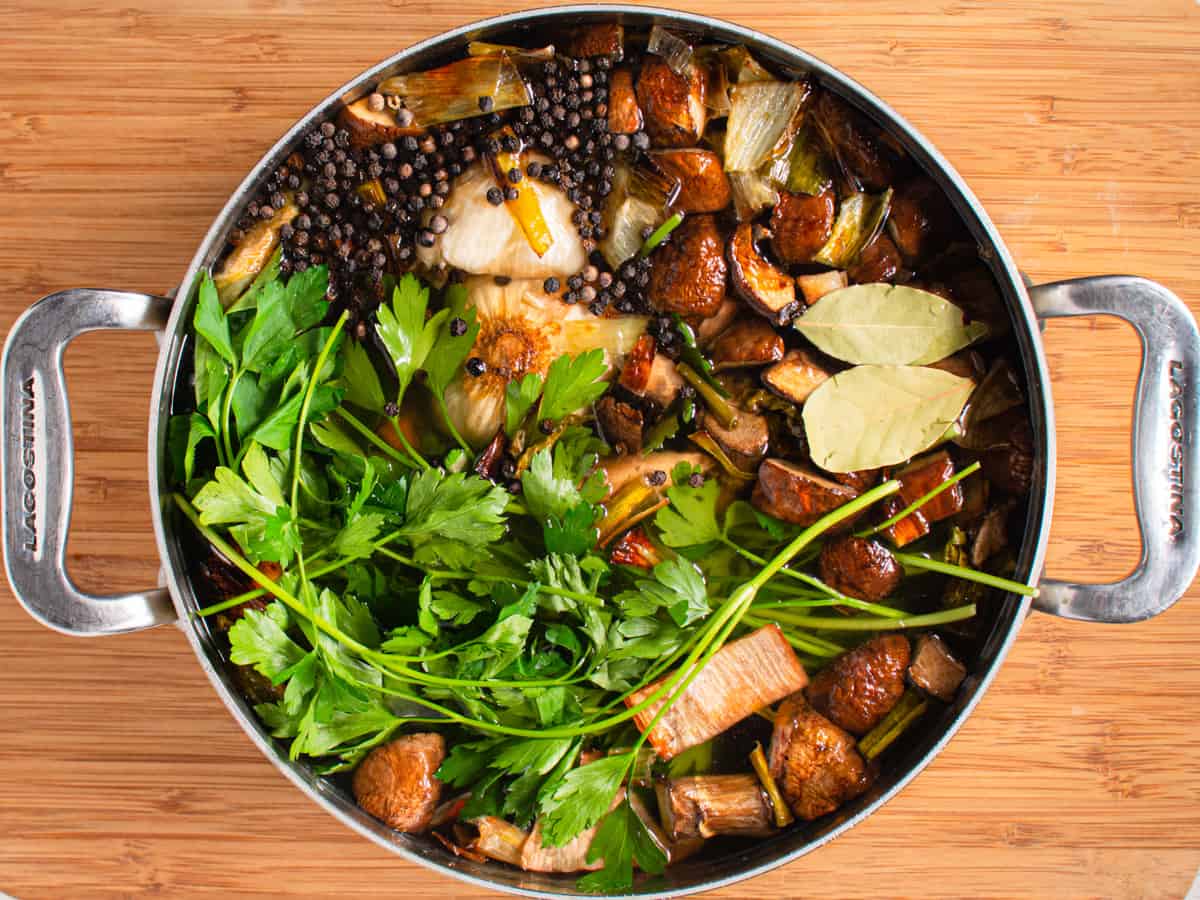 Once the veggies are done, place them in a large pot along with the parsley, peppercorns and bay leaves. Mix the miso paste with a small amount of hot tap water and stir with a fork to dissolve and remove lumps. Add to the pot along with about 4 liters of water or enough to cover your vegetables.
Bring to a boil, reduce the heat and simmer for an hour. Strain through a fine sieve.
If you prefer a clearer stock, leave out the onions skins and mushrooms. Although a few white mushroom stems won't add too much colour. The miso paste also adds a bit of colour.
Divide into containers and store in the fridge for a week or in the freezer for several months. Feel free to increase this recipe to make enough to last a few months in the freezer!
Recipes that use vegetable stock
📖 Recipe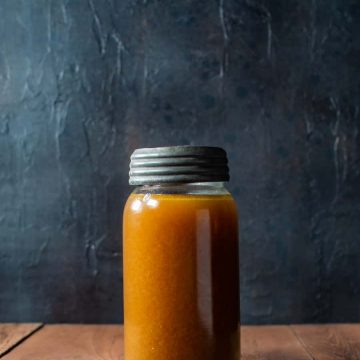 Easy Homemade Vegetable Stock
Try my easy vegetable stock recipe and never buy from the supermarket again!
Print
Pin
Rate
Ingredients
300

g

mushrooms, white or brown

2

medium

yellow onions

2

medium-large

carrots, scrubbed

1

stalk

celery plus inner core, with leaves

1

leek rinsed if sandy

½

small

fennel bulb

1

head

garlic, unpeeled, cut in half

2

tablespoon

olive oil

2

bay leaves

1

tablespoon

peppercorns

1

small

bunch parsley with stems, rinsed

4

liters

cold tap water

2

tablespoon

white miso paste

½

cup

hot tap water
Instructions
Preheat oven to 450 degrees F.

Rinse or brush dirt from vegetables but leave skins and peels on unless there are any bad spots. Cut garlic head in half, across the cloves. Cut all other vegetables into large chunks (1 to 2 inches), reserve parsley, peppercorns, bay leaves, parsley and miso.

Place vegetables and garlic on a lined or greased baking tray large enough for the vegetables to be in one layer. You may need 2 trays if you don't have one large enough. Drizzle with olive oil.

Roast for 40 minutes, stirring half way through.

Remove vegetables from oven and place in a pot large enough to hold all ingredients, including water.

Add bay leaves, peppercorns, and parsley.

Mix miso with ½ cup hot tap water, stir with a fork to dissolve and remove lumps. Add to pot along with 4 liters of cold water.

Bring to a boil and reduce heat to a gentle simmer. Continue simmering for one hour.

Strain and discard vegetables. Let cool and place in containers.

Vegetable can be kept in the fridge for one week or in the freezer for 6 months. If freezing, make sure to leave space at the top of the container to allow for expansion. Otherwise the lid could pop off.
Notes
See above post for other vegetables you can use as well as ones to avoid
Stock can be stored in the fridge for one week or in the freezer for several months. 
If freezing make sure to leave space at the top of the container for it to expand to avoid popping the lid off. 
Nutrition
Serving:
1
cup
|
Calories:
37
kcal
|
Carbohydrates:
4
g
|
Protein:
1
g
|
Fat:
2
g
|
Monounsaturated Fat:
2
g
|
Sodium:
66
mg
|
Potassium:
106
mg
|
Fiber:
1
g
|
Sugar:
2
g