Greens and beans soup is comforting on a warm winters day. Chalk full of nutritious ingredients, it may just keep the doctor away! This recipe makes a large batch so you have plenty to freeze for a quick lunch or dinner.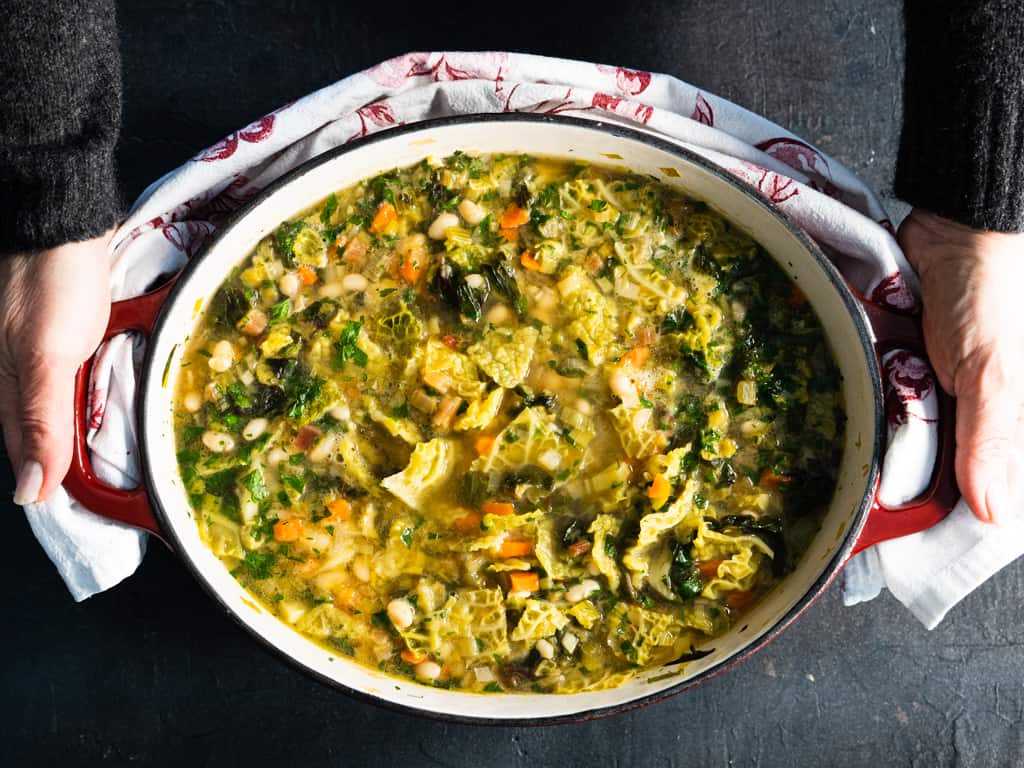 What type of greens should I use?
The more commonly used greens for this type of soup are kale, spinach, collard greens etc. But I had a craving for cabbage (is that weird?). Savoy cabbage looks like a regular cabbage except the leaves are wrinkly. the flavour is milder then regular cabbage and the leaves are more tender but they are interchangeable in most recipes. Since cabbage isn't all that "green" I added some colourful and delicious red Swiss chard to the mix. The rest of the ingredients are pretty standard. I went with leeks because, well...if you've read many of my other posts, I just love them! You could substitute a large onion in place of the leeks.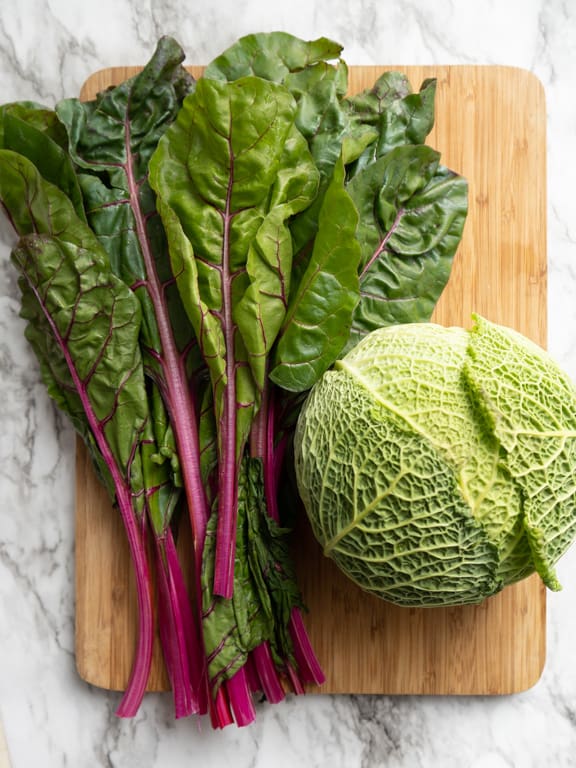 What kind of beans should I use?
You can use any type of beans you like. I used navy but red or white kidney, black eyed peas, chickpeas...any of those work. Navy beans are my favourite for most soups because of the smaller size and chewier texture. If you prefer a creamier bean use white kidney beans.
Dried or canned beans?
Canned beans are great for convenience but if you take the time, and it's not much, cooking your own is so much better. I admit I do use canned beans often. But every time I cook my own I think "why don't I do this more often?" For my method of soaking. cooking and storing dried beans check out this post: How To Soak and Cook Dried Beans. If you do cook your own, don't throw away that liquid! You can use it in the soup mixed with some vegetable or chicken stock.
How to make Greens and Beans Soup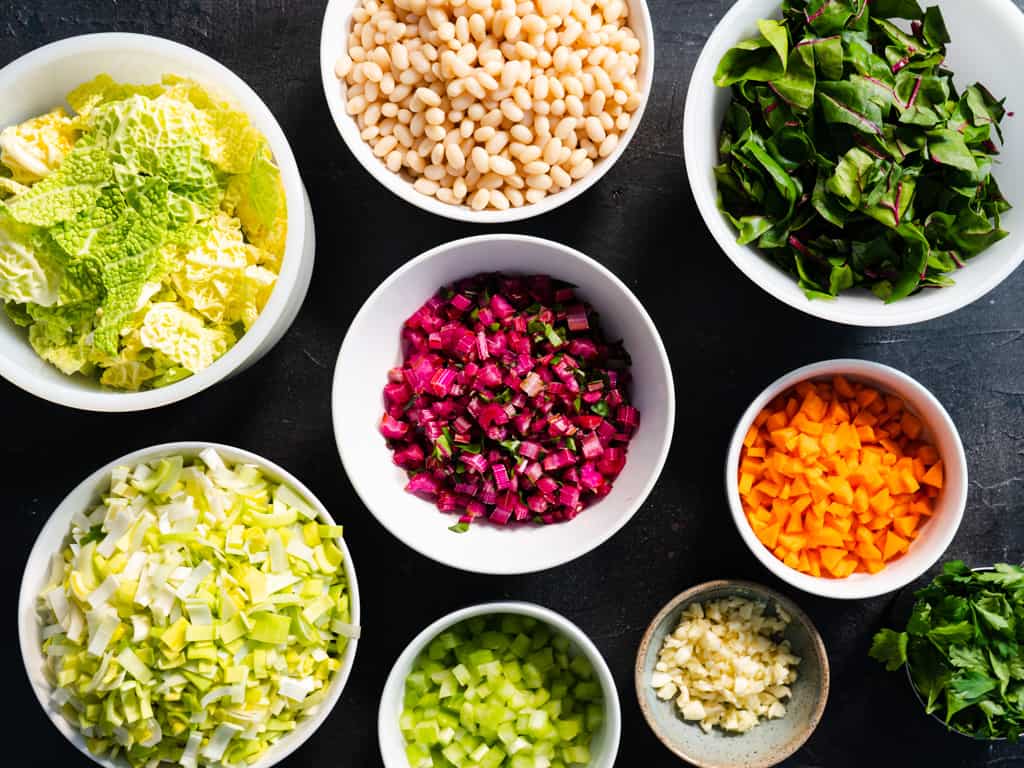 Prepare all of the vegetables by rinsing, peeling and chopping. Remove the stems from swiss chard. Chop and reserve separately.
Heat olive oil in a large pot
Add carrots, celery, leeks, swiss chard stems and garlic and salt. Sautee over medium heat until soft.
Add cabbage and chard leaves and stock. Simmer for 15 minutes or until cabbage is wilted.
Add cooked or canned beans that have been drained and rinsed. Simmer for another 10-15 minutes.
Add chopped fresh parsley and serve.
Serve with freshly grated Parmesan cheese
Other recipes you might like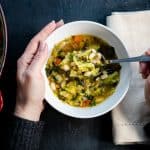 Print Recipe
Greens and Beans
Ingredients
3

tablespoon

olive oil

1

medium

carrot, peeled and diced small

1

large

celery stalk, rinsed and diced small

2

leeks, white and light green parts only, rinsed and sliced

4

cloves

garlic, peeled and minced

1

teaspoon

salt

1

small

bunch, red swiss chard, rinsed.

½

small

head savoy cabbage

8

cups

vegetable or chicken stock or combo of stock and bean cooking liquid.

4

cups

Navy beans, cooked. If canned, drain and rinse

salt and pepper to taste

1

cup

parsley leaves, packed

Parmesan cheese, optional for serving
Instructions
Remove stems from swiss chard and set aside. Chop or rip leaves into approximately 1" pieces. Chop stems into ¼-1/2 inch pieces. Set aside separately.

Remove core of cabbage and chop leaves into 1" pieces. Set aside.

Prepare the other vegetables, garlic and parsley.

In a large pot, heat olive oil over medium heat.

Add carrots, celery, leeks, garlic, Swiss chard stems and salt. Sautee for 8-10 minutes or until soft.

Add cabbage, Swiss chard leaves and stock. Bring to a boil. Reduce to a simmer and cook for 15-20 minutes or until cabbage is soft.

Add beans and continue simmering for 10 more minutes.

Add parsley and salt and pepper to taste.
Notes
Substitute cabbage and Swiss chard for a variety of greens such as kale, spinach, collard greens etc.
Soup can be kept in the fridge for 5 days and frozen for 6 months.
Serve with freshly grated Parmesan cheese and crusty bread.