You will never need or want to add meat to your chili again once you taste this vegetarian 3 bean chili recipe! Naturally vegan and gluten-free, depending on the toppings you choose, it's perfect for a crowd because the carnivores won't even miss the meat! Now everyone is happy!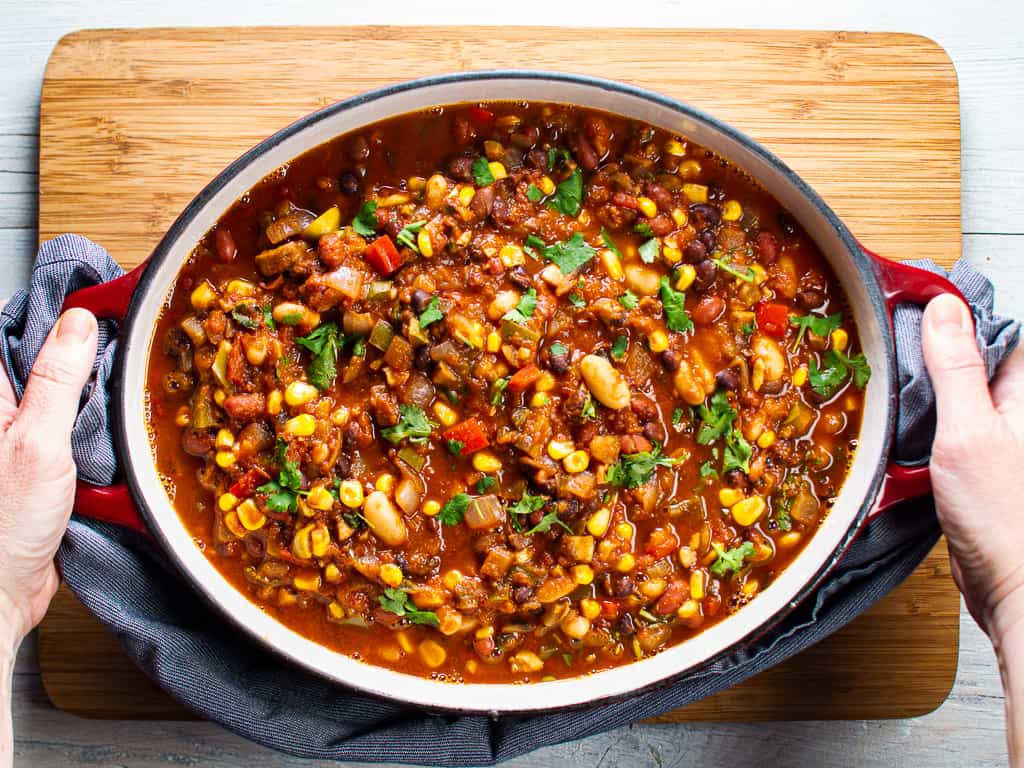 Nothing beats sitting down to a nice hearty bowl of chili on a cold day! This nutrient-rich vegetarian version might be missing the meat but it more than makes up for it in flavour and nutrients. It makes the absolute best leftovers and freezes beautifully. I seriously ate it every day for a week, sometimes for both lunch and dinner until it was gone! It's that good.
how to make vegetarian 3 bean chili
This recipe includes homemade chili powder. It's so easy to put together with spices you probably already have on hand. I like to mix my own so I can control the flavours and the heat level. You can adjust anything to your liking. Add more or less cayenne, depending on your preferred spice level. This recipe makes it mild-medium. If you are a cumin lover bump that up too. Play around with it and make it your own.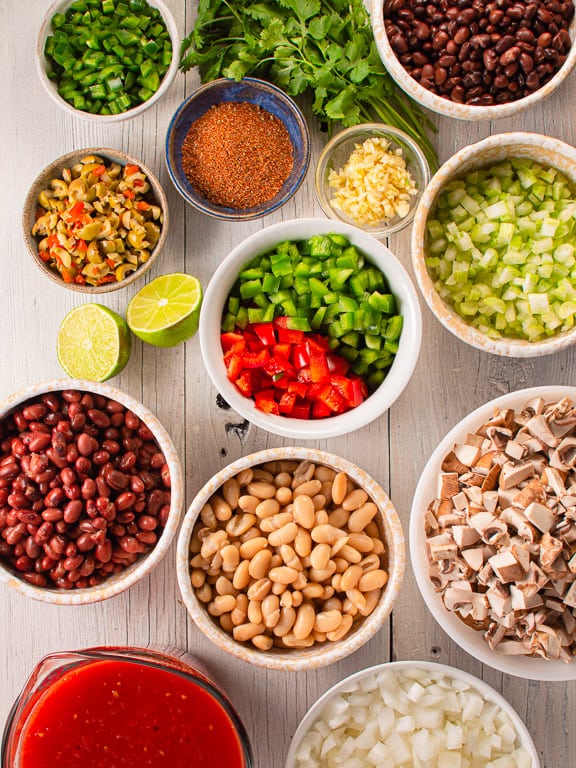 In this recipe, I use a combination of white kidney beans, small red kidney beans, and black turtle beans. But you can use any combination you like. Chickpeas are also great! Or use three cans of the same type. Experiment with different kinds. I almost never use the same combination. I chose those three for a variety in colour and size.
When chopping vegetables for chili I use the size of the beans to gauge the size of the vegetable dice. You basically want everything approximately the same size. This is most pleasing to the eye and the palate. It's always best practice, especially when working with a lot of ingredients, to get everything ready before you start. Including draining and rinsing the beans, chopping or pureeing the tomatoes, etc. You don't want to be scrambling around looking for that one thing you forgot to get ready when it's time to add it to the pot.
why use whole, peeled canned tomatoes
They are more versatile. Whole tomatoes can be turned into puree, diced, crushed etc. so you always have what you need.
Crushed and diced tomatoes contain calcium chloride which helps them keep their shape while cooking. I prefer the tomatoes to be soft and break down in my dishes but this is a personal preference.
Higher grade tomatoes are typically chosen to pack whole while the more inferior qualities are left for the crushed and chopped.
Chop with a knife, crush with your hands and puree with a hand blender, regular blender, food processor or a magic bullet.
Pay attention to the ingredients listed. You want as few as possible. There will usually be some citric acid and salt which are both used in the canning process but avoid other flavourings and additives.
The highest quality are imported Italian San Marzano tomatoes.
How to core and chop a bell pepper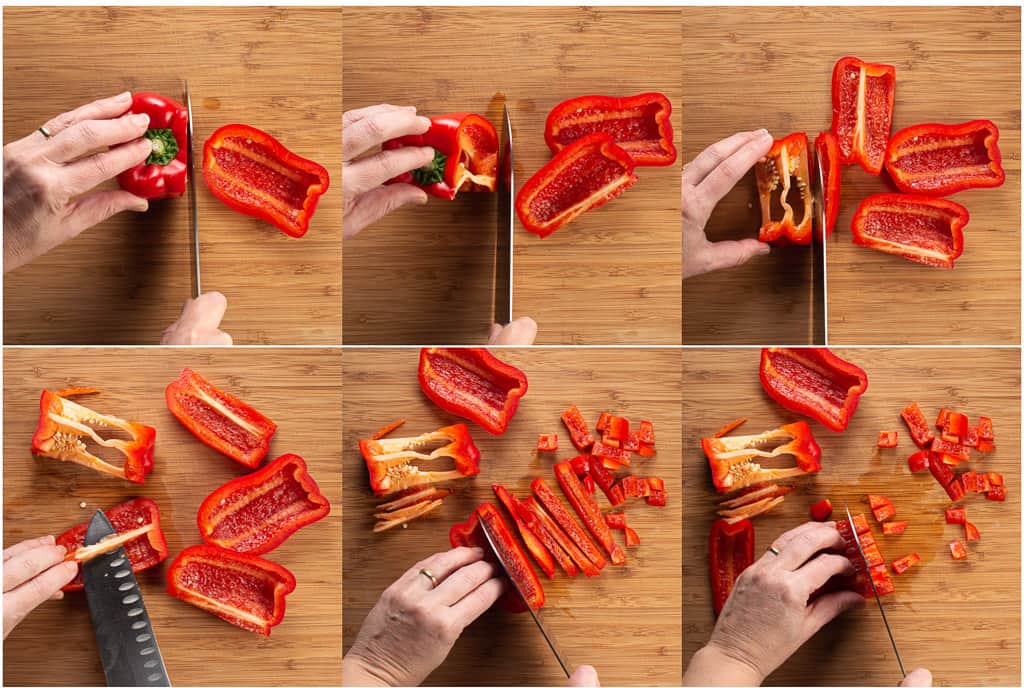 Stand the pepper upright and cut one side off. Rotate the pepper cutting the sides off in 3 or 4 pieces. Avoid the white core as much as possible. Ideally, you end up with the top, bottom, and core + seeds all in one piece at the end. Remove any white pith leftover by sliding your knife underneath and cutting away from yourself. Wipe off any seeds. Slice into strips and then cut across to dice. For step by step photos of how to dice an onion check out this post: White Bean Sausage and Arugula Soup
Once you have all your ingredients ready this Vegetarian 3 Bean Chili comes together in a cinch! The vegetables are cooked in layers to allow each one to cook properly without burning or overcooking.
Cook the onions and celery first, because they take the longest to soften up. Always do this on a medium-low heat to avoid burning.
Add the mushrooms, garlic and spices and saute for a minute or two.
The peppers, salt, sugar and cocoa powder are next. Stir and saute another couple of minutes
Add the tomatoes and now it's time to simmer. Everything gets to know each other here so they can become one cohesive, yummy dish!
After 45 minutes add the beans, corn and olives...yes olives. My two "secret" ingredients are olives and cocoa powder. My mom always put olives in her chili and I just can't live without them now. That little hit of salty goodness every so often is just perfect. A touch of cocoa powder adds an earthy umami flavour and the sugar, in addition to the sweet corn, balances out the acidity from the tomatoes. Simmer again for about 30 minutes and remove from the heat.
Now you can add the fresh lime juice, cilantro, Worcestershire sauce (another hit of umami flavour). Give it a taste and decide if it needs more salt.
This chili lasts in the refrigerator for a week and in the freezer for 6 months.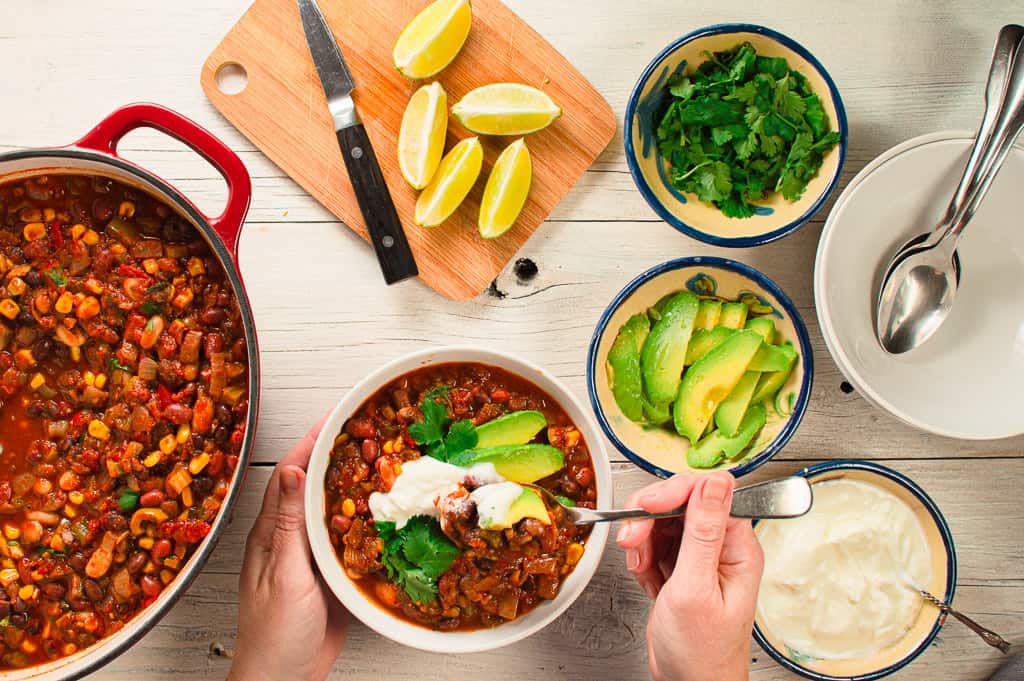 Optional toppings for vegetarian 3 bean chili
Sour cream or yogurt. For a great sour cream substitute mix together equal parts plain yogurt and mayonnaise.
Grated cheddar cheese.
Sliced or diced avocado or guacamole
Tortilla chips
Fresh cilantro
Fresh lime juice
Hot sauce for an extra kick
other vegetarian recipes you might like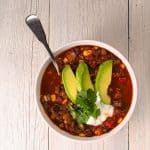 Print Recipe
Vegetarian 3 Bean Chili
This Vegetarian 3 Bean Chili is so flavourful even die-hard carnivores will be going back for seconds!
Ingredients
Chili Powder
2

tablespoon

paprika

1 ½

teaspoon

ground coriander

2 ½

teaspoon

ground cumin

1 ½

teaspoon

garlic powder

1 ½

teaspoon

onion powder

1 ½

teaspoon

dried oregano

¾

teaspoon

ground cayenne pepper, or more to taste
For the chili
2

tbps

olive oil

1

large

Spanish onion, diced

2

celery stalks, rinsed and diced

4

tablespoon

chili powder, recipe above

4

cloves

garlic, chopped fine

2

teaspoon

salt, Kosher, plus more to taste

450

grams/1lb

brown or white mushrooms, diced

1

large

green bell pepper, core and seeds removed, diced

1

large

red bell pepper, core and seeds removed, diced

2

jalapeno peppers, core and seeds removed, small dice

1

tablespoon

sugar

1

tablespoon

cocoa powder

2

(796ml/28oz) cans whole tomatoes, chopped or pureed with juices

1

(540ml/19oz) can red kidney beans, drained and rinsed

1

(540ml/19oz) can navy beans, drained and rinsed

1

(540ml/19oz) can black beans, drained and rinsed

1 ½

cups

corn, fresh or frozen

½

cup

green olives, sliced

1

cup

cilantro, chopped, plus more for garnish

1

lime, juice of

1

tablespoon

Worcestershire sauce
Garnish Options
avocado slices or chunks

Sour cream or yogurt

Grated cheddar cheese

Fresh lime wedges

extra cilantro leaves

hot sauce

tortilla chips
Instructions
For the chili powder, combine all ingredients in a small bowl and set aside.

Prepare and chop all the vegetables. The size of the dice should be slightly smaller than the largest beans. Drain and rinse the beans. Chop or puree the tomatoes.

In a large pot heat olive oil to medium heat. Add onions and celery and saute for 10 minutes or until soft and glossy, stirring occasionally and adjusting temperature as needed to avoid browning.

Add chili powder (from above), garlic, and salt. Stir and cook for another minute.

Add mushrooms. Increase heat to medium-high and saute for 5 minutes, stirring occasionally.

Add peppers, jalapenos, sugar and cocoa powder. Stir and cook for 2 minutes

Add pureed, canned tomatoes and their juices. Bring to a boil then lower heat to a simmer. Continue simmering, uncovered, for 45 minutes.

Add beans, corn and olives. Continue cooking, uncovered, for 30 minutes.

Remove from heat and add chopped cilantro, lime juice and Worcestershire sauce. Taste and adjust salt if necessary.
Notes
Chili will keep in the refrigerator for 5 days and freeze for 6 months. 
Use any type of beans you like. 
Make extra chili powder and store in a sealed container for another time.