There's something about homemade chicken stock that just gets me all warm and fuzzy inside. Sure there are lots of store bought brands out there and some of them are pretty good. So why make your own? Because it's easy, inexpensive, you can control the salt and flavours, and your house will smell AMAZING! What more could you ask for?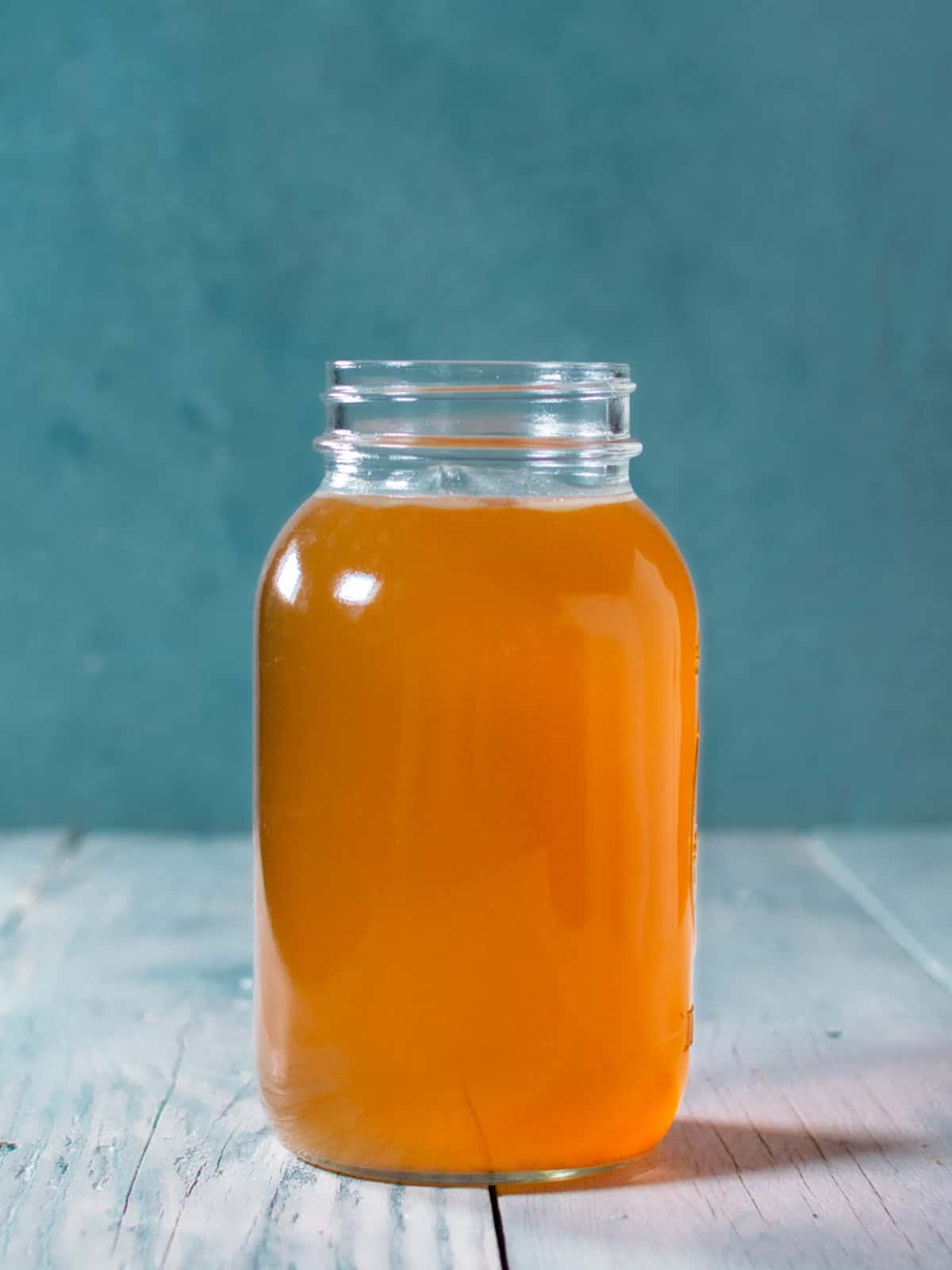 What's the difference between stock and broth?
I used to think that they were the exact same thing in a "tomato/tomahto" sort of way. Until I did some research. Both are made with a mirepoix (which is the professional term for carrots, celery and onions) and aromatics (whatever herbs, garlic etc. you want to use) but the main differences are meat vs. bones and cooking times.
stock
Stock always contains bones and is usually cooked for 2-6 hours. The bones and longer cooking time produces a richer flavour and texture by extracting the gelatin. The bones can be raw or cooked. I always save the carcass from any home made or store bought roasted chicken, put it in the freezer, and when I have a couple of them I make stock. It's a great thing to do on a snowy day!
Broth
Broth is made using the meat, with or without the bones, and is generally cooked for under 2 hours. This is a good method if you want to throw together a chicken soup and you haven't any stock or broth on hand. You can do double duty by cooking the meat for the soup in some water flavoured with mirepoix and aromatics, take it out when cooked, drain the broth and continue with your soup. The downside is that your broth won't have as rich a flavour. But it's a great method in a pinch!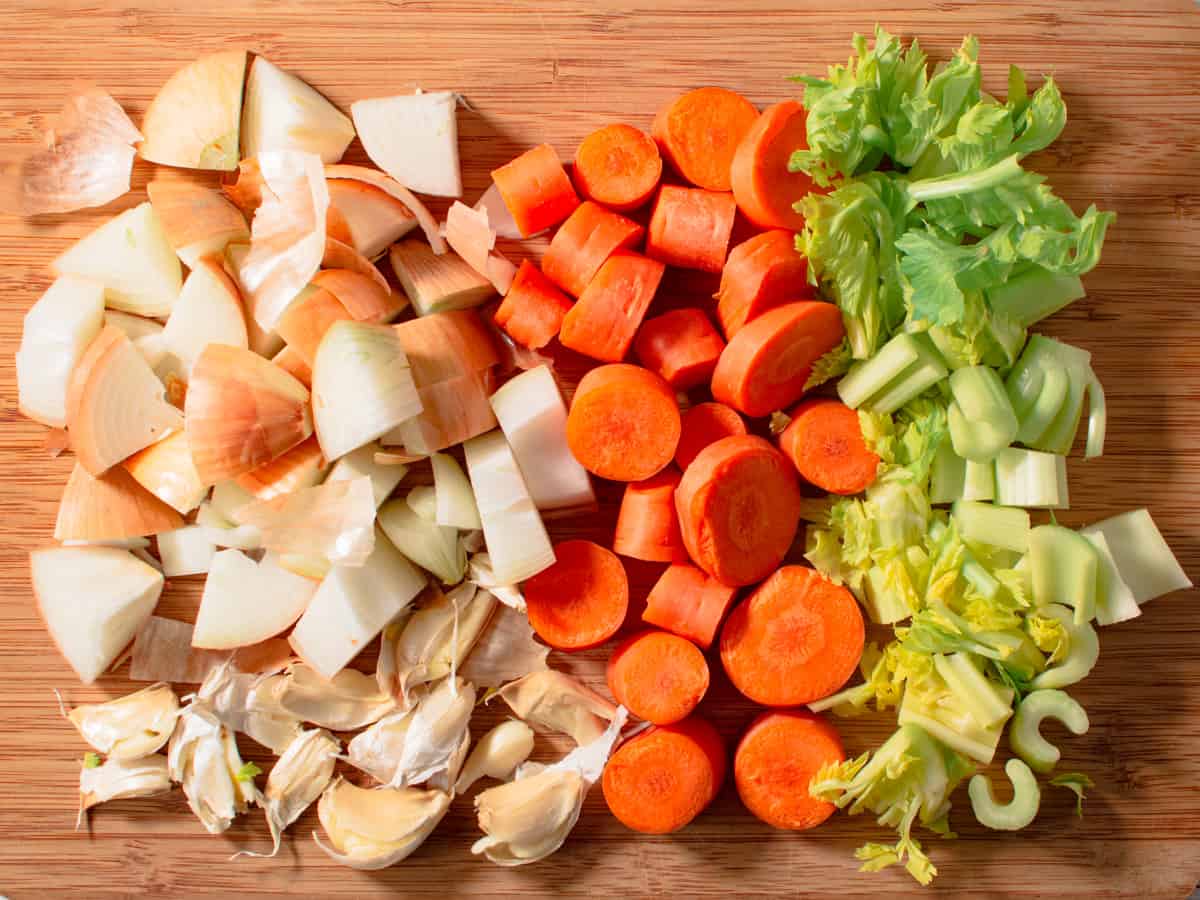 There's nothing fancy about making a good homemade chicken stock. The vegetables are rough chopped and the garlic can just be smashed with the side of a chef's knife. I also leave the skin on the onions. They add extra flavour and rich colour. I always use the core part of the celery for maximum flavour.

Cut the bottom off and pull out t he paler, smaller stalks along with the leafy ends. Lots of flavour in those! I always cut the bottom off a bunch of celery regardless. That way it fits in the crisper drawer and makes it easy to pull out stalks as you need them.
Aromatics
The aromatics I always include in my stock are:
garlic
fresh parsley with the stems
bay leaves
whole peppercorns
If you want to add some extra flavour include any or all of these optional ingredients. There are many more but these are 3 of my favourites.
Fresh rosemary and thyme. If you know you won't be using your stock for Asian dishes, rosemary and thyme can be a nice addition.
Leek greens add lots of extra flavour to your homemade chicken stock. I love leeks so I often have them in the fridge and use them in anything I can! If I'm not using them right away I save the greens in the freezer for a future stock. So my stocks almost always include these. Make sure to rinse them well to get rid of any dirt. They can be very sandy and unless you are straining your stock through cheesecloth (which I never do) you might get some sand.
Mushrooms add a wonderful umami to any dish. Save the stems from mushrooms and store them in the freezer. I also try to keep some dried mushrooms in the cupboard so will always throw some into a stock if I have them. I wouldn't use your beautiful fresh mushrooms for this but if they happen to be on their last legs, throw them in!
How to make homemade chicken stock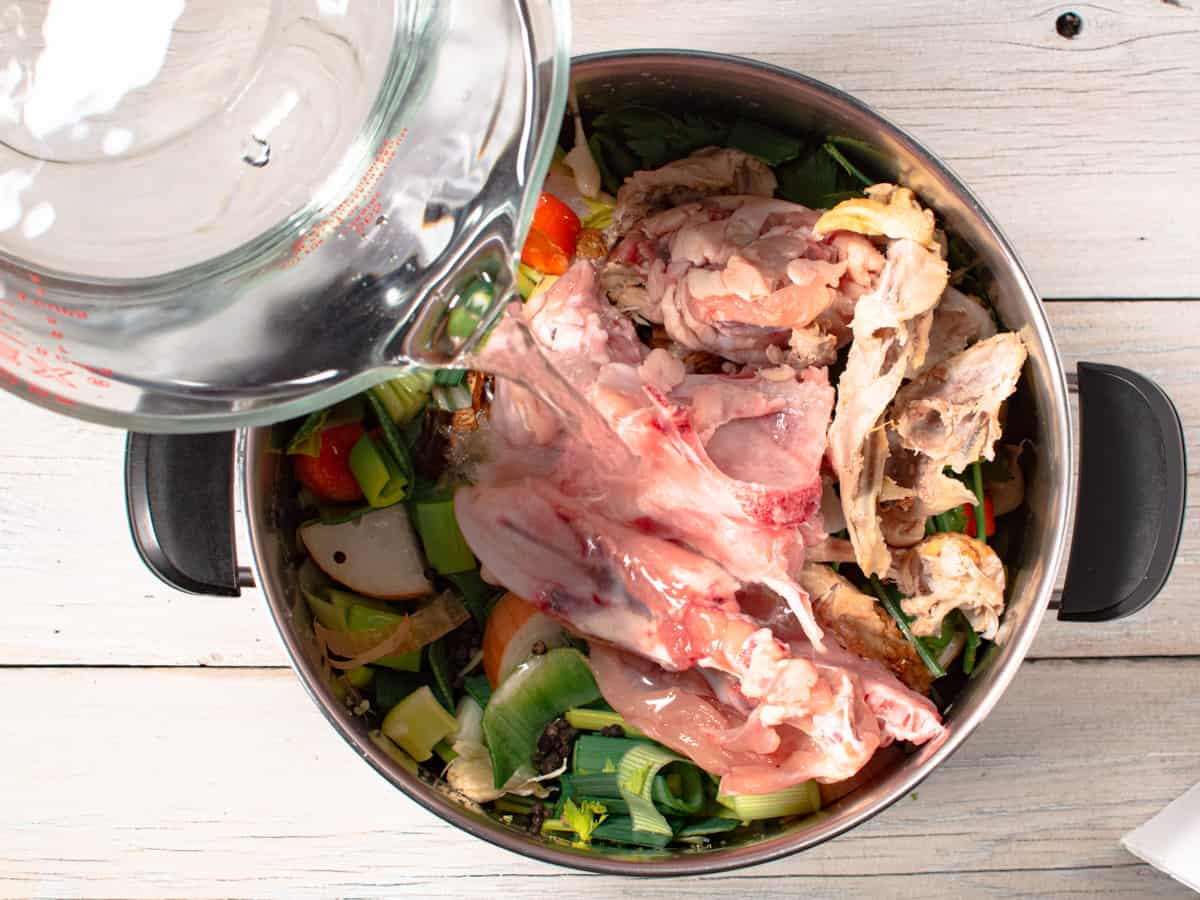 Everything goes in a large stock pot with cold water. I had one store bought, rotisserie chicken carcass plus one whole, de-boned breast of a turkey, for an approximate weight of 1 kg (2.2 lbs). This doesn't need to be anything exact and you certainly don't have to weigh the bones. I've included the weight just to give you an idea of the ratios of ingredients which you can scale up or down.
I don't salt my stock because I prefer to salt the final dish I am using the stock in.
Bring everything up to a boil and then turn down the heat to a gentle simmer. Leave the lid off and simmer for a minimum of 2 hours and up to 6 hours. If you are going for 6 hours, and you don't want the stock to keep reducing, put the lid on after a couple of hours. If you want it to be more concentrated leave the lid off.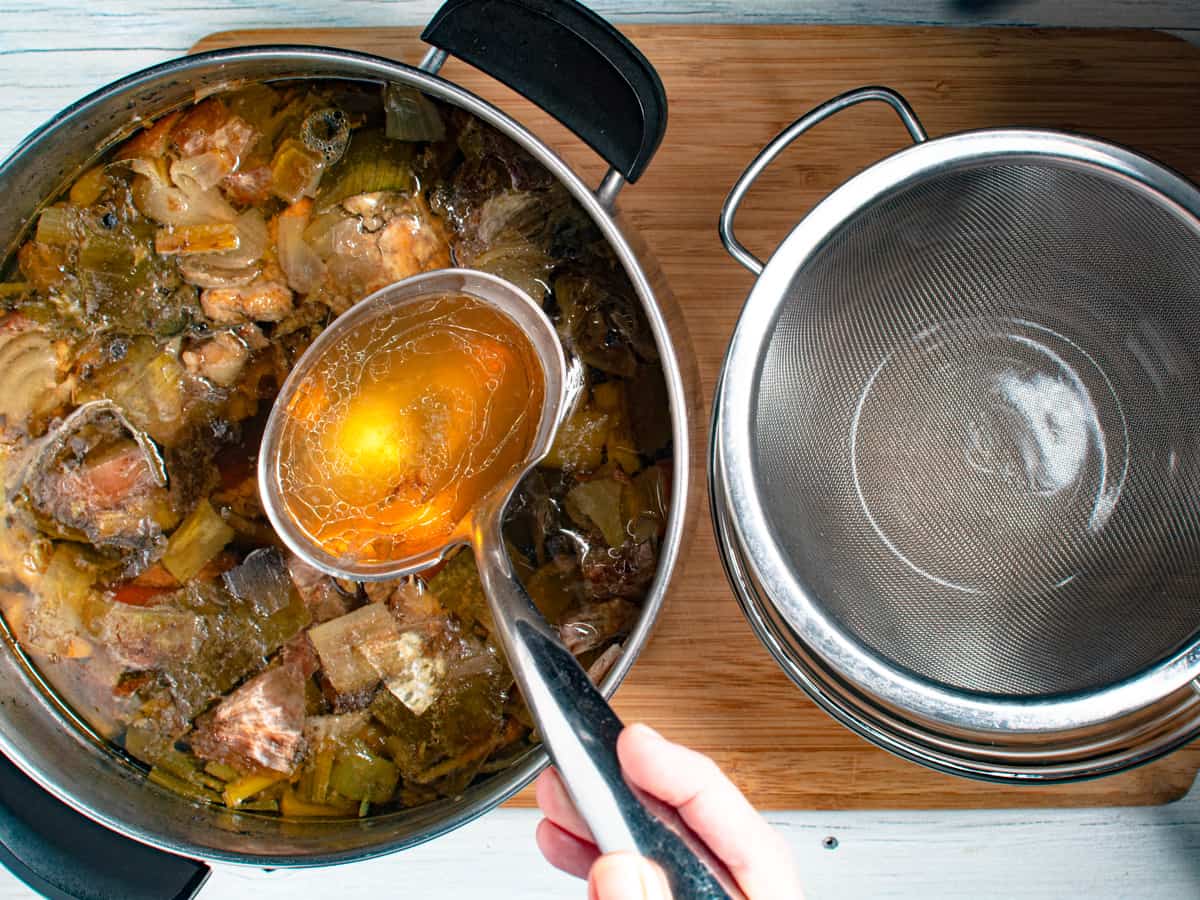 Once done it's time to strain. You can just pour it over the strainer into a large pot or bowl but I like to do it with a ladle to keep the stock nice and clear. This is a personal choice and doesn't affect the flavour at all. This is also the best straining method if you don't have a container big enough to hold all the stock.
If you are concerned about fat you can let the stock cook in the fridge overnight. The fat will rise to the top and solidify. Just scoop it off and discard.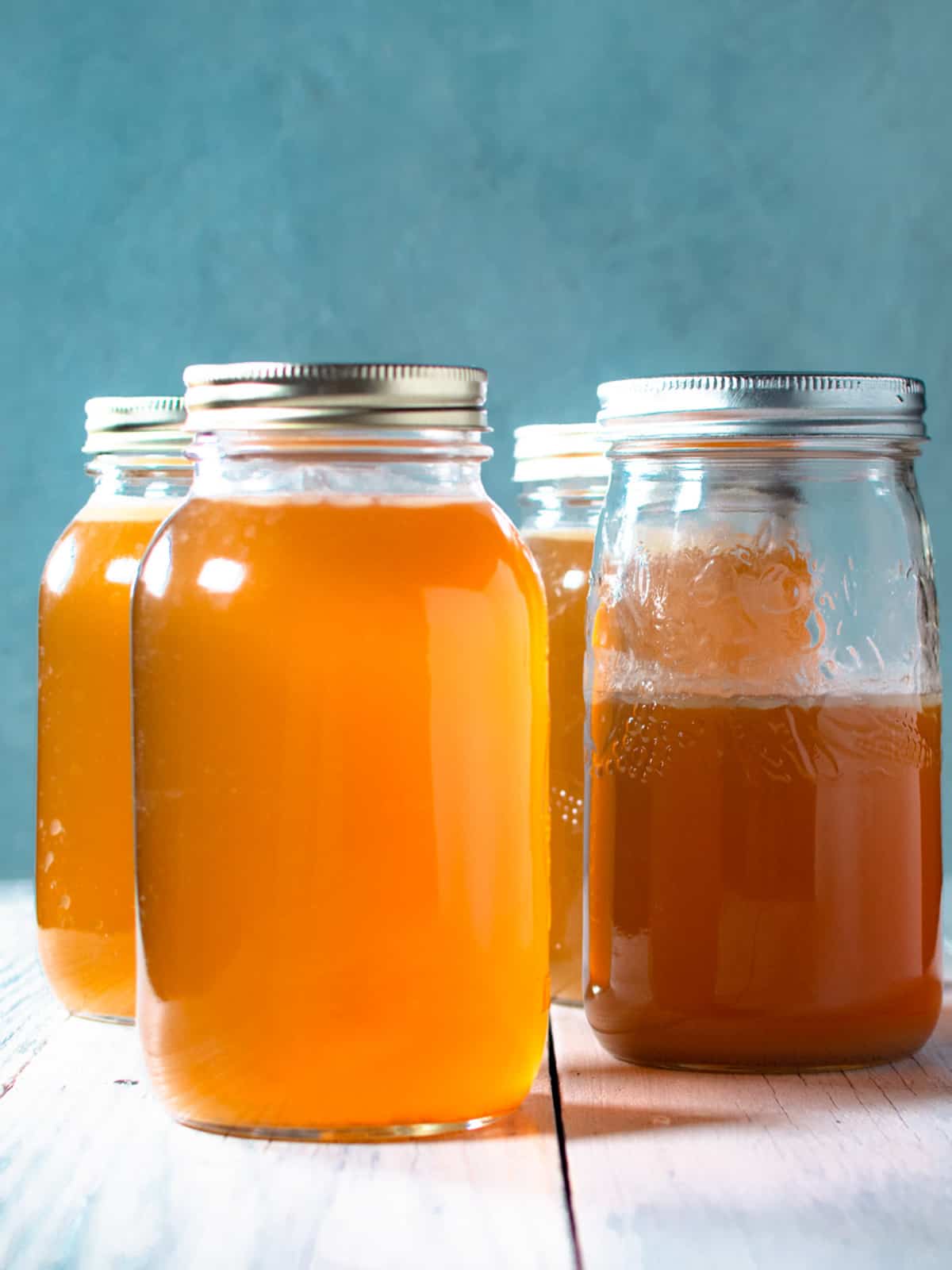 Pour into whatever containers you want to use for freezing your stock. I like mason jars and generally freeze in 1 liter portions. You can also freeze some in ice cube trays and, once frozen, transfer them to ziplock bags for smaller portions to add to sauces, stir fries etc. Whatever you chose to freeze in, leave a couple inches from the top to allow for expanding as it freezes.
use your homemade chicken stock in these recipes
White Bean, Sausage and Arugula Soup
📖 Recipe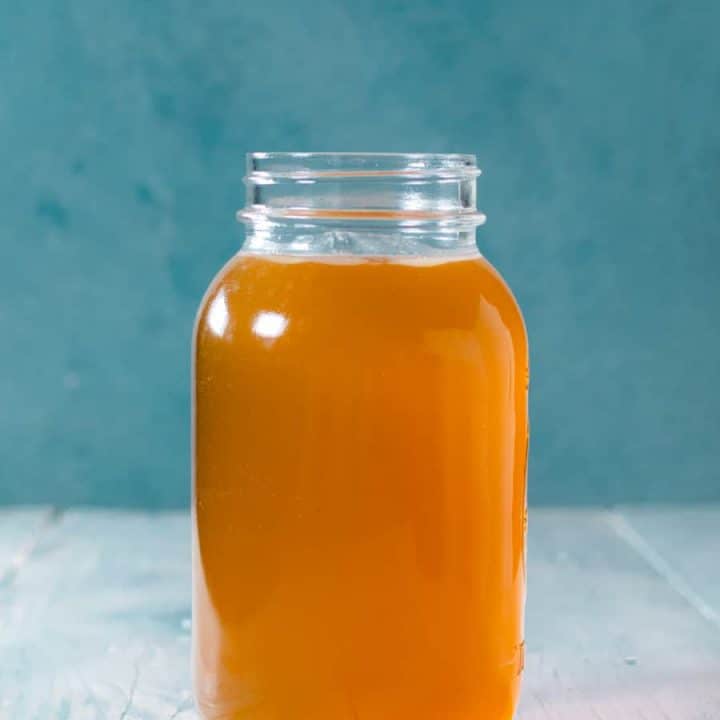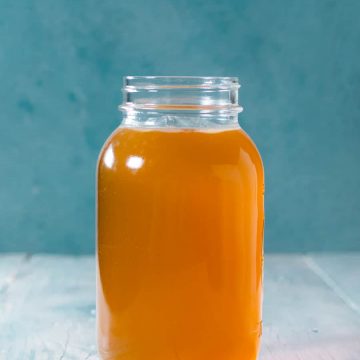 Homemade Chicken Stock
Homemade chicken stock is super easy and stress free. Make a big batch and store it in the freezer to add to soups, stews, sauces etc.
Print
Pin
Rate
Save
Saved!
Ingredients
1

kg (2 lbs)

chicken bones, raw or from roasted/rotisserie chicken

2

medium

yellow onions, skin on and roughly chopped

2

medium

carrots, scrubbed and roughly chopped

1

core of celery bunch, or 4 stalks, roughly chopped

12

cloves

garlic, unpeeled and smashed

small

bunch

fresh parsley, stems included

1

leek, green parts only (optional)

¼

cup

approx. dried mushrooms (optional)

2

bay leaves

1

tablespoon

whole peppercorns

20

cups

cold water
Instructions
Place all your prepped ingredients, excluding the water, in a large stock pot that can hold everything plus 20 cups (5 liters) of water.

Pour in the cold water and bring to a boil on high heat.

Once it comes to a boil, reduce heat to achieve a gentle simmer.

Let simmer, uncovered, for 2 to 6 hours. If simmering for longer then 2 hours cover the pot to avoid over reducing.

Strain through a fine mesh strainer and pour into jars or containers, leaving a couple inches for expansion in the freezer.

To remove the fat (optional), place in fridge overnight and scoop of the solid fat that solidifies on the top.
Notes
Simmer for 2-6 hours, depending how much time you have.
Freeze leek greens and stems from mushrooms for when you want to make stock.
Stock can be stored in the fridge for one week and frozen for 6-8 months. 
To remove the fat, leave in the fridge overnight, scoop the solidified fat from the top and then freeze.
Leave 2 inches of space at the top of the jars or containers you are using to freeze in. This leaves room for it to expand while freezing or glass jars will break. 
Freeze some in ice cube trays to have small portions to add to sauces and stir-fries.
Nutrition Facts are calculated using an online calculator and are only an estimate. 
Nutrition
Serving:
1
cup
|
Calories:
40
kcal
|
Carbohydrates:
6
g
|
Protein:
2
g
|
Cholesterol:
3
mg
|
Sodium:
45
mg
|
Potassium:
132
mg
|
Fiber:
1
g
|
Sugar:
2
g