This warm and hearty Spanish Chicken Bake is easy to prepare and very versatile. The comforting, earthy flavours of Spain come together into a delicious and healthy one pot meal.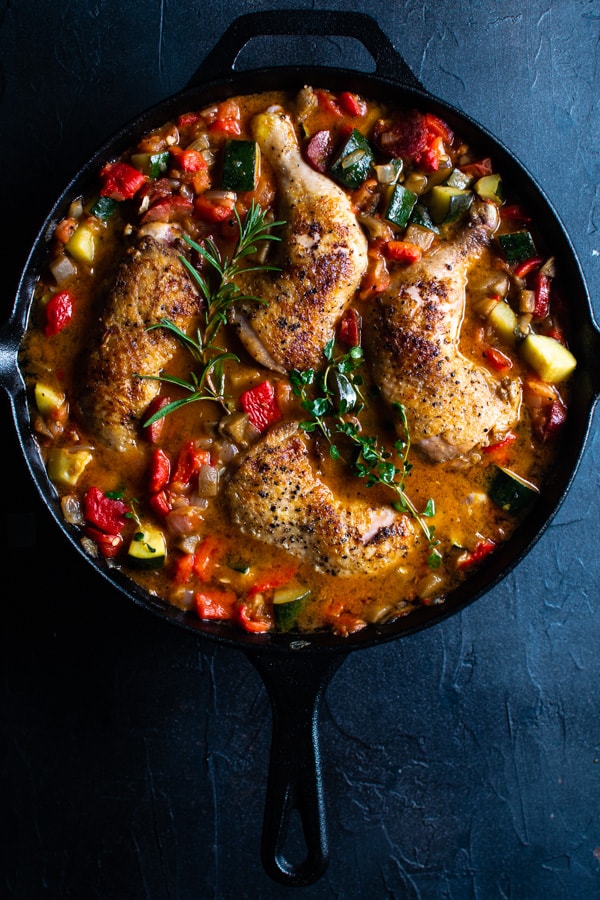 Spanish Chicken Bake uses one of my favourite Spanish flavour combinations; chicken, chorizo and smoked paprika. All nestled in a "stew" of vegetables which, in Spain, is called "Pisto". My Spanish father in law makes Pisto often and it has become a family favourite over the years. Typically we eat it with a fried egg on top and some big hunks of crusty bread. So simple and delicious that it can stand on it's own as the main event but also makes a great side dish to many things like this Tortilla de Patatas for a delicious meatless meal.
Roasted Red Peppers
Roasted red peppers are a staple in Spanish cuisine. Yes, you could use the jarred variety but they are often in a vinegar brine. Plus making your own is so easy and inexpensive! The homemade variety are also more flavourful and juicy.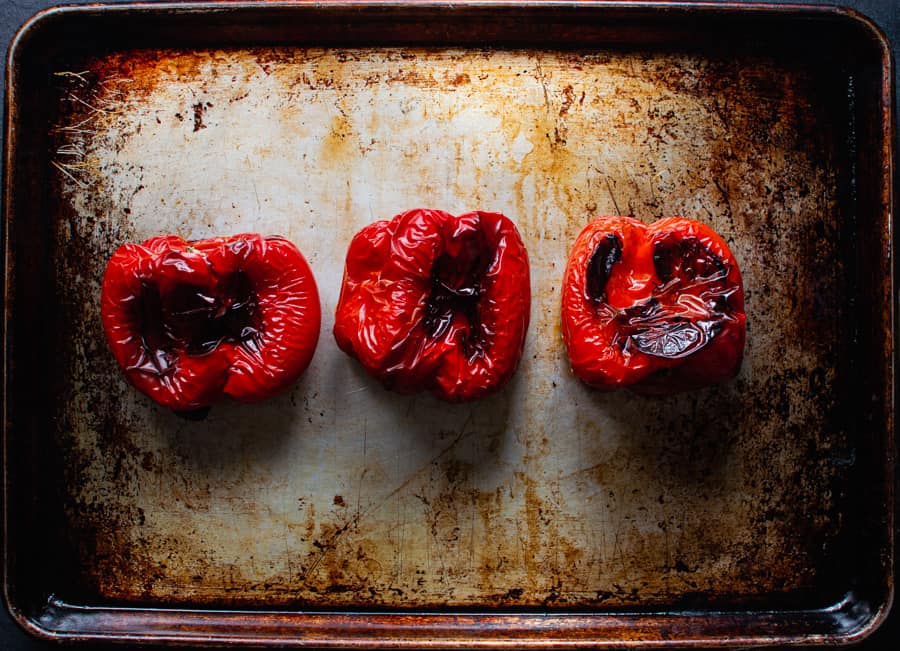 Roasting peppers is simple. Place whole peppers on a greased or lined tray and roast at 425°F for 40 minutes, turning half way through baking time. The amount of time may vary depending on the size of your peppers. You are looking for them to be charred and wilted.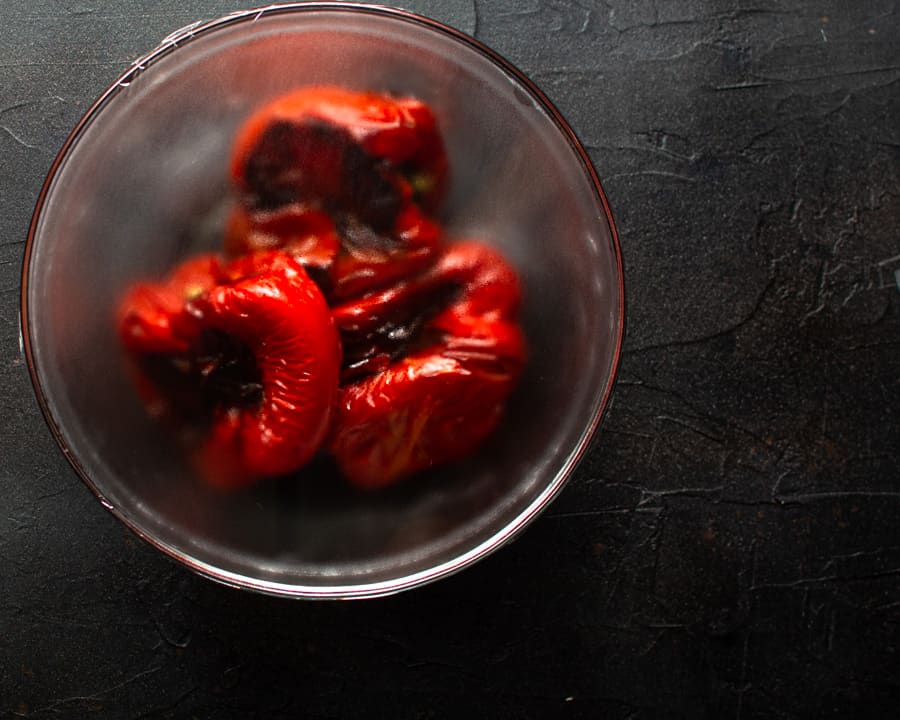 Next place warm peppers in a bowl, cover with plastic wrap and let them steam for at least 15 minutes or until you are ready to peel. This is where it can get a bit messy. The peppers are very juicy (which is what makes them so delicious!) and release a lot of liquid when cut open. Hold each pepper over a bowl and pull the stem end out with most of the core and seeds. Let the water drain into the bowl. Place on a cutting board, cut open to lay flat. Wipe off the seeds with a paper towel or knife. Some suggest running them under water to remove the seeds and skin but I find this washes away some of the flavour. Once the seeds are removed. Flip the pepper over and pull off the skin. If some small pieces stay attached don't sweat it. Chop into approximately 1" pieces and set aside.
storing roasted peppers
This recipe uses 3 large peppers but you could easily do more and store them in the fridge or freezer to throw into salads or as a side to any dish even as a snack on a piece of bread with cheese. For storing in the fridge cut into large strips and place in a container. Pour olive oil over to cover and add a couple cloves of garlic if you like. Store in the fridge for a week. To freeze, cut into strips and layer between pieces of wax or parchment paper. That way they don't stick together and you can peel off one layer at a time as needed.
Spanish Chorizo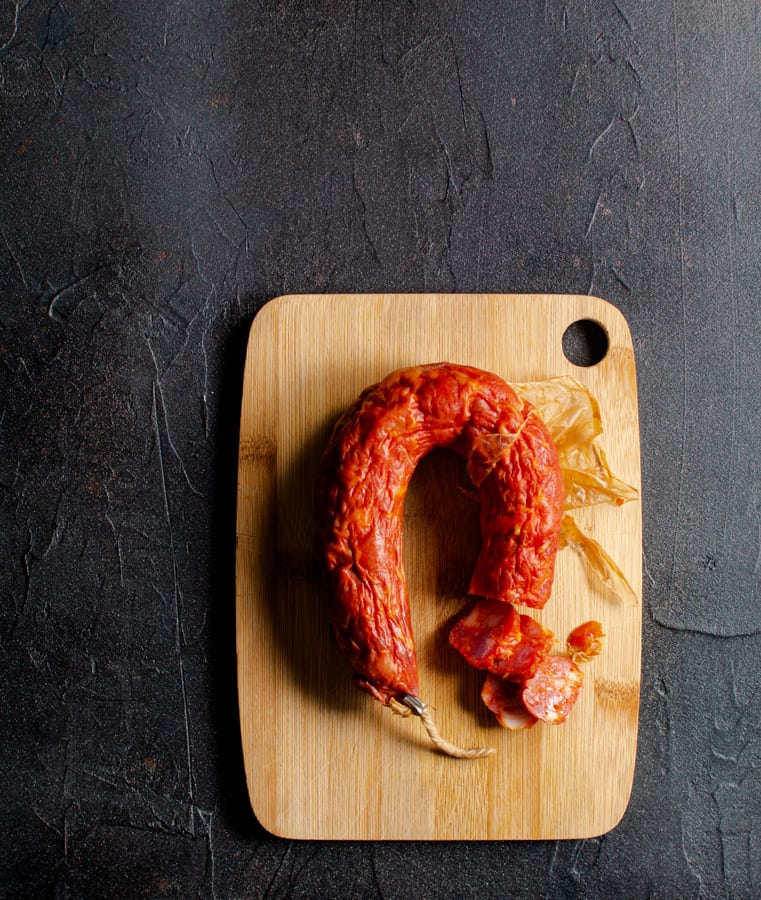 Make sure to buy the right kind of chorizo. The Spanish style is smoked and dried unlike the Mexican version which is made with fresh, raw, ground pork. It isn't always easy to find Spanish chorizo but there is a Portuguese version that is similar and more readily available. If you are interested in authentic Spanish foods and ingredients I have ordered several things, including the most delicious chorizo, from Solfarmers here in Canada. For the U.S. and other countries try La Tienda.
The vegetables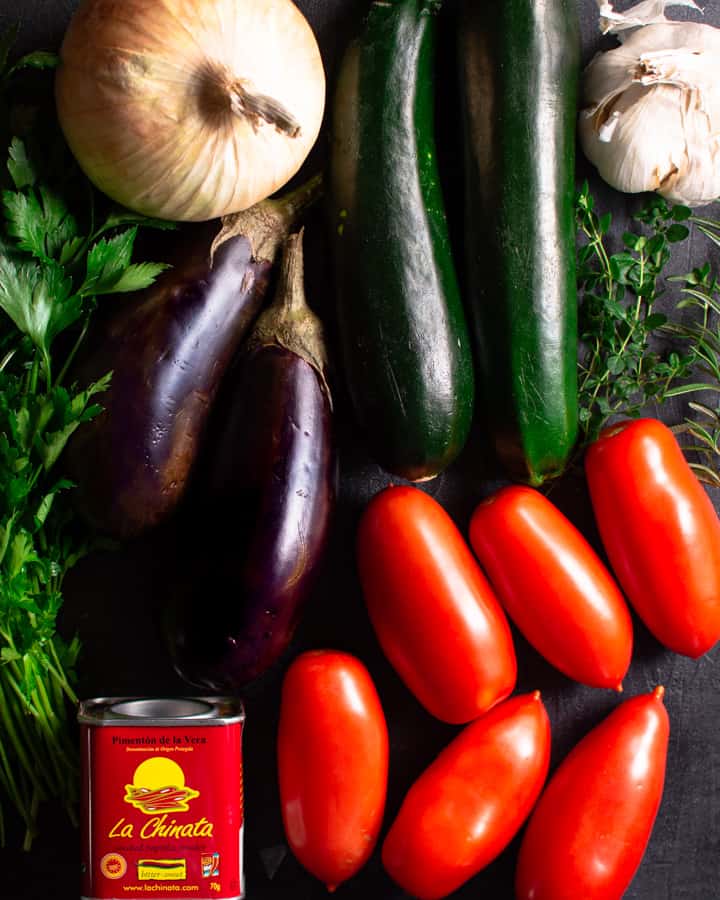 The rest of the vegetables are straight forward. There is no need to peel the tomatoes or zucchini but do peel the eggplant and onion. Chop everything into ½ -1" chunks and keep in separate bowls. You will be cooking them in layers. Leave the rosemary and thyme whole and chop the parsley and garlic.
Smoked paprika
Smoked paprika is a Spanish pantry staple. I highly recommend adding it to your spice cabinet. It is a special and unique ingredient and no other paprika compares. It comes in sweet or hot and has a wonderful smokey flavour. I used sweet here but if you like things spicy feel free to substitute! Make sure what you are buying is imported from Spain or it won't be the same. If you can't find it in stores try this Smoked Sweet Paprika . Or you can order it from the online shops I mentioned above.
Let's talk chicken...
I used whole legs but you could use thighs or drumsticks. If you insist on using breasts add them to the vegetables 15 minutes after it goes in the oven so they don't overcook and after 25 minutes if using boneless (which I don't recommend). I do recommend using bone-in skin on dark meat for the best flavour. Dark meat also lends well to braising and becomes "fall of the bone" tender.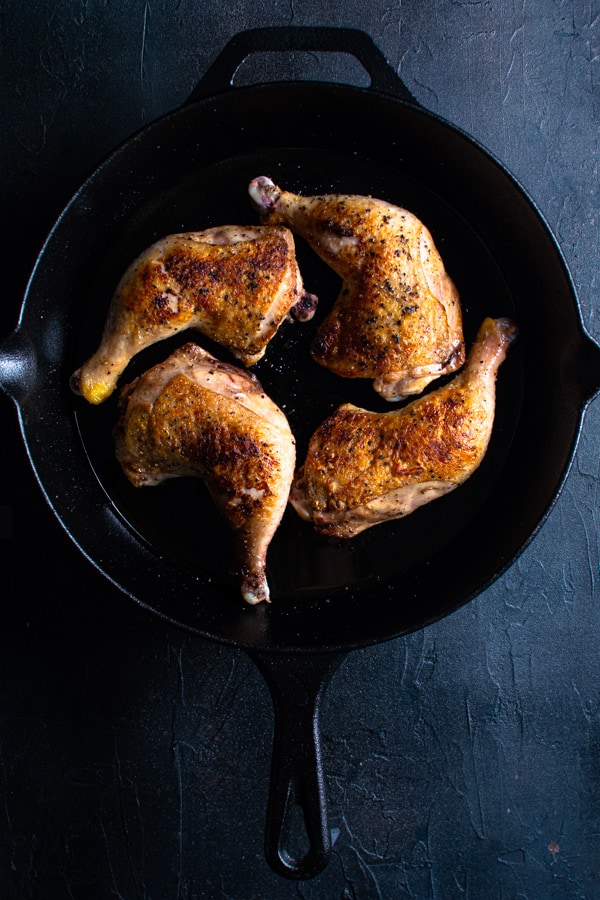 After preparing the vegetables and chorizo it's time to sear the chicken. Why take this extra step? More flavour! The browning of the skin adds extra flavour to the pan where you will cook the rest of the ingredients. It creates the first layer of flavour and a nice crispy skin. Win-win! Get your pan nice and hot, add some olive oil and start with skin side down. Sear the chicken on both sides to acheive a nice golden brown colour . You might have to adjust the temperature, depending on the pan you are using, to avoid burning.
Cast iron skillets
I bought my first set of cast iron skillets only a few month ago and I have absolutely no idea what took me so long! Now I want to cook just about everything in them! For this recipe I used this 12-Inch Cast Iron Skillet . It is a misconception that cast iron pans require a lot of work. If you buy a pre-seasoned one (which they mostly all are these days) the work is already done. All you have to do is use it, wash it (and yes you can use soap and scrub it!), dry and rub on a bit of oil. That's it.
What if I don't have a cast iron pan?
No problem. You can use any pan or dish that is large enough to hold everything. Opt out of a one pot meal by putting everything in a casserole dish or roasting pan after the first cooking stage. That way if you only have a small pan, you can cook each vegetable separately, mix them together in a bowl then put them in the baking dish. Easy peasy!
Building the Spanish Chicken Bake
After the chicken is set aside, drain some of the oil so you have about 2 tablespoon remaining. Don't clean the pan. You want all the good bits on the bottom for extra flavour. Heat the pan back up, if necessary, and sautee the chorizo until it starts browning. Remove set aside with the chicken. Next sautee the vegetables starting with the onions and working your way through each one. Once done in goes the chorizo and red peppers and chicken. Don't submerge the chicken completely in the sauce. Leave the skin exposed so it remains dry and crisp. Place some sprigs of fresh rosemary and thyme on top and put the whole thing in the oven, uncovered. Bake for 45 minutes. What you end up with is fall-off-the-bone chicken and a vegetable stew that melts in your mouth. Sound good? Sprinkle with a generous amount of chopped parsley and serve with crusty bread, rice or potatoes.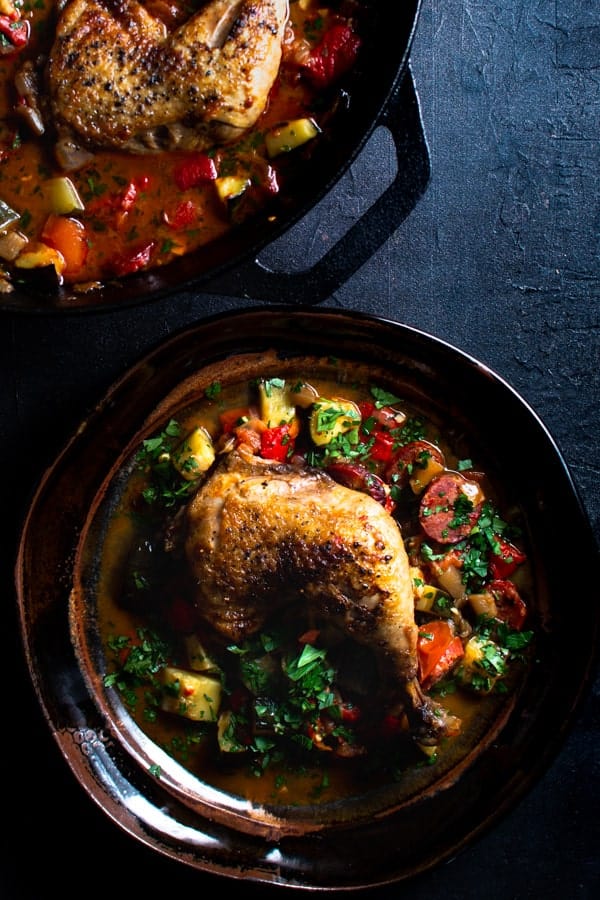 It's comfort food at it's finest! Leftover vegetables can be served with a fried egg and crusty bread!
Pro tips for best results
Use Spanish Chorizo. Second choice - Portuguese. If you can't find either, omit the sausage and add extra smoked paprika.
Use bone-in skin-on dark meat for best flavour. Most important is the bone-in.
Achieve a nice golden brown sear by starting at a high heat and adjusting the temperature to avoid burning.
Keep the pan juices and bits from the chicken. Drain off excess oil, if necessary, leaving 2 tbsps.
Sautee the vegetables in stages. Low and slow keeps them soft and tender without browning.
Add garlic at the end so it doesn't burn.
Don't completely submerge the chicken into the vegetables so the skin can maintain it's colour and texture.
With the exclusion of Solfarmers and La Tienda. This post contains affiliate links. As an Amazon Associate I earn a small commission from qualifying purchases.
Other recipes you might like
MUSTARD AND HERB GRILLED PORK TENDERLOIN
📖 Recipe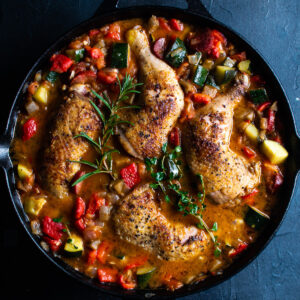 Spanish Chicken Bake
The flavours of Spain come together in this easy, one pot Spanish Chicken Bake
Print
Pin
Rate
Ingredients
3

large

red bell peppers

1

medium

eggplant

2

medium

zucchini

6

large

Roma tomatoes

1

large

Vidalia or sweet onion

4

cloves

garlic

½

cup

parsley leaves, packed

1-2

sprigs

fresh rosemary and thyme

1

teaspoon

Spanish smoked paprika, sweet

1

tsp

granulated sugar

½

cup

dry white wine or chicken stock

4

chicken legs, whole, bone-in, skin on

1

Spanish or Portuguese chorizo, or approx. 1 cup sliced
Instructions
Roasting the red peppers
Oil or line a baking tray with parchment or foil. Place peppers on tray.

Bake for 40 minutes, turning half way through, until charred and wilted. Remove from oven and reduce temperature to 350°F if preparing the dish right away.

Place warm peppers in a bowl and cover with plastic wrap. Let stand for at least 15 minutes or until you are ready to peel them.

Over a bowl, pull out the stem end with the core attached. Let the juices drain into the bowl. Place pepper on a cutting board and cut open to lay flat. Using a paper towel or a knife, wipe off any seeds and discard. Turn over and remove skin. Cut into 1" chunks and reserve.
Prepare the other ingredients
Preheat oven to 350 degrees F.

Peel onion and chop into ½"-1" pieces. Reserve

Peel eggplant and chop into ½"-1" pieces. Rinse zucchini and tomatoes and chop into ½"-1" pieces. Reserve each vegetable separately.

Rough chop parsley and peeled garlic. Reserve separately.

Peel and slice chorizo into ¼" slices. Cut slices in half if desired. Reserve

Pat chicken pieces dry with a paper towel and trim off any large pieces of fat. Heat a skillet on high heat. Add 1 tbsp. olive oil and place chicken in pan skin side down. Sear for 2-3 minutes or until golden brown adjusting temperature as necessary. Turn and continue searing other side for 2-3 minutes or until golden brown. Remove from pan and reserve.

If necessary remove all but 2 tablespoon of oil. Sautee chorizo until starting to brown. 3-4 minutes. Remove from pan with slotted spoon and reserve.

Turn heat down to medium-low and add onion. Sautee, stirring often, for 10 minutes or until soft and translucent. Add eggplant and sautee for 5-6 minutes. Add zucchini and sautee for 2-3 minutes. Stir in tomatoes, garlic, smoked paprika, sugar and white wine. Adjust the heat so the mixture is simmering. Simmer for 5-6 minutes or until some of the liquid has evaporated and it becomes slightly thicker.

Stir in the chorizo and roasted red peppers. Nestle the chicken pieces into the vegetables leaving the skin exposed. Lay sprigs of rosemary and thyme on top. Place into a preheated 350°F oven, uncovered, and bake for 45 minutes. Remove from oven and let rest for at least 10 minutes before serving. Sprinkle with chopped parsley and enjoy! Serve with crusty bread, potatoes or rice...and a glass of red wine of course!
Notes
Can be made one day in advance and reheated at 350°F for 20-30 minutes before serving. 
Leftover vegetables are delicious as a meal on it's own with crusty bread, potatoes or rice. Or serve them with a fried egg! Vegetables will last in the fridge for 5 days and leftover chicken for 3 days.
Nutritional Facts are based on 4 generous portions and are only an estimate using an online calculator. 
Nutrition
Serving:
1
serving
|
Calories:
477
kcal
|
Carbohydrates:
28
g
|
Protein:
46
g
|
Fat:
20
g
|
Sodium:
34
mg
|
Potassium:
1407
mg
|
Fiber:
10
g
|
Sugar:
17
g