Paella Mixta is a Spanish rice dish made with a mixture of meat and seafood nestled in a bed of saffron infused rice. There are many versions of this national dish of Spain and it is a show-stopping, crowd pleasing dish that is guaranteed to impress!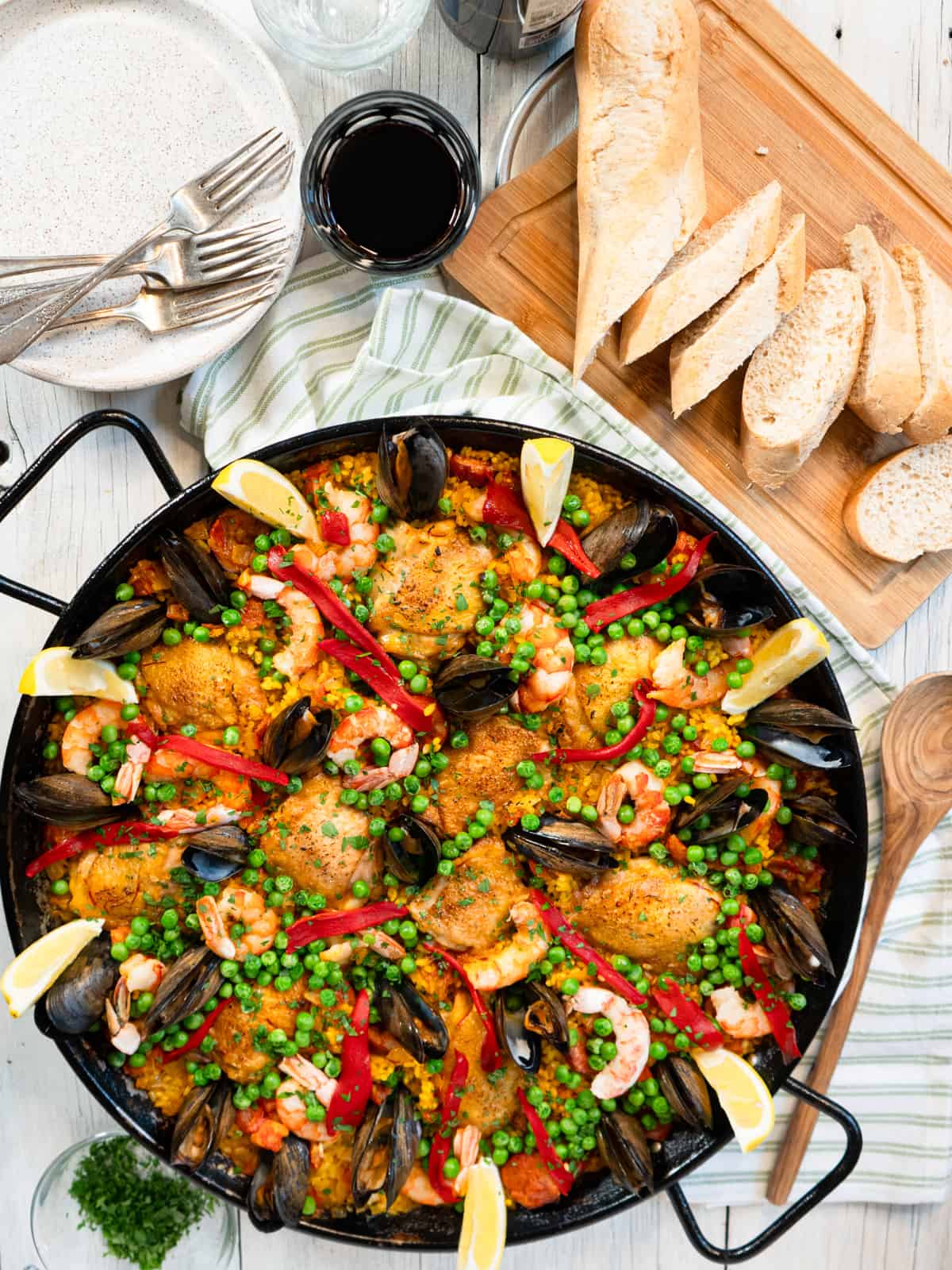 Paella Mixta includes rice, chicken, chorizo, shrimp and mussels, as well as some vegetables. A version of this recipe was taught to me by my mother in law, who learned from her Spanish mother in law.
Saffron is a key ingredient for making paella mixta and can be found in many grocery stores, bulk stores or specialty food shops. You can also purchase it online here if you can't find it locally. It is an expensive spice but is essential for making paella and totally worth the splurge!
For more ways to use saffron take a look at these recipes: Fish Stew with Saffron and Spanish Baked Cod.
Jump to:
Why You Will Love This Recipe
Crowd Pleasing: Whether it's a special occasion or a family gathering, Paella Mixta feeds a bunch and is the star of the show. When this paella lands on the table, looking all decked out with an array of colourful ingredients, you know it's gonna steal the show.
Versatile: You can totally play around with this paella recipe. Spice it up or keep it mellow, choose your rice, and toss in more veggies or meats if you're feeling fancy.
Taste Explosion: This dish has a perfect combination of flavours and textures making every bite exciting. It's like a flavor party in your mouth!
Nutritious: Paella Mixta not only delights the taste buds but also packs a nutritious punch. The combination of protein from chicken and seafood, and the array of vegetables like tomatoes, peas, and peppers, offers a balanced and nutrient-rich meal that satisfies both your palate and your body.
If you love one pot meals as much as I do be sure to check out these recipes for Mediterranean Chicken Thighs and Chicken Fajita Casserole.
🥘Ingredients For Paella Mixta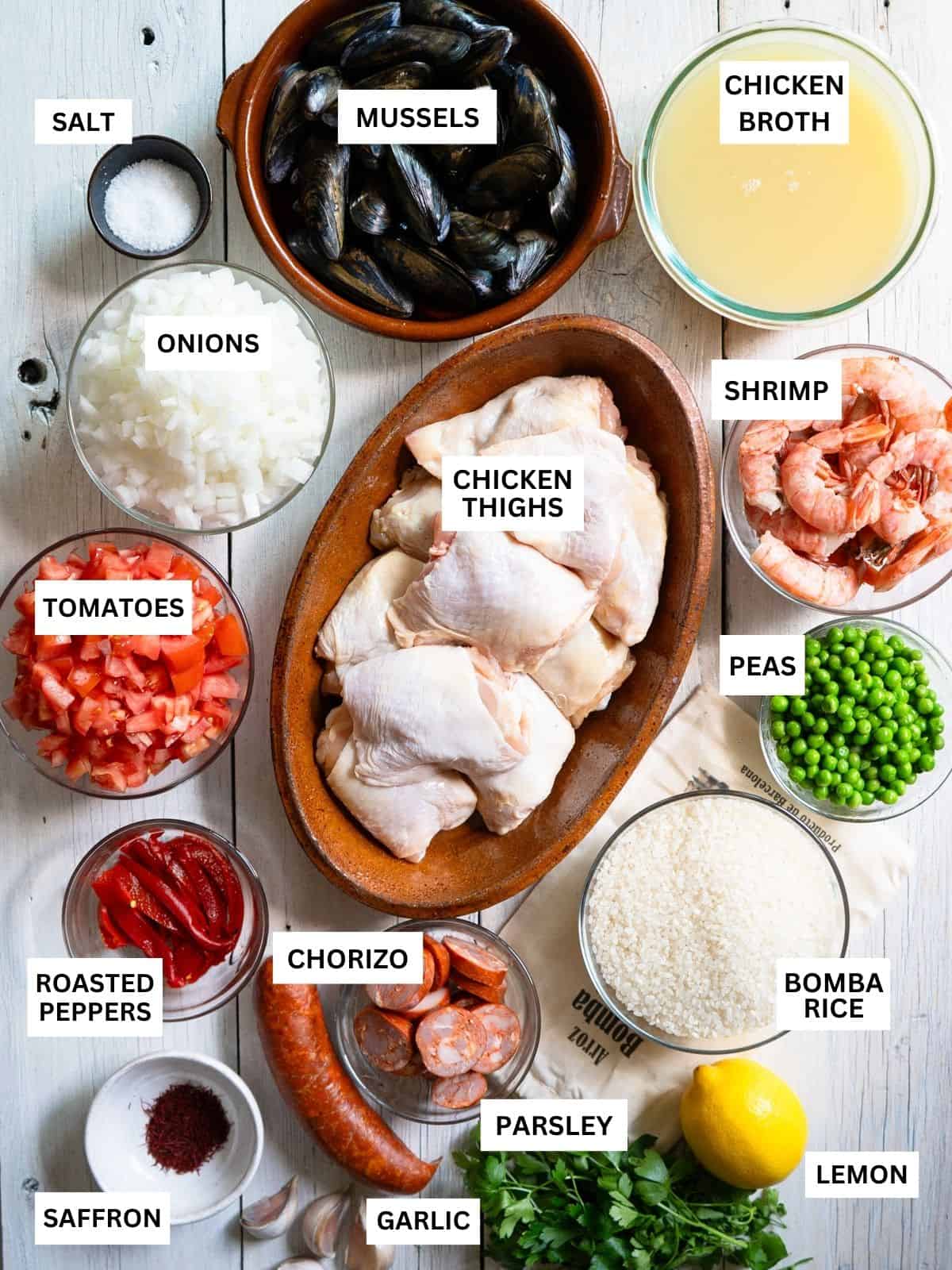 Saffron - Saffron has a unique flavour therefore is difficult to substitute. However if you can't find it anywhere you can add a small amount of turmeric for colour and smoked paprika for extra flavour.
Chicken Broth - Use no-sodium broth so you can adjust the salt to your own taste. Fish stock can be used in place of chicken.
Bone-In, Skin-On Chicken Thighs provide the best flavour but can be substituted with boneless, skinless thighs. I don't recommend chicken breasts for this recipe as the meat can dry out.
Chorizo - Spanish chorizo sausage adds a wonderful flavour to the paella. If you can't find Spanish chorizo look for Portuguese style in the deli section.
White Onions - Spanish or yellow onions can be substituted.
Bomba Rice is the ultimate paella rice. There are other types of paella rice that can also be used and are a little less expensive. If paella rice isn't available, arborio is a good substitute. Keep in mind that the amount of liquid added and cooking times will need to be adjusted. Start with a lower amount of broth and add more as necessary.
For a complete list of ingredients see the recipe card below.
🔪How to Make Paella Mixta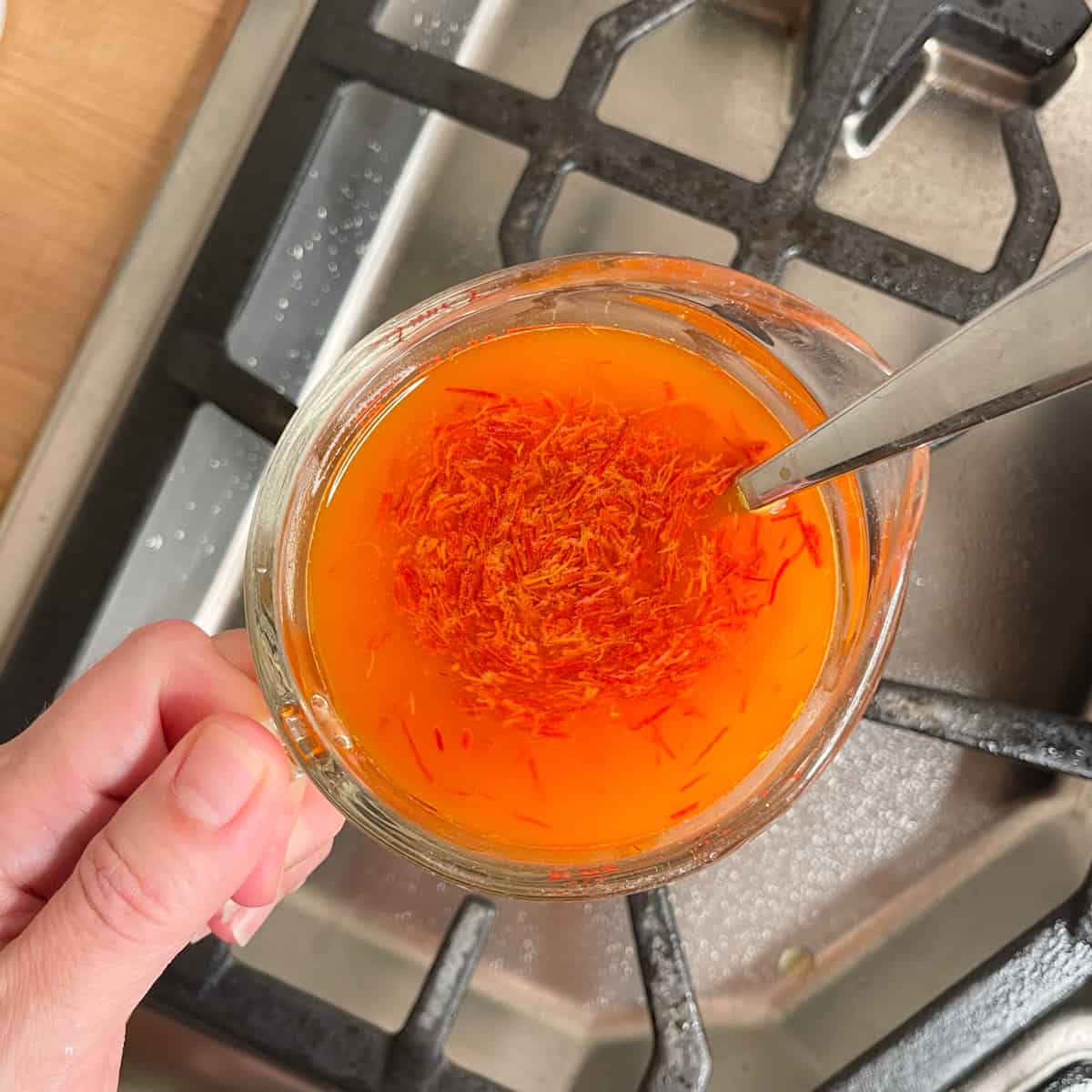 Step 1 - Steep the saffron threads in one cup of warm broth until ready to use. The colour has not been altered in this photo!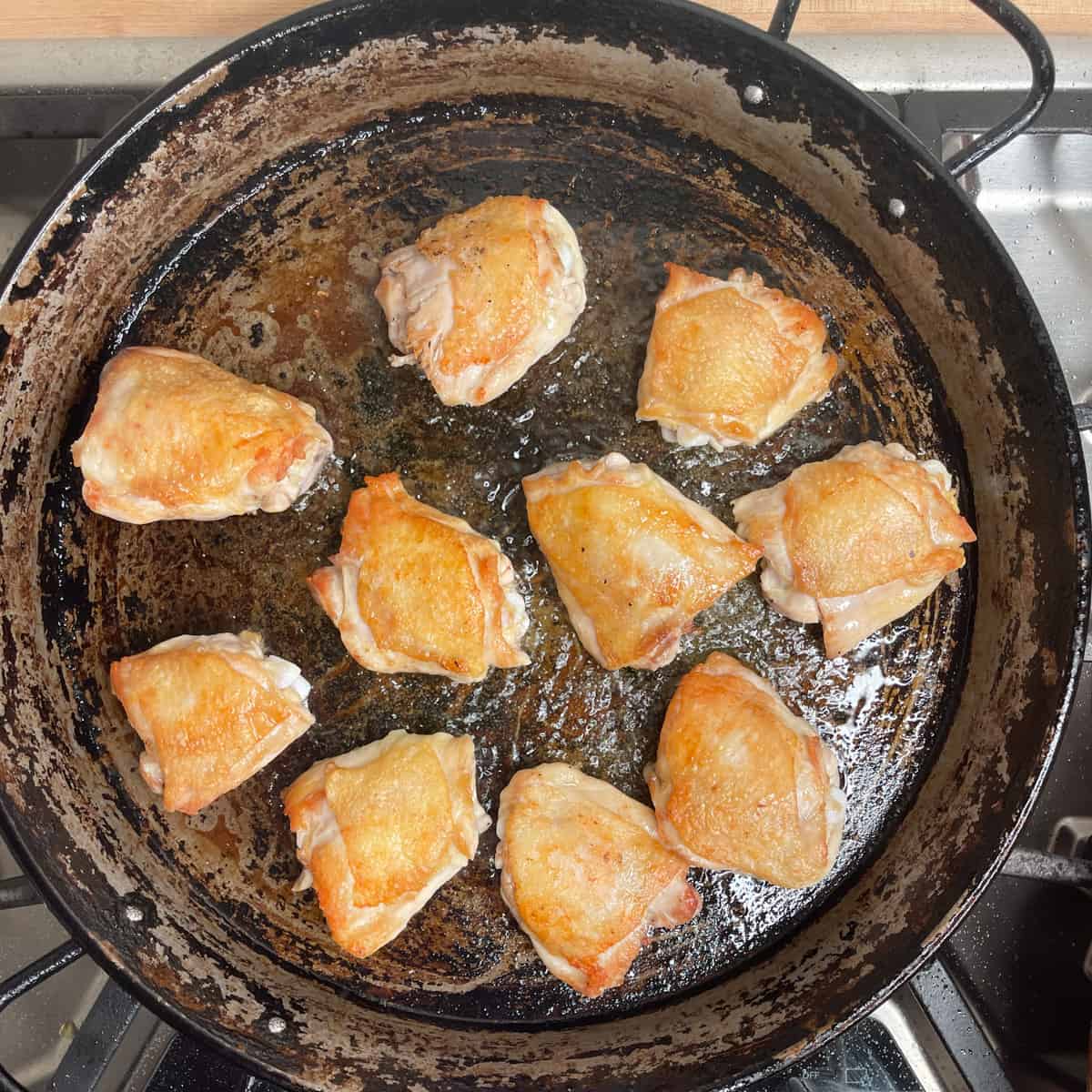 Step 2 - Brown the chicken on both sides and transfer to a platter or plate.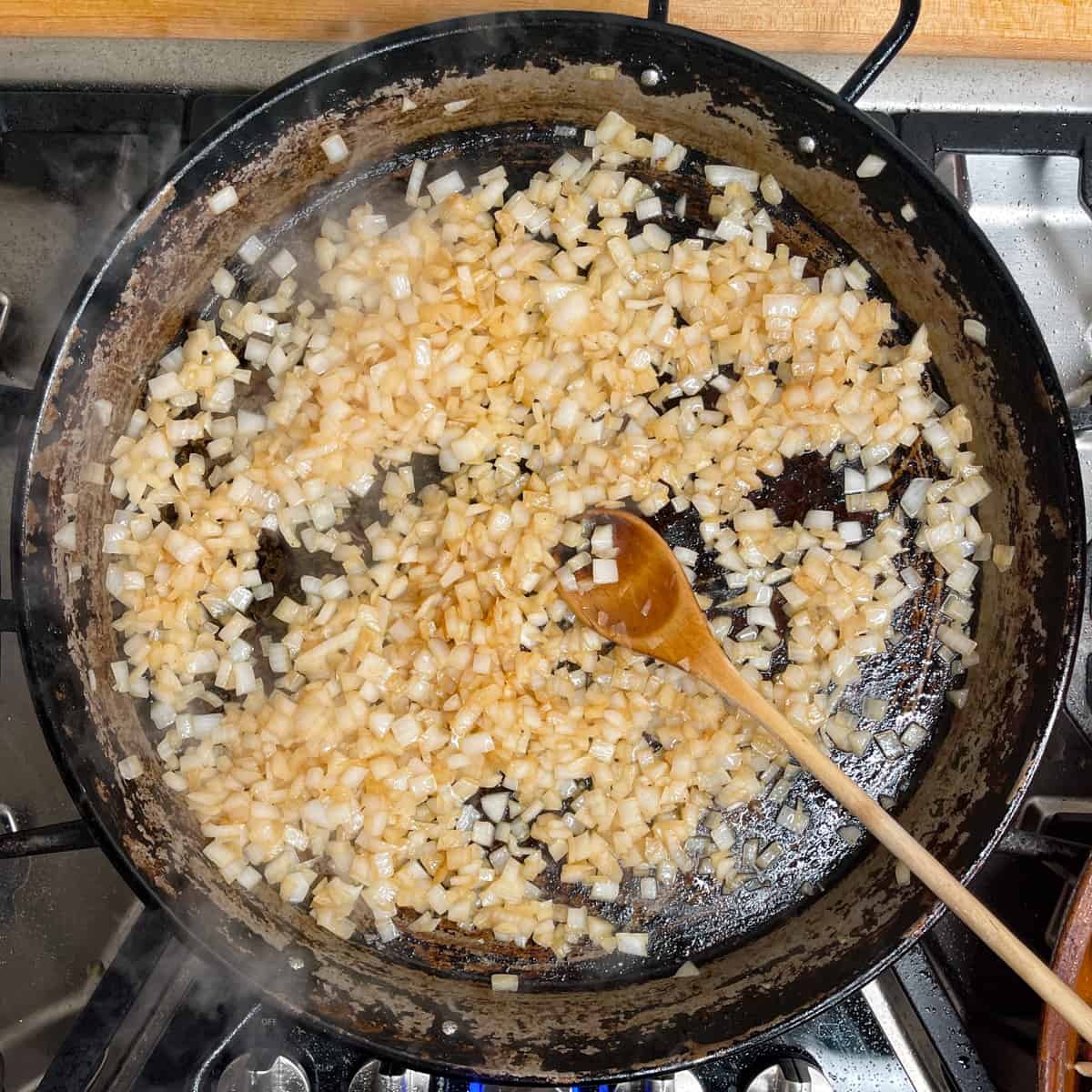 Step 3 - Sautee the onions until glassy.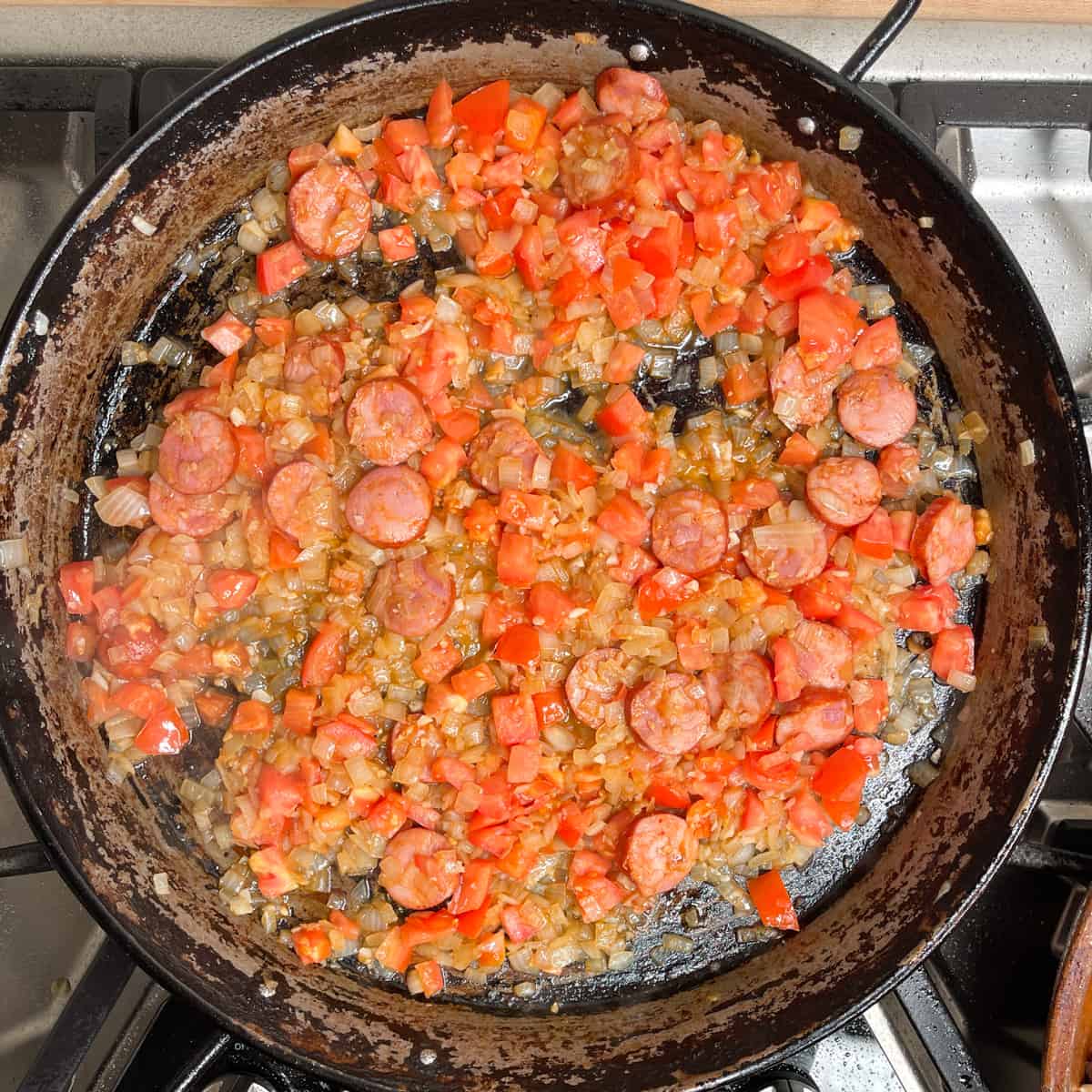 Step 4 - Add the chorizo and cook until starting to brown. Then add the garlic and tomatoes.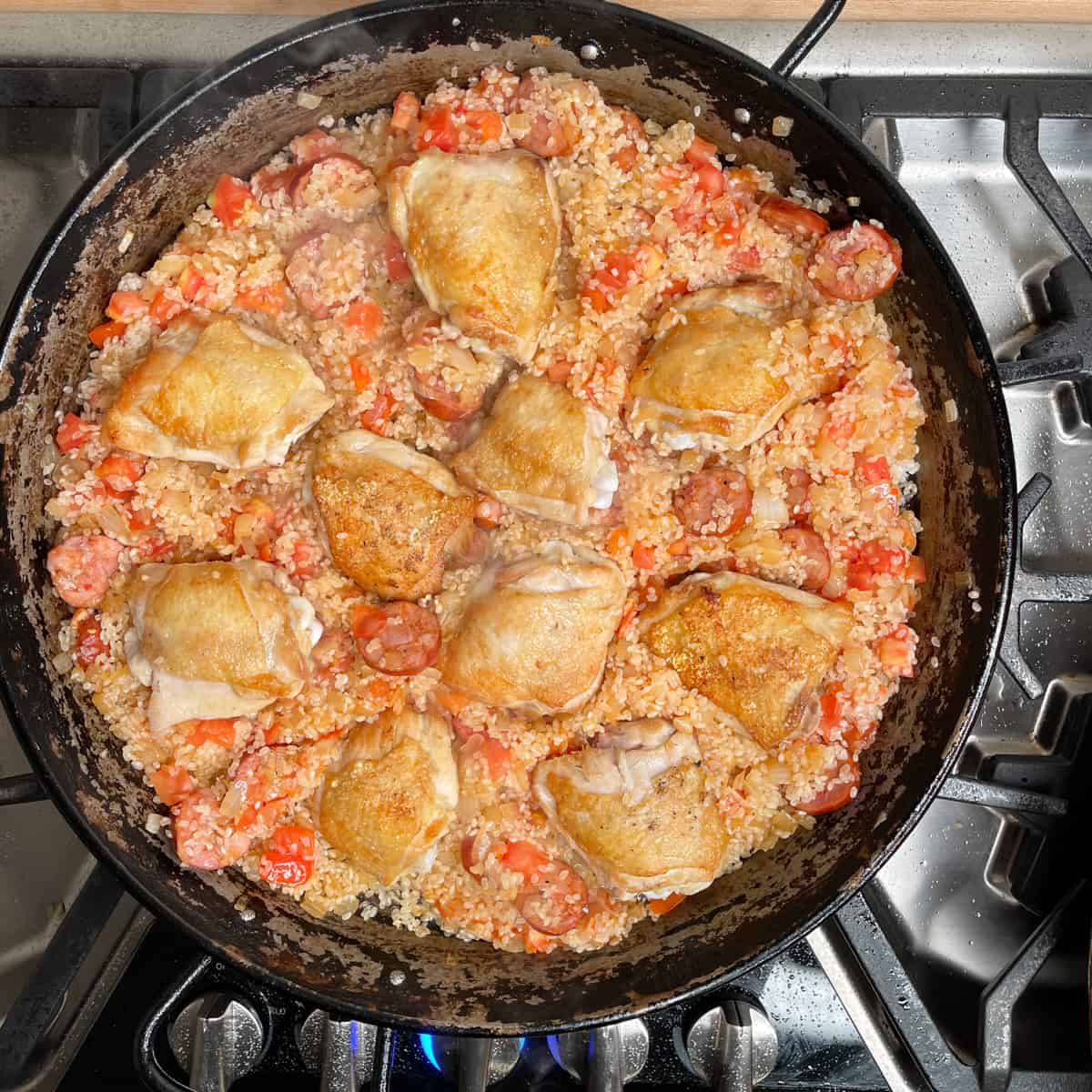 Step 5 - Sprinkle the rice evenly over the pan and stir everything to combine. Nestle the chicken pieces into the rice.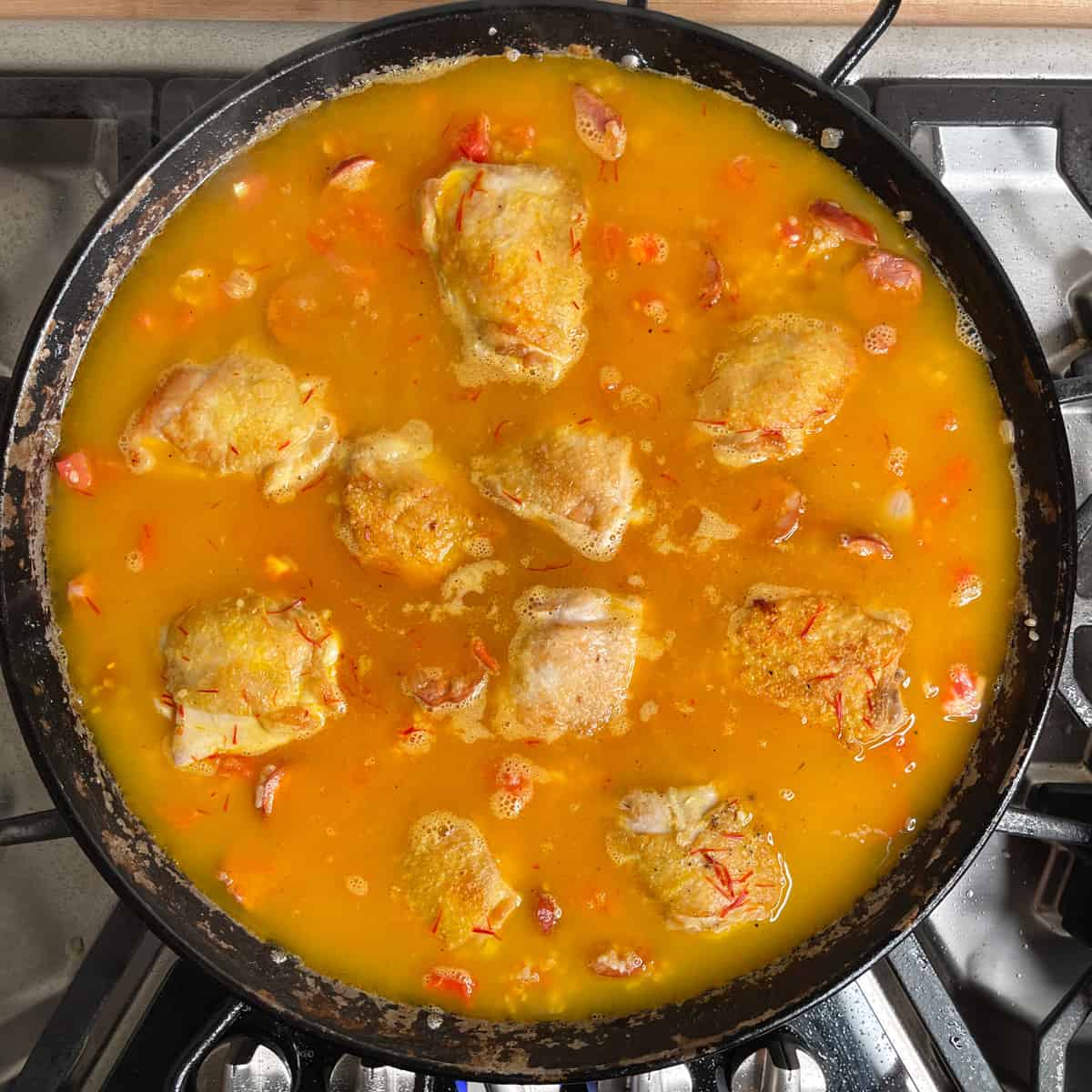 Step 6 - Pour in saffron broth and 6 cups of the remaining broth. Without stirring, bring to a gentle simmer and cook for 10 minutes.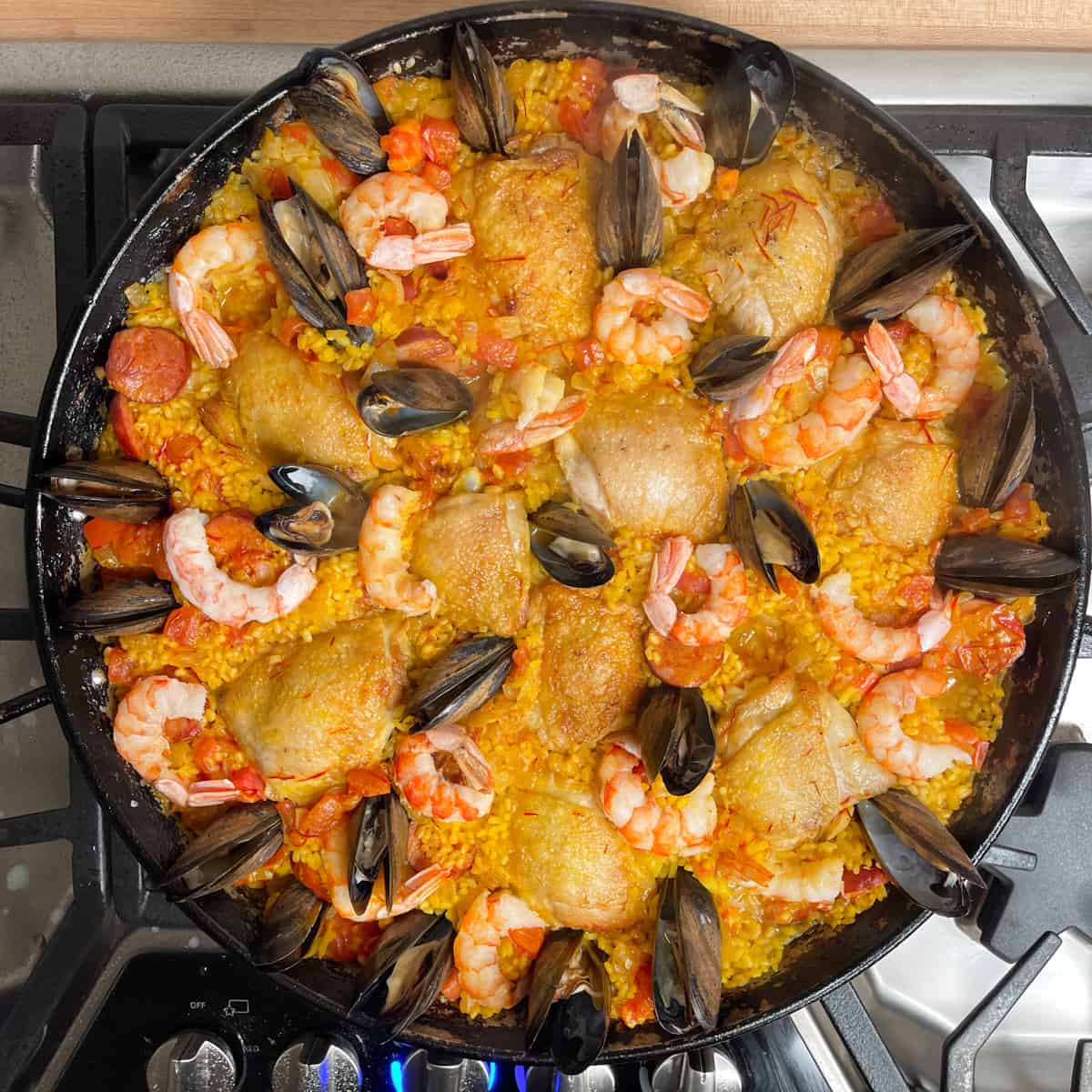 Step 7 - Nestle shrimp and mussels into the rice and continue cooking for 8 to 10 minutes longer.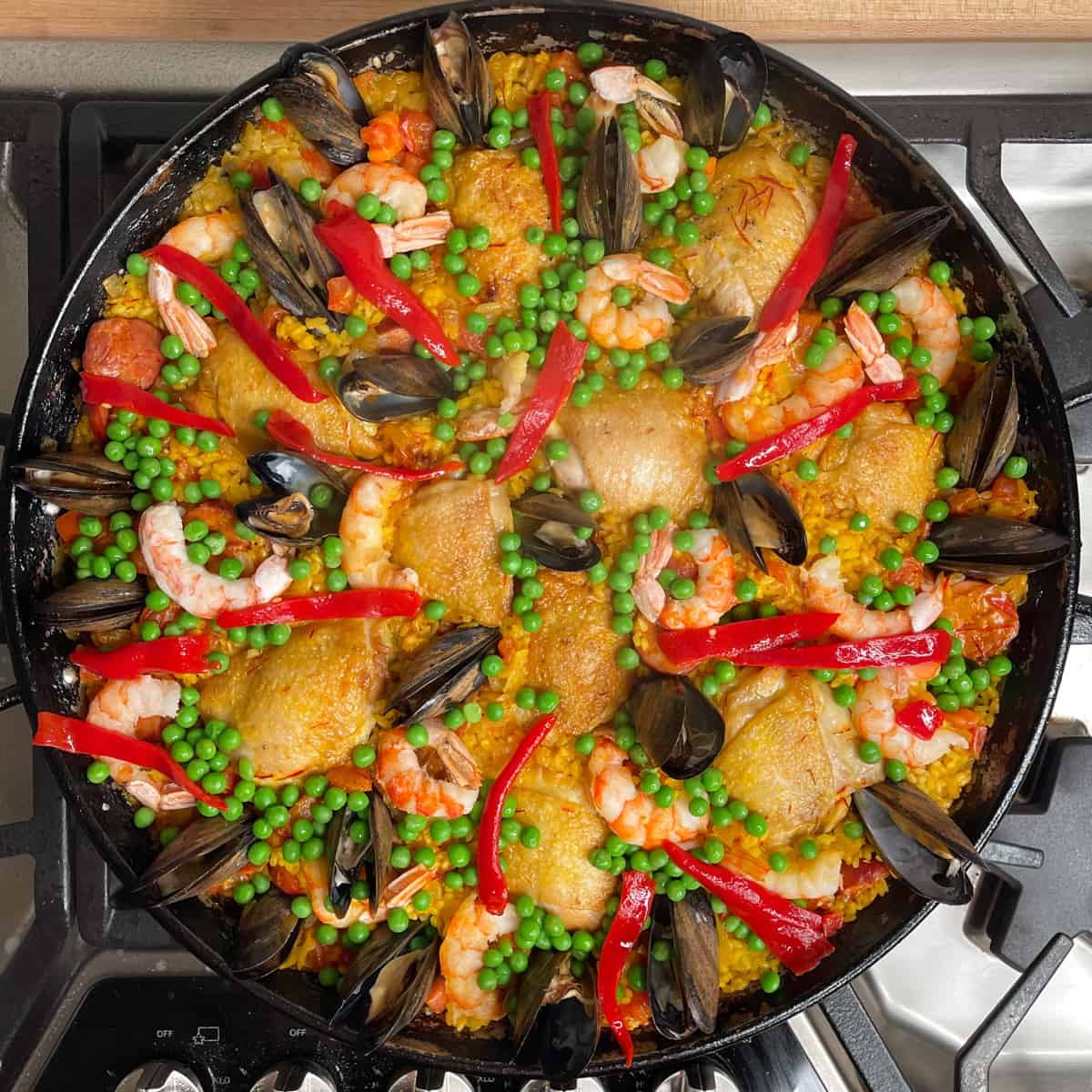 Step 8 - Remove pan from heat and decorate with peas and red pepper. Let rest and garnish with fresh parsley and lemon wedges.
For detailed instructions see the recipe card below.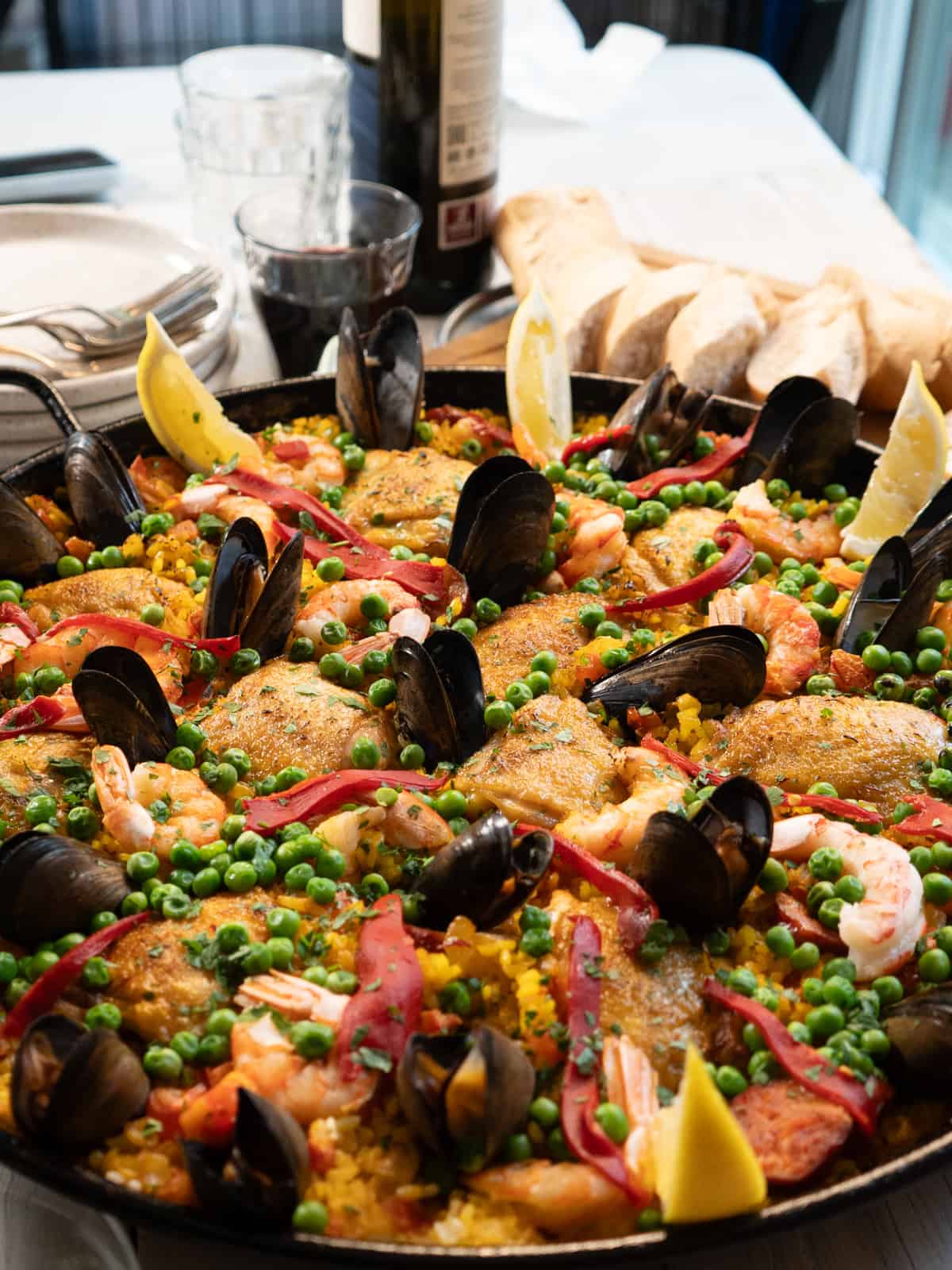 Expert Tips
✅ Prepare your ingredients - In the restaurant world we call this "mise en place" which means "everything in its place". Before you start cooking make sure you have all your ingredients measured, chopped, drained etc. This is especially important with one pan meals like this as well as this Tex-Mex Chicken Recipe.
✅ Adjust Cooking Time: Cooking times and amount of liquid needed varies greatly from paella to paella. Keep an eye on it, taste the rice, and always keep extra broth or water on the side in case you need to add more.
✅ Serve with Lemon Wedges: Accompany Paella Mixta with lemon wedges on the side. Squeezing a little fresh lemon juice over the paella mixta enhances the flavors and brightens the dish.
Equipment
A paella pan or "paellera" is the perfect pan for a paella. It is a wide, shallow pan typically made of stainless steel. If a paella pan isn't available you can use a wide, deep frying pan. Reduce the recipe to accommodate your pan size.
Paella can be cooked on a barbeque, over an open fire, or on the stove top.
Recipe FAQs
What is a traditional paella?
Paella is a regional dish which makes it difficult to pinpoint one traditional recipe. There are 3 main types of paella in Spain: Valencian Paella which is typically made with rabbit and snails, Seafood Paella, and Paella Mixta.
What is the secret ingredient in paella?
The secret ingredient in paella is saffron. Using real saffron that has been grown and harvested from countries such as Spain, Iran or other Mediterranean climate countries is what gives paella it's unique flavour.
What is the most important ingredient in paella?
Rice is the most important ingredient in making paella and the type of rice used can make all the difference. Short grain rice is necessary for it's ability to absorb liquid while still maintaining it's structure and texture.
More Spanish Inspired Recipes
📖 Recipe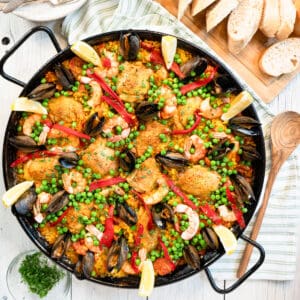 Paella Mixta
Paella Mixta, or mixed paella, is a show-stopping one pan meal that will wow your guests every time!
Print
Pin
Rate
Ingredients
1

teaspoon

saffron threads, loosely packed

8

cups

chicken broth,

no sodium, divided

2

tablespoon

olive oil

10

chicken thighs

bone-in, skin on

325

g

chorizo

2

large white onions,

diced

4

cloves

garlic,

minced

3

medium tomatoes,

diced

3

cups

bomba rice

or arborio (see notes)

1 ½

teaspoon

salt

340

g

shrimp, 18 large (see note)

1

lb

mussels

scrubbed

1

cup

green peas

fresh or thawed from frozen

2

roasted red peppers

thinly sliced

½

cup

parsley

chopped

2

lemons cut into 8 wedges
Instructions
In a small pot or microwave, heat 1 cup of chicken broth. Add saffron threads and salt, steep until ready to use.

1 teaspoon saffron threads, loosely packed,

1 ½ teaspoon salt

Heat olive oil in a large pan over medium-high heat. Brown chicken thighs for 3-4 minutes per side. Transfer chicken to a plate.

2 tablespoon olive oil,

10 chicken thighs

Discard all but 2 tablespoon of oil in the pan. Sauté onions over medium-high heat for 3 minutes until glassy. Add chorizo, cook for 2-3 minutes until starting to brown. Add garlic and tomatoes, cook for another 2 minutes.

325 g chorizo,

2 large white onions,,

4 cloves garlic,,

3 medium tomatoes,

Sprinkle rice evenly in the pan. Nestle chicken into the rice. Pour saffron broth and 7 cups of the remaining chicken broth over the chicken and rice. Reserve one cup of broth for later. Bring to a boil, then reduce to a gentle simmer. Simmer uncovered for 10 minutes. No stirring!

3 cups bomba rice,

8 cups chicken broth,

Add shrimp and mussels, gently pressing into the rice. Cook for 8-10 minutes, flipping shrimp if needed, until shrimp are cooked and mussels open. Discard unopened mussels.

340 g shrimp, 18 large (see note),

1 lb mussels

Taste the rice to see if it's cooked. The rice should be slightly "al dente". If rice isn't fully cooked but broth is absorbed, add more broth or water and continue simmering until done. (The amount of time and liquid needed will vary depending on the type and age of the of rice, type of pan used and the amount of heat used. Adjust as needed.)

Remove pan from heat. Sprinkle peas over paella, arrange red pepper strips. Loosely cover with foil and rest for 10 minutes.

1 cup green peas,

2 roasted red peppers

Garnish with lemon wedges and chopped parsley. Serve warm.

½ cup parsley,

2 lemons cut into 8 wedges
Notes
Shrimp can be peeled or unpeeled. Paella rice or arborio rice can be used instead of Bomba rice. Note that the cooking times and amount of liquid needed may change with different types of rice. If desired, steam mussels beforehand and add with red pepper strips and peas in step 5. Store leftovers in an airtight container in the refrigerator for up to 3 days or freeze for up to 3 months. Nutritional Facts are an estimate only and are based on one serving. Portion sizes will vary depending on how much of each ingredient is served to each person. 
Nutrition
Serving:
1
serving
|
Calories:
636
kcal
|
Carbohydrates:
57
g
|
Protein:
46
g
|
Fat:
20
g
|
Saturated Fat:
4
g
|
Monounsaturated Fat:
2
g
|
Cholesterol:
190
mg
|
Sodium:
979
mg
|
Potassium:
474
mg
|
Fiber:
2
g
|
Sugar:
5
g