A Spanish omelette or Tortilla de Patatas is truly a classic dish of Spain. This recipe is the authentic version. With just 5 ingredients you can create the most delicious potato dish imaginable. Perfect for a pot luck BBQ or how about a picnic? It travels well and is delicious eaten at room temperature. It's simple, easy and once you master the technique you will want to make it over and over again!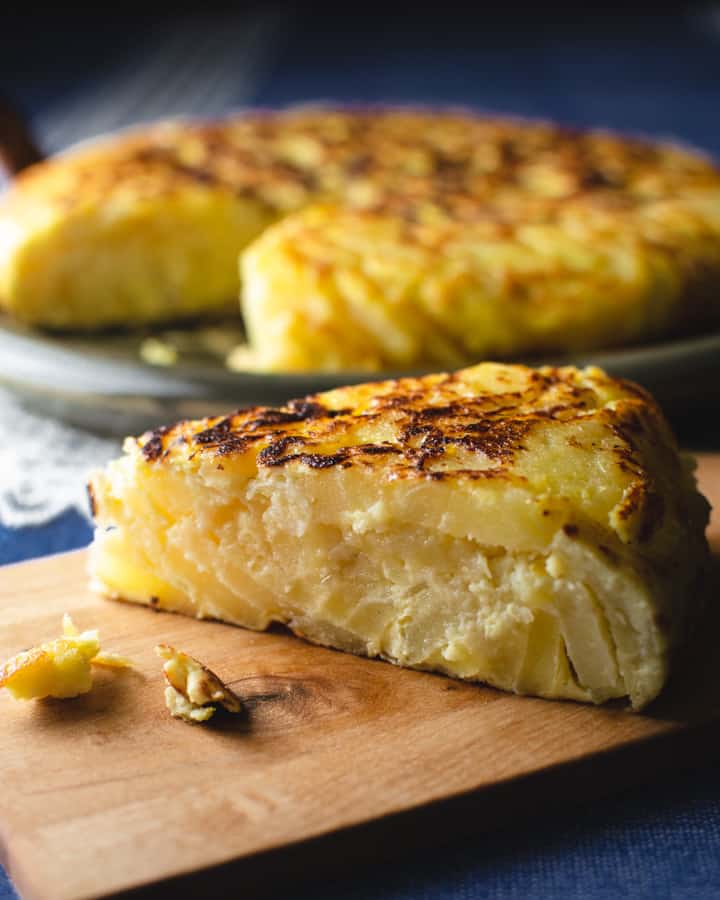 Found in almost every bar in Spain, Tortilla is probably one of the most common and popular tapas dishes in the country. I was introduced to it decades ago when I started dating my husband. His father is from Spain and his mother, who is German, has mastered several Spanish dishes including the Spanish Omellete. I don't remember the first time I tried it but I can tell you that if you are a potato lover, like me, you will be hooked immediately. His father has now taken on the roll of Tortilla maker and has certainly mastered his technique.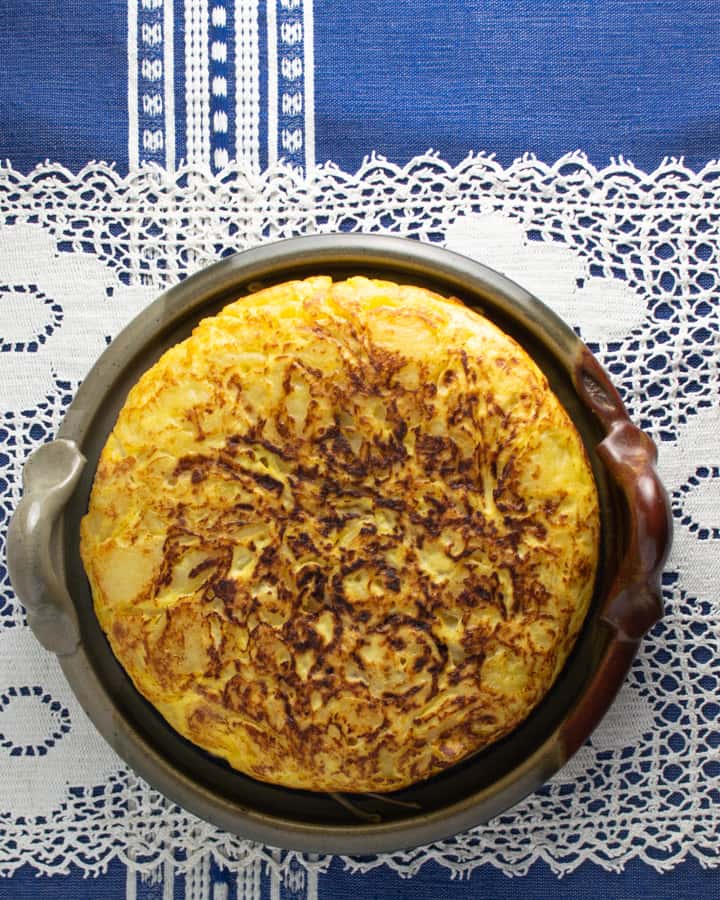 I really started getting into the nuances of the Spanish Omelette when I spent a few months living in Madrid back in the late 80's. I was staying with my husband's aunt and uncle who loved to entertain on the weekends. They had the tiniest kitchen I have ever seen but we managed to prepare some elaborate meals for a small crowd on several occasions. A Spanish omelette, or Tortilla as it is called in Spain, was often on the menu. That's where I learned how to make it. We never followed a recipe. In fact, I'm pretty sure nobody in Spain ever does. That is what gives this very simple dish so much character. Never is a Tortilla served without a lengthy conversation, critique, and debate over all the small details. Does it have enough salt? Is it too dry? Are the potatoes under cooked? Could it have used more onion? The cook never thinks it's perfect but there's always an argument over that too!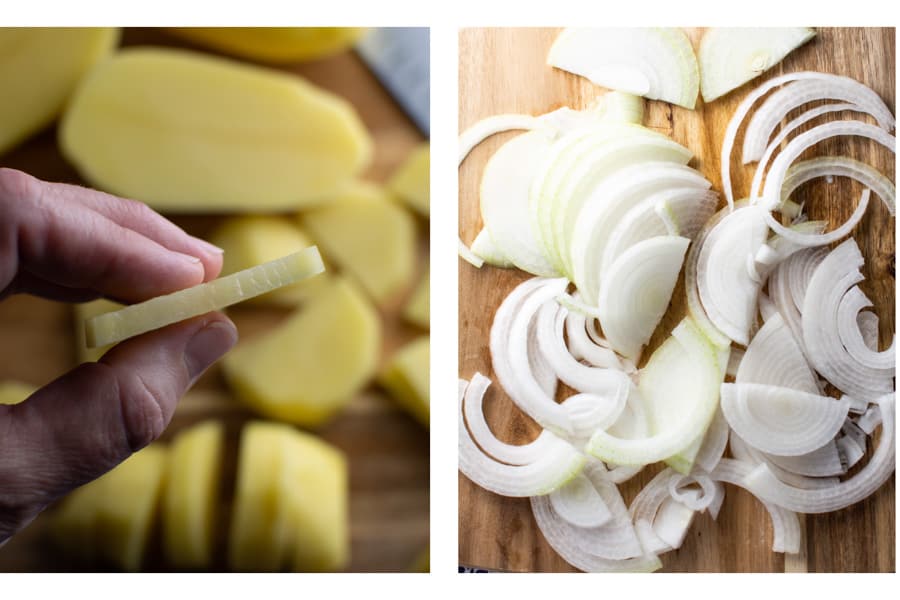 Let's talk about the recipe. Although there are so few ingredients, the Spanish omelette does require some technique and practice. It may take a few tries to get it right or you could nail it on your first try. What I can tell you for sure is that as long as you don't burn it it will taste incredible!
Start by preparing your potatoes and onions. I like to use Yukon Gold but you can also use new potatoes. Red or white skin, it doesn't matter. The important thing is to use a waxy potato rather than a starchy one. So a Russet or Baking potato would be a no-no. The waxy ones hold their shape better when cooked. Yukons are sort of in between but I like to use them for their colour, flavour and when cooked right, have a lovely texture.
My preferred onions for Spanish Omelette are white for their sweetness. But you can also use Spanish onions. Both the potatoes and onions are peeled, cut in half lengthwise and then thinly sliced.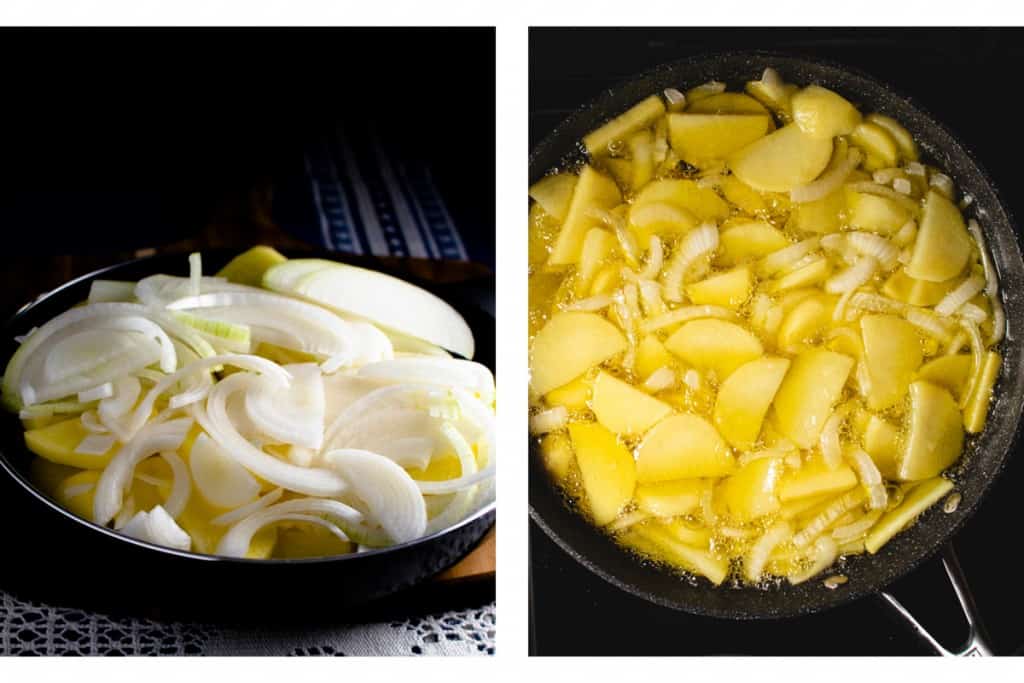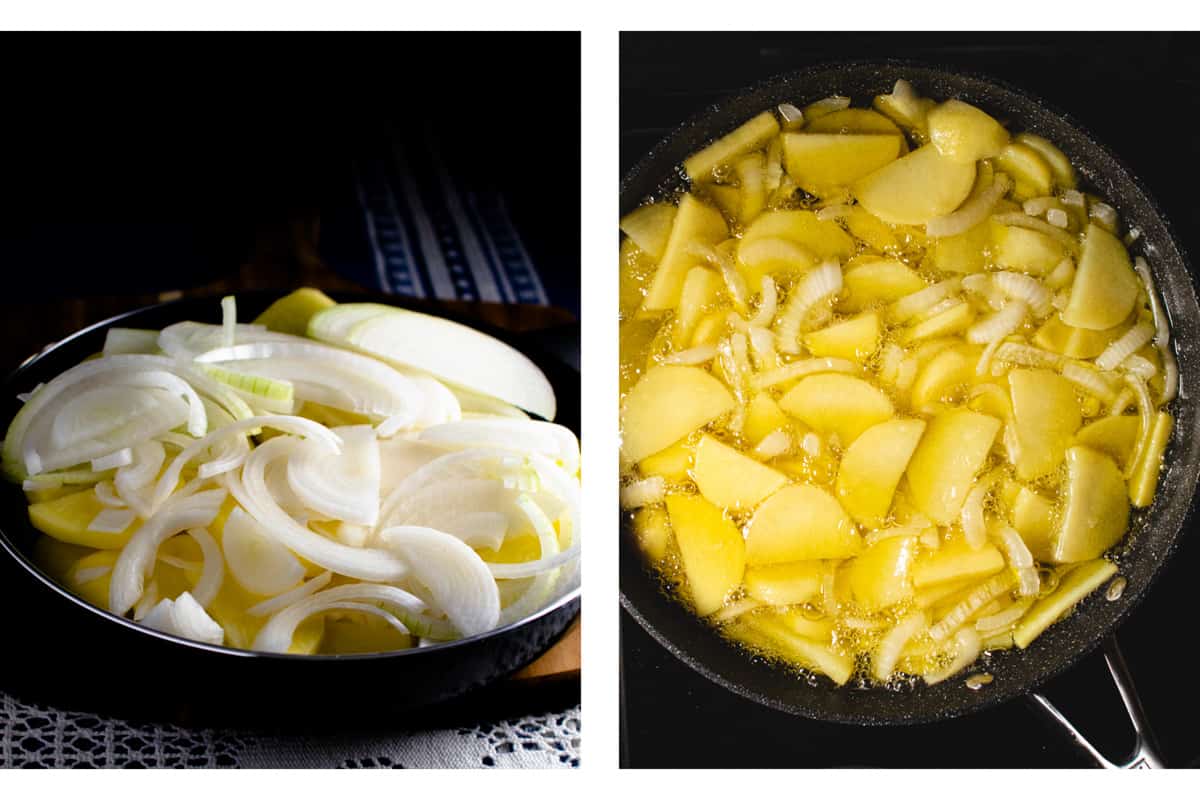 You will need 2 different sized frying pans for this. One for the finished omelette and a larger one for cooking the potatoes and onions. The desired finished size of your omelette will determine how many potatoes and onions you use. This recipe is for a 9" finished tortilla. If you are adjusting the size you can put your raw potatoes and onions in the pan you will be using for finishing to determine if you have enough, as shown in the photo above. It should be slightly mounded as they will flatten out after cooking. Then you start to heat up the olive oil in the larger pan so you have room to stir as they cook.
There is a lot of olive oil used in this recipe. Don't panic as most of it is drained off. The potatoes and onions are essentially "poached" in oil. It's a very delicate cooking process as not to cause browning. Once the potatoes are soft, drain the mixture over a bowl to collect the oil. You will need to reserve 2 tbsps. for the final cooking and the extra can be reused for cooking. Extra virgin olive oil isn't always the best choice for cooking as it has a low smoking point, which means it burns easily. Because the cooking temperature is kept low this is the oil of choice as it provides the best flavour.
While the potatoes and onions are draining you will prepare your eggs and salt in a large bowl. Turn the potato mixture into the bowl with the eggs and fold gently until combined. This is best left to sit for 5-10 minutes so the potatoes can absorb some of the egg. Now's a good time to do a few dishes!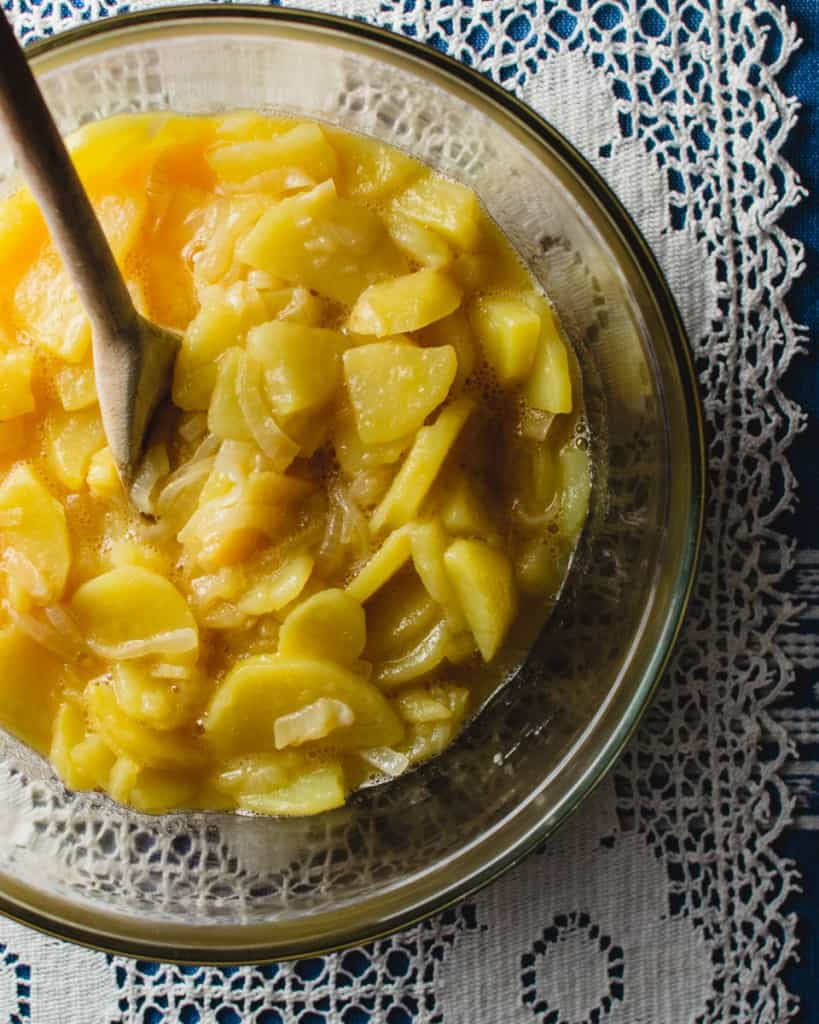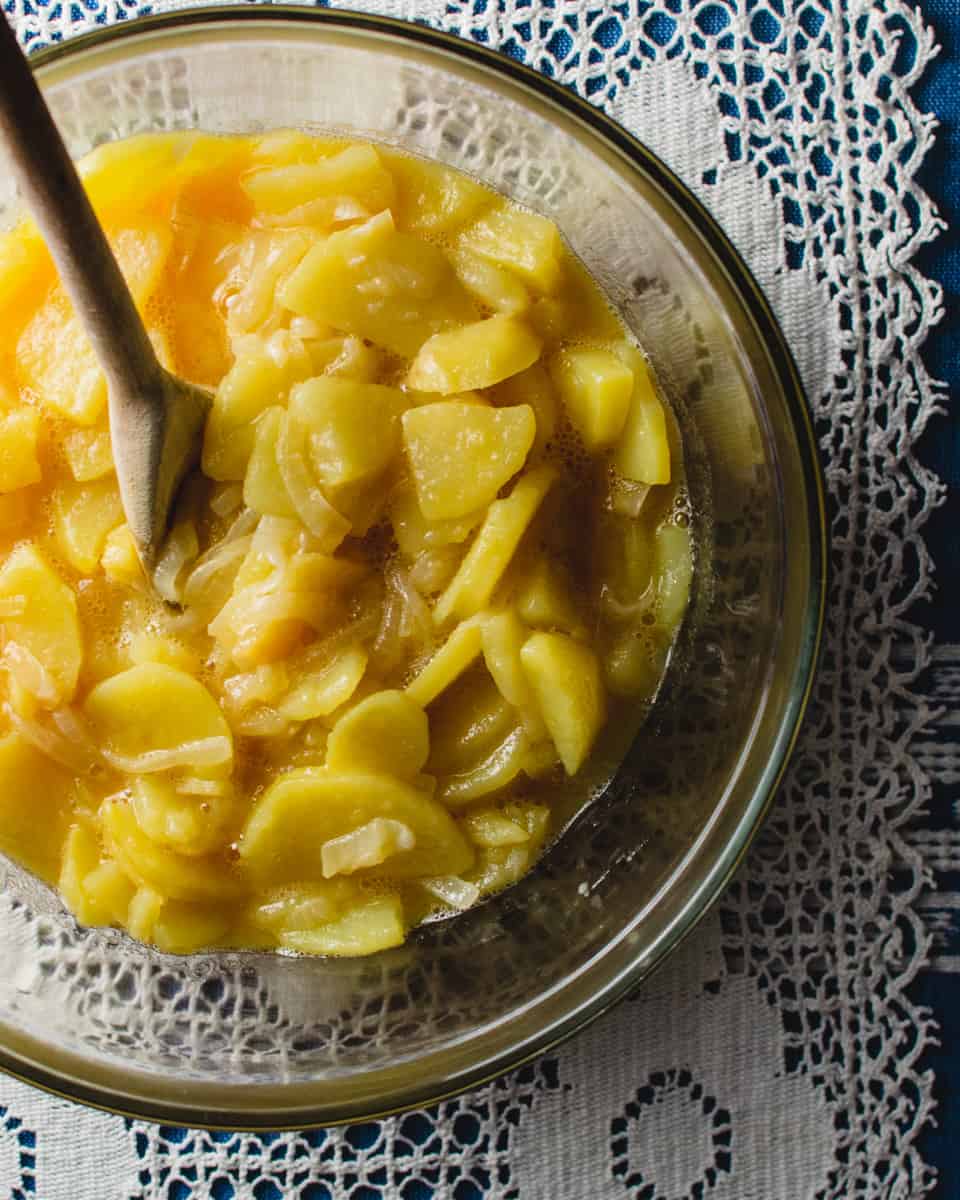 The mixture gets turned into your smaller pan that has been heated with some of the drained oil. The omelette is cooked on the first side until it has a nice deep golden brown colour on the bottom and is just starting to look set around the edges.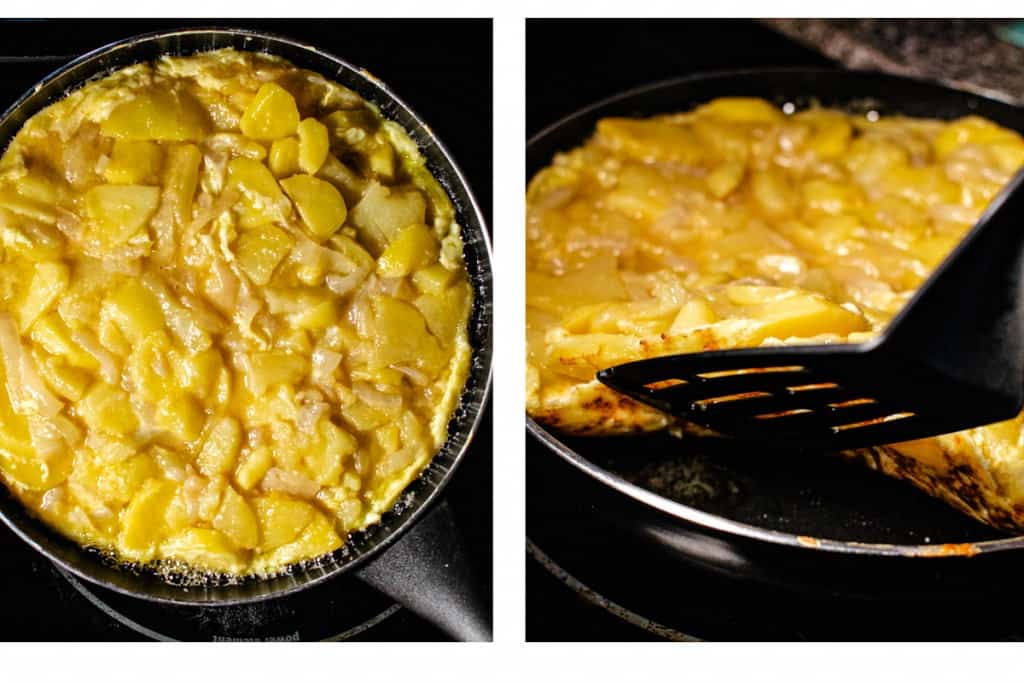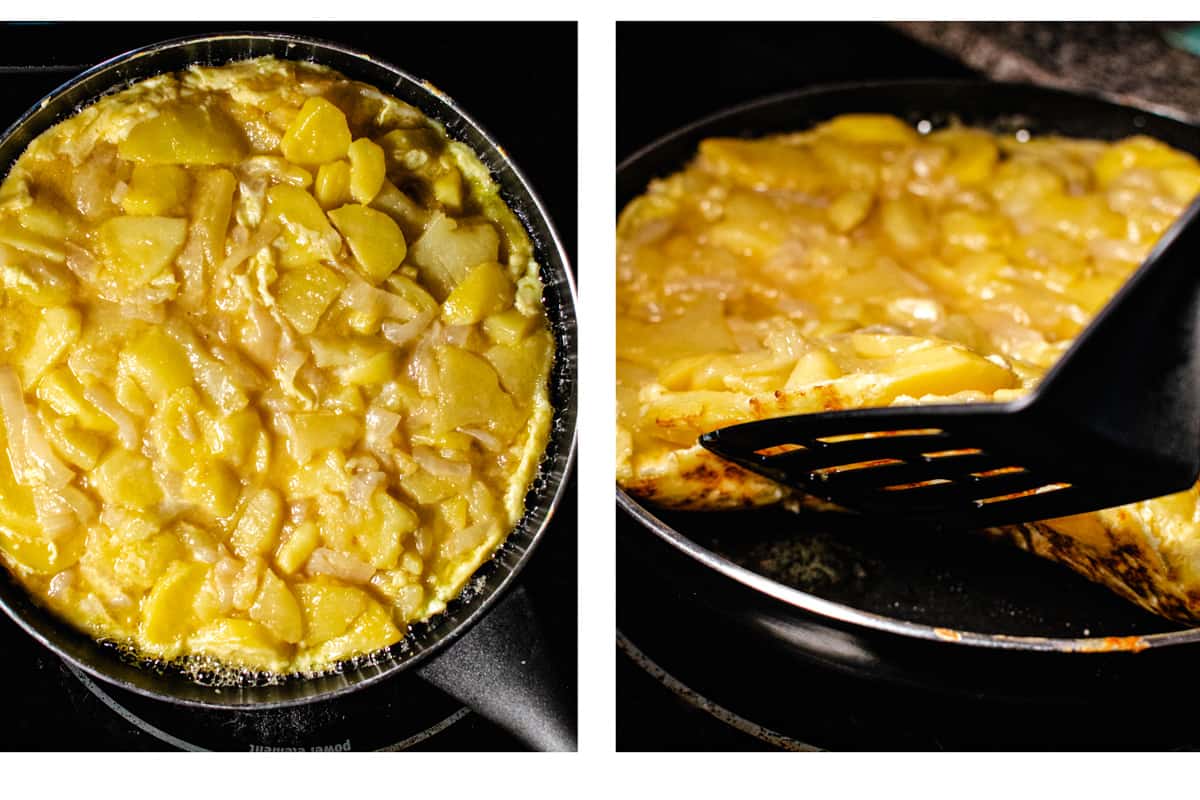 This is the part that can make people nervous. You place a plate over the omelette, making sure it is larger than the omelette, and flip it over so the cooked side is now up.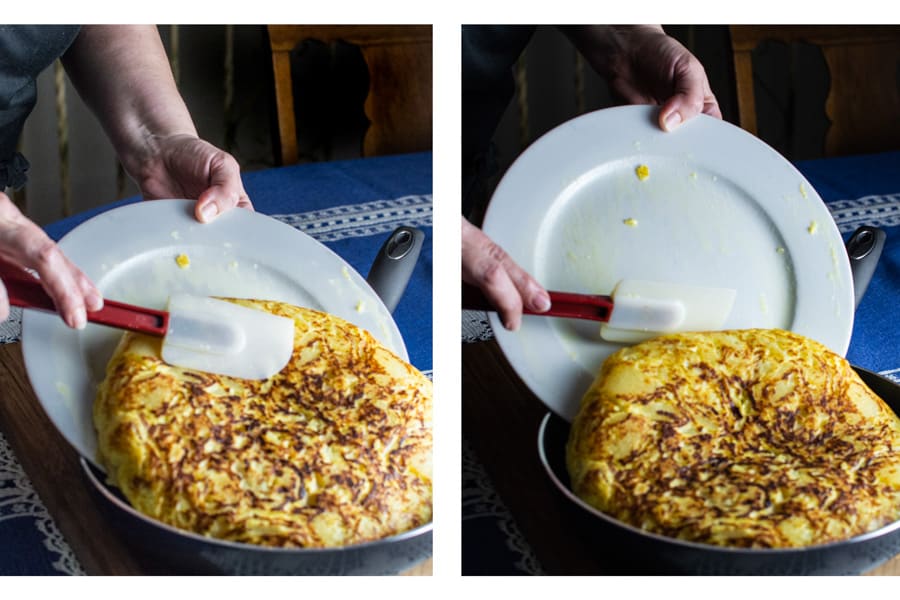 Then you slide it back into the pan after wiping it out and heating up some more oil. Use a wooden spoon or rubber spatula to push around the sides to create a nice rounded edge. Now it cooks until you get another golden brown bottom. Flip it back out onto a plate and voila!
Spanish omelette can be served warm but typically it is eaten at room temperature. If I make it in the winter I tend to prefer it warm and not in the summer. You can serve it as a side to anything you like or it can be the main attraction with a nice green salad. In Spain tortilla is even made into a sandwich with a slice between 2 pieces of baguette. Yum! Keep it in the fridge and it will last several days.
PRO TIPS FOR BEST RESULTS
Use waxy potatoes and white onions, sliced thinly.
Extra virgin olive oil gives the best flavour. You can reuse the drained oil for future cooking purposes. Not for salads.
Heat up the olive oil before adding the potatoes and onions. Test with one slice of potato. Look for it to just start sizzling.
Monitor the cooking temperature so it doesn't get too hot or too cool.
Stir gently as not to break up the potatoes too much.
Whisk the eggs very well. The salt added in this step helps to break up the eggs.
Let the potatoes and onions rest in the egg mixture for several minutes so the potatoes can soak up some of the egg.
Check the bottom of the omelette to see if it is the right colour. Adjust cooking temperature if necessary.
Use a plate or flat tray larger than the omelette to flip it out. Do this over the sink.
If either side needs more bowning put it back in the pan, on the heat, for a minute or two.
Print Recipe
Spanish Omelette
A Spanish omelette or Tortilla de Patatas is truly a classic dish of Spain. This recipe is an authentic version. With just 5 ingredients you can create the most delicious potato dish imaginable. It's simple, easy and once you master the technique you will want to make it over and over again!
Equipment
One deep 10"-12" non-stick skillet and one regular 9" non-stick skillet
Ingredients
1

kg

approximately, Yukon Gold or new potatoes

1

large

white onion

2

cups

extra virgin olive oil

5

large

eggs

2 ½

teaspoon

kosher salt,

if using table salt or fine sea salt start with 2 tsp.
Instructions
Peel potatoes. Cut in half lengthwise and slice into approx. ¼" slices. Set aside.

Peel onion. Cut in half lengthwise and slice the same thickness or slightly thinner than potatoes. Add to potatoes.

Heat all the olive oil over medium heat in a frying pan large enough to hold the oil, potatoes and onion. Heat for 2-3 minutes. To check if it's ready put a slice of potato in the oil. It should be sizzling gently. Add all the potatoes and onion. Stir, making sure everything is coated in oil.

Cover with a lid and continue cooking for approximately 20 minutes. Check and stir carefully every few minutes making sure the oil isn't getting too hot. It should be simmering gently. The potatoes and onions are done when you can easily break apart the potato with a wooden spoon or spatula.

Drain in a colander over a bowl to catch the oil. Set aside the collected oil. Whisk together the eggs and salt. Add the potatoes and onions to the egg mixture stirring well but gently. Let sit for 10 minutes.

Heat 1 tablespoon of the reserved olive oil in the finishing size frying pan over medium-high heat. Add the potato, egg mixture moving it around slightly to distribute the egg evenly. Turn the heat down to medium. Without stirring, cook for 6-7 minutes, checking the bottom by lifting the edge up slightly with a spatula.

When nicely browned on the bottom remove from heat. Place a larger sized plate or tray on top. Over the sink. with one hand holding the pan handle and the other on top of the plate, carefully flip the pan over so the omelette is cooked side up on the plate. Wipe the pan with paper towel and heat up another 1 tablespoon of olive oil on medium-high heat. Gently slide the omelette back into the pan with the cooked side up. Reduce the heat to medium. Using a wooden spoon or spatula push the sides in slightly to create a rounded edge. Continue cooking for 3-4 minutes or until the bottom is nicely browned and the center is firm and set. You can always return it to the pan to brown either side a little more if necessary. Let cool for at least 20 minutes before eating but ideally an hour or more to give it time to set.
Notes
1. Omelette is best served slightly warm or at room temperature.
2. Can keep for 3-4 days covered, in the refrigerator. 
3. Left over olive oil can be strained through a fine sieve or cheesecloth and reused for cooking purposes.