Tortilla de Patatas, also known as Spanish Omelette or Tortilla Española, is easy to make with just 5 ingredients. Perfect for potlucks, BBQs, or picnics, it's tasty at room temperature, travels well, and is addictive once you've mastered it!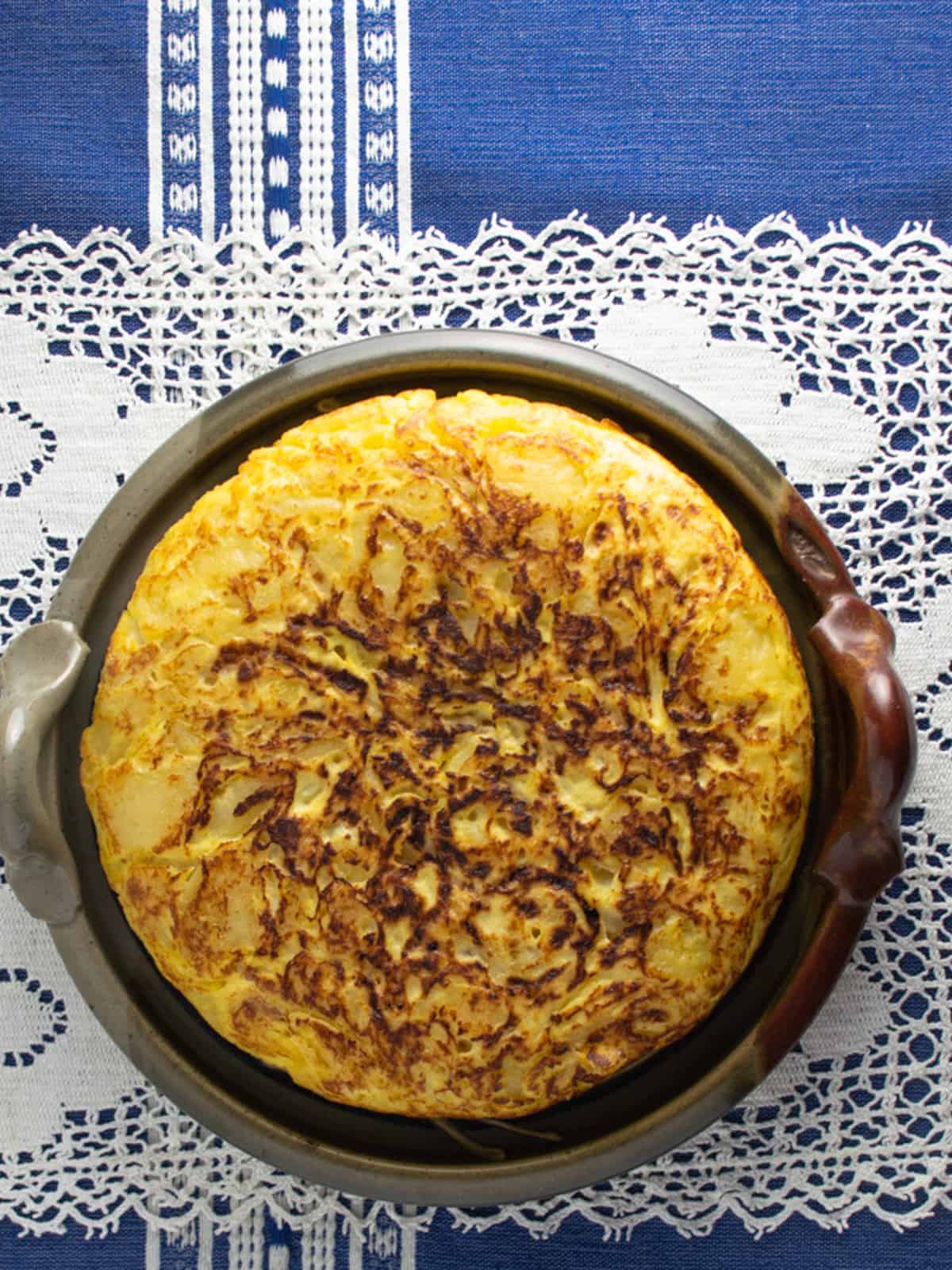 Tortilla de Patatas, is a tapas dish that you will find all over Spain. Like my Spanish Zucchini Omelette, it is more like a frittata than an omelette but with less egg. Only 5 simple and inexpensive ingredients are needed to create this ultimate potato dish!
A potato tortilla is the perfect accompaniment to dishes like BBQ Pork Chops and Marinated Grilled Pork Tenderloin.
Jump to:
Why You Will Love This Recipe
Easy to make: The recipe is relatively simple and requires only a few basic ingredients. This makes it accessible to both experienced cooks and beginners looking to try their hand at creating a traditional Spanish dish.
Suitable for any meal: Tortilla is a versatile dish that can be served for breakfast, lunch, or dinner. It is equally enjoyable as a main course, side dish, or even as a snack.
Economical - With potatoes, onions an eggs making up the bulk of the ingredients, this recipe is perfect for any budget.
Versatile: The recipe allows for variations and personalization. Some people may add other ingredients like bell peppers, chorizo sausage, spinach, or even mushrooms, making it adaptable to different tastes and dietary preferences.
Beautiful presentation: With it's golden brown exterior and soft and creamy center, a Spanish Omelette has an enticing appearance and looks beautiful on the table.
Ingredients Needed For a Classic Tortilla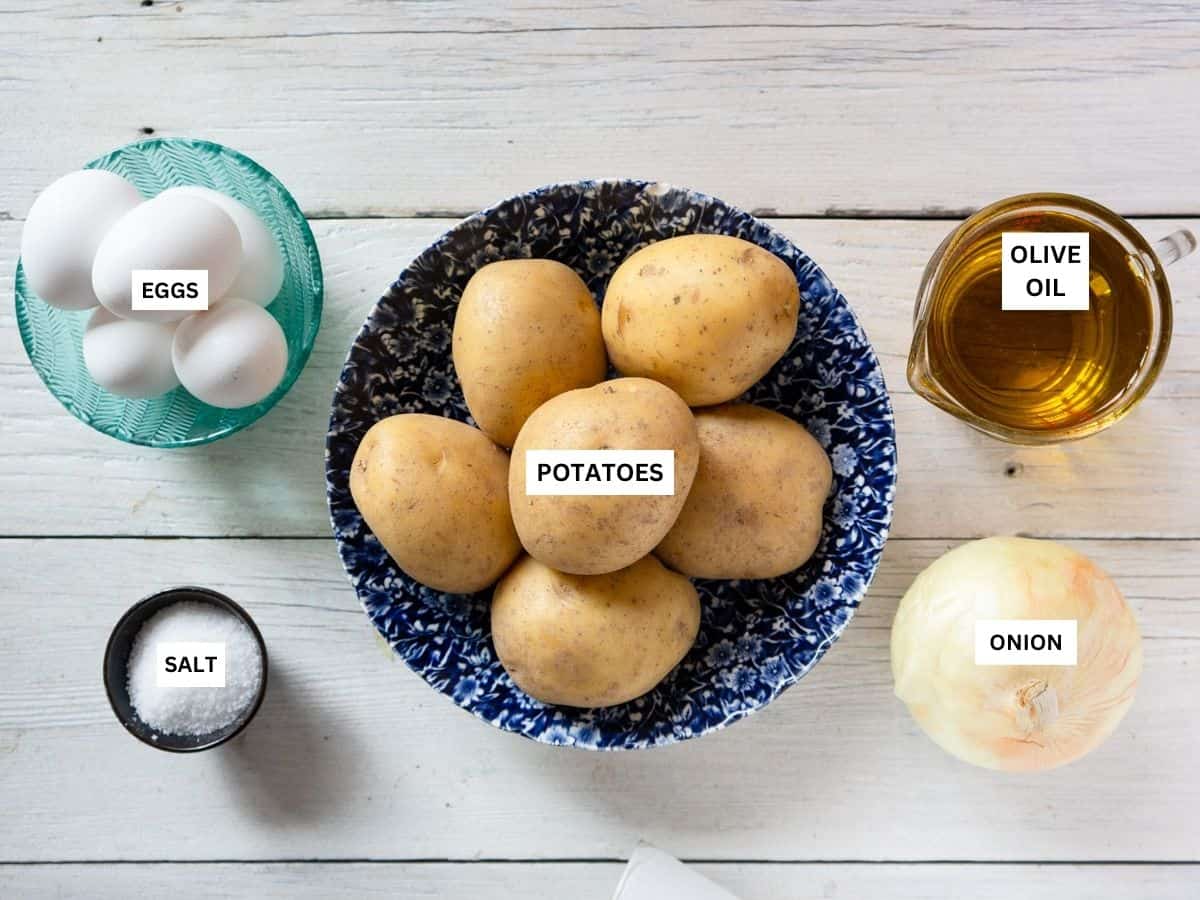 Potatoes - Yellow, or Yukon Gold potatoes are ideal for the perfect balance of flavour and starch. New potatoes will also work perfectly. Avoid starchy potatoes such as Russet or baking potatoes as they will fall apart during the cooking process.
Onion - Spanish, white or sweet onions are all perfect for this recipe. Avoid red onion as it will turn grey inside the omelette.
Eggs - Start with the number of eggs given in the recipe below. As you gain more practice you can make adjustments depending on how wet or dry you like your finished tortilla de patatas.
Oil - Extra virgin olive oil will give you the best flavour. The tortilla is cooked over medium to low heat so you don't have to worry about the oil burning. The extra oil can be stored and used for a future tortilla or for cooking. Although it's a lot of oil, most of it gets drained off.
For a complete list of ingredients see the recipe card below.
Variations
Once you've mastered the basic Tortilla de Patatas try adding some different flavours such as diced chorizo or ham, cheese, roasted red pepper, spinach or any other favourite vegetables. You may need to add an extra egg when adding extra ingredients. Play around with it and have fun!
If you are looking for an easy frittata recipe try my Baked Frittata with Vegetables.
For a perfect light lunch serve a wedge of Tortilla with a refreshing bowl of Chilled Gazpacho Soup
How to Make This Recipe
Step 1 - Slice the potatoes and onions into approximately ½ cm or ⅛-inch thickness.
Step 2 - Cook the potatoes and onions in a large frying pan. Heat the oil to medium-high heat and turn down to medium after adding the vegetables. The goal is to gently fry the vegetables, with little or no browning, until they are soft, about 15 minutes. Stir occasionally to avoid sticking and adjust heat to keep the oil bubbling gently. In a colander, drain the oil from the potato and onions.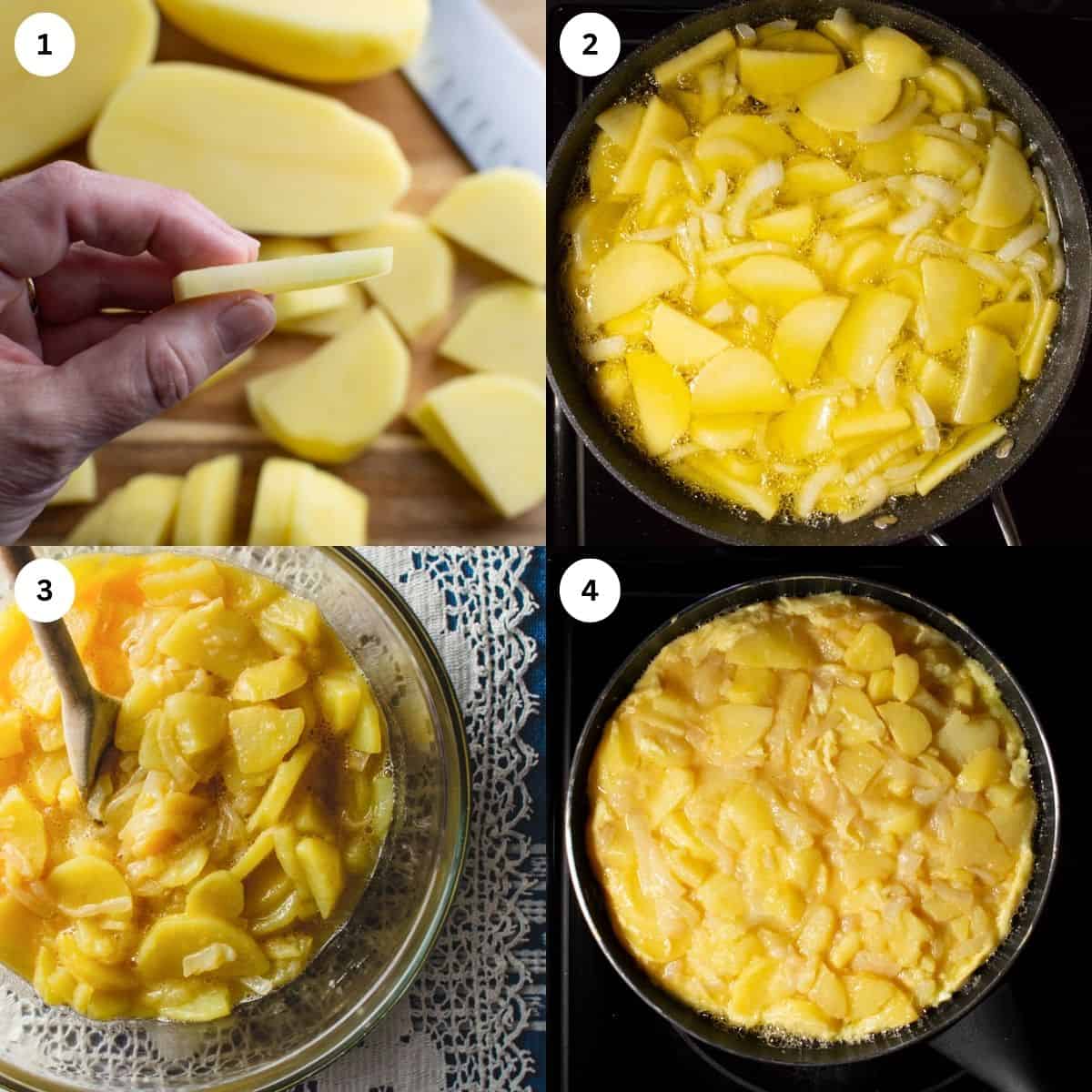 Step 3 - Whisk the eggs and salt together in a large bowl. Gently stir the potatoes and onions into the egg mixture and let sit for 10 minutes. No need to let the potatoes cool first.
Step 4 - Heat a small amount of oil in a 9-inch non-stick frying pan. Gently pour the potato-egg mixture into the pan shaking gently, and using a spoon or rubber spatula to distribute the potatoes and egg evenly.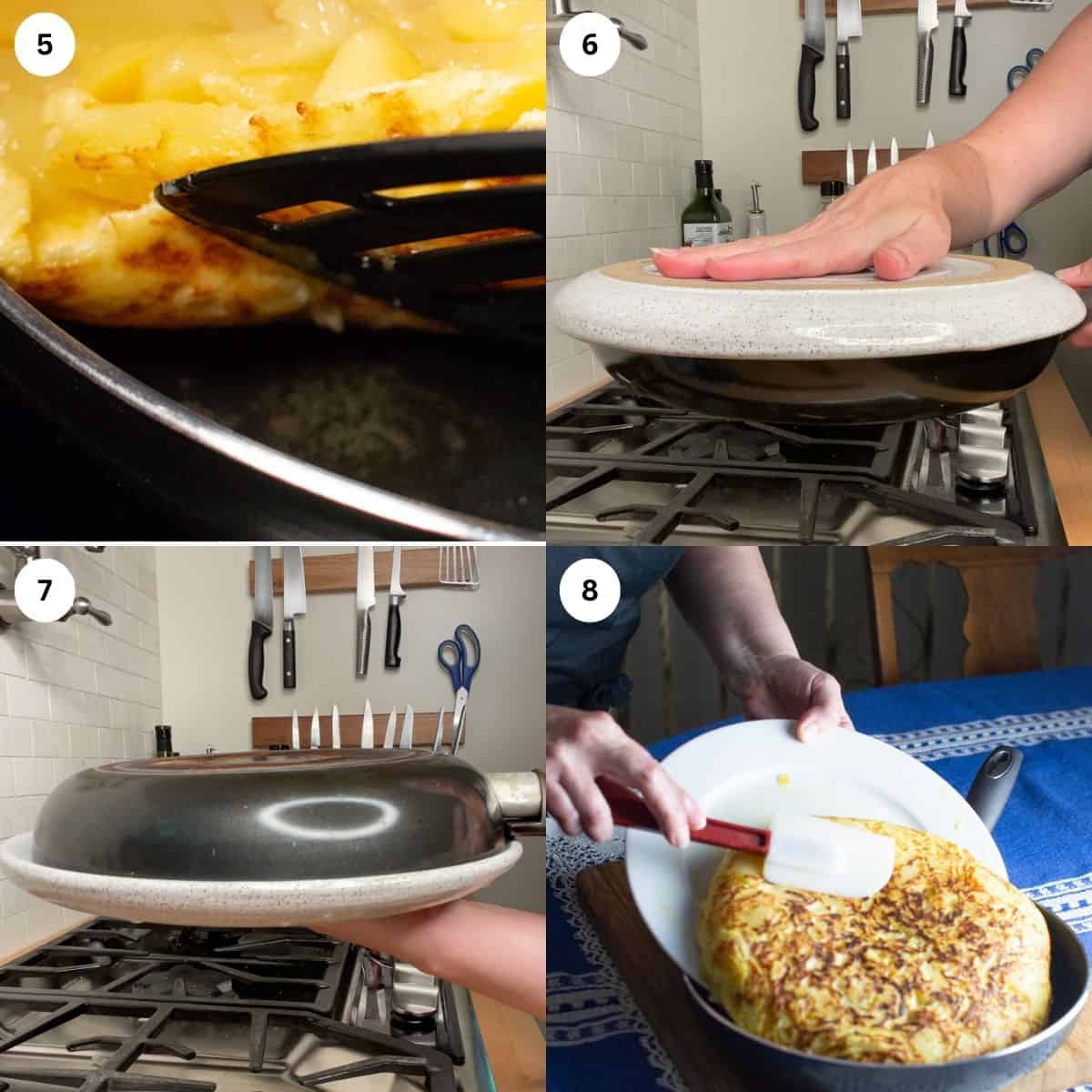 Step 5 - Cook over medium heat until golden brown on the bottom. This should take 6 to 7 minutes. Check browning by slipping a spatula underneath and lifting up to see. Check in a few spots and adjust heat if it's browning too fast.
Steps 6 & 7 - Remove from heat and place a large plate or platter over top of the frying pan like a lid. Carefully flip the pan over so the omelette is cooked side up.
Step 8 - Wipe pan with paper towel or wash and dry. Heat more oil and gently slide the tortilla back into the pan with cooked side up. Continue cooking until it is set and the bottom is nicely browned.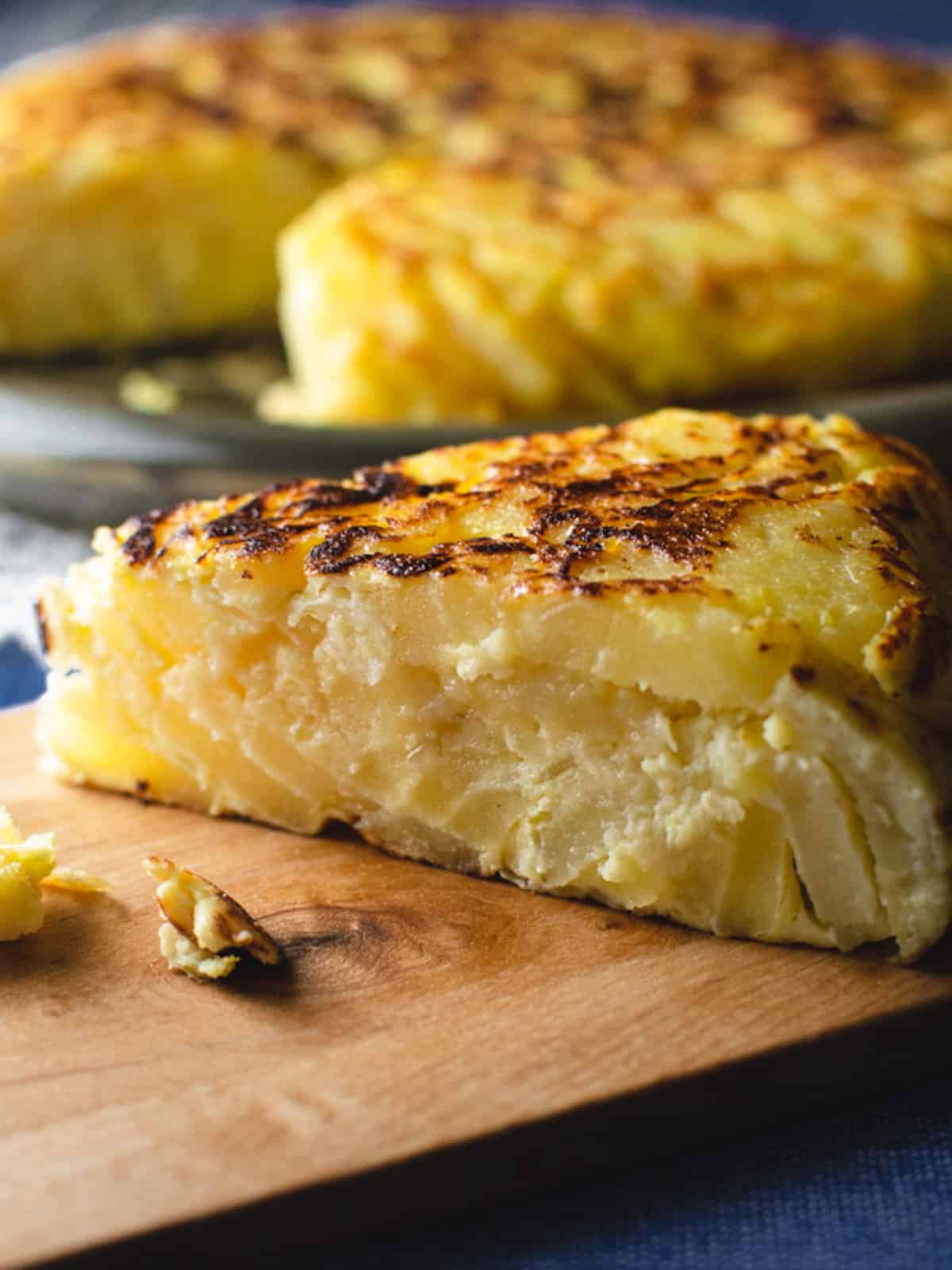 Serve Tortilla de Patatas with Spanish Cod or Pan Seared Lamb Chops or Pan Seared Salmon with Capers.
PRO TIPS FOR BEST RESULTS
Choose the right potatoes: Use potatoes like Yukon Gold or new potatoes. These potatoes hold their shape better than more starchy versions. I find yellow or Yukon Gold to have a perfect balance of creaminess and firmness to make the perfect tortilla.
Adjust heat as needed - When you are first starting out making Tortilla de Patatas it's important to keep an eye on it until you get used to your pan and the heat of your stove. If the heat is too high the potatoes and onions can stick and burn to the bottom. You need to adjust the heat accordingly.
Use the right pan: A non-stick or well-seasoned cast-iron skillet is ideal for making tortilla de patatas. It prevents sticking and makes flipping the omelette easier.
Adjust the amount of eggs - The number of eggs needed for a tortilla de patatas depends on the type and age of potatoes used. As you gain experience, you'll discover your personal preference for the omelette's texture. Adjusting the number of eggs will help you achieve your desired consistency.
Soak the potatoes in eggs: After frying the potatoes until they're tender, drain any excess oil and transfer them to a bowl with beaten eggs. Let the potatoes soak in the eggs for about 10 minutes. This step helps the potatoes absorb the egg mixture better and adds flavor to the tortilla.
Flip the tortilla with confidence: Flipping the tortilla can be intimidating, but it's crucial for even cooking. To flip, place a large plate on top of the pan, hold the pan handle with one hand, and quickly turn it over, so the tortilla ends up on the plate. Then slide the tortilla back into the pan to cook the other side.
Recipe FAQs
What is the difference between a frittata and a tortilla Española?
A frittata typically has more egg then vegetables where a Spanish tortilla has enough egg to hold the potatoes together. A frittata is also typically baked in the oven where a Tortilla is cooked on the stove top.
How is a Spanish tortilla different from a Mexican tortilla?
A Spanish tortilla is more like a frittata made with eggs, and most typically, potatoes and onions. Mexican tortilla is a flat bread used for dishes like enchilladas, tacos, and burritos.
When do most Spaniards eat tortilla de patatas?
One of the best things about tortilla de patatas is that it can be eaten any time of day. It makes a perfect breakfast, lunch or dinner. Serve it as the main event with a side salad or as a side dish to your favourite protein. Spaniards also enjoy it as a sandwich in between slices of baguette.
More Spanish Inspired Recipes
Tried this recipe? I would love it if you could leave a star rating ⭐️⭐️⭐️⭐️⭐️ and/or a comment below. You can also follow me on social media here on Facebook, Instagram, and Pinterest!
📖 Recipe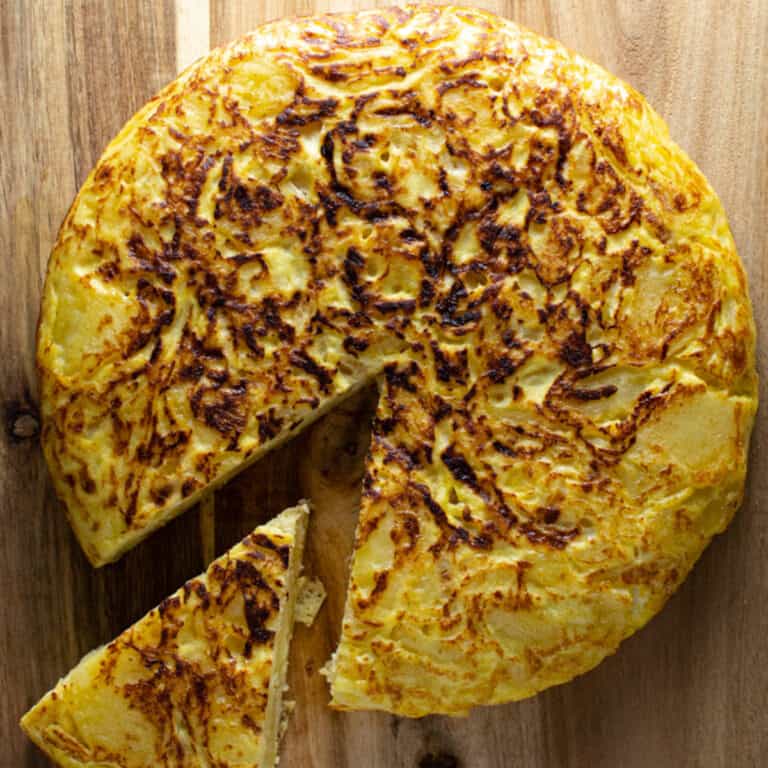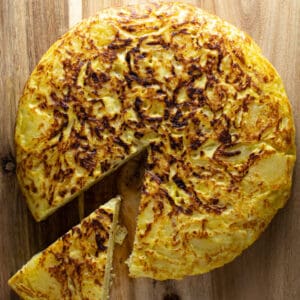 Spanish Omelette
A Spanish omelette or Tortilla de Patatas is truly a classic dish of Spain. This recipe is an authentic version. With just 5 ingredients you can create the most delicious potato dish imaginable. It's simple, easy and once you master the technique you will want to make it over and over again!
Print
Pin
Rate
Save
Saved!
Ingredients
1

kg

approximately, Yukon Gold or new potatoes

1

large

white onion

2

cups

extra virgin olive oil

5

large

eggs

2

teaspoon

salt, adjust to your taste
Instructions
Peel potatoes. Cut in half lengthwise and slice into approx. ⅛" slices. Set aside.

1 kg approximately, Yukon Gold or new potatoes

Peel onion. Cut in half lengthwise and slice the same thickness or slightly thinner than potatoes. Add to potatoes.

Heat all the olive oil over medium heat in a frying pan large enough to hold the oil, potatoes and onion. Heat for 2-3 minutes. To check if it's ready put a slice of potato in the oil. It should be sizzling gently. Add all the potatoes and onion. Stir, making sure everything is coated in oil.

2 cups extra virgin olive oil

Cover with a lid and continue cooking for approximately 20 minutes. Check and stir carefully every few minutes making sure the oil isn't getting too hot. It should be simmering gently. The potatoes and onions are done when you can easily break apart the potato with a wooden spoon or spatula.

Drain in a colander over a bowl to catch the oil. Set aside the collected oil. Whisk together the eggs and salt. Add the potatoes and onions to the egg mixture stirring well but gently. Let sit for 10 minutes.

5 large eggs,

2 teaspoon salt, adjust to your taste

Heat 1 tablespoon of the reserved olive oil in the finishing size frying pan over medium-high heat. Add the potato, egg mixture moving it around slightly to distribute the egg evenly. Turn the heat down to medium. Without stirring, cook for 6-7 minutes, checking the bottom by lifting the edge up slightly with a spatula.

When nicely browned on the bottom remove from heat. Place a larger sized plate or tray on top. Over the sink. with one hand holding the pan handle and the other on top of the plate, carefully flip the pan over so the omelette is cooked side up on the plate.

Wipe the pan with paper towel and heat up another 1 tablespoon of olive oil on medium-high heat. Gently slide the omelette back into the pan with the cooked side up. Reduce the heat to medium. Using a wooden spoon or spatula push the sides in slightly to create a rounded edge. Continue cooking for 3-4 minutes or until the bottom is nicely browned and the center is firm and set. You can always return it to the pan to brown either side a little more if necessary.

Let cool for at least 20 minutes before eating but ideally an hour or more to give it time to set. Serve at room temperature or slightly warm.
Notes
1. Omelette is best served slightly warm or at room temperature.
2. Can keep for 3-4 days covered, in the refrigerator. 
3. Left over olive oil can be strained through a fine sieve or cheesecloth and reused for cooking purposes.
Nutrition
Serving:
1
serving
|
Calories:
285
kcal
|
Carbohydrates:
27
g
|
Protein:
7
g
|
Fat:
17
g
|
Saturated Fat:
3
g
|
Polyunsaturated Fat:
2
g
|
Monounsaturated Fat:
11
g
|
Cholesterol:
116
mg
|
Sodium:
333
mg
|
Potassium:
544
mg
|
Fiber:
3
g
|
Sugar:
2
g