Crispy pan seared salmon with fried caper vinaigrette is a restaurant quality dish that comes together in minutes!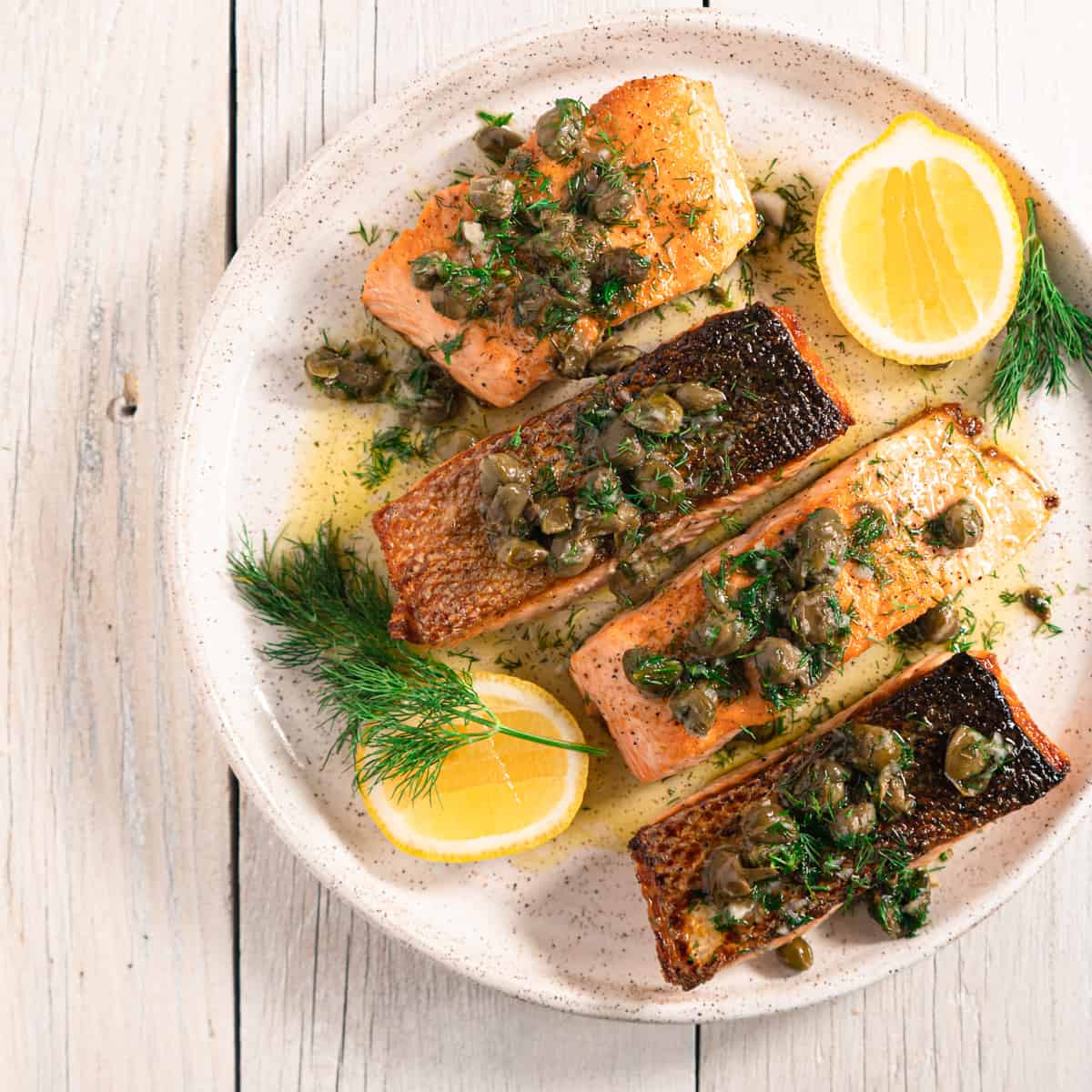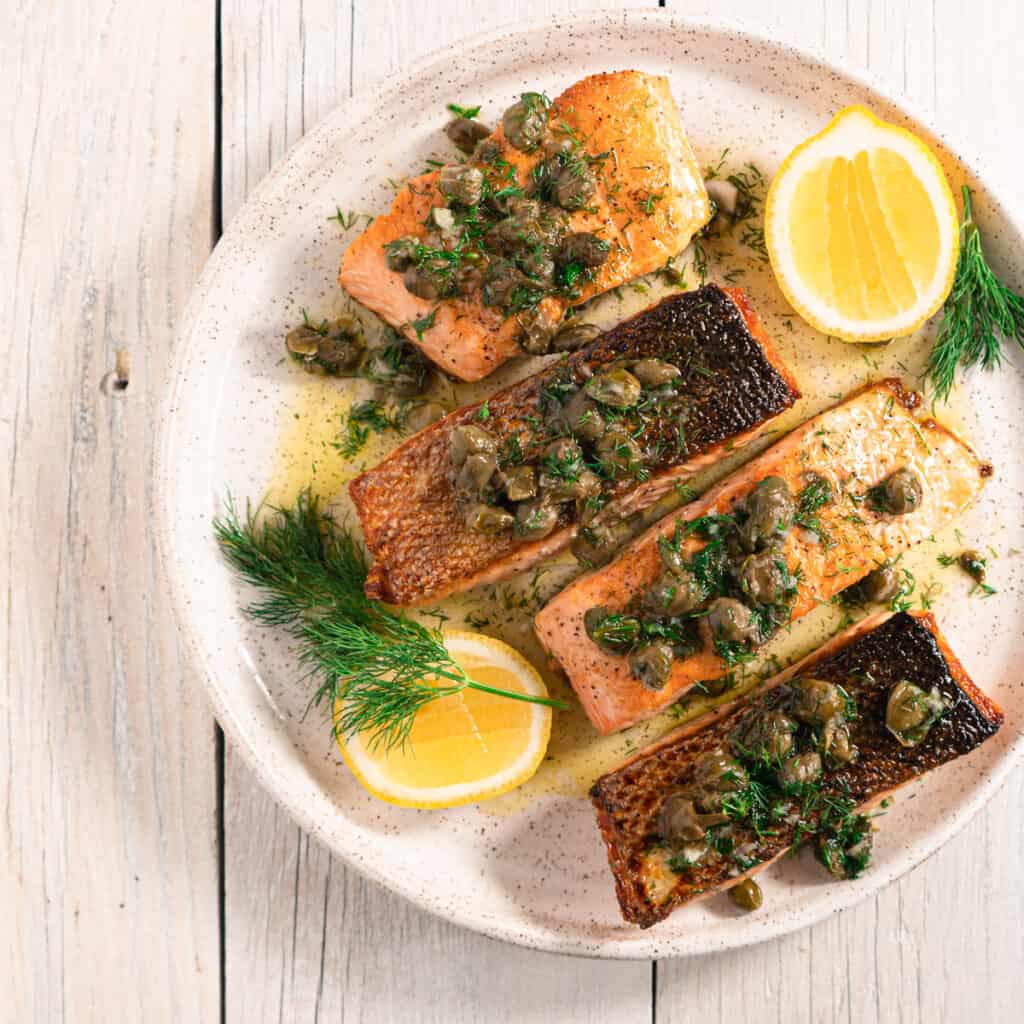 What to serve it with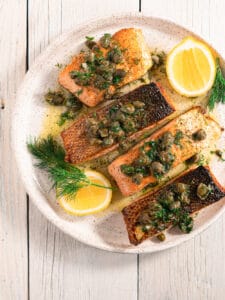 Print Recipe
Crispy Pan Seared Salmon With Fried Caper Vinaigrette
Crispy pan seared salmon with fried caper vinaigrette is a restaurant quality dish that comes together in minutes!
Equipment:
Cast iron, stainless steel, or non-stick skillet
Ingredients
4

salmon fillets, skin on, 1 inch thick

salt and pepper

2

tbsp

avocado or grapeseed oil
Fried Caper Vinaigrette
1/4

cup

olive oil

1/4

cup

capers, drained. Pat dry with a paper towel

1/4

cup

lemon juice, fresh sqeezed

1 1/2

tsp

honey

1 1/2

tsp

finely grated garlic, approximately 2 small cloves

2

tbsp

fresh dill, chopped
Instructions
Fried Caper Vinaigrette
Mix together lemon juice, honey, garlic and dill. Reserve olive oil and capers separately. Set everything aside while you prepare the salmon.
Salmon
Pat the salmon fillets very dry with paper towels.

Sprinkle both sides with salt and pepper.

Add 2 tbsp. of oil to a cast iron, stainless steal or non-stick skillet. Heat oil over high heat until shimmering. Turn heat down to medium-low. Add one fillet at at time, carefully, pressing each fillet gently but firmly with a spatula for 10 seconds before adding the next fillet. Don't overcrowd the pan. Cook in batches if necessary. Continue cooking for approximately 5 minutes for one inch thick fillets, or until salmon looks pink almost all the way through. Keep an eye on the skin and lower the heat if it's getting too dark.

Carefully flip the fillets using a spatula and a fork and cook flesh side down for one minute. Cook until quick read thermometer reads 120 degrees F. or until flesh looks still moist and bright pink inside. Check by separating the flesh with 2 forks or by squeezing the sides with your fingers to check for flakiness. Remember the salmon will continue cooking as it rests.

Transfer to a paper towel lined plate to absorb any excess oil. Repeat with any remaining fillets. Let salmon rest while you finish the vinaigrette.

In a small frying pan heat the olive oil over medium high heat. Add drained capers, careful as they may spatter. Fry until turning lightly golden, about 3 minutes.

Add the fried capers plus all the oil to the lemon juice mixture. Stir to combine.

Pour vinaigrette over salmon fillets or serve on the side.
Notes
Store leftovers in the fridge, in an airtight container, for 2-3 days.
Leftover salmon is ideal flaked onto salads the next day. Or you can reheat in a pan over medium heat. Skin side down for a few minutes then flip and heat the other side for one minute or less. 
Substitute green olives for capers and omit the frying step. 
FOLLOWING THE LIVY METHOD? Serve with any of the above linked sides, be sure to add in some vegetables or leafy greens if necessary. This salmon would also be delicious served with roasted or grilled vegetables (any kind you like!) and a side of leafy greens.