This Crispy Kale and Avocado Caesar Salad uses both roasted and fresh kale to give it interest and texture. Extra nutrients are added with an avocado Caesar dressing and a garnish of crunchy sunflower seeds. It's a perfect Vegan (minus the anchovy) or egg-free option for a Caesar Salad!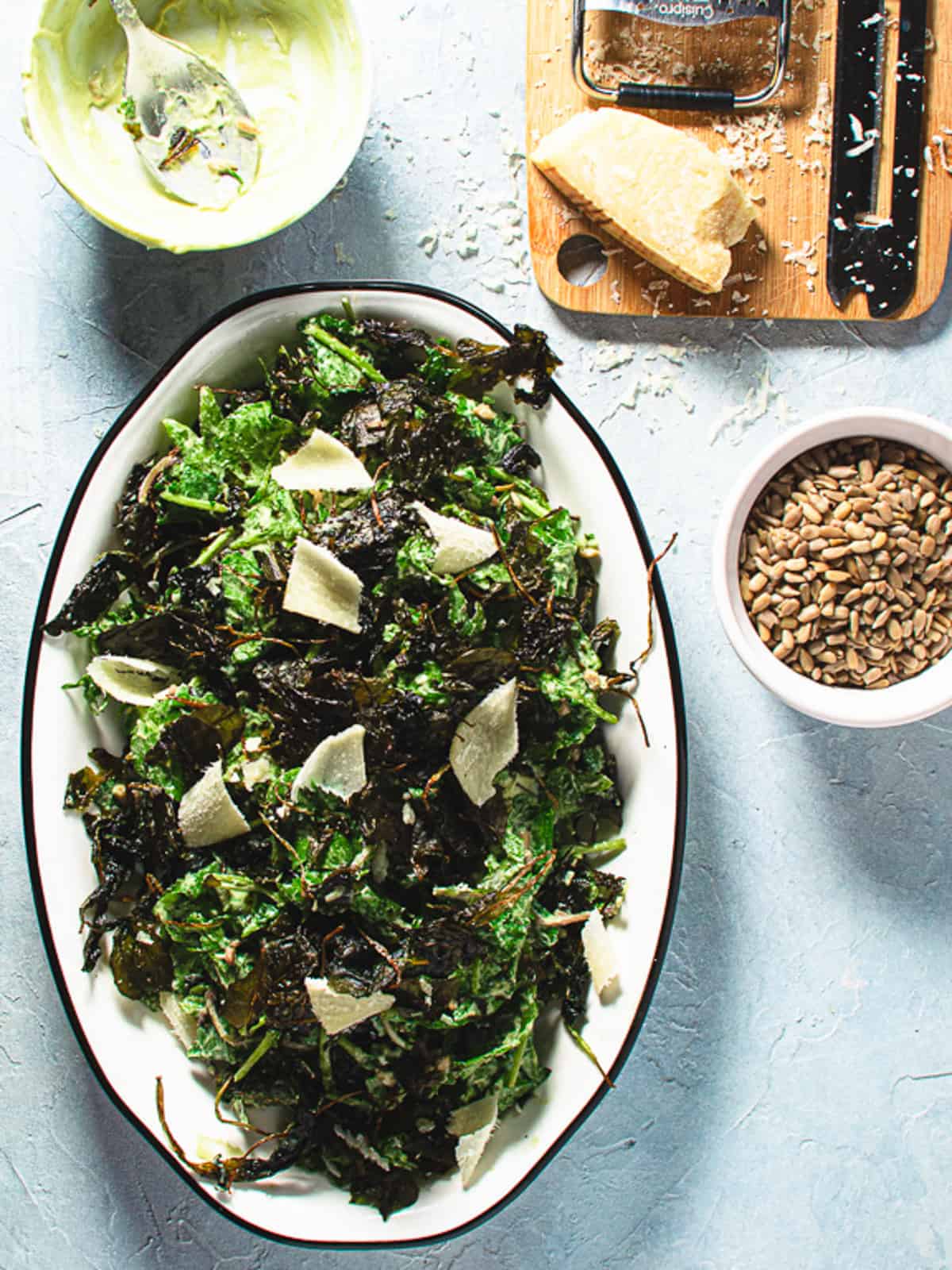 This recipe is a cinch to make. Everything is made in the time it takes to roast the kale. The dressing can be made up to 3 days in advance and the kale chips, several days in advance. I use baby kale to make my life easier. Plus I prefer the flavour and texture of baby kale over the "adult" one.
How to make crispy kale and avocado Caesar salad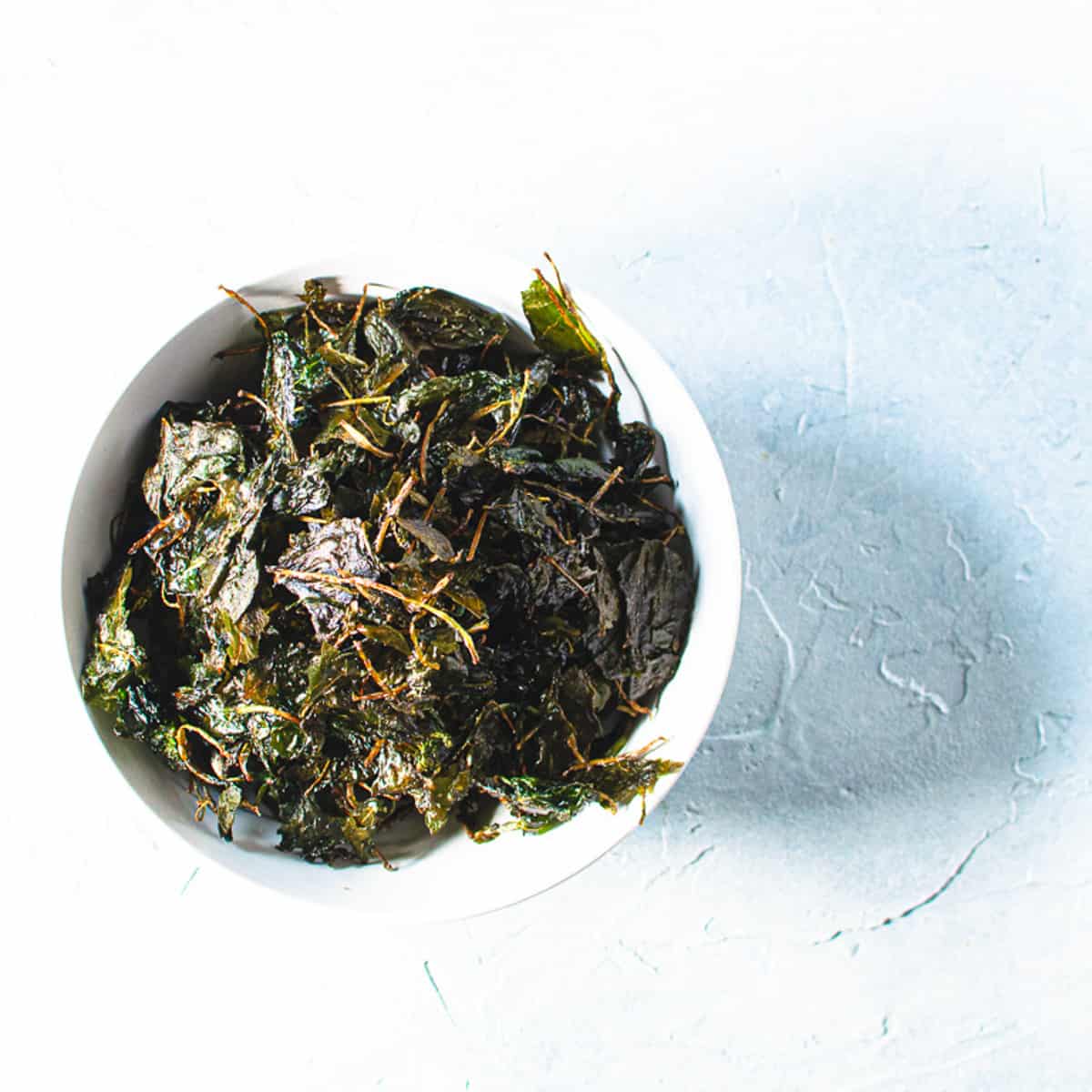 First the kale chips. If you've never tried them I highly recommend you do! Keep in mind that kale is like any other cooked green. It goes from looking like a ton and turns into only handful.
Preheat the oven to 400 degrees F. On a large baking tray place kale in an even layer, drizzle with olive oil and sprinkle with salt. Toss to coat. You can line your tray with parchment paper for easy clean up. Roast for approximately 20 minutes, turning half way through, or until it starts to get crispy. These can be made several days in advance. Keep covered at room temperature. They also make a great snack so be careful not to eat them all before you get to the salad!
Avocado Caesar Dressing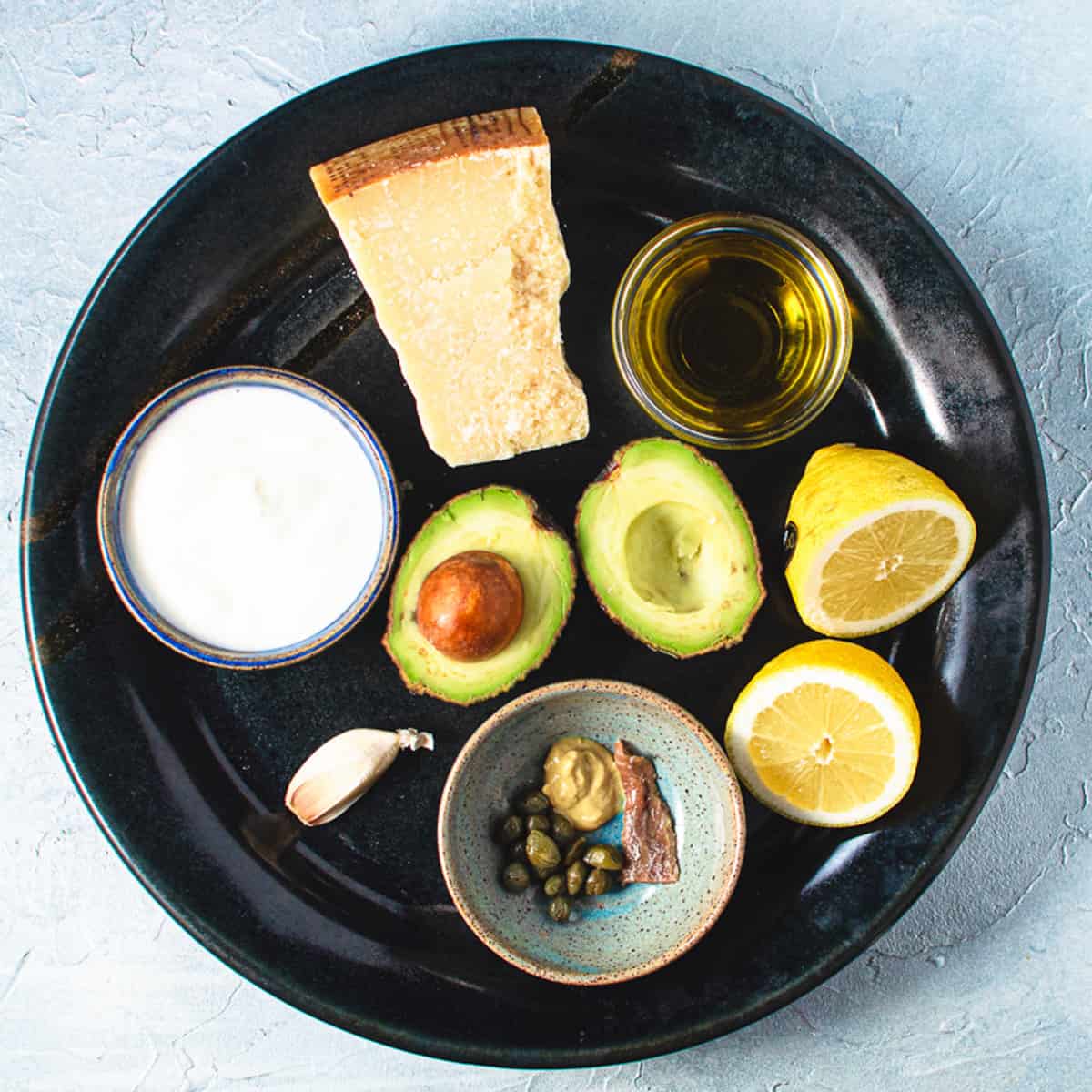 This avocado Caesar dressing is the bomb! Use it on any salad you like or even as a dip. It's so easy and all you need is something to blend it with. You could do it by hand if you don't own such a thing by mashing the avocado and anchovy (if using) as smooth as you can, mincing the garlic and capers and mixing everything together well. I use a touch of anchovy but if you don't have any, don't like it, or are vegan, feel free to omit it. In that case I suggest adding another teaspoon of capers
How to pick an avocado
To check for perfect ripeness, gently press your thumb into the avocado. You should feel some resistance but it shouldn't be super soft. Similar to pushing your thumb into a tennis ball. Note: if the skin looks wrinkly it's too ripe and likely starting to rot inside. If you buy under ripe avocados ahead of time, let them ripen on the counter, checking them every day. When they are ripe, put them in the fridge. They will keep for several days at perfect ripeness this way.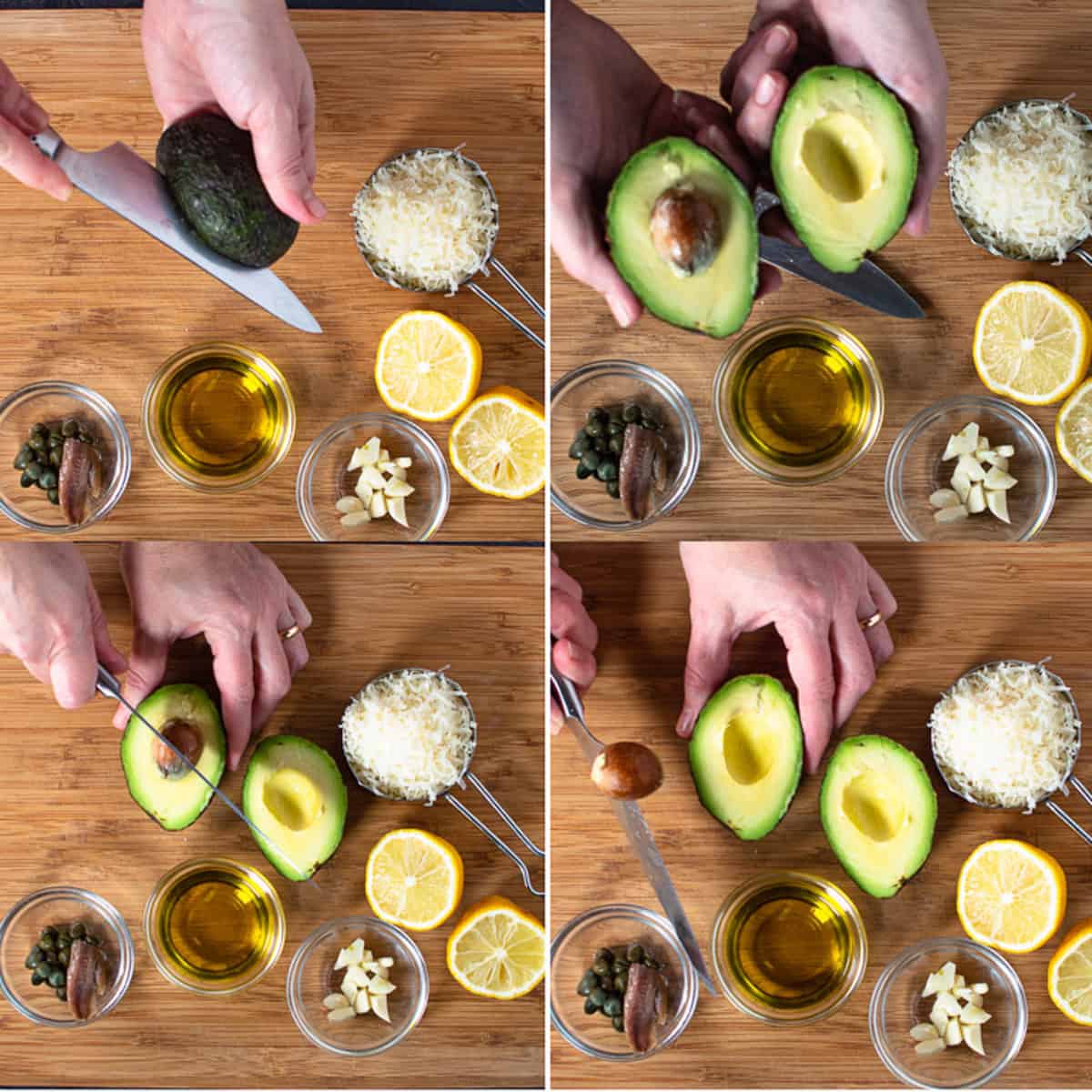 To open and remove the pit of an avocado, Cut all the way around from top to bottom. Twist each half in opposite directions to release the pit and open. Set the half with the pit down and carefully hit the pit with the blade of your knife. Twist the knife to release the pit and remove. Simply scoop the flesh out into the bowl of whatever you are using to puree the dressing. Add all other dressing ingredients and blend until smooth. If it's too thick you can add water, 1 tbsp. at a time, until it's the consistency you like. This can be made 3 days in advance. Store in the fridge with plastic wrap pressed against the surface to prevent browning.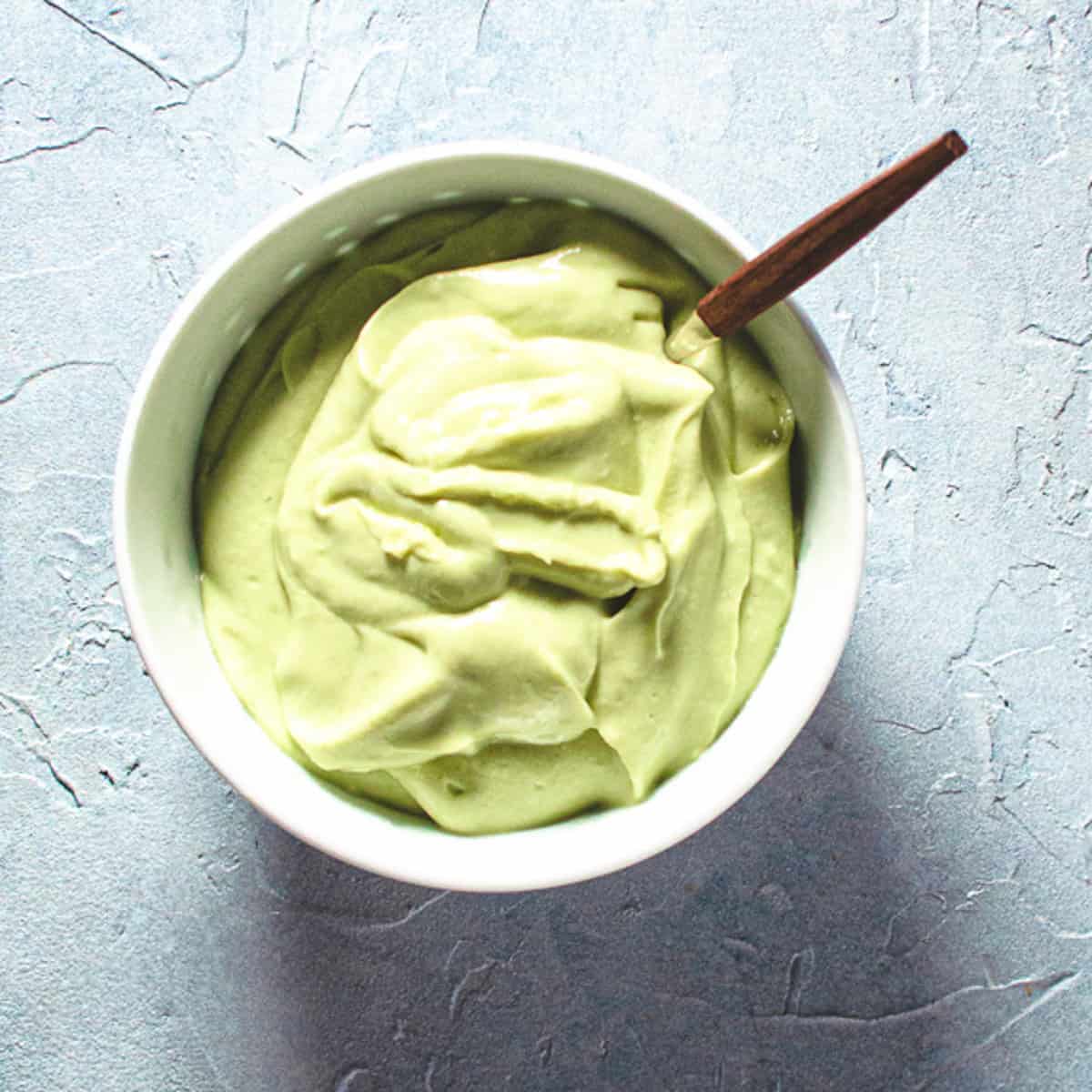 Assembling your Crispy Kale and Avocado Caesar Salad
Place the fresh kale into a large bowl. Add the roasted kale, once it's cooled, setting aside a handful to use as garnish. If you are assembling the salad in advance, leave out the roasted kale until just before serving. Add all of the dressing, sunflower seeds and ¼ cup grated Parmesan. Toss to coat evenly. Place on a platter or in a bowl and garnish with Parmesan shavings and the extra kale chips. Serve some extra lemon wedges on the side for those who like it extra tangy!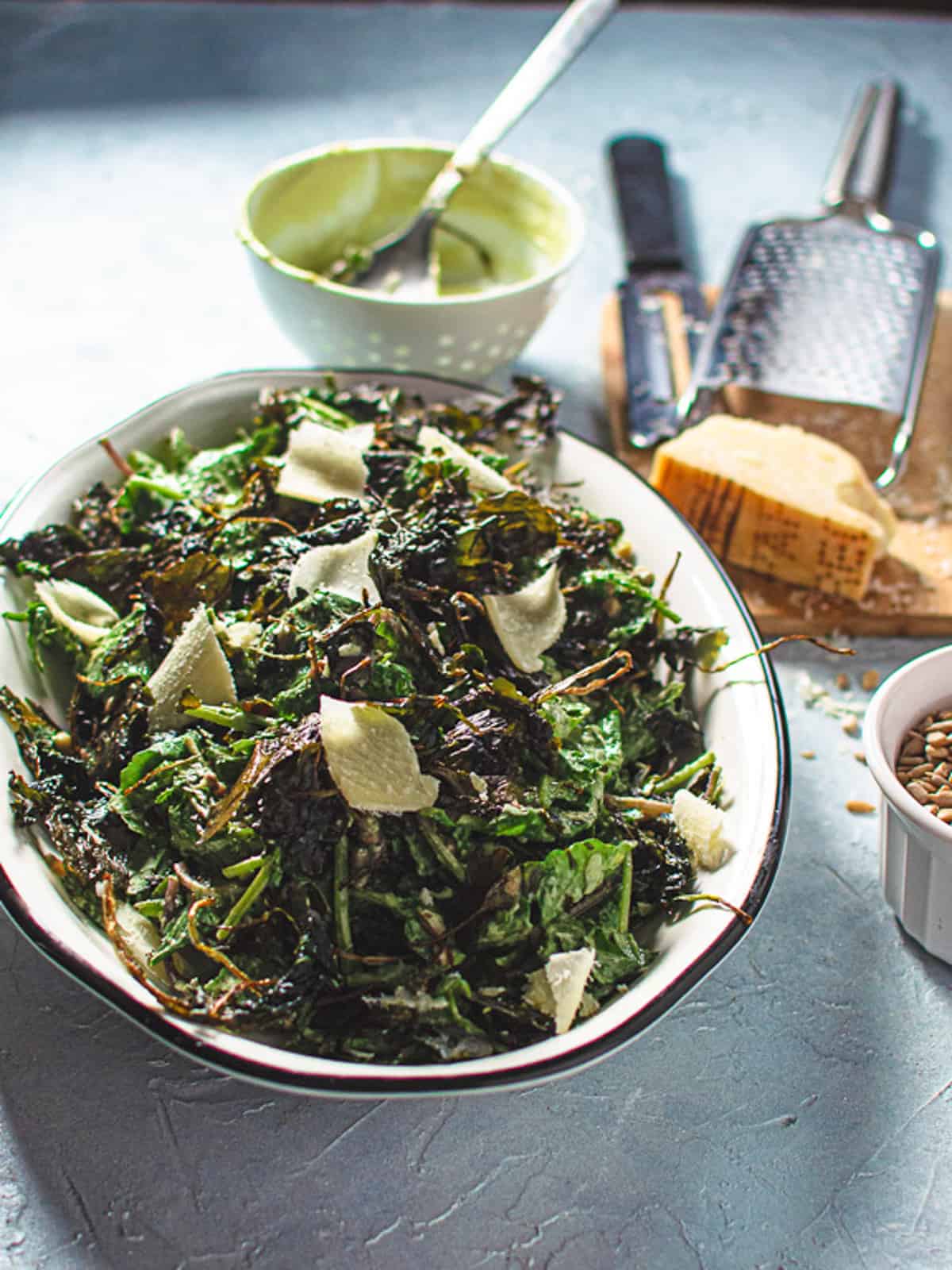 BOOM! You've just created an interesting, nutritious and dee-licous side dish for any meal but especially to help balance out the other indulgences that go along with the holidays.
Other Side Dishes You Might Like
📖 Recipe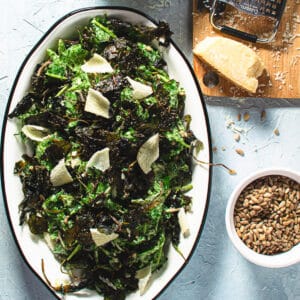 Kale and Avocado Caesar Salad
A delicious and nutritious twist on Caesar salad that's can also be made Vegan!
Print
Pin
Rate
Ingredients
2

containers

baby kale, one for chips, one to use fresh

3

tablespoon

olive oil, plus more for dressing
For the dressing
1

small

ripe avocado

1

medium

clove of garlic

½

cup

Parmigiano Reggiano, grated, plus more for finishing

½-1

piece

anchovy or ¼ teaspoon anchovy paste (optional)

1

teaspoon

capers, add extra if omitting anchovy

5

tablespoon

extra virgin olive oil

½

teaspoon

Dijon mustard

1

lemon, juice of, plus more for garnish
For assembly
¼

cup

sunflower seeds, unsalted

¼

cup

Parmigiano Reggiano, grated

Parmesan shavings for garnish, optional

Lemon wedges for garnish, optional
Instructions
Kale Chips
Place one container of baby kale on a baking tray. Drizzle with the olive oil and sprinkle with salt. Toss to coat. Roast in preheated oven for 20 minutes or until beginning to crisp. Toss half way through roasting time. Let cool.
Avocado Caesar Dressing
While the kale is roasting prepare the dressing.

Scoop the avocado into a blender, food processor, or the hand blender container. Add all other dressing ingredients. Blend until smooth. Add a water 1 tbsp. at a time if it's too thick until desired consistency is reached.
Assembling the Salad
In a large bowl, toss together the fresh baby kale, all of the dressing, ¼ cup Parmesan cheese, sunflower seeds and all but a handful of the cooled, roasted kale. Keep some for garnishing the top.

Serve immediately with lemon wedges, if desired.
Notes
Dressing can be made 3 days in advance. Press plastic wrap to touch surface of dressing, while storing in the fridge, to avoid oxidization of the avocado. 
Roasted kale chips can be made several days in advance and stored at room temperature in a covered container
Salad should be served immediately to avoid kale chips from becoming soft. Or assemble no more then 1 hour in advance leaving out the crispy kale until just before serving. 
Avocado Caesar dressing can be used on any of your favourite greens or as a dip!
Nutrition
Serving:
1
serving
|
Calories:
229
kcal
|
Carbohydrates:
7
g
|
Protein:
6
g
|
Fat:
21
g
|
Saturated Fat:
4
g
|
Polyunsaturated Fat:
3
g
|
Monounsaturated Fat:
12
g
|
Cholesterol:
6
mg
|
Sodium:
79
mg
|
Potassium:
140
mg
|
Fiber:
3
g