If you are hosting a smaller holiday get-together, need extra turkey, or maybe you want to roast some turkey breasts for the week's meal prepping, this Brined Boneless Turkey Breast recipe will be your new go-to!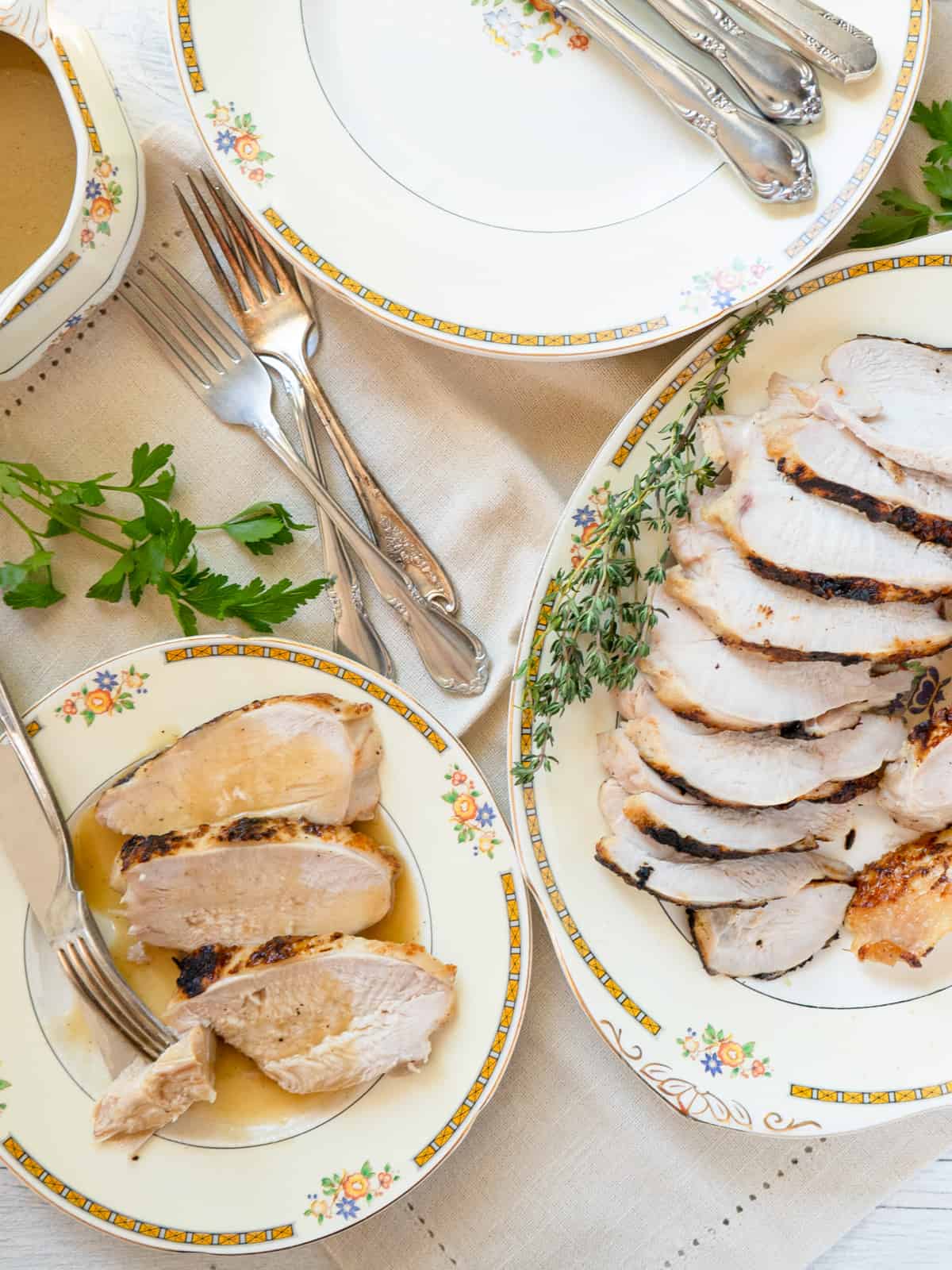 Preparing a whole turkey can be a daunting task and if you aren't hosting a large crowd you may have more leftovers than you know what to do with. Brined roast turkey breast is just the solution you need. You will spend less time in the kitchen and not have a big turkey carcass to deal with.
This post also includes a recipe for an easy all-purpose gravy that you can make anytime!
For another show-stopping turkey recipe check out this Stuffed and Rolled Turkey Breast.
Jump to:
What is brining?
Brining is a process that once was used as a preservation method. Nowadays it's used as a way to add flavour, moisture, and tenderness to otherwise tough and dry cuts of meat. It works like osmosis. The meat is submerged and soaked in a salt water bath, often with added sugar and other aromatics.
During this time the salt water penetrates the meat adding a higher salt content which increases moisture and breaks down and softens the proteins strands. All of this produces more moisture and less toughness.
What other meats can I brine?
Brining is best used with cuts of meat that tend to get dry when cooked such as chicken breasts and lean cuts of pork such as pork chops or loins. You can also brine whole chickens and turkeys.
🥘Ingredients Needed
Here's what you will need to make this recipe. For quantities see the recipe card below.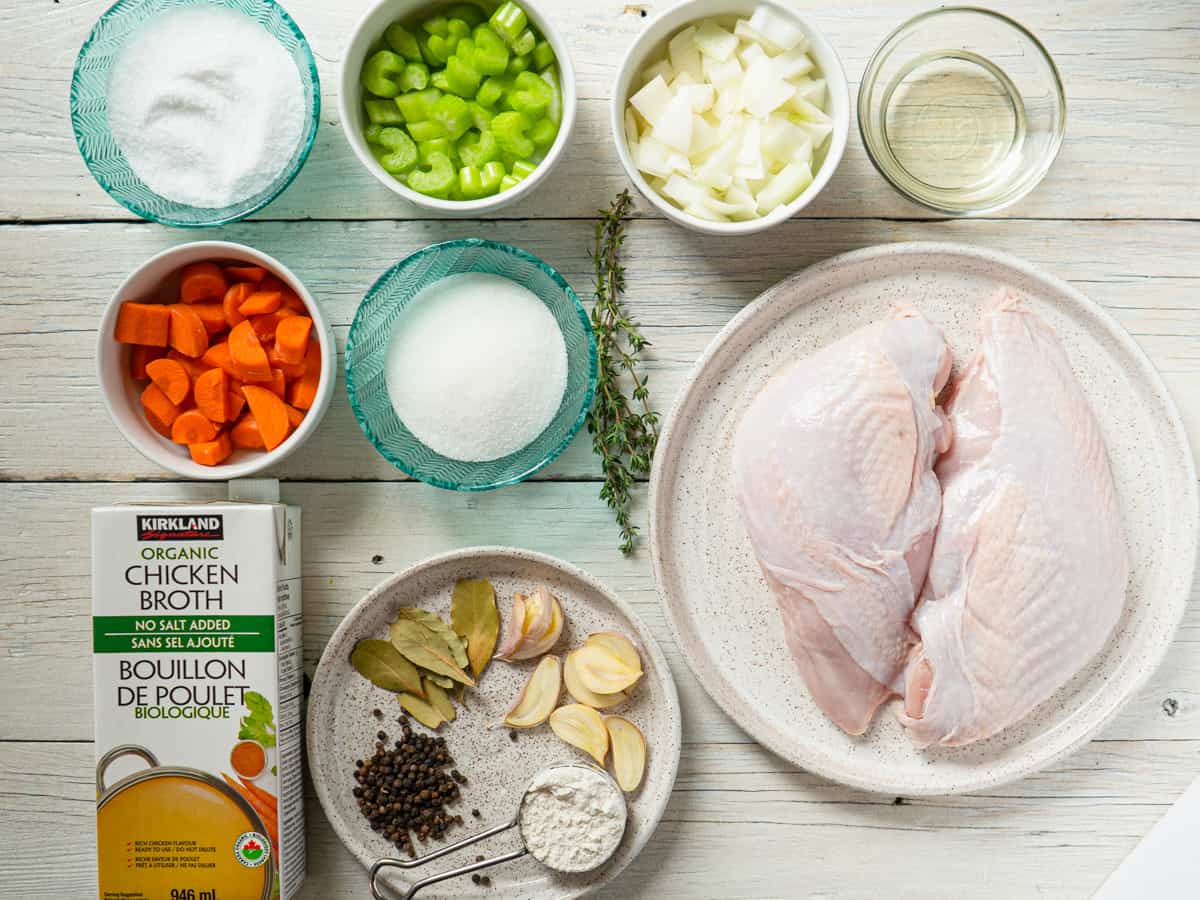 Boneless turkey breast
Salt
Sugar
Fresh thyme
Garlic
Black peppercorns
Bay leaves
Onion
Carrot
Celery
All-purpose flour
Chicken broth
🔪Instructions
First prepare the brine by mixing the brine ingredients with 4 cups of water in a large pot. Heat and stir until salt and sugar are dissolved. Remove from heat and add 8 cups of cold water. Let the brine solution cool to room temperature. Add turkey breasts to the salt solution, cover and refrigerate overnight. If you don't have a pot large enough to hold all the brine and the turkey you can place everything in a brining bag or large container covered with plastic wrap.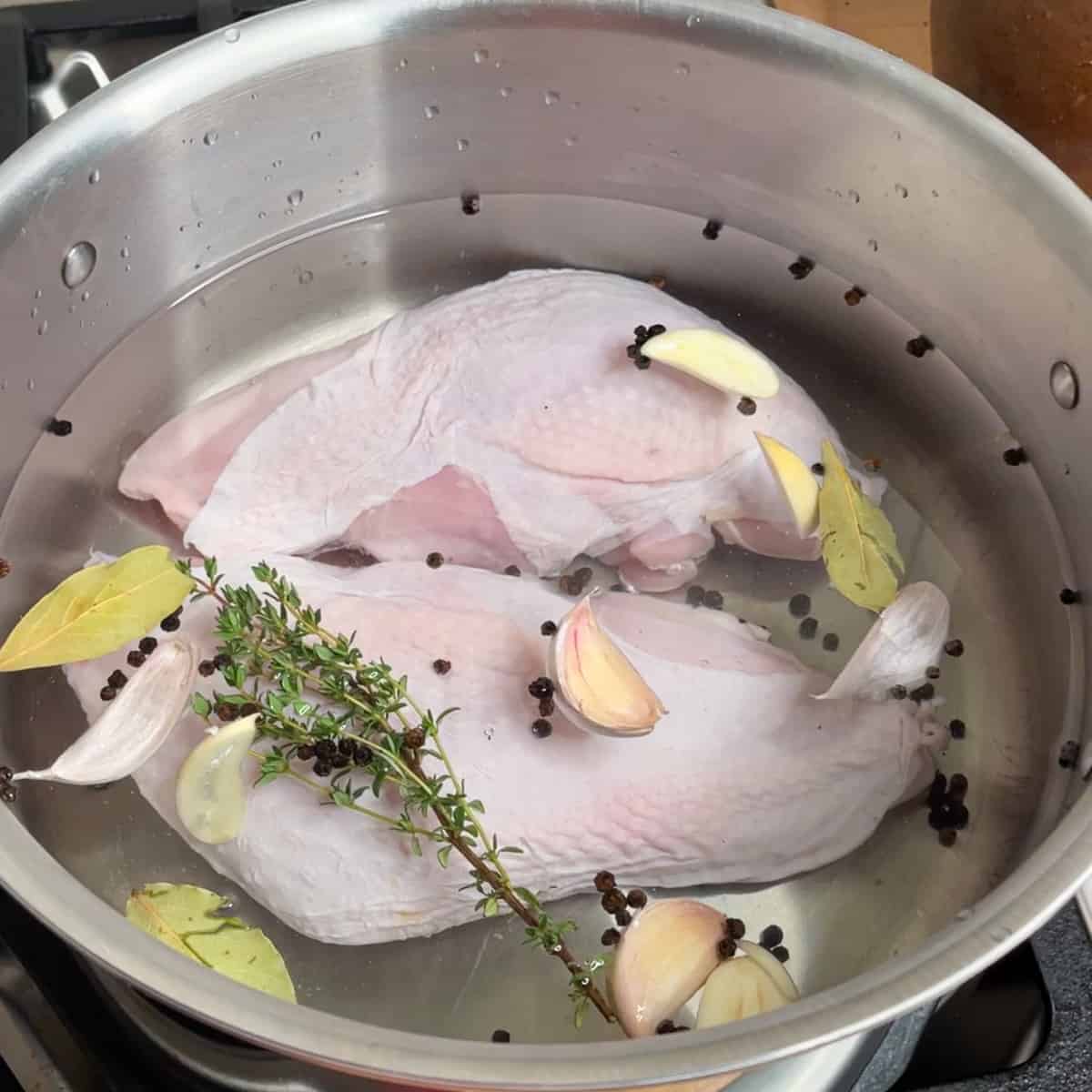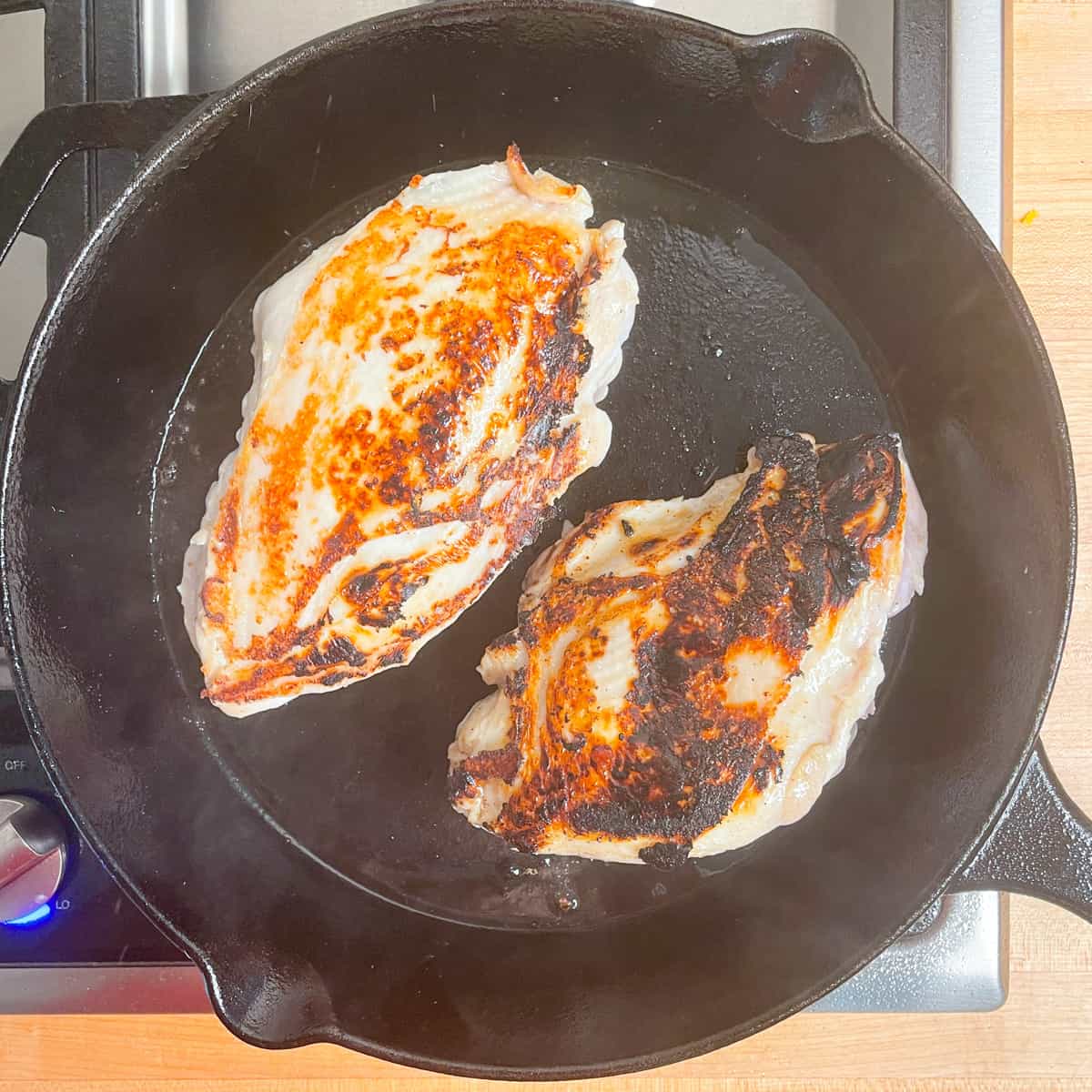 2. A couple of hours before cooking remove the turkey breasts from the brine mixture. Pat dry with paper towels and let stand at room temperature until ready to roast. This will reduce the cooking time as the meat won't be cold from the fridge. If you decide to leave it in the fridge until it's time to cook, the roasting time may increase.
3. Heat a large oven-proof skillet over high heat. When hot, add the oil and then the turkey breasts, skin side down. Lower the heat to medium-high and continue cooking for 4-5 minutes or until the skin is nicely browned. If it's getting too dark, lower the heat.
4. Using tongs, flip the breasts and and place in the preheated oven. Bake for 15-20 minutes or until an instant read thermometer inserted in the thickets part of the breast, registers 160°F. Transfer to a plate, tent loosely with aluminum foil, and let rest for 10 minutes before slicing. The temperature will rise to at least 165-170°F as it rests.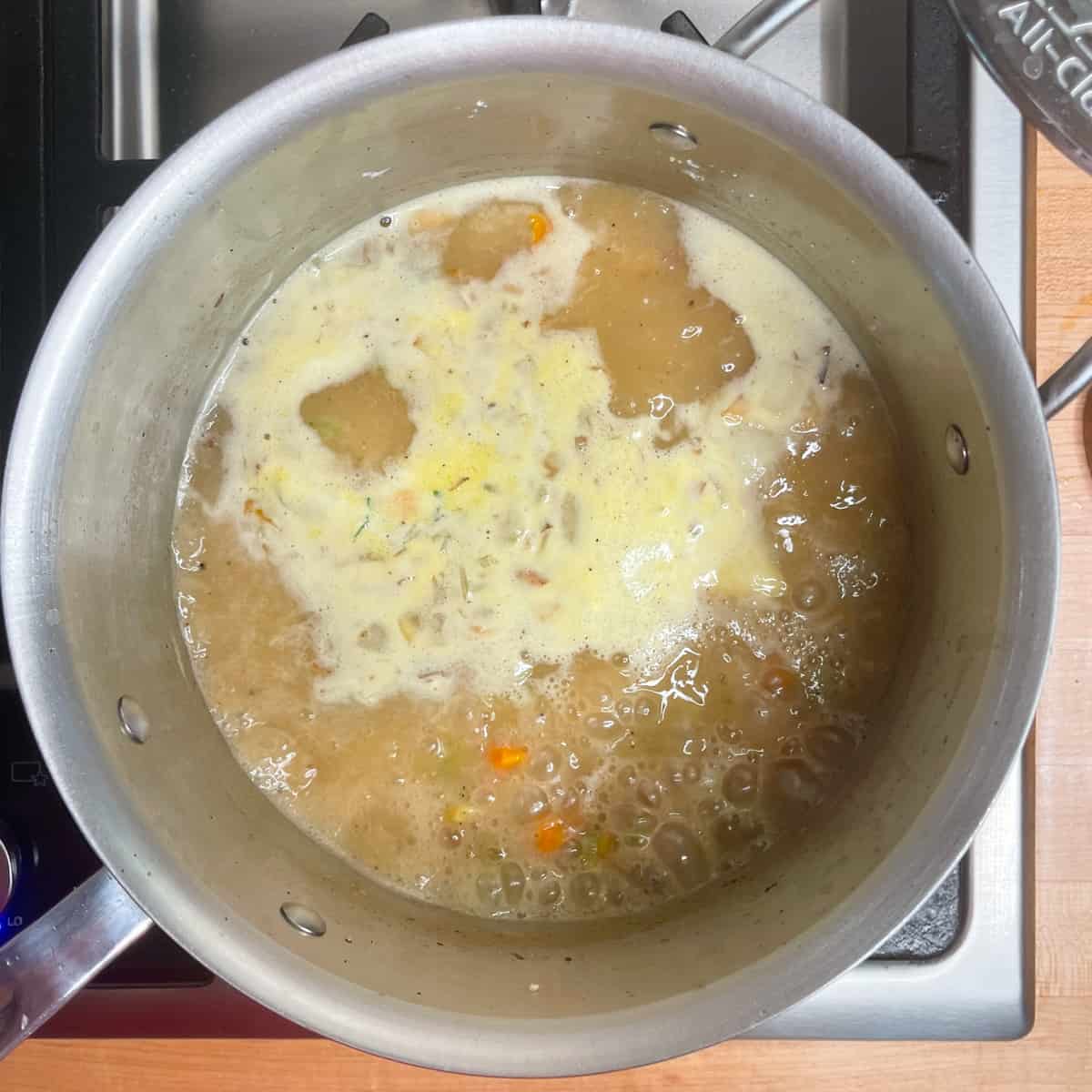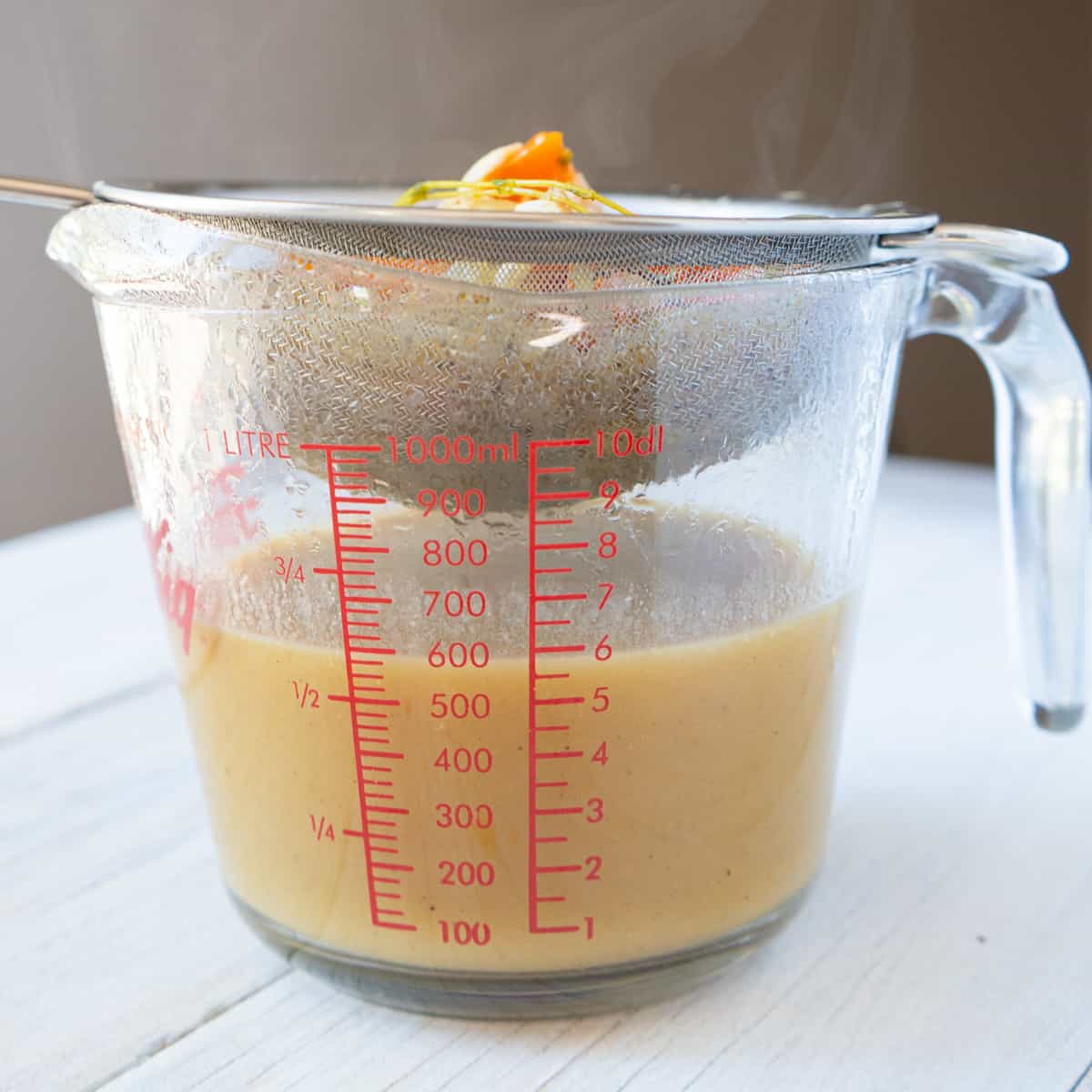 5. While the turkey is roasting and resting, make the gravy by sautéing the vegetables until they start to soften and brown. Sprinkle the veggies with flour and stir for one minute. Slowly add the chicken broth, stirring well to remove lumps before adding more broth.
Pro tips for making this recipe
Keep the skin - Even if you don't like to eat the skin, leaving it on during the cooking process adds more flavour and moisture to the meat.
Measure the salt and water correctly - I give 2 different measurements of salt depending on which type you use. Because Kosher salt is more coarse you need a bit more that if using table or fine salt.
Dry the breasts well and let come to room temp.- Be sure to pat the breasts dry with paper towels. Drying helps to crisp up the skin and encourage browning. Letting the meat come to room temperature before cooking results in more even cooking and tender meat.
Take the temperature - A quick read thermometer is an essential kitchen tool and ensures you are cooking all your meat properly. Cooking times vary greatly for many reasons. The internal temperature is the only sure way to know your meat is cooked to perfection! Thermoworks brand is my favourite for it's accuracy and reliability.
Let it rest - It's important to let the meat rest for 10-15 minutes before slicing to keep it nice and juicy.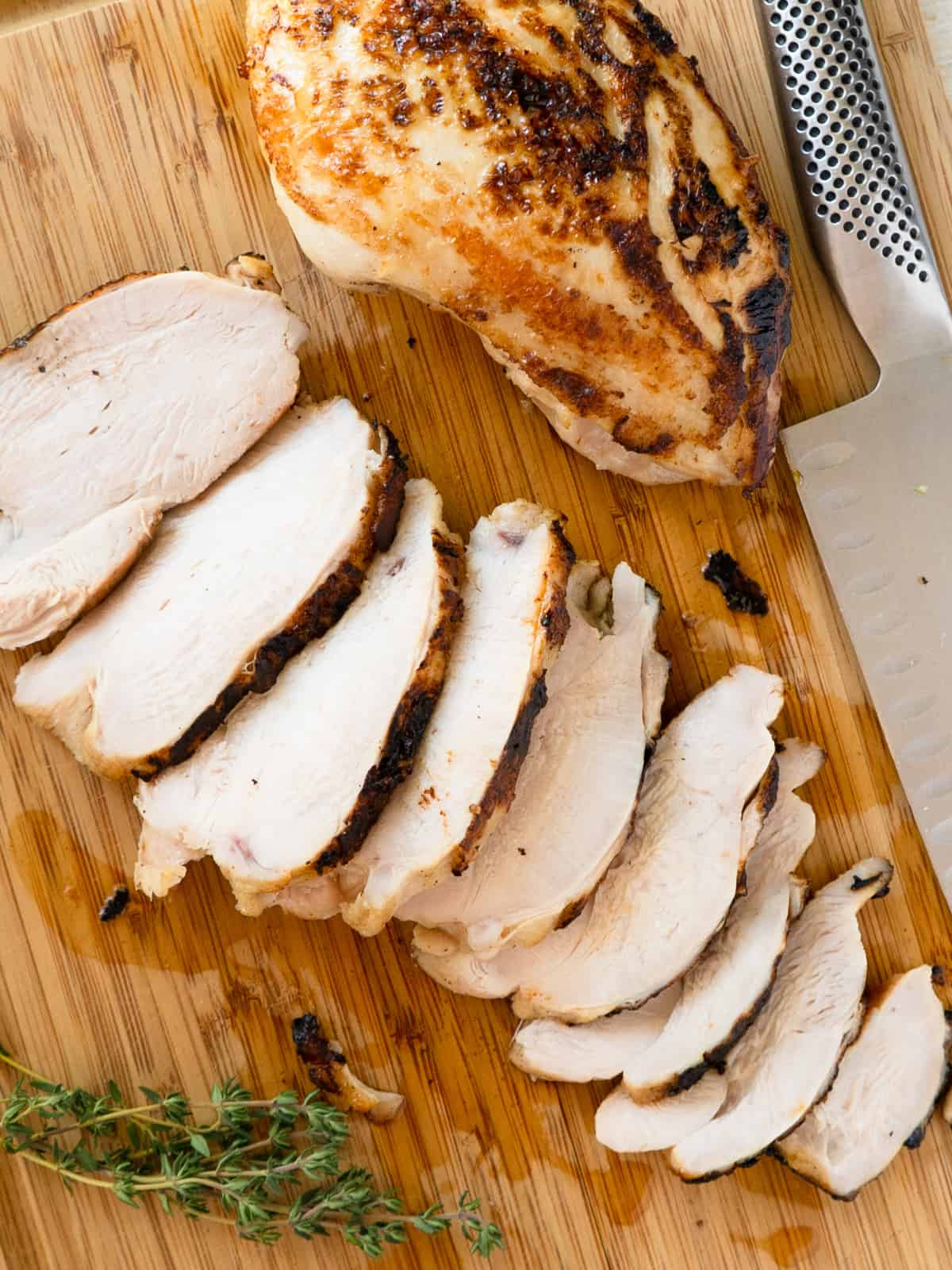 🥣Substitutions
Boneless turkey breasts - You can also make this recipe with bone-in turkey breasts either halves or whole. The cooking time will increase by approximately 15 minutes. Check temperature after 20 minutes to gauge how much longer it will need.
Fresh herbs - Other fresh herbs can be added to the brine and also the gravy such as parsley and rosemary. Orange peel or slices can also be added for a citrusy flavour.
Sugar - White or brown sugar can be used.
How to store leftover turkey
Leftover turkey meat can be stored in the fridge for up to 4 days. Reheat slices in the microwave or in a skillet using extra gravy to keep it moist. Store the gravy in the fridge for up to one week.
How to freeze - Leftover turkey can be stored in the freezer for 3 months. Store it in slices laid flat in a Ziplock bag. This way the pieces won't stick together and you can easily grab a few slices at a time. Defrost in the fridge overnight or on the counter until thawed. Gravy can be frozen in small containers or ice cube trays.
Leftover turkey is great used in soups, to top salads, for tacos or just reheated with some gravy when you have a craving.
Equipment
This post contains affiliate links. For more information please read my Disclosure Policy.
Cast iron skillet - I recommend investing in a good cast iron skillet. It is an invaluable tool in my kitchen. They are perfect for so many things but especially searing meats.
Meat thermometer - This is my most highly recommended thermometer. It's a bit pricier than others but it's reliability and accuracy is like no other I've ever used, and I've gone through a ton of thermometers!
Serve With
Tried this recipe? I would love it if you could leave a star rating ⭐️⭐️⭐️⭐️⭐️ and/or a comment below. You can also follow me on social media here on Facebook, Instagram, and Pinterest!
📖 Recipe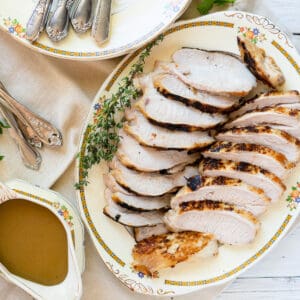 Brined Boneless Turkey Breast with Gravy
Brining turkey breasts produces moist, flavourful, and juicy meat that can be enjoyed any time of year!
Print
Pin
Rate
Servings:
6
servings (12 slices)
Ingredients
4

cups

hot tap water

8

cups

cold water

¾

cup

Kosher salt or ½ cup table or fine sea salt

½

cup

sugar

3

cloves

garlic

cut in half

1

or 2 fresh thyme sprigs

1

teaspoon

black peppercorns

3

bay leaves

2

boneless skin-on turkey half-breasts

approximately 1 kg/2 lbs each
For the Gravy
2

tablespoon

olive or avocado oil

1

small onion or half a large

roughly chopped

1

small to medium carrot peeled

roughly chopped

1

celery stalk

roughly chopped

1

clove

garlic

smashed or cut in half

1

teaspoon

salt

½

teaspoon

black pepper

¼

cup

all purpose flour

2

small sprigs of thyme

4

cups

low sodium chicken broth

More salt and pepper to taste
Instructions
Place the salt, sugar, garlic, peppercorns, thyme and 4 cups of hot water into a pot large enough to hold the breasts plus 12 cups of water. Heat the water and seasonings until the salt and sugar is dissolved. Remove from heat and add 8 cups of cold water. Once the brine has come to room temperature add the turkey breasts and refrigerate overnight or up to 24 hours.

2 hours before cooking remove breasts from the brine and pat dry with paper towels. Discard brine. Let the turkey sit for 2 hours to come to room temperature before cooking.

Preheat oven to 425°F. Place a cast iron skillet or another ovenproof frying pan over high heat. When hot add 1 tablespoon of olive or avocado oil to the pan, then add the turkey breasts, skin side down, and reduce the heat to medium-high. Cook for 4-5 minutes or until nicely browned. Check the skin to make sure it isn't burning. If getting too dark, reduce the heat.

Using tongs, flip the breasts so they are skin-side up and place in the preheated oven. Bake for 15-20 minutes or until temperature, with a quick read thermometer, registers 160°F at its thickest part. Remove from the oven and place breasts on a plate or platter. Tent loosely with foil and let rest for 10 minutes before slicing. Slice against the grain (crosswise) on the bias.
Making the Gravy
Heat oil in a medium to large saucepan over medium-high heat. Add chopped onion, carrot, celery, garlic, salt and pepper. Stirring every so often, cook vegetables until they are softened and starting to brown. Adjust heat as necessary. Add flour, stir and cook for 1 minute. Add thyme sprigs. Slowly add chicken broth, stirring constantly and scraping up the brown bits from the bottom of the pan. Bring to a boil and reduce heat to a simmer. Let simmer for 15 minutes or until thickened and reduced. Strain sauce with a fine mesh strainer. Taste and add salt and pepper as needed.
Notes
An alternate way to make the gravy is to prepare everything in the same pan as the turkey was cooked in. After removing the breasts to a platter to rest, continue with the gravy recipe without washing the pan. For thicker gravy - I prefer a thinner consistency when it comes to gravy. If you prefer it to be thicker you can add cornstarch at the end by mixing 1 teaspoon at a time into a small amount of cold water to dissolve. Whisk into the hot gravy and boil for one minute after adding. Add as much as you need. 1 teaspoon at a time, to reach the desired thickness. Nutritional Facts - Please note that these calculations are an estimate only and have not been approved by a registered dietitian. I use an online nutritional calculator from My Fitness Pal to calculate the numbers.
Nutrition
Serving:
1
serving
|
Calories:
452
kcal
|
Carbohydrates:
6
g
|
Protein:
73
g
|
Fat:
13
g
|
Saturated Fat:
3
g
|
Polyunsaturated Fat:
1
g
|
Monounsaturated Fat:
3
g
|
Cholesterol:
212
mg
|
Sodium:
626
mg
|
Potassium:
840
mg
|
Sugar:
3
g