Thanksgiving dinner doesn't have to mean dealing with a whole turkey. Maybe you have a smaller crowd and don't want leftovers for weeks or the thought of a whole bird is just too daunting. Maybe you want something you can make ahead. Whatever the reason, a Stuffed Turkey Breast With Sausage, Mushrooms and Swiss Chard is an easy and delicious alternative.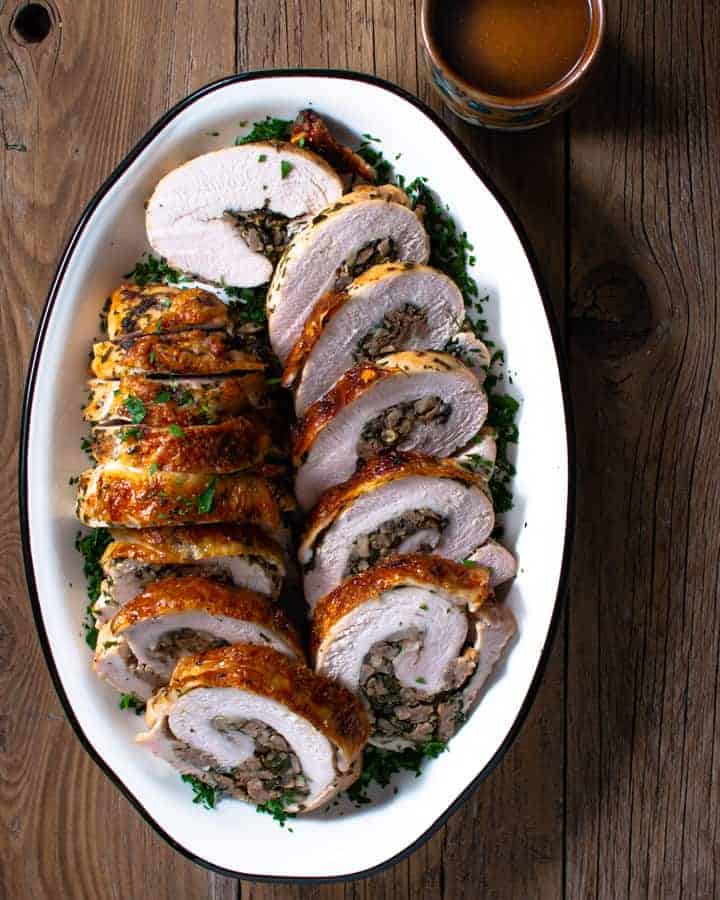 Turkey breasts can be dry but when cooked properly, stuffed with the right ingredients and smothered in parsley butter, you will never cook a dry breast again. This recipe also includes a rich and luscious gravy adding even more moisture. The gravy is so good you will be eating it with a spoon!
How many people does a stuffed turkey breast serve?
Turkeys come in all different sizes so therefore so do their breasts. This recipe uses one boneless breast (or one side of a whole breast) weighing about 2.5 - 3 lbs. (1 - 1.3 kg) It serves 4-6 people, depending on the appetite of your guests and how many other sides you are serving. There were 12-13, ½ inch to ¾ inch slices. For us 2 slices each was plenty but if you are serving a crowd with big appetites count on 3 slices per person. You can always buy a smaller breast for 2-3 people or make two for a larger bunch. Some recommend stuffing the whole thing (2 breasts attached) but I find that too large and cumbersome to work with. It's easier to work with each one separately.
What if I can't find boneless turkey breasts?
If you can only find bone-in breasts you have two options. 1. Ask the butcher to debone it for you. Or 2. Debone it yourself. Do this by finding the breast bone. Using a sharp knife, slowly start to run the knife between the bone and the meat. There is only one bone in a breast so it's very easy to just follow it along until you have released all the meat. Keep the bone for a future stock.
First the stuffing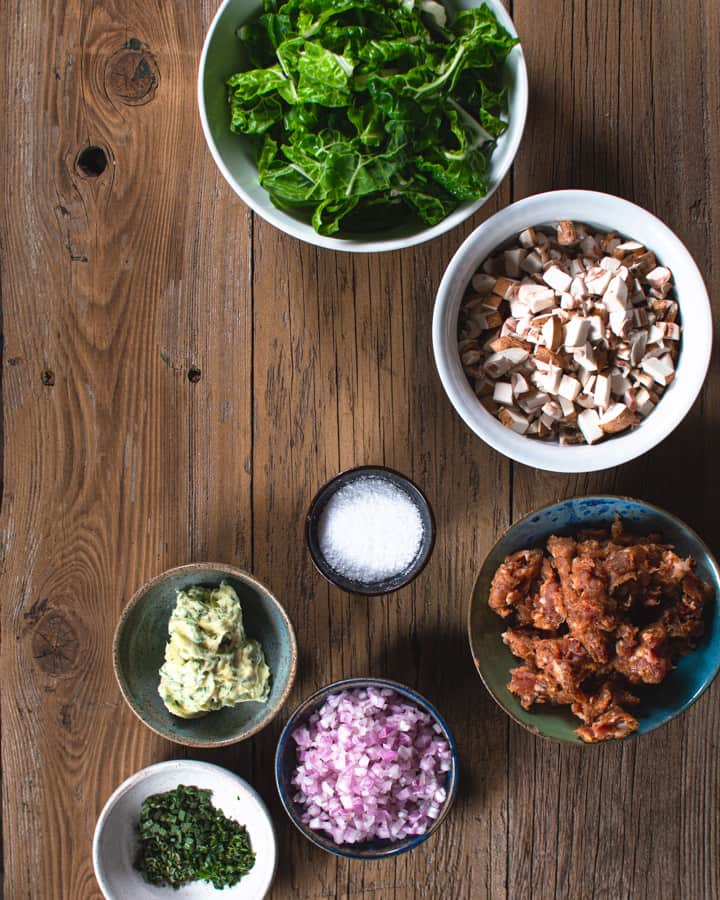 Just a few simple ingredients transform this turkey breast into something sophisticated. Mushrooms and sausage add extra flavour and moisture. This recipe uses Italian sausage but you can substitute for any kind you like. It's also important to throw in some sort of greens to add colour...and more flavour of course. I just happened to have some Swiss chard in the fridge but you could use spinach, kale, arugula or any leafy greens you like. The stuffing ingredient should all be chopped very small to create a compact stuffing. This helps the turkey roll stay together when slicing. Everything is cooked in the same pan and then set aside to cool.
Prepare the parsley butter by mixing chopped parsley into soft, unsalted butter. If you only have salted butter that's fine. Just slightly reduce the amount of salt you use to season the meat. Set that aside for rubbing on the turkey roll later.
Prepare the roasting pan. Chop some onion, carrot and celery into large chunks and place in the bottom of a roasting pan. This is to set your stuffed turkey breast on while it bakes. This is so the turkey doesn't stew in it's own juices and it starts the first level of flavour for the gravy. Set the roasting pan aside.
How to butterfly a turkey breast
This sounds like a complicated, technical culinary term but trust me, it's easy. The same method applies to chicken breasts as well so it's a good technique to have in your back pocket.

First remove the skin. Do this by gently running your knife between the skin and the meat, slicing through the thin membrane, to release the skin. Keep in in one piece for later use.

Flip the breast over so it is skin side down. Slice in half, starting at the fat end. Cut almost but not all the way through and open like a book. Cover with plastic wrap and pound it out with a meat mallet. If you don't have a mallet you can use a rolling pin or a heavy saucepan. Pound it out, until it's an even thickness, of about half an inch. If you end up with any holes don't worry. You won't notice in the end.

Season the breast on both sides with salt and pepper. With skin side still down, spread the stuffing evenly, leaving about ½ inch to 1 inch boarder. This helps prevent stuffing from falling out as you roll...although some still will. Start at the side furthest away from you and roll towards yourself keeping it as tight as possible.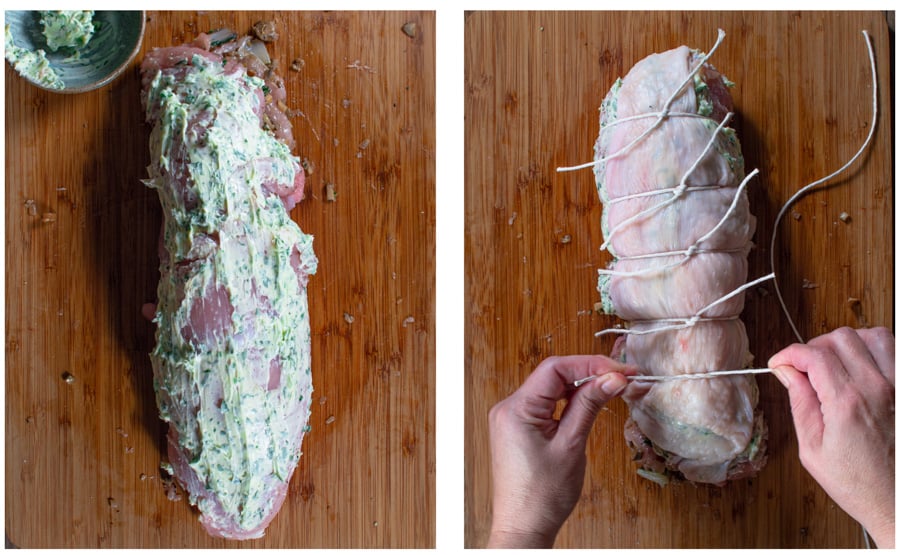 With the seam side down, rub half of the butter mixture over the top and sides of the roll, using your fingers. Drape the skin over the roll. Stretching to cover as much as possible. You can use bacon slices instead here, if that's your jam. I would omit the second butter layer in that case...or maybe all the butter for that matter. Cut about 6 pieces of butcher's twine long enough to wrap around the turkey roll. Slide each piece under and tie with even spacing. I tie the first one in the middle and work towards myself to the end. Then start at the other end working away from myself. This avoids dragging the string under the bottom the whole length which can catch on stuffing and pull it out. Cut the tails of the strings and rub on the rest of the butter.
Make ahead to this point...
At this stage you can cover and refrigerate the turkey roll for up to 3 days. Remove from the fridge 30 minutes before baking and bake as instructed.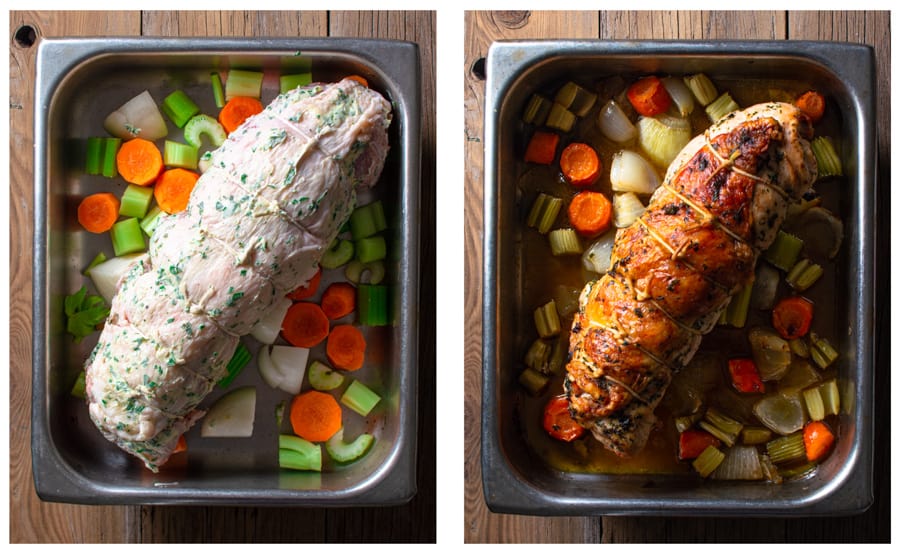 Place the turkey roll on top of the vegetables in a roasting pan. Pour ½ cup of chicken stock in bottom of pan and roast in a 400°F oven for 1 hour + 15 minutes to 1 hour + 30 minutes. The best way to know if it's done and to avoid overcooking and potentially drying out your turkey is to use an instant read thermometer like this Thermopop. Honesly, if you don't have a meat thermometer I think you should invest in one. It's one of my "must-have" kitchen tools.
The Gravy
Remove the cooked turkey from the roasting pan and onto a plate or cutting board. Loosely tent with foil and let rest for 10-15 minutes. This allows the roll to set for easier slicing. Strain the liquid from the bottom of the roasting pan, through a fine sieve, into a medium saucepan. Add balsamic vinegar and more stock. Bring it to a boil and let it reduce. Once reduced, thicken with a little cornstarch. Incredible, hassle-free gravy is complete!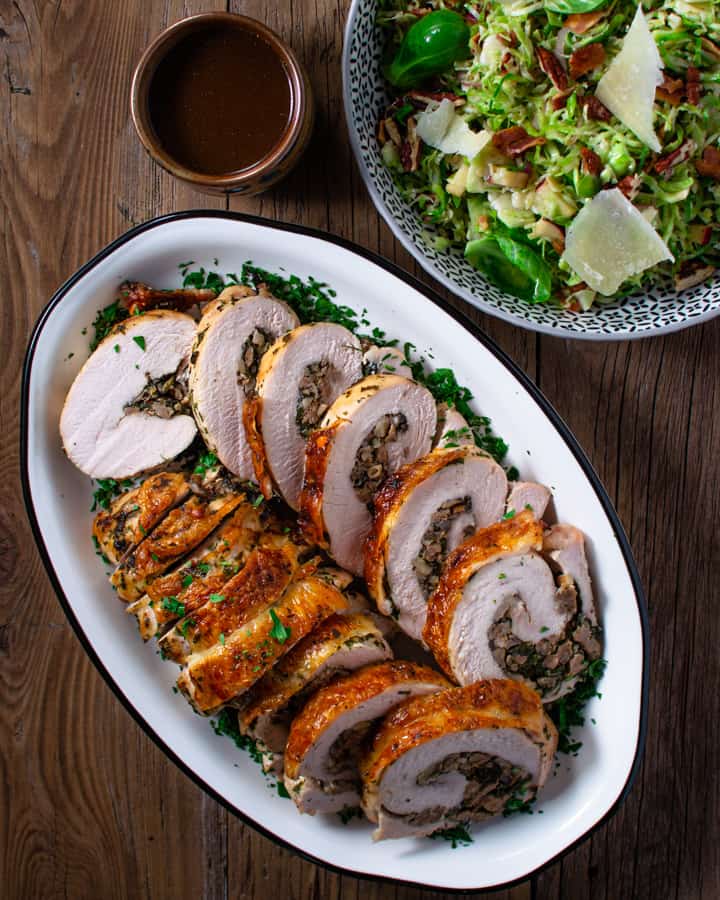 Using a serrated knife, slice the turkey roll into 12-13 pieces and arrange on platter. Sprinkle with chopped parsley if desired. Serve it with your favourite sides or try something new like this Brussels Sprouts, Bacon and Apple Slaw!
Can I make this ahead and reheat?
Yes! This stuffed turkey breast reheats wonderfully. Remove it from the roasting pan, let it cool at room temperature then wrap and refrigerate overnight. Preheat oven to 350°F. Remove from fridge and let stand at room temperature for 30 minutes. To avoid drying out, add about ¼ cup of chicken stock, water or white wine to the pan. Cover with foil and bake for about 30 minutes or until the internal temperature reaches 165°F. Uncover and broil the top for a couple of minutes to re-crisp the skin. Slice and enjoy!
Pro tips for best results
If you can't find boneless turkey breasts have your butcher debone and butterfly the turkey breast for you. Even if you can do it yourself it's free so why not?
Prepare the stuffing, parsley butter and roasting pan before you start working on the turkey breast.
Prepare the stuffing and parsley butter up to 3 days ahead if you are short on time. Let butter soften and stuffing come to room temperature before using.
Carefully remove the skin from the breast so it stays in one piece.
Pound the breast to an even thickness all around. This ensures even cooking and uniformity in the slices.
Roll the breast up as tightly as possible to make it easier to slice.
Using extra fat (in this case parsley butter) under and on top of the skin keeps it moist and helps make a very crispy skin.
Roast the turkey roll on top of big chunks of vegetables to keep it off the bottom and start the flavour base for the gravy.
Use an instant read thermometer to insure proper and safe cooking temperature.
This post contains affiliate links. As an Amazon Associate I earn a small commission from qualifying purchases.
Looking for more recipe ideas?
Brussels Sprouts, Bacon And Apple Slaw
Black Rice Salad With Roasted Vegetables
Corn Salad with Creamy Dill Dressing
📖 Recipe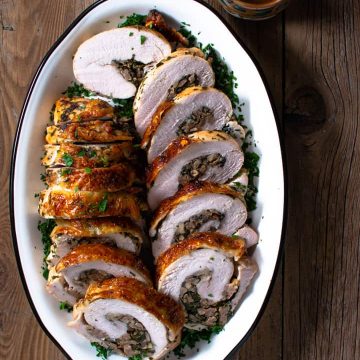 Stuffed Turkey Breast with Sausage, Mushrooms and Swiss Chard
An easy and elegant alternative to roasting a whole turkey. The sausage and mushroom stuffing keeps the turkey breast moist and the gravy recipe is divine!
Print
Pin
Rate
Ingredients
1

turkey breast half, skin on (1 kg/2 lbs approx.)

1 ½

teaspoon

salt, Kosher, approximately

1

teaspoon

freshly ground black pepper, approximately
For the stuffing & parsley butter
1

tablespoon

olive oil

1

large

shallot, peeled and finely diced

1

Italian sausage, casing removed, broken up

6-8

medium

cremini mushrooms, washed and finely chopped

1

teaspoon

fresh thyme, finely chopped

1

teaspoon

fresh sage, finely chopped

½

teaspoon

fresh rosemary, finely chopped

2

cups

Swiss chard washed and chopped

¼

cup

unsalted butter, soft

2

tablespoon

fresh parsley, finely chopped plus extra for garnish (optional)
Gravy
1

yellow cooking onion

2

medium

carrots, peeled

2

celery stalks, washed

1 ½

cups

chicken stock

1

tablespoon

balsamic vinegar

2

teaspoon

corn starch
Instructions
Stuffing
Heat a medium sautee pan to medium heat. Add 1 tablespoon olive oil. Add shallots. Cook and stir for about 1 minute.

Add sausage. Break up with wooden spoon as it cooks. Breaking it down into small pieces. Cook for about 4 minutes.

Add mushrooms and herbs. Cook for 2 minutes more. Add Swiss chard. Cook, stirring for 5 minutes or until the chard is wilted. Set aside to cool.

In a small bowl mix together soft butter and chopped parsley. Set aside.
The turkey
Chop onion, carrot and celery into large chunks and place in bottom of roasting pan. Set aside.

Remove skin from breast keeping in one piece. Reserve. Butterfly breast by cutting almost in half horizontally. Open like a book. Season both sides generously with salt and pepper.

With skin side down. Spread stuffing evenly over breast. Leave about ½ inch boarder free of stuffing around the edges. Take the top long edge and start to roll towards you. Roll into a log keeping it as tight as possible. Roll so it sits seam down.

Spread half of the butter and parsley mixture over the top and sides of the roll.

Drape skin on top of butter mixture spreading it out as much as possible. It won't cover the entire roll but that's okay.

Cut 5-6 pieces of butcher's twine to about 8"-10" lengths. Slide one piece at a time under the roll and tie at even spaces.

Spread the rest of the butter mixture on top and sides of roll.

Carefully move the roll to sit on top of the vegetables in the roasting pan. Pour in ½ cup chicken stock, reserving the other 1 cup for later.

Bake in preheated oven for 1 hour and 20-30 minutes or until an instant read thermometer reaches 165°F

When done, remove the turkey from roasting pan and reserve on a plate or cutting board loosely tented with foil. Let rest for 10-15 minutes.
Gravy
Drain liquid from roasting pan through a fine sieve into a medium sauce pan. Discard vegetables.

Add balsamic vinegar and remaining 1 cup chicken stock. Bring to a boil and continue boiling until reduced to approximately 1 cup. This will take 10-15 minutes. Mix corn starch with 2 tablespoon cold water and mix until no lumps appear. Whisk into gravy and continue whisking until slightly thickened.

Cut strings and remove from turkey breast. Slice into ½ inch to ¾ inch slices. Arrange on platter. Pour gravy over top or serve on the side.
Notes
After tying up and buttering the turkey roll you can cover and refrigerate it for up to 3 days. Remove from fridge 30 minutes before baking and bake as instructed.
 Bake it ahead and reheat it later. Let roasted, turkey breast cool at room temperature. Cover and refrigerate overnight. Remove from fridge at least 30 minutes before reheating. Add a small amount (¼ cup) of chicken stock, water or white wine to bottom of roasting pan. Place roll in pan and cover with foil. Place in a preheated 350°F oven and bake for 30 minutes or until internal temperature reaches 165°F. Remove foil and broil to crisp the skin. 
Nutrition
Serving:
1
serving
|
Calories:
347
kcal
|
Carbohydrates:
7
g
|
Protein:
35
g
|
Fat:
21
g
|
Saturated Fat:
8
g
|
Polyunsaturated Fat:
1
g
|
Monounsaturated Fat:
4
g
|
Cholesterol:
117
mg
|
Sodium:
1708
mg
|
Potassium:
242
mg
|
Fiber:
1
g
|
Sugar:
5
g