Whether you are looking for a different way to cook turkey for a special occasion or an elegant and nutritious dish for any time of year, this Stuffed Turkey Breast with sausage and mushrooms is sure to impress!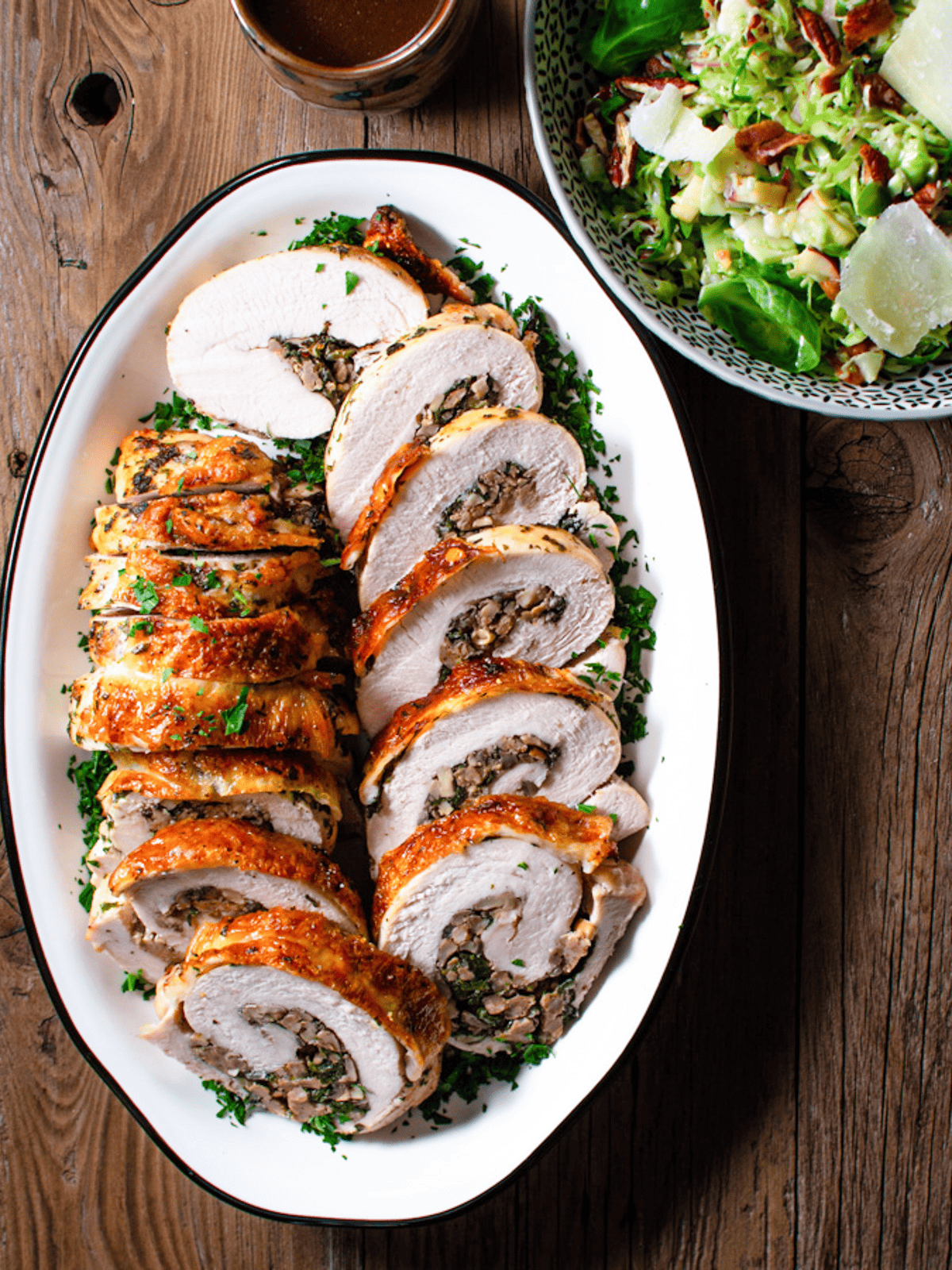 Though a bit more involved than my usual recipes, this one is totally worth it. You can prep parts, or all of it, in advance, simplifying the process. Stuffed with mushrooms, sausage, and Swiss chard, this dish is both visually appealing and surprisingly nutritious.
If you are looking for a simpler way to cook a turkey breast check out my recipe for How to Brine and Roast a Turkey Breast.
Jump to:
Why You Will Love This Recipe
Beautiful Presentation: Rolling and roasting the turkey with the stuffing creates an elegant, visually appealing dish perfect for special occasions or family gatherings.
Versatile: Stuffed turkey breast is versatile and can be enjoyed for a festive dinner or as leftovers for sandwiches and salads.
Perfect for Meal Prep: The ability to prepare parts of the recipe in advance makes it convenient for planning ahead.
Simple Gravy: The gravy made from pan drippings, onions, carrots, and celery, enhanced with balsamic vinegar, adds a delicious, complementary element to the turkey.
🥘Ingredients and Substitutions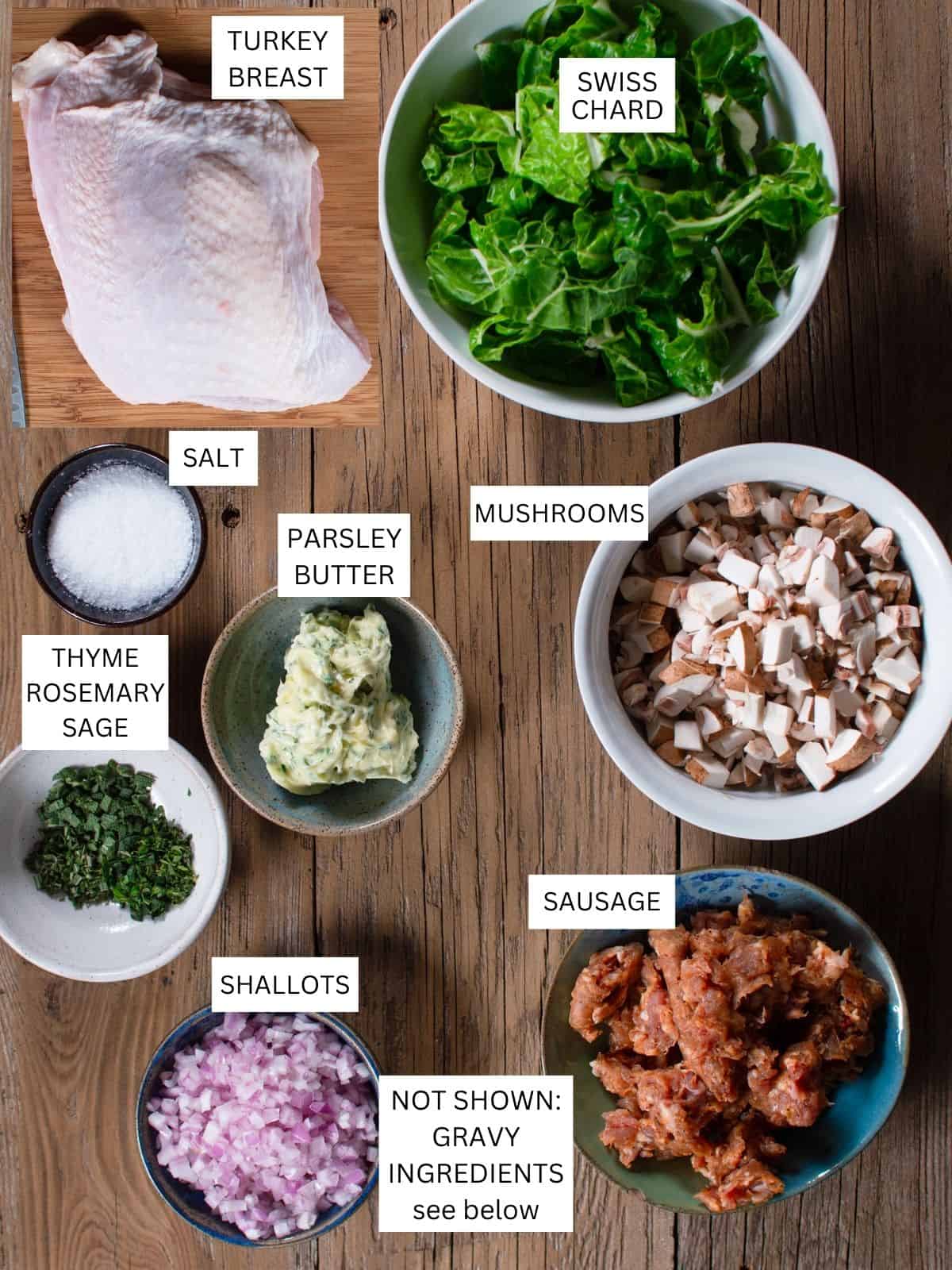 Turkey Breast - This recipe uses one skin-on, boneless, half breast. You can ask your butcher to de-bone the breast for you if necessary.
Shallot - can be substituted with ¼ cup of finely chopped onion.
Italian Sausage can be replaced with any type of sausage you like. Use a spicy sausage for a bit of kick!
Cremini mushrooms add a deeper mushroom flavour. These can be substituted with white button mushrooms.
Fresh herbs - Rosemary, thyme and sage are classic flavours for a turkey dinner. However you can switch things up and use any combination of herbs you like. If using dried herbs substitute with half the amount called for.
Swiss Chard is a flavourful dark leafy green. Feel free to substitute with any greens such as spinach, arugula, kale or collard greens.
For a complete list of ingredients see the recipe card below.
Variations
Switch up the stuffing: Experiment with different stuffing ingredients like dried fruits (cranberries, apricots), nuts (pecans, walnuts), or other vegetables (spinach, grated carrot) for a twist. You can also leave out the meat and use extra vegetables.
Add cheese: Adding in some shredded cheese will give a creamy and gooey texture, such as grated Parmesan or mild cheddar.
🔪How to Stuff a Turkey Breast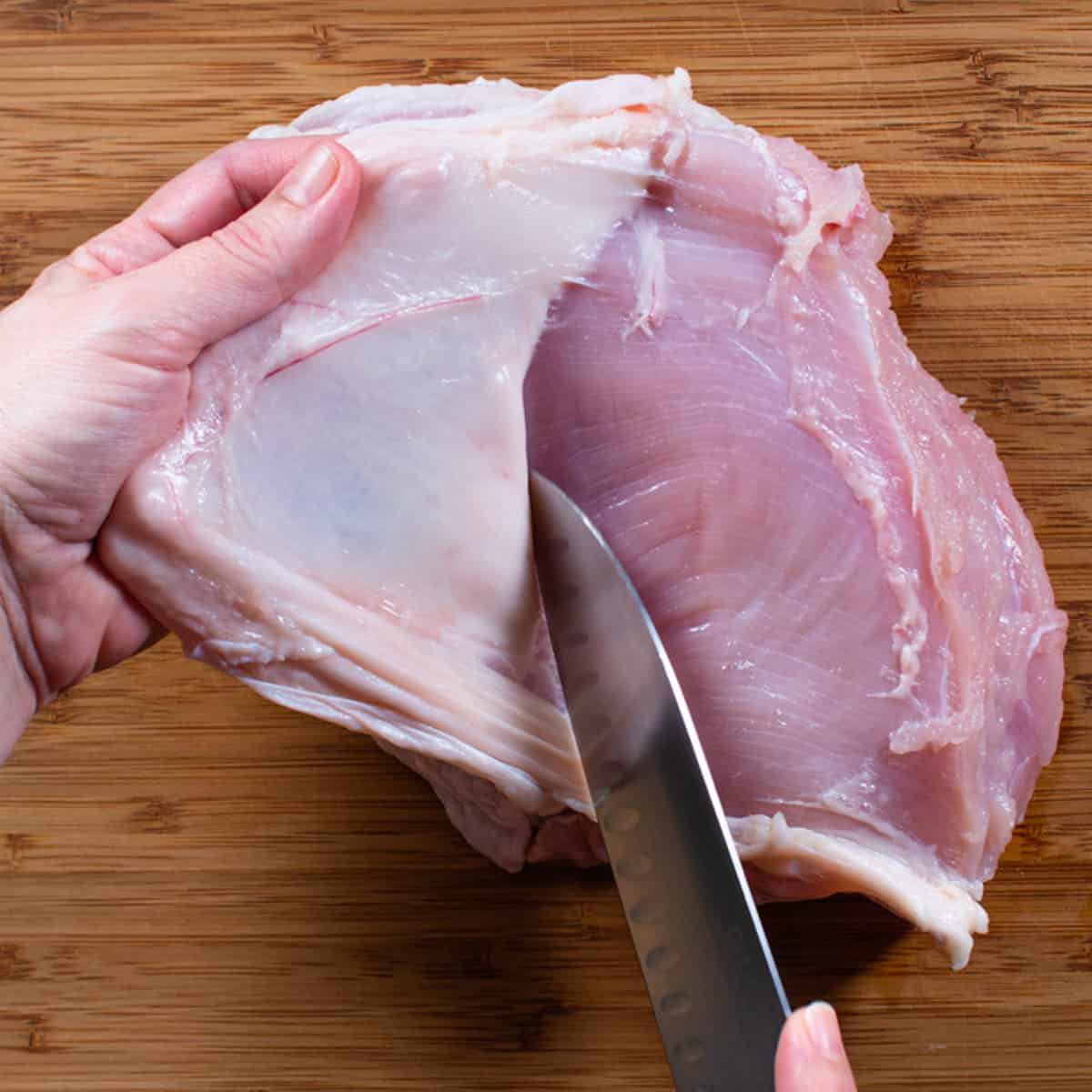 Step 1 - Remove the skin from the turkey breast in one piece and set aside.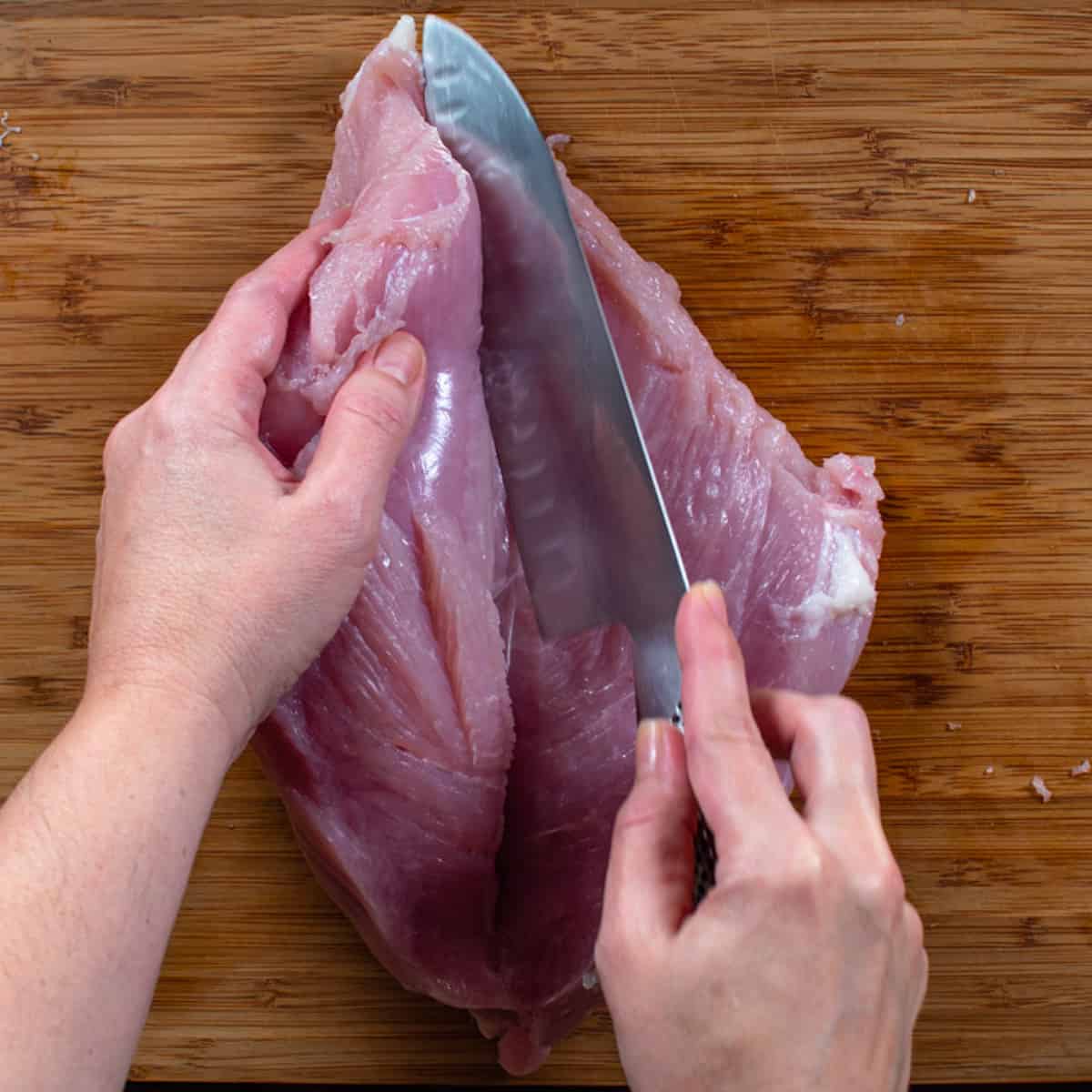 Step 2 - Cut the breast in half without cutting all the way through.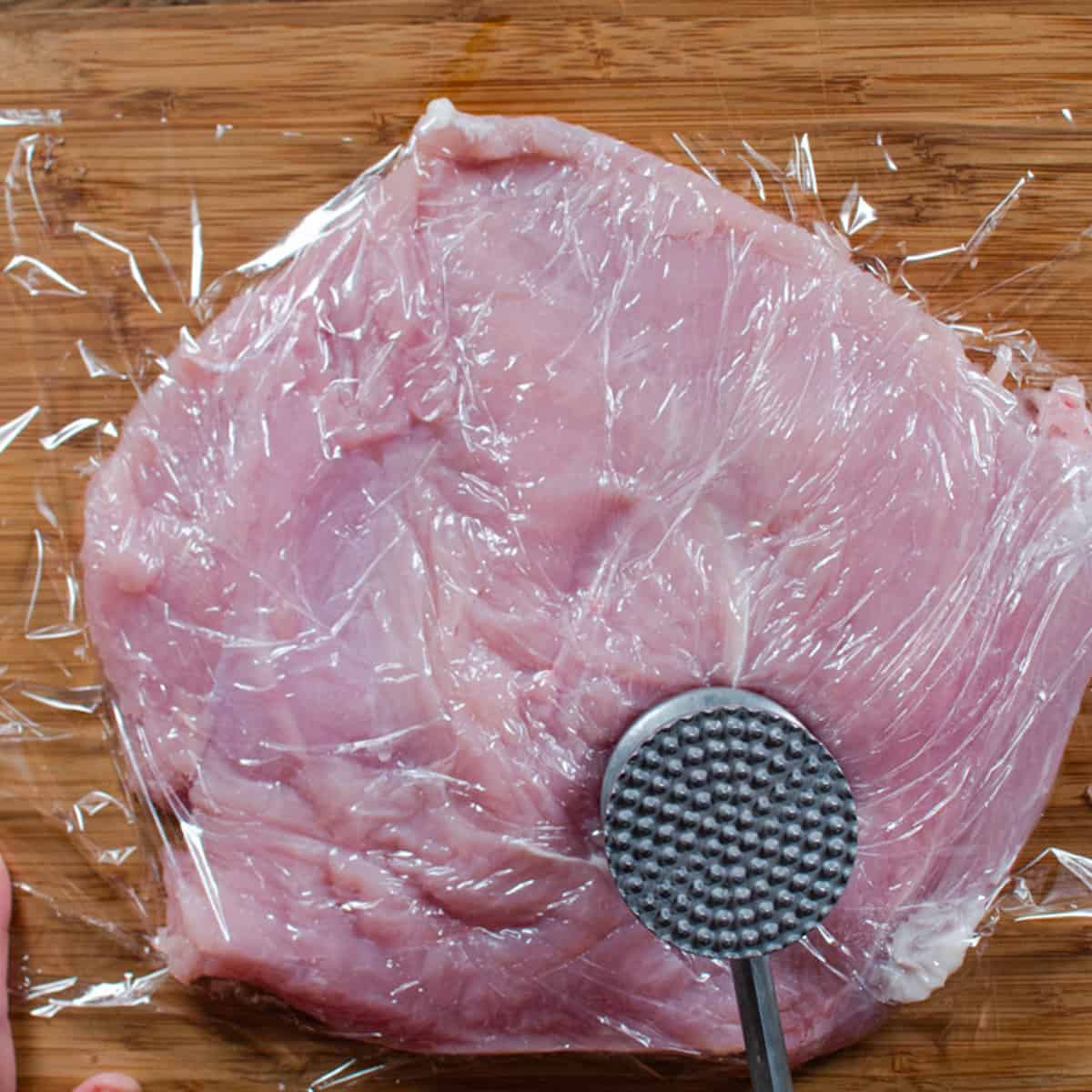 Step 3 - Open it up like a book. Place a piece of plastic wrap on top and pound to create an even thickness throughout.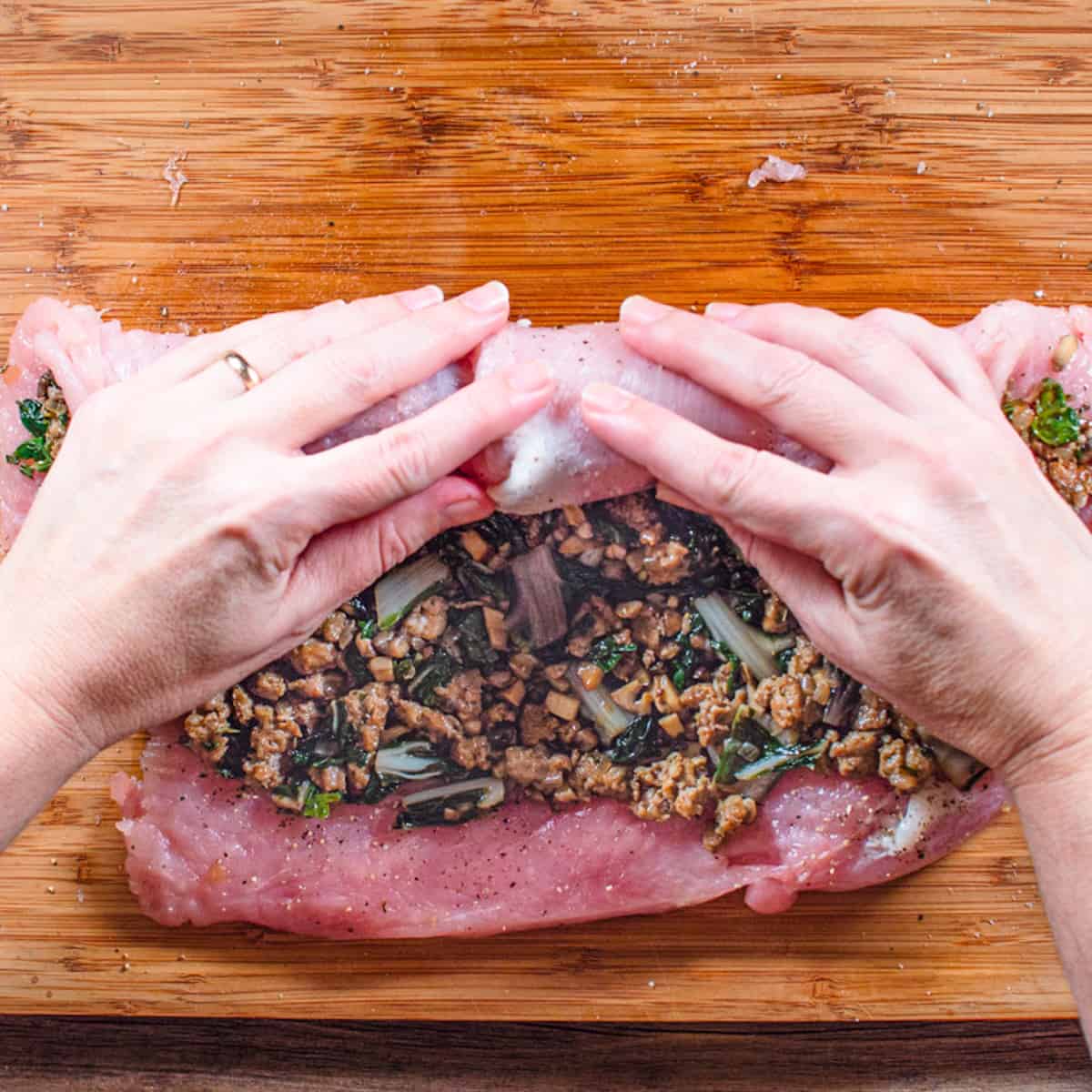 Step 4 - Spread the cooked stuffing evenly over the surface of the flattened turkey breast and working towards yourself, roll up the breast ending with the seam side down.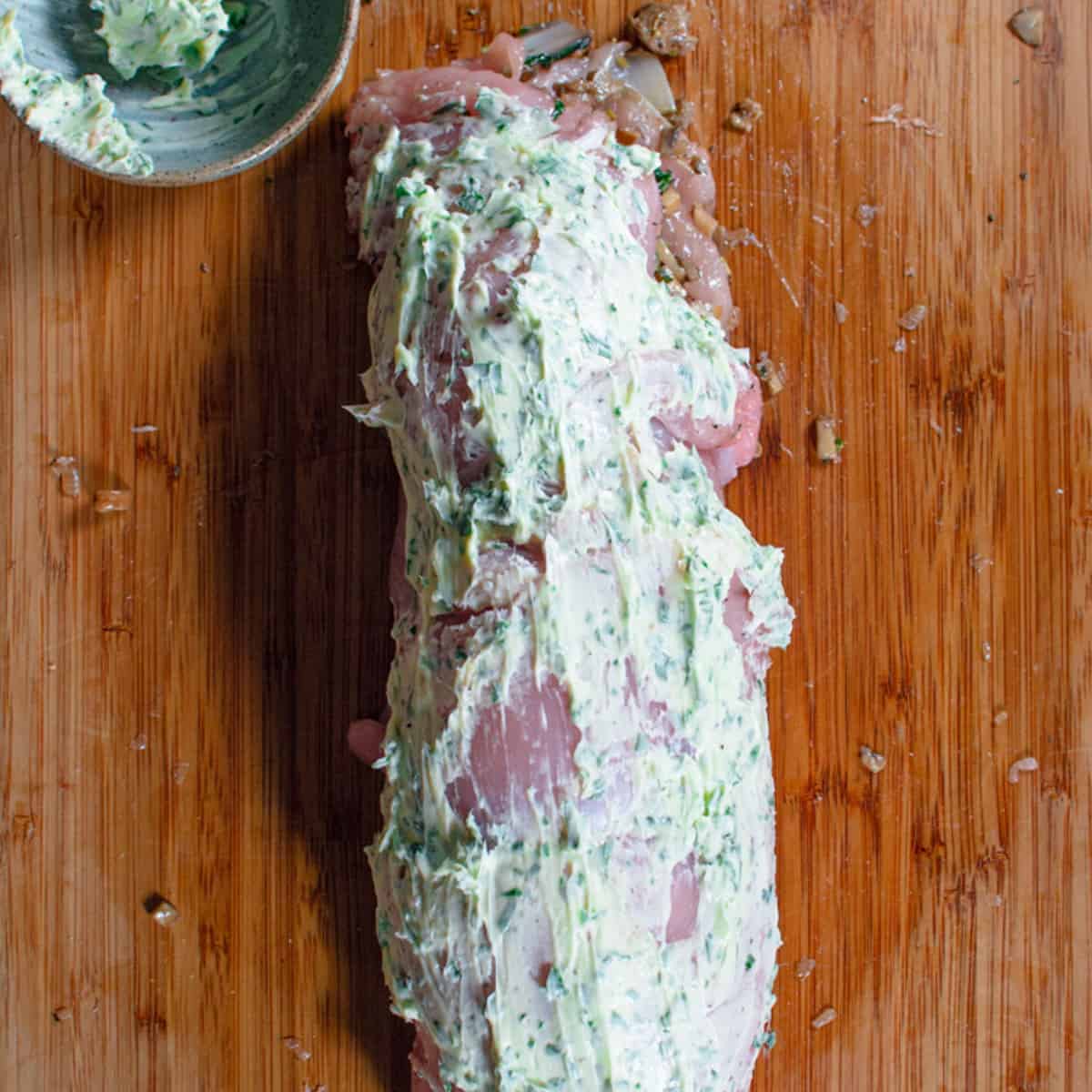 Step 5 - Spread half of the softened parsley butter evenly over the surface of the rolled up breast.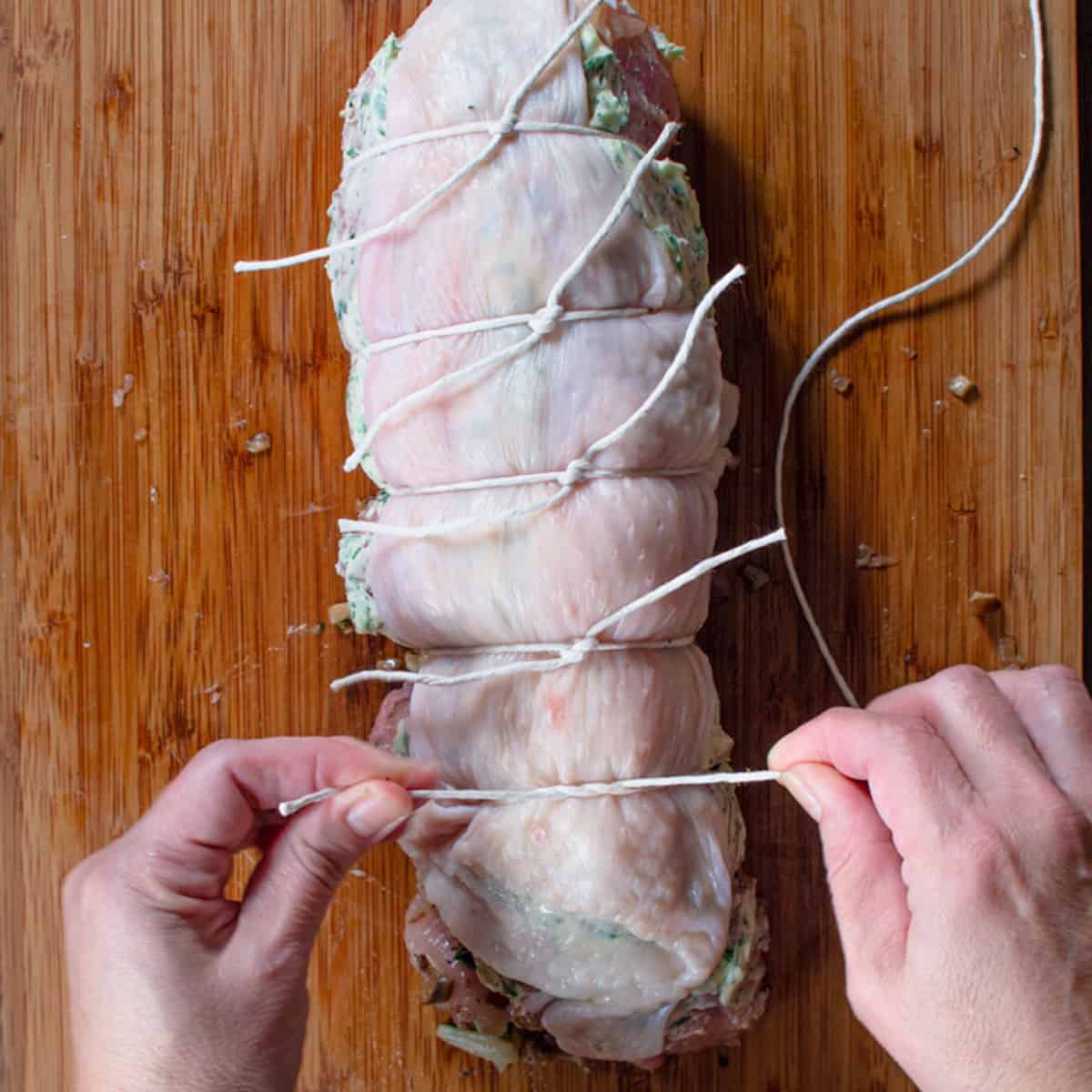 Step 6 - Lay the skin on top of the butter and tie with butcher's twine.
Step 7 - Spread the other half of the butter over the skin. Place stuffed turkey breast on top of a bed of vegetables. Pour in half a cup of chicken broth and roast.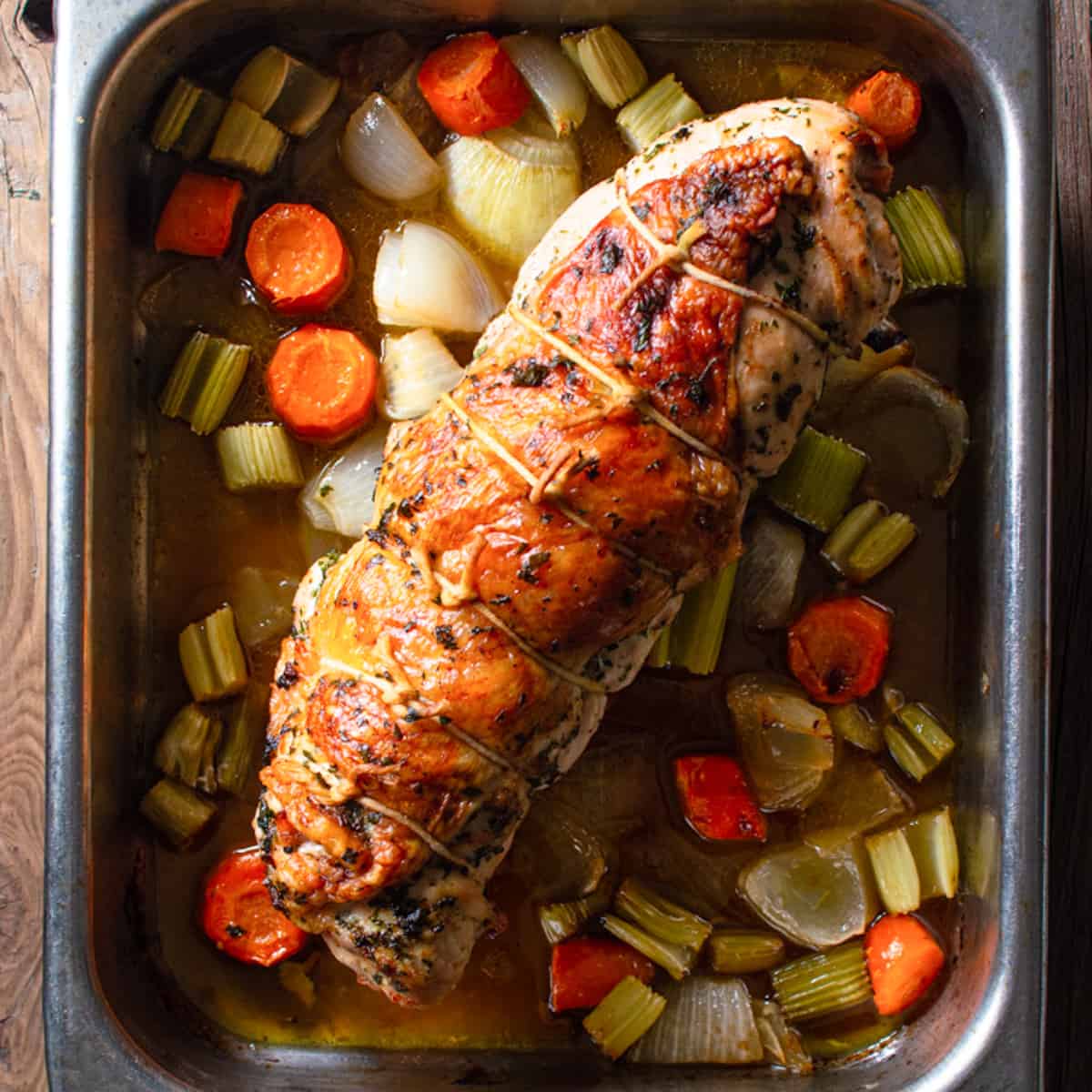 For detailed instructions see the recipe card below.
If you're looking for an easier dish to serve for a special occasion you might like this recipe for Grilled Pork Tenderloin or Pan Seared Lamb Chops. For another show-stopping idea for entertaining you might like this Spanish Paella Recipe.
Expert Tips
Prepare your ingredients - In the restaurant world we call this "mise en place" which means "everything in its place". This is my number 1 piece of cooking advice. Before you start cooking make sure you have all your ingredients measured, chopped, drained etc. This is especially helpful when making one-pan meals that come together quickly.
Use a Meat Thermometer: Invest in a reliable meat thermometer to monitor the turkey's internal temperature accurately. Cook the turkey until it reaches 165°F (74°C) for safe consumption. I recommend this ThermoPop from ThermoWorks.
Soften the butter: Ensure the butter is at the right temperature for easy spreading. Take it out of the refrigerator well in advance to allow it to soften to room temperature or gently microwave it for a few seconds at a time.
Let it rest: Allow the turkey breast to rest after roasting. This helps redistribute the juices within the meat, ensuring a moist and flavorful end result.
Recipe FAQs
Can I make stuffed turkey breast ahead of time?
You can prepare this recipe ahead of time up to just before roasting in the oven. Remove the prepared breast from the refrigerator 30 minutes before roasting.
How do you keep turkey breast moist?
Rubbing butter under the skin adds moisture to turkey breasts. Basting throughout cooking will also add moisture as well as helping to produce a crispy skin. Brining is also a great option for a moist and tender turkey breast.
Should a turkey breast be cooked covered or uncovered?
If you are looking to achieve a crispy skin, roast turkey breasts uncovered.
Can I prepare the stuffing and butter mixture in advance?
Yes you can prepare the components of this recipe ahead of time. Let the butter soften before proceeding with the recipe.
Tried this recipe? I would love it if you could leave a star rating ⭐️⭐️⭐️⭐️⭐️ and/or a comment below. You can also follow me on social media here on Facebook, Instagram, and Pinterest!
📖 Recipe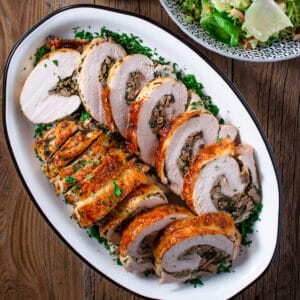 Stuffed Turkey Breast
An easy and elegant alternative to roasting a whole turkey. The sausage and mushroom stuffing keeps the turkey breast moist and the gravy recipe is divine!
Print
Pin
Rate
Ingredients
1

turkey breast half, skin on (1 kg/2 lbs approx.)

1 ½

teaspoon

salt, Kosher, approximately

1

teaspoon

freshly ground black pepper, approximately
For the stuffing & parsley butter
1

tablespoon

olive oil

1

large

shallot, peeled and finely diced

1

Italian sausage, casing removed, broken up

6-8

medium

cremini mushrooms, washed and finely chopped

1

teaspoon

fresh thyme, finely chopped

1

teaspoon

fresh sage, finely chopped

½

teaspoon

fresh rosemary, finely chopped

2

cups

Swiss chard washed and chopped

¼

cup

butter, soft

2

tablespoon

fresh parsley, finely chopped plus extra for garnish (optional)
Gravy
1

yellow cooking onion

2

medium

carrots, peeled

2

celery stalks, washed

1 ½

cups

chicken stock

1

tablespoon

balsamic vinegar

2

teaspoon

corn starch
Instructions
Stuffing
Heat a medium sautee pan to medium heat. Add 1 tablespoon olive oil. Add shallots. Cook and stir for about 1 minute.

1 tablespoon olive oil,

1 large shallot, peeled and finely diced

Add sausage. Break up with wooden spoon as it cooks. Breaking it down into small pieces. Cook for about 4 minutes.

1 Italian sausage, casing removed, broken up

Add mushrooms and herbs. Cook for 2 minutes more. Add Swiss chard. Cook, stirring for 5 minutes or until the chard is wilted. Set aside to cool.

6-8 medium cremini mushrooms, washed and finely chopped,

1 teaspoon fresh thyme, finely chopped,

1 teaspoon fresh sage, finely chopped,

½ teaspoon fresh rosemary, finely chopped,

2 cups Swiss chard washed and chopped

In a small bowl mix together soft butter and chopped parsley. Set aside.

¼ cup butter, soft,

2 tablespoon fresh parsley, finely chopped plus extra for garnish (optional)
The turkey
Chop onion, carrot and celery into large chunks and place in bottom of roasting pan. Set aside.

1 yellow cooking onion,

2 medium carrots, peeled,

2 celery stalks, washed

Remove skin from breast keeping in one piece. Reserve. Butterfly breast by cutting almost in half horizontally. Open like a book. Season both sides generously with salt and pepper.

1 turkey breast half, skin on (1 kg/2 lbs approx.)

With skin side down. Spread stuffing evenly over breast. Leave about ½ inch boarder free of stuffing around the edges. Take the top long edge and start to roll towards you. Roll into a log keeping it as tight as possible. Roll so it sits seam down.

Spread half of the butter and parsley mixture over the top and sides of the roll.

Drape skin on top of butter mixture spreading it out as much as possible. It won't cover the entire roll but that's okay.

Cut 5-6 pieces of butcher's twine to about 8"-10" lengths. Slide one piece at a time under the roll and tie at even spaces.

Spread the rest of the butter mixture on top and sides of roll.

Carefully move the roll to sit on top of the vegetables in the roasting pan. Pour in ½ cup chicken stock, reserving the other 1 cup for later.

Bake in preheated oven for 1 hour and 20-30 minutes or until an instant read thermometer reaches 165°F

When done, remove the turkey from roasting pan and reserve on a plate or cutting board loosely tented with foil. Let rest for 10-15 minutes.
Gravy
Drain liquid from roasting pan through a fine sieve into a medium sauce pan. Discard vegetables.

Add balsamic vinegar and remaining 1 cup chicken stock. Bring to a boil and continue boiling until reduced to approximately 1 cup. This will take 10-15 minutes. Mix corn starch with 2 tablespoon cold water and mix until no lumps appear. Whisk into gravy and continue whisking until slightly thickened.

Cut strings and remove from turkey breast. Slice into ½ inch to ¾ inch slices. Arrange on platter. Pour gravy over top or serve on the side.
Notes
After tying up and buttering the turkey roll you can cover and refrigerate it for up to 3 days. Remove from fridge 30 minutes before baking and bake as instructed.
Bake it ahead and reheat it later. Let roasted, turkey breast cool at room temperature. Cover and refrigerate overnight. Remove from fridge at least 30 minutes before reheating. Add a small amount (¼ cup) of chicken stock, water or white wine to bottom of roasting pan. Place roll in pan and cover with foil. Place in a preheated 350°F oven and bake for 30 minutes or until internal temperature reaches 165°F. Remove foil and broil to crisp the skin. 
Nutrition
Serving:
1
serving
|
Calories:
347
kcal
|
Carbohydrates:
7
g
|
Protein:
35
g
|
Fat:
21
g
|
Saturated Fat:
8
g
|
Polyunsaturated Fat:
1
g
|
Monounsaturated Fat:
4
g
|
Cholesterol:
117
mg
|
Sodium:
1708
mg
|
Potassium:
242
mg
|
Fiber:
1
g
|
Sugar:
5
g