Time to bump up your dark, leafy green intake with these Collard Green Wraps! Packed with veggies and homemade hummus, they make for a satisfying and nutritious vegan meal, snack, or side dish. But they don't have to be vegan because you can fill them with anything you like such as leftover rotisserie chicken, tuna salad, or how about your favourite taco fillings!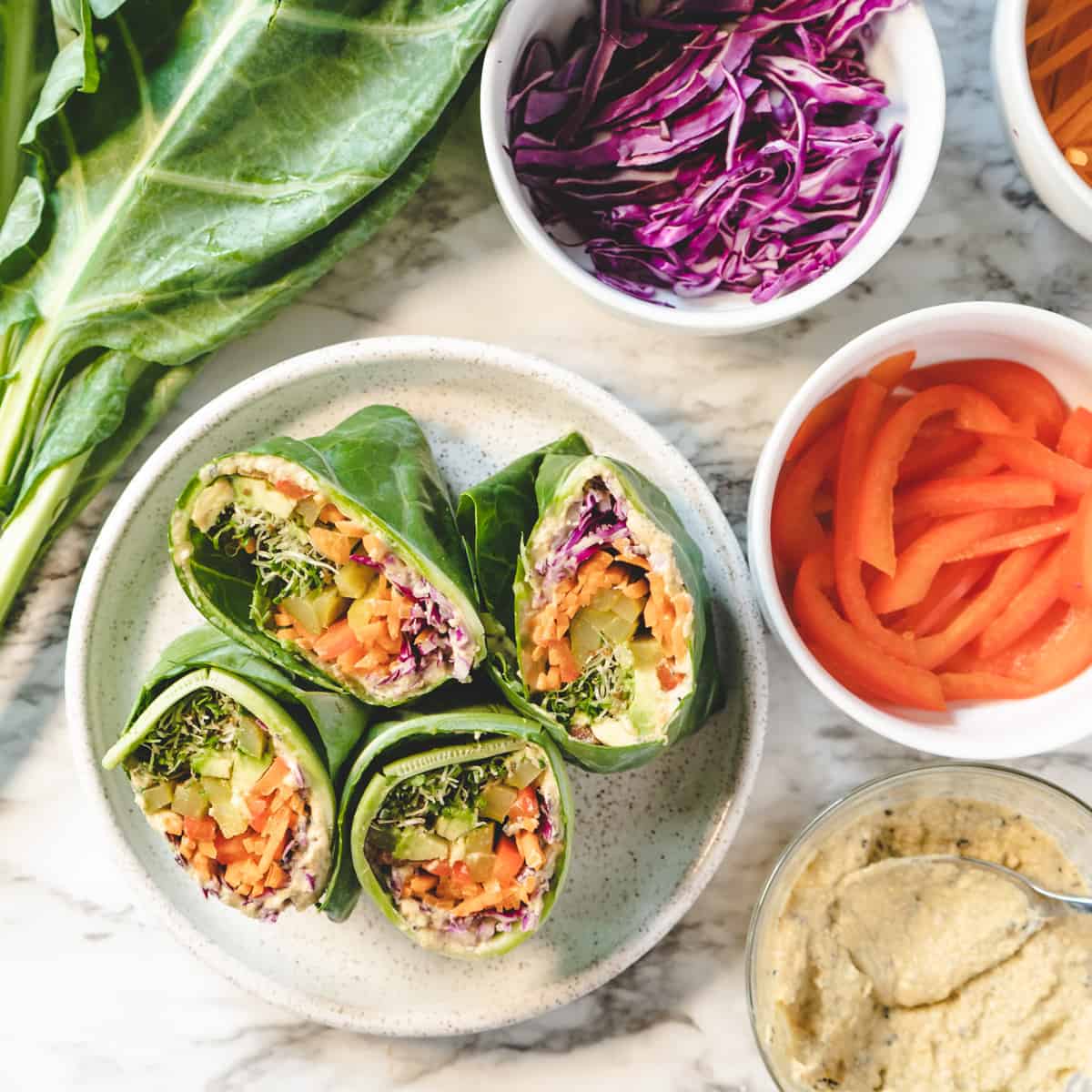 Try these with these delicious Marinated Artichoke Hearts or Quick Pickled Onions! These wraps would make a delicious side dish for the Best BBQ Grilled Chicken Thighs or Spice Rubbed Grilled Salmon Fillets. Leftovers of chicken or salmon also make a delicious filling for these wraps.
Why you will love this recipe
Easy and convenient: Once the vegetables are prepared and the hummus is ready, all you have to do is roll everything up in a collard green leaf. They are perfect at home, in packed lunches, or taken on picnics.
Versatile: Easily customize the fillings to suit individual tastes. You can experiment with different vegetables, fresh herbs, different flavoured hummus or other dips. If you are a meat or fish eater they are also delicious with shredded chicken, shrimp, or tuna.
Healthy - Collard greens and fresh vegetables are highly nutritious and low in calories, making them a great choice for those looking to maintain a healthy weight. Hummus adds a good source of plant-based protein and healthy fats. This combination makes collard wraps a satisfying and nutritious meal.
🥘Ingredients and Substitutions
Here's what you will need to make this recipe. For quantities see the recipe card below.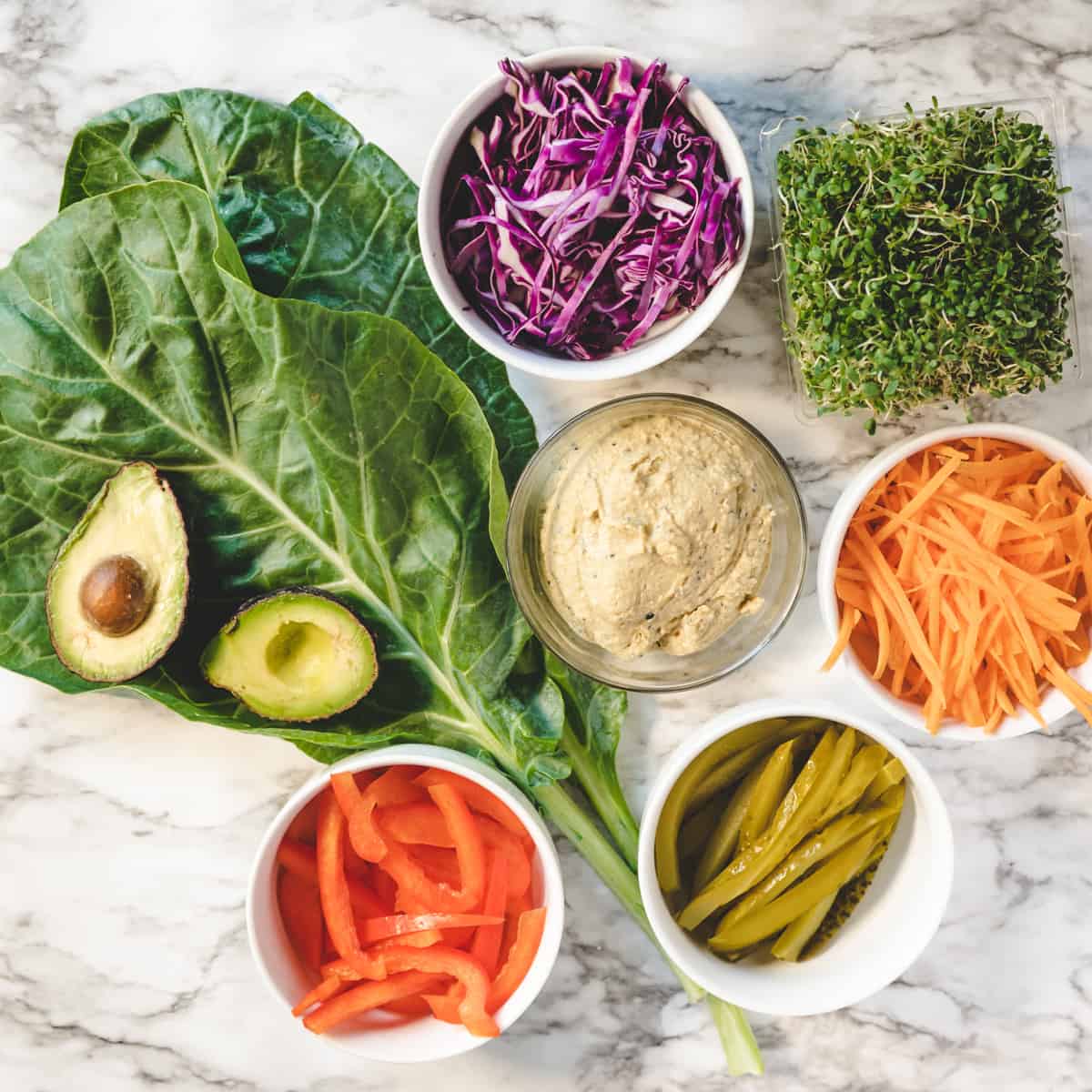 Collard greens can be replaced with large Swiss chard leaves or romaine. Kale can also be used but you will need to steam the leaves before using them for wraps.
Mixed raw vegetables - Any combination of veggies are perfect for these wraps. Choose your favourites or raid the fridge for any leftovers or find what needs to be used up.
Hummus - Use me recipe for homemade hummus or use your favourite store-bought brand. Other dips or salad dressings would also be delicious.
🔪How to make collard wraps
Below are step-by-step instructions on how to make and roll up collard green wraps.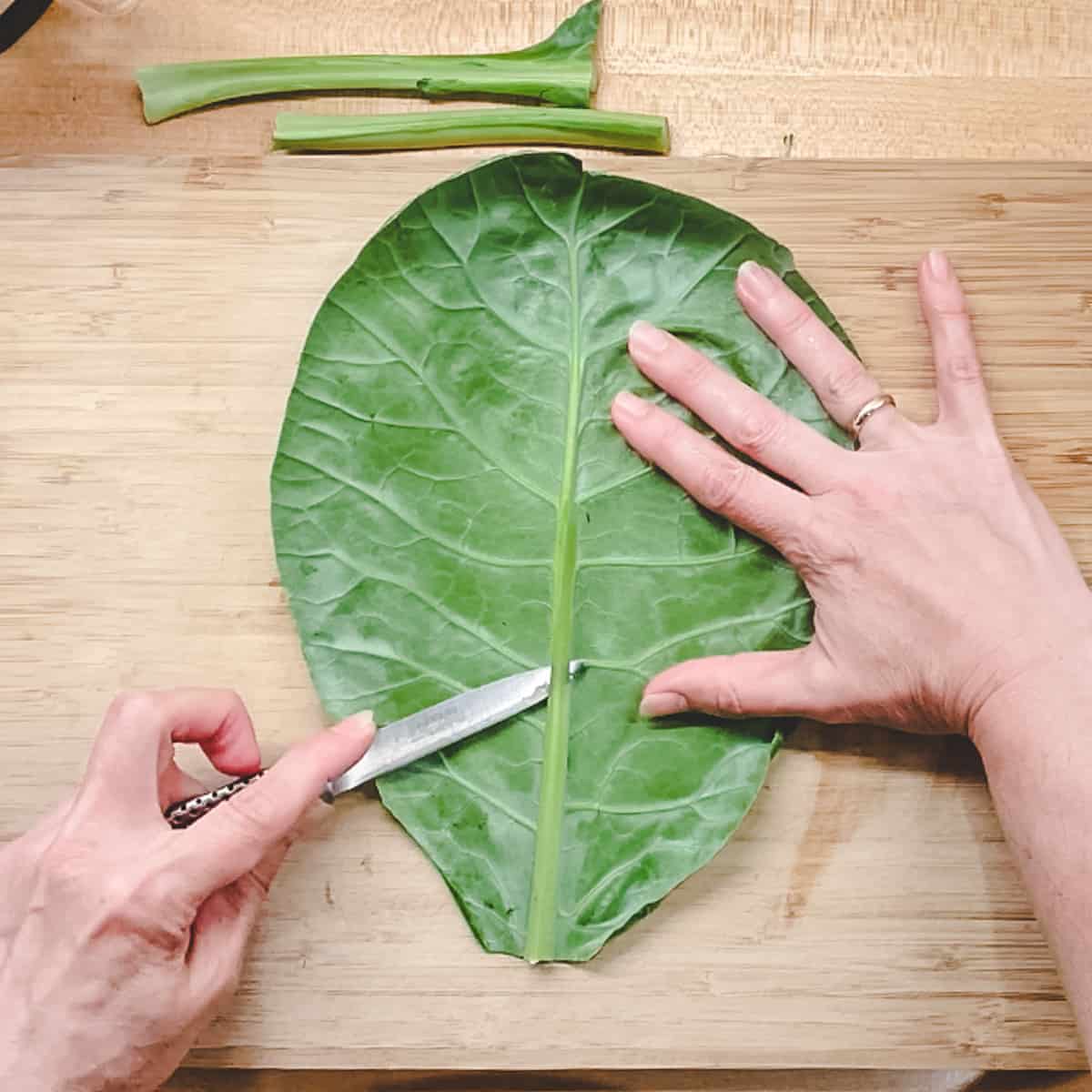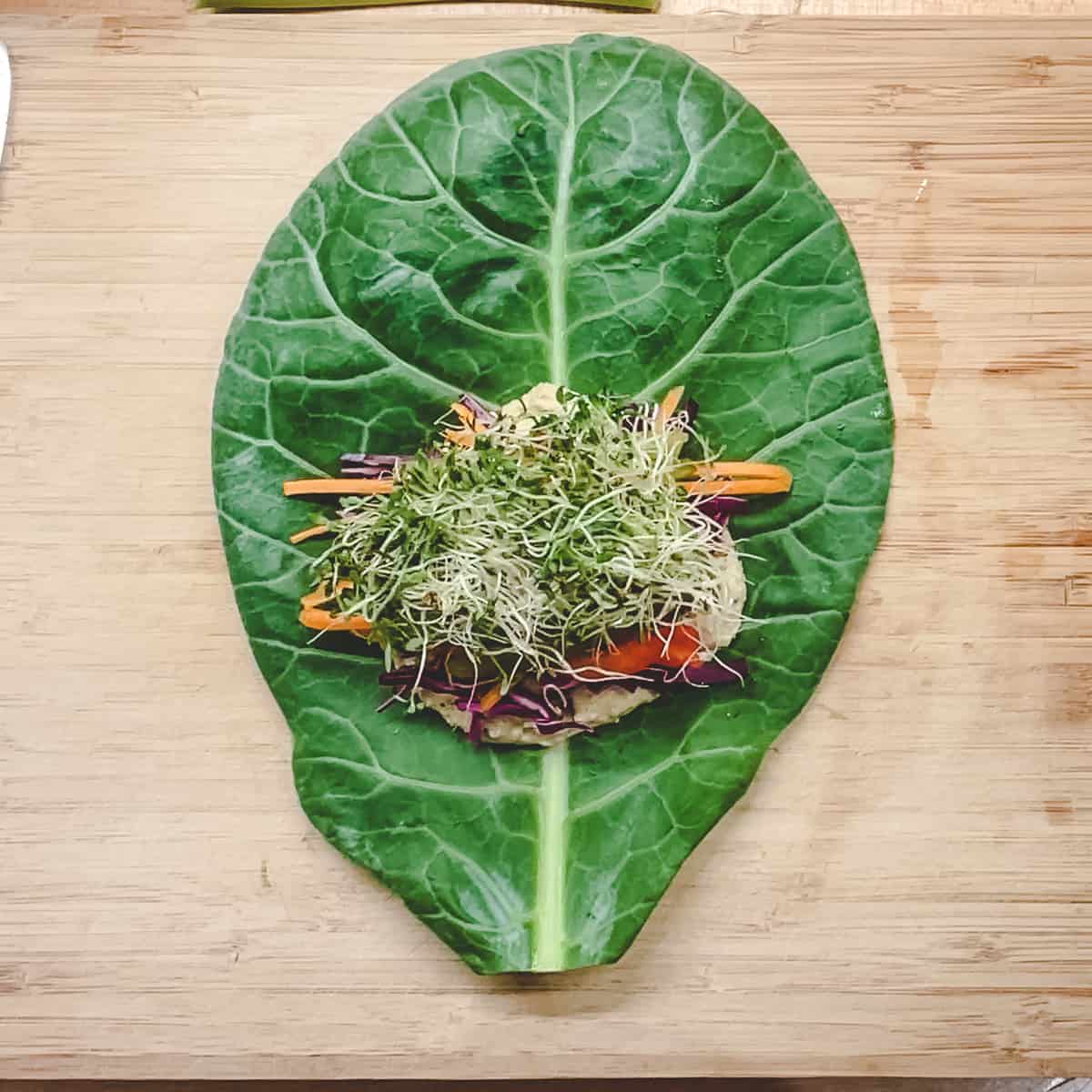 Steps 1 & 2 - Cut off the stem then trim the thick part of the stem on the backside of the leaf. Make a pile of your fillings trying not to overfill or it will be hard to wrap up.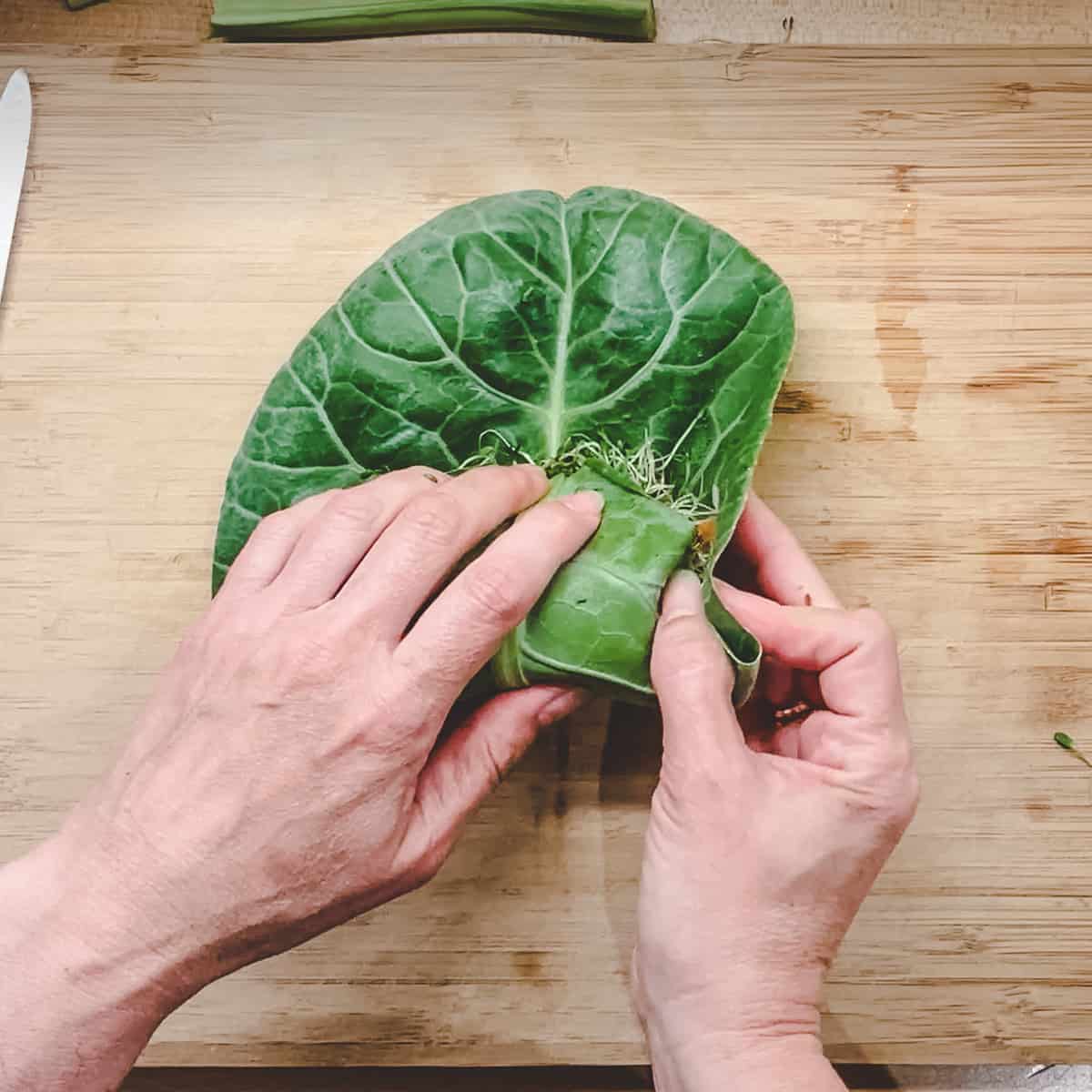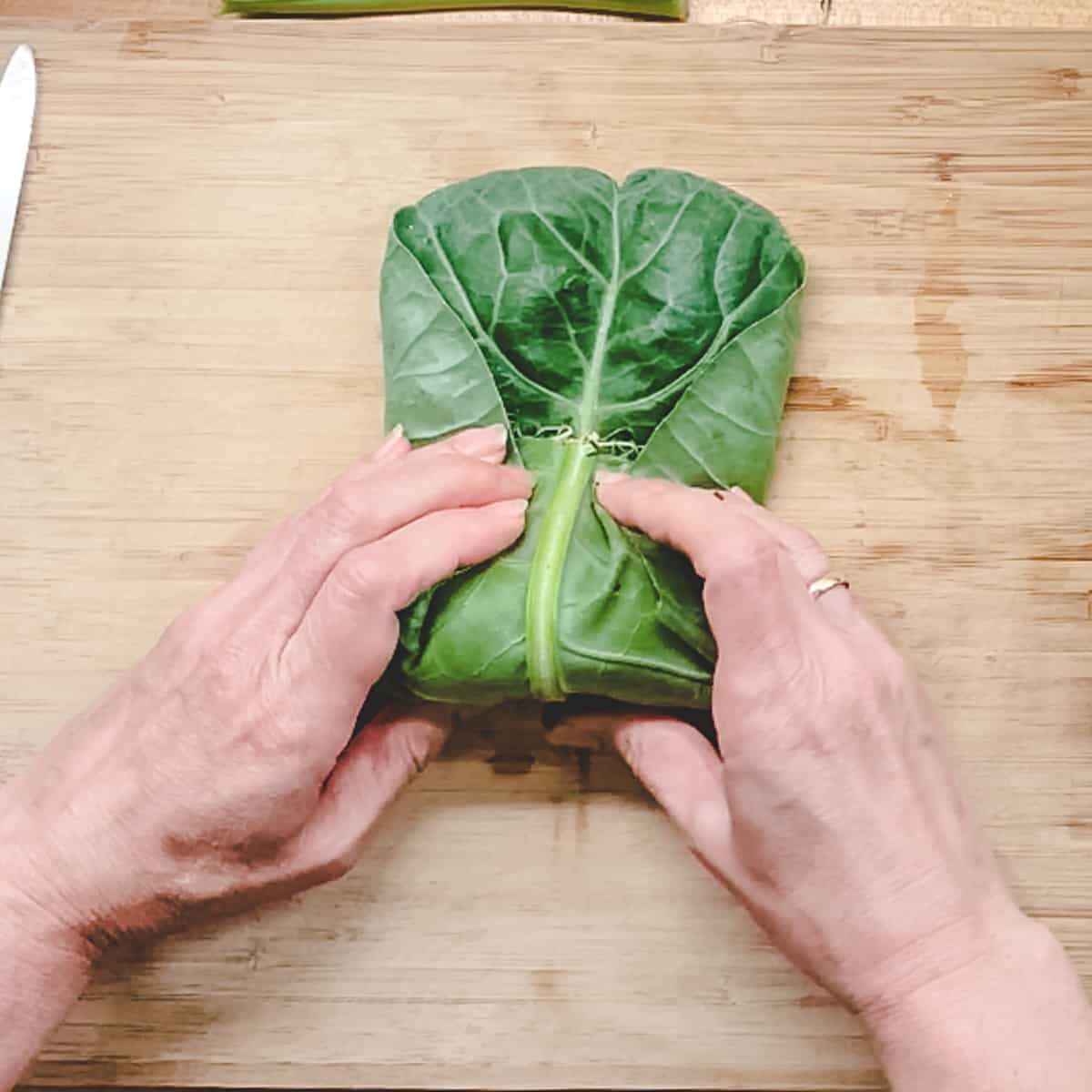 Steps 3 & 4 - Fold the bottom of the leaf over the fillings. Then fold one side in and then the other. Roll it up completely ending with the seam down.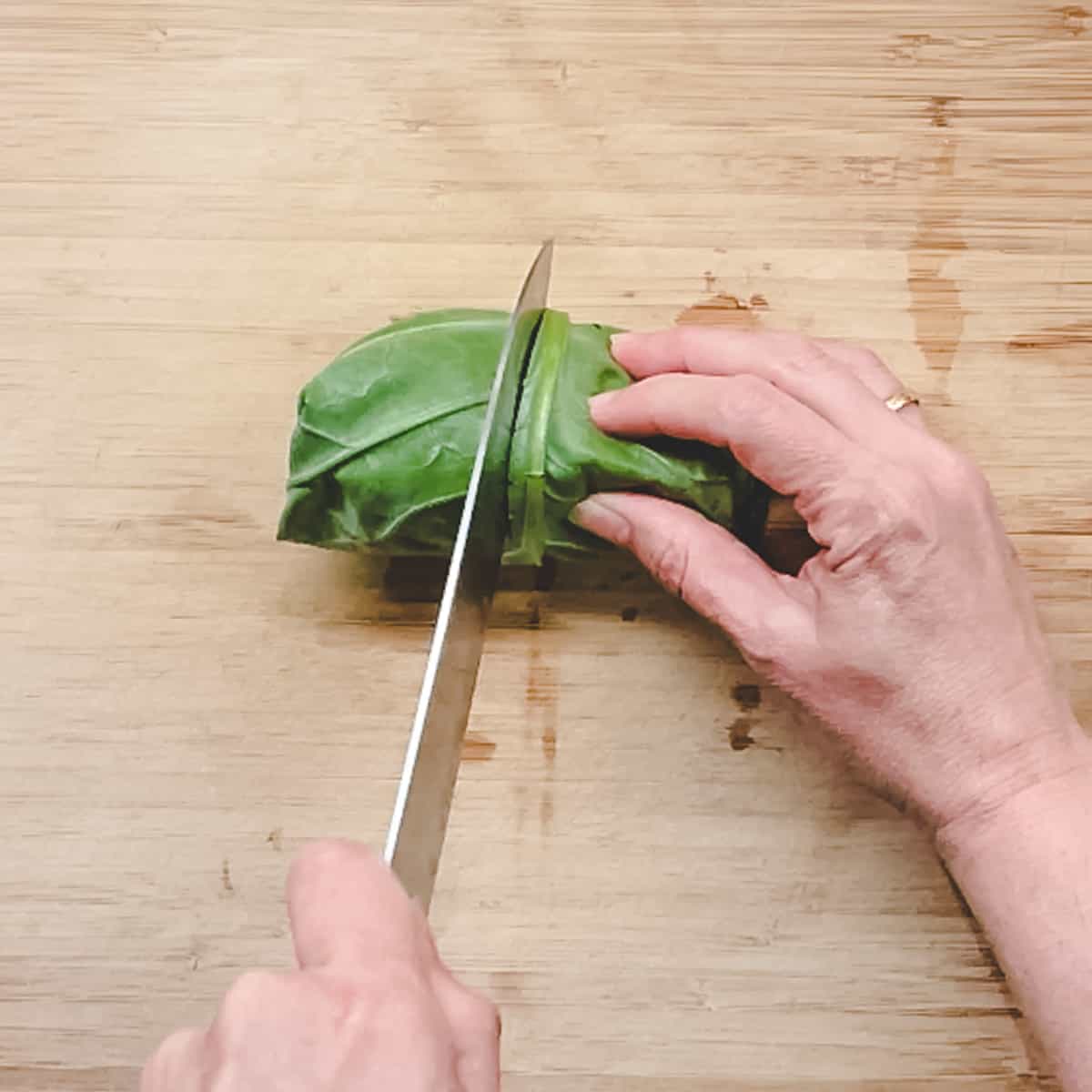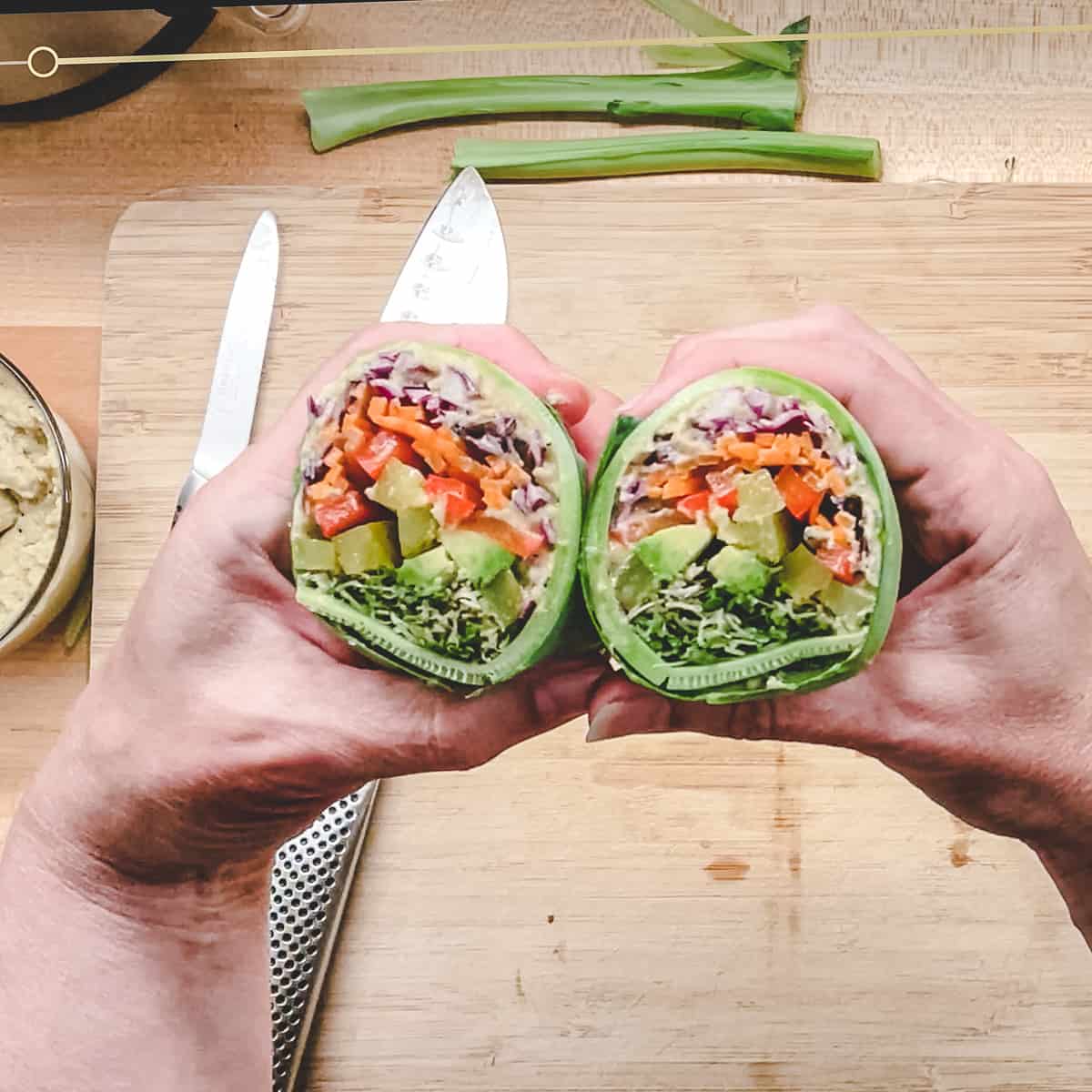 Step 5 - Using a sharp knife, cut the wrap in half and enjoy!
🥣Other filling options
The substitutions for this wrap are literally endless! Here's a list of other filling ideas:
Swiss chard can be used instead of collard greens
leftover grilled or roasted veggies
any plant-based protein such as tofu, tempeh, edamame, etc.
any animal protein including fish, seafood, chicken, pork, or beef.
tuna or egg salad
scrambled eggs
peanut sauce
hot sauce
your favourite salad dressing or dip
cheese!
any other type of pickled veg
olives
kimchi or saukraut
coleslaw
Storage
Store in a covered container or wrapped in plastic wrap in the fridge for 3-5 days depending on your choice of fillings. If your wraps include meat or seafood keep for 3 days only.
Pro-Tip
If you are making a few of these ahead of time don't cut them in half. Instead, wrap them tightly in plastic wrap to store.
If you make these wraps with the darker green surface on the outside they will look more visually appealing but if you make them with the back of the leaf (the lighter green) facing out they will roll up more easily.
Recipe FAQs
Can I eat collard greens raw?
Collard greens can definitely be eaten raw. They are a cruciferous vegetable and an excellent source of calcium, folate, and vitamins K, C, and A and are also high in fiber and antioxidants.
Do you have to blanch collard greens for wraps?
You don't have to blanch them but you can if you prefer to do so. Bring a large pot of water to a boil. Submerge the leaves for about 30 seconds. Remove and place immediately into ice water. Remove from ice water and pat dry before using.
What leaves can be used for wraps?
My preferred choice is collard greens but you can also use Swiss chard or softer lettuce leaves like Boston, Bibb, or Butter lettuce. The softer top parts of Romaine lettuce leaves can also be used.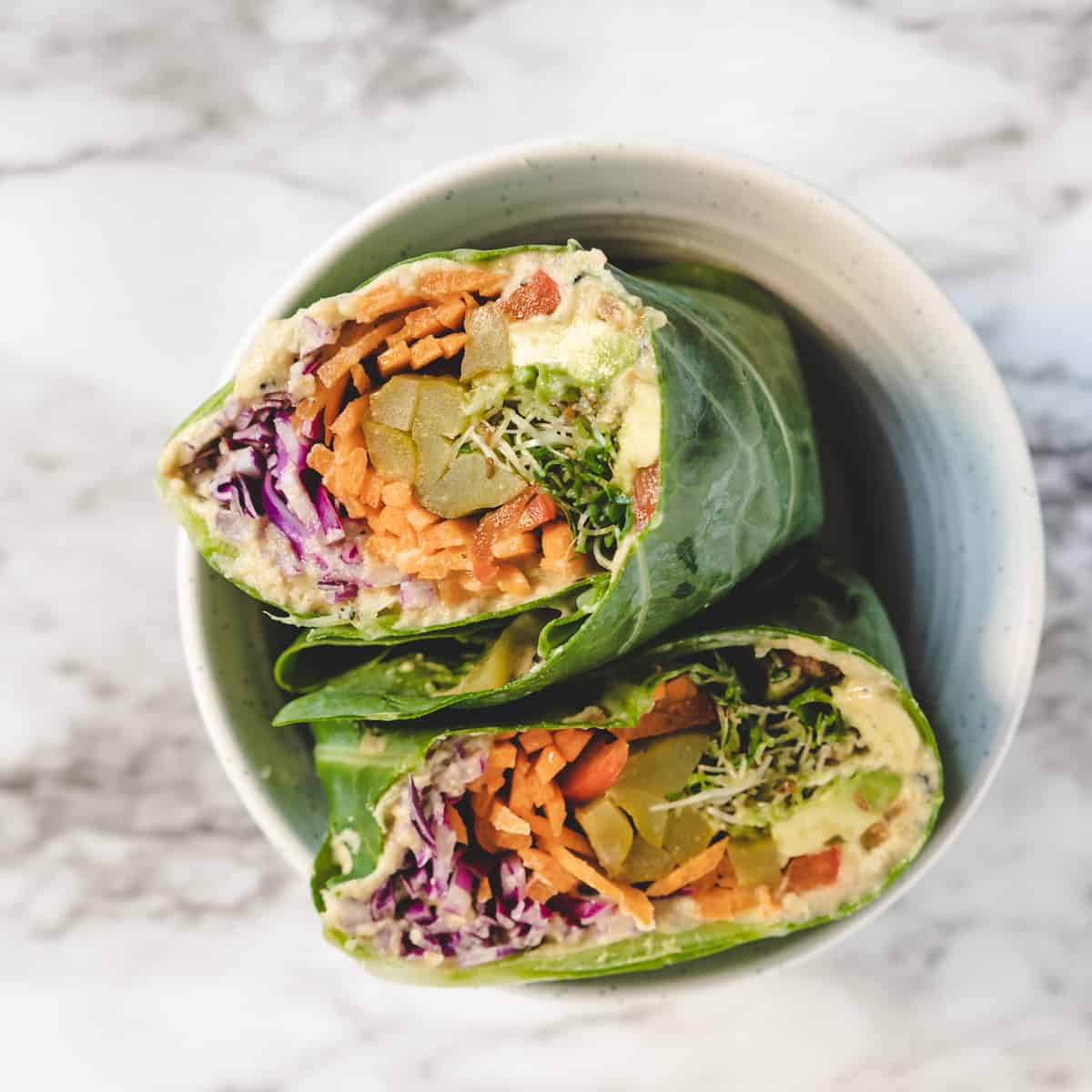 📖 Recipe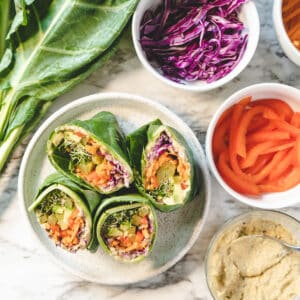 Collard Green Wraps With Hummus
Create delicious and nutritious wraps with collard green leaves. This version is vegan but you can fill them with anything you like!
Print
Pin
Rate
Ingredients
2

collard green leaves

3-4

tablespoons

Toasted Sesame Hummus,

or hummus of your choice

½

cup

carrots

grated

½

cup

red cabbage

thinly sliced

½

small

red pepper

thinly sliced

1

large

dill pickle

sliced

½

medium

avocado

sliced

alfalfa sprouts or microgreens
Instructions
Prepare the vegetables and hummus if you are making your own.

Rinse collard leaves and pat dry. Cut the stems from leaves. Flip the leaf over so the underside is facing up. With a sharp paring knife, trim the thick stem so it's flat. This makes it easier to roll up.

Working with one leaf at a time, place on a board with the stem end facing towards you. Spread hummus on the bottom ⅓ of the leaf. Add your filling ingredients keeping everything in the center so you can fold the sides (see photo above).

Fold the bottom up so it's just covering the fillings. Fold in one side and then the other. Roll up and end with the seam side down. Using a sharp chef's knife or a serrated knife, cut in half. Cutting it is optional. They can be less messy to eat when left whole and can be wrapped and stored in the fridge easily.
Notes
TIP FOR ROLLING: You can choose whether or not you want the dark green side on the outside or inside. It looks more attractive with the dark green on the outside but it's easier to roll up the other way around.
STORAGE:  in a covered container or wrapped in plastic wrap in the fridge for 3-5 days depending on your choice of fillings. If your wraps include meat or seafood keep for 3 days only.
NUTRITION FACTS are calculated using an online calculator and are an estimate only. 
Nutrition
Serving:
1
wrap
|
Calories:
214
kcal
|
Carbohydrates:
20
g
|
Protein:
6
g
|
Fat:
14
g
|
Saturated Fat:
2
g
|
Polyunsaturated Fat:
3
g
|
Monounsaturated Fat:
8
g
|
Sodium:
312
mg
|
Potassium:
581
mg
|
Fiber:
9
g
|
Sugar:
5
g