Marinated artichoke hearts are a great thing to have on hand. The store bought varieties can be pricey so I've created an easy, delicious and inexpensive recipe that will last in the fridge for a month!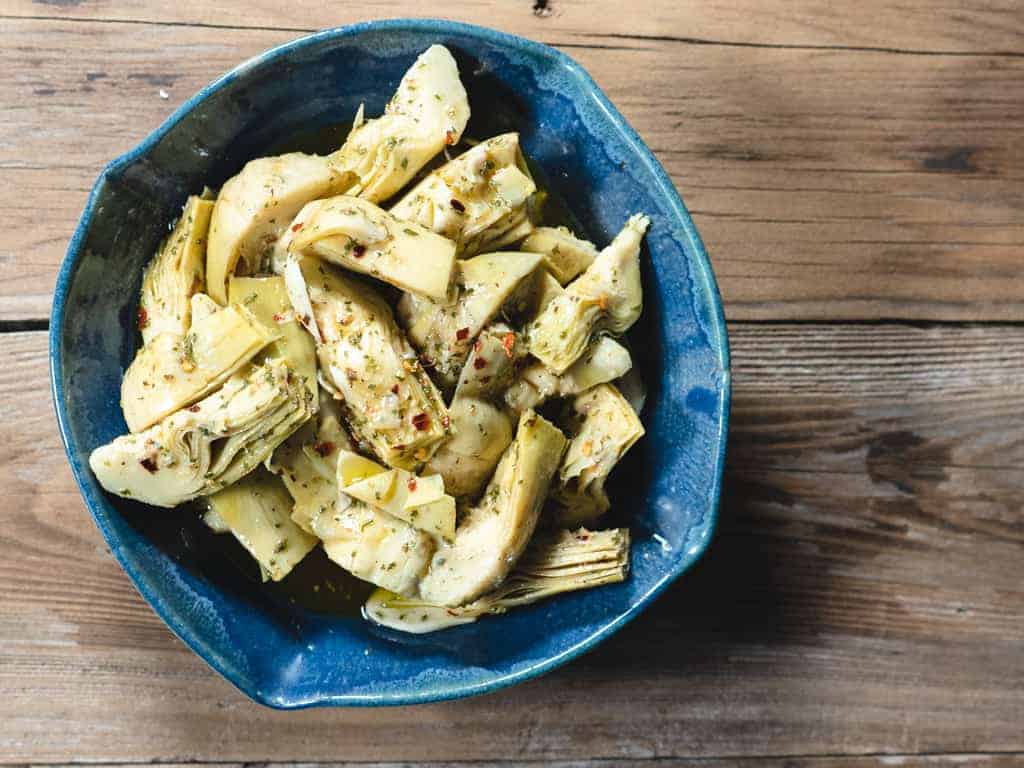 Store bought marinated artichoke hearts are easy and convenient. But not only are they expensive they can also be high in salt and other unwanted ingredients. With this super easy recipe you can whip together a jar in minutes using your own quality ingredients and adjusting the seasonings to your liking.
Artichokes are considered a vegetable but they are actually a thistle. They are the flower buds of a thistle plant that haven't bloomed yet. Cool right? They have amazing health benefits too. They are very high in fiber and contain a multitude of vitamins and minerals such as vitamin C, vitamin K, folate, phosphorus, and magnesium. They are also a rich source of potassium and antioxidants. They promote healthy gut bacteria as they contain inulin which is a source of prebiotic fiber that can help with bloating, indigestion and heartburn.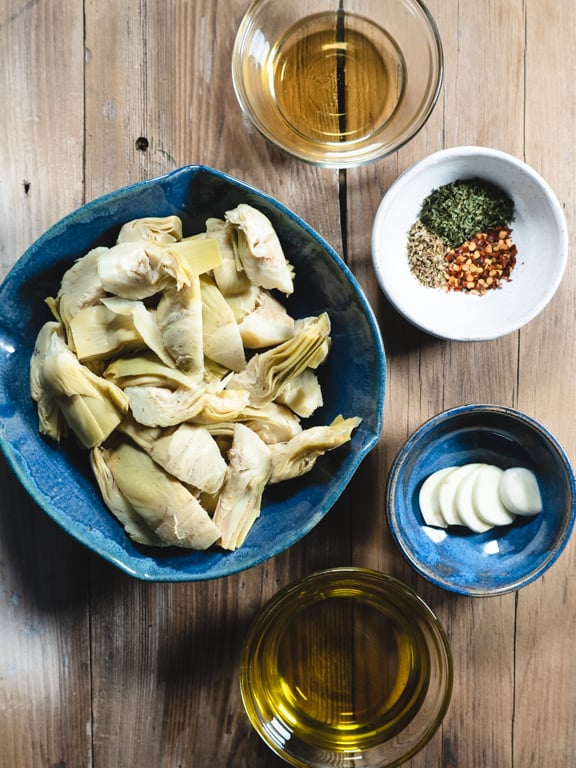 Ingredients for this recipe
Canned artichoke hearts, I buy quartered for convenience
Extra virgin olive oil
White wine vinegar
Fresh garlic
Dried oregano, or fresh
Dried parsley, or fresh
Dried chili flakes
Salt and pepper
How to make this recipe
Rinse artichoke hearts under cold water, drain and pat dry with paper or kitchen towel. Place in a bowl
Slice or chop garlic. Add to artichokes
Add the rest of the ingredients to the artichokes. Stir to combine.
Dried herbs are used here because they are convenient (I'm all about convenience when appropriate!). You can add fresh herbs when you have them. The amount just needs to be increased.
Place in a jar or other air tight container
Store in the fridge for up to one month.
How to use them
Marinated artichoke hearts are great for so many things! Add them to salads or pasta dishes. Use as a pizza topping. Serve as an appetizer or as part of a meat and cheese board. Put them in a baking dish, grate some cheese on top and bake in the oven. Or just pop them in your mouth!
Other side dish recipes you might enjoy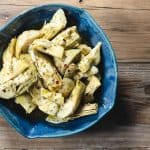 Print Recipe
Marinated Artichoke Hearts
Make your own marinated artichoke hearts with this fast and easy recipe that keeps in the fridge for up to one month!
Ingredients
2

cans

artichoke hearts, quarters

½

cup

extra virgin olive oil

¼

cup

white wine vinegar

½

teaspoon

dried oregano, or 1 teaspoon fresh

1

teaspoon

dried parsley, or 2 teaspoon fresh

½

teaspoon

dried chili flakes, or to taste

1

clove

garlic, peeled

½

teaspoon

salt

¼

teaspoon

fresh ground black pepper
Instructions
Drain and rinse artichoke hearts. Pat dry with paper towel. Place in a bowl.

Slice garlic and add to bowl. Add all remaining ingredients and stir to combine.

Place everything in a clean glass jar or other air tight container.

Store in fridge for up to one month.
Notes
You can buy whole, halved or quartered artichoke hearts. Cut into sizes you like. I use the quartered for convenience. 
Substitute fresh herbs for dried adding double the amount of fresh. 
Adjust garlic and chili to your liking.