These Pork Medallions in Creamy Mushroom sauce screams cold-weather cooking! Pork tenderloin is a delicious, inexpensive cut of meat that is very versatile and this recipe is so quick and easy you can even make it on a weeknight!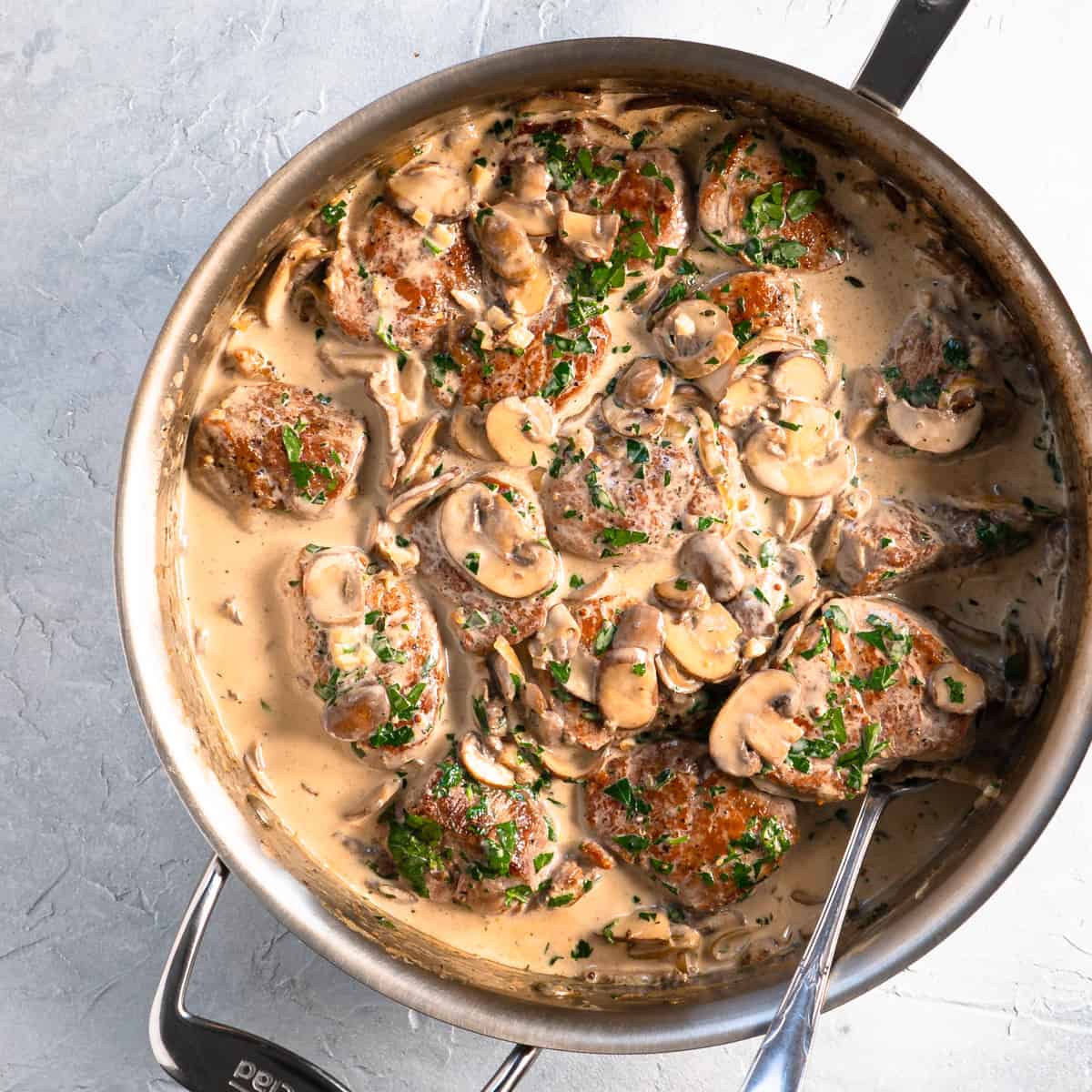 I get so inspired to cook when the weather starts to get cooler. That's how dishes like this are born. Mushrooms and pork are a perfect match and come together beautifully in this easy cream sauce.
what you need to make this dish
Avocado oil - or any oil that can stand high heat
Pork tenderloins
White onion - You can also use yellow, Spanish or Vidallia
Mushrooms - Any kind or combination works here.
Garlic
Dry white wine - Can substitute chicken stock and ½ - 1 teaspoon of white wine or sherry vinegar.
Fresh thyme - Can substitute half the amount of dry, or to taste
Fresh parsley - I'm not a fan of dried parsley for this kind of dish. If you don't have any just omit it.
Grainy Dijon mustard
Heavy cream - 35%, whipping, or 18% all work.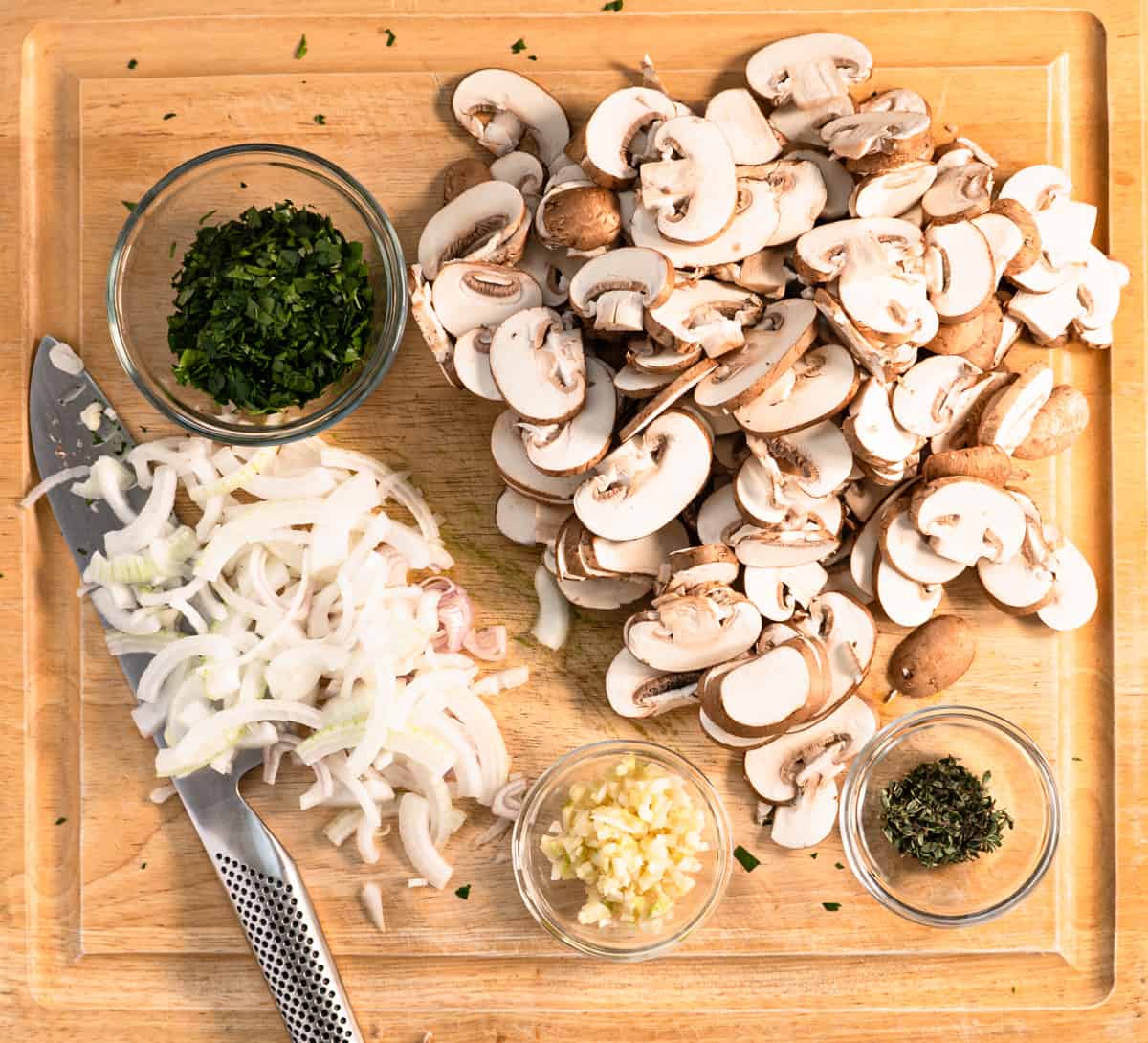 It's always good practice to prepare and measure out all your ingredients before you start cooking.
Preparing the pork tenderloin
Before cutting the pork into medallions you want to remove the silver skin. What is silver skin you ask? It is a piece of connective tissue that runs about half the length of the tenderloin on one side. It is silver-ish in colour. Once cooked it becomes very tough and chewy so unless you want to give your jaw a good work out I suggest getting rid of it. You do this by slipping a boning knife or paring knife just underneath the skin enough so you can grab onto a piece with your fingers. While holding the skin in one hand slice away from you with the blade angled slightly upward slicing just underneath the skin until it is all removed. Then slice into approximately 2 inch medallions, flatten with the palm of your hand and season with salt and pepper.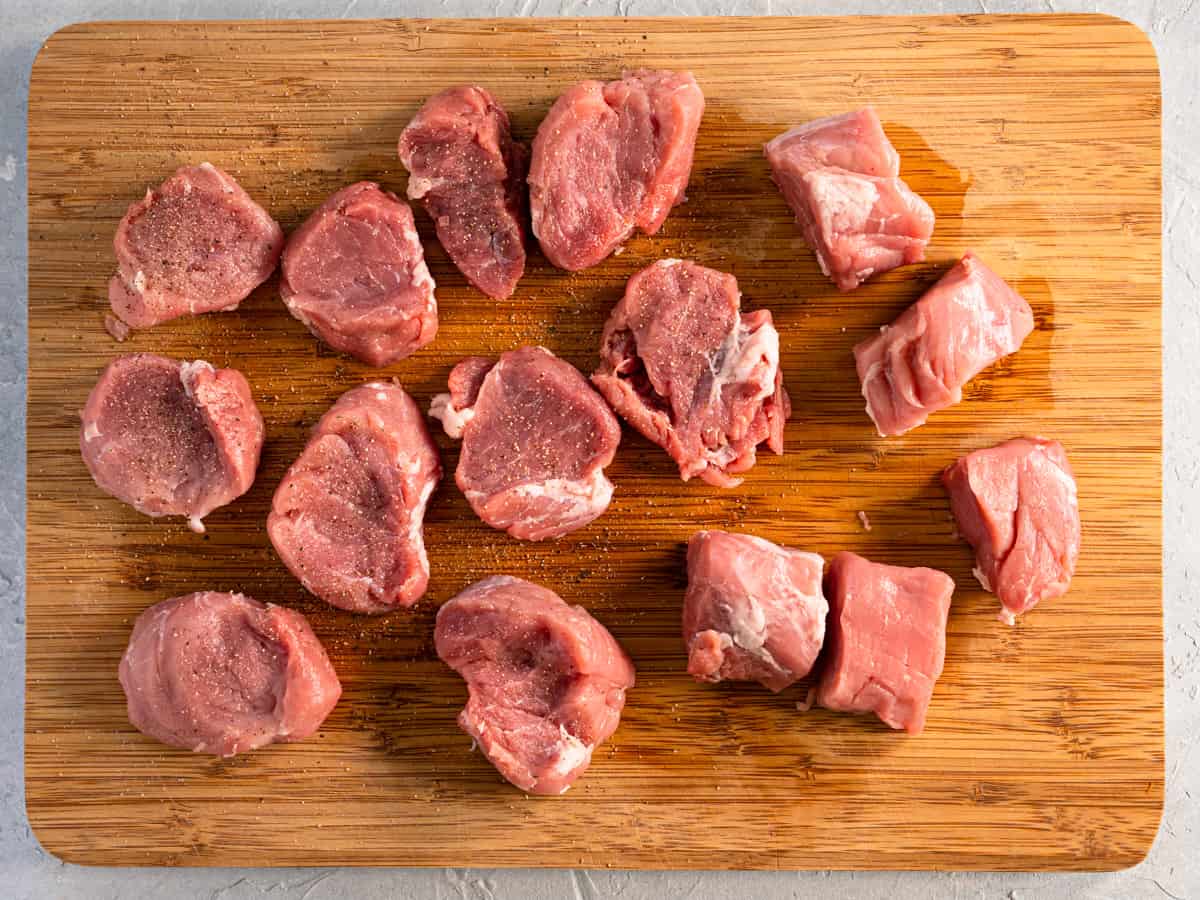 Next sear the pork in a hot skillet until nicely browned. If cooking more then one tenderloin you will have to do this in two batches. Reserve on a plate until they are ready to go back in the pan.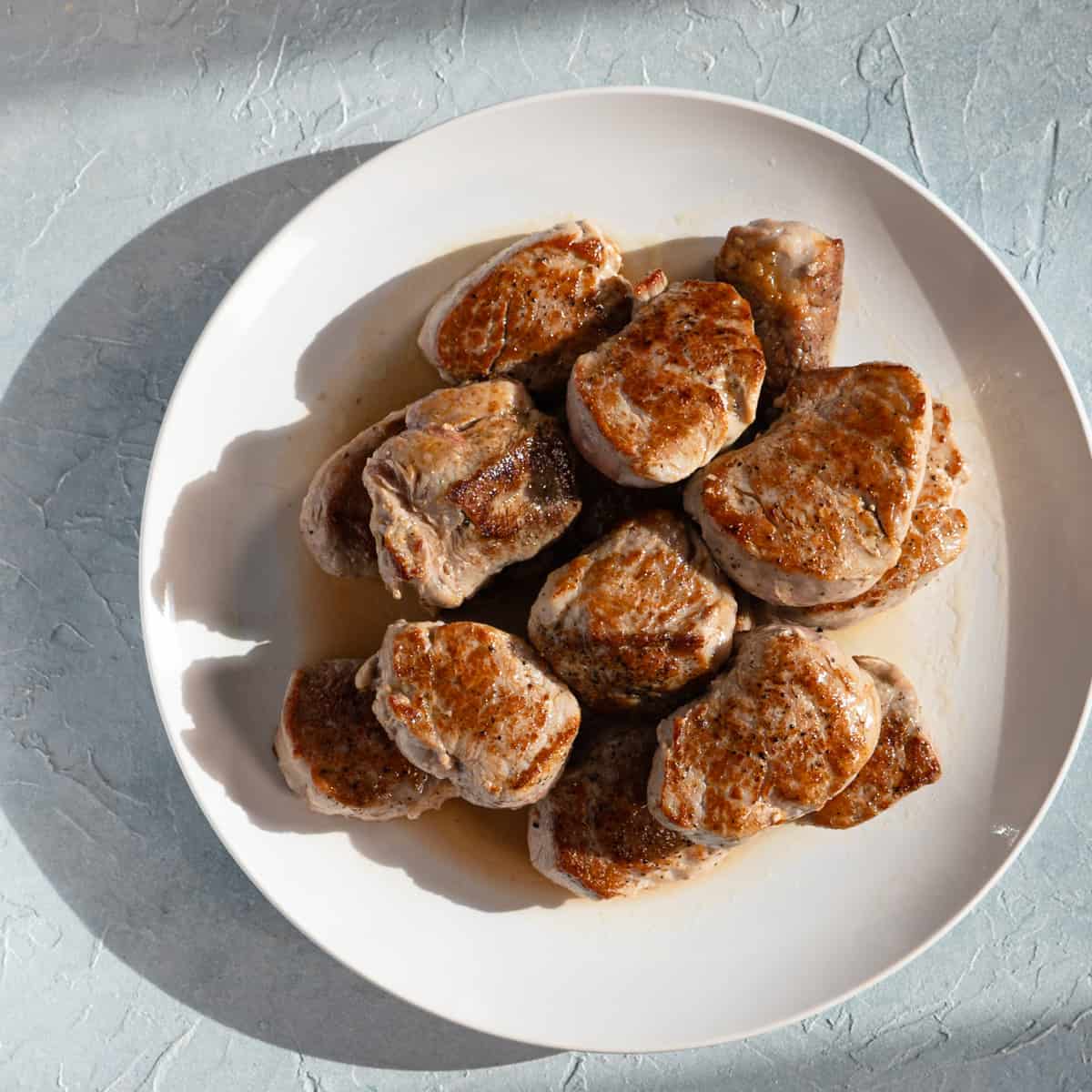 How to make this recipe
Prepare the pork as instructed above.
In the same pan you used to sear the meat, lower the temperature to medium low. Add a splash more of oil if necessary.
Add sliced onions and sauté until starting to soften, about 3-4 minutes. Stirring occasionally.
Add mushrooms, garlic and thyme. Stir and continue cooking until mushrooms are soft. About 5 minutes.
Add the white wine and mustard. Turn up the heat to bring to a boil and let simmer for a couple minutes to reduce slightly.
Add the cream and stir. Season with salt and pepper to taste.
Add the pork and let come to a boil again. Let simmer for approximately 5 minutes, until pork is just slightly pink inside or a meat thermometer reads 145 degrees F.
Sprinkle with parsley and enjoy!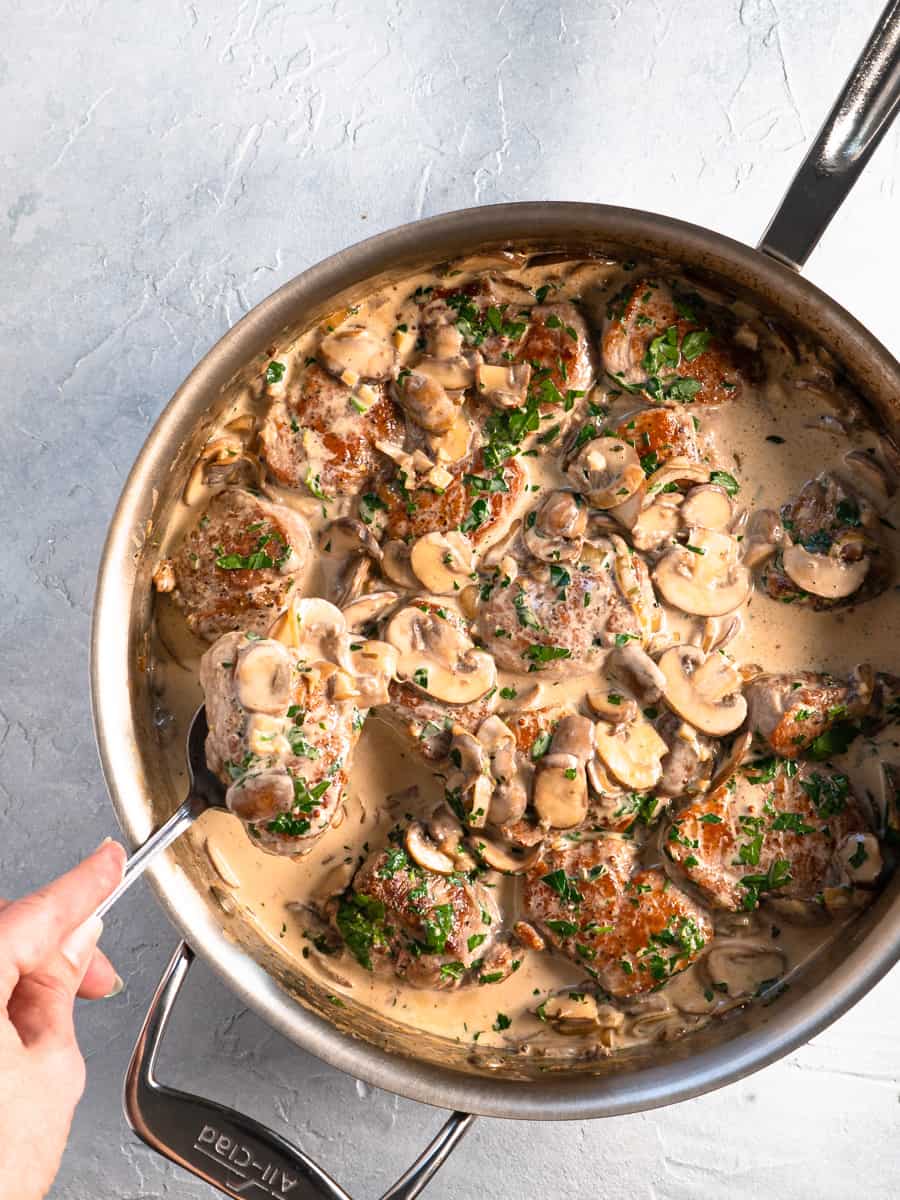 Equipment
If you are looking for a quality, quick read thermometer I highly recommend this Thermapen by Thermoworks (affiliate link)
A deeper frying pan is a good idea for this recipe. Any one will work and the one I used for this recipe is this All-Clad Sautè Pan (affiliate link)
Other recipes you might enjoy
Great sides for this dish
This post may contain affiliate links. If a purchase is made I receive a small commission at no cost to you. Thank you for your continued support.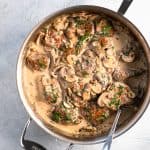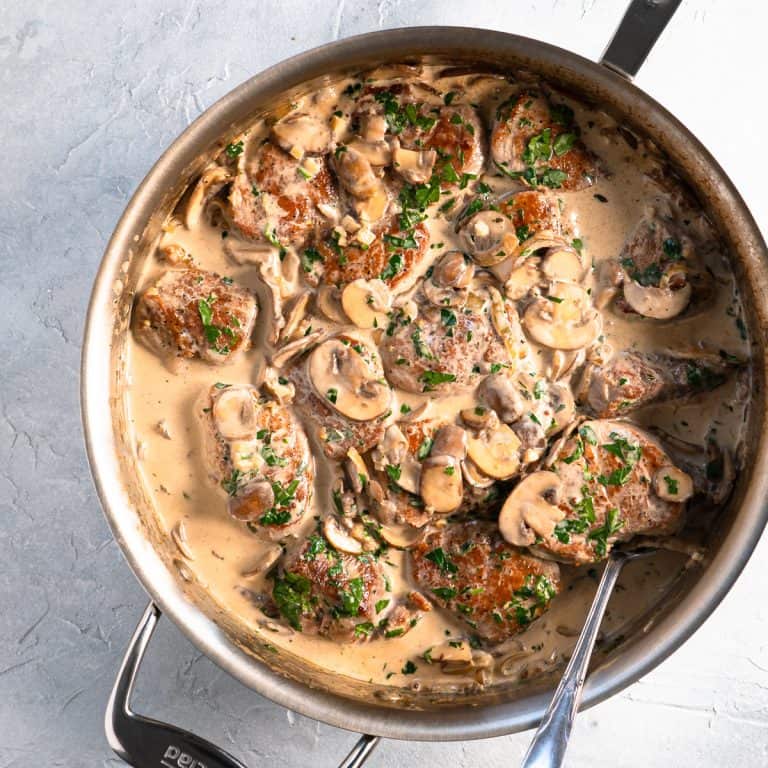 Print Recipe
Pork Medallions in Creamy Mushroom Sauce
Winner winner pork and mushroom dinner! This recipe is so quick and easy it's sure to become a family favourite in no time!
Ingredients
2

tablespoon

avocado or olive oil

2

pork tenderloins, approx. 450 g/1 lb each.

1

medium

white or yellow onion, sliced

454 g/1 lb

mushrooms, sliced

1

large clove

garlic, minced

1

tsp

fresh thyme, chopped

½

cup

white wine

1

teaspoon

grainy Dijon mustard

1

cup

35% cream

salt and pepper to taste

¼

cup

chopped fresh parsley
Instructions
Remove the silver skin from the pork tenderloin with a sharp knife. Slice into 1.5 - 2 inch disks. Flatten slightly with the palm of your hand. Season with salt and pepper.

Prepare the mushrooms, onion, garlic, thyme and parsley.

Heat oil in a large skillet to medium-high. Brown pork medallions in 2 batches, (or more depending on the size of your pan) cooking approximately 2 minutes per side, or until nicely seared. Remove to a plate and set aside.

Lower heat to medium-low. Add a splash more of oil if needed. Add sliced onions. Cook, stirring, for 3-4 minutes or until starting to soften.

Add mushrooms, garlic, and thyme. Stir and cook for 5-7 minutes or until mushrooms are soft. Stirring occasionally.

Add white wine and Dijon mustard. Turn heat up slightly and let simmer for 2-3 minutes to reduce slightly.

Add cream and stir. Add pork back to pan with any accumulated juices.

Bring to a boil and let simmer for approximately 5 minutes, until pork reads 145 degrees F on a meat thermometer or is just slightly pink in the center.

Sprinkle with fresh parsley and serve.

Store leftovers in the fridge for 3 days.
Notes
FOR THE LIVY METHOD: This dish is protein-heavy so ideal for dinner with a side of leafy greens or salad. See the side dishes linked above for some ideas! A smaller portion of pork with a larger portion of vegetables and leafy greens is great for lunch!