Taco Stuffed Spaghetti Squash brings all your favorite taco flavors and seasonings together in a spaghetti squash bowl!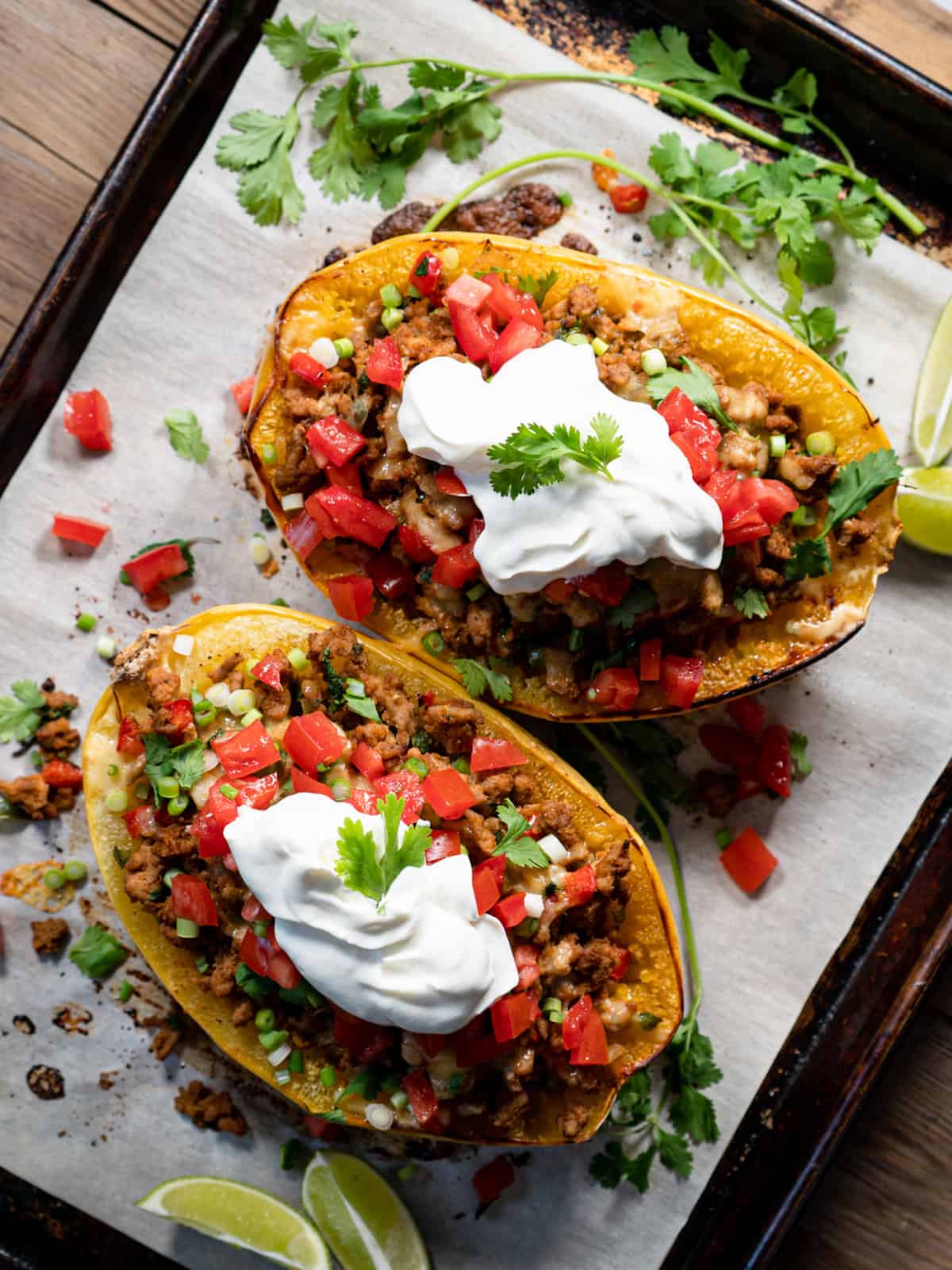 Spaghetti Squash
Spaghetti squash for me is magical. It's a squash - no big deal...until it's baked! Then it pulls apart into these mild tasting, slightly sweet and naturally buttery spaghetti-like strands. If you haven't tried it yet I think you should!
About the ingredients
Meat: This recipe calls for ground turkey. Lately I prefer it over beef. Not because it's lean (bonus) but because the flavour is so good. Better then ground chicken as well. But that's a personal choice. You can use any ground meat you like.
Vegetables: I used a medium to large size squash. If you use a smaller one adjust the amount of filling or just keep the extra filling to add to a salad, wrap in a tortilla, or warm it up and make it into a taco bowl! Omit the jalapeno pepper if you don't like things too spicy. Or add more if you do! I use white onions for most things because I like the mild, sweet flavour but any onion will do.
Taco Seasoning: I've created a homemade taco seasoning that can easily be increased so you can keep a jar in your pantry . You can use pre-made taco seasoning but the balance of flavours here is much better plus the added bonus of adjusting the salt levels. Store bought tends to be overkill. If you don't have smoked paprika use sweet or hot depending on how much you like to turn up the heat!
Cheese: Pepper Jack cheese is a great choice here but any cheese will do! Even feta. Not very "southwest" but who cares! You could also go cheese-less...but why would you?
Toppings: Get creative with your toppings! There are lots of other great options like avocado, salsa, diced red onion, your favorite hot sauce...whatever you like!
How to make this recipe
Cut the squash in half and scrape out the seeds with a spoon. Roast in the oven for 45-55 minutes or until soft and strands pull apart.
Meanwhile mix together the taco seasoning and prepare the filling.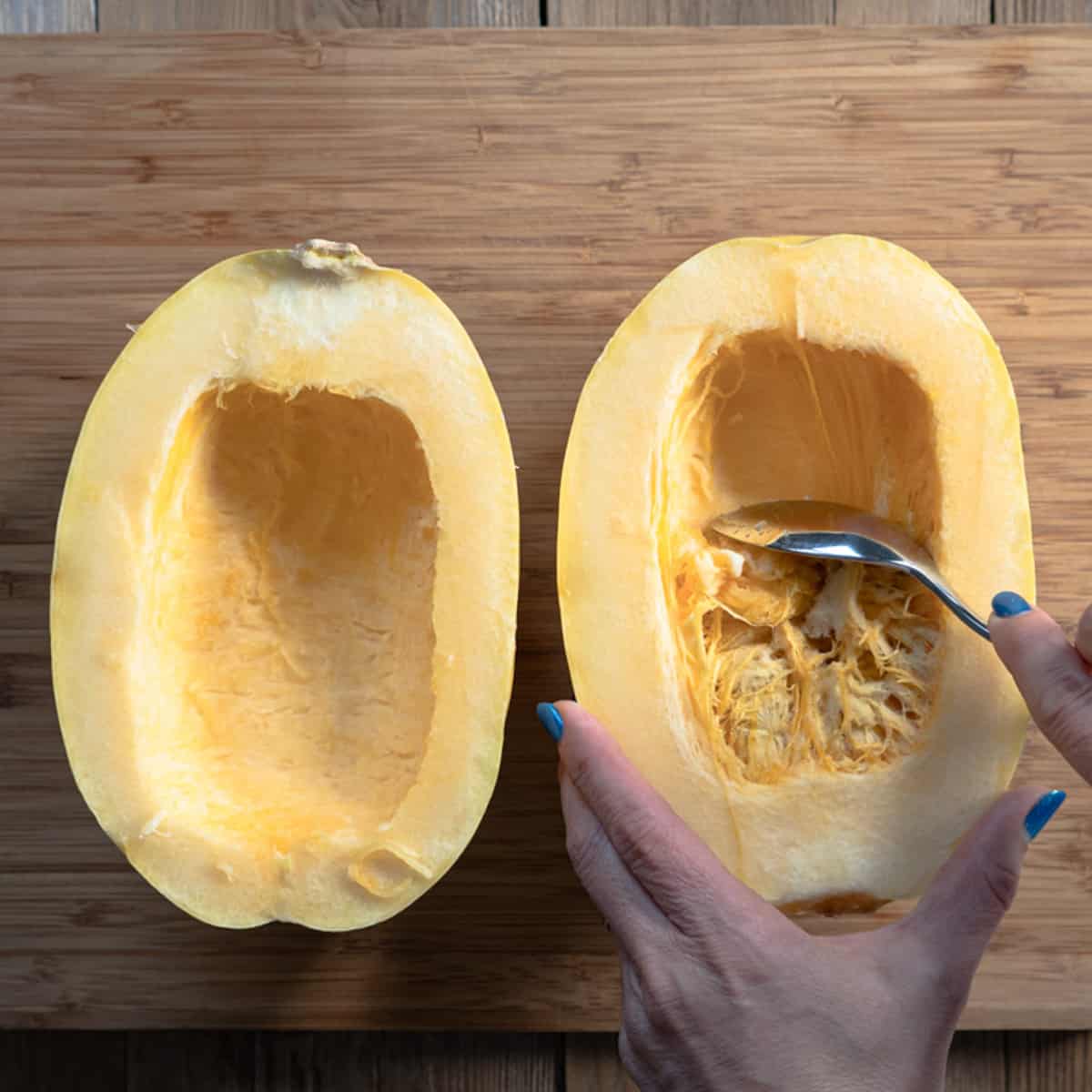 Saute the vegetables and meat (or beans), chop the cilantro and add it at the end.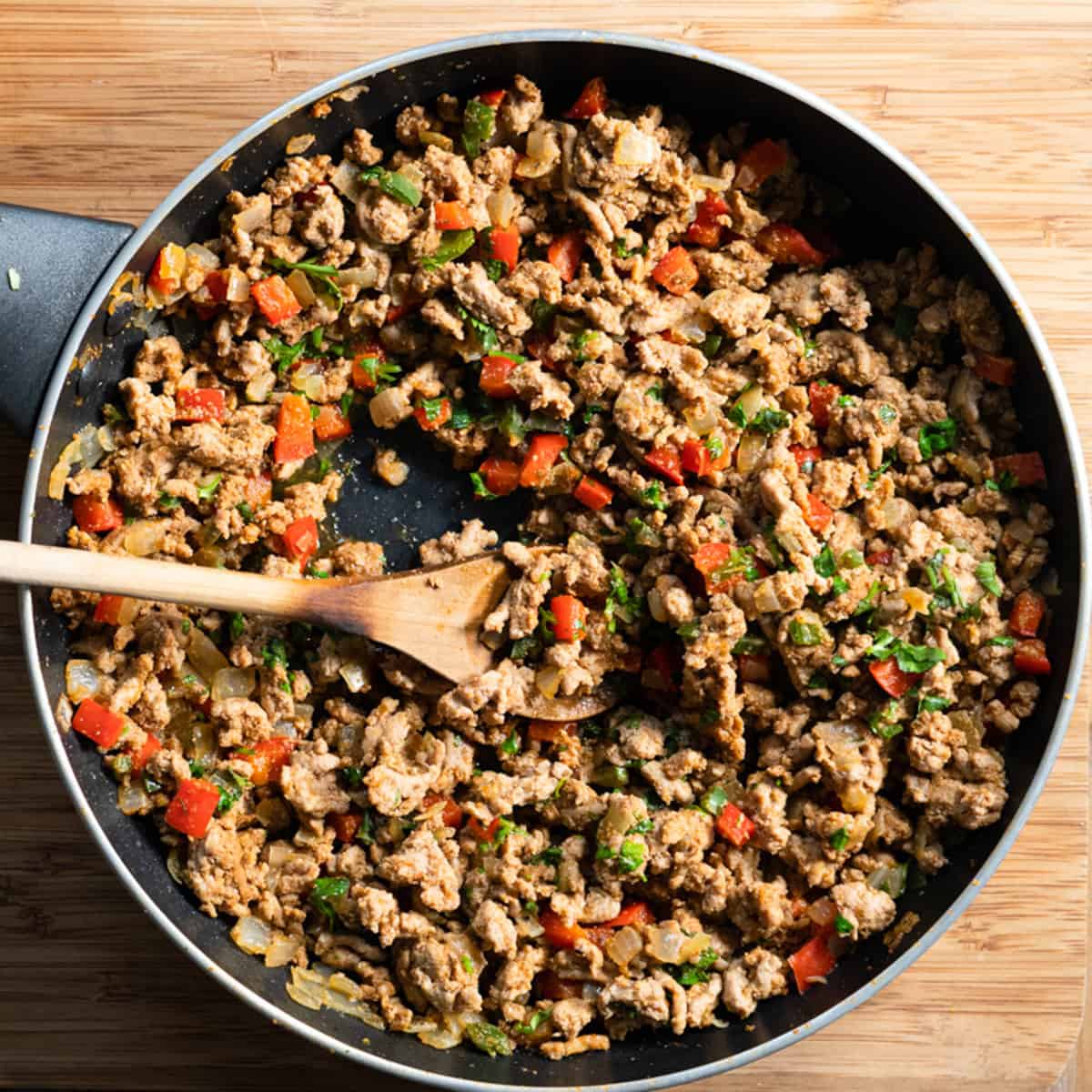 Remove squash from the oven once it's done. Using a fork, fluff up and separate the strands.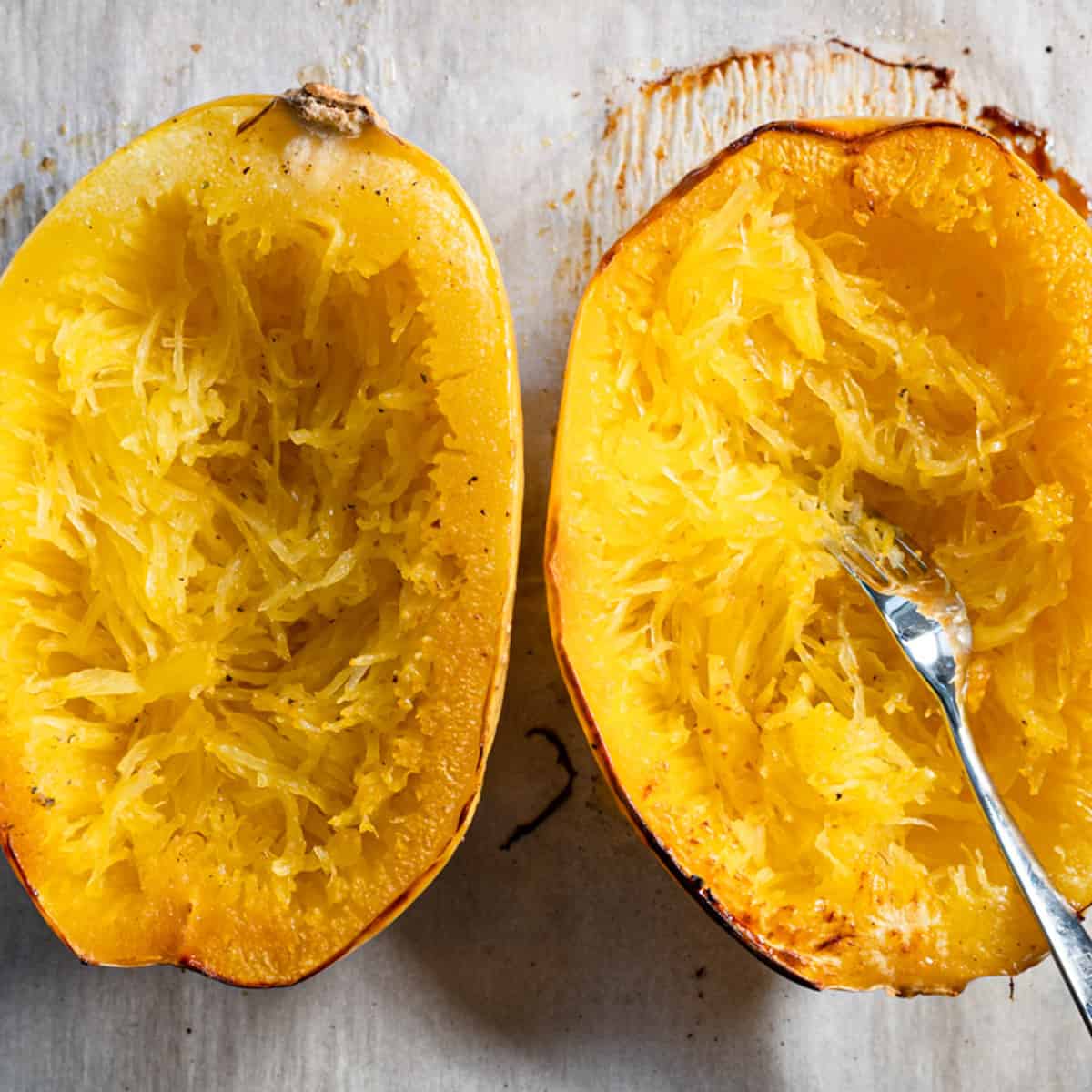 Add all the filling to the squash halves or as much as you can pile in. If you have extra keep it for a taco bowl, tortilla wrap or to top a salad.
Top it with grated cheese and bake until melted. About 10 minutes.
Chose your favorite toppings and serve. You can cut each half in half again or eat one yourself depending on the size of your squash...and your appetite!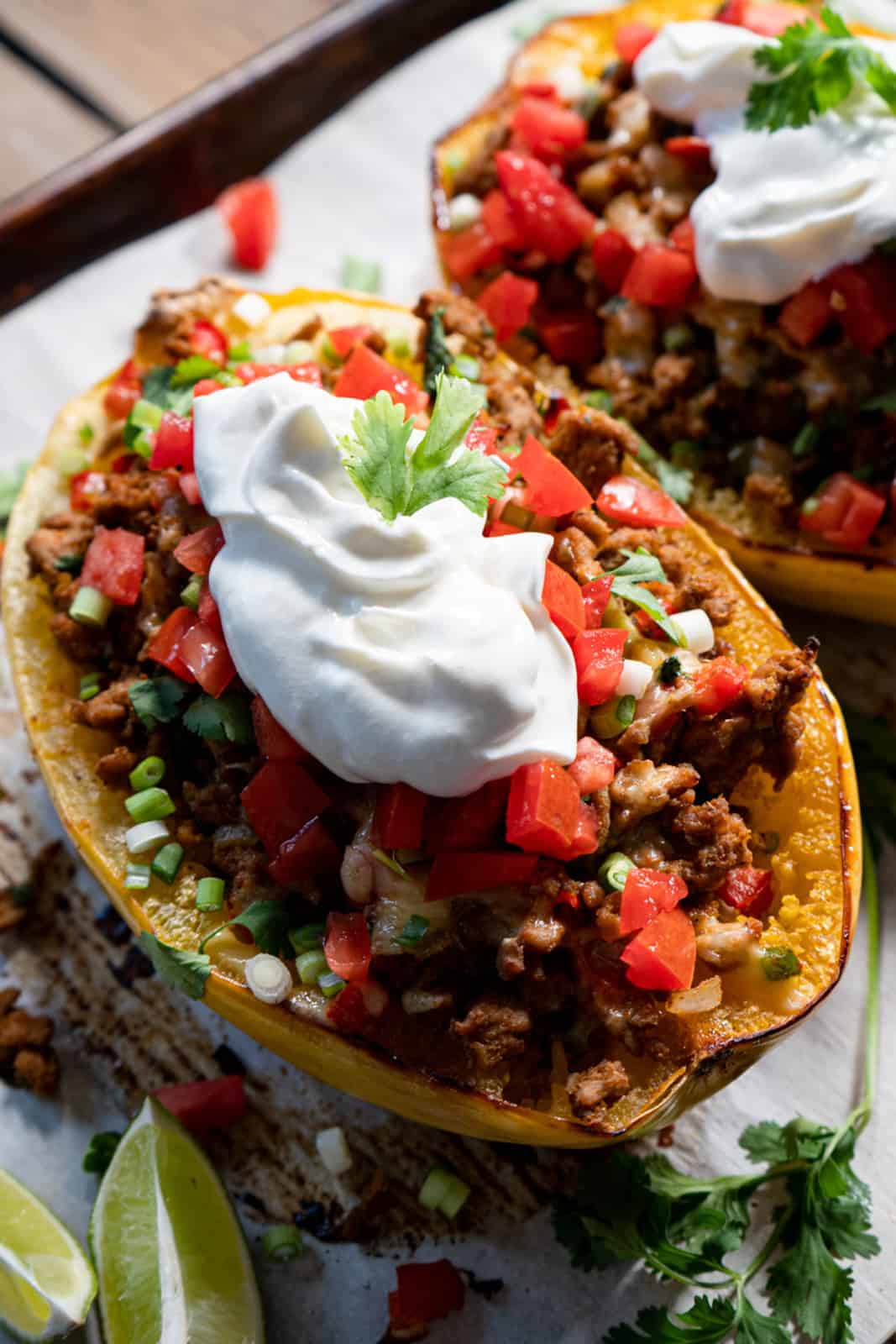 Can I make this vegetarian or vegan?
Yes you can! Contrary to my cheese comment above, you absolutely can turn these taco stuffed spaghetti squash into a delicious vegan or vegetarian dish. Replace the meat with your favorite beans. Kidney, navy or black beans work well here. For non-dairy eaters either omit the cheese altogether or pick up a vegan variety. Same goes for the sour cream. Although it would be equally delicious without either.
Can I make this ahead
This is a perfect make ahead recipe! Not only can you make the filling 3 days ahead, you can make the whole thing, minus the cheese and toppings, 3 days in advance and store in the fridge. When ready to serve, top with the cheese and bake for 20-30 minutes or until a knife inserted in the middle feels warm to the touch.
Other recipes you might like
📖 Recipe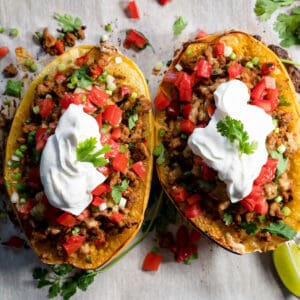 Ingredients
Squash
1

medium to large spaghetti squash, approx. 1 kg or 2 lbs

2

teaspoon

olive oil

salt and pepper
Filling
½

large

white onion, diced

½

bell pepper, any colour, diced

1

jalapeno pepper, finely diced

500 g (1 lb)

ground turkey, or any ground meat

½

cup

cilantro, chopped

½-1 cup

pepper jack cheese, or any cheese of your liking
Taco Seasoning
1

teaspoon

garlic powder

1

teaspoon

onion powder

2

teaspoon

ground cumin

1

teaspoon

smoked paprika

¾

teaspoon

hot paprika

¼

teaspoon

dried oregano

¾

teaspoon

black pepper

1 tsp

salt
Garnishes, optional
sour cream

fresh avocado or guacamole

your favourite salsa

diced, fresh tomato.

diced fresh cucumber

green onions, finely sliced

more fresh cilantro

fresh lime wedges
Instructions
Cut squash in half lengthwise and scoop out the seeds with a spoon

Rub insides and cut edges with olive oil and sprinkle with salt and pepper

Place cut side down on a parchment or foil lined tray and bake for 50 minutes.

Remove from oven, flip over and scrape the flesh with a fork to loosen slightly
For the filling
While the squash is baking, mix all the taco seasonings together in a bowl and set aside

Then heat 2 tablespoon olive oil in a large saute pan over medium heat.

Add onions and cook until softened, about 5 minutes. Add both peppers and cook for another 2-3 minutes

Add turkey and taco seasoning. Continue cooking, stirring occasionally, for 10 minutes or until turkey is cooked through. Remove from heat and add ½ cup chopped cilantro. Stir to combine.

Set aside until the squash is ready.
Assembly
Divide the turkey mixture between the squash halves. Pile it up or, if there's too much, keep it to use in a salad, a taco bowl or wrapped in a tortilla.

Top with the cheese and bake for another 10 minutes.

Garnish with any toppings. Serve one half per person or cut each half in half and serve with a side salad.
Notes
Depending on the size of your squash you may have some turkey filling left over. Save it to have with a salad or in a wrap the next day. 
I used Pepper Jack cheese for these but any cheese you like does the trick! 
Store in the fridge, covered, for up to 3 days. Reheat in a preheated 350°F oven for 20-30 minutes. Or in the microwave until warm. Times will vary.
NUTRITION FACTS are an estimate only and do not include any optional garnishes. 
Nutrition
Serving:
1
serving
|
Calories:
423
kcal
|
Carbohydrates:
22
g
|
Protein:
40
g
|
Fat:
20
g
|
Saturated Fat:
7
g
|
Polyunsaturated Fat:
4
g
|
Monounsaturated Fat:
7
g
|
Cholesterol:
129
mg
|
Sodium:
809
mg
|
Potassium:
797
mg
|
Fiber:
5
g
|
Sugar:
9
g