If you have never tried red wine braised short ribs you are missing out on one of life's greatest food pleasures! Although the cooking time is long, the active time is minimal, easy, and the ingredients are readily available. This is comfort food at its finest!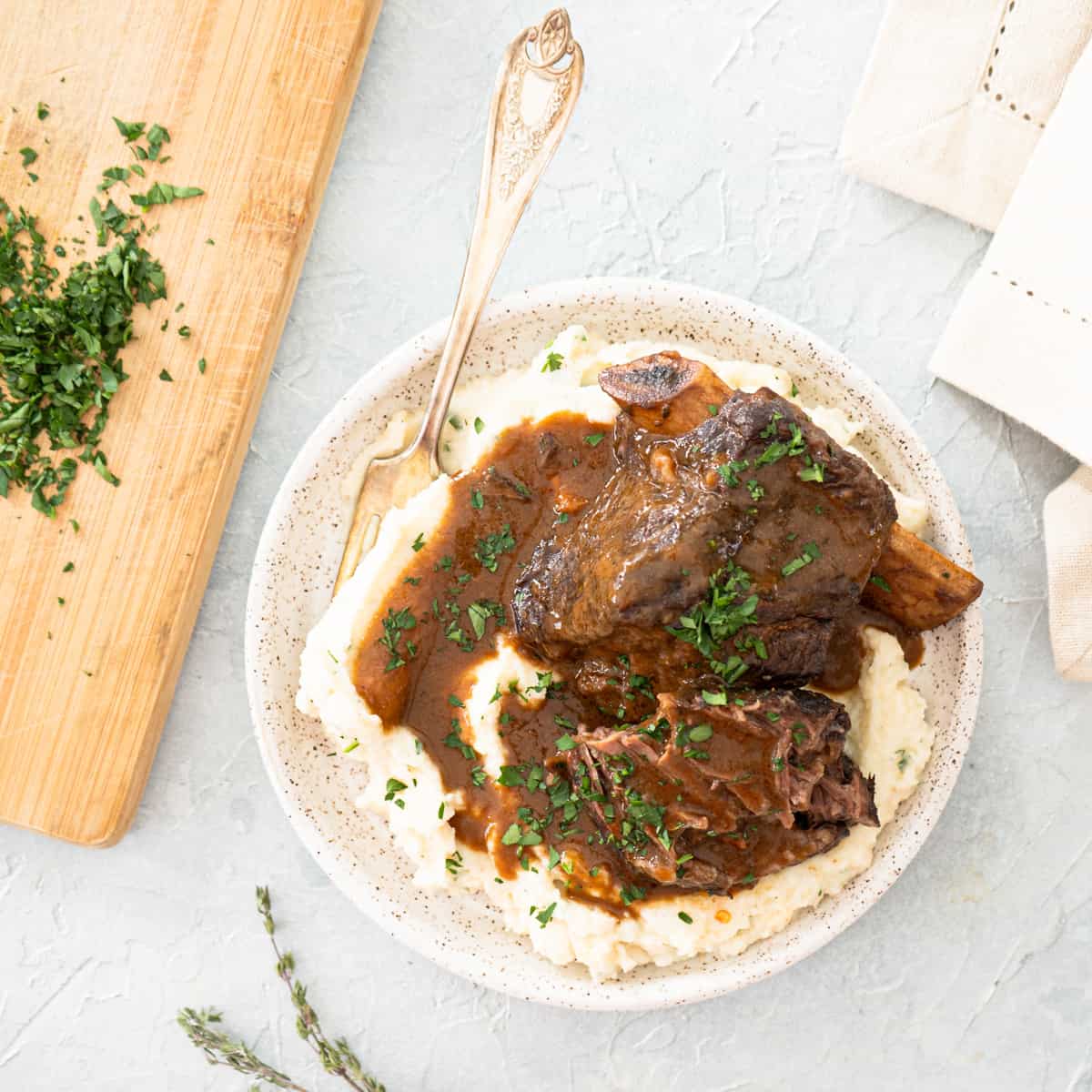 Slow-cooked dishes are perfect for weekend cooking. The ingredients simmer gently and melt everything down into delicious goodness. One of the things I love most about braised dishes is that they taste even better the next day so you can make it ahead and enjoy a relaxing day. Serve this dish over your favourite mashed potatoes or try my Cauliflower and Celery Root Puree. It's light and delicious and you won't miss the potatoes! Other great options include Maple Bacon Brussels Sprouts, Roasted Cabbage with Bacon and Balsamic, Simple Beet Salad with Goat's Cheese, or Loaded Cauliflower Casserole.
Jump to:
The Ribs
Beef short ribs are a perfect cut for slow cooking. Braising allows time for the tough connective tissue to break down which results in succulent, melt in your mouth, fall off the bone decadence. The marbling of fat is what makes this cut of meat so juicy and flavourful.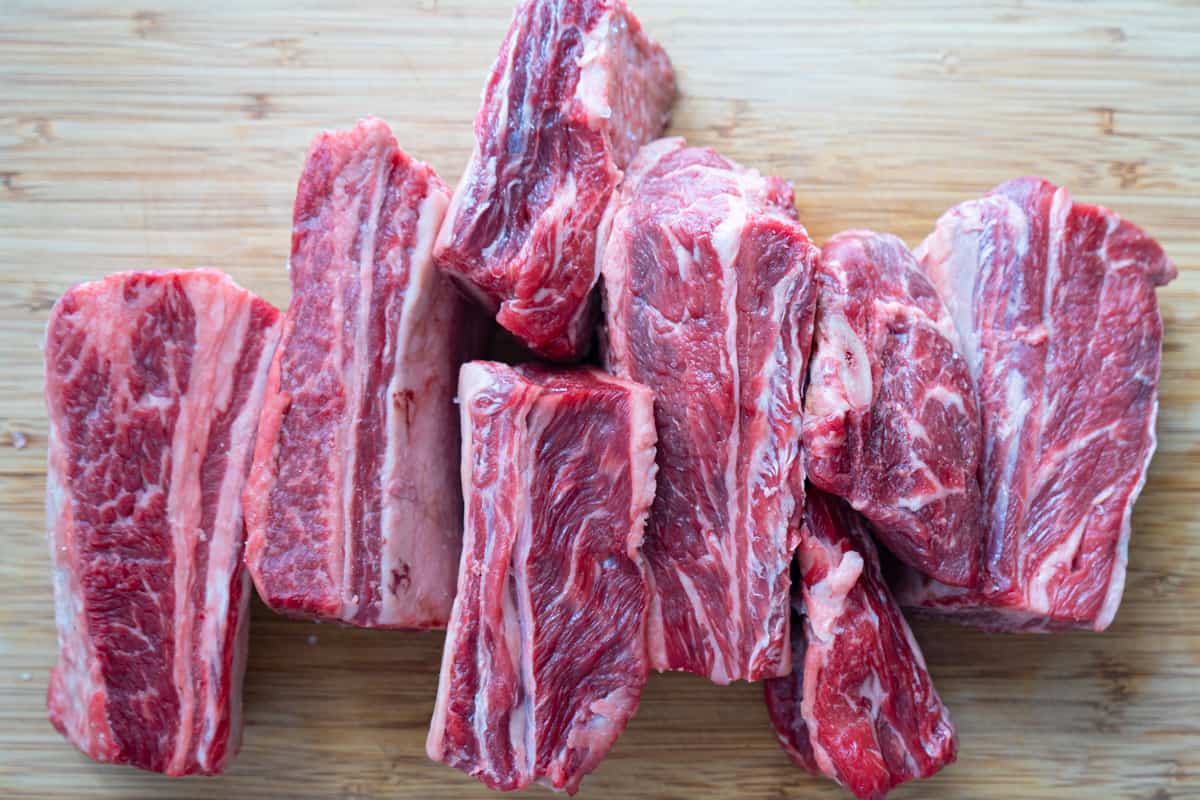 They are called "short ribs" because of the part of the ribs they are cut from. The ribs shown above are full ribs cut in half. If your grocery store doesn't carry them you should be able to find them or request them at your local butcher.
Ingredient List
beef short ribs
avocado or grapeseed oil
Spanish onion
carrots
celery
garlic
all purpose flour
tomato paste
red wine
chicken stock/broth (low sodium)
fresh thyme
bay leaves
parsley stems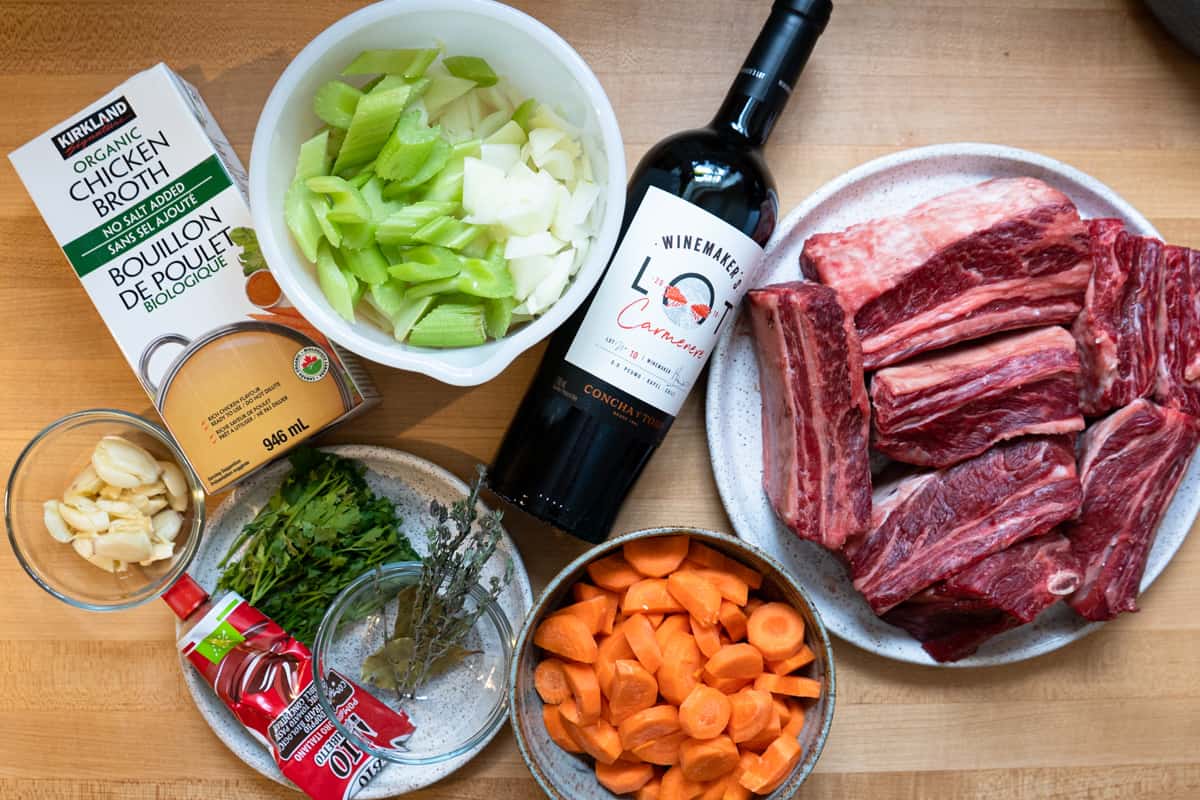 How To Make this recipe
Brown - First the ribs are browned on all sides. This is the first level of flavour and shouldn't be skipped. If you are doing the full recipe you want to brown the ribs in at least 2 batches, depending on the size of your pan. If the pan is overcrowded it will create steam which prevents browning.
Sauté - Set the ribs aside and sauté the onion, carrots, celery, and garlic. Do this on a lower heat and the longer you take the more the flavour will develop. Letting the vegetables brown a little bit will also level it up. Then add the flour and tomato paste. The flour is used for thickening the sauce and the tomato paste adds more depth of flavour.
Add the liquid - Now the braising liquid goes in. Add the stock/broth and wine.
The ribs - Add the ribs back to the pot making sure they are mostly or fully submerged in the liquid. Add a bit more wine and/or stock if necessary.
Aromatics - Now add the thyme, bay leaves and parsley stems.
Cover and bake - Put on the lid and pop in a preheated 325 F oven for approximately 2 ½ hours or until fork tender (use 2 forks to see if you can pull it apart easily) and falling off the bone. Times will vary depending on the size of the ribs.
Strain - This step is optional. If you want a silky smooth gravy then straining the sauce is the way to go! Remove the ribs to a plate or platter and strain the sauce through a mesh sieve, pressing down on the vegetables to extract as much flavour as possible. Taste sauce and add salt and pepper if necessary.
Substitutions
Beef Short Ribs - Other cuts of braising beef will work with this recipe such as chuck, shanks, brisket, or pot roast. Keep in mind that cooking times will vary depending on the size of the cut you are using and whether you cut it into pieces or make a whole roast.
Spanish Onion - Any large onion will do but I would stay away from sweet ones like Vidalia. Substitute 2-3 small yellow onions for one large onion.
All-Purpose Flour - You can use any gluten-free alternative or you can thicken the sauce after straining with a small amount of cornstarch mixed with water. Whisk into the sauce and bring to a boil.
Red Wine - Although all of the alcohol evaporates during cooking, you can opt for an alcohol-free version. A dark stout would also be nice. If you prefer to not use any alcohol you can substitute with more low or no-sodium stock/broth.
Chicken Stock - If you want an even richer sauce, you can use beef stock or broth (low or no sodium).
Fresh Thyme - If you don't have fresh thyme (although I highly recommend it) substitute with ½ teaspoon dried. Rosemary is also nice here.
Pro Tips
Use a medium-full bodied red wine for this recipe. You absolutely do not need to use an expensive bottle however it should be drinkable. Note: I didn't specifically chose the Carmenere (similar to a Merlot) shown in the picture. It just happened to be the best one on our wine rack for the job!
If you want to kick this dish up a notch; sauté some mushrooms and/or pearl onions while the ribs are in the oven and add to the finish dish.
If you don't have an ovenproof dish big enough, you can transfer everything to a large casserole dish. place the ribs bone side up, pour in the liquid, cover and bake. This is the Le Creuset Enameled Dutch Oven that I used for this recipe.
If the sauce seems fatty, pour into a tall container or jug and refrigerate for a couple of hours or overnight. The fat will solidify on top and is then easily removed.
This dish is actually better served the next day so if you have time refrigerate overnight and reheat slowly on the stovetop before serving.
This post may contain affiliate links. If a purchase is made I receive a small commission at no cost to you. Thank you for your continued support.
How to store Short Ribs
Store in an airtight container and refrigerate for up to a week. This dish also freezes well for up to 3 months.
Tried this recipe? I would love it if you could leave a star rating ⭐️⭐️⭐️⭐️⭐️ and/or a comment below. You can also follow me on social media here on Facebook, Instagram, and Pinterest!
📖 Recipe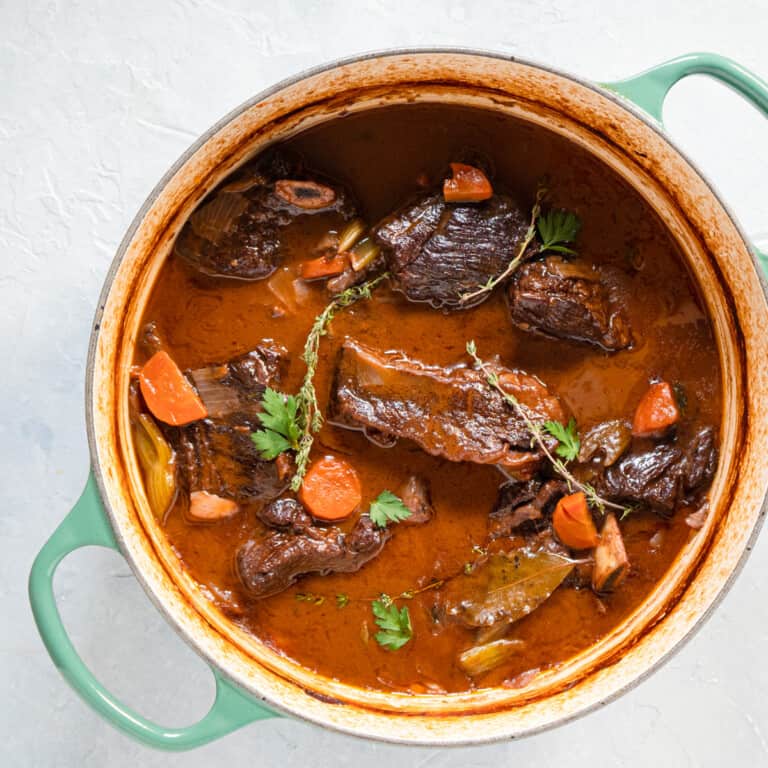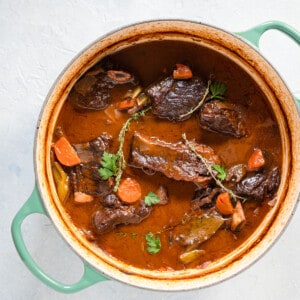 Red Wine Braised Short Ribs
If you have never tried red wine braised short ribs you are missing out on one of life's greatest food pleasures! This is comfort food at it's finest!
Print
Pin
Rate
Save
Saved!
Ingredients
4-5

lbs (1.8 kg – 2.2 kg)

Beef short ribs

Salt and pepper

2

tablespoon

avocado or grapeseed oil

1

large Spanish onion,

large dice

2

medium carrots,

large dice

2

stalks celery

6

cloves

garlic

smashed

3

tablespoon

all purpose flour or gluten free alternative

3

tablespoon

tomato paste

2

cups

red wine

4

cups

chicken stock, low or no sodium

3

sprigs fresh thyme

3

bay leaves

1

bunch parsley stems
Instructions
Preheat oven to 325 degrees F. Season ribs with salt and pepper on both sides. Be generous with the salt.

In a large Dutch oven heat oil over medium high heat. Working in 2 or 3 batches, brown ribs on all sides creating a nice deep colour. This will take 15 to 20 minutes. Try not to over crowd the pan. This will cause steaming instead of searing which will prevent the meat from browning.

Transfer to a dish and set aside. Remove all but about 2-3 tablespoon of the oil left in the pot.

Lower heat to medium low and add onions, carrots, celery, and garlic. Sautee, stirring frequently, until vegetables start to soften and brown. 5-7 minutes. Add tomato paste and sprinkle with flour. Stir constantly until well combined and a deep red colour, 2-3 minutes.

Add the wine and stir, scraping up all the bits that have stuck to the bottom of the pan. Pour in the stock and stir to combine.

Add ribs and any accumulated juices, making sure the meat is mostly submerged in the liquid. You can add a bit more wine or stock if necessary. Bring to a boil.

Add thyme, bay leaves, and parsley stems. Cover and place in preheated oven for 2 ½ hours or until meat is falling off the bone. This cooking time will vary depending on how big or small the ribs are.

Remove ribs, and any meat that has fallen off, from the sauce and set aside. Skim any fat from the top with a spoon. Strain the sauce, pressing the vegetables to extract all the flavour. Taste and add salt and pepper if needed.

Serve ribs with the sauce on a bed of mashed potatoes, cauliflower mash, or with crusty bread.
Notes
Storage - Store ribs and sauce together in an airtight container and refrigerate for up to a week. This dish also freezes well for up to 3 months.
Because this dish is already very rich, I use chicken stock instead of beef stock. However, you can use beef stock as well. 
See above post for substitutions and pro tips! 
Nutritional Facts are based on ⅛th of the recipe and are an estimation only. 
Nutrition
Serving:
1
serving
|
Calories:
668
kcal
|
Carbohydrates:
10
g
|
Protein:
41
g
|
Fat:
46
g
|
Saturated Fat:
18
g
|
Polyunsaturated Fat:
1
g
|
Monounsaturated Fat:
2
g
|
Cholesterol:
160
mg
|
Sodium:
306
mg
|
Potassium:
354
mg
|
Fiber:
2
g
|
Sugar:
3
g