This Italian Deli Cauliflower Salad recipe is so fast and easy. It gets better as it sits and is perfect as leftovers for days on end. Take a stroll around your favourite Italian deli to see what you can find to make this salad your own.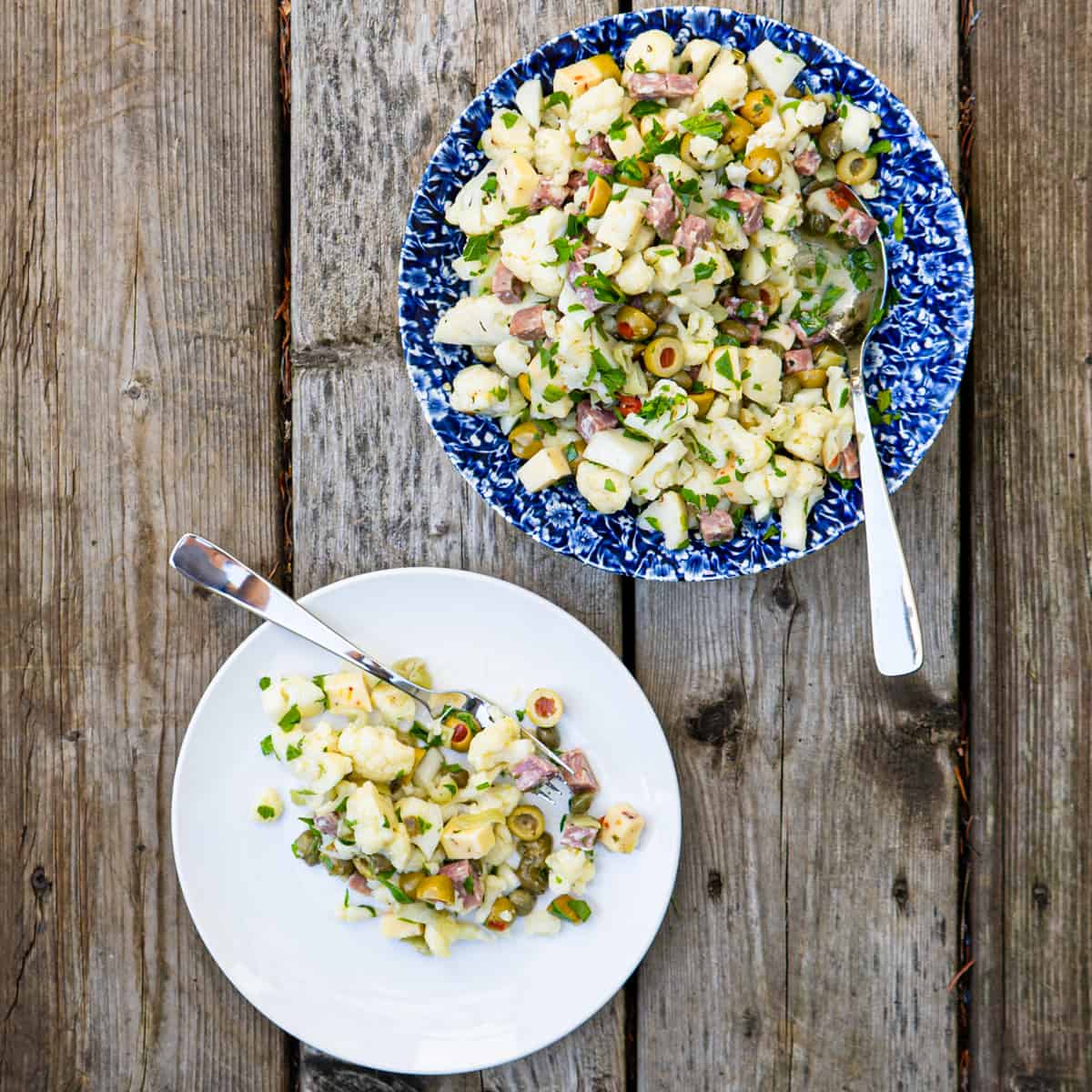 This is what I like to call a marinated salad. Everything soaks up the vinaigrette as it sits. It turns into a delicious, mildly "pickled" taste which works perfectly as a side dish to all your favorite grilled or roasted meats, poultry, fish or tofu. It's also a perfect meal in itself.
What you need to make this salad
Cauliflower
Salami or Salameti
Your favorite semi-soft Italian cheese such as Fontina, Mozzarella, Provolone. Feel free to also use Havarti, Cheddar or any other fave semi-soft cheese.
Green olives
Pickled pepperoncini
Capers
Fresh parsley
Vinaigrette (recipe below) Extra virgin olive oil, white wine vinegar, Dijon mustard, honey, salt and pepper.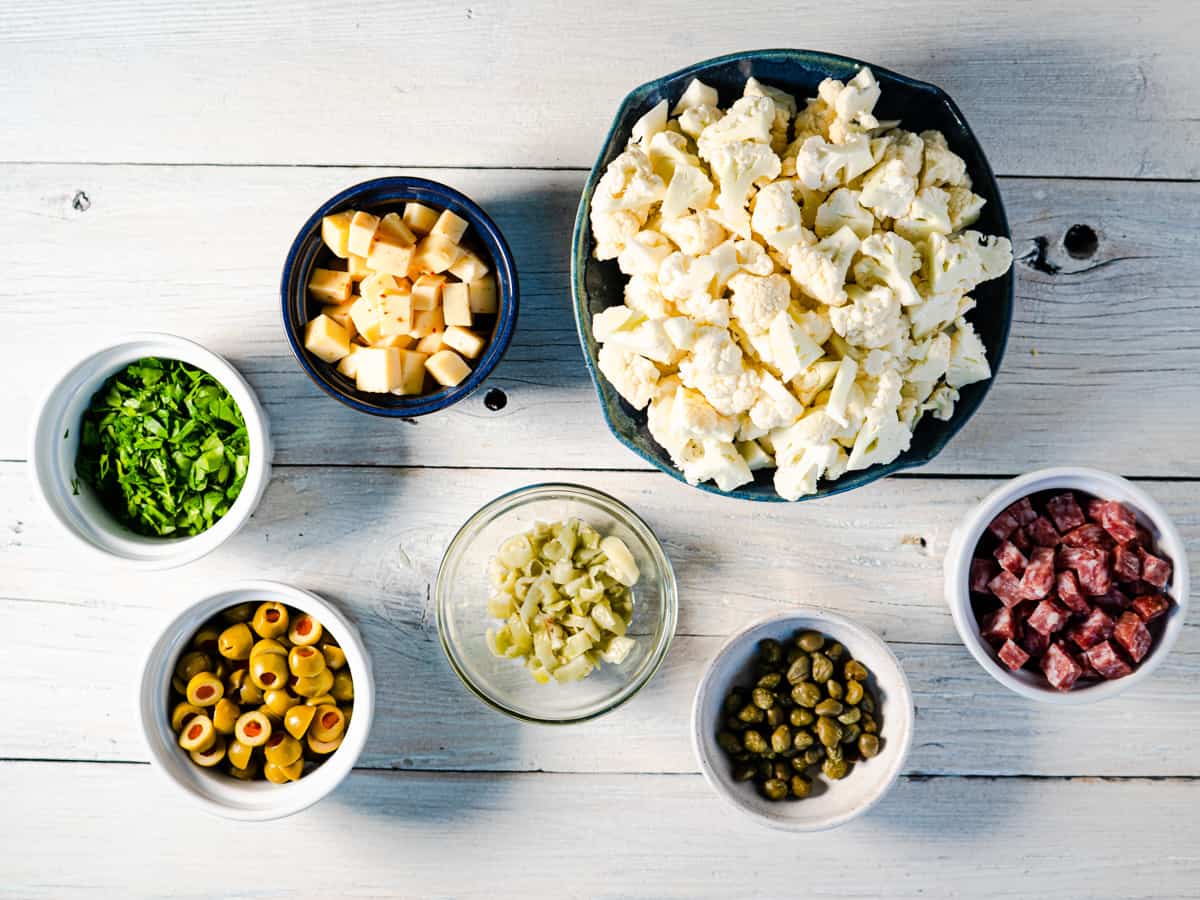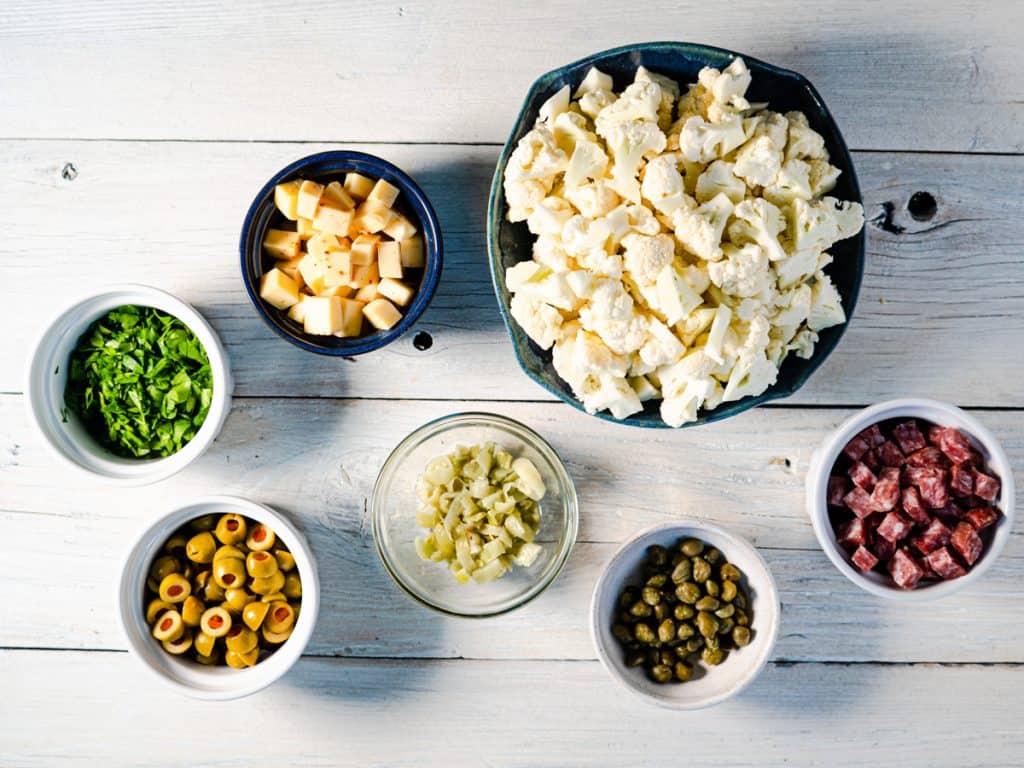 How to make this recipe
Prepare the vinaigrette by shaking all ingredients in a glass jar or whisking in a bowl. Portion out 1/2 cup of vinaigrette for the salad. Set aside. Store the rest in the fridge to use on any salad.
Cut the cauliflower into bite sized pieces. For a photo tutorial of an easy way to do this check out this post: ROASTED CAULIFLOWER AND LEEK FRITTATA
Bring a pot of water to a boil. Blanch the cauliflower for 1-2 minutes or until is is softened but still has a bite to it.
Drain and place in a large bowl.
While still hot, pour reserved vinaigrette over cauliflower. Stir to combine.
Chop the rest of the ingredients. Add all but the cheese and parsley to the still warm cauliflower. Stir to combine.
Let sit until cooled, stirring occasionally. Add the cheese and parsley. Stir. Taste and season with salt and pepper if necessary. I find that with all the salty bits in this salad it needs little to no extra salt. But that's a personal preference.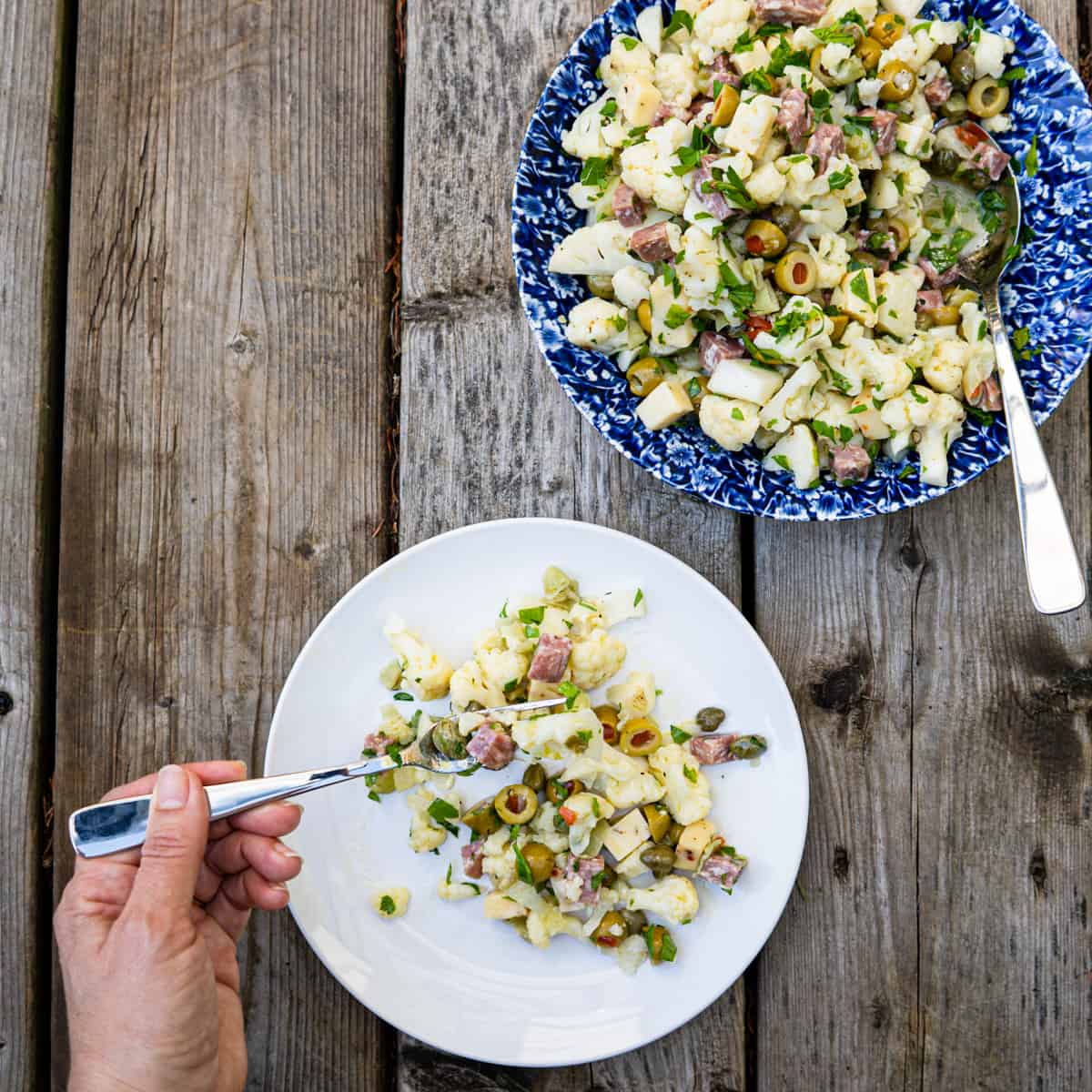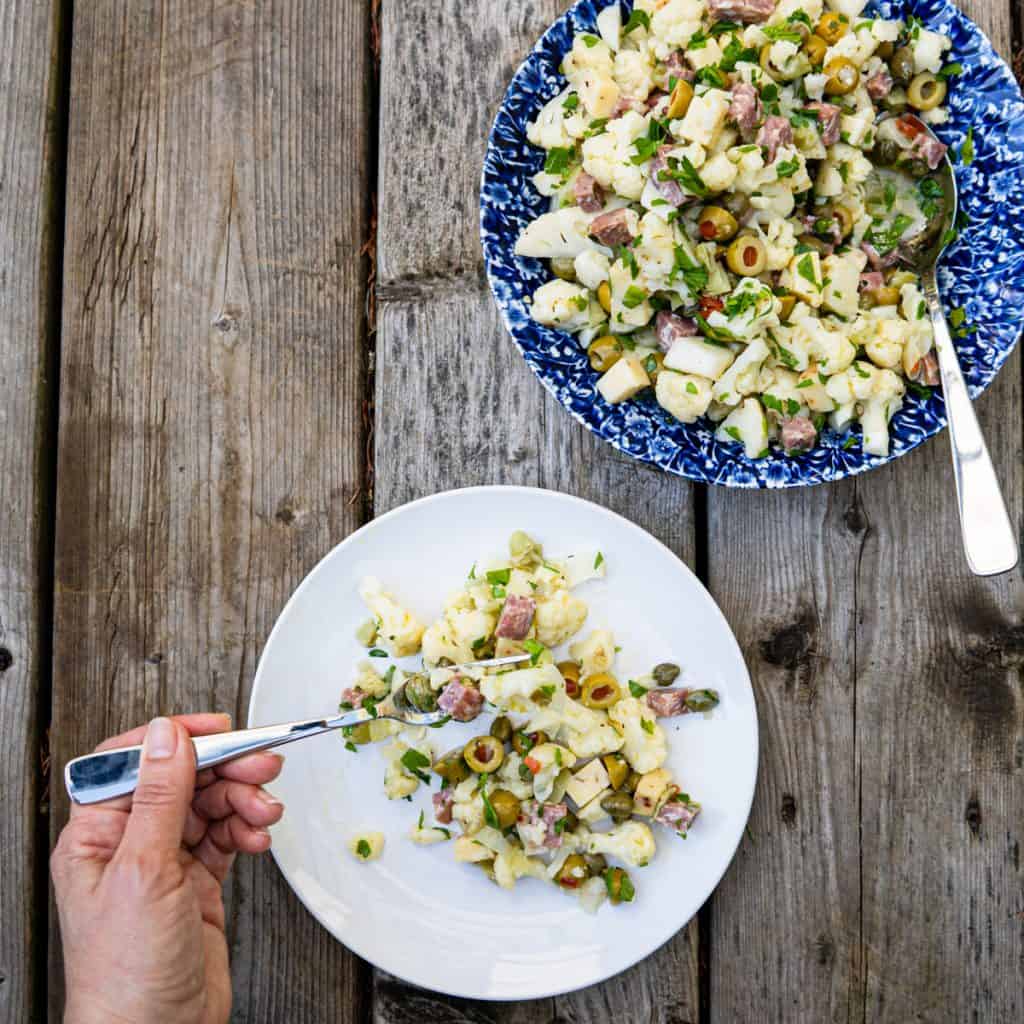 Variations/Substitutions
Use broccoli instead of cauliflower
Add extra vegetables such as bell peppers, zucchini, red onion, artichoke hearts, marinated mushrooms, spinach, kale etc. Get creative!
Use any kind of cheese you like. I prefer a semi-soft mild cheese. It doesn't break apart and also can absorb some of the vinaigrette so it becomes marinated. But feel free to use any cheese you like.
Make it vegan by omitting the salami and cheese. Or use a vegan cheese. You can bump up the vegetables to take their place.
Storage
This salad only gets better with age so it's a great make-ahead recipe. Keep it covered in the fridge for up to a week.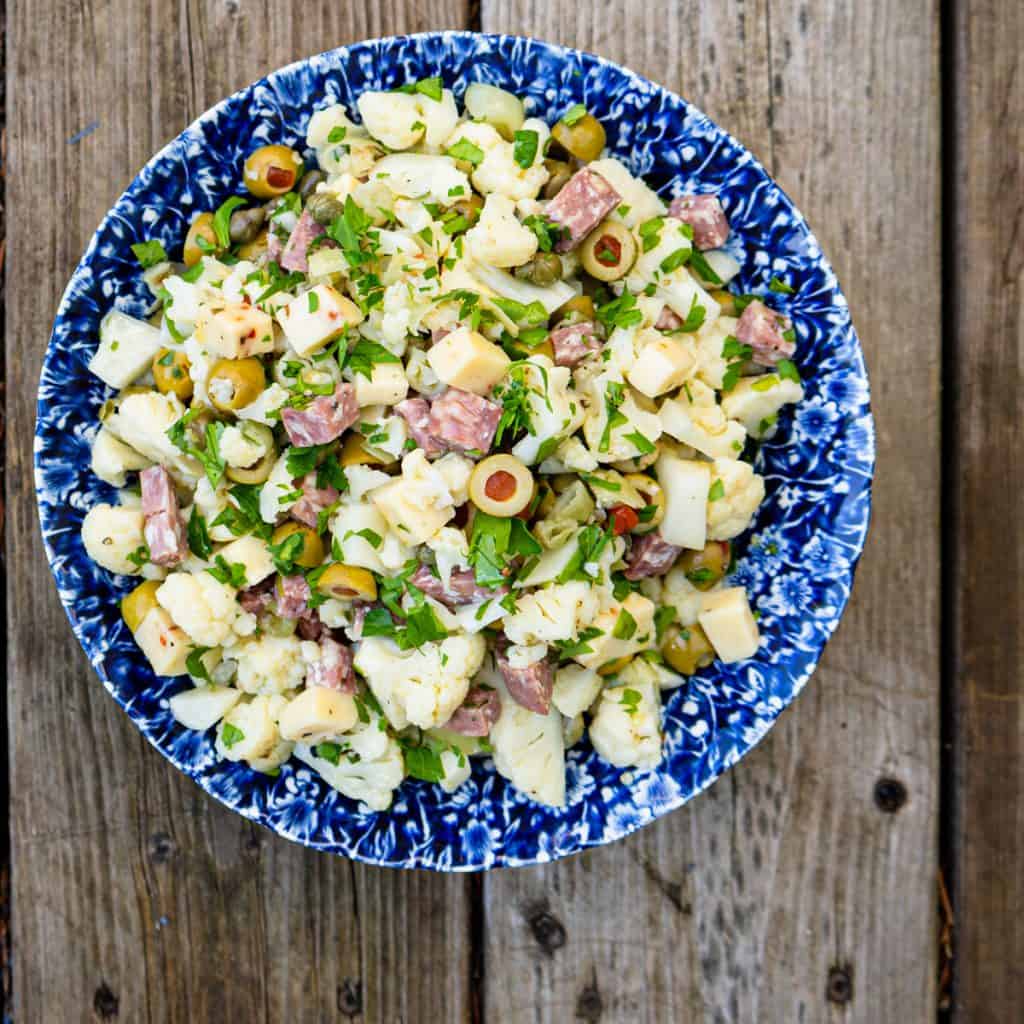 More salad recipes for you to try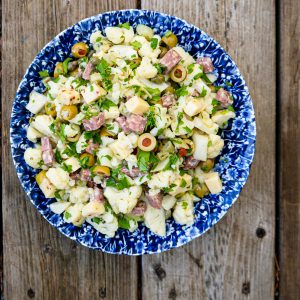 Print Recipe
Italian Deli Cauliflower Salad
This easy and nutritious salad incorporates Italian deli favourites. It comes together in minutes and lasts for days!
Ingredients
1

head

cauliflower

1

cup

salami, cubed

1

cup

cheese, cubed. Havarti, mozzarella, Fontina, Provolone

1/2

cup

green olives, chopped or sliced

1/4

cup

pickled pepperoncini, chopped

1/4

cup

capers, chopped

1/2

cup

fresh parsley, chopped

1/2

cup

Vinaigrette
Vinaigrette
1/2

cup

extra virgin olive oil

5

tbsp

white wine vinegar

2

tsp

honey

1

tsp

Dijon mustard

1/2

tsp

salt

1/4

tsp

black pepper, freshly ground
Instructions
In a bowl or jar, mix together the vinaigrette ingredients. Whisk or shake until well combined. Reserve 1/2 cup for the salad and store the rest in the fridge to use on your fave salads!

Cut cauliflower into bite sized florettes. Meanwhile bring a pot of water to a boil that will hold all the cauliflower.

Once the water is boiling, add the cauliflower. Blanch for 1-2 minutes. You want the cauliflower to retain some firmness.

Drain and place hot cauliflower in a large bowl.

Pour over 1/2 cup of vinaigrette. Mix to combine.

Add salami, green olives, pepperoncini and capers. Stir to combine.

Let cool completely, stirring occasionally.

Add cheese and parsley. Stir to combine.

Serve immediately or cover and refrigerate for up to one week.