Shakshuka is a delicious and easy vegetarian dish from the Middle East. It's perfect for breakfast, lunch, brunch AND dinner! Make it vegan by replacing the eggs with tofu or chickpeas. Soon you will have a total addiction to this delicious and versatile one pot meal!
what is shakshuka anyway?
Shakshuka is a saucy, tomato-y, egg dish that originated in North Africa but is now more commonly known as a Middle Eastern delight. There is much debate over it's origin, which I'm not going to get into here. (you all have Google for that!) It can be a very simple dish consisting of only a few ingredients but nowadays, has many versions and variations. It can even be amazing prepared without tomatoes at all (future recipe[s] to come because I'm obsessed with this dish now). Here I've added roasted and fresh peppers, zucchini and chili paste. Still keeping it simple but getting in those extra veggies along with a little kick of chili!
How do you make Shakshuka?
There is no magic behind making a delicious Shakshuka. No fancy equipment or culinary techniques. It's a "have-pan-can-cook" type of deal. Okay, it also helps if you know how to chop some veggies and use a can opener but no fancy chopping skills required! If you'd like to see how to properly (and more efficiently) dice an onion check out this post here Sausage and White Bean Soup and for breaking down a bell pepper have a look here Vegetarian 3 Bean Chili.
First, the onions are sauteed until nice and soft (always use a medium-low heat for this guys). Then add in the fresh pepper and zucchini along with the garlic, cumin and salt. Continue sauteing until they start to soften. Next, add everything else but the eggs and some of the parsley. You're almost there!
After that simmers for a few minutes, with the back of a spoon make little wells in the tomato/veg. mixture, for the eggs to sit in. The deepness of your wells depends on how much you want the egg to spread over the top...or not.
Then take a fork and break up the whites a little so they can run into the tomato mixture slightly. This step is optional. Bake in a 400℉ for 10-12 minutes or until your eggs reach your favourite amount of doneness. Sprinkle with the remaining parsley et voila!
What Can I serve with It?
You have many options here. For garnishing you can use Greek yogurt or Labneh, any type of cheese (Feta is most common for good reason). For scooping and dipping serve with some crusty bread or pita. A side salad of leafy greens would also be nice. Need some more carbs? Have it on top of a bed of rice, quinoa or any other grain. It's so versatile!
Can I make it Vegan?
You sure can. Replace the eggs with silken tofu, chickpeas, lentils or any other beans or legumes you like. Of course that's steering away from traditional but...so what? Then we can just call it something else... Veganshuka?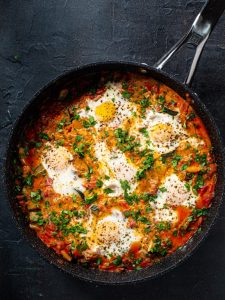 Print Recipe
Shakshuka
Shakshuka is an easy and delicious Middle Eastern dish made with eggs cooked in a tomato, pepper sauce. It's a perfect meal for breakfast, brunch, lunch or dinner!
Ingredients
2

tbsp

olive oil

1

large

white onion, peeled and diced

1

large

zucchini, diced

1

yellow or orange bell pepper, diced

4

cloves

garlic, peeled and chopped

2

tsp

ground cumin

1

tsp

salt

3/4-1

cup

roasted red peppers, chopped

1

28 oz

can whole tomatoes with juices, chopped, crushed or pureed

1

tsp

Sambal Olelek or other chili paste, or to taste

6-8

eggs

1/2

cup

parsley or cilantro leaves, packed then chopped
Optional Toppings
Plain Greek yogurt or Labneh

Sour cream

Feta or any cheese of your choosing
Make It Vegan By Replacing Eggs With Any Of The Following:
Silken Tofu

Chickpeas, lentils or any other beans/legumes
Serve With
crusty bread

pita or naan

rice, quinoa or any other grain
Instructions
Heat olive oil over medium heat. Add onions and saute for 6-8 minutes or until soft and translucent.

Add zucchini, orange or yellow pepper, garlic, cumin and salt. Saute for another 4-5 minutes.

Add roasted red pepper, tomatoes and their juices, and chili paste. Bring to a boil then reduce heat. Let simmer for approximately 10 minutes.

Stir in half of the parsley and reserve the other half to garnish

With the back of a spoon make wells in the tomato mixture for the eggs. Crack eggs into wells. Break up the whites around the edges with a fork. Sprinkle eggs with salt and pepper to taste.

Bake in preheated oven for 10 minutes, for a soft yolk, or until the eggs are cooked the way you like.

Remove from oven and sprinkle with the remaining parsley and any of the optional toppings or serve toppings on the side.