Look no further for the ultimate classic chocolate chip cookie recipe! Easy to prepare, crispy, chewy and delicious! Keep some in the fridge or freezer to bake off whenever you have the urge.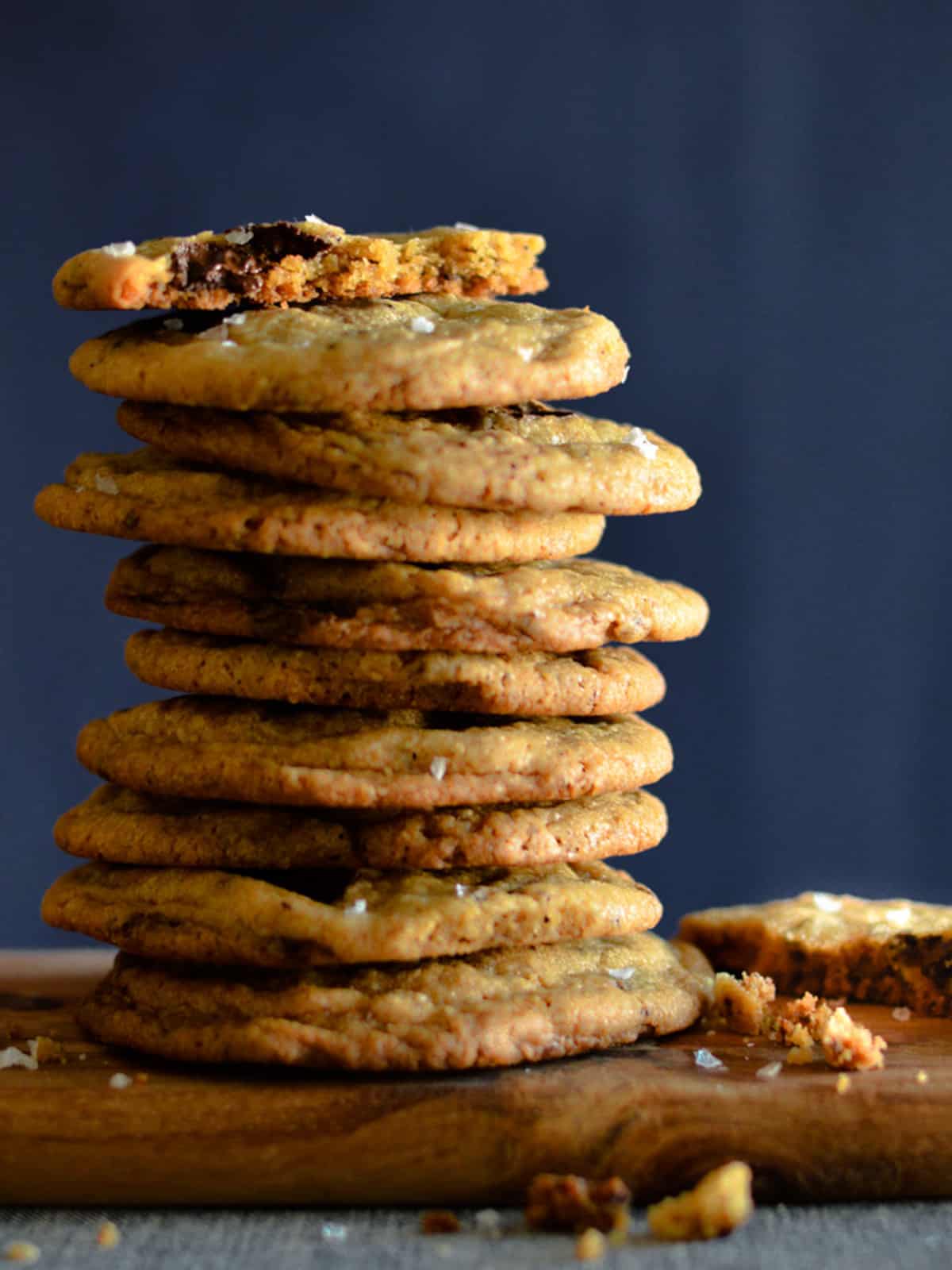 Growing up my mom always had a bag or two of Hershey's Chipits in the cupboard and the recipe on the back was the first one I tried. When I was a young baker I thought they were THE BEST! Of course back then anything with sugar, butter and chocolate was THE BEST. I remember the dough often not even making it to the oven before it was half eaten. Sometimes I wouldn't even make it past the creaming of the brown sugar and butter...good enough now let's eat!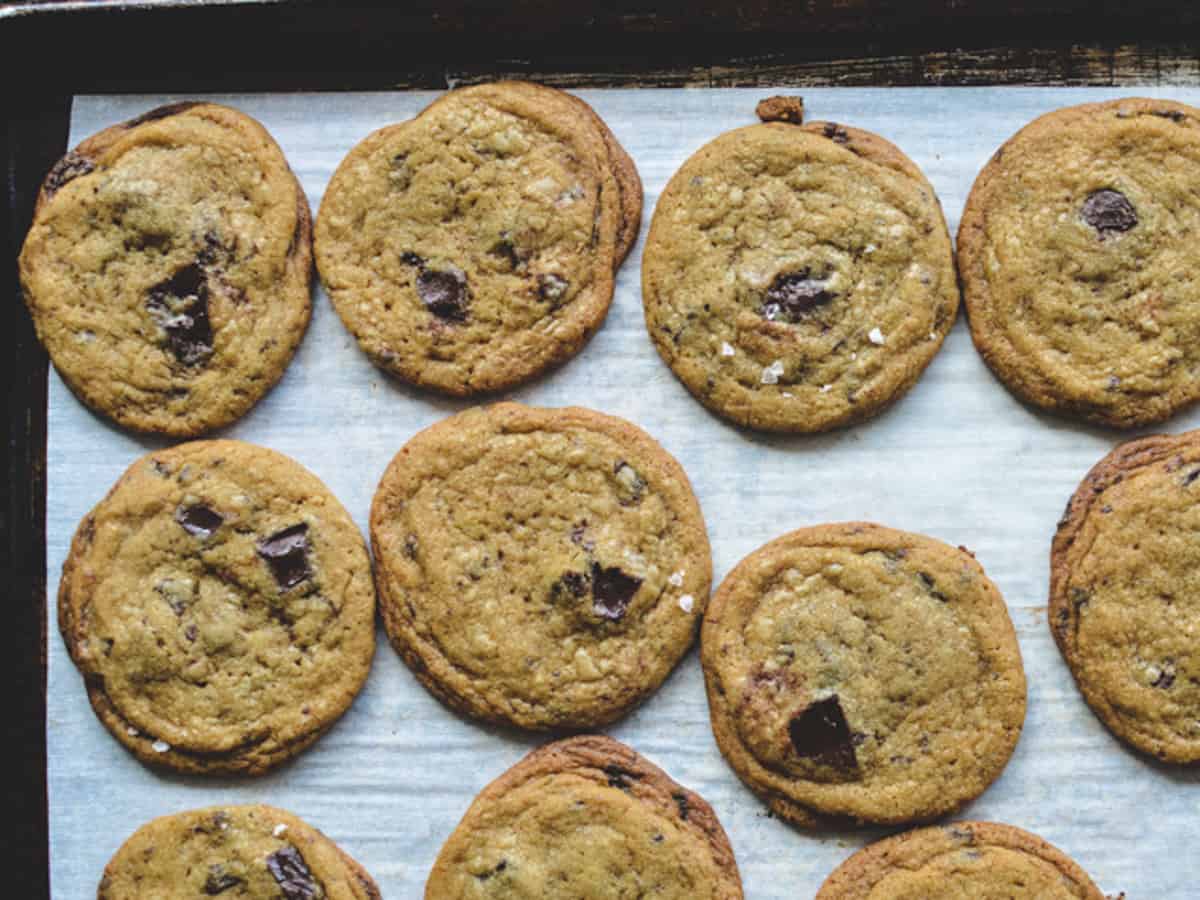 Over the years I have experimented with, literally, hundreds of chocolate chip cookie recipes and have never stuck to one that I considered my "at home go to" ...until now. There are many things to consider when looking for that perfect recipe. Are they crispy? Are they chewy? Do they have enough chocolate? These cookies, for me, are in perfect harmony. Crispy around the edges and chewy in the centre. Not too thick or too thin and best of all they have the perfect ratio of chocolate to dough. Of course we all have our opinions of what the best ratio is but for me they shouldn't be too heavy on the chocolate. Chocolate chip-less cookie anyone?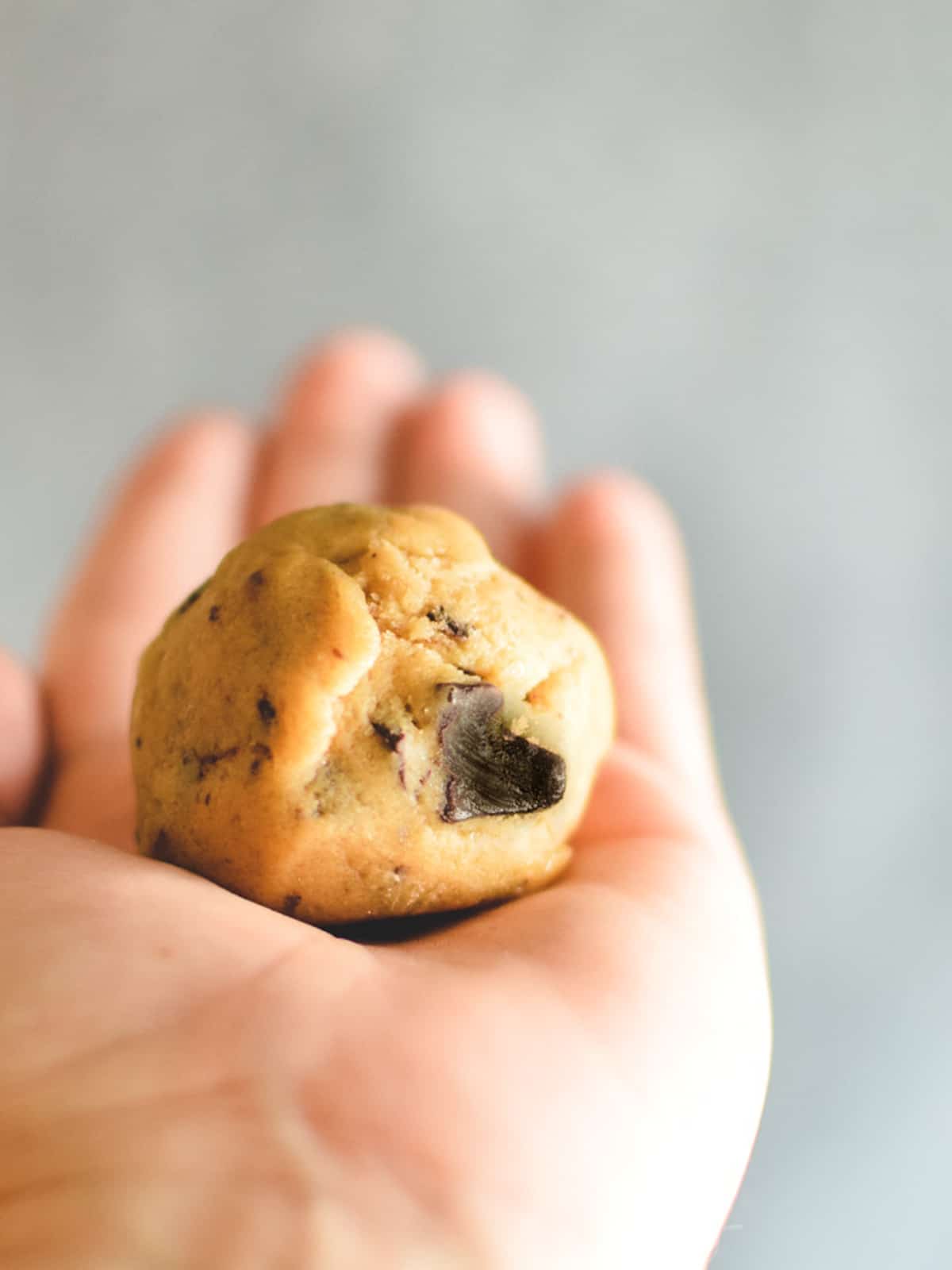 Chocolate chip cookies also need the right amount of salt. For an extra salty kick I sprinkle mine with Maldon, which is a nice flaky sea salt. If you are a chocoholic you can increase the amount of chocolate by half a cup, more or less, to suit your chocolate loving needs. In fact you can add all kinds of stuff to these cookies but for now we are just keeping things simple and classic.
The type of chocolate you use is a matter of personal taste. For me the more bitter the better, but never unsweetened. This creates a beautiful contrast to the sweet dough. Keep in mind it should be a chocolate that you enjoy eating on it's own but should be on the darker side. The sweeter the chocolate the sweeter the cookie. So for all of you milk chocolate lovers out there try coming over to the dark side for this recipe. I prefer to use bars and chop them into chunks for nice big bursts of chocolate but you can use chips if you like.
This recipe requires chilling the dough. It's an important step for getting that perfect texture of crispy edges and chewy centers. If you bake them right away, which you can choose to do, you will have much thinner cookies. Another important step is to whip the butter and sugar really well before and after adding the eggs. This brings air into the dough so during baking they puff up and sink down like a souffle. This also contributes to the overall texture.
These cookies are a bit on the large side, about 4" in diameter after baking. Feel free to make them smaller if you like. Note that you will have more cookies if you do that...which is never a bad thing.
PRO TIPS FOR BEST RESULTS
Incorporate lots of air by creaming the batter on high speed before and after adding the eggs.
Use a good quality dark chocolate for best flavour
Chill the dough before baking so they don't spread too thin
Sprinkle with flaked sea salt for an extra salt kick
Store unbaked cookie balls in the fridge or freezer to bake whenever you have the urge
CLICK ON THE SERVING SIZE WITHIN THE RECIPE AND CHOOSE YOUR DESIRED AMOUNT.
📖 Recipe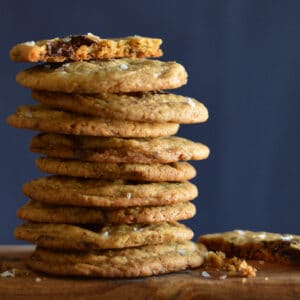 Classic Chocolate Chip Cookies
The classic chocolate chip cookie recipe everyone needs in their back pocket! So easy and delicious you won't have to look for another chocolate chip cookie recipe again.
Print
Pin
Rate
Ingredients
1

cup

unsalted butter, soft

¾

cup

dark brown sugar

½

cup

granulated white sugar

1

egg

2

teaspoon

pure vanilla extract

1 ¾

cups

all purpose flour

½

teaspoon

baking powder

¼

teaspoon

baking soda

1

teaspoon

salt

1

cup

chopped dark or bittersweet chocolate

pinch

maldon salt, optional
Instructions
1. In the bowl of a stand mixer place soft butter and both sugars. Using the paddle attachment beat the mixture on medium high until very light and creamy. 1 full minute. Alternatively, beat with an electric hand mixture for the same amount of time. 

2. Add egg and vanilla. Continue beating for another 2-3 minutes to aerate the dough. 

3. In a separate bowl whisk together the flour, baking powder, baking soda and salt. Add to above and mix on low until almost but not quite incorporated. Add chocolate and finish mixing just until all the flour is incorporated.

4. On a cookie sheet lined with parchment paper scoop the dough into balls about the size of a golf ball. Sprinkle with salt if using. Cover with plastic wrap or put in an airtight container and refrigerate for at least one hour.

5. Pre-heat oven to 350 degrees F. Place rack in center of oven. On a cookie sheet lined with parchment paper place dough balls 2"-3" apart. Bake one tray at a time for 18-20 minutes until the edges are golden brown. Let cool on tray for 5 minutes before transferring to a cooling rack. Repeat with remaining trays.
Notes
1. Dough balls can be stored in the fridge in an airtight container or resealable bag for up to one week and in the freezer for up to 3 months. Bake straight from the fridge or freezer increasing the baking time slightly if frozen.
2. Baked cookies can be stored in an airtight container for one week or frozen for 3 months.
Nutrition Facts are calculated using an online calculator and are an estimate only. 
Nutrition
Serving:
1
cookie
|
Calories:
175
kcal
|
Carbohydrates:
21
g
|
Protein:
1
g
|
Fat:
9
g
|
Saturated Fat:
6
g
|
Cholesterol:
33
mg
|
Sodium:
160
mg
|
Potassium:
10
mg
|
Sugar:
13
g