Considering it's the holiday season I thought I'd share some of my favourite cookbooks with you and also some that are on my wish list. The internet can be a great resource for recipes but nothing beats sitting down with cup of coffee and a good cookbook to get those culinary juices flowing.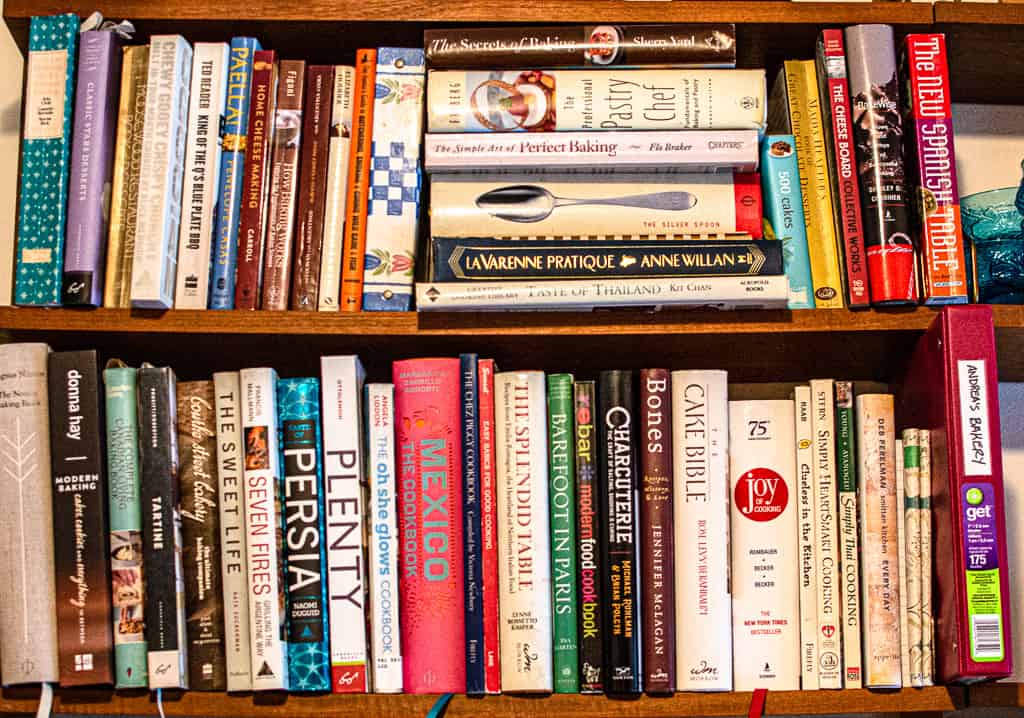 This is my cookbook collection. Recently it was more than twice this size but there are a lot of new cookbooks that I'd like to add and I just didn't have the space. It was time to get rid of the ones I wasn't using or have never used. Below is a short list of some of my favourites that are in regular rotation for inspiration and reference.
Teaching and reference
I'm starting with these two books because I believe they belong in every kitchen. Whether you are just starting out or are a whiz in the kitchen these books are staples.
Joy of Cooking belongs on everyone's shelf. First written in 1931 it has become a household staple in North American kitchens. It's not full of pretty pictures but it is full of all the American classics...and more. It is a wonderful reference for the seasoned cook and also has everything you need to get started in the kitchen.
Mastering the Art of French Cooking is the Joy of Cooking for French cuisine . Carefully written with step by step illustrations this book presents all the dishes that form the backbone of French cooking. I had the pleasure of meeting Julia Child back in the late 1980's when she came to do a book signing at a cookbook store where I worked. She was a lovely woman and I cherish my signed copy of this wonderful book.
International
These are my favourite books that take you on a culinary journey to new and exciting places. My wish list for this section could go on forever as I absolutely love reading about and cooking food from different parts of the world, exploring new ingredients, combinations and techniques.
The New Spanish Table is my new favourite cookbook at the moment, although it's not new to the world. I have read and owned many Spanish cookbooks and none compare to this. It really pays homage to both the classic and modern style of Spanish cuisine. Full of interesting cultural and regional information it's also filled with tons of fabulous recipes!
Pok Pok is one on my wish list. I really love Thai food and have never really owned a good Thai cookbook. Weird right? Most of the Thai food I make without recipes or use the internet for reference. I lived in Thailand for a year, in the early 1990's so I'm familiar with all the flavours and ingredients. I just haven't found a book that does it right. This was recommended by a friend who is a recipe developer and food stylist who equally loves Thai cooking. Can't wait to get my hands on it!
The Splendid Table is food from Northern Italy, specifically, Emilia-Romagna. This quote from the author says it all "Ask an Italian where to take only one meal in Italy, and, after recommending his mother's house, he will more than likely send you to Emilia-Romagna." It is the birthplace and homeland of Proscuitto di Parma, Parmigiano-Reggiano, balsamic vinegar and many more classic Italian foods. The recipes in this book fall under the category of comfort food at it's best!
Taste of Persia is a stunning book full of beautiful photographs and wonderful cultural and regional information. Persian cuisine is often overlooked but it is both elegant and rustic and uses balanced combinations of tart and sweet with plenty of fresh herbs. This book is as much travel and culture as it is a cookbook. It will take you on a journey through a culinary paradise with many heart-warming stories from the author's travels.
For the baker
Having worked my whole life as a Pastry Chef I have owned (and still do) many baking books. Here are a few of my most used. These were also my best references and sources of inspiration when researching new ideas for my bakery.
Tartine is my ultimate favourite baking book! From the acclaimed bakery in San Francisco, it has a little bit of everything and is written in a very clear and professional way. Perfect for both the professional and novice. I have the original book but the one linked here is the new updated version which includes whole grain and gluten free options along with 68 new recipes. This revised version is on my wish list for sure!
The Cake Bible. You will never need to look anywhere else for a cake recipe if you own this book! The thing I love about it, besides the plethora of recipes, is that many things are broken into pieces. For example, a recipe for a classic lemon cake will refer you to a selection of filling and frosting/glazing options so you can feel free to mix and match!
The Nordic Baking Book is not one I had when I owned my bakery but it had to be on the list. Although I haven't had the time to try many recipes yet (there are so many!) every time I pick it up and read it I start smelling butter and cardamom! This book covers everything from traditional to modern with over 100 photographs taken by the renowned Chef himself.
Chewy Gooey Crispy Crunchy Just like the Cake Bible is for cakes this book is for cookies. It is the most comprehensive cookie book I have come across and the recipes are bang-on. Interestingly, the book is divided into categories by texture, which I quite like. If you love to make and eat cookies, or know someone who does this is the perfect book!
Vegetarian
I'm not vegetarian or vegan but I do like to eat a lot of plant based meals. Not to mention, good vegetarian and vegan books can provide wonderful recipes that can be used as creative side dishes to your favourite animal proteins or... how about you're invited to a pot luck and asked to bring a vegetarian dish? If you are a meat-eater and think that vegetarian and vegan books have no place on your shelf, think again and have a look at these.
Plenty is by the renowned Israeli Chef Yotam Ottolenghi. Full of beautiful photographs and lip-smacking recipes this book is a must have for vegetarians and meat eaters alike. Btw, all his other books are on my wish list!
Rebar: Modern Food Cookbook This book comes from a small cafe in Victoria BC, Canada which opened it's doors in 1988. It's a little gem of a book that is inventive and creative but also simple. It has some great baking recipes as well! I have been using it for many, many years.
The Oh She Glows is a wonderful and easy to follow Vegan cookbook. It's full of simple and delicious dishes anyone can make. Vegan doesn't have to be boring. " Whether you are a vegan, "vegan-curious," or you simply want to eat delicious food that just happens to be healthy, this cookbook is a must-have for anyone who longs to eat well, feel great, and simply glow!"
Technique
Here are some books that focus in on one particular skill. Each one is a craft in and of itself. If you want to take your skills to the next level or know someone who is an avid cook and you can't find that perfect gift, maybe you'll find something here.
Charcuterie If you want to learn how to make your own bacon, salamis, sausages, salt cured and smoked meats as well as confits and pates this is your bible! Recipes are easy to follow and are suitable for the beginner in their home kitchen.
Seven Fires: Grilling the Argentine Way Are you or someone you know an avid griller who wants to take things to the next level? Francis Mallmann is a famous Argentine Chef who has mastered the art of open fire cooking. This book is fascinating and inspiring and takes you through a series (the seven fires) of grilling techniques that have been adapted for the home cook. Check out his episode on Netflix Chef's Table. It's fascinating!
Home Cheese Making is all about just that. If you are a lover of cheese (like me) you might want to check out this book. It absolutely is possible to make your own cheese! It's also fairly simple once you get the hang of it.
Flour Water Salt Yeast This is another book on my wish list. Even though I've worked in the restaurant and bakery world my entire life I've never taken the time to hone in on bread. I still have time and plan to take a deep dive into it someday and this will be my starting point.
There are so many other books I could put on this list but these are what I narrowed it down to from what I have on my shelf along with a couple from my wish list. Of course my wish list is a mile long and would require a series of blog posts to cover them all! I hope you found something here you like or maybe the perfect gift for someone you were at a loss for ideas.
Recipes you might like
This post contains affiliate links. As an Amazon Associate I earn a small commission from qualifying purchases.